Avocado Eco Organic Mattress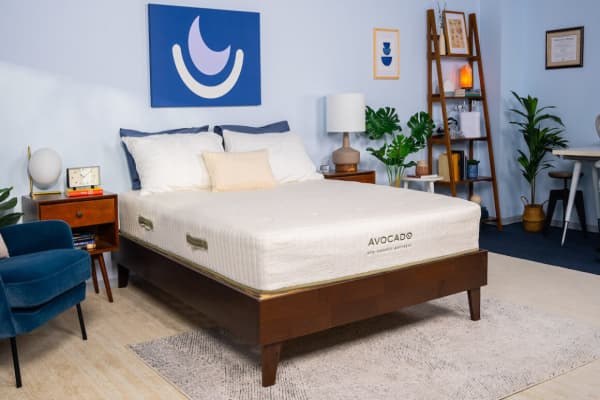 Type: Hybrid

Firmness: Medium Firm (6)

Sizes: Twin, Twin XL, Full, Queen, King, California King

Price Range: $799 – $1,599

Warranty: 10 Year, Limited
Environmentally and socially conscious manufacturing ethos backed by multiple independent certifications
Balance of comfort and support equates to a nearly universally appealing medium-firm feel
Naturally temperature-neutral latex, breathable cotton and wool, as well as an air-flow promoting coil core
Combination sleepers and sleep partners with different body types and sleep position preferences
Those who prefer a mattress with a gentle contour and more bounce
Sleepers who tend to run hot
Avocado Eco Organic Mattress: Our Verdict
Offering the brand's premium materials, quality construction, and high performance at a lower price, the Avocado Eco Organic is an exceptional value.
Each layer of the Eco Organic, from the cotton and wool quilted into the cover to the Dunlop latex in the comfort system, has met rigorous product safety and environmental standards and is certified organic. Avocado assembles these components along with recycled steel coils made on-site in its Los Angeles-based manufacturing facility.
The resulting mattress is responsive and durable, with a hybrid's signature mix of comfort and support. Temperature neutral latex and an innerspring coil keep the bed sleeping cool, while effective pushback and light contouring promote alignment.
Taken together, Avocado's affordable hybrid model is a stand out, giving sleepers a high-end, effective, eco-conscious mattress at a reasonable cost.
Avocado Eco Organic Mattress: An Introduction
Founded in 2015, the Avocado brand of mattresses features environmentally friendly, sustainably sourced, and socially responsible materials. Their supply chain is fully transparent, ensuring standards throughout the process by maintaining custody of all the materials that go into each mattress from farm to factory.
Their lineup of mattresses includes standard size options and models made specifically for kids and cribs. We'll be exploring their Eco Organic Mattress, one of three latex hybrids Avocado makes for adults.
First, we'll take a look at what it's like to sleep on an Eco Organic Mattress in general and for each sleep position, before reviewing the mattress' performance in key sleep categories. We'll then delve into where you can buy it, how much it costs, and other frequently asked questions to determine if the Eco Organic is the best mattress for you.
How We Review
Our lab testers follow a careful methodology for each mattress we review. The process includes in-depth research, physical testing across a range of body types and sleep position preferences, as well as technology-based evaluations with devices like VOC detectors, body mapping tools, and thermometers. The result is a well-rounded recommendation you can use to make an informed mattress purchase decision.
What's It Like to Sleep on the Avocado Eco Organic Mattress?
The Eco Organic Mattress marries a buoyant comfort layer with the responsiveness of hundreds of individually wrapped coils in its core for a mattress that is springy and pressure relieving. Soft cotton and wool quilted into the cover plus the light contour of latex keep things comfortable.
While the Eco Organic's reactive sleep surface eases movement and gives couples an ideal foundation for amorous activities, sensitive sleepers may find that they're woken more easily by restless sleep partners, children, or pets.
Overall, the Eco Organic offers mid-range firmness alongside effective support and a just-plush-enough feel that many sleepers enjoy.
Avocado Eco Organic Mattress Pros and Cons
Bouncy latex and pocketed steel coils create a responsive feel
Soft, quilted cover and lightly conforming comfort layer
Moderate firmness, support, and plushness fits a range of sleepers
More motion transfer can disturb light sleepers
Lacks the deep contouring and significant pressure relief of foam
Heavier overall weight can make moving the mattress more difficult
Sleeping Positions, Body Weight, and Firmness
While the ideal mattress firmness is ultimately subjective, there are general guidelines based on a sleeper's body type and preferred sleep position. Typically, lighter sleepers and side sleepers prefer a softer mattress. Heavier sleepers and those that prefer back and stomach sleeping tend to appreciate a firmer mattress.
We use a 10-point scale for mattress firmness, with 1 being extra soft and 10 being extra firm. Our rating for the Avocado Eco Organic Mattress is medium firm or a 6 on the 10-point scale. This is a mid-range firmness that has broad appeal across sleep positions and body types.
Avocado Eco Organic Sleeper Ratings
| | Under 130 lbs. | 130-230 lbs. | Over 230 lbs. |
| --- | --- | --- | --- |
| Side Sleepers | 3/5 | 4/5 | 5/5 |
| Back Sleepers | 3/5 | 5/5 | 3/5 |
| Stomach Sleepers | 4/5 | 5/5 | 3/5 |
Side Sleepers
The light contour and highly responsive feel of latex hybrid mattresses like the Eco Organic work best for side sleepers over 230 pounds. Our side sleeping testers in this weight range gave the mattress excellent scores.
Those weighing between 130 and 230 pounds were slightly less impressed but still determined the Eco's mix of comfort and support to be very effective. The medium firm feel of the mattress was less than ideal for side sleepers weighing under 130 pounds, but the group found enough pressure relief to give the mattress average scores.
Back Sleepers
For those back sleepers weighing between 130 and 230 pounds, the Eco Organic's sturdy innerspring core and the gentle "hug" of the latex comfort layer create an optimal balance. Those on either side of this weight range found less to like. Sleepers weighing under 130 pounds felt the sleep surface was too firm, while those weighing over 230 pounds needed more support under the hips to prevent sinkage.
Stomach Sleepers
The recycled steel coils and gently conforming sleep surface of the Eco Organic were an effective combination for our stomach sleepers weighing between 130 and 230 pounds. The mattress promoted spinal alignment without sacrificing comfort.
This was slightly less noticeable for stomach sleepers weighing under 130 pounds who felt the mattress was a touch too firm. On the contrary, stomach sleepers weighing over 130 pounds wanted more support, as they experienced some sagging through the hips and lower back.
Our testers evaluated the Avocado Eco Organic Mattress across several key performance categories using a 5-point scale with 1 being poor and 5 being excellent.
Pressure Relief
Rating: 3/5
The latex in the Eco Organic's comfort layer has less pressure relieving contour than its memory foam counterpart. This may be preferable for sleepers who enjoy the feeling of sleeping "on" a mattress rather than "in" it. However, those seeking the deep cradle of foam and its associated cushioning effects may be disappointed.
Temperature Neutrality
Rating: 5/5
The breathable cotton and wool in the Eco Organic's cover work in concert with the natural temperature neutrality of latex to create a cool sleep surface. When combined with the airflow-promoting construction of the innerspring core, the Eco Organic resists the build up of heat. These mattress layers are an effective combination for sleepers that tend to run hot.
Motion Isolation
Rating: 2/5
The Eco Organic excels in many performance categories because of its thoughtful construction and quality components. However, in the case of motion isolation, these same methods and materials result in more motion transfer than other hybrid options.
Latex tends to be bouncy and buoyant, reacting to motion rather than dampening it. The tightly wound springs in the support core behave similarly. Combined, they make the mattress too reactive to movement to receive more than a fair rating. This makes it likely for you to feel your partner's movements if you share a bed.
Edge Support
Rating: 4/5
In the lab, the Eco Organic earned superior ratings from our testers in terms of edge support. A reinforced perimeter of tightly wound, 14.5 gauge steel springs placed close together prevents the mattress' edge from collapsing under pressure. Further edge support comes from the dense and durable Dunlop latex in the comfort layer, making it easier to get into and out of bed and increasing the sleepable area.
Durability
Rating: 4/5
The Dunlop latex in the Eco Organic is known for being firm, dense, and durable. Thicker-gauge, twice-tempered steel coils also add strength and resilience. These premium materials are constructed with care in Avocado's Los Angeles-based factory. The resulting mattress should meet or exceed Avocado's 10-year warranty, but keep in mind the longevity of mattresses varies by each individual owner.
Ease of Movement
Rating: 4/5
Springy, highly responsive Dunlop latex in the comfort layer allows for easy transitions between side, back, and stomach sleeping. This effect is underscored by individually wrapped steel coils in the support core that respond independently to changes in position. The combination creates an impressively movement-friendly mattress that can work well for active and combination sleepers.
Sex
Rating: 4/5
Hybrid mattresses are well-suited for sex, particularly those like the Eco Organic that include a latex comfort layer. The bounce of latex accentuated by the springy pushback of pocketed steel coils eases movement and provides cushioning without the dampening effect of foam. It's a dynamic combination that effectively supports and heightens intimate activities. Strong edge support also enables couples to make use of the entire bed surface.
Off-Gassing
Rating: 4/5
Avocado uses organic and eco-friendly materials that meet stringent standards as certified by multiple product safety organizations. What's more, in comparison to all-foam mattress types, hybrids already tend to produce fewer volatile organic compounds (VOCs), the particles responsible for off-gassing odors. Unsurprisingly, then, the Eco Organic earned high praise from our testers for its low emissions.
What Is the Avocado Eco Organic Mattress Made Of?
Avocado prides itself on its use of non-toxic materials and environmentally friendly manufacturing practices. They are one of only three mattress brands to earn the highly rigorous MADE SAFE certification, meeting exacting material safety standards. The brand's mattresses are also GREENGUARD Gold certified as low in chemical emissions (including VOCs) and Formaldehyde Free certified by the UL Environment.
The Eco Organic Mattress' 10-inch profile features a quilted GOTS-certified organic cotton cover underscored by a layer of naturally crimped GOTS-certified organic wool. With a thickness of 1 ounce per square foot, the wool adds to the cover's plushness and breathability.
Two inches of seamless, GOLS-certified organic Dunlop latex makes up the Eco Organic's comfort layer. Avocado co-owns farmer's societies and processing facilities in India and Guatemala which uphold the USDA's National Organic Program. Keeping their manufacturing vertically integrated helps Avocado ensure the integrity of their supply chain and maintain some of the highest standards in the industry. Avocado latex has earned the following certifications:
GOLS
Rainforest Alliance
FSC
eco-INSTITUT
Standard 100 by OEKO-TEX (Class 1)
Eight inch tall, recycled steel coils make up the Eco Organic's support core. These individually wrapped coils are made in Avocado's Los Angeles-based manufacturing facility. Durable 12-gauge coils form the interior zone of the mattress, while 14.5-gauge coils form the perimeter. Recycled steel rings keep the mattress layers in place.
Avocado Eco Organic Construction Layers
Mattress Construction Layers
Details
Cover Material
Organic Cotton (GOTS-Certified)
Comfort Layers
Organic Cotton (GOTS-Certified, Quilted into Cover)
Organic wool (GOTS-Certified, Quilted into Cover)
2" Dunlop latex (GOLS-certified)
Support Core
8" Pocketed Coils
Avocado Eco Organic Kids Mattress
Avocado also offers the Eco Organic Kids Mattress. This version features the same materials as the standard size Eco Organic but its lower 7-inch profile has an inch of Dunlop latex and 6-inch pocketed coils. The Kids Mattress' smaller size allows it to fit most child-sized beds, and its lower profile makes it more accessible for smaller frames.
An Avocado Eco Organic crib mattress is also available. This model has a 5-inch profile and incorporates organic cotton, wool, and hemp along with a coconut husk pad in the comfort layer.
How Much Does the Avocado Eco Organic Mattress Cost?
The Eco Organic has many of the same premium materials, design elements, and meticulous attention to detail as Avocado's luxury models, but with a price tag that puts it within reach of more budgets. Even compared to latex hybrids outside the brand, it's hard to beat the Eco Organic's quality, commitment to safety, and mid-range price point.
| Sizes | Price | Dimensions | Height | Weight |
| --- | --- | --- | --- | --- |
| Twin | $799 | 38" x 75" | 10" | 62 lbs. |
| Twin XL | $899 | 38" x 80" | 10" | 67 lbs. |
| Full | $1,199 | 54" x 75" | 10" | 78 lbs. |
| Queen | $1,299 | 60" x 80" | 10" | 94 lbs. |
| King | $1,599 | 76" x 80" | 10" | 110 lbs. |
| California King | $1,599 | 72" x 84" | 10" | 110 lbs. |
Which Avocado Mattress Is Right for You?
Avocado has five mattress models designed for adults. Two of these are all-latex offerings, the Latex and the Vegan. The others are latex hybrid models which include the Eco Organic as well as the Green and the Luxury Organic.
The Green Mattress is Avocado's mid-range option, with a thicker latex comfort layer, zoned coils, and an optional pillow-top. In its standard version it has a similar feel to the Eco Organic, but with a slightly firmer sleep surface that works particularly well for back and stomach sleepers.
The Luxury Organic is Avocado's premium model. Available in Standard and Plush versions, the Luxury Organic sports 17 layers and 5 inches of latex. While the Plush may be too soft for all but the lightest side sleepers, the Standard version has a wider appeal particularly for side sleepers weighing between 130 and 230 pounds and back sleepers weighing less than 130 pounds.
Avocado Mattresses at a Glance
Model
Firmness
Mattress Type
Height
Base Price (Queen)
Avocado Green Mattress
Medium Firm (6) with Pillow-Top
Firm (7) without Pillow-Top
Hybrid
13" with Pillow-Top
11" Standard
$2,499 with Pillow-Top
$1,999 Standard
Avocado Eco Organic Mattress
Medium Firm (6)
Hybrid
10"
$1,299
Avocado Luxury Organic Mattress
Medium Soft (4) for Plush
Medium (5) for Standard
Hybrid
17.25" for Plush
13.25" for Standard
$5,599 with Pillow-Top
$3,899 Standard
Avocado Vegan Mattress
Medium Firm (6) with Pillow-Top
Firm (7) Standard
Hybrid
13" with Pillow-Top
11" Standard
$5,599 with Pillow-Top
$3,899 Standard
Avocado Latex Mattress
Firm (7)
Latex
9"
$2,999
Discounts and Coupons
Reflecting their market position as a luxury mattress option, Avocado has fewer sales than other mattress brands, and their discounts are usually less significant. Avocado does occasionally offer free accessories, like pillows, with purchase. Customers can also opt for a payment plan option through Avocado's financing partner.
Where Can You Buy the Avocado Eco Organic Mattress?
Avocado mattresses are available for purchase through the brand website and in Avocado Experience Centers in Arizona, California, New Jersey, New York, Washington, and Washington D.C. A few affiliate partner stores in Illinois, Ohio, and Texas also have Avocado mattresses in their showrooms. Alternatively, customers can schedule a virtual retail experience via video meeting.
Buying Information and Customer Policies
Availability
Avocado mattresses are available through the brand website, in Experience Centers in certain metropolitan locations, and in select partner showrooms.
Shipping Options
Avocado charges a $99 shipping fee for the first large item up to a maximum of $198 per order. Orders weighing less than 150 pounds ship via FedEx. Orders weighing more than 150 pounds ship via Doorstep Delivery. Additional surcharges apply for orders shipping to Alaska and Hawaii.

Eco Organic Mattresses arrive compressed and rolled in a box. Decompression is required.
Additional Services
Customers can select Avocado's In-Home Delivery and Set-Up Service at check out. The additional fee is based on total shipping weight and ranges from $249 to $899. Removal of the old mattress is subject to local health regulations.
Sleep Trial
The Eco Organic Mattress comes with a 100-night sleep trial. After 30 nights, customers can initiate a return for a full refund excluding shipping and optional In-Home Delivery and Set-Up Service fees. The mattress must be in suitable condition for donation.
Warranty
The Eco Organic Mattress comes with a 10-year limited warranty that extends to the original purchaser and covers defects in the materials or workmanship. This includes indentations greater than 1.5 inches, flaws in the latex, and tears in the cover or stitching. Mattresses found to have issues covered under the warranty will be replaced.
Avocado Eco Organic Mattress FAQ
What's the Main Difference Between the Avocado Eco Organic Mattress and the Avocado Green Mattress?
The main difference between these two mattresses is the Green's optional pillow-top that adds an additional 2 inches of latex to the comfort layer. Both the standard and the pillow-top versions of the Green Mattress also have zoned coils in the support core and an extra inch of latex as a base layer.
Where is the Avocado Eco Organic Mattress Made?
The Eco Organic Mattress is made in the United States in Avocado's Los Angeles-based manufacturing facility from materials sourced from India, Guatemala, Turkey, Canada, and North Carolina.
Does the Avocado Eco Organic Mattress Come in a Box?
The Eco Organic Mattress comes compressed and rolled in a box. Once unboxed, the Eco Organic is ready to sleep on.
Is the Avocado Eco Organic Mattress Fire Resistant?
The GOTS-certified organic wool quilted into the cover of the Eco Organic Mattress is naturally fire resistant. In keeping with its focus on eco-friendly and non-toxic materials, Avocado does not use chemical fire retardants.
Do Organic Mattresses Have an Odor?
Sleepers can expect organic mattresses to have less off-gassing odors. However, even mattresses made from all-natural materials like cotton, wool, and latex can give off a slight smell, especially when unrolled from the box for the first time.