Cooling comforters give hot sleepers the cozy feel of a traditional comforter while helping to regulate body temperature. Like normal comforters, they consist of a fabric shell and an insulating fill. However, in order to reduce heat retention, they are constructed from breathable materials like cotton, down alternatives, and fibers derived from bamboo and eucalyptus.
We'll share our picks for the best cooling comforters in several key categories. We'll also delve into types of cooling comforters, factors to consider when choosing one, and other ways to stay cool at night.
Sleep Doctor's picks
Shop Now
Shop Now
Shop Now
Shop Now
Luxome ClimaSense Comforter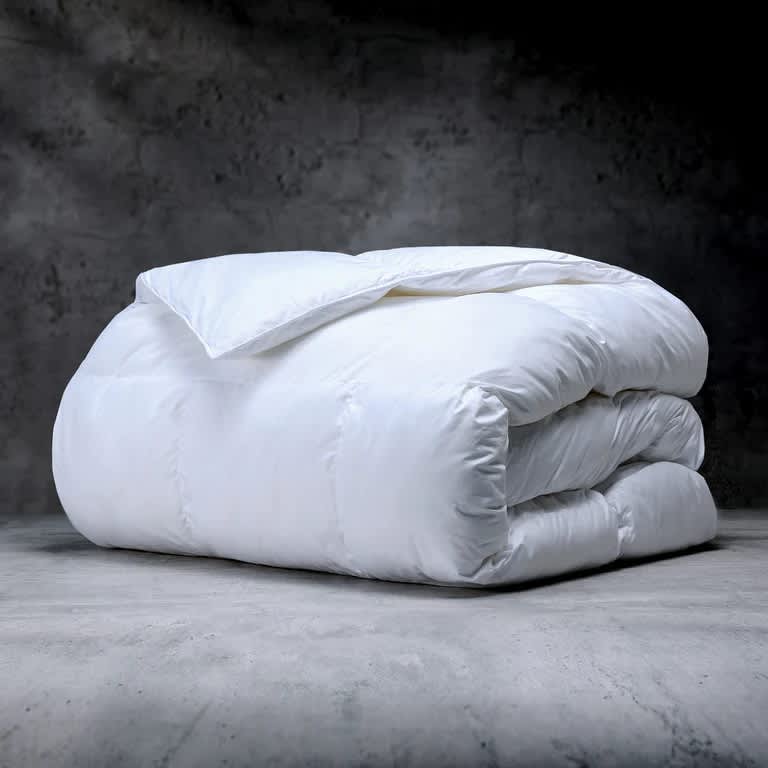 Cover Material: 80% cotton, 20% polyester

Fill Material: Polyester fibers

Price: $300
Proprietary polyester fill is engineered for temperature control
Blended cotton and polyester cover is smooth and breathable
Oversize design provides generous coverage for co-sleepers
Not machine-washable
Polyester fill is less durable than down
Sleep Doctor's take
The Luxome ClimaSense Comforter is a plush and versatile model that impressed our testers with its exceptional temperature regulation. Its proprietary fill dissipates body heat effectively while also providing insulation for cold weather.
---
The standout feature of the Luxome ClimaSense Comforter is its proprietary polyester fill that's engineered to adapt to the sleeper's body temperature throughout the night. Encased in a cotton-polyester blend cover, the comforter is available in full/queen and king/California king sizes.
How does it feel?
The Luxome comforter is thick and fluffy yet breathable, and our testers noted that its cotton and polyester cover feels smooth to the touch. The proprietary polyester fill is designed to respond to humidity and body temperature changes, preventing hot sleepers from overheating while still warming cool sleepers.
Why we like it
Thanks to its superb temperature regulation, the Luxome ClimaSense Comforter is a great choice for hot sleepers who want a cover with a thick, fluffy loft. The comforter is oversized to ensure full coverage for couples, and its baffle box design creates separate compartments for the fill to promote shape retention.
Luxome offers free shipping in the contiguous U.S. and a 30-night sleep trial. The company recommends spot-cleaning, as the comforter cannot be cleaned in a normal washing machine.
Comma Home Eucalyptus Comforter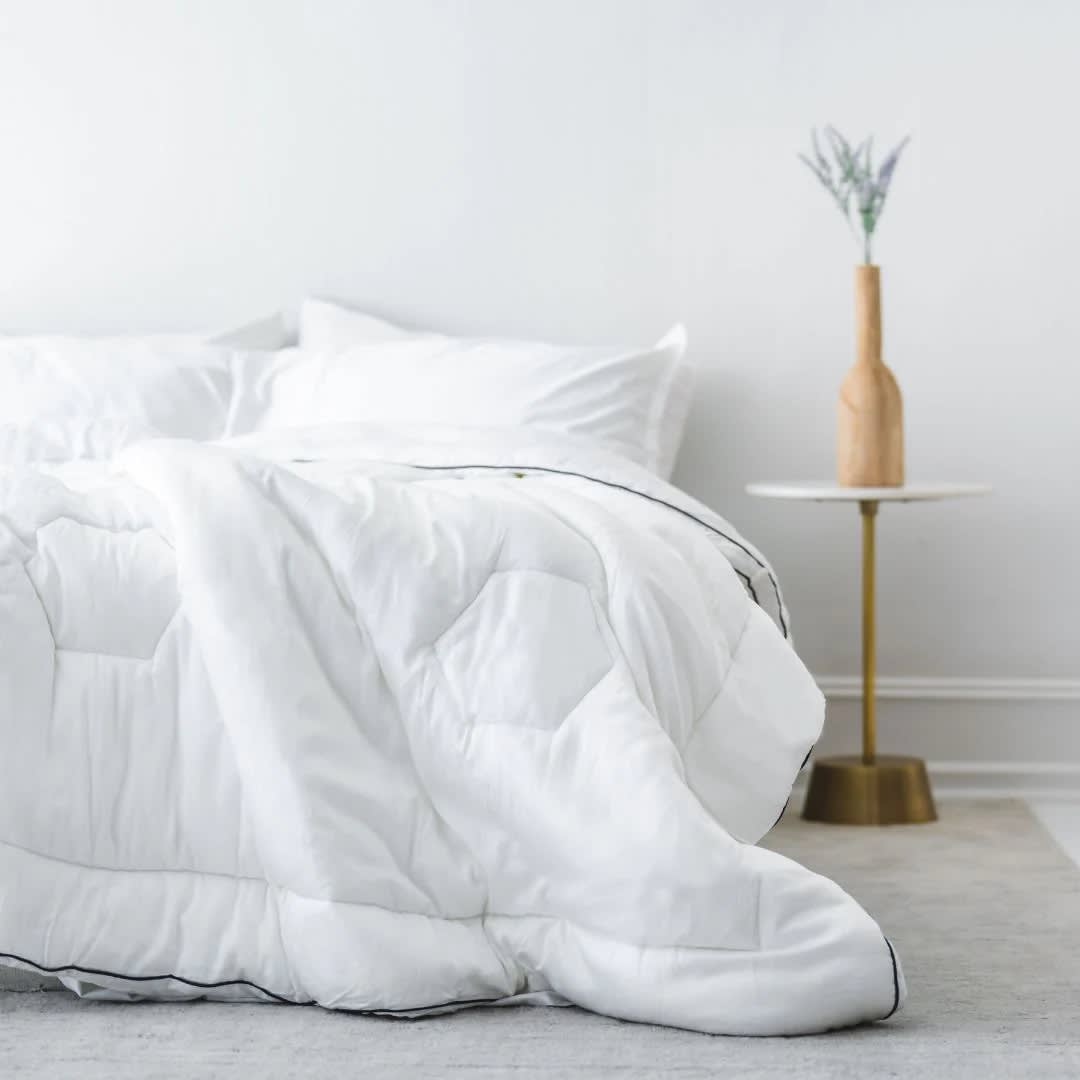 Cover Material: Lyocell from eucalyptus

Fill Material: Polyester down alternative fill

Price: $139
Budget-friendly price-point
Exceptionally soft eucalyptus lyocell cover
Machine-washable
Polyester fill is less durable than down
May be too warm for hot sleepers during the summer
Sleep Doctor's take
We recommend the Comma Home Eucalyptus Comforter to those who want a lofty cooling comforter that won't break the bank. Our testers especially raved about the breathable, ultra-soft cover that's composed of lyocell derived from eucalyptus.
---
The Comma Home Eucalyptus Comforter excels at temperature regulation thanks to its cover, which is composed of lightweight, breathable lyocell derived from eucalyptus. Inside the shell, a recycled polyester fill also helps resist heat retention. It's available in queen and king sizes.
How does it feel?
Our testers found the eucalyptus lyocell cover silky smooth and cool to the touch. The fluffy down alternative fill gives the comforter substantial loft without adding too much weight. The result is a luxurious, cozy comforter suitable for slumber or lounging.
Why we like it
According to our team, the Comma Home Eucalyptus Comforter delivers excellent comfort and cooling power at a lower price-point than many comparable options. It's machine-washable and features a single-sheet fill that resists clumping.
The comforter includes free shipping in the contiguous U.S. and a 30-night sleep trial.
Cozy Earth Bamboo Comforter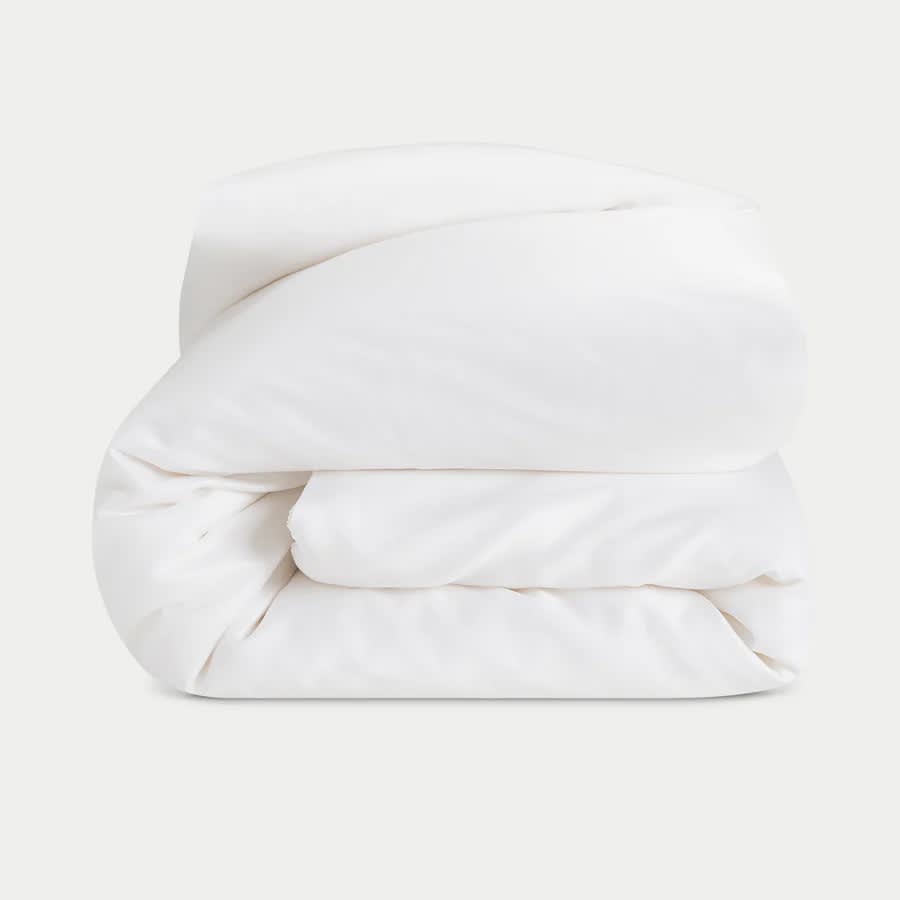 Cover Material: 100% viscose from bamboo

Fill Material: Viscose from bamboo fibers

Price: $499
Extraordinarily soft and breathable
Bamboo-derived viscose delivers superb temperature regulation
Generous 100-night sleep trial and 10-year limited warranty
Thinner profile than traditional down comforters
Machine-washing is not recommended
Sleep Doctor's take
Our testers loved the light and silky feel of the Cozy Earth Bamboo Comforter. Made from bamboo-derived viscose, this thin comforter is both comfortable and durable. Our testers noted that its lightweight design provides cozy warmth while preventing overheating.
---
Both the cover and fill of the Cozy Earth Bamboo Comforter are made of viscose derived from bamboo. The construction takes full advantage of the material's extra soft breathability and natural temperature regulation. Featuring a thinner loft than many down and down alternative fills, the comforter is available in twin, queen/full, and king sizes. For an added cost, buyers can opt for additional fill.
How does it feel?
The bamboo-derived viscose cover feels sleek and cool, allowing for abundant airflow. While the Cozy Earth Bamboo Comforter's profile is thinner than many down comforters, our testers described it as one of the fluffiest they've tried. Also, its temperature regulation makes it versatile and able to accommodate different types of sleepers year-round.
Why we like it
The Cozy Earth Bamboo Comforter delivers silky comfort, first-rate cooling, and enough adaptability for a wide range of weather. For people in colder climates, Cozy Earth offers an extra-filling option for more warmth.
The comforter includes free shipping throughout the U.S., a 100-night sleep trial, and a 10-year limited warranty. Cozy Earth recommends spot-cleaning and dry-cleaning over machine-washing.
Cover Material: Tencel and nylon blend

Fill Material: CLIMA cooling tech fiber, Tencel, polyester

Price: $255
Fill contains fibers designed to maintain optimal body temperature year-round
Tencel and nylon cover wicks moisture
Designed with loops for attaching a duvet cover
Not machine-washable
Down alternative fill is less durable than down
Sleep Doctor's take
Filled with a proprietary fiber that's engineered to regulate temperature, the Sijo TempTune Comforter is designed to help sleepers maintain an ideal body temperature regardless of climate. The breathable Tencel and nylon cover wicks moisture, making it an excellent choice for sleepers prone to night sweats.
---
In the Sijo TempTune Comforter, proprietary CLIMA fibers, polyester, and Tencel combine to create a unique fill that regulates temperature well enough for year-round use. Available in full/queen and king/California king sizes, this soft and lightweight model is a comforter for all seasons.
How does it feel?
Overall, the Sijo TempTune Comforter closely mimics the fluffy loft of down. However, when body temperature changes, the fill absorbs or disperses heat. The moisture-wicking Tencel and nylon shell feels sturdy yet soft and cool to the touch.
Why we like it
The standout feature of the Sijo TempTune Comforter is its proprietary CLIMA fibers, which are designed to keep the sleeper's body temperature between 82 and 89 degrees Fahrenheit — the ideal sleeping temperature, according to Sijo. It works for mild summers thanks to its lightweight feel and cooling properties, but because of its ability to store and release heat, it performs well in the cold too.
The comforter includes a seven-night sleep trial and free shipping in the U.S. Sijo recommends spot-cleaning or dry-cleaning, as it is not machine-washable.
Why you should trust us
Our diverse testing team rigorously evaluated dozens of comforters to determine the best options for cooling and comfort. We thoroughly assessed key factors like breathability, moisture-wicking ability, and temperature regulation across a wide range of materials and price-points. We continuously update our picks so readers have the most up-to-date recommendations.
What is a cooling comforter?
Cooling comforters help sleepers maintain an optimal sleeping temperature through materials that emphasize breathability, moisture-wicking capabilities, and temperature regulation.
Breathability refers to how much airflow the comforter allows. More airflow means faster heat dispersion and cooler sleep. Moisture-wicking fabrics pull sweat away from the body so the comforter doesn't become damp.
Temperature regulation describes the comforter's ability to adapt to body temperature. Some cooling comforters absorb and release excess heat when the sleeper gets too warm, but still insulate at cold temperatures.
Thanks to these characteristics, cooling comforters can greatly improve quality and consistency of sleep for hot sleepers, people who live in warm climates, and those who sleep with a partner or pet.
Why should you use a cooling comforter?
Cooling comforters help prevent sleep interruptions and restlessness caused by changes to body temperature. Like traditional comforters, they also add a cozy drape over the sleeper for extra comfort, and they can serve as a cover to prevent spills and stains on the mattress.
Hot sleepers and those in warm climates especially benefit from their temperature regulation. However, because many cooling comforters adapt to different body temperatures, they are also useful for couples and people who sleep with pets.
Comforters vs. duvets
While comforters and duvets perform the same function, they differ slightly in their construction and care. Comforters consist of a fabric shell with fill, and are able to be used as-is. Duvets include a fluffy insert with a thinner removable cover meant to be washed regularly. Some comforters are designed with loops for attaching duvet covers.
Comforter

Duvet

Sleepers who like the simplicity of a single-piece bed cover
People who don't mind washing bulky items

People who prefer to wash the cover only
Those who like having the ability to switch out inserts or covers
Best types of cooling comforters
Quality cooling comforters are constructed from breathable materials to help the body disperse heat. We'll detail different breathable fabrics and explain how they perform in cooling comforters.
Down and down alternative
Down fill is derived from the fluffy clusters found underneath the outer feathers of ducks and geese. Down is light yet compressible, and it's often associated with luxury and higher price-points. However, it also has a tendency to trap heat, which makes it excellent for cold climates but less common in cooling comforters.
Down alternatives use synthetic or semisynthetic materials to mimic the light fluffiness of down. Quality down alternatives feel as soft as the real thing, but they may be constructed from a more breathable material or have added cooling agents. Down alternatives are generally less durable than real down but come at a lower price-point.
Cotton
Breathable and crisp yet still soft to the touch, cotton has long been a standard for warm weather bedding. Cooling comforters that use it are generally more affordable than those that use other natural materials. However, comforters made from cotton may not insulate as well in cold weather.
Silk
Silk has a smooth, airy feel associated with luxury, and it's an excellent temperature regulator. The supremely breathable material resists heat buildup but still provides insulation when the temperature drops. Silk comforters are more difficult to care for and usually sell at a premium price-point.
Eucalyptus
Many comforters use lyocell fibers derived from eucalyptus plants because they create a soft, breathable fabric that wicks moisture and rivals the smoothness of silk. Eucalyptus-based fabrics are considered more sustainable since the plant requires less water than cotton to grow.
Wool
Known for its breathability, moisture-wicking properties, and temperature regulation, wool is a popular material for comforters because it also keeps sleepers warm in cold weather. However, wool is heavier than other breathable fabrics, and cooling comforters often use lighter fabrics that perform better in the summer.
Picking the best cooling comforter for you
Though all cooling comforters share the same basic function, specific attributes of individual models can vary widely. While the climate where you live and your sleeping needs and preferences will determine which comforter is best for you, we suggest taking the following considerations into account when shopping for a cooling comforter.
| | |
| --- | --- |
| Size | Size options vary according to the manufacturer, but most comforters are designed based on standard mattress sizes. Some comforters are slightly oversized for extra drape or use on higher-profile mattresses. Some manufacturers offer the same size comforter for full and queen mattresses. |
| Weight | Cooling comforters tend to be lightweight, as heavier comforters have a tendency to trap heat. |
| Temperature regulation | Some cooling comforters specifically benefit hot sleepers, while others have more advanced temperature regulation that makes them suitable for different types of sleepers and year-round use. |
| Durability | Durability depends on the quality of materials and construction. In general, natural fills like down or cotton are more durable than synthetic alternatives. |
| Cost | The cost of a cooling comforter varies widely depending on the brand, materials, and construction. While prices span from less than $100 to more than $500, you should be able to find a quality cooling comforter in the range of $200 to $300. |
Can cooling comforters help with night sweats?
Cooling comforters may help relieve night sweats by regulating body temperature and preventing overheating. However, night sweats have many causes, some of which may not be alleviated by a cooling comforter. People with severe or persistent night sweats should consult their doctor.
What else can you do to keep cool at night?
While a cooling comforter can be an effective way to reduce hot sleeping, there are a number of other steps you can take to stay cool at night.
Try a mattress with better temperature regulation: If you've tried other bed-cooling strategies without success, it may be time to consider a cooling mattress. In general, hybrid and latex mattresses are naturally more breathable and resistant to heat buildup than all-foam mattresses. That said, some foam mattresses contain cooling agents to counterbalance the material's tendency to trap heat.
Use pillows and bedding made of breathable fabrics: If you're a hot sleeper, you may benefit from using cooling sheets and cooling pillows constructed from breathable materials. Fabrics made from materials like cotton and bamboo-derived viscose allow for extra airflow that may help dissipate body heat.

Keep your room cool: Taking a few steps to cool your room can make a big impact on your sleeping temperature. Air conditioning, fans, or an open window can help regulate room temperature overnight. Keeping blinds closed during the day prevents heat from building up in the room.