Duvet covers are designed to safeguard your duvet insert or comforter from dust and other contaminants. Many duvet inserts and comforters are too large to fit inside household washing machines and require dry cleaning or commercial-grade appliances, so using a duvet insert can be a practical and affordable way to keep your sleep space hygienic.
Most duvet covers feature button or zipper closures and can be attached to a duvet insert or comforter with ties to help prevent shifting. Common materials for duvet covers include polyester, cotton, linen, rayon derived from bamboo, and Tencel. Duvet covers are also available in different weaves, such as percale with a crisp feel or silky-soft sateen.
We'll walk you through the basics of choosing and buying a new duvet cover. We'll also cover what duvet covers are made of as well as the best duvet covers on the market today.
Sleep Doctor's Picks
Shop Now
Shop Now
Shop Now
Shop Now
Brooklinen Classic Duvet Cover
Material: 100% long-staple cotton (270TC)

Weave: Percale

Price: $129
Composed of breathable, durable long-staple cotton
Percale weave gives the material a crisp feel
Available in 15 colors and patterns
Hot sleepers
People who like the crisp feel of a percale weave
Customers seeking a wide range of colors and designs
The Brooklinen Classic Duvet Cover is an affordable, high-quality bedding accessory available in a wide range of designs to complement your bedroom decor. A percale weave gives the cover an initially crisp feel that will gradually soften over time, and the cotton's long-staple composition ensures above-average durability and resistance to pilling. With a low thread count of 270, the cotton is also exceptionally breathable and shouldn't trap too much heat.
The cover is equipped with a large button closure. You can choose from twin/twin XL, full/queen, and king/California king sizes, all of which are oversized to provide plenty of coverage. The cover is also available in 15 different designs. These include solid colors as well as stripe and floral patterns. You can wash and dry the cover in your household machines for quick and easy care.
In addition to its approachable pricing, the Classic Duvet Cover qualifies for free ground shipping throughout the contiguous U.S. Brooklinen's sleep trial is one of the longest in the online bedding industry, allowing you to test out the duvet cover for up to one year before deciding whether to return it or keep it. Those who opt for the latter receive an additional year of warranty coverage for their purchase.
Pizuna Cotton Duvet Cover Set
Material: 100% long-staple cotton (420TC)

Weave: Sateen

Price: $98
Duvet cover and shams made of soft, breathable long-staple cotton
Available in more than 40 colors and patterns
Above-average longevity and affordable pricing ensure high value
People who prefer using cotton sheets
Hot sleepers
Shoppers looking for a wide range of colors and patterns
The Pizuna Cotton Duvet Cover Set consists of a cover along with one to two matching pillow shams, depending on which size you select. All items in the collection consist of long-staple cotton, a breathable and long-lasting fabric that resists wear and tear. A sateen weave enhances the cotton's natural softness, creating a balance of cooling and comfort that should maintain an agreeable temperature any time of the year.
The cover is designed with a hidden button closure and corner ties to keep your duvet or comforter in place. Twin/twin XL, full, full/queen, and king/California king sizes are available. You can also choose from more than 40 solid colors and patterns based on your bedroom decor and aesthetic preferences. The cover and shams are fully machine-washable, making them easy to keep clean.
The Cotton Duvet Cover Set is affordably priced in all sizes, and shipping is free of charge for customers in the U.S., Canada, and the United Kingdom. Returns of bedding in new condition are allowed within 30 days of the original purchase date, provided each item is shipped back to Pizuna in its original packaging.
Boll & Branch Signature Hemmed Duvet Set
Material: 100% long-staple organic cotton

Weave: Sateen

Price: $328
GOTS-certified organic long-staple cotton is durable, breathable, and sustainably sourced
Silky-soft feel from the sateen weave
Customers can bundle their purchase with matching pillowcases
Sleepers with sensitive skin
Eco-conscious shoppers
Shoppers seeking a duvet cover and pillowcase bundle
Boll & Branch has earned a reputation for high-quality luxury bedding products, and the Signature Hemmed Duvet Set is no exception. A duvet cover and two matching pillow shams comprise this three-piece collection. Each item is composed of organic cotton certified by the Global Organic Textile Standard, a leading authority for sustainably produced fabrics. A Fair Trade certification for Boll & Branch – indicating ethical worker treatment and compensation – should give owners extra peace of mind.
The sateen weave creates a silky feel with a comfortable drape, making the cover and shams ideal for people with sensitive skin. A hidden zipper and interior ties allow you to secure your duvet or comforter to the cover and minimize bunching during the night. The cover is fully machine-washable, and the cotton's long-staple composition ensures great longevity and resistance to wear and tear over time. Boll & Branch offers the cover in six solid colors, including both neutrals and earth tones.
Customers in the contiguous U.S. receive free ground shipping with their purchase. In addition to the shams, you can order two matching pillowcases with your set for a small upcharge. Boll & Branch accepts returns within 30 days of delivery. All items must be returned in good condition with original labels and packaging intact.
Saatva Organic Sateen Duvet Cover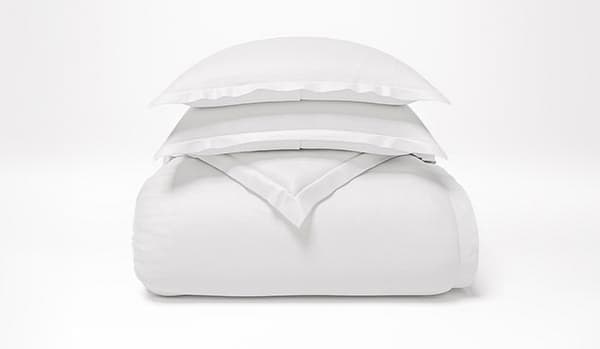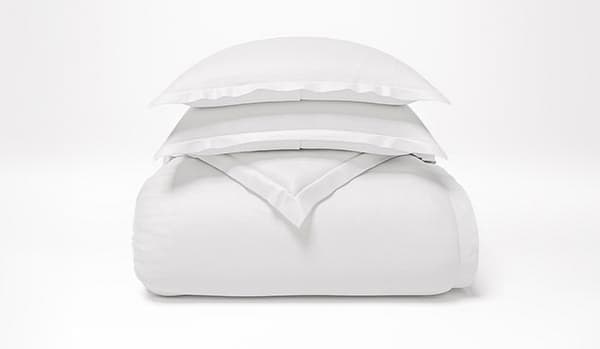 Material: 100% GOTS-certified organic cotton

Weave: Sateen

Price: $205
Breathable, 300 thread count cotton composition
Sateen weave ensures exceptional softness
GOTS and Fair Trade certified
Customers wanting a duvet cover for year-round use
People who like the silky-soft feel of a sateen weave
Sleepers with sensitive skin
For sleepers looking for a soft and breathable duvet, Saatva's Organic Sateen Duvet Cover Set should check a lot of boxes. The cover and matching shams in this collection are constructed from organic cotton with a smooth sateen weave. This composition helps ensure excellent breathability during hotter times of the year and comfortable body draping when temperatures drop. A mid-range thread count adds to the balanced, all-season feel.
A hidden zipper and interior corner ties help secure your duvet or comforter throughout the night. The cover and shams each feature a flanged hem to give the items an elegant, hotel-inspired finish. Three neutral colors are available. You can also choose from a twin/twin XL size with one sham or full/queen and king/California king sizes with two shams. Saatva allows customers to include one to two extra shams with their order for an additional fee.
The cover and shams are fully machine-washable for quick and easy cleaning. This set holds GOTS certification, indicating the cotton has been sustainably grown and processed, and a Fair Trade certification to ensure ethical worker standards. Saatva ships free of charge throughout the contiguous U.S. Each set includes a 45-night trial and a one-year warranty against material defects.
BedVoyage Luxury Bamboo Duvet Cover Set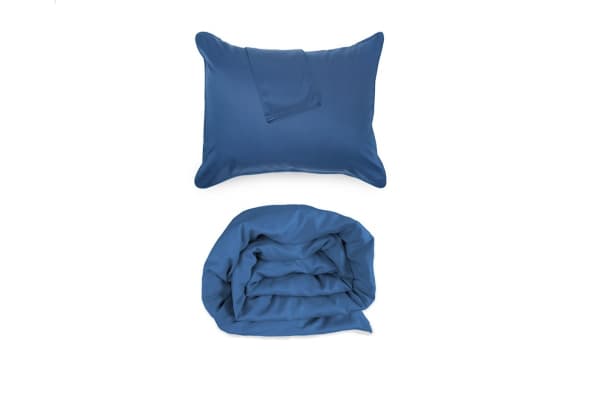 Material: 100% viscose from bamboo

Weave: Twill

Price: $219
Breathable 100% bamboo-derived viscose construction
Twill weave resists pilling over time
30-day return policy
Hot sleepers
People who enjoy exceptionally soft bedding
Those seeking a wide range of color and pattern options
Bedding made from bamboo-derived materials often earns high ratings in our temperature control tests, and the BedVoyage Luxury Bamboo Duvet Cover Set is no exception. This cover has a luxuriously soft feel that should keep hot sleepers cool throughout the night.
The duvet cover and shams are made from 100% viscose derived from bamboo, which is naturally breathable and soft, while a twill weave gives them a fuzzy and cozy feel. This combination of breathability and cozy warmth makes the set great for year-round use. The twill weave also keeps the set items from pilling over time, making it quite durable. Piped edges give the set a luxurious look while preventing feathers from poking through and escaping if you use a down duvet insert or pillow.
Corner ties and a button enclosure allow you to secure a duvet insert inside the cover easily. You can choose between full/queen and king/California king sizes in three solid colors and two patterns. The duvet cover and shams are fully-machine washable for easy care. Wash in warm water, and dry on a medium setting. Bamboo-derived fabrics are prone to wrinkles, but removing the items from the dryer promptly can help avoid them.
BedVoyage ships free to the contiguous U.S. on orders over $99, which includes every size of the duvet cover set. You can return the Luxury Bamboo Duvet Cover Set within 30 days for a full refund minus return shipping costs.
Cozy Earth Bamboo Duvet Cover
Material: 100% viscose derived from bamboo

Weave: Sateen

Price: $339
Made of luxuriously soft viscose derived from bamboo
Excellent breathability and moisture-wicking
Pilling-resistant fabric holds up well over time
Hot sleepers or people who frequently sweat at night
People who prefer exceptionally soft bedding
Those who share a bed with a partner
Bamboo-derived fabric has become a popular bedding material due to its supreme softness and exceptional temperature regulation. The Cozy Earth Bamboo Duvet Cover is composed of viscose derived from bamboo, with a silky feel enhanced by the sateen weave. This allows the fabric to drape closely and glide across the skin without irritation, while the viscose's breathability and moisture-wicking properties minimize bothersome heat retention.
The cover's construction incorporates buttons and corner loops to help prevent your duvet or comforter from bunching while you sleep. Durability is another strength of the duvet cover. Viscose resists pilling better than cotton or polyester, allowing you to enjoy the cover for years before a replacement is needed. Additionally, a fully machine-washable design allows for easy cleaning and care.
You can choose from twin, full/queen, and king sizes. All options are oversized to provide plenty of coverage, whether you're a solo sleeper or share your bed with a partner. The cover is also available in five neutral colors to complement any bedroom decor. All orders in the contiguous U.S. include free ground delivery, and Cozy Earth permits returns or exchanges within 100 days of the purchase date. Return shipping is also free for U.S. customers.
Why You Should Trust Us
Our team at TheSleepDoctor.com consists of seasoned sleep experts who have years of experience researching and testing various sleep products. We understand that one size never fits all when it comes to bedding. That's why our testers fall into a wide range of groups when it comes to style and design preferences.

To compile this list of the best duvet covers, our testers took turns lying on and beneath each cover, conducted tests to evaluate the softness and texture of each fabric, and evaluated the ease with which we were able to insert and remove a duvet. Other factors guiding our ratings included temperature regulation, ease of cleaning, and quality of materials.
A duvet cover is designed to encase your duvet insert and comforter, protecting it from contaminants, stains, and physical damage. Most duvet covers feature button or zipper closures to fully enclose the insert and ties to prevent your duvet or comforter from bunching up while you sleep.
Duvet covers are made using the same fabrics and weaves as standard bed sheets. In fact, many bedding companies sell duvet covers in larger sheet sets to coordinate your bedroom decor. You can also choose from a wide range of styles, including solid colors, stripes, floral prints, and more vibrant patterns.
Differences Between Duvets and Comforters
Duvets and comforters serve the same core purpose of keeping you warm and cozy in bed. The terms duvet and comforter are often used interchangeably, but these are technically two different products. Comforters are constructed with non-removable covers encasing their fill, whereas duvets are designed for use with a cover. That said, most duvet covers are compatible with duvets and comforters.
Despite their similarities, you might be a better candidate for a duvet insert or comforter based on personal factors such as whether you sleep hot, your shopping budget, and your aesthetic preferences.
Duvets vs. Comforters
Duvets
Duvets are usually thicker and fluffier than comforters. This makes them better suited to cold climates, chilly nights, and people who need more insulation to sleep comfortably.
When properly paired with a duvet cover, a duvet insert keeps fairly clean and does not need to be laundered very often.
Duvet covers are available in a wide range of designs to complement any decor.
Duvet inserts on their own are usually affordable, but the added expense of a duvet cover can make them more expensive than traditional comforters. This is especially true for real down and feather inserts.
When your duvet insert needs to be cleaned, the process can be a bit of a hassle. Many inserts require dry cleaning, which can be expensive, and most are too large to fit in household washers.
If your duvet cover isn't equipped with a secure closure and an adequate number of ties, then the insert is likely to bunch and shift while you sleep.
Comforters
Since they have built-in shells, comforters don't need a cover. This makes them more affordable on average than duvet inserts and their corresponding covers.
Comforters tend to have thinner profiles, making them suitable for year-round use. Many leading comforters today incorporate breathable shell fabrics to offset heat retention from the fill.
Due to their one-piece design, comforters come in a wider range of colors and patterns than duvet inserts.
Comforters, like duvet inserts, are difficult to clean. Most are too large for household washers, so dry cleaning or a laundromat may be your only options.
Some comforters are not equipped with ties or other fastening implements that allow you to pair them with a duvet cover. Duvet inserts include these features by design.
If you don't use a cover with your comforter, its lifespan will likely be short compared to a duvet insert because it will be more susceptible to stains and physical wear and tear.
What Are Duvet Covers Made Of?
Material composition can affect the feel of your duvet cover, how cool or warm it sleeps, and when you should expect to replace it. Each duvet cover material used today has certain pros and cons that make it a good fit for some sleepers and less so for others.
Cotton: Cotton is a natural fiber commonly used for duvet covers and other bedding products. Breathability and softness are two of cotton's defining characteristics. Short-staple cotton used in cheaper duvet covers may rip, tear, and pill more quickly, but long-staple and extra-long staple cotton are more durable. You can also opt for certified organic cotton if you want bedding that hasn't been treated with pesticides and chemical dyes.
Linen: Linen is a natural fiber derived from flax seed. Most linen duvet covers are highly breathable and well suited to warm or humid climates. Some people dislike the relatively coarse feel of linen, but washing the fibers during production can soften them and make them more comfortable for people with sensitive skin.
Silk: Silk is extracted from the cocoons of silkworms, then divided into individual strands. The result is a fabric that is both exceptionally soft and highly durable. People also enjoy silk bedding for its cooling and breathability. However, a duvet cover made from natural silk can cost significantly more than duvets made from other materials.
Microfiber: Microfiber is a synthetic material typically made of polyester. Thin fibers and a tight weave make the fabric tough and durable. Microfiber also tends to be soft, especially if the fibers are brushed during production. While microfiber resists wrinkling and stains, pilling may be an issue down the road.
Bamboo: When discussing textiles, bamboo is typically used as shorthand for rayon or viscose derived from bamboo – not the plant itself. These materials are often soft and produced with a sateen weave to bring out the silky-smooth qualities. Bamboo-derived fabrics also sleep exceptionally cool and wick moisture away from the body. However, high-quality bamboo-derived sheets usually have a steep sticker price.
Tencel lyocell: Another plant-based textile, Tencel is derived from eucalyptus fibers. The result is a breathable, moisture-wicking fabric that is supremely soft and more durable than many bedding materials – cotton included. Duvet covers made of Tencel tend to be somewhat expensive, and they are susceptible to permanent damage when exposed to high temperatures.
What Goes Inside a Duvet Cover?
A duvet cover encloses a duvet insert. Some covers are designed to be paired with duvet inserts from the same brand, but most are universally compatible with other duvets. You can also insert a comforter into a duvet cover for extra loft and comfort.
Duvet inserts and comforters typically consist of plush fill encased in a fabric shell. The fill may be real down and feathers, synthetic down alternative fibers, or wool. For the shell fabric, cotton or polyester are the most common materials.
Most duvet covers are equipped with ties that allow you to fasten them to their covers and maintain a uniform, clump-free appearance. Comforters may not feature these ties, so clumping and shifting is more likely.
What Should You Consider When Buying a Duvet Cover?
Most duvet covers sold today share similar designs and styles, but there are a few factors to keep in mind when choosing one over the other. Below, we'll take a deeper dive into the most important considerations for duvet cover shoppers.
Weave Type
How the fabric of your duvet cover is woven together can affect the material's feel, temperature control, and longevity. Percale and sateen are the two most common weaves for cotton, Tencel, and bamboo-derived fabrics.
Percale has a crisp feel that softens over time. Hot sleepers generally prefer percale for its breathability. Sateen is initially softer and retains its smooth feel over time, making it ideal for people with sensitive skin. Fabrics with sateen weaves drape closely to the body, which also means sateen often sleeps hotter than percale.
Pricing and Quality
The price-point of a duvet cover may not always reflect its overall quality. Expensive covers may fall apart after a year or two, whereas some less expensive covers may hold up well over time. Furthermore, the online bedding market has many duvet cover options that are available at a wide range of price-points.
The bottom line is that price should not be your only consideration when buying a duvet cover. Material and weave are also important factors. We recommend forming a realistic shopping budget, then finding a cover that meets your criteria for personal preferences like texture, breathability, and ease of care.
Durability
The expected lifespan of any given duvet cover depends on its material, weave, and overall quality. Most duvets need to be replaced after two to three years. When properly cared for, the most durable cover materials include linen, Tencel, and long-staple cotton. Microfiber and short-staple cotton may wear out after a year or two, depending on their weave.
Cleaning and Care
Since duvet covers are intended to protect your duvet or comforter, they are designed with easy care in mind. Most can be removed from the insert and machine washed at home with your other bedding. Manufacturers generally discourage using bleach or fabric softener. Following the care instructions will allow you to enjoy your duvet cover for as long as possible.
When you aren't using the cover, store it in a linen closet or another cool, dry place where it won't be exposed to excess humidity. Moisture damage can ruin an otherwise high-quality duvet cover in a short amount of time.