When the weather is warm, many sleepers want a blanket that's comfortable without being hot or stuffy. Fortunately, many blankets are well suited to summer.
Excessive heat exposure at night can increase wakefulness and disrupt important stages of the sleep cycle. To help maintain an ideal temperature for sleep during warm weather, those who use a blanket should opt for models that are breathable and moisture-wicking to prevent the buildup of heat and humidity.
We'll discuss our picks for the best summer blankets based on important characteristics like the materials, workmanship, and design. We also share buying information for each selection, including details on sleep trials, shipping and return policies, and blanket care.
Boll & Branch Lightweight Bed Blanket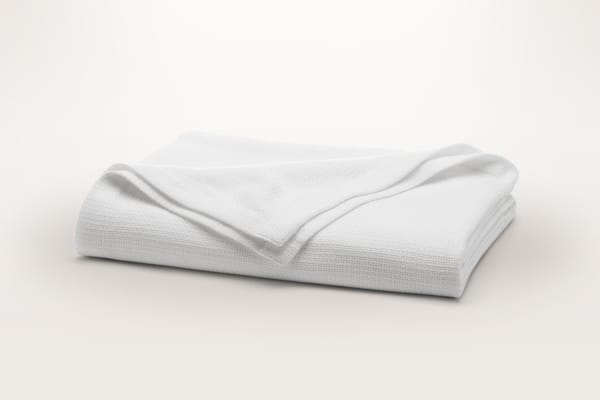 Cover Material: 100% organic cotton

Sizes: 74″ x 91″ 96″ x 96″ 112″ x 96″

Price: $218
Made with breathable, GOTS-certified organic cotton
30-day trial with free returns
Layerable for winter
Intricate stitching could snag on buttons and zippers in the wash
Limited solid color choices
The Boll & Branch Lightweight Bed Blanket checks all the boxes for many sleepers seeking breathable summer bedding. Made of organic long-staple cotton in a basket weave, this blanket allows for ample airflow to keep sleepers cool in hot weather.
Why We Like It
The use of long-staple cotton enhances the Lightweight Bed Blanket's durability and makes it softer and less likely to pill. Eco-conscious consumers may also appreciate that this blanket holds GOTS certification for its organic cotton. It is also OEKO-TEX Standard 100 certified, meaning it has been tested and found free of common harmful substances. Four classic neutral tones are available.
Cleaning and care are relatively easy. The blanket is machine-washable in cold water on a gentle cycle. Ideally, you should launder it separately. Garments with buttons, zippers, or hooks could snag its weave.
Buying Tips
The blanket is available in three sizes that accommodate the six standard mattress sizes. Free shipping is available in the contiguous U.S. Boll & Branch also provides a 30-day trial with free returns for blankets in original condition.
Brooklinen Lightweight Textured Throw Blanket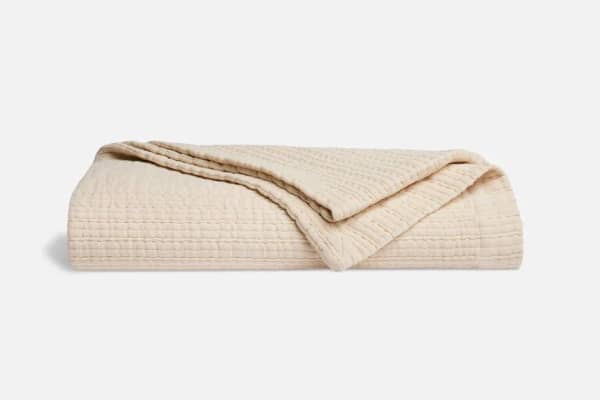 Cover Material: 100% cotton

Sizes: 50″ x 70″

Price: $149
Naturally breathable cotton lets air circulate
Throw size accommodates a wide range of uses
Available in beige, pink, and light green
Throw blanket sizing does not cover an entire bed
Dry cleaning recommended
Returns incur a fee
The Brooklinen Lightweight Textured Throw Blanket is made from breathable and durable long-staple cotton. As a throw blanket, this budget-friendly option works well for lounging, covering one sleeper, or using as a decorative element.
Why We Like It
This blanket stands out from others with its distinct textured design. Sized as a throw blanket, it's versatile enough for use in bed, on the couch, or as decoration. The Brooklinen Lightweight Textured Throw Blanket holds OEKO-TEX Standard 100 certification, which means it underwent third-party testing for common harmful substances. In addition to beige, color options include pink and light green for a vibrant pop against neutral-tone sheets or furniture.
Buying Tips
Brooklinen offers free shipping on orders over $100 to the contiguous U.S. and orders over $250 to Alaska, Hawaii, and Puerto Rico.
You can make returns for up to 365 days. However, a return fee applies.
Luxome Lightweight Blanket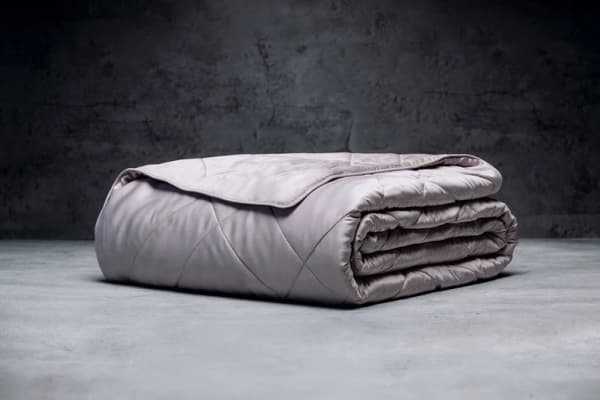 Cover Material: 100% viscose derived from bamboo

Fill Material: 100% viscose derived from bamboo

Sizes: 90″ x 96″ 106″ x 98″

Price: $195
Made from lightweight viscose derived from bamboo
Traditional look despite breathable design
Machine-washable
Returns incur shipping charges
The sateen weave is slightly less breathable than some alternatives
May wrinkly easily
The Luxome Lightweight Blanket is designed for all-season comfort. While quilting adds a traditional look, the thin profile and breathable, moisture-wicking viscose also make it a good option for summer.
Why We Like It
The blanket's classic quilting and lightweight materials balance coziness and breathability for year-round comfort. It's made with viscose derived from bamboo, which is breathable and moisture-wicking, to promote cool, dry sleep in warm weather. The sateen weave also makes the surface of the blanket silky smooth with a lustrous sheen and notable draping. Additionally, the blanket has OEKO-TEX Standard 100 certification. It's available in four neutral tones as well as a vibrant blue.
You can machine-wash and dry the blanket.
Buying Tips
The Luxome Lightweight Blanket comes in two sizes: one for full and queen size beds, and one for king and California king size beds.
Luxome offers free shipping to the contiguous 48 states. A 30-day return policy applies. Exchanges during this window are free, while returns incur shipping charges.
Sleep Number True Temp Blanket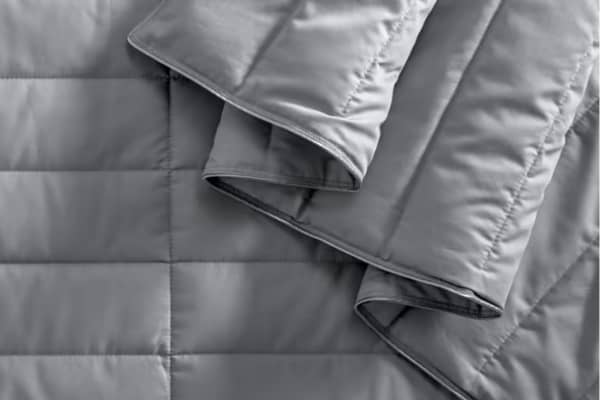 Cover Material: 80% cotton, 20% 37.5 polyester technology

Fill Material: 60% polyester, 40% 37.5 polyester technology

Sizes: 88″ x 94″ 96″ x 107″

Price: $160
Incorporates cooling technology designed to regulate temperature and moisture
100-night return policy gives you more time to decide if the blanket is right for you
Plush yet cool
May require fluffing
Use of synthetic components may not appeal to eco-conscious shoppers
A bit smaller than many other bed coverings, reducing how far it drapes
The Sleep Number True Temp Blanket stands out for its temperature-regulating technology. This blanket's shell and fill incorporate 37.5 Technology, which uses volcanic minerals embedded in the fabric. The particles are intended to dissipate both heat and moisture, making this blanket a good choice for hot sleepers.
Why We Like It
In addition to a breathable cotton-polyester blend cover with 37.5 Technology, the blanket includes plush polyester fill with the same active particles. Many summer blankets are thin to dissipate heat, but the Sleep Number True Temp Blanket's design allows it to combine plushness and temperature regulation.
The blanket holds OEKO-TEX Standard 100 certification. It is easy to clean in the washer and dryer. Five shades are available, including neutrals and subdued pink and blue versions.
Buying Tips
The Sleep Number True Temp Blanket is available in queen and king sizes. The queen size also accommodates full mattresses. Shipping is free in the contiguous U.S. The blanket includes a 100-night trial period and a one-year limited warranty, but fees may apply.
Cozy Earth Bamboo Blanket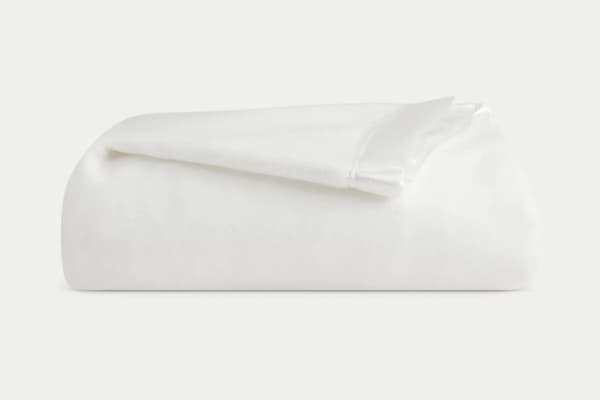 Cover Material: 100% viscose from bamboo

Fill Material: 100% viscose from bamboo fibers

Sizes: 68″ x 86″ 96″ x 100″ 112″ x 100″ 40″ x 31″

Price: $335
Made from breathable and moisture-wicking viscose derived from bamboo
Comes in a reusable tote bag
Available in twin, full/queen, king, and baby blanket sizes
Only available in white
Price-point may be too high for some budgets
The Cozy Earth Bamboo Blanket's classic white color and satin border are designed to mimic the look of a high-end hotel bed. It features soft, lightweight bamboo-derived viscose that is both breathable and moisture-wicking.
Why We Like It
As the name suggests, the Cozy Earth Bamboo Blanket is made from viscose derived from bamboo. Viscose lets air circulate while pulling moisture away from the body, reducing the risk of sleepers getting hot during the night. The blanket's weave is designed to resist pilling and maintain a soft feel over time. Each purchase comes with a reusable tote bag that you can use to store your blanket if you switch it out in winter. Although the blanket is only available in plain white, the design has a classic and high-end look.
The blanket is also machine-washable for easy cleaning.
Buying Tips
The Cozy Earth Bamboo Blanket is available in twin, full/queen, and king sizes. A baby blanket is also available.
Cozy Earth provides a generous 10-year limited warranty and a 100-night sleep trial. Shipping is free for U.S. customers making purchases over $50, and returns are free as well. Cozy Earth covers shipping costs for returns and exchanges.
Cover Material: Recycled polyester and eucalyptus

Fill Material: 100% recyled PET

Sizes: 70″ x 50″

Price: $99
Stain-resistant for convenient use in any setting
Shell includes a blend of Tencel and recycled polyester for smoothness and breathability
Comes in four colors
Only available in throw size
Some may feel that the puffer-jacket-like texture is too outdoorsy for regular indoor use
The Buffy Puffer Blanket is a versatile throw made for indoor and outdoor use. With an appearance and feel reminiscent of a puffer jacket, the blanket is plush without retaining a lot of heat. It also comes at a lower price-point than many options, making it a great choice for value-conscious consumers seeking a versatile summer blanket.
Why We Like It
The blanket's shell uses a breathable and moisture-wicking blend of polyester and Tencel. Recycled PET serves as the fill, adding loft without trapping much body heat. A distinctive wave quilting pattern across the surface helps distribute the fill while giving the blanket its distinct puffy appearance.
Although the Puffer Blanket is only available in throw size, Buffy offers four colors, ranging from neutral black to bold orange. The blanket is machine-washable, and the material is stain resistant to better withstand outdoor use.
Buying Tips
Buffy offers a seven-night sleep trial before your credit card charge is processed. The company also offers a 50-day return window from the date of purchase. Shipping is free in the contiguous U.S.
Gravity Cooling Weighted Blanket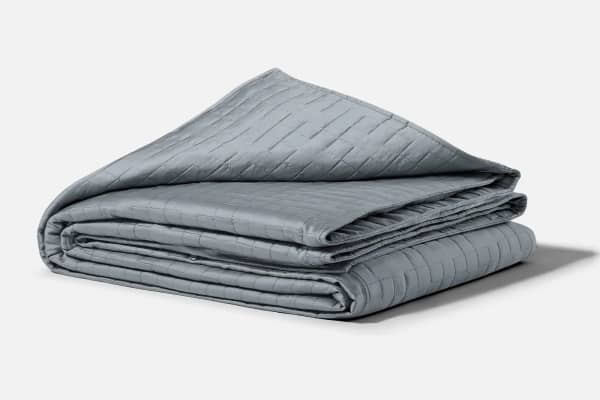 Cover Material: 100% lyocell from eucalyptus

Fill Material: Glass beads

Sizes: 72″ x 48″ 90″ x 90″

Price: $295
Soft, breathable, eucalyptus-derived lyocell cover feels cool to the touch
Six color options
Glass bead fill limits heat retention
Not designed to significantly drape over the edges of the bed
Care is more challenging due to the weighted insert
Shipping charges apply
Weighted blankets provide a hugging sensation, which some sleepers find alleviates stress and anxiety. The Gravity Cooling Weighted Blanket combines a eucalyptus-derived lyocell cover with glass bead fill to apply even pressure while limiting heat buildup.
Why We Like It
Because weighted blankets hug the sleeper so closely, they often trap heat. The Gravity Cooling Weighted Blanket counteracts this effect by using breathable materials throughout. The lyocell cover is derived from eucalyptus and feels cool and smooth. It also wicks moisture and lets air circulate, which helps regulate temperature. The glass bead fill adds weight without holding a lot of heat.
The blanket is available in multiple weights, including both 15-pound and 20-pound options for single sleepers and a 35-pound version for queen and king beds. Shoppers can also select from six colors. The blanket cover is machine-washable, and you can wash the weighted insert by hand.
Buying Tips
Gravity charges $10 for shipping in the contiguous U.S, $65 in Canada, and $100 in Alaska and Hawaii. Products in new condition can be returned within 30 days of receipt. The customer is responsible for return shipping charges.
Why You Should Trust Us
The Sleep Doctor team has years of collective experience researching, testing, and personally using sleep products. Our expertise gives us unique insights into the characteristics of different materials, weaves, and knits.
What Is a Summer Blanket?
A summer blanket is a breathable top layer that covers the bed without trapping a lot of heat. Intended for warm-weather use, summer blankets allow airflow so that body warmth can dissipate. They also frequently wick moisture to transfer any sweat away from the sleeper. Many summer blankets are lightweight, but weighted options are also available.
Why Should You Use a Summer Blanket?

Many sleepers appreciate the comfort of a blanket even during times of the year when they don't need extra warmth. A summer blanket can provide a similar sensation without significantly contributing to heat buildup or stuffiness. A blanket designed for summer comes with a variety of benefits.
Stay cooler in warmer weather: A lightweight summer blanket can help you maintain a more neutral temperature during the night.
Increase airflow and reduce heat: Summer blankets use breathable materials that let air circulate. Airflow around your body can reduce heat buildup and stuffiness.
Wick away moisture: Some summer blankets use moisture-wicking fabrics, such as linen, lyocell, and Tencel. These materials help pull sweat away from your body so you don't feel clammy.
Comforting feel of weighty blanket: Using a blanket in summer can provide the comforting feeling of additional weight beyond that of a top sheet.
You're a hot sleeper: A summer blanket may be an ideal year-round option for those who sleep hot but prefer the added covering.
What Type of Blanket Is Best for Summer?
Several types of blankets are well suited to summer. To make a high-quality blanket that performs well in warmer months, manufacturers typically select breathable, moisture-wicking cover and fill materials to help regulate temperatures.
Best Blanket Materials for Summer
Most widely used summer blanket materials are breathable, lightweight, and moisture-wicking. Popular options include cotton, linen, bamboo-derived rayon, Tencel, and certain polyester and blended fabrics.
| Material Type | Description |
| --- | --- |
| Cotton | Cotton is a soft plant fiber known for its breathability. Quality, feel, weight, and temperature control depend largely on the length of the staples, which are the fibers that make up the threads. Extra-long staple cotton varieties, like Egyptian and Supima cotton, are usually the most durable and breathable. |
| Linen | Linen is another natural plant fiber derived from flax. It's exceptionally breathable and moisture-wicking, which makes it popular in hot climates. |
| Bamboo | Bamboo is a source material that can be used to create several types of semi-synthetic fabrics, including viscose, rayon, and lyocell. These materials are generally light, soft, breathable, and very moisture-wicking. |
| Tencel | Tencel is a name-brand lyocell or modal fabric derived from wood pulp, most often from sustainably sourced eucalyptus trees. This semi-synthetic material is similar in softness, breathability, and moisture wicking to bamboo-derived fabrics. The main difference is that the production of Tencel is more closely monitored to limit the environmental impact. |
| Polyester Fibers and Blends | Polyester is generally inexpensive and has great moisture-wicking properties. Although it tends to be more insulating than other materials common in summer blankets, blends with other fibers often enhance breathability while keeping costs down. |
Blanket Materials to Avoid in Summer
When it comes to blanket materials, considerations vary between summer and winter. For example, highly insulating materials work well during winter months, but blanket materials that trap heat and limit airflow may seem stifling in summer.
Wool is a common material known for its temperature regulation and moisture wicking. But while a lightweight wool blanket may stay relatively temperature neutral in summer, a thicker one could be too insulating. Similarly, some polyester blankets trap excessive heat, while others that use blended materials or cooling technology stay cool.
Some materials seem like a more natural fit for summer and others for winter. However, it's important to remember that construction, weight, and thickness also contribute to temperature regulation.
Can You Use a Weighted Blanket in the Summer?
Although we often associate summer blankets with lightweight construction, some weighted blankets are also designed to help sleepers maintain their ideal sleeping temperature even in warmer weather. Assess the materials to determine whether a weighted blanket is likely to be comfortable for summer. Some models use chunky yarn to allow space for air to circulate. Others use breathable covers and glass bead fill to limit heat retention.
Picking the Best Summer Blanket for You
The main similarity between summer blankets is that they are generally cooler than the average year-round model. Beyond that, countless variations can influence which option is ideal for you. For example, the materials and type of blanket greatly affect the overall feel and performance.
Ultimately, the best summer blanket for you depends largely on your intended use. Whether you plan to take it outside, use it on your bed, or lounge with it on the couch, you should consider your goals before making a decision.
Lightweight Materials
Most summer blankets are light and thin to limit insulation and enhance breathability. Many models include just a single layer with no interior fill. That said, plush and weighted options designed for cooling are also readily available to accommodate sleepers who prefer a more traditional blanket feel.
Breathability
Breathability is important for hot weather blankets. Airflow around the body reduces heat buildup that could otherwise cause discomfort.
Weave
Weave influences a blanket's breathability, texture, and feel. The most breathable weaves leave gaps between the individual threads, allowing air to circulate more freely. Percale weave is especially well known for its crisp, cool feel. A basket weave uses a similar pattern for exceptional breathability. Sateen weave is denser, heavier, and more insulating, but the ultra-smooth texture can still seem cool to the touch.
Knitted blankets are also widely available and can be quite breathable, particularly if they're loosely knitted.
Style
Blankets come in a wide array of styles, from basic neutral tones to highly decorative summer throw blankets that are as much about decor as comfort. Some blankets with multiple layers use intricate stitching to make a visual statement while holding fill in place. With a variety of colors, patterns, and textures available, there's a summer blanket for virtually any aesthetic. Some models are also reversible for shoppers who want to change up the look of their space.
Durability
The quality of the materials and craftsmanship are the main determinants of a blanket's durability. If properly cared for, some blankets can last for many years.
Certifications
Summer blankets and their materials may hold third-party certifications relating to their contents and sustainability. OEKO-TEX Standard 100 is among the most common certifications in the textile industry, verifying a product was tested for a variety of harmful substances by an independent institute. Cotton and linen may also be certified organic by the Global Organic Textile Standard (GOTS), meaning they meet set ecological and social standards.
Cleaning and Care
Cleaning guidelines vary depending on a blanket's materials and construction, so check the label for care instructions. Some summer blankets require dry-cleaning or hand-washing. However, most are machine-washable, although you may need to visit a laundromat with a large-capacity washing machine for bulky bedding. Follow the manufacturer's instructions to prevent damage and preserve the quality of your blanket.
Price, Warranty, and Return Policy
Summer blankets can range from $40 to over $400, but they tend to be somewhat more affordable than winter blankets because they use less material.
Return and warranty policies vary depending on the manufacturer or retailer. Note that orders directly from the manufacturer may also carry different policies than in-store purchases.
What Else Can Keep Your Bed Cool in the Summer?
Adjusting your bedding and mattress may help improve your sleep when it's hot outside. If you're prone to overheating, anything that cools the sleep surface could enhance your comfort.
Use cooling sheets and pillows: When used in conjunction with a summer blanket, cooling pillows and cooling sheets can lend to a more temperature-neutral sleep surface. Breathability is key for both of these products. Many cooling pillows also incorporate technology engineered to transfer heat away from your body.
Try a cooling mattress pad: A mattress pad rests between your fitted sheet and your mattress. It may passively cool the surface by letting air circulate or actively regulate temperatures using technology designed to draw away body heat.
Consider your mattress type: If your sleep surface still feels hot after you've switched out your blanket, sheets, pillows, and mattress pad, you might consider replacing the mattress or selecting a cooling mattress topper.
Mattress types vary significantly in their ability to regulate temperature. Memory foam models often retain heat, but many manufacturers now incorporate technology designed to cool the surface, such as gel infusions. Cooling mattresses frequently use innerspring, hybrid, or latex designs for greater breathability.
A mattress topper can also adjust the temperature of your sleep surface. It adds a layer between you and the mattress. Models designed for cooling may use breathable latex or foam engineered for temperature neutrality.