Millions of people in the U.S. snore on a regular basis. Frequent snoring can cause sleep disruptions for both the snorer and their sleep partner. While there is no cure for snoring and surgical treatments can be fairly expensive, anti-snoring mouthpieces can be a cost-effective workaround for mitigating this problem.
Also called anti-snoring mouthguards, these devices reposition the jaw, tongue, and other areas of the mouth that can hinder airflow through the breathing passages, which is a common reason why people snore. Anti-snoring mouthpieces include mandibular advancement devices (MADs), which move the jaw forward, and tongue-retaining devices (TRDs), which hold the tongue in place.
This guide covers the ins and outs of anti-snoring mouthpieces to help you decide if one of these devices is right for you. Our top picks for anti-snoring mouthguards sold today are outlined below. Scroll down further to check out our detailed buyer's guide for information and tips on finding the best anti-snoring mouthpiece to meet your needs.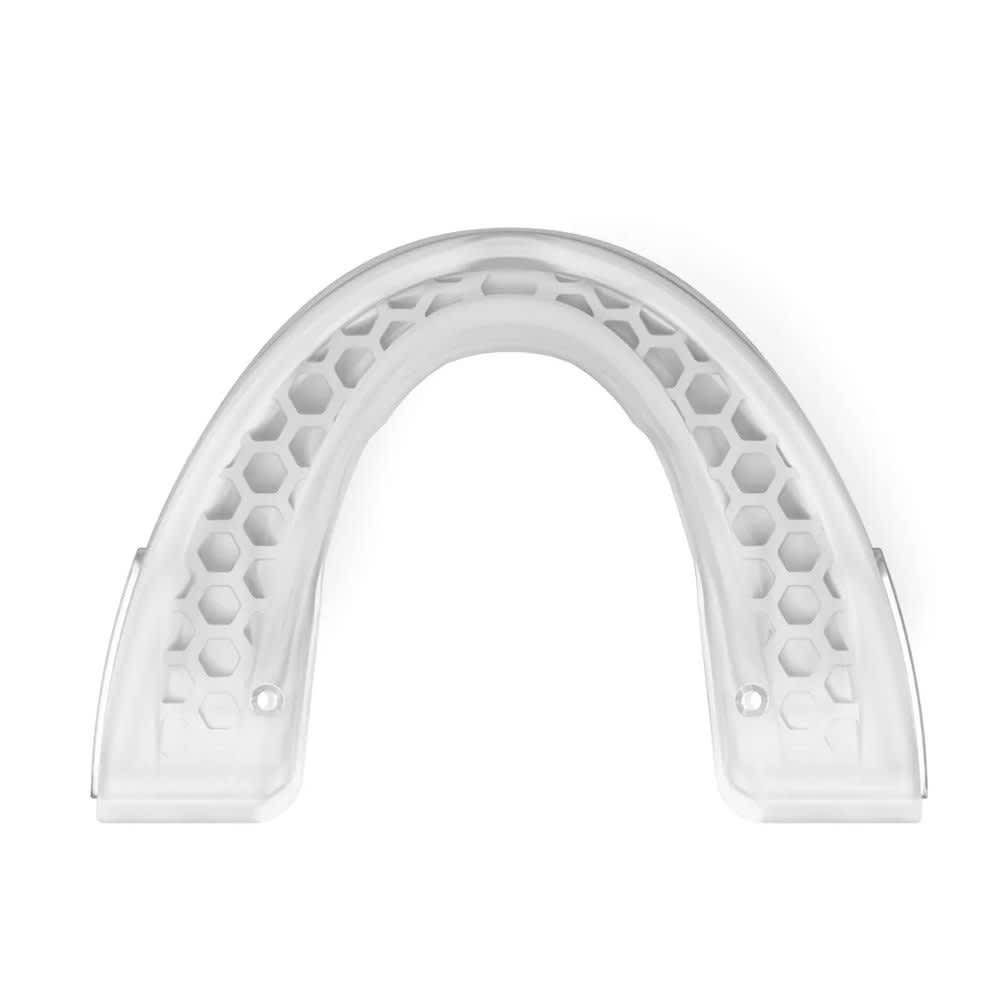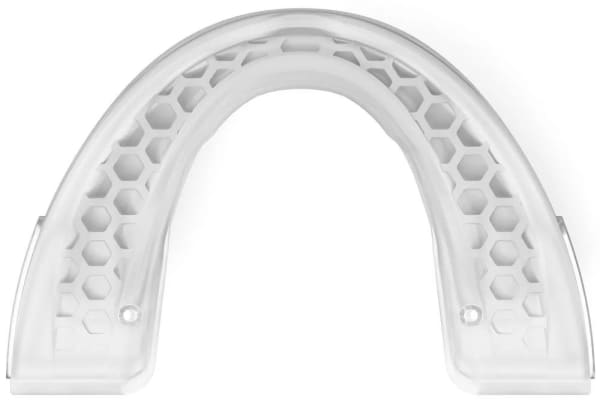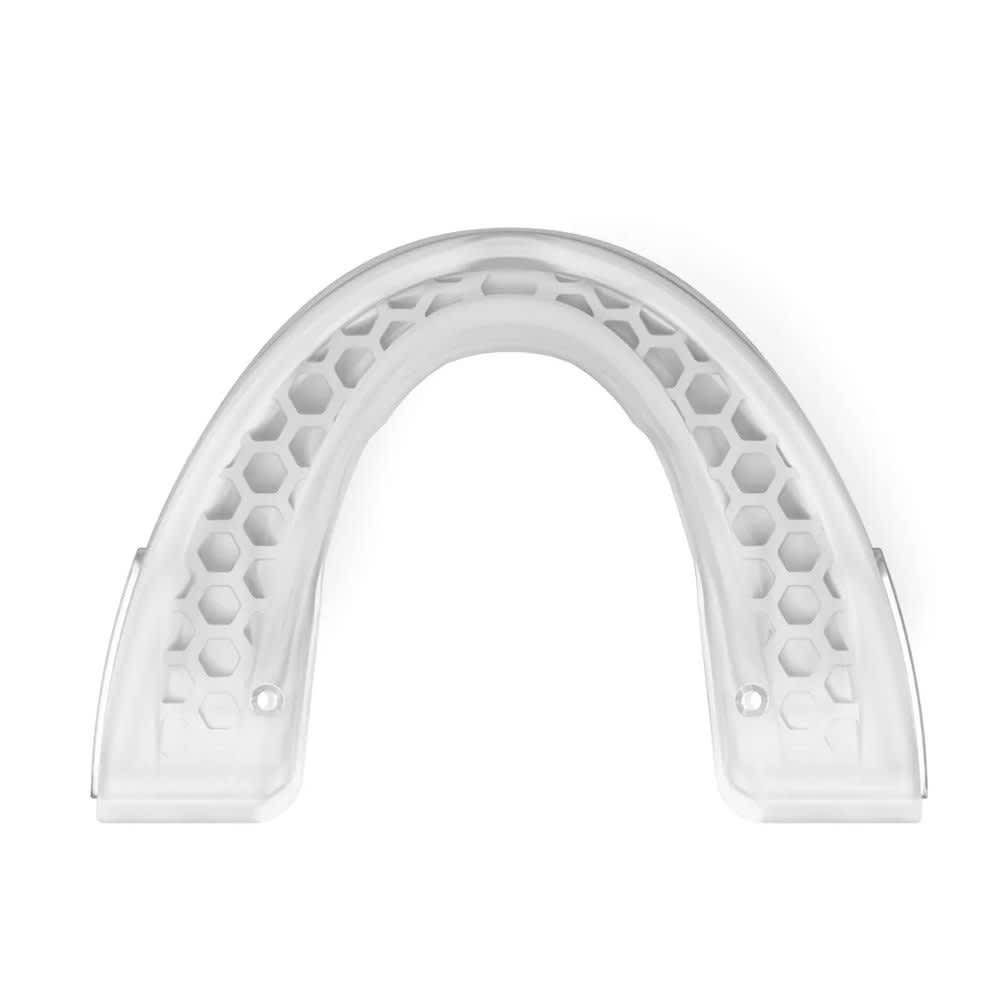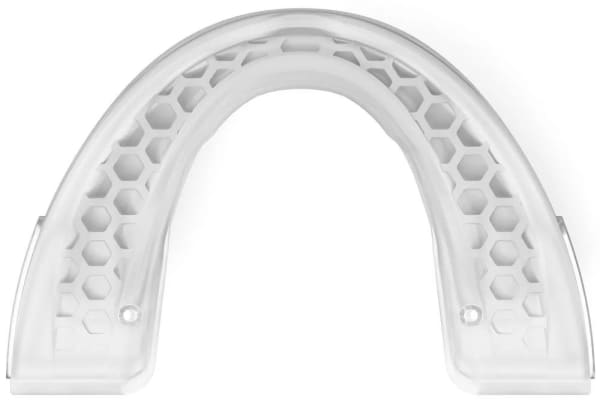 Mouthpiece Type: Mandibular advancement device (MAD)

Price: $60
Customizable boil-and-bite design
Mouthpiece can be adjusted in 1 millimeter increments
Affordable sticker price compared to other custom-molded mouthguards
People seeking a customizable mouthpiece
Value seekers
Sleepers who prefer MADs
The SnoreRx checks a lot of boxes for people in search of a comfortable anti-snoring mouthguard. The device is easy to customize, fully adjustable, conducive to mouth breathing, and affordable.
How Does It Work?
The SnoreRx Mouthpiece is a fully customizable mandibular advancement device designed to curb snoring by repositioning your jaw. The boil-and-bite design allows you to easily make an impression that's custom-fitted for your mouth. After the impression has been made, you can adjust how far the guard pushes your jaw forward.
Customizing the SnoreRx is an easy, straightforward process. Bring a glass of water to a boil in a microwave, and then dip the SnoreRx in the glass for exactly two minutes. Then remove the mouthguard and immediately dip it in a glass of cold water. Wait a few seconds, then take the mouthguard out of the water, place it in your mouth, and bite down for three minutes. Lastly, remove the device from your mouth and soak it in the glass of cold water for 10 minutes to allow it to set. Don't worry if the impression isn't a perfect fit after the first setting — you can attempt a second impression if needed.
Why We Like It
For added comfort, the SnoreRx is soft, pliable, and lightweight. Small ventilation holes promote airflow while you sleep, allowing you to breathe through your mouth without obstruction. The device is adjustable in increments of 1 millimeters up to 6 millimeters, allowing for full lateral movement. This is a major perk for anyone who has found other mouthpieces too restrictive.
The SnoreRx is affordably priced and all orders are backed by a risk-free 30-night trial period.
ZQuiet Anti-Snoring Mouthpiece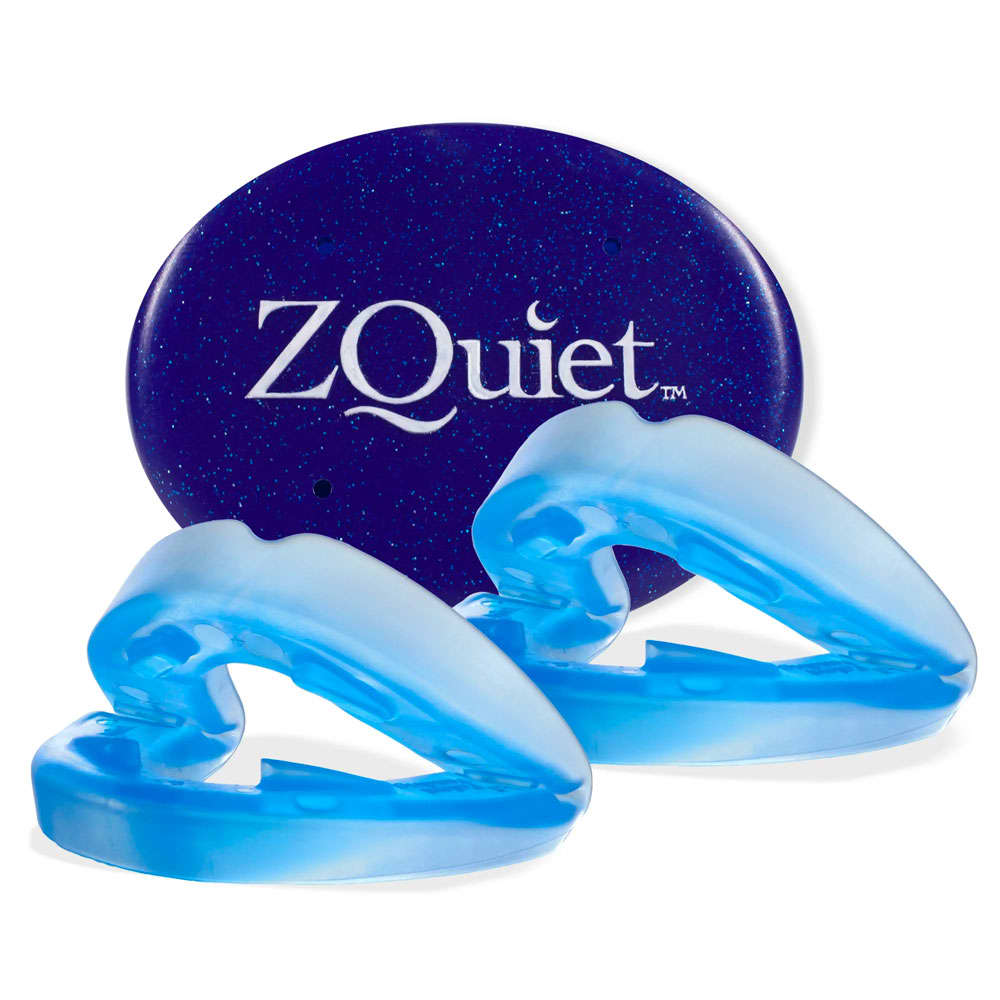 Mouthpiece Type: Mandibular advancement device (MAD)

Price: $70
Universal fit eliminates the need for boiling or molding
Two sizes available with advancement of up to 6 millimeters
Promotes easy breathing and side-to-side movements
Value seekers
People who typically have trouble breathing with a mouthguard
Sleepers seeking an adjustable mouthpiece
The ZQuiet Anti-Snoring Mouthpiece is easier to use than most competing MADs. Two sizes and a lengthy trial period help ensure you'll find a comfortable fit and effective advancement.
How Does It Work?
The ZQuiet is available in two sizes. If you need minor advancement from your mouthguard, we recommend the smaller device that advances your jaw 2 millimeters. The larger mouthguard with an advancement of 6 millimeters may be more suitable if you have a larger jaw. Your purchase will include one of each, allowing you to test both to find the best fit.
You should clean and sanitize the device each morning. For a small upcharge, you can add a bottle of ZQuiet Clean to your purchase. You can order single mouthguards whenever your original device needs to be replaced. The ZQuiet Clean solution is also available for individual purchase.
Why We Like It
The mouthpiece is a hassle-free alternative to customizable boil-and-bite MADs. Designed for a universal fit without any molding whatsoever, virtually anyone can use the ZQuiet as long as they select the correct size. The flexible design promotes side-to-side jaw movements and allows you to comfortably breathe through your mouth. ZQuiet recommends trying the smaller device first. If your snoring persists, you can transition to the larger mouthguard.
If you're trying the ZQuiet for the first time, the company allows returns within 60 nights, though you'll need to pay a small fee to include the trial with your order.
VitalSleep Anti-Snoring Mouthpiece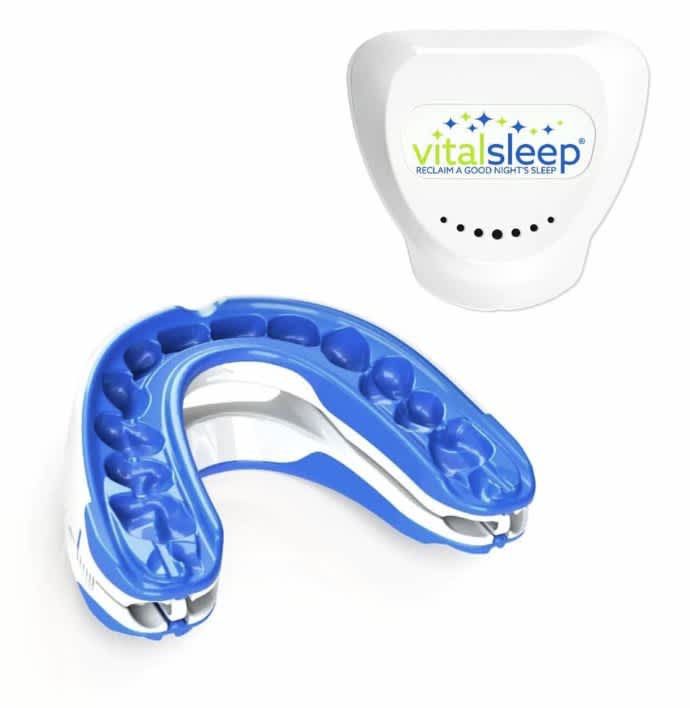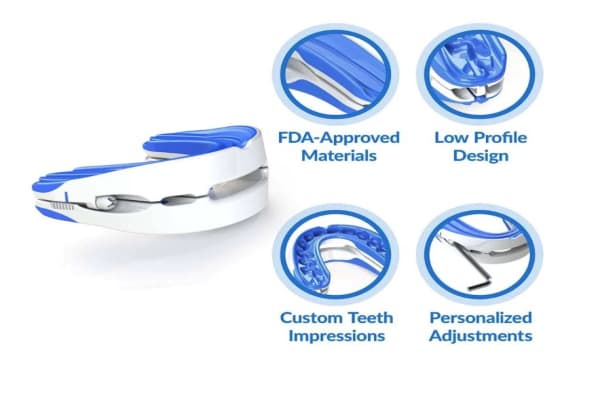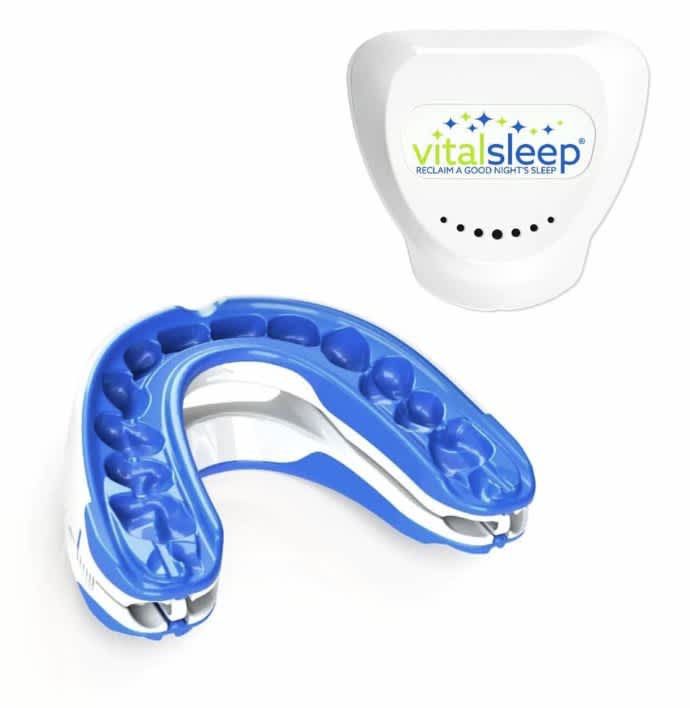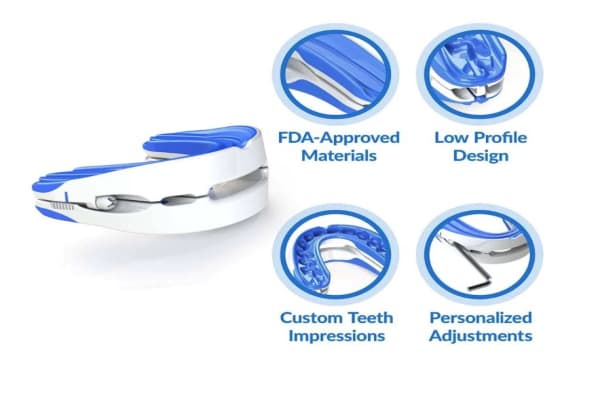 Mouthpiece Type: Mandibular advancement device (MAD)

Price: $70
Adjustable up to 8 millimeters for optimal customization and advancement
Available in two sizes
Hassle-free molding process takes less than a minute
Sleepers seeking a customizable mouthpiece
People who prefer using mandibular advancement devices
Those whose jaw placements vary depending on the night
The VitalSleep Anti-Snoring Mouthpiece is a highly adjustable MAD that should benefit even the heaviest of snorers. A customizable boil-and-bite design, two size options, and advancement of up to 8 millimeters help ensure most people can comfortably use the device.
How Does It Work?
You can choose from two sizes for your VitalSleep device, one of which is roughly 10% larger than the other. To make an impression, place the mouthguard in heated water for 45 seconds, then dip it in cold water for three seconds and sink your teeth into the upper and lower trays. On the first night, try the mouthguard in its neutral setting without adjusting the lower tray. Sliding it forward by 1 millimeter each night can help you reach your ideal advancement level in a matter of days.
Why We Like It
The VitalSleep Anti-Snoring Mouthpiece offers a level of adjustability that is hard to find with MADs sold today. Using the adjustment tool included with your order, you can slide the device's lower tray forward or backward in 1 millimeter increments up to 8 millimeters. This ensures people who need minor, moderate, or even major jaw advancement can improve their airflow and reduce snoring with the mouthguard.
The VitalSleep device is competitively priced and shipping is free for all U.S. orders. Each purchase includes a 60-night trial, and those who decide to keep their mouthguard also receive a one-year manufacturer's warranty.
Good Morning Snore Solution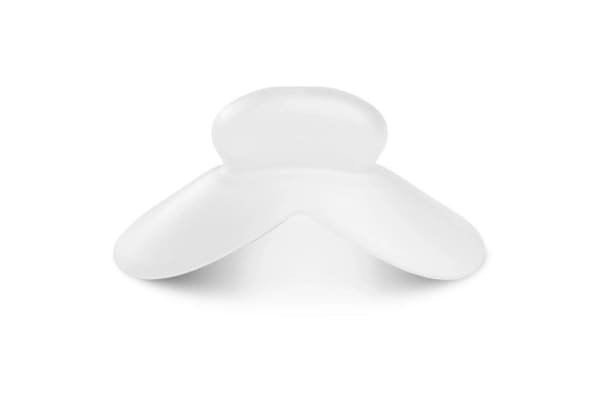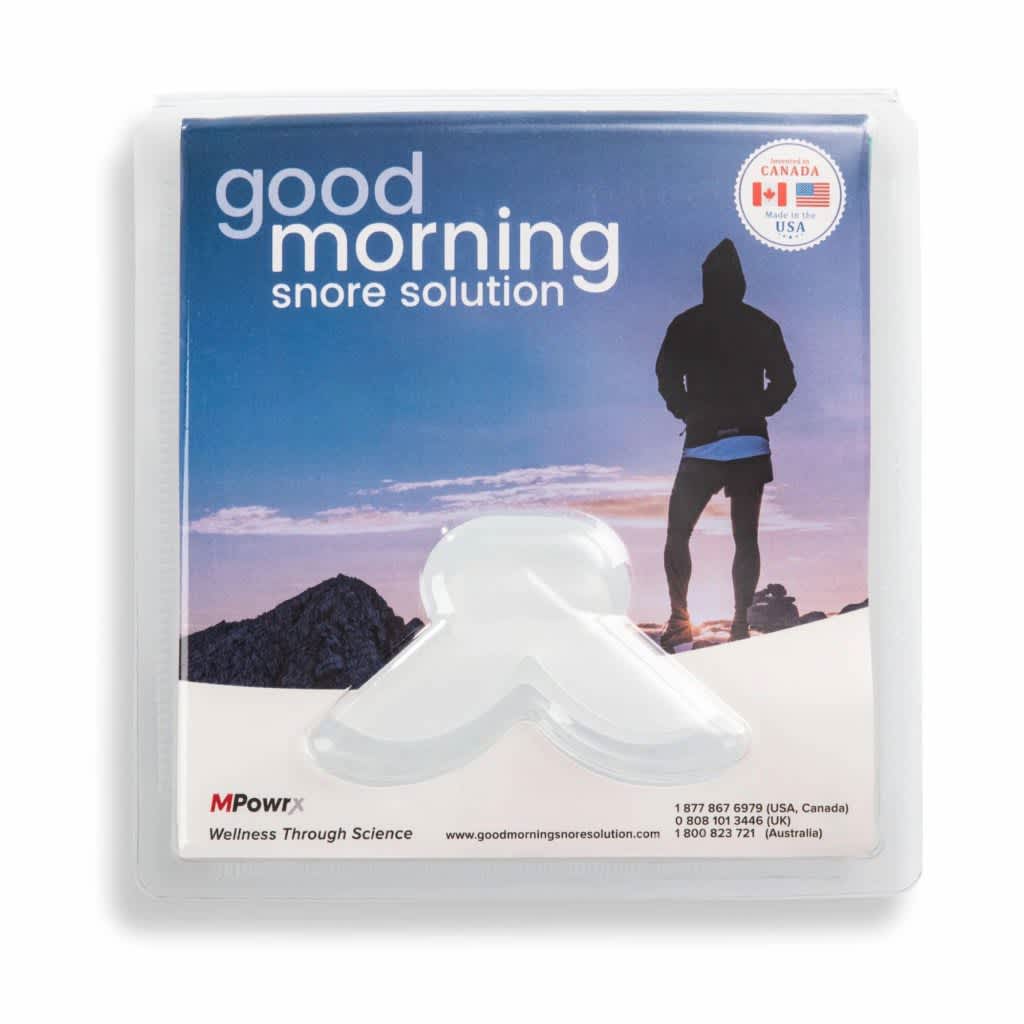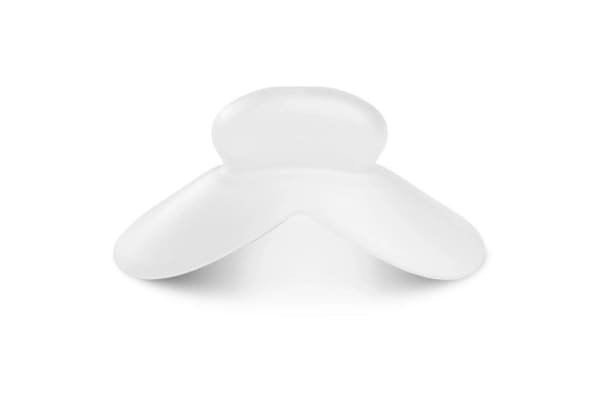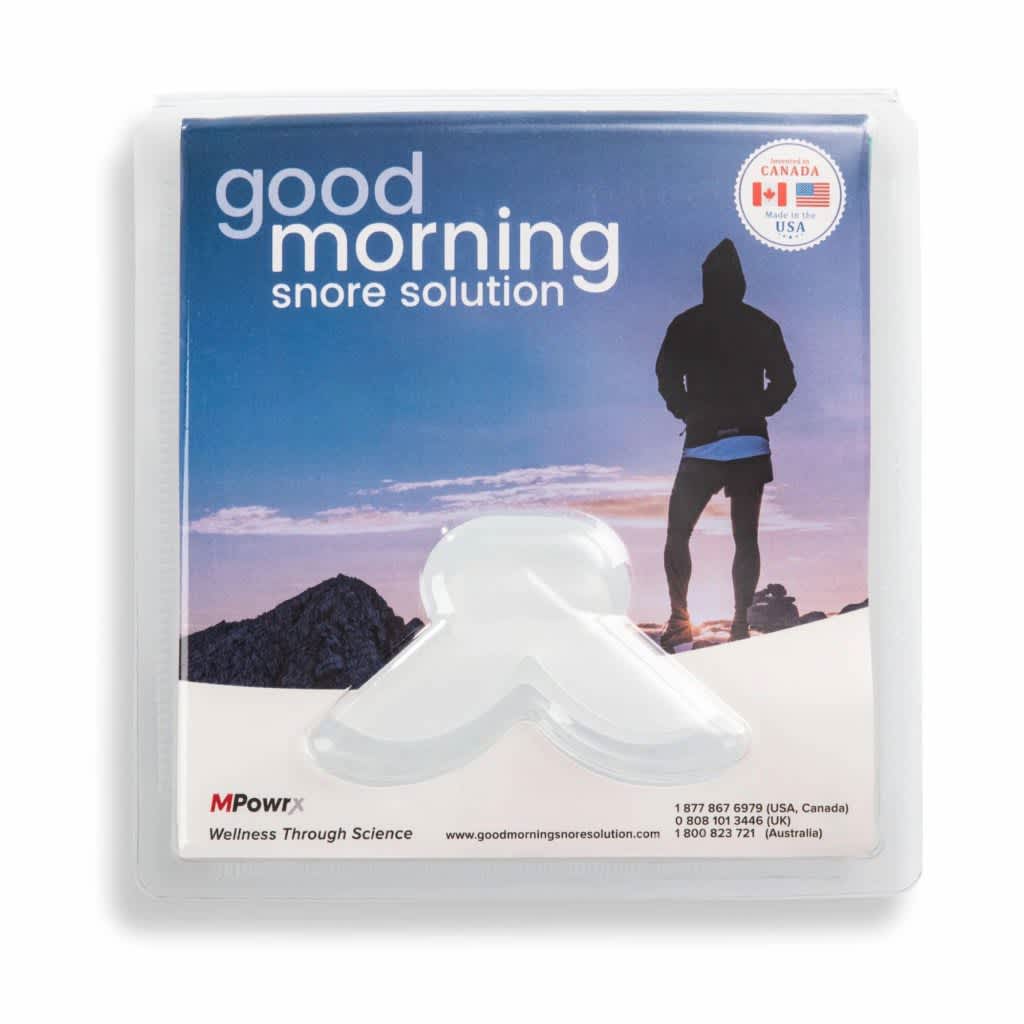 Mouthpiece Type: Tongue retaining device (TRD)

Price: $100
Stabilizes the tongue with gentle suction and no pinching
Universal fit requires no boiling or molding
Ideal for people who can't use MAD mouthguards
People who prefer tongue-retaining devices
Those seeking a mouthpiece that's easy to use and one-size-fits-all
Customers seeking bundling options with their purchase
The Good Morning Snore Solution's unobtrusive design is ideal for anyone who can't use MADs due to their medical or dental history. Easy application and a lightweight design make the device a hassle-free alternative to traditional mouthguards.
How Does It Work?
Applying the Good Morning Snore Solution is a quick and painless process. Simply place the device's flanges between your lips and teeth or dentures, squeeze the bulb between your fingers while inhaling, and insert your tongue into your bulb. The pliable, pear-shaped device uses gentle suction to pull the tongue forward to open up your breathing passages. You may need a few nights to get used to swallowing with the device in place. In the morning, squeeze the bulb and your tongue should slide out easily.
Why We Like It
The Good Morning Snore Solution is optimal for sleepers who cannot use MADs. These include people with medical conditions such as temporomandibular disorders (TMDs) and advanced gum disease, as well as those with dentures, braces, and dental implants. No boiling or molding is needed, as this mouthguard offers a universal fit.
Good Morning Snore Solution frequently offers promotions that include two or even four mouthguards for the price of one, allowing you to save a lot of money on your purchase. U.S. customers also qualify for low flat-rate shipping. Each order comes with a trial period that lasts 30 nights.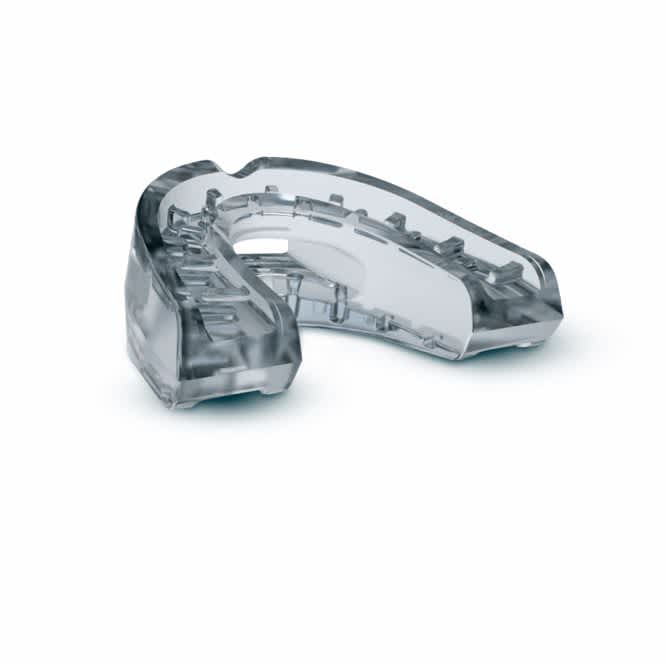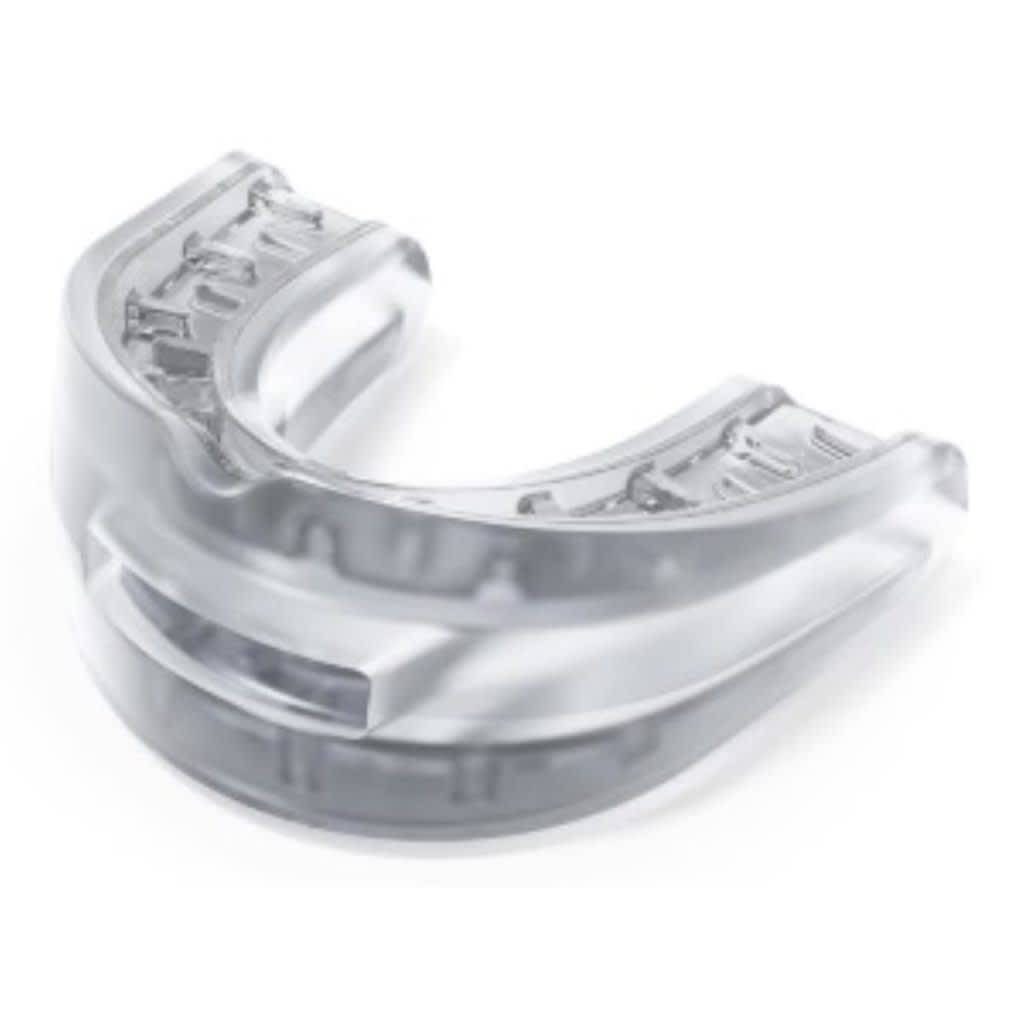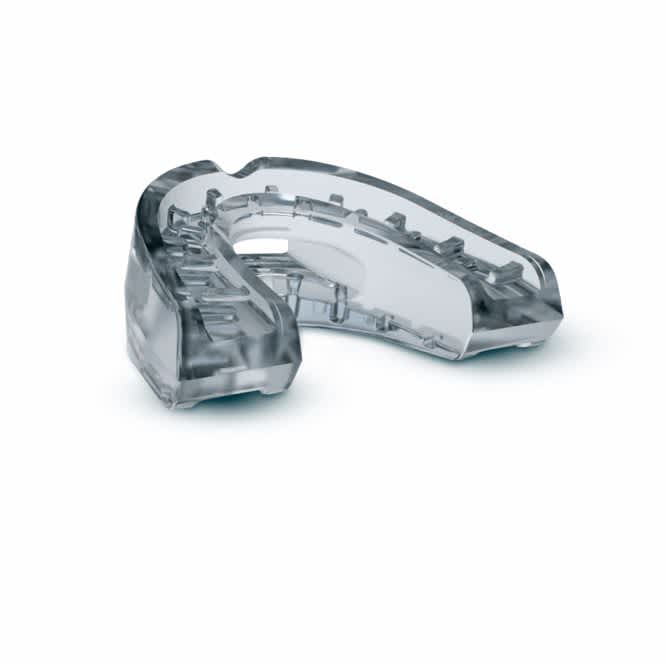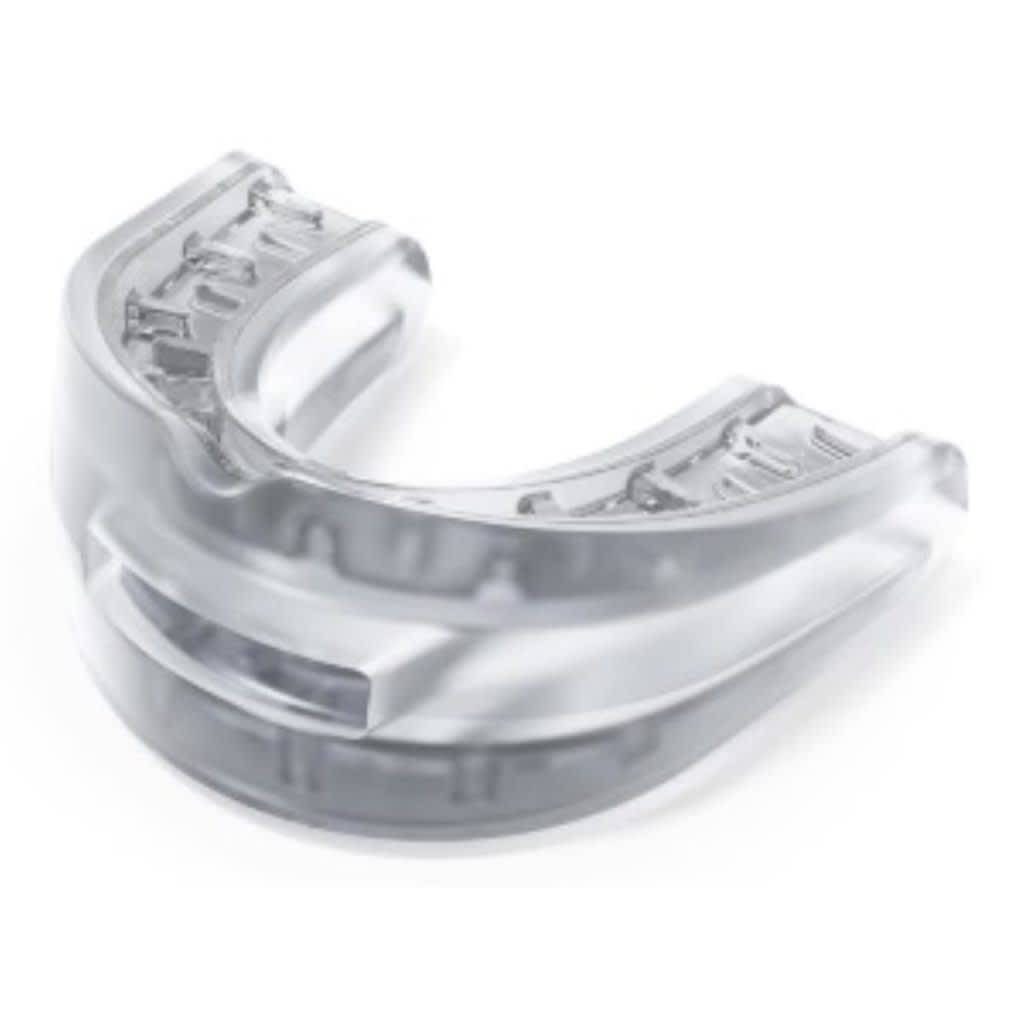 Mouthpiece Type: MAD/TRD combination device

Price: $80
Hybrid design advances the jaw and retains the tongue
Simple boil-and-bite fitting process
Aeration holes designed to aid in breathing
Sleepers who need both jaw advancement and tongue stabilization
People seeking a customizable mouthpiece
Those who have trouble breathing with a mouthguard
Most anti-snoring mouthguards are either MADs or TRDs, but the SleepTight incorporates both technologies to ensure a comfortable fit.
How Does It Work?
The device advances the jaw to open up your airway while holding the tongue in place to prevent further obstruction. A boil-and-bite design allows you to create a customized impression for your teeth, and the device can be adjusted later on if you need additional advancement. To make your initial impression, simply submerge the mouthguard in recently boiled water for about 2 minutes and 45 seconds, then bite into the trays after checking to make sure the device is not too hot. To adjust the initial fit, follow the steps for your first impression but move your jaw slightly forward.
Why We Like It
Combining the jaw advancement of a MAD with the tongue retention of a TRD, SleepTight is the best of both worlds for people who snore and have found other mouthguards ineffective. The mouthguard is aerated with small holes intended to promote airflow, allowing you to comfortably breathe through your mouth. This can create up to 3 millimeters of additional advancement for an extra comfortable fit.
SleepTight lets customers try the device for 30 days for a small shipping and processing fee. If you decide to keep the mouthguard, you'll pay full price when the trial period ends. Alternatively, you can opt to pay the full amount up front and you'll have 30 days to return the device if you're not satisfied. In either scenario, the shipping and processing fee is nonrefundable.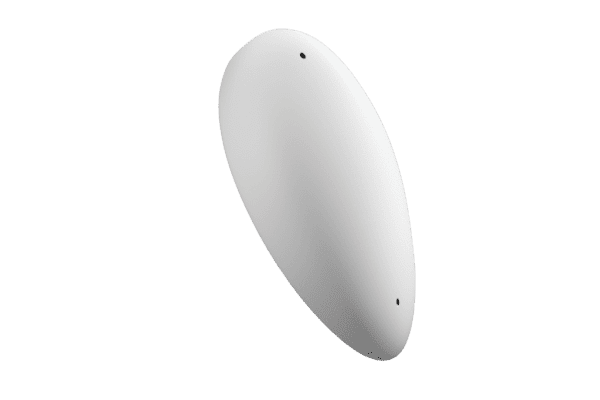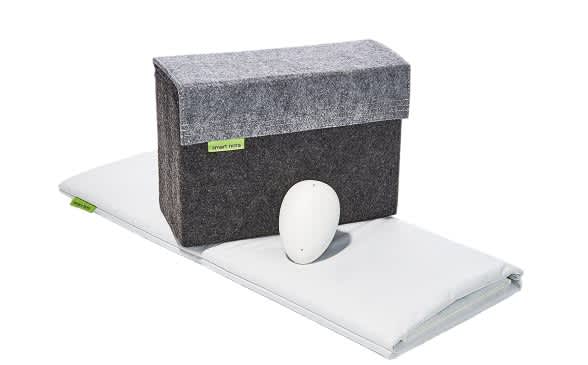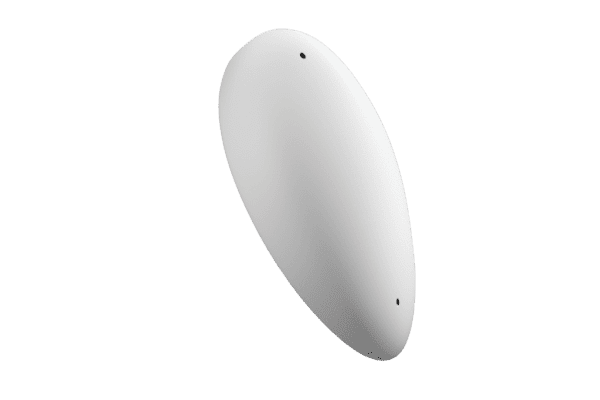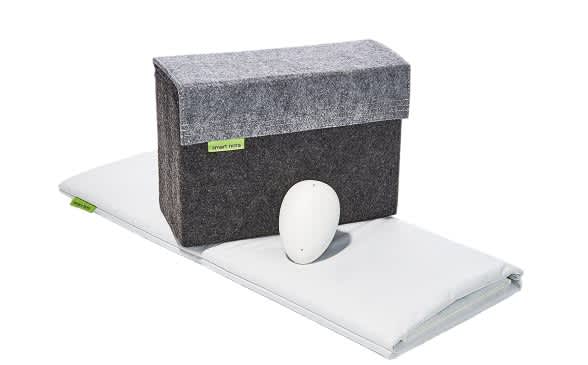 Fill Material: Smart Nora insert

Firmness: N/A

Price: $359
Smart device detects snoring and gently elevates the head
No mouthguard required
Compatible with all sleep positions
People who typically find mouthpieces uncomfortable
Frequent travelers
Customers willing to spend a bit more for an innovative device
Anti-snoring mouthguards have proven to be effective for many sleepers, but some find them uncomfortable and restrictive. If you fall into the latter group, then you're a prime candidate for the Smart Nora.
How Does It Work?
This innovative device consists of three components. First there's the Pebble, a small device resembling a computer mouse that rests on your nightstand and monitors your breathing patterns using smart technology. You'll also receive an insert for your pillow and an air pump that rests beside your bed on the floor. If the Pebble detects snoring, the pump will inflate the insert to elevate your head and open up your breathing passages.
Why We Like It
The Smart Nora is virtually silent and does not require a mouthguard of any kind. The device is also compatible with side, back, or stomach sleeping. Additionally, you can adjust the Pebble's sensitivity level to detect light and heavy snoring. Each component is lightweight and compact, so the Smart Nora doubles as a travel-friendly anti-snoring aid.
The Smart Nora's expensive price-point reflects its cutting-edge design, but this device may be a solid investment if you are losing sleep from snoring and mouthguards haven't been helpful. Shipping is free to the U.S., Canada, and Australia. Each purchase includes a 30-night trial period, and those who keep the device also receive a one-year manufacturer's warranty.
How Do Anti-Snoring Mouthpieces Work?
Anti-snoring mouthguards are designed to minimize snoring by expanding your breathing passages and allowing air to circulate. Snoring often occurs when the tongue and tissue in the mouth become relaxed during sleep, creating obstructions for your breathing passages and hindering airflow in the process.
Most anti-snoring mouthguards either physically push the jaw forward or hold the tongue in place, though some hybrid devices perform both functions. In this guide, we'll discuss different types of anti-snoring mouthguards and how they work.
Mandibular advancement devices (MADs): MADs physically move the jaw forward to expand the airway and promote more air circulation. Most MADs are customizable boil-and-bite devices, which allow you to make impressions with your teeth for an optimal fit. Many MADs can also be adjusted for more or less advancement.
You may need a prescription to obtain a mandibular advancement device. The devices have been associated with certain side effects, including general discomfort, jaw pain, tooth or gum soreness, excessive drooling, and dry mouth.
Tongue-retaining devices (TRDs): TRDs are designed to hold the tongue in place using suction mechanisms. Tongues falling back into the throat are a common cause of snoring, so these devices can be effective for people who snore for this reason. That said, TRDs are rarely customizable, and potential side effects include tongue discomfort, drooling, and dry mouth.
How Anti-Snoring MADs and TRDs Differ
MADs and TRDs are both designed to minimize snoring by promoting airflow in your breathing passages, albeit through different means. Both devices have pros and cons. Figuring out which type of anti-snoring mouthguard is best for you may require some trial and error, but many people who snore can alleviate the issue using at least one of these devices.
MADs vs. TRDs

Most MADs are customizable boil-and-bite devices that allow you to make impressions with your teeth
Many MADs allow you to adjust how far the device advances your jaw
MADs do not protrude from the mouth, allowing you to sleep in any position while using them
In addition to snoring, some MADs can also correct teeth grinding

Most TRDs are one-size-fits-all devices, so no boiling or impressions are needed
TRDs are lighter and smaller than MADs, and they are often associated with less discomfort
Anyone can use TRDs regardless of their dental history
TRDs rarely require prescriptions, and they tend to cost less than MADs

MADs are associated with jaw pain and stiffness, dry mouth, and drooling
People with braces, dentures, and dental implants may not be able to use MADs
They may require a prescription
Although most MADs are not expensive, they tend to cost more than TRDs

Since TRDs are not customizable, some people may not be able to sleep comfortably with these devices
TRDs do not assist with teeth grinding
You may not be able to easily breathe through your mouth while using a TRD
TRDs can cause drooling and dry mouth
What Should You Consider When Choosing an Anti-Snoring Mouthguard?
When choosing which type of anti-snoring mouthguard to use, there are a few factors to take into account. Determining which device is best for you may require some trial and error with both types of mouthguard.
Device type: MADs have proven to be effective anti-snoring aids for many people, but these devices are more invasive and people with dental issues may not be able to use them. TRDs are lighter and more compact, but they can restrict breathing through the mouth and cannot be customized.
Adjustability: Many MADs sold today can be adjusted — up to 8 millimeters in some cases — which allows you to further customize their fit. The vast majority of TRDs are universal fit designs that cannot be adjusted. This can be limiting to people with smaller or larger jaws.
Quality material: MADs and TRDs are usually made of silicone resin or thermoplastic, and some contain both materials. Most do not contain BPA or latex, but you should double-check the composition of the device to ensure it doesn't use any unwanted materials. The average lifespan of anti-snoring mouthguards is 6 to 12 months, but some can last up to two years with proper use and care.
Comfort: MADs and TRDs are both associated with drooling and dry mouth. The former may also cause jaw pain and stiffness, while TRDs typically do not cause this side effect. On the other hand, the customizable and adjustable designs of most MADs may be more comfortable than universal fit TRDs.
Price: The average anti-snoring mouthguard costs between $50 and $80. MADs tend to cost more than TRDs. Some companies offer discounts for return customers who buy replacement models.
Ease of cleaning: Whether you opt for a TRD or MAD, you should clean and sanitize your anti-snoring mouthguard on a daily basis. Rinse the device in hot water after waking up in the morning, and routinely scrub the upper and lower trays to prevent bacteria buildup. Most MADs and TRDs come with storage containers to safeguard the device from contamination.
Is an Anti-Snoring Mouthpiece Right for You?
Anti-snoring mouthguards can help curb snoring, allowing you and your sleep partner to get the rest you need. These devices are intended to stop snoring and should not be used as treatment options for medical conditions like sleep apnea unless you've first consulted your doctor. A home sleep test can help you rule out sleep apnea.
MADs and TRDs can cause discomfort for some individuals, which may interfere with healthy sleep. Talk to your doctor about the best options to reduce your snoring.
Do You Need a Prescription to Use One?
Some MADs and TRDs require a prescription, but most can be purchased over the counter. We recommend speaking with your doctor before using an anti-snoring mouthguard for the first time. While these devices are generally considered safe, they may cause pain, dry mouth, and other side effects. You should avoid MADs if you have loose teeth, dentures, braces, or certain dental implants.
Is Snoring a Sign of Something More Serious?
Most people snore at least on occasion. If you are a frequent or chronic snorer, this may signify a more serious medical condition. Snoring is a common symptom of sleep apnea, a disorder characterized by loss of breath during sleep that results in choking or gasping for air. People with sleep apnea usually experience grogginess and excessive daytime sleepiness. Heavy snoring may also indicate swollen tonsils or adenoids, particularly in children.
Whether or not your snoring is due to a serious medical issue, sleep disruptions can negatively impact you and your partner. We recommend talking to your doctor about measures you can take to reduce snoring and get the rest you need.