A continuous positive airway pressure (CPAP) machine is a medical device for treating obstructive sleep apnea (OSA). An estimated 10% to 30% of U.S. adults experience OSA symptoms. CPAP therapy can be highly effective, but if you're new to this form of OSA treatment it can be hard to know what to look for when buying a CPAP machine.
We'll help you understand how CPAP works, the different types of CPAP machines available, and how to navigate the buying process. We'll also share the most important features to consider so you can find the best CPAP machine for your needs.
ResMed AirSense 11 AutoSet CPAP Machine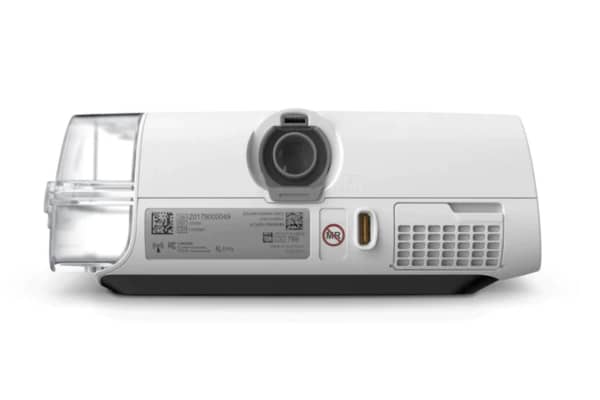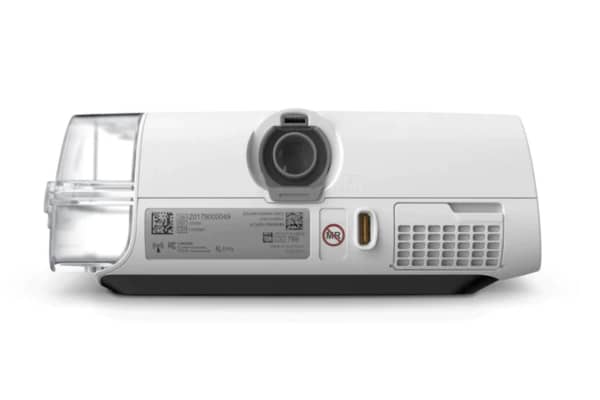 Pressure levels automatically adjust based on your breathing levels
Built-in humidifier reduces condensation to help prevent rainout
Design includes "for him" and "for her" algorithms
Those who prefer different pressure levels for inhaling and exhaling
Sleepers prone to congestion
CPAP users looking for a device that offers sleep coaching and tips
The best CPAP machine for any given sleeper largely depends on factors like severity of OSA symptoms, pressure needs, and personal preferences. That said, the AutoSense 11 from ResMed should check a lot of boxes for the majority of today's CPAP users. This device automatically adjusts pressure based on your breathing levels, which can be particularly beneficial if you prefer different pressure levels for breathing in and out.
A built-in humidifier also helps ensure a more comfortable sleep experience by minimizing condensation and reducing the chance of rainout — a common source of congestion for those who rely on CPAP therapy. The connective tube is heated for additional comfort during the night.
The AirSense includes MyAir, a built-in virtual assistant to guide you through the process of setting up the machine and acclimating to CPAP. You can also use MyAir for troubleshooting, and receive sleep coaching and tips from the device. The interface's light sensor adjusts brightness settings based on your bedroom's light levels. Weighing 2.5 pounds, the machine is lightweight and travel-friendly.
Since the AirSense 11 is available with "for him" and "for her" algorithms, you should talk to your doctor about which setting will best meet your needs. A 2-year warranty from ResMed covers various defects in your device.
ResMed AirMini AutoSet Travel CPAP Machine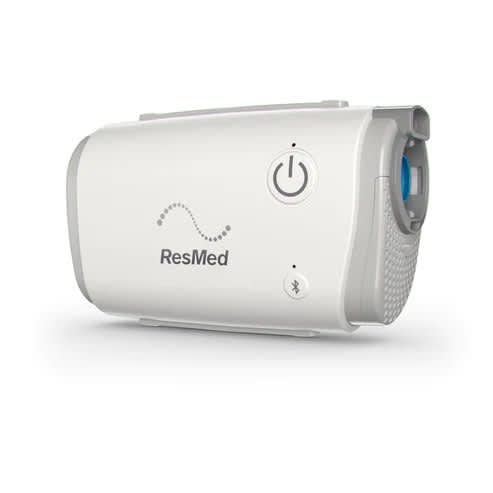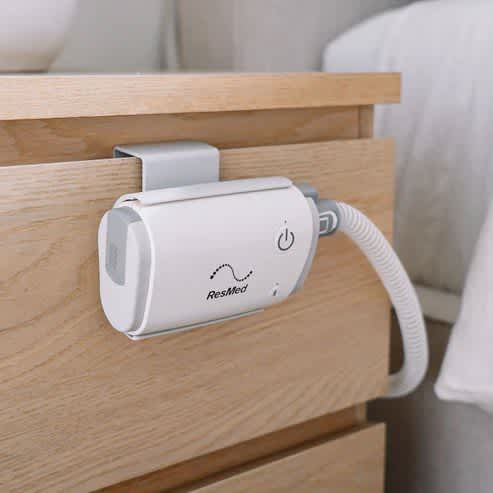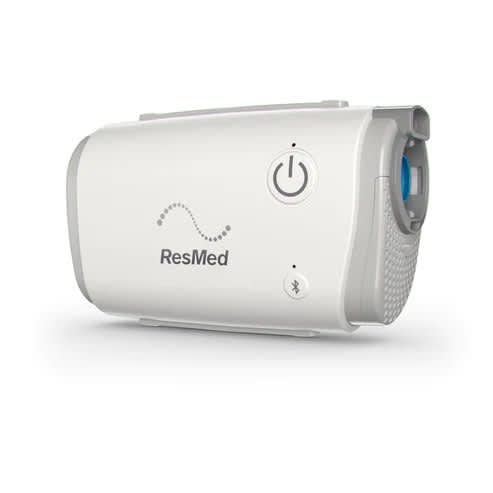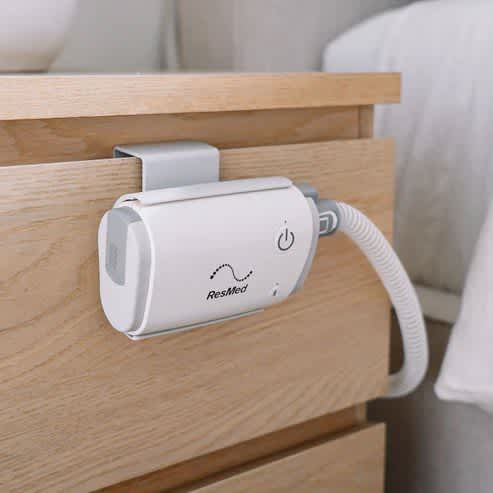 Compact designs weighs less than a pound
Offers pressure up to 20 cm H2O and advanced functions such as APAP and a ramp setting
Connects to your smartphone so you can view and store your sleep data
People who travel frequently
Anyone looking for a CPAP machine with a small footprint
Sleepers who want a unit that's compatible with an external battery pack
The ResMed AirMini AutoSet Travel CPAP Machine offers an impressively small design without sacrificing functionality. This unit is small enough to fit in almost any backpack or purse but is powerful enough for higher pressure settings up to 20 centimeters of water pressure (cm H2O).
The ResMed AirMini also provides many of the advanced features included with full-size CPAP models, including automatic pressure adjustments and a pressure ramp setting with sleep onset detection. It also includes a waterless humidification system that lets users add moisture to the pressurized air without having to travel with distilled water.
This unit is Bluetooth capable and can connect to your smartphone. With the AirMini by ResMed app, you can track and share sleep data with your health care provider. The device can store up to 365 days of sleep data, while the AirMini app provides unlimited cloud storage.
You can power the ResMed AirMini via a wall outlet or an external battery, but keep in mind that a battery is not included. Additionally, unlike many CPAP machines, the ResMed AirMini is only compatible with certain ResMed mask models.
Lightweight and versatile, the ResMed AirMini AutoSet Travel CPAP Machine is a great choice for people who are often on the road but want the premium features of a full-size CPAP machine.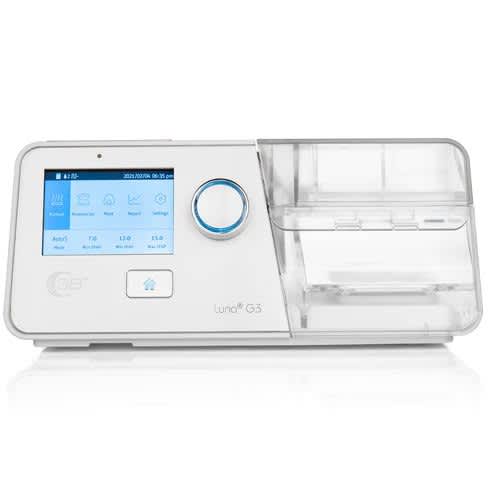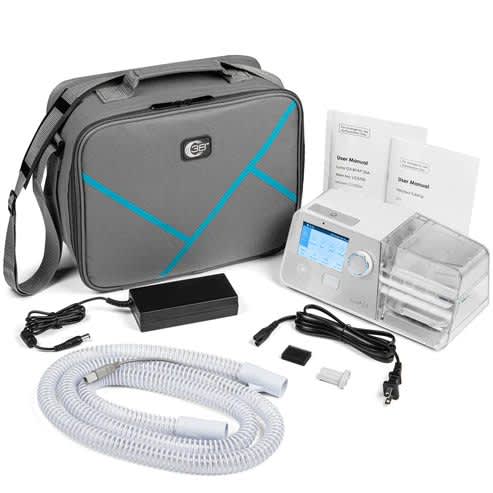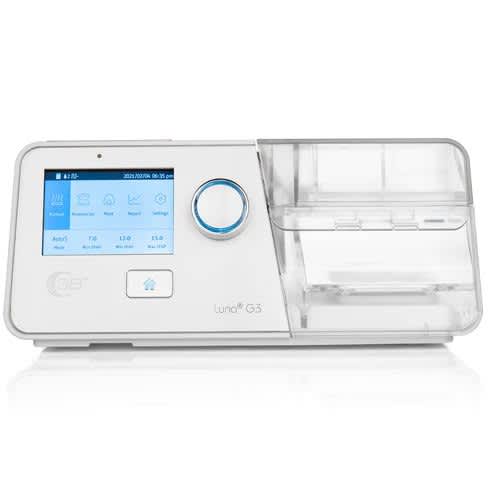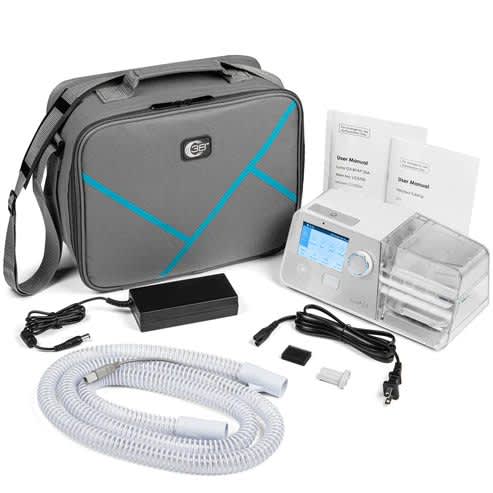 Built-in heated humidifier with preheat setting
Pressure range up to 25 cm H2O
BiPAP modes deliver different pressure during inhalation and exhalation
People who want different types of PAP therapy with one machine
Those willing to pay extra for premium features
CPAP users who share a bed with a light sleeper
The Luna G3 BiLevel 25A CPAP Machine comes with multiple features to improve your comfort and sleep during CPAP therapy. The unit contains a built-in humidifier and integrated heated tubing to prevent condensation. A preheat setting warms the humidifier chamber while you get ready for bed, while an auto ramp feature keeps the pressure low until you fall asleep.
In addition to a standard CPAP setting, the machine features an automatic positive airway pressure (APAP) mode that automatically adjusts the air pressure level based on the user's breathing patterns.
There is also a bi-level positive airway pressure (BiPAP) mode that allows your health care provider to set two different pressures: one for when you inhale and one for when you exhale. This can make therapy more comfortable for sleepers who have trouble exhaling at a higher pressure level. Additionally, the AutoS function is a BiPAP mode that auto-adjusts when it detects an apneic event.
With a noise rating of just 26 decibels, this is one of the quieter models we've encountered. Your purchase includes a travel case and CPAP hosing, and the machine is protected by a two-year warranty from the manufacturer.
Overall, the Luna G3 BiLevel 25A CPAP Machine offers a compact design and a number of features to help you sleep better during CPAP therapy. This makes it an excellent option for sleepers who need a BiPAP machine or simply want a more comfortable CPAP experience.
ResMed AirSense 10 AutoSet Card-to-Cloud CPAP Machine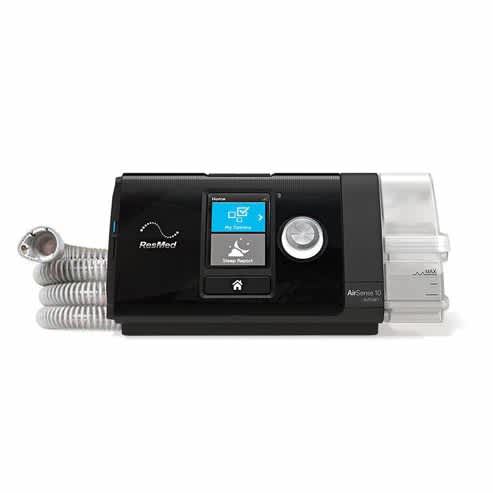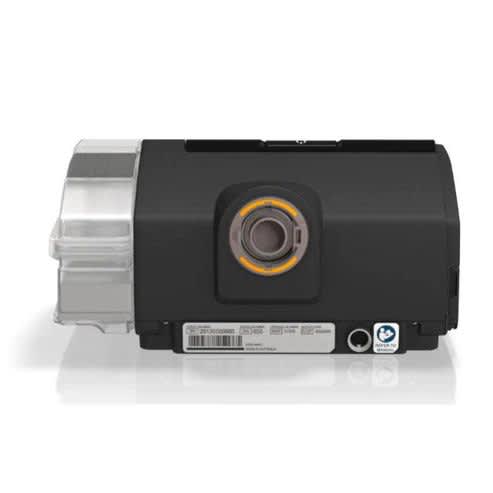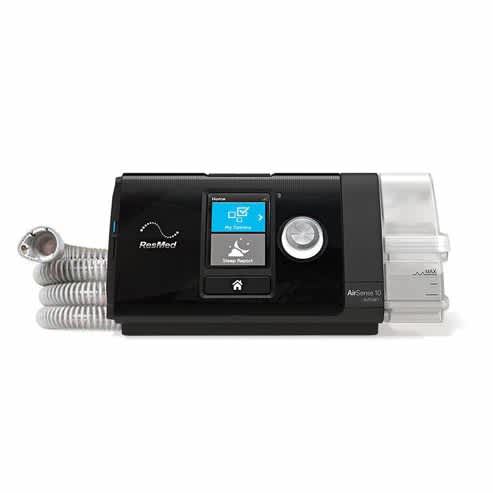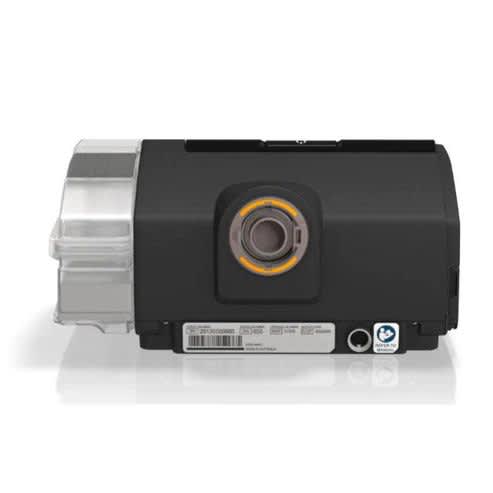 Auto-titrating function adjusts pressure automatically
Extended ramp and pressure relief settings
SD card stores data to help track your sleep and respiration
Anyone looking for a good balance between features and cost
People searching for a lightweight CPAP machine
Those who want a built-in humidifier
Weighing less than 3 pounds, the ResMed AirSense 10 AutoSet Card-to-Cloud CPAP Machine is small and lightweight but is among the most feature-packed units on the market. An approachable price-point also makes the device suitable for shoppers with tight budgets or limited insurance coverage.
The machine includes an SD card that tracks and stores your compliance data in a cloud-based platform. This helps your healthcare provider access your data and monitor your progress with CPAP therapy. A straightforward LCD screen menu allows you to easily navigate between the machine's many features. The screen has a sensor that automatically adjusts the brightness and turns off when not in use.
The AutoSet algorithm adjusts pressure within a set range based on your breathing patterns. Another useful feature is the ramp time, which slowly increases pressure levels leading up to sleep. The machine decreases pressure as you exhale to make breathing out more comfortable, and a built-in humidifier helps prevent dryness or irritation in your nose and throat.
ResMed backs the AirSense 10 AutoSet Card-to-Cloud CPAP Machine with a 2-year warranty against manufacturing defects.
How We Make Our Picks
Our team has a strong knowledge base when it comes to the fundamentals of sleep apnea and CPAP products. We also know it can be difficult for consumers to wade through all the CPAP machines on the market.

To make it easier for you to find a CPAP machine that meets your needs, we've researched dozens of models. After looking at the most trusted brands and comparing features, availability, and customer reviews, we selected the best CPAP machines across a range of categories.

Watch Video: How Does a CPAP Machine Work?
What Does a CPAP Machine Do?
A CPAP machine is an electronic device designed to treat people who have been diagnosed with sleep apnea. CPAP machines contain a mechanical blower that creates a continuous level of pressurized air. The device delivers this stream of air to a person's airway via an airtight mask that connects to the machine with a hose.
How a CPAP Machine Works to Relieve OSA Symptoms
Obstructive sleep apnea causes frequent blockages in the airway that interrupt breathing during sleep. CPAP machines help keep the airway open by delivering a continuous stream of pressurized air through a mask that rests over the user's nose or nose and mouth.
Types of CPAP Machines for Sleep Apnea
Traditional CPAP machines with a tabletop design tend to be the most widely available models. However, there are other types of PAP machines that can be useful for travel, increased comfort, or less common forms of sleep apnea.
CPAP: Continuous positive airway pressure machines, which deliver a constant rate of pressurized air, are typically the first-line treatment for people with OSA.
Travel CPAP: A travel CPAP is a smaller, lightweight version of a traditional CPAP machine. Designed to fit easily into your luggage, a travel CPAP makes it more convenient to stay on top of your CPAP therapy while on the road.
BiPAP: A bi-level positive airway pressure machine delivers a lower pressure level when you exhale than when you inhale. Your doctor may recommend a BiPAP machine if you have trouble tolerating CPAP therapy. It's also a common treatment option for people with central sleep apnea.
APAP: Automatic positive airway pressure machines adjust the pressure level in response to your breathing patterns. This form of PAP therapy may be useful for people who find the continuous pressure of CPAP uncomfortable. Some CPAP and BiPAP machines also have APAP modes.
How to Find the Best CPAP Machine for You
To find the best CPAP machine, you should consider your budget and which features are most important for your needs.
CPAP Machine Pricing and Sizing
The cost of CPAP machines varies widely depending on the brand and features included, but most are priced between $500 and $1,000. BiPAP and APAP machines generally cost more due to their more advanced functionality.
Modern CPAP machines are fairly compact and lightweight. Models typically weigh between 3 and 4 pounds and are generally less than a foot in length. Most CPAP machines can fit on a nightstand.
CPAP Machine Pressure Ranges and Noise Levels
| Pressure Ranges | Noise Levels |
| --- | --- |
| The average CPAP pressure setting is around 8 to 10 centimeters of water pressure, but most CPAP machines offer pressure levels from 4 to 20 cm H2O to give you and your health care provider flexibility in your treatment. | The average noise level for a CPAP machine is 30 decibels, which is equivalent to a low whisper. Some models have quiet motors and noise abatement features that can bring the noise level down further for light sleepers. |
CPAP Data Tracking, Ramp Settings, and Smart Features
| Data Tracking | Ramp Settings | Smart Features |
| --- | --- | --- |
| Some models can detect and store key sleep data such as respiratory events. This can help your health care provider track your symptoms and make adjustments as needed. | A ramp is a setting that starts at a low pressure and slowly increases the machine's pressure over a set time to make it easier to fall asleep. | Modern CPAP machines often come equipped with smart features such as Wi-Fi connectivity, preheat functions for humidifiers, and LCD displays to make your CPAP experience easier and more comfortable. |
CPAP Accessories and Compatibility With Your Machine
You generally need to purchase CPAP accessories separately from your CPAP machine. While some are vital to your CPAP therapy, others are completely optional. At a minimum, you need a well-fitting mask and CPAP hosing to connect your mask to the machine.
Other accessories like a CPAP humidifier can make your therapy more comfortable but are not essential. Remember to check the manufacturer specifications to verify that any accessories you purchase are compatible with each other and your CPAP machine.
CPAP Masks, Cushions, and Headgear
A properly fitting CPAP mask creates a seal to help deliver pressurized air from your CPAP machine. There are several styles of CPAP masks, including nasal masks and nasal pillows that deliver air to the nose and full-face masks that cover both the nose and mouth. The best type of mask depends on your sleep style, comfort preferences, and whether you breathe mainly through your mouth or your nose.
A cushion refers to the soft mask insert that comes into contact with your face. You can usually detach the mask cushion for cleaning and replacement.
Headgear helps hold your CPAP mask in place and keeps it sealed on your face. CPAP headgear usually features flexible straps and may include foam padding and Velcro.
CPAP Hosing
CPAP hosing refers to the long, flexible plastic tubing that connects your mask to your machine. CPAP machines often come with hosing, but this accessory needs regular replacement. CPAP hoses come in various lengths, and some versions contain heating elements designed to prevent condensation from forming if you use a humidifier.
CPAP Filters
Most CPAP machines come equipped with a filter to remove dust or other small particles from the air. CPAP filters need regular replacement. You can also purchase reusable CPAP filters, but these require frequent cleaning and still need occasional replacement.
CPAP Mask Liners
CPAP mask liners are an optional accessory that create a barrier between your skin and the mask cushion. Mask liners are a good option for sleepers with sensitive skin who experience irritation from wearing their CPAP mask all night.
CPAP Humidifiers
A CPAP humidifier increases the moisture in the air that your machine delivers to your airway. This can prevent dryness and irritation in the nose and throat and may be helpful for sleepers who live in a dry climate. Note that some CPAP machines have built-in humidifiers, but you can also find standalone units that connect to your CPAP machine.
Can You Use Purified Water in a CPAP Machine?
It is safest to use distilled water in your CPAP humidifier. While purified water is filtered to remove chemicals, it may contain mineral content. Additionally, some manufacturers remineralize bottled water to add healthy minerals for people to consume. This mineral content may cause buildup in your machine that can damage its components.
CPAP Batteries
An external battery is another optional accessory. A CPAP battery allows you to continue your CPAP therapy even when you don't have access to an electrical outlet. This is a good solution for people who frequently travel or go camping. However, keep in mind that not all CPAP machines are compatible with an external battery.
CPAP Prescription, Insurance, and Purchase Information
Paying out of pocket for a CPAP machine can be pricey, but many insurance plans can help cover the cost.
Do You Need a Prescription for a CPAP Machine?
Purchasing a CPAP machine requires a prescription from your doctor. The Food and Drug Administration (FDA) classifies CPAP machines as Class II medical devices. While this helps ensure the safety and effectiveness of CPAP machines sold in the United States, it also means you need a prescription to buy one.
Does Your Health Insurance or Medicare Cover CPAP Costs?
Most health insurance plans cover at least part of the cost of CPAP therapy. For Medicare coverage, you will need to receive an OSA diagnosis following a lab-based or at-home sleep study.
Assuming you meet specific requirements, Medicare will cover a three-month CPAP trial. After the trial period — and if you demonstrate that you are adhering to CPAP therapy and it is improving your symptoms — Medicare covers 80% of the cost of the machine rental and supplies after you meet your Part B deductible. If you continuously use the machine for 13 months and make your share of the rental payments, you'll then own the machine outright.
For private health insurance, the level of coverage depends on the specifics of your plan. Some providers may directly reimburse you after you buy a CPAP machine, though you'll likely need to submit a claim form. Others may use a rent-to-own system where you pay a monthly fee for a CPAP machine during a specific time frame.
Where Can You Buy a CPAP Machine?
There are many options for buying a CPAP machine, including online, at a brick-and-mortar store, or through your doctor or sleep specialist. Buying a CPAP machine online or in-store usually provides the best selection. Keep in mind that while third-party retailers often have lower prices, they are usually out-of-network for insurance purposes. Check with your insurance provider regarding coverage prior to purchasing a machine if you aren't planning on paying out of pocket.
Buying a CPAP machine from your doctor's office or a sleep center may make it easier to coordinate reimbursement with your insurance company. Your physician or sleep specialist can also give you recommendations based on your symptoms and handle the paperwork for insurance coverage.
How Do You Clean a CPAP Machine?
We recommend that you follow any care and cleaning instructions from your CPAP machine's manufacturer. That said, you can clean most CPAP accessories with a combination of warm water and soap. Use a mild soap and avoid harsh detergents or chemical cleaners. It's important to clean your CPAP components regularly to avoid buildup of germs as well as skin residue and oils.
After washing your mask, hose, and other CPAP accessories, rinse them with cool water and air-dry. If you use a CPAP humidifier, the tank can be cleaned with a mixture of equal parts warm water and white vinegar.