Continuous positive airway pressure (CPAP) therapy is a common treatment for obstructive sleep apnea (OSA), a sleep breathing disorder that causes a person to breathe shallowly or stop breathing for short periods while asleep.
CPAP machines are designed to keep the upper airway open during sleep by delivering pressurized air through a hose and a mask. Common CPAP mask types include nasal masks, which cover just the nose, and full-face masks, which cover both the nose and mouth.
A hybrid CPAP mask delivers pressurized air through the mouth and nose but seals against or inside the nostrils and does not cover the bridge of the nose. This lower-profile design is more comfortable for some people than a traditional full-face mask.
We'll discuss our picks for the best hybrid CPAP masks, then walk you through the benefits and drawbacks of this mask style and who might be a good fit.
Sleep Doctor's picks
Shop Now
Shop Now
ResMed AirFit F30 Full Face CPAP Mask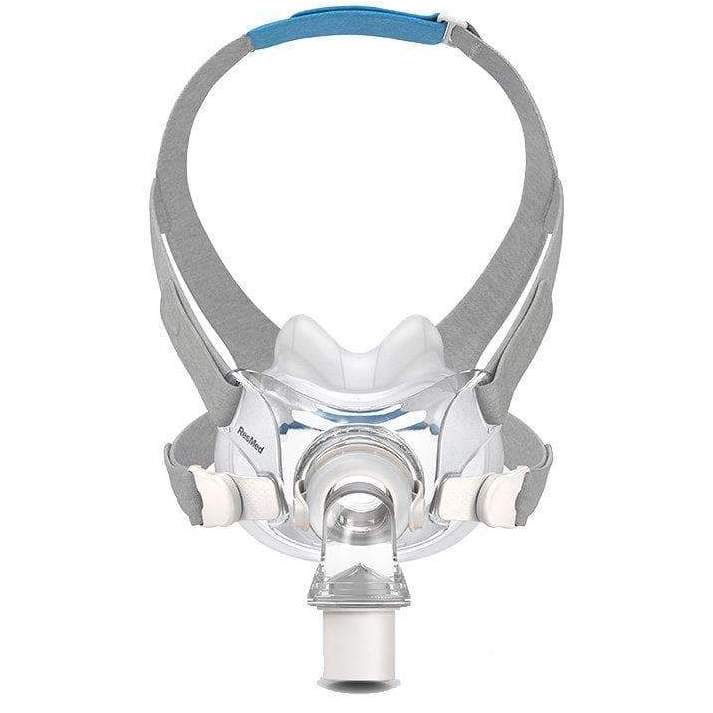 Price: $170

Size: Small, Medium
Magnetic headgear with Velcro straps for a customized fit
Quick-release elbow allows users to get up at night without removing their mask
Secure and comfortable nasal cushion
Slightly bulkier than hybrid masks with a nasal pillow design
Headgear design and cushion sizes may not work for all facial shapes
May not be comfortable for stomach sleepers
Sleep Doctor's take
The ResMed AirFit F30 Full Face CPAP Mask seals against the nostrils for a comfortable fit. It's designed to be secure yet streamlined enough to be comfortable for side sleepers, with a clear field of vision that allows users to wear glasses or watch TV without removing their mask.
---
The ResMed AirFit F30 is a hybrid mask with a nasal cushion rather than a nasal pillow design, meaning that it seals around rather than inside the nostrils. The headgear minimizes contact with the face and is adjustable for a more comfortable, accurate fit.
While this mask isn't subject to a product recall, ResMed cautions that it should be kept at least 2 inches away from implanted medical devices, including pacemakers, due to its use of magnetic clips.
Why we like it
Thoughtfully designed headgear and a flexible cushion make the AirFit F30 secure and comfortable for most back and side sleepers. The AirFit F30 also makes it easy for users to go about their evenings like usual, with a clear field of vision for watching TV before bed and a quick-release elbow to simplify getting up during the night.
Best for combination sleepers
Salter Labs Hybrid CPAP Mask System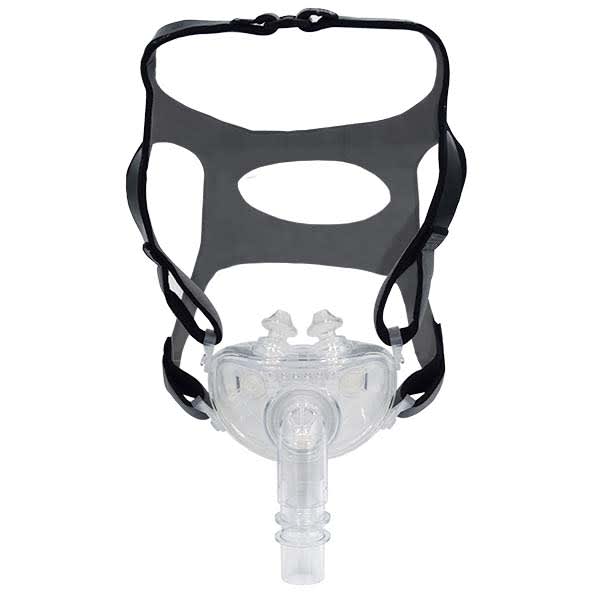 Size: Three size options

Height: Two height adjustments
Customizable cushion size, nasal pillow size, and nasal pillow height
Chin flap stabilizes the jaw
Secure headgear with minimal points of contact
Complicated fitting process
Headgear may be uncomfortable for people with long hair
Nasal pillows are generally less suitable for use at high air pressure levels
Sleep Doctor's take
The Salter Labs Hybrid CPAP Mask System is a complex model that allows users to fine-tune their fit with 18 different configurations. Since this mask uses nasal pillows, it has an extremely low-profile design that may appeal to people who usually find full-face or hybrid masks claustrophobic or uncomfortable.
---
The Salter Labs Hybrid CPAP Mask System has an unobtrusive nasal pillow design that seals inside the nostrils. The cushion size, nasal pillow size, and nasal pillow height can all be changed for a more comfortable and customized fit.
Why we like it
While some hybrid masks featuring nasal pillows can feel less secure than a standard full-face mask, the Salter Labs Hybrid CPAP Mask System's sturdy headgear and customizable components make it an appealing choice for combination sleepers who regularly change positions.
How we make our picks
Our featured CPAP masks are chosen for their reliability, brand reputation, and overall quality.

Since CPAP machines and masks are complex medical equipment, it can be difficult for many people to find one that fits their needs. Our team uses their experience and knowledge to contextualize products in a way that allows our readers to determine whether it's the right choice for them.
What is a hybrid CPAP mask?
Hybrid CPAP masks combine the functionality of a full-face mask with the lower profile of a nasal mask or nasal pillow mask. Instead of covering the user's entire nose and mouth like a full-face mask, most hybrid CPAP masks seal against or inside the user's nostrils.
Some hybrid CPAP masks include nasal pillows, which are silicone or gel inserts that extend just inside the nostrils to form a seal. Other models have cushions that rest under the nose and form a cradle that seals against the nostrils.
Should you use a hybrid CPAP mask?
Hybrid CPAP masks offer a compromise between delivering pressurized air to both the nose and the mouth while being less bulky than a standard full-face mask.
If your doctor has recommended oronasal CPAP therapy, a hybrid model may offer the same benefits as a full-face mask while being more comfortable. However, it is important to speak to your doctor before switching masks or if you have any questions about which mask best suits your needs.
Can be used by people who breathe through their mouth while asleep
Lower-profile design may reduce feelings of claustrophobia
May benefit people who have difficulty achieving a good seal around the bridge of the nose with a standard full-face mask
Models with nasal pillows may be uncomfortable at high air pressure levels
Might not be comfortable for stomach sleepers
May require higher pressure settings compared with nasal masks
What should you consider when buying a hybrid CPAP mask?
No single mask is right for everyone, so it's important to consider your needs and preferences when choosing a hybrid CPAP mask. Some factors may be more important to you than others, so it's worth breaking down these considerations before buying a new mask.
Hybrid CPAP masks
Price
While hybrid CPAP masks can be more expensive than some other mask styles, most people can find a suitable hybrid mask that fits their budget. As with all CPAP equipment, it's important to choose the best mask for your needs rather than the least expensive option.
Size and fit
Ill-fitting CPAP masks are uncomfortable and tend to leak, which can make treatment less effective. Almost all CPAP masks have different cushion or nasal pillow size options, but some hybrid CPAP masks also feature adjustable headgear or other ways of customizing your mask's size and fit.
Device compatibility
CPAP masks are usually compatible with almost all CPAP machines, though there are some travel CPAP machines that require a specific mask design. However, you should ensure that your chosen mask can be used at your prescribed air pressure level.

Information on a mask's compatibility and suggested air pressure range can usually be found on the manufacturer's website.
Sleeping position
While hybrid CPAP masks are less bulky than standard full-face masks, some models are still likely to be uncomfortable for side or stomach sleepers. People who prefer these sleep positions should look for masks with low-profile headgear that does not add bulk to the side of the face.
Frequently asked questions
Is a hybrid CPAP mask better than a full-face mask?
Full-face CPAP masks and hybrid masks each have their own benefits and drawbacks, so whether one is better than the other depends on a user's unique needs and preferences. 

People may prefer a hybrid mask if they are a side sleeper, wear glasses, or experience feelings of claustrophobia when wearing a full-face mask. On the other hand, some people may dislike the feeling of a nasal cushion or a nasal pillow, in which case a traditional full-face mask would be a better fit.
Do hybrid CPAP masks work for mouth breathers?
Oronasal masks, which include full-face and hybrid CPAP masks, work well for people who breathe through their mouth while sleeping. Air can leak from a user's mouth if they breathe through it while wearing a nasal mask, while oronasal masks prevent this from happening by delivering pressurized air through both the nose and mouth.
How should a hybrid CPAP mask fit?
A hybrid CPAP mask should fit snugly and accurately but not too tightly. CPAP masks that are too tight are more liable to leak air, in addition to being uncomfortable and more likely to leave marks on the user's face.

If you're unsure how to choose a CPAP mask that fits correctly, your doctor can provide guidance and suggestions. Some hybrid masks also come with a complete set of cushions or nasal pillow sizes, allowing users to find the size that works best for their facial shape.
How do you clean a hybrid CPAP mask?
While cleaning recommendations vary among manufacturers, most CPAP masks should be cleaned by disassembling the individual components and washing each in warm, soapy water. After washing, the components should be rinsed with clean water and left to dry out of direct sunlight.