When it comes to continuous positive airway pressure (CPAP) therapy — a common method of sleep apnea treatment — the face mask you choose is just as integral to a comfortable night's sleep as your CPAP machine.
Standard nasal masks extend up to the bridge of the nose and form a seal around the nostrils for effective air delivery. Another option is the nasal pillow mask, which is smaller and features nasal inserts that deliver air directly into the nostrils.
Nasal CPAP masks are lighter and slimmer than full-face masks, which are somewhat bulky by comparison. However, nasal masks have their own limitations and may not be suitable for certain types of sleepers.
We'll provide our picks for best nasal CPAP masks and break down the pros and cons of standard nasal masks and nasal pillow masks, but your doctor's recommendations should guide your ultimate decision about which mask to choose.
ResMed AirFit P10 Nasal Pillow CPAP Mask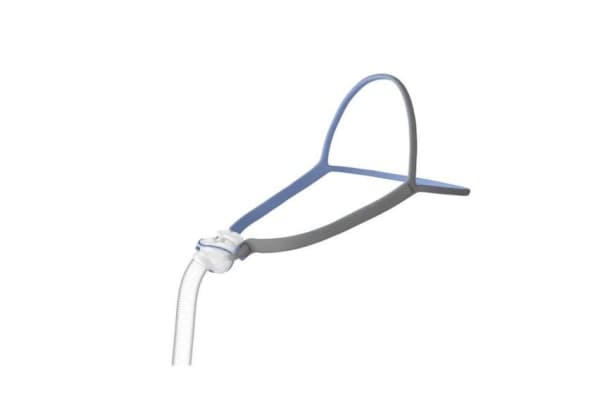 Price: $99

Size: Small, medium, large, extra small for her, small for her, medium for her
Slip-on headgear minimizes facial contact
Each order includes three cushion sizes
Trampoline action of the flexible silicone pillows allows you to change sleep positions without affecting the seal
The more direct airflow of the nasal pillows may cause discomfort for people prone to congestion or nasal dryness
Those who need high CPAP pressure levels may need a mask with more coverage
Sleep Doctor's take 
ResMed's AirFit P10 Nasal Pillow CPAP Mask is lightweight and unobtrusive to help ensure a comfortable night's sleep. Assembling and cleaning the mask is easy thanks to the three-piece design with color-coded clips, and both the standard and "For Her" options come with three cushion sizes.
---
The ResMed AirFit P10 is a nasal pillow CPAP mask with a slim profile and a minimalist, three-piece design. Headgear with an intuitive clip design and a single strap makes the mask easy to assemble and clean. You can choose from standard or "For Her" designs, each with cushions in three sizes.
Why we like it 
The AirFit P10 is one of the least invasive CPAP masks on the market today, allowing full line of sight — even if you wear glasses. Built-in vents are designed to reduce noise from exhalations, so the mask is a great option for CPAP users who share a bed with a light sleeper.
Circadiance SleepWeaver Elan Nasal CPAP Mask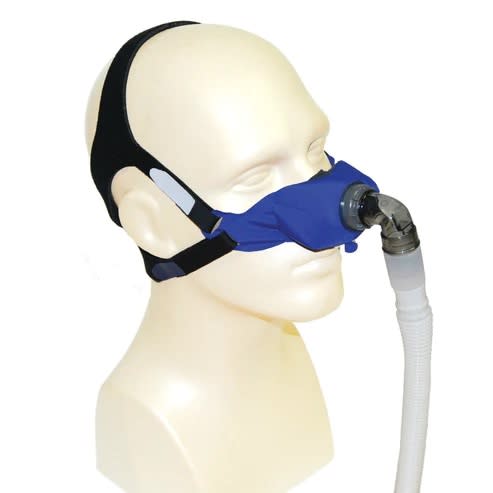 Price: $69

Size: Small, Regular, Large
Cloth design is soft, breathable, and gentle on the skin
Open forehead design ensures full line of sight
Available in two colors
Straps need to be adjusted precisely to get a secure seal
Front-facing hose connection isn't ideal for stomach sleepers
Sleep Doctor's take 
Circadiance's SleepWeaver Elan is one of the softest and most comfortable nasal CPAP masks on the market today. The all-cloth design also drives down the price, making it more affordable compared with masks composed of molded plastic and silicone.
---
Circadiance's innovative SleepWeaver Elan forgoes molded plastic in favor of soft cloth. The fabric inflates and balloons with your breathing to contain the air and prevent leakage.
Why we like it 
The SleepWeaver Elan is ideal for anyone seeking an alternative to traditional nasal masks made of molded plastic. The breathable cloth design may benefit people with sensitive skin, and below-average pricing also makes this mask a solid option for shoppers with tight budgets.
Philips Respironics DreamWear Nasal Pillow CPAP Mask with Headgear
Price: $109

Size: Small, Medium, Large
Top-of-head tubing allows wearers to use any sleep position without worrying about hose tangles
Low-profile headgear doesn't cover the forehead or impede vision
Mask frame is compatible with other Philips cushion styles
Nasal pillow design may be uncomfortable for CPAP users who need high pressure settings
Airflow through the hollow mask frame might be too noisy for light sleepers
Sleep Doctor's take 
Philips Respironics' DreamWear Nasal Pillow CPAP Mask is composed entirely of soft silicone to help ensure less irritation and more flexibility than plastic. A slim profile, flexible top-of-head tubing, and multiple cushion sizes add to the comfortable design.
---
The DreamWear Nasal Pillow CPAP Mask from Philips Respironics features soft silicone headgear and a hose connector located at the top of the head. An open design also ensures a full line of sight, and the slim profile is ideal for people who wear glasses or have facial hair.
Why we like it 
The top-of-head tubing is great for combination sleepers because it swivels with your movement, maintaining a secure connection whenever you change positions. The mask frame is compatible with three types of Philips cushions — nasal pillow, nasal cradle, and full-face — so owners can purchase another cushion style without springing for a new frame if they want to try a different CPAP interface.
How we make our picks
At Sleep Doctor, we use a comprehensive rating methodology to evaluate and choose the top picks featured in our product guides. Our team does not conduct hands-on testing for CPAP equipment and other medical devices. Instead, we rely on our collective knowledge and expertise to choose these products and help you make informed buying decisions.

Each top pick on this list meets our criteria for determining the quality and performance of nasal CPAP masks. We also base our selections on availability, and we favor established brands with a reputation for safe, reliable CPAP equipment.

Is a prescription required for a CPAP nasal mask?
A doctor's prescription is required for purchasing CPAP masks and machines. Mask replacement parts, including cushions and nasal pillows, are available without a prescription, as are tubing, air filters, and other CPAP accessories.
Will health insurance cover a CPAP mask?
Depending on your provider and plan, health insurance may or may not cover the full cost of a CPAP mask. Before you choose a mask, we recommend contacting your provider to determine how much your plan covers and whether you'll need to pay any out-of-pocket costs.
Where can you buy a CPAP nasal mask?
Nasal CPAP masks are available through online retailers, medical supply stores, and sleep clinics. The latter two buying options offer the benefit of in-person support, while online CPAP sites tend to have the widest selection at competitive price-points.
What to consider when choosing a CPAP nasal mask
There are important considerations to take into account when choosing a CPAP mask. Your doctor can help you determine if a nasal CPAP mask meets your needs, or if you should consider a full-face mask instead.
CPAP nasal mask considerations
Price
The average nasal CPAP mask is priced between $40 and $170, but insurance may cover at least some of the cost. Some online retailers offer discounts for shoppers who sign up for subscriptions to receive new products on a recurring basis.
Size and fit
A comfortable size and fit for your CPAP mask is crucial for comfortable sleep. Many nasal masks come with cushions in multiple sizes, which are interchangeable and can be swapped out as needed. Pinpointing your ideal cushion size may require some trial and error.
Device compatibility
Many nasal CPAP masks are universally compatible and can be used with any CPAP machine, but some are exclusive to certain devices. For example, certain travel CPAP machines can only be used with specific masks.

Carefully read the product specs of any mask you're considering to ensure it's compatible with your current CPAP machine or the machine you plan to buy.
Sleeping position
Since most nasal CPAP masks have slim profiles, you can usually wear them comfortably while sleeping on your side, but you may need a specialized CPAP pillow with cutouts for the tubing. Stomach sleepers typically fare better with the minimalist designs of nasal pillow masks.

Masks with ports at the top of your head are designed to swivel the tubing when you change positions, so these models may be most suitable if you're a combination sleeper.
Comfort
Comfort is subjective, but many people prefer the streamlined profile and lightweight design of nasal CPAP masks to bulkier full-face masks. If you're prone to congestion or nasal irritation, or if you primarily breathe through your mouth, a nasal CPAP mask may be ineffective or uncomfortable.
Material quality
Most nasal CPAP masks are composed of plastic headgear and silicone cushions, so material quality is comparable from model to model. Some feature other materials such as silicone headgear or memory foam cushions, giving you alternatives if you aren't satisfied with a traditional nasal mask.
What Is the difference between CPAP nasal masks and nasal pillow masks?
Of the main CPAP mask types, nasal masks are most commonly used. Nasal masks deliver airflow to the nasal passages by forming a seal around the nose. Some models extend up to the top of the nose and end just above the lips. Others rest beneath the nose and seal around the base of the nostrils. The latter design is sometimes called a nasal cradle.
Nasal pillow masks also rest beneath the nose, but they feature nasal inserts made of silicone or gel that extend just inside the nostrils. Nasal pillow masks have the least amount of facial contact, making them an appealing option for people who experience claustrophobia during CPAP therapy. However, they also deliver more direct airflow, so they may be uncomfortable for people who require a high CPAP pressure setting.
CPAP nasal masks vs. nasal pillow masks
Nasal mask
Nasal pillow mask
Benefits:


Can be a good compromise for CPAP users who need higher pressure but don't want to wear a full-face mask
Available in a wide range of sizes and styles to accommodate different facial structures

Benefits:


Most nasal pillow masks are lighter and less obtrusive than other mask types
Smaller profile is generally compatible with any sleep position

Drawbacks:


Can lead to mask leaks near the eyes if fitted improperly
Higher chance of skin irritation or nose abrasions

Drawbacks:


Direct airflow can cause nasal irritation
Sensation of higher pressure may be hard to tolerate for some users
Frequently asked CPAP nasal mask questions
Should you use a CPAP nasal mask or a full-face mask?
Nasal and full-face masks both have their own pros and cons, and your doctor's recommendations should influence your ultimate decision. That said, people who primarily breathe through their mouth or experience frequent nasal congestion during CPAP therapy usually fare better with a full-face mask. 

If you want a mask that's lighter and less invasive but you still need high pressure levels, a standard nasal mask might be the best option. Nasal pillow masks make even less contact with your face, but they are best suited to low to moderate pressure.
Can you use a CPAP nasal mask if you breathe through your mouth?
Nasal CPAP masks aren't advised for people who primarily breathe through their mouth. Since they only deliver air into the nasal passages, these masks can't compensate for the air that escapes from the mouth during exhalations. You may be able to use a nasal mask by wearing a CPAP chin strap that keeps your mouth closed, but full-face masks are recommended if air leaks persist.
How do you clean a CPAP nasal mask?
In general, CPAP masks — including nasal CPAP models — should be washed with warm water and mild soap on a regular basis. Fully disassemble the mask and wash each component thoroughly. Let the mask components fully air dry before reassembling the mask. Refer to manufacturer guidelines for cleaning procedures specific to your mask.
How often should you replace your CPAP nasal mask?
Replacement schedules vary by manufacturer and model, but general CPAP replacement guidelines state that nasal cushions and nasal pillows should be replaced every two weeks, the mask frame every three months, and the headgear twice a year.