Obstructive sleep apnea (OSA) is a common sleep disorder characterized by shallow breathing or brief pauses in breathing during sleep. Continuous positive airway pressure (CPAP) therapy is often prescribed to treat OSA. It uses a CPAP machine to deliver pressurized air through a hose and mask to help keep a sleeper's airway open.
A machine, a mask, and tubing are essential CPAP equipment. They come in a range of designs to help users with different needs find the right combination of comfort and effectiveness. Optional CPAP supplies like humidifiers, batteries, and mask liners can make therapy more comfortable and convenient. This in turn may make it easier to use a CPAP machine every night as recommended by doctors.
We'll guide you through several types of CPAP supplies, including their function, purchasing requirements, and insurance coverage. We'll also highlight our picks for the best CPAP supplies to help you get the most out of your therapy.
Sunset Standard CPAP Tubing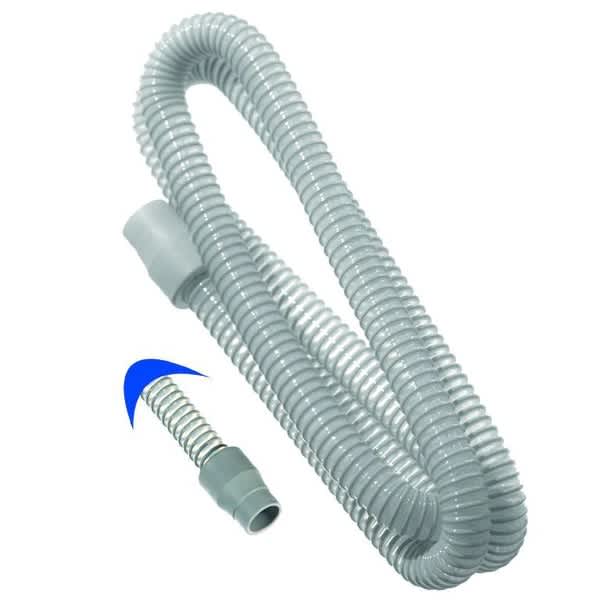 Price: $5

Length: 6 ft., 8 ft., 10 ft.

Diameter: 19 mm diameter
Available in 6-, 8-, or 10-foot models
Standard 22-millimeter cuffs are compatible with most CPAP machines
Easy to attach and detach
People who don't need heated tubing
Active sleepers who require a flexible hose
Value seekers
The Sunset Standard CPAP Tubing is a flexible hose with a modest price-point. It comes in three lengths to suit different machines and user needs. Its 19-millimeter diameter and 22-millimeter cuffs are compatible with most CPAP devices. The hose isn't suitable for machines that have a different cuff connector diameter.
The surface is corrugated to increase its flexibility. This is especially helpful if you toss and turn at night. It is easy to assemble and detach. Sunset recommends cleaning its hoses daily with warm water and mild soap. Tubing should be replaced every three months — or sooner if you notice limescale buildup or if cracks develop.
Sleep Doctor ships the Sunset Standard CPAP Tubing to all 50 states. Shipping is free to the contiguous U.S. on orders over $99. The company offers a 15% discount if you enroll in a three-month or six-month auto-subscription. New and unopened hoses can be returned for a full refund within 60 days of delivery. Customers are responsible for return shipping fees.
Best Filters for ResMed Users
ResMed Replacement Filters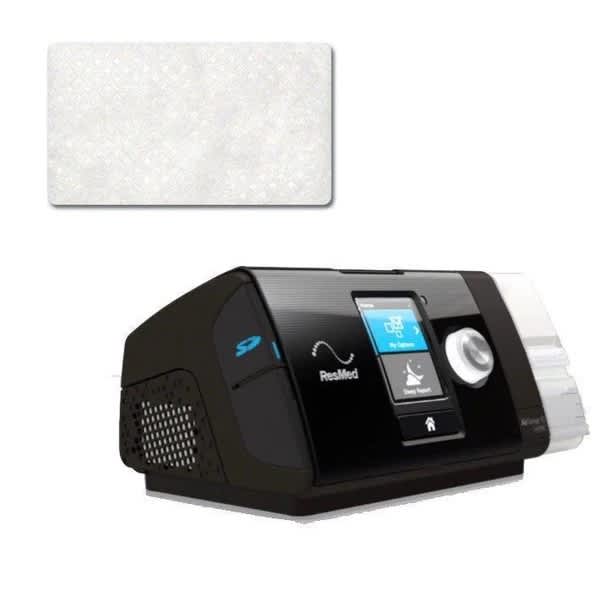 Two disposable filters
Ultrafine weave filters out small and large particles
Compatible with ResMed AirCurve and AirSense machines
ResMed owners
Budget shoppers
These replacement filters are compatible with a number of ResMed machines, including those in the AirCurve and AirSense series. They have an ultrafine weave made from polypropylene and acrylic. These sturdy fibers filter out dust, pollen, smoke, and other allergens from the air. Each package includes two replacement filters.
Dirty filters can damage your CPAP machine, so disposable filters should be replaced at least twice a month. Torn filters should be discarded immediately.
Sleep Doctor ships the filters to shoppers throughout the U.S. The site offers a 15% discount if you select the 60-day auto-delivery option. Sleep Doctor accepts returns on new and unopened filters within 60 days of delivery. Customers must cover the cost of return shipping, and expedited shipping fees are nonrefundable.
Sleep8 Mask M8tes CPAP Wipes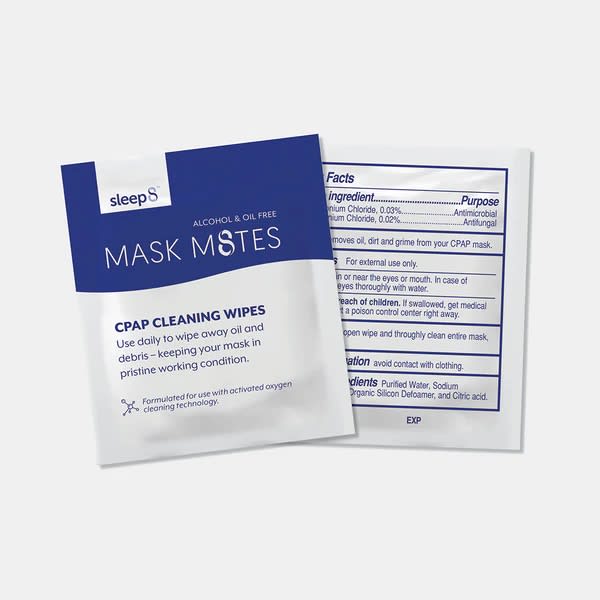 Efficiently removes dirt and debris from your mask
Can be used to clean other surfaces
Gentle water-based solution
Shoppers looking for a multipurpose cleaning wipe
People with sensitive skin
Value seekers
Sleep8 Mask M8tes Wipes provide an easy and cost-effective way to keep your CPAP mask free of dirt and oils in between regular washings with soap and water. Each package contains 30 individually sealed cleaning wipes.
The wipes use a water-based solution to effectively remove dirt and residue. They're gentle on masks and cushions since they don't contain any alcohol or oil. The active ingredients are designed to reduce the growth of mold, fungus, and microbes. The wipes can also be used to clean other surfaces. The individual packets help seal in moisture and are convenient for travel.
Note that these wipes aren't intended to replace a regular CPAP cleaning regimen using soap and water. Refer to manufacturer's guidelines for recommended cleaning schedules of your CPAP accessories.
Sleep Doctor ships the Mask M8tes Wipes throughout the U.S. You can make a one-time purchase or subscribe to a discounted 30-day auto-delivery. Undamaged and unopened purchases can be returned within 60 days of delivery.
Best CPAP Machine Battery
Medistrom Pilot-24 Lite Battery and Backup Power Supply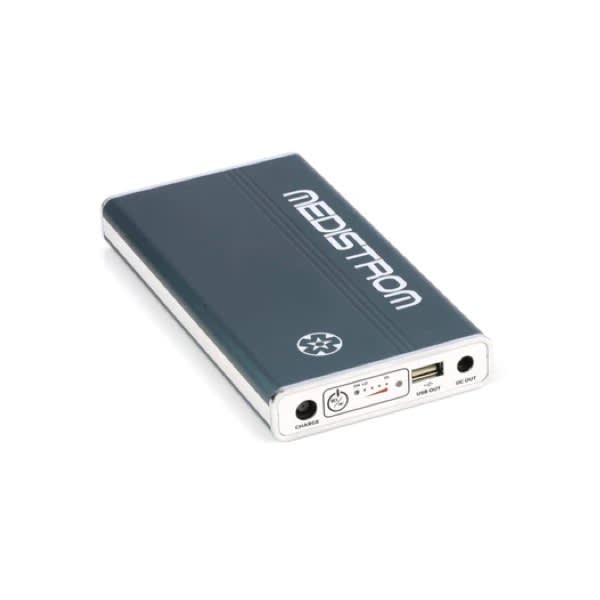 Price: $339

Dimensions: 3.5″ x 6.7″ x .78″

Weight: 1.3 lbs.

Battery Charge: 95 Wh or 19,000 mAh
Runs for 10 or more hours on one charge
Compatible with many 24-volt CPAP machines, including popular ResMed models
FAA-compliant for in-flight use
Camping enthusiasts
People who want to be prepared for power outages
Frequent flyers
The Medistrom Pilot-24 Lite is a compact battery that powers a range of CPAP machines. At just 1.3 pounds, the battery won't weigh you down during travel and can help you maintain therapy during road trips or while camping. It's also approved by the Federal Aviation Administration for in-flight use.
The battery runs for 10 hours or more when fully charged, so it typically covers more than a full night of therapy. Like any CPAP battery, its run time depends on your machine and pressure settings. Humidifiers and higher pressure settings drain the battery more quickly. The battery can also serve as a backup power supply during electrical outages. This can benefit CPAP users who live in areas where outages are common.
The Pilot-24 Lite takes approximately two to three hours to fully recharge. Its expected lifespan is over 500 charge cycles. The USB port can also be used to charge other devices like phones and tablets. A built-in LED flashlight makes installing the battery easier if there's a power outage or if you're camping.
The Medistrom Pilot-24 Lite falls within the typical price range for a CPAP battery. Sleep Doctor ships the battery for free to the contiguous U.S. Unused batteries are returnable within 60 days of delivery. A one-year limited warranty protects customers from manufacturing defects.
ResMed AirMini Travel Bag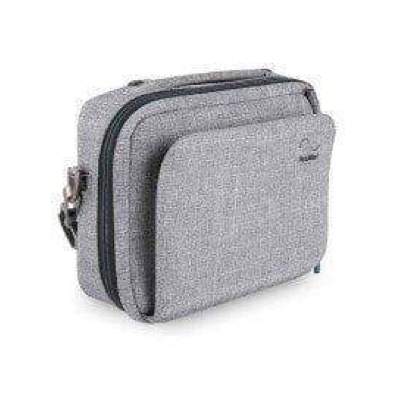 Price: $59

Dimensions: 12″ x 8.75″ x 3.25″
Three interior compartments and a mesh pocket
Zippered design for security
Adjustable shoulder strap
People who have lost the original carrier for the ResMed AirMini
Those whose travel CPAP machine didn't include a bag
Frequent travelers
ResMed's AirMini Travel Bag is included with the AirMini Travel CPAP Machine or is sold separately. While it's designed for use with the AirMini, it also accommodates many other travel CPAP machines.
The AirMini Travel Bag features a zipper closure and a soft fabric interior. There are three compartments and a large mesh pocket to organize your accessories. An adjustable shoulder strap is included for convenience.
Since the Transportation Security Administration generally doesn't count CPAP machines toward your carry-on bag limits, the travel bag is great for flyers who don't want to clutter their luggage.
Sleep Doctor ships the ResMed AirMini Travel Bag to all 50 states. Shipping is free in the contiguous U.S. on orders over $99. The retailer accepts returns on new and unused bags within 60 days of delivery. ResMed backs the bag with a 90-day manufacturer's warranty.
How we make our picks
We have an extensive knowledge base of CPAP-related products. Each product we recommend is thoroughly researched and selected for its quality, brand reputation, and device compatibility. Our suggestions aren't meant to replace your doctor's recommendations, but they can help streamline your search. 
How to find the best CPAP supplies for you
When shopping for the best CPAP supplies, it's important to consider material quality, durability, and pricing. Many CPAP accessories are only compatible with specific machines, so it's also crucial that you check compatibility with your device before making a purchase.
Follow your doctor's recommendations
Each person with sleep apnea is different, so your doctor can recommend a CPAP machine and accessories to accommodate your diagnosis, pressure requirements, and sleep position. Beyond this, factors like ease of care, price, and shipping policies are up to your discretion.
Ensure the supplies are compatible
Many CPAP supplies are designed to work with a range of CPAP machines and components. Others are made for specific models only. Incompatible equipment can compromise your therapy and damage your machine, so it's vital to check a product's compatibility with your machine when shopping around. You can typically find this information on the manufacturer's website or on a product's packaging.
Review the warranty
Since CPAP devices and components are considered medical equipment, it may not be possible to return used items. Many products have warranties, however, to protect customers from manufacturing defects. This can give shoppers more confidence to purchase online since equipment can't be tested beforehand.
Shop the Best CPAP Masks
Essential and optional CPAP supplies
Fixed-pressure CPAP therapy is just one type of positive airway pressure (PAP) treatment for sleep apnea. An automatic positive airway pressure (APAP) machine automatically adjusts air pressure levels based on the user's breathing patterns. A bilevel positive airway pressure (BiPAP) machine uses a higher level of pressure during inhalation and a lower pressure during exhalation. If you've been diagnosed with sleep apnea, your doctor can recommend the best type of PAP machine for your needs.
Essential accessories like masks and hoses are often cross-compatible with the different types of PAP machines and models. Most nonessential supplies are also interchangeable across models.
Essential CPAP supplies
Basic CPAP supplies include a machine, a mask, tubing, and filters. Each component plays a key role in the treatment of sleep apnea.
Essential CPAP supplies
Why you need them
Mask frame
A mask frame is the main part of a CPAP mask that provides its structure. The type of mask frame and materials can impact comfort. Some are made of sturdy plastic, while others use flexible materials like silicone.
Mask headgear
CPAP headgear consists of flexible straps that hold your mask in place. Many headgear models are adjustable to accommodate different head shapes and facial structures.
Mask cushion
A CPAP mask cushion creates a secure seal to deliver pressurized air to the user. Nasal masks and nasal pillow masks are designed to facilitate airflow to just the nose, while full-face masks deliver air to both the nose and mouth. Mask cushions can be removed and disassembled as needed for cleaning.
Hoses
A CPAP hose is a hollow tube that connects your machine to your mask. Most CPAP machines come with standard, unheated tubing.

Standard hoses are typically 6, 8, or 10 feet long. Heated tubing lets users adjust the temperature of the air flowing through the hose. This style of tubing is often designed to be paired with CPAP machines that have built-in humidifiers.
Filters
CPAP filters remove contaminants like dust and pollen from the air before it reaches your lungs. Filters are either disposable or reusable, and the type needed often depends on your CPAP machine.
Optional CPAP supplies
Optional CPAP supplies aren't required for CPAP treatment, but they may enhance your experience. This in turn may make it easier to use your device every night as directed by your doctor. Your lifestyle and sleep needs can help you decide which accessories to opt for.
Elective accessories like mask liners and CPAP pillows are designed to make therapy more comfortable. CPAP batteries are useful when traveling or during a power outage. Humidifiers and heated hoses may help alleviate nosebleeds, dry mouth, and other CPAP side effects.
Optional CPAP supplies
How these supplies are helpful
Mask liners
Mask liners are worn beneath a mask cushion to improve the seal and reduce facial discomfort. They're often made of soft material to ease pressure points from the mask.

Liners come in disposable and reusable options. The latter are usually machine-washable.
Humidifiers
A humidifier can be useful if you live in an arid climate or are sensitive to dry air from the machine. Humidifiers moisturize the air using a removable water chamber. The tank needs to be regularly cleaned.

While humidifiers aren't essential, many users find they make therapy more comfortable. Some CPAP machines come with built-in humidifiers, though stand-alone models that attach to devices are also available. Always verify compatibility with your machine before making a purchase.
Heated hoses
A heated hose is typically used in conjunction with a humidifier to regulate air moisture and temperature. Heated hoses typically have copper coils that heat up using electricity. The increased temperature can prevent condensation from forming in the tubing and mask when using a humidifier.
CPAP cleaners
It's important to keep your CPAP machine and accessories hygienic through regular washings. Most experts recommend using gentle soap and warm water to clean CPAP equipment.

Shoppers should be cautious of cleaning devices that use ozone gas or ultraviolet light, as the Food and Drug Administration has raised concerns over their safety and efficacy. The FDA encourages CPAP users to follow manufacturers' cleaning guidelines.
CPAP chin straps
A CPAP chin strap is designed to keep the mouth closed for people who breathe through their mouth during sleep. While nasal masks and nasal pillow masks are less bulky than full-face masks, they're most effective when you only breathe through your nose. A chin strap can prevent air leaks for mouth breathers who find full-face masks uncomfortable.
CPAP pillows
Not to be confused with nasal pillows — the silicone buds that are inserted inside the nostrils on nasal pillow masks — CPAP pillows are headrests intended to make therapy more comfortable. They typically have contours or cutouts to accommodate a mask and hose.

CPAP pillows are especially helpful if you sleep on your side or stomach, since CPAP gear interferes with these sleep positions the most. If you wear a bulky full-face mask, the right CPAP pillow can minimize pressure points and keep your mask and hose more secure during sleep.
Batteries
CPAP batteries are designed to power a PAP device when you don't have access to an electrical outlet. Most are compact and lightweight, so they're great for backpacking or camping. They are typically FAA-approved for in-flight use.
What supplies are included with a CPAP machine?
CPAP machines generally come with a power cord, standard tubing, an air filter, and a user manual. Some devices include additional supplies like a travel bag.
CPAP masks are typically sold separately. Most CPAP machine retailers also offer compatible accessories and replacement parts, including masks.
Do you need to wash new CPAP supplies before use?
In general, it's advisable to wash CPAP accessories with mild soap and warm water before using them for the first time. Follow the manufacturer's instructions for each accessory, as cleaning methods and frequency may vary.
Prescription and insurance information for CPAP supplies
It's helpful to understand prescription and insurance requirements before purchasing CPAP supplies.
Do you need a prescription for CPAP supplies?
A prescription from a medical provider is needed to purchase a CPAP machine and a fully assembled mask. If you buy these essential CPAP components online, you'll need to upload or email your prescription to the authorized retailer before completing your purchase.
While CPAP machines always require a prescription, accessories like hoses, individual mask components, water tanks, and filters generally don't.
Will health insurance cover CPAP supplies?
CPAP machines and basic accessories like a mask and tubing are classified as durable medical equipment, so your insurance plan may provide partial or full coverage for some supplies. In general, insurance is more likely to cover essential equipment like machines and masks than optional accessories. Still, it's always a good idea to check with your provider before purchasing CPAP supplies.
Are CPAP supplies covered by an FSA or HSA?
You can use a flexible spending account or a health savings account to purchase CPAP machines and accessories. Online and in-store retailers that sell CPAP equipment usually accept payments through an FSA or HSA, though some sellers may require that you pay out of pocket and seek reimbursement.
Are CPAP supplies tax deductible?
CPAP supplies are usually tax deductible as medical expenses. The IRS allows you to claim unreimbursed medical expenses that exceed a certain percentage of your adjusted gross income. It's always advisable to consult with a tax professional to understand how tax laws apply to your specific circumstances.
How often should you replace CPAP supplies?
Worn or damaged CPAP equipment can compromise therapy, so it's recommended to follow the manufacturer's replacement guidelines. Insurance coverage for the replacement of CPAP accessories may vary by plan, so check with your provider regarding reimbursement schedules.
| CPAP supplies | Suggested replacement timeline |
| --- | --- |
| Mask frame | 3 months |
| Mask headgear | 6 months |
| Mask cushions or nasal pillows | 2 weeks |
| Tubing | 3 months |
| Disposable filters | 2 weeks |
| Reusable filters | 6 months |
| Humidifier water chamber | 6 months |
| Chin strap | 6 months |
| Battery | When it fails to fully hold a charge |
Where can you donate CPAP supplies locally?
If you have CPAP supplies you no longer need, consider donating them to help people who otherwise cannot afford sleep apnea treatment. Some charitable organizations that accept gently used CPAP machines and unopened supplies include:
American Sleep Apnea Association
Advocates for World Health
The Reggie White Sleep Disorders Research & Education Foundation
Breathe California