Proper maintenance of a continuous positive airway pressure (CPAP) system helps keep out harmful substances like bacteria and mold. Cleaning also improves the mask seal and keeps the device in good shape, providing more effective treatment for sleep apnea. While it's best to wash CPAP components regularly with soap and water, CPAP wipes can help remove dirt and facial oils in between thorough cleanings.
We'll discuss when to use CPAP wipes, how they differ from generic and baby wipes, and what features to look for when purchasing. We'll also share our recommendations for the best CPAP wipes available today.
Sleep Doctor's picks
Shop Now
Shop Now
Jayour Travel CPAP Mask Wipe Towelettes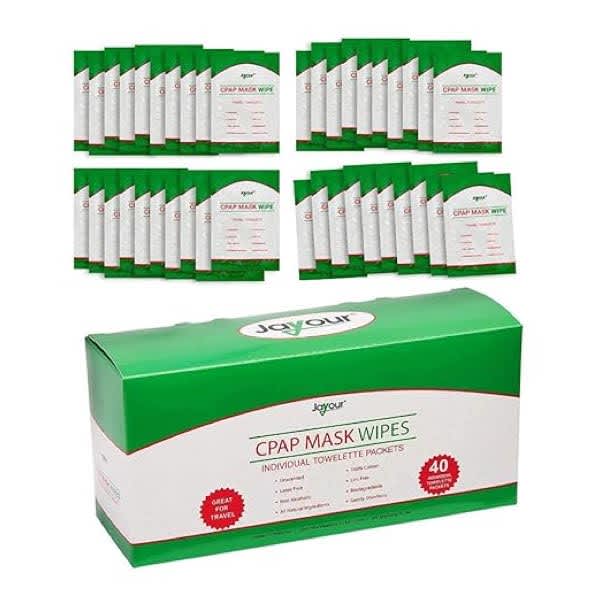 Made with biodegradable cotton and natural ingredients
Individual wrappers help wipes stay fresh
Convenient format for traveling
Some users find the wrappers difficult to open
Sustainable shoppers may object to single-use packaging
Price-point is slightly above average
Sleep Doctor's take
Jayour Travel CPAP Mask Wipe Towelettes are made with 100% lint-free cotton and feature natural ingredients. They come conveniently wrapped in individual packages, making them ideal for overnight stays or short vacations.
---
Jayour wipes are unscented and don't contain alcohol or latex, so they shouldn't pose any problems for people with sensitive skin or allergies. The active ingredients are lemon oil and sodium benzoate, whose mild antibacterial properties help protect against mold and bacteria. The wipes also contain aloe vera and chamomile, which are often used to soothe skin.
Why we like it
Each wipe is individually wrapped, occupying less space than a full canister and making it easy to pack just the amount you need. The wrapper also ensures each wipe stays moist for longer.
The towelettes are slightly moistened and quite thin, which helps when cleaning small CPAP mask parts. However, the towel itself is large enough that it should be able to clean most masks in one go.
Jayour offers a lifetime satisfaction guarantee, providing a full refund to customers who are not satisfied.
Purdoux Cotton CPAP Mask Wet Wipes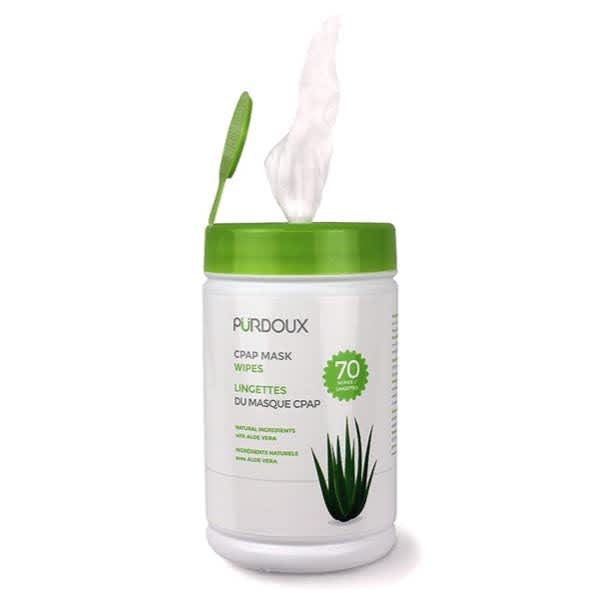 Made with 100% cotton and minimalist packaging
Economical price-point
Also available in a blended grapefruit and lemon scent
Not individually packaged
Towels may dry out if the lid isn't closed properly
Natural cleansers may not sanitize as thoroughly
Sleep Doctor's take
If you're looking for a go-to wipe for everyday use, Purdoux Cotton CPAP Mask Wet Wipes are a strong choice. These unscented wipes are infused with aloe vera, which is often touted for its moisturizing properties.
---
The Purdoux Cotton CPAP Mask Wet Wipes are made with 100% cotton and are designed to not shed lint. Conveniently packaged in a large tub, these wipes come at an attractive price-point and contain 70 wipes, which should last for more than two months if using one wipe a day.
Why we like it
Containing mostly natural ingredients such as chamomile, aloe, vitamin E, and citric acid, the wipes are alcohol-free and do not contain solvents. They are suitable for use with silicone or plastic mask components.
Although they contain aloe vera, the scent is very mild to nonexistent. For those who prefer scented wipes, Purdoux also sells CPAP wipes with a fresh grapefruit and lemon scent.
While the tub design is convenient, some users report having trouble keeping the lid closed. Using a piece of tape as an extra seal can help keep the wipes moist.
How we make our picks
Our team specializes in sleep products, and we've gained extensive knowledge of CPAP machines and CPAP accessories. When deciding on our recommendations, we value brands that have a proven track record of delivering quality products. We round out the process with in-depth research, comparing and contrasting different models and combing through user reviews to gain a holistic sense of each product's strengths and drawbacks.
Many people find that CPAP wipes are a convenient way to keep their CPAP mask clean during the week in addition to weekly washings with soap and water.
Unlike baby wipes or general-purpose wipes, CPAP wipes are designed to not leave behind any residue that could harm the mask or your skin, or pose safety issues if inhaled. Certain CPAP wipes may also have additional features, such as moisturizing ingredients, that are specially formulated for use around the facial area.
How often should CPAP masks be cleaned?
To keep your device running smoothly and ensure a sanitary environment, you should wipe down your CPAP mask and cushions every day. At least once a week, you should also disassemble the mask and thoroughly clean all the parts with soap and water or a diluted vinegar solution.
Some masks, such as those containing memory foam cushions, have specific cleaning requirements, so refer to your mask's manual for instructions specific to your model.
Other CPAP components, such as tubing and humidifier water chambers, also need to be cleaned regularly. You may wish to remove visible grime using a CPAP wipe and then finish washing with soap and water.
Shop the Best CPAP Masks
Are there different types of CPAP wipes?
CPAP wipes fall into several broad categories, including unscented wipes, scented wipes, alcohol-free wipes, and sanitizing wipes. Some wipes may combine multiple features, such as being unscented and alcohol-free.
Types of CPAP mask wipes
Unscented wipes
Unscented wipes are designed to leave masks free of odors after cleaning. If you have allergies or if you're sensitive to smells, this may be an important selling point.
Scented wipes
Scented wipes impart a pleasant odor, such as a citrus-based scent, that is purposely mild and designed to not interfere with breathing. The scent may come from natural or artificial ingredients.
Alcohol-free wipes
Alcohol is an efficient sanitizer. However, alcohol is also known to dry out skin and it may degrade materials in the mask or mask cushion. CPAP wipe manufacturers often avoid using alcohol for these reasons.
Sanitizing wipes
Sanitizing wipes contain chemicals formulated to eliminate bacteria. While the terms sanitizing and disinfecting are sometimes conflated, harsher disinfectants like bleach and alcohol can irritate skin and airways, and repeated use may damage plastic.

Instead, CPAP wipes generally use milder agents, such as plant-based substances, that are better suited for skin contact. Sanitizing wipes do not replace the need for regularly washing CPAP accessories with soap and water.
What should you consider when buying CPAP cleaning wipes?
There are several important factors to keep in mind when selecting CPAP cleaning wipes. Depending on your individual priorities, you may value certain factors over others.
CPAP wipe considerations
Residue
To prevent damaging the delicate materials of a CPAP mask and cushions, it's important that wipes do not leave residue behind. Be sure to check whether the wipes' ingredients are compatible with your mask and cushion material, and stop using the wipes if they create residue that irritates your skin.
Scent
While some find them pleasant, scented wipes can leave residual scent on the mask, which may be a drawback for people with allergies or those with smell sensitivities.
Price
Though the cost per wipe is small, it can add up for people who use CPAP wipes every day. Companies may offer bulk or subscription options that can lower the cost per wipe. You'll also need to decide if you're willing to pay more for additional features, such as plant-based ingredients or individual wrapping.
Disposal
While some wipes claim to be flushable, we don't recommend flushing wipes down the toilet, particularly if you have a sensitive plumbing system, a septic system, or if you need to dispose of multiple wipes at a time. Wipes that aren't compostable should go in the garbage, preferably a sealed garbage can to contain any potential germs.
Eco-friendliness
Since CPAP wipes are designed to be used once and thrown away, sustainably minded shoppers may prefer to just use soap and water, or opt for biodegradable wipes made with natural materials that won't contribute to landfill waste.

Packaging is also something to consider, as individually wrapped wipes inevitably produce more waste than those that come in larger tubs.
Frequently asked questions
Do CPAP wipes kill bacteria?
Some CPAP mask wipes contain antibacterial ingredients, although these wipes are not a replacement for properly cleaning the mask with soap and water. Check the ingredient list before buying, as most manufacturers make it clear if the wipes are antibacterial.
How much do CPAP wipes cost?
Pricing for CPAP cleaning wipes ranges from $10 to $20 per pack, with each pack generally containing around 50 wipes. Wipes with special features may cost more. Conversely, buying in bulk or signing up for a subscription can lower the cost per unit.
What are CPAP wipes made of?
CPAP wipes are usually made with thin sheets of cotton or synthetic fabrics. The wipes generally include water and glycerin to keep them moist, and they may add scents, moisturizers, or ingredients with antibacterial or antifungal properties. These ingredients may be chemical or natural. Manufacturers usually avoid using harsh ingredients like alcohol or bleach in CPAP wipes.
Can you use baby wipes to clean a CPAP mask?
Baby wipes or other general-use wipes should not be used to clean CPAP masks, cushions, or nasal pillows. While gentle, baby wipes are not designed to be used on respiratory devices, as they may contain ingredients that are unhealthy to inhale or that can damage the mask components.