There are few things more inviting than a plush comforter, and the right model can elevate your bedroom decor and sleep quality. Comforters come in a variety of patterns, colors, and materials. Some are lightweight and fluffy, while others are thick and cozy. Down, cotton, polyester, and lyocell are popular comforter materials, each with their own unique qualities.
While there are a number of comforter styles, knowing your preferences and budget can help refine your search. After testing dozens of models, we've determined the best comforters available on the market today. We'll break down how they perform and provide general guidelines for choosing a comforter. We'll also cover pricing, care guidelines, and the difference between comforters and duvets.
Layla Down Alternative Comforter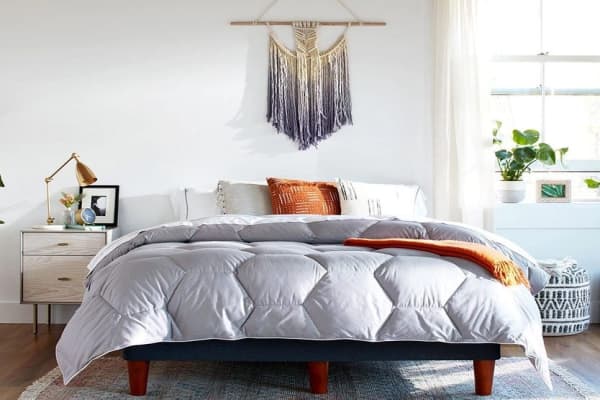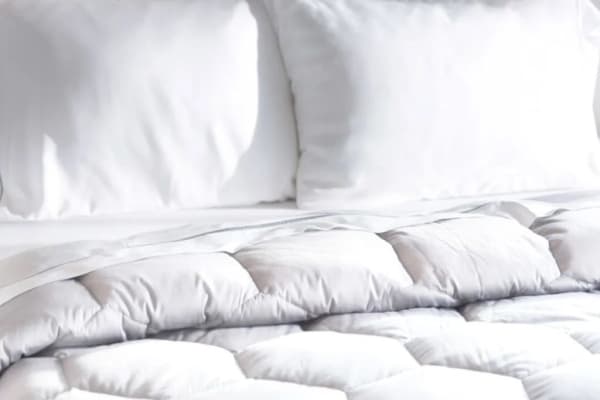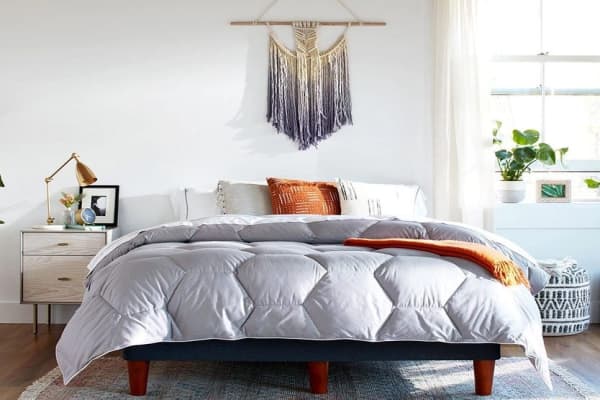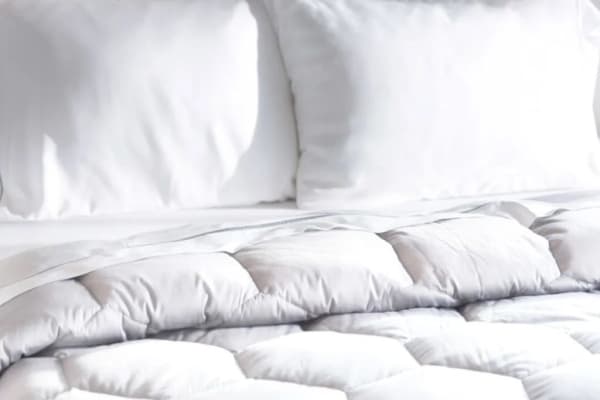 Cover Material: 100% cotton

Fill Material: 100% down alternative

Price: $229
Vegan-friendly down alternative fill
Breathable cotton cover with 300 thread count
Available in white or gray
Hot sleepers
People allergic to genuine down
Those who prefer lightweight comforters
Layla's Down Alternative Comforter is a soft and breathable year-round model. Suitable for vegans, the down alternative fill has a cluster loft similar to natural down. The hexagon baffle box design keeps the fill evenly distributed. Quality materials and versatility make the Down Alternative Comforter a solid pick for a wide range of sleepers.
The comforter's 100% cotton shell comes in white or gray. A 300 thread count creates a lightweight yet durable cotton. Cotton naturally wicks away heat and moisture, which can help people who experience hot flashes or night sweats.
The fill weight of the Down Alternative Comforter is substantial enough to insulate from the cold, yet breathable enough for the summer months. OEKO-TEX certification specifies that the materials are free of harmful substances. The comforter is also suitable for people with allergies to natural down.
While designed to be a standalone comforter, there are loops on each corner for those who prefer to use a duvet cover. Three sizes are available: twin/twin XL, full/queen, and king/California king. The comforter can be washed by machine using cold water and non-chlorine detergent. Tumble-drying on low is recommended, but a large capacity machine may be needed.
The Layla Down Alternative Comforter includes free shipping to the contiguous U.S. Customers are protected with a 120-night sleep trial and a five-year warranty.
Featuring down alternative fill, a soft cotton shell, and sustainable certifications, we found the Layla Down Alternative Comforter to be suitable for all seasons. It's also a good choice for hot sleepers who are either allergic to down or prefer a down alternative fill.
Sheets & Giggles Eucalyptus Comforter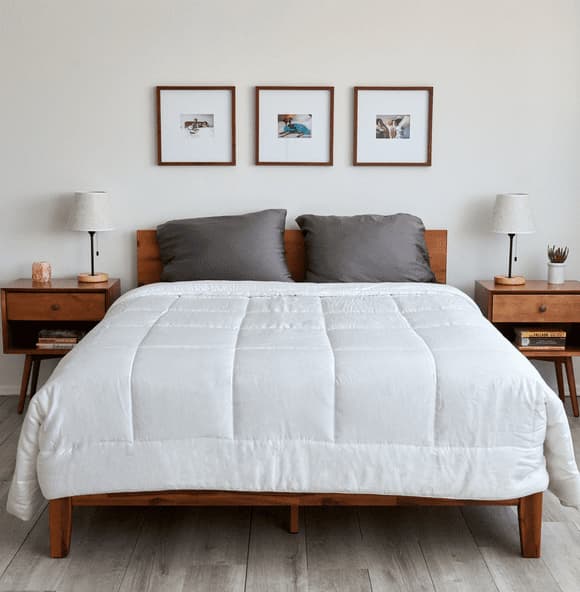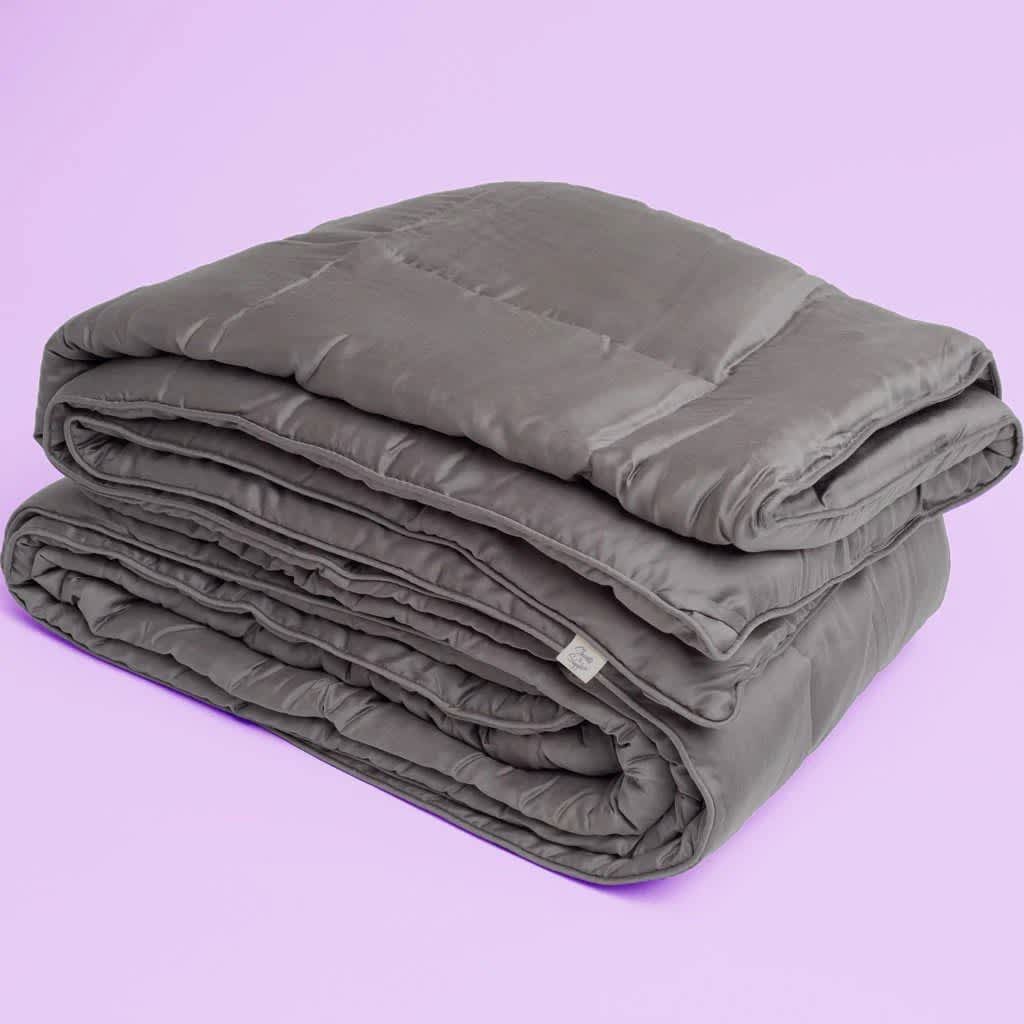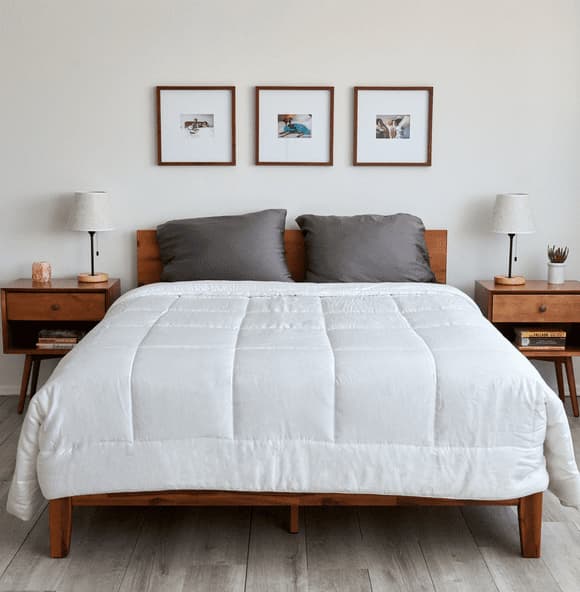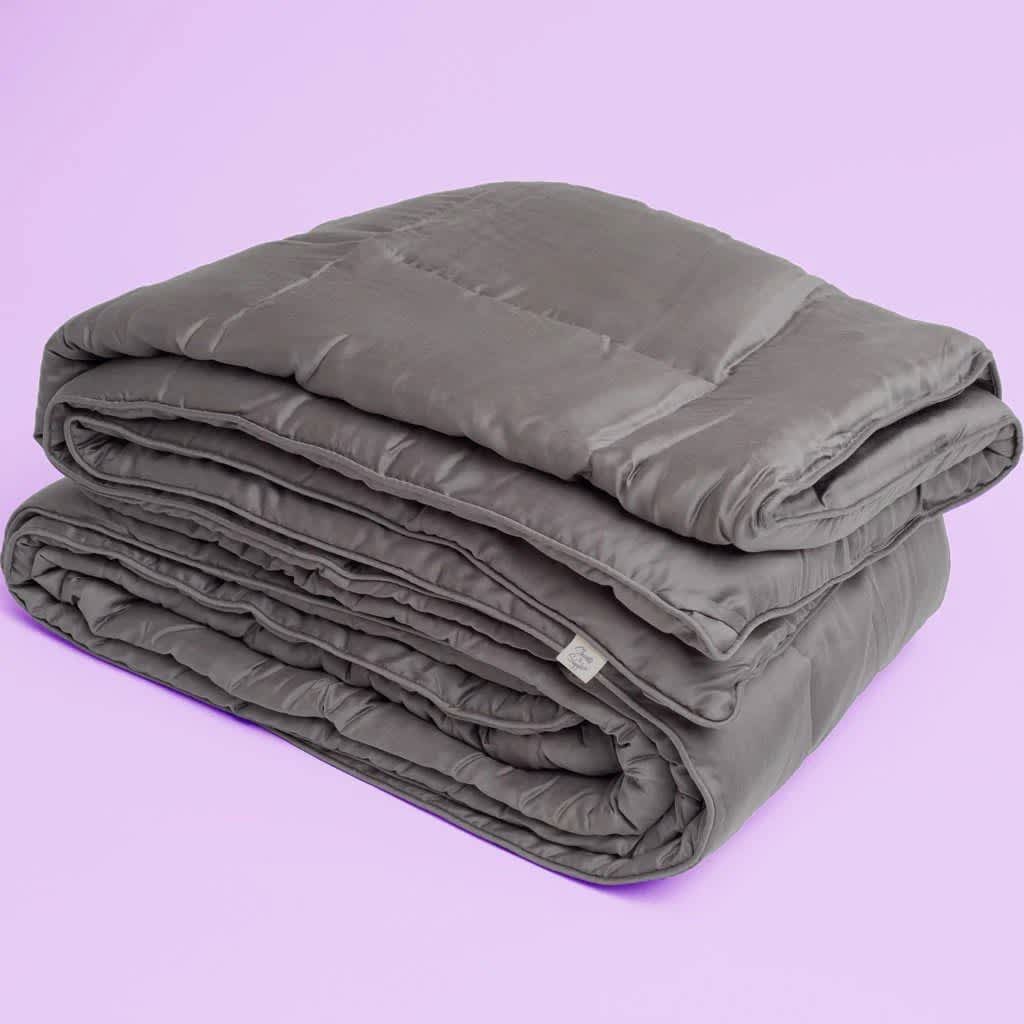 Cover Material: 100% lyocell derived from eucalyptus

Fill Material: Lyocell derived from eucalyptus and recycled PET polyester fibers

Price: $150
Silky and breathable eucalyptus-derived lyocell cover
Eco-friendly fill blends recycled polyester fibers with lyocell
Available in three neutral colors
Value seekers
People who tend to sleep hot
Eco-conscious shoppers
The Sheets & Giggles Eucalyptus Comforter is an eco-friendly model with an approachable price tag. The comforter uses breathable materials and comes in three versatile colors: white, gray, and pearl.
An exceptionally smooth and cooling shell is made from eucalyptus-derived lyocell. Naturally heat-wicking, lyocell helps the comforter stay more temperature neutral. The fill combines recycled polyester fibers with eucalyptus lyocell for a fluffy feel. Additionally, the materials are vegan-friendly and naturally resist allergens like dust and dirt.
The eucalyptus and polyester fibers are biodegradable, making the comforter very eco-friendly. Eucalyptus lyocell also uses significantly less water and energy than conventional cotton during the manufacturing process.
A number of certificates show that the comforter meets rigorous environmental and safety standards. For example, OEKO-TEX and FKT labels illustrate that the materials were made without harmful chemicals and skin irritants.
The comforter comes in three sizes: twin/twin XL, queen/full, and king/California king. The comforter can be used alone or attached to a duvet cover with corner loops.
Sheets & Giggles recommends washing the comforter every three to six months using cold water and a delicate setting. Machine-drying on low heat helps keep the comforter fluffy. Professional dry cleaning or spot-treating is also recommended.
Orders to the contiguous U.S. typically arrive within two to five days. Deliveries to Alaska or Hawaii take about 8 to 10 days. The Sheets & Giggles Eucalyptus Comforter can be returned for a full refund. There is no time limit on returns, and the company covers the cost of return shipping.
For shoppers on a budget who tend to sleep hot and value an eco-friendly design, the Sheets & Giggles Eucalyptus Comforter offers a smooth and fluffy feel with sustainable certifications.
Saatva All-Year Down Alternative Comforter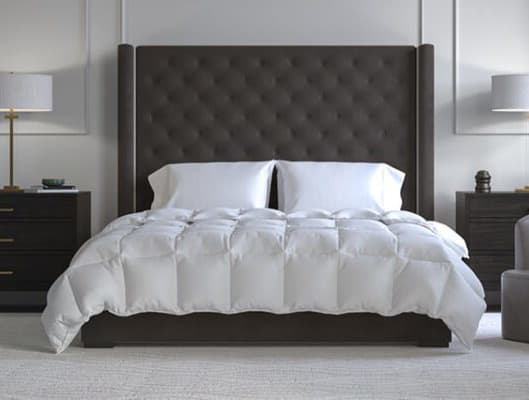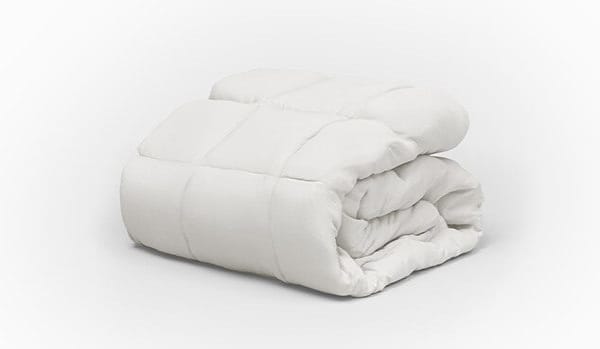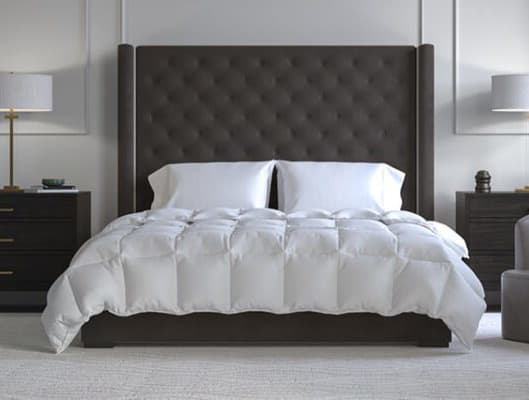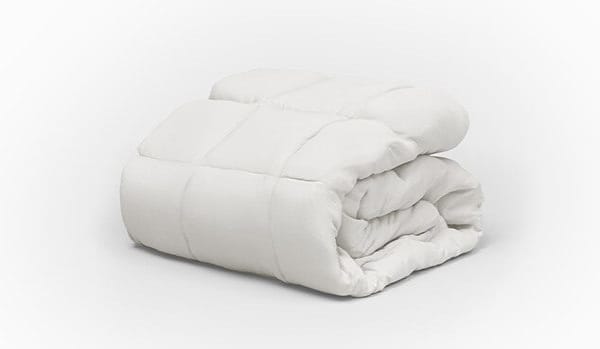 Cover Material: 100% cotton

Fill Material: Down alternative and lyocell fibers

Price: $275
Organic cotton shell with a crisp percale weave
Fluffy and breathable down alternative fill
Can be used with a duvet cover
People with hot flashes or night sweats
Shoppers seeking an all-season comforter
Those who value convenient cleaning
The Saatva All-Year Down Alternative Comforter is a good example of the brand's uncompromising standards. Using organic and Fair Trade Certified materials, the comforter has a luxurious feel that is suitable for all seasons. Excellent durability and easy care make this model a good option for a wide range of sleepers.
An organic cotton shell features a crisp percale weave and 200 thread count ⁠— a combination that balances durability with softness. The baffle box construction contains a mix of down alternative fibers and natural lyocell. The fluffy fill promotes airflow during warmer months and retains heat during colder weather.
The comforter can be used on its own or paired with a duvet cover. Using a cover can prevent premature wear and simplify cleaning. Saatva recommends washing the comforter in cold water using a gentle cycle. Tumble-drying on low refreshes the loft.
The All-Year Down Alternative Comforter includes a 45-day return policy. Used comforters can be returned during this period for a full refund. Saatva just requests that customers wash the comforter prior to returning. Shipping is free for all orders in the contiguous U.S.
Our testing team recommends the temperature-regulating Saatva All-Year Down Alternative Comforter for shoppers who experience night sweats or hot flashes and prefer a luxurious feel.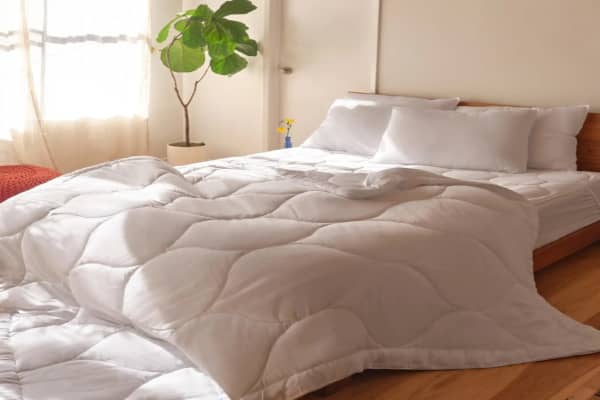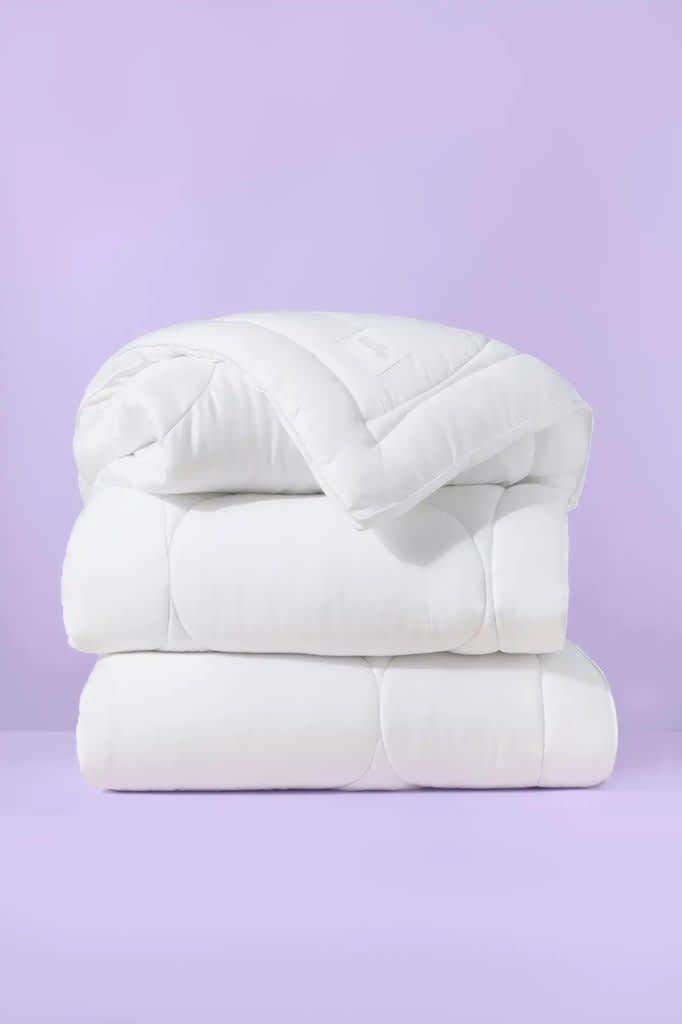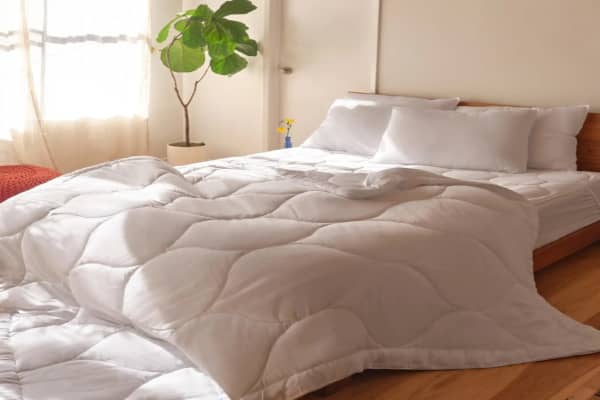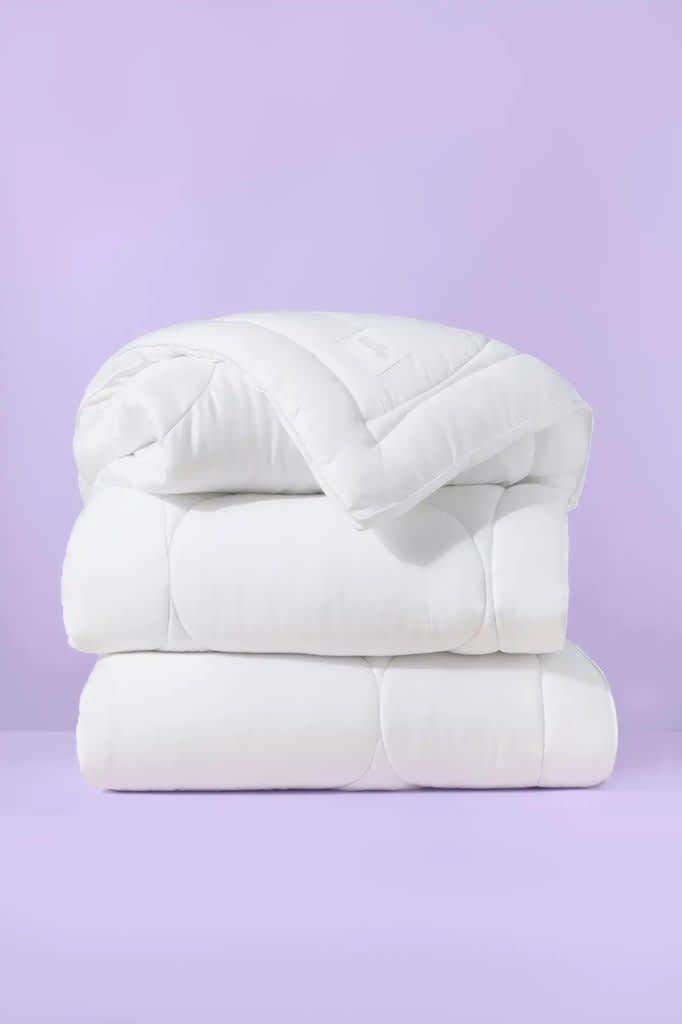 Cover Material: Eucalyptus Fibers

Fill Material: Recycled PET Fill

Price: $169
Breathable Tencel shell with a silky sateen weave
Super fluffy recycled PET fill
Designed for year-round use
Sleepers who enjoy a fluffy feel
Shoppers who value sustainable products
Those who want the reassurance of a sleep trial
Notably soft and lightweight, the Buffy Cloud Comforter is designed for year-round use. Sustainable materials and carbon neutral shipping make this model a great choice for eco-minded shoppers.
The breathable Tencel lyocell shell is derived from eucalyptus and wood pulp, making it both biodegradable and compostable. The fabric's sateen weave and 300 thread count give the shell a silky-soft texture that doesn't retain much heat.
A fill made from shredded recycled plastic bottles yields nearly 3 inches of loft. The result is a fluffy comforter that adapts to different climates. Sturdy stitching keeps the fill from clumping and protects the comforter during washing. Corner loops can be used to fasten a duvet cover. Buffy recommends using a duvet cover to increase the comforter's lifespan.
The comforter comes in versatile white and three standard sizes. Machine-washing in cold water and air-drying is recommended.
The comforter ships for free to all 50 states. Buffy lets customers try the Cloud Comforter for seven nights before charging their credit card. The company's standard return policy also applies, so customers can return the comforter for a full refund within 100 days of purchase.
With a soft, fluffy feel, the Buffy Cloud Comforter suits sleepers looking for a plush comforter with a sustainable design and lengthy sleep trial.
Cozy Earth Bamboo Comforter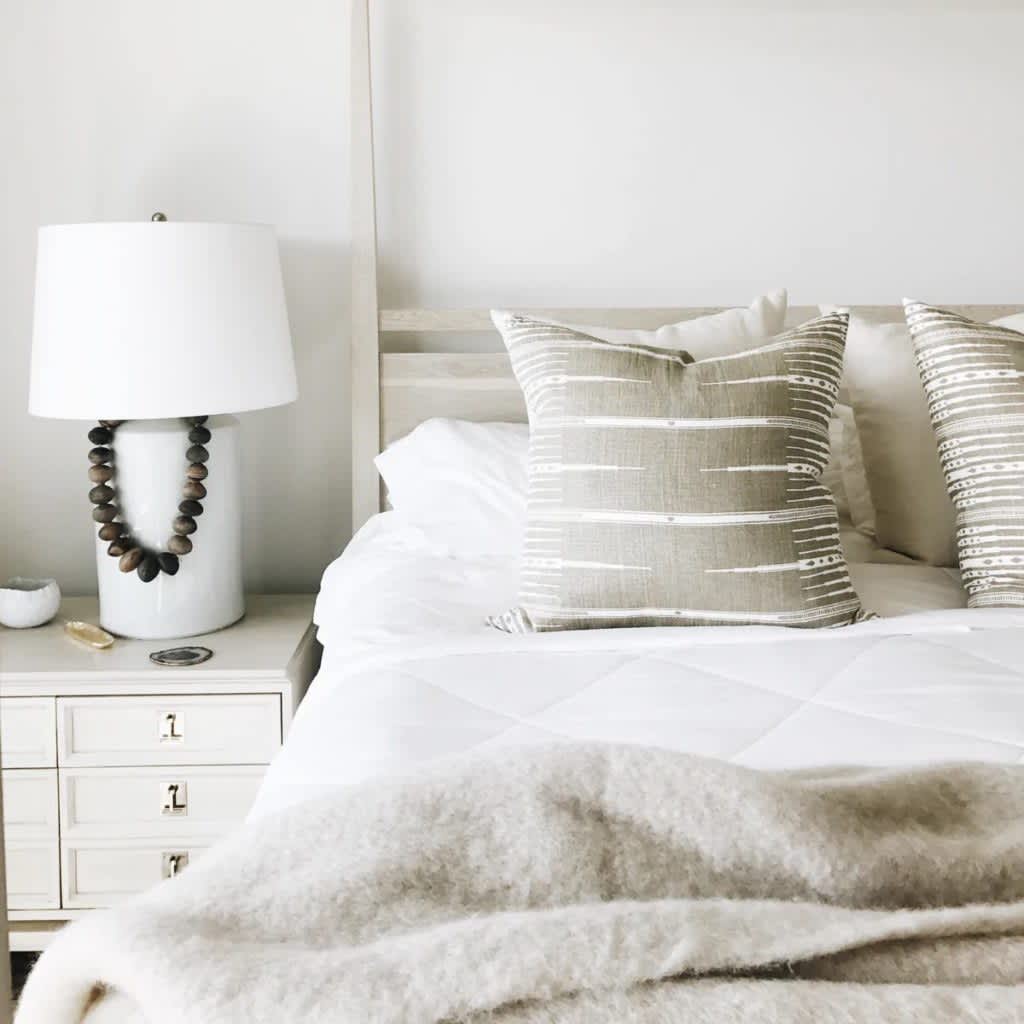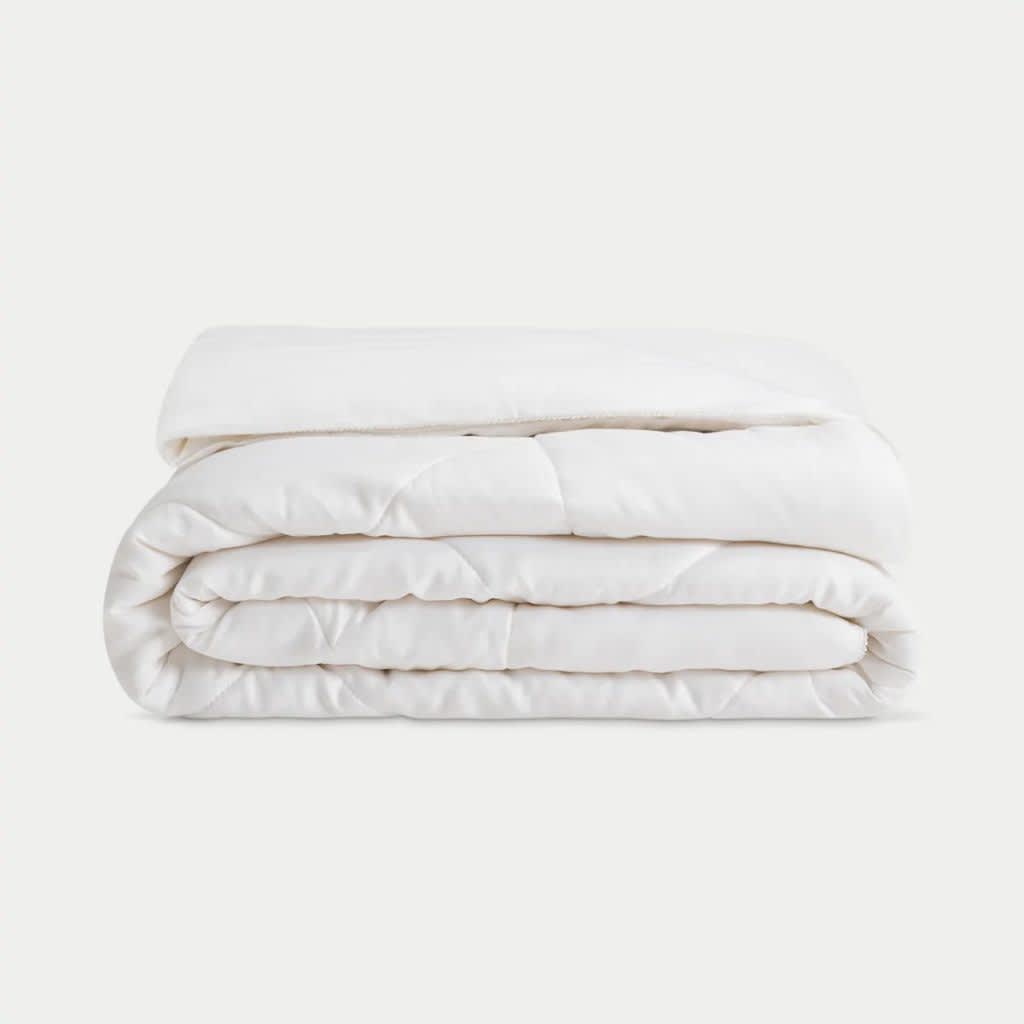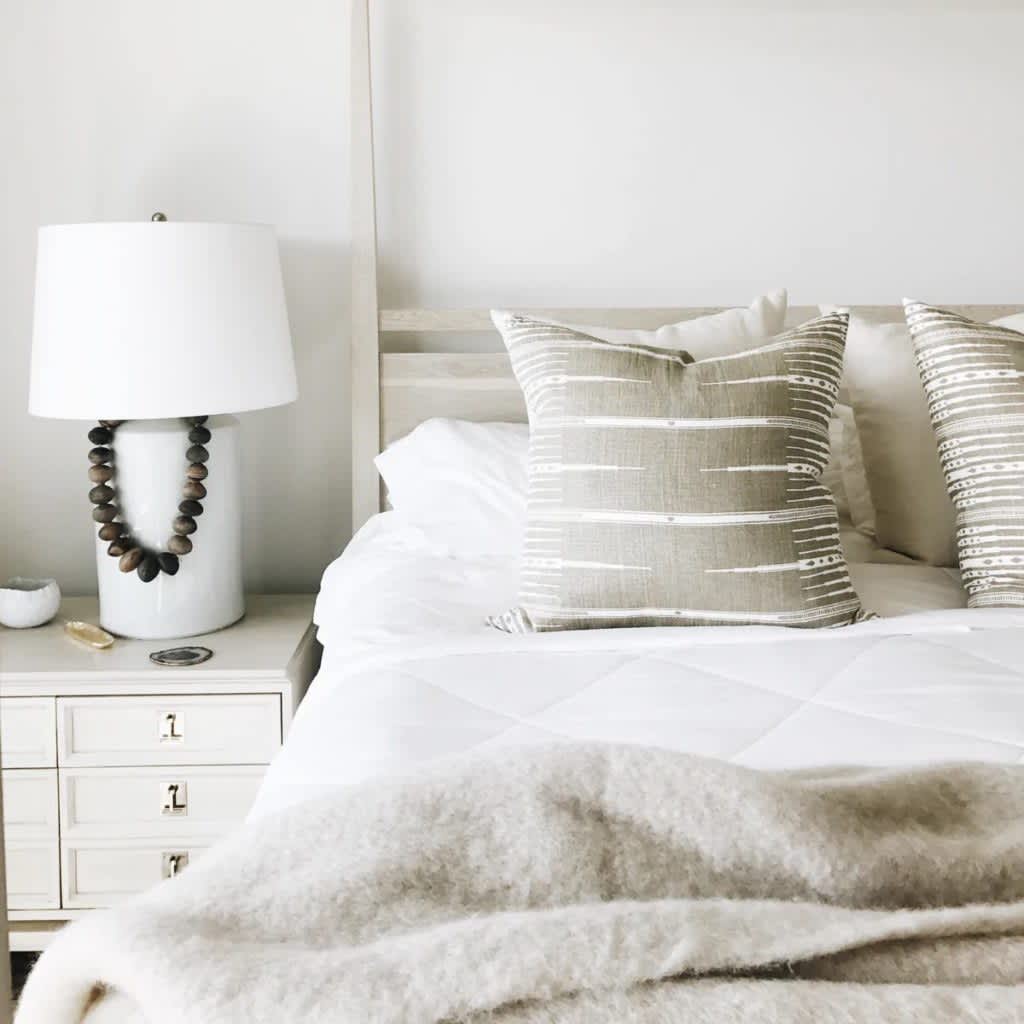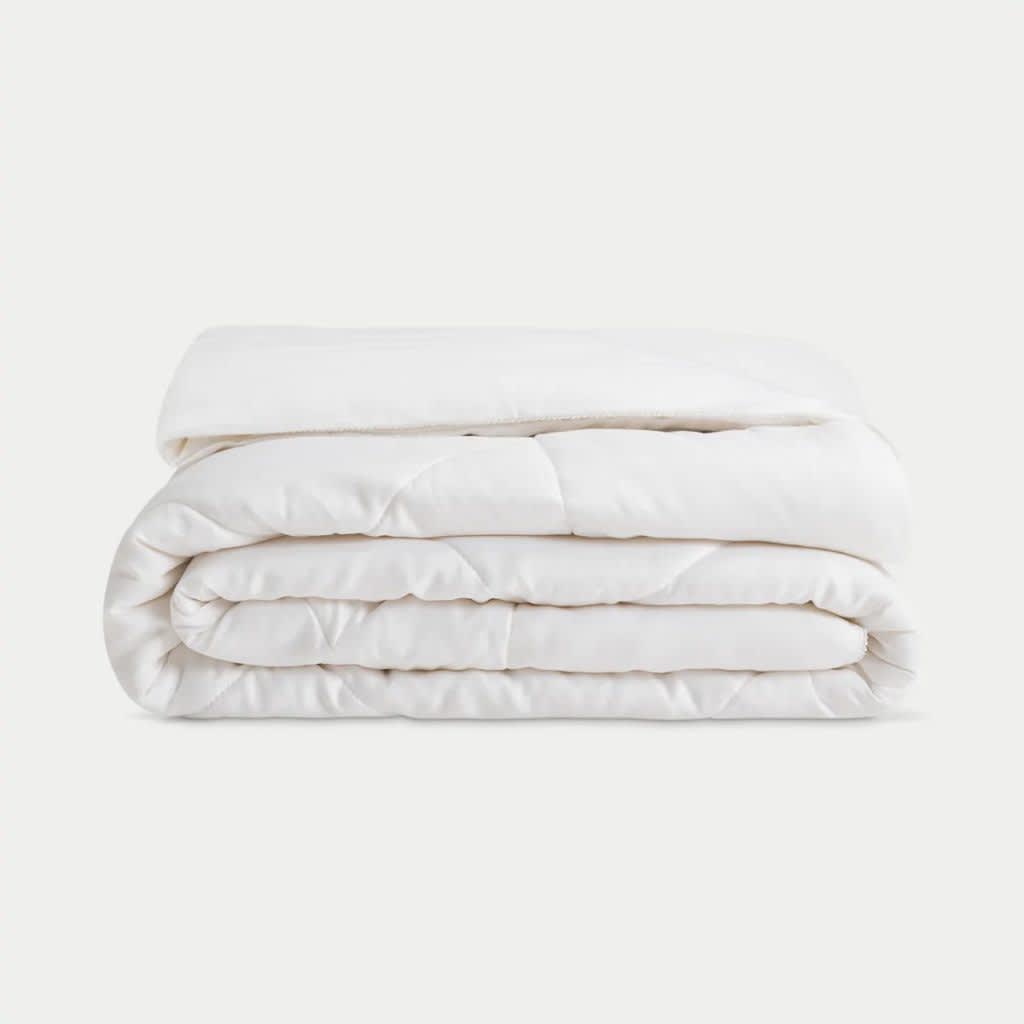 Cover Material: 100% viscose from bamboo

Fill Material: Viscose from bamboo fibers

Price: $469
Made entirely from soft and breathable viscose
Two fill choices
10-year warranty
Shoppers wanting different insulation options
Sleepers who like an extra fluffy feel
People who prefer oversized comforters
Cozy Earth's silky-soft Bamboo Comforter offers a plush feel and comes oversized for added comfort. Made entirely from breathable viscose, the lightweight design cradles sleepers without absorbing much heat. The bamboo-derived cover features a silky and cooling sateen weave. The weave also resists pilling. Viscose fiber fill gives the comforter a fluffy feel.
Shoppers can choose between two fill types: bamboo-derived viscose or mulberry silk-derived viscose. Both are plush and breathable, but the silk model has a fluffier feel closer to natural down. It's worth noting that the silk comforter costs significantly more than the bamboo version.
The comforter also comes in two fill volumes: standard and extra. The standard is a versatile weight for all seasons, while the extra is more insulating. Hot sleepers or those in humid climates usually fare better with the standard comforter. The extra-fill version costs slightly more.
Both versions have anchor loops for attaching a duvet cover. A cover is recommended because it limits excessive washing, which can degrade the comforter. Both models can be washed in a standard household machine using the rinse cycle only. The comforter can be tumble-dried on low or line-dried. To refresh the comforter, Cozy Earth suggests air-drying it in the sunlight for a few hours every three to five months. Spot-treatment and professional dry cleaning are also acceptable.
The Cozy Earth Bamboo Comforter includes free shipping and returns for customers in the U.S. The model is backed by a 100-night sleep trial and a 10-year warranty.
Our testing team recommends the Cozy Earth Bamboo Comforter to sleepers looking for a soft and breathable comforter, as well as those who prefer options for fill materials and enjoy the added comfort an oversized comforter provides.
Zonli Z-Magic Cooling Comforter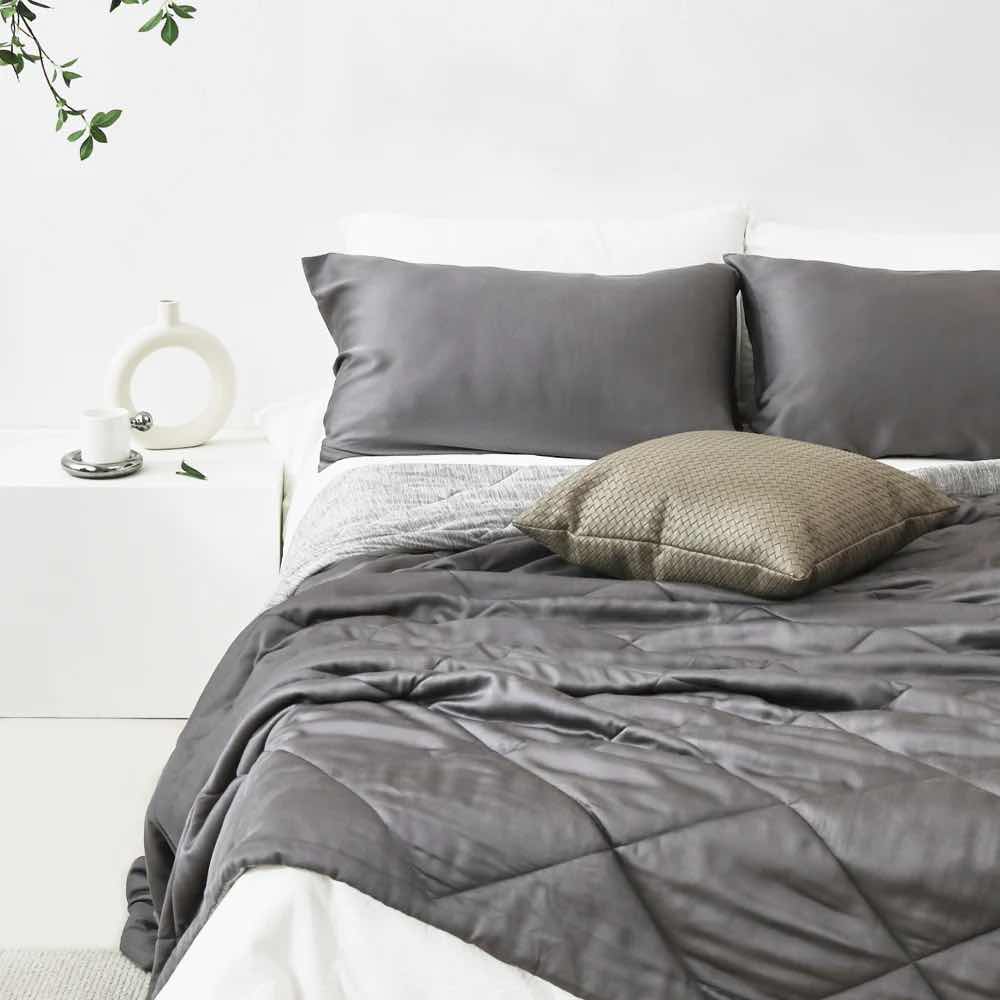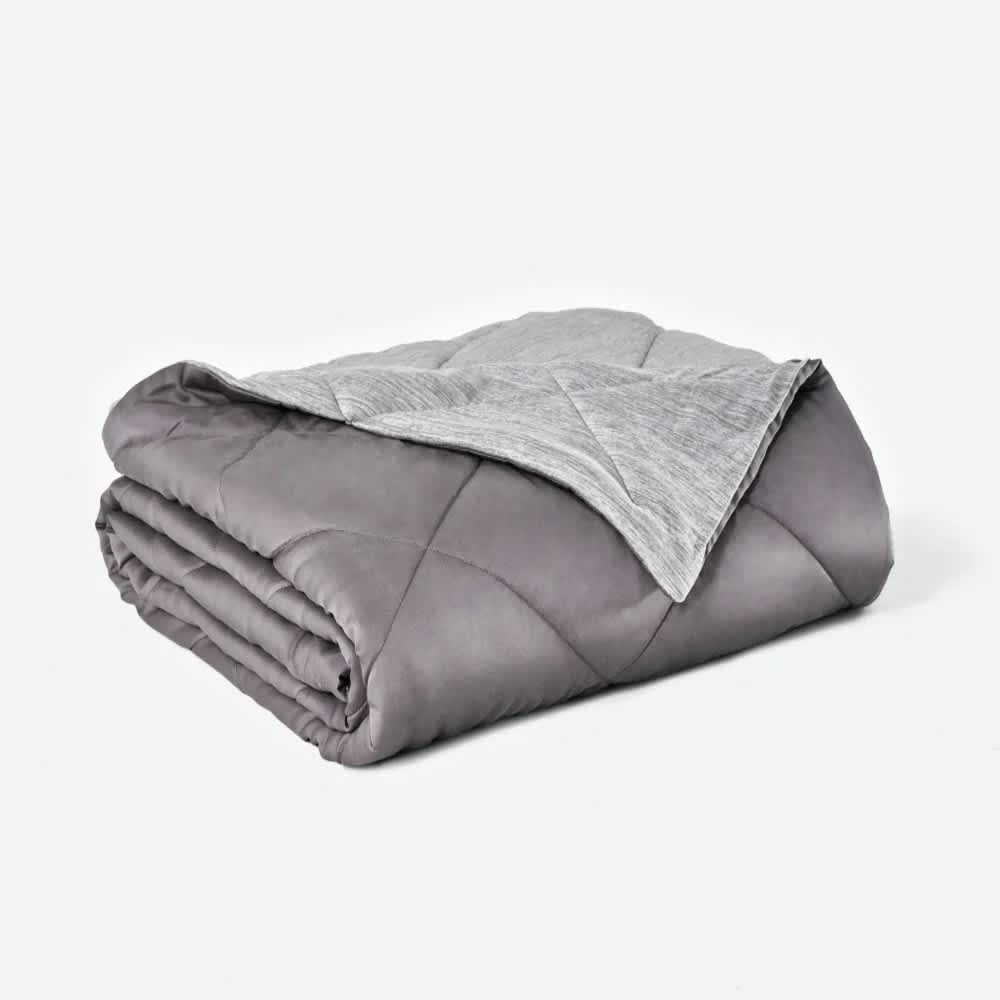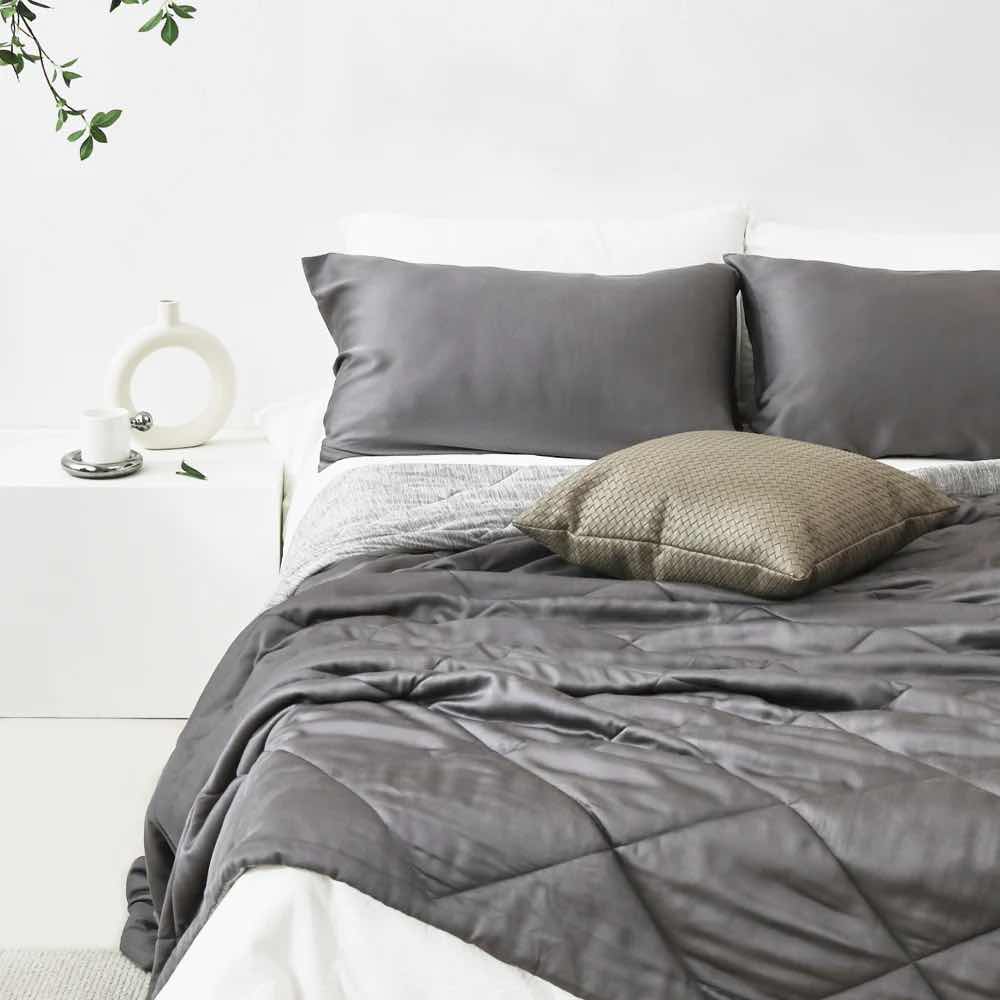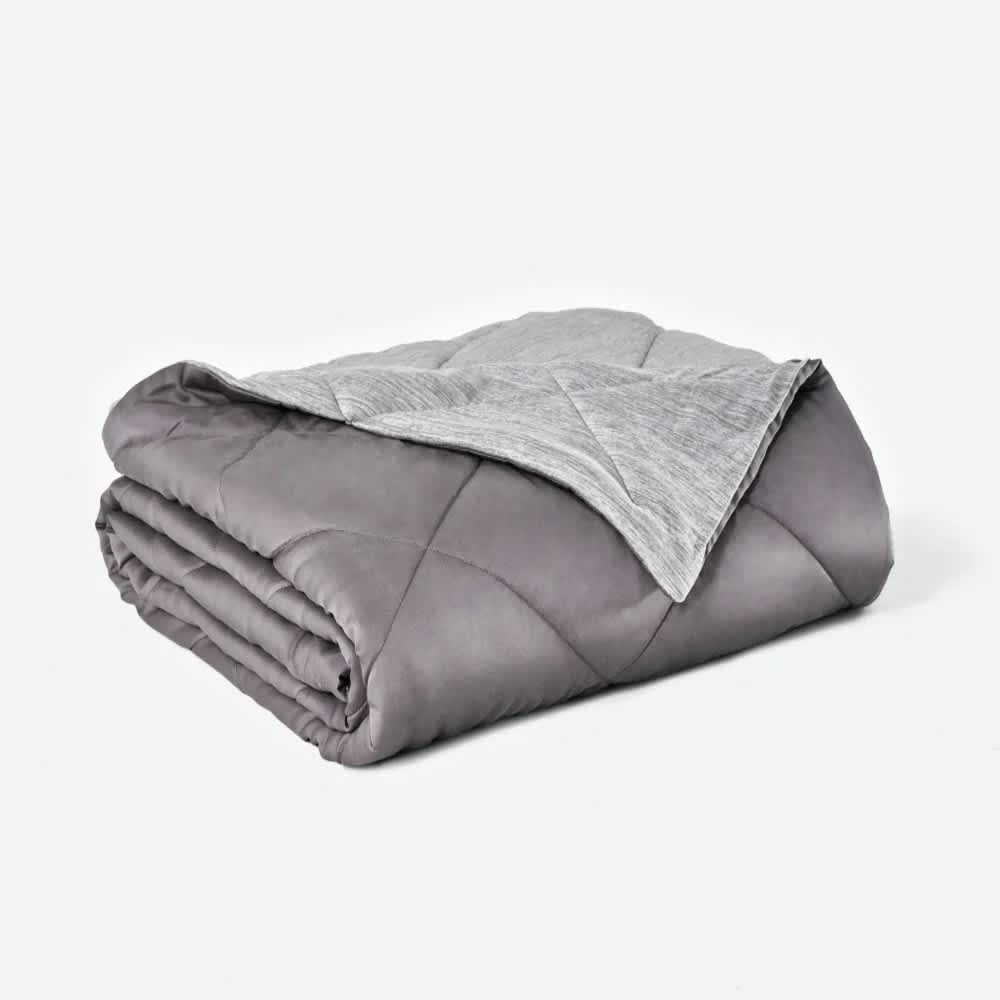 Cover Material: Bamboo-derived viscose (side 1), Chillmax cooling fiber (side 2)

Price: $227
Dual-sided design offers a different feel on each side
Lightweight construction
Machine-washable
Hot sleepers or people in humid climates
Shoppers seeking a comforter for summer
Those who prefer low-maintenance bedding
The Zonli Z-Magic Cooling Comforter is a dual-sided comforter designed with hot sleepers in mind. Each side is made with a different material and feel, but both help keep you at a neutral temperature throughout the night.
One side of the comforter is composed of bamboo-derived viscose, which has a soft feel that is cool to the touch. The other side is made with a specialized Chillmax material, which contains the mineral mica and has a silkier feel. This side also offers enhanced cooling, making it a strong choice for sleepers who overheat easily or who live in warmer climates.
The comforter is available in three sizes and three different color options — sierra gray, rustic brown, and blue ashes. The lightweight construction is ideal for summer months. You may machine wash the blanket in cold water on a gentle cycle, then tumble dry on a low heat setting.
Zonli offers a 21-night sleep trial, during which you may return the comforter for a full refund. The comforter ships for free throughout the U.S. and to select international destinations.
Comma Home Eucalyptus Comforter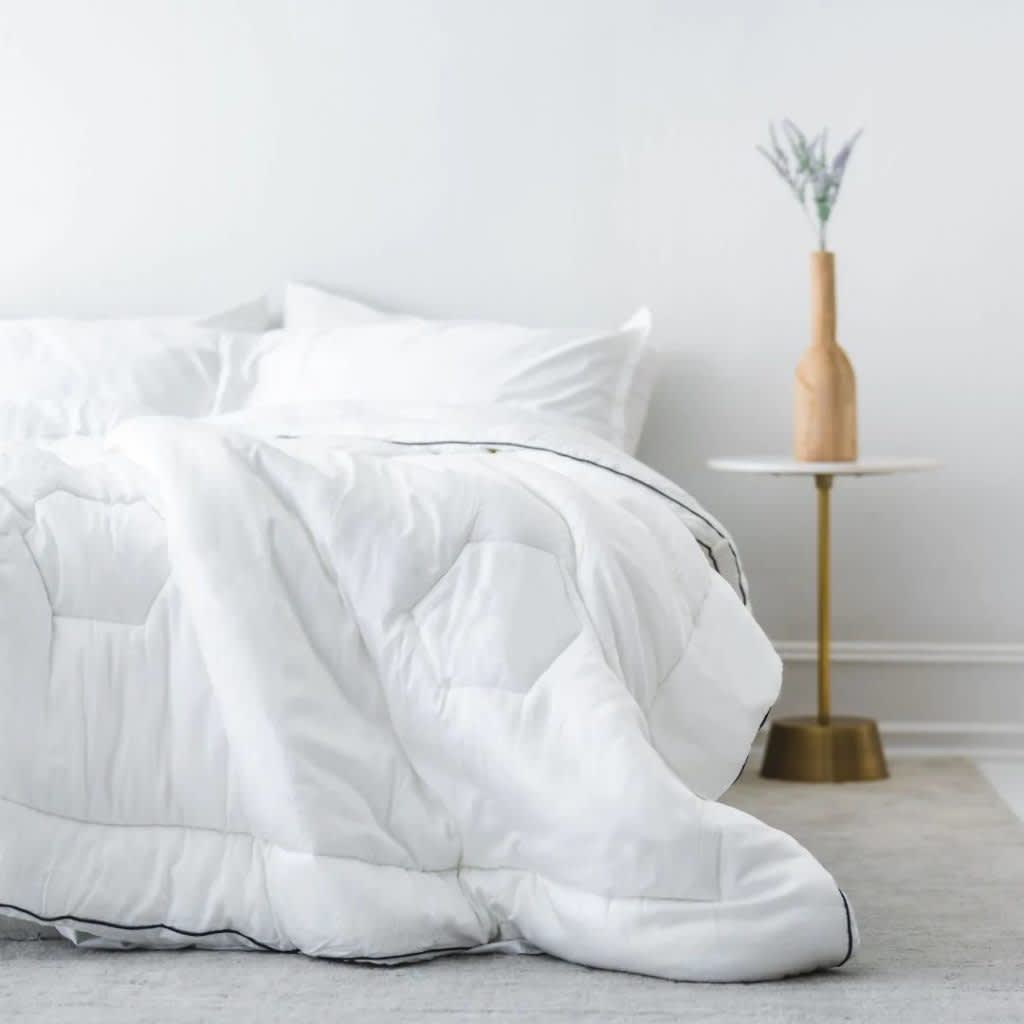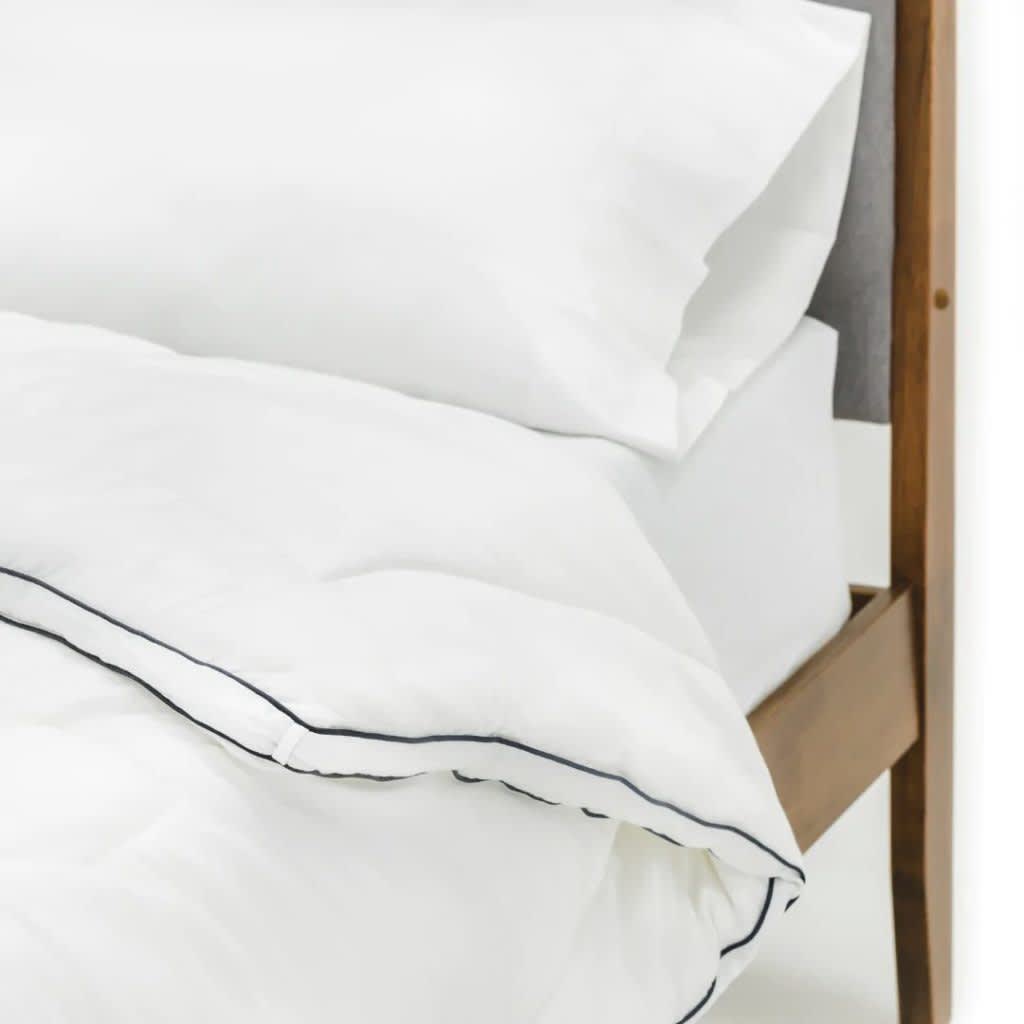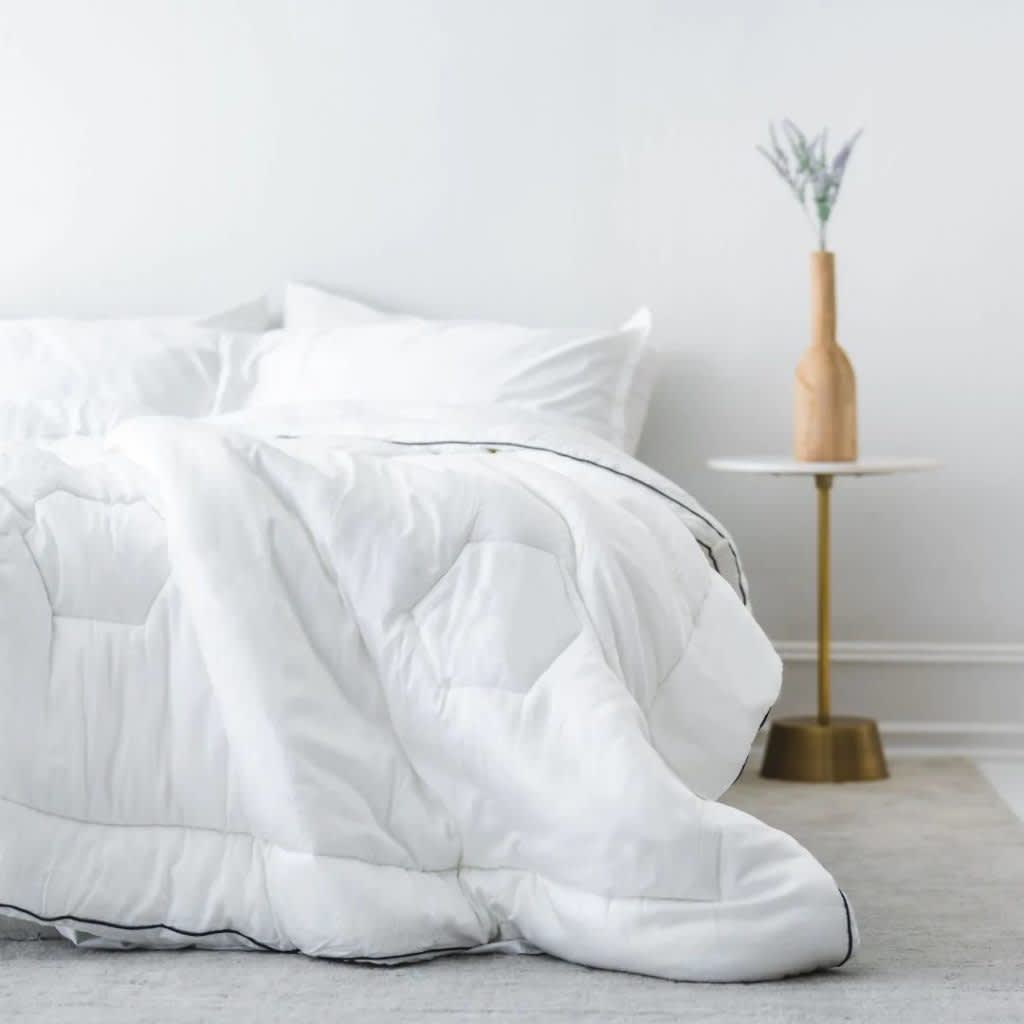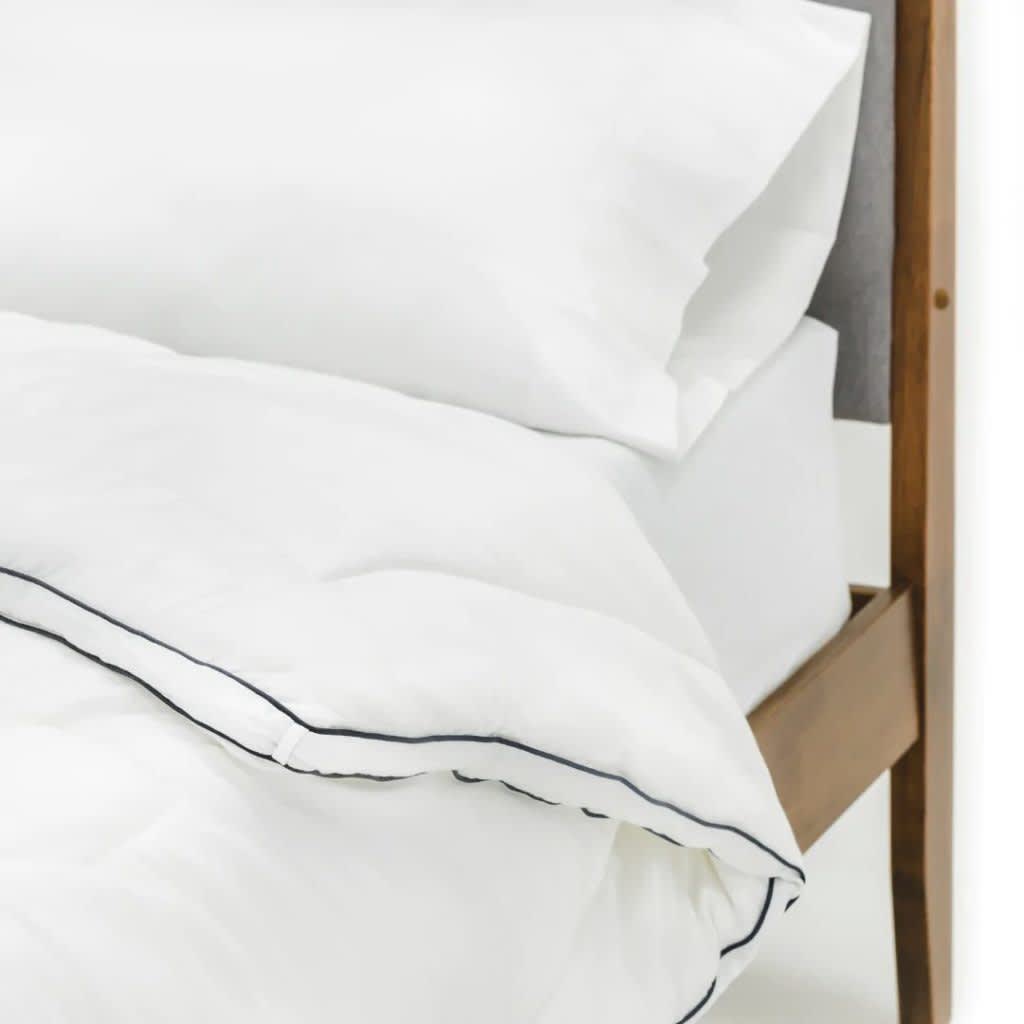 Cover Material: 80% lyocell from eucalyptus, 20% recycled polyester

Fill Material: Polyester down alternative fill

Price: $139
Eco-friendly fill made from recycled water bottles
Single-chamber design evenly distributes the fill
Eight loops to secure a duvet cover
Shoppers seeking a year-round comforter
Those who appreciate low-maintenance cleaning
Sleepers who prefer lightweight comforters
Made from eco-friendly materials, the Comma Home Eucalyptus Comforter has a lightweight, all-season design. The breathable cover has a subtle sheen and consists of 80% eucalyptus-derived lyocell and 20% recycled polyester. A fluffy polyester down fill is made entirely from reclaimed water bottles. The recycled fibers repel microbes that can trigger allergies in susceptible individuals.
The single-layer construction is designed to resist bunching, so individuals and couples receive more consistent coverage. Occasional fluffing is still needed to maintain a desirable loft. There are eight loops in case sleepers want to use a duvet cover. But since the comforter is machine-washable, a cover is not necessary.
The Eucalyptus Comforter is available in queen and king sizes. Comma Home includes free shipping for comforters delivered to the contiguous U.S. Customers can return new or used comforters for a full refund within 30 days of delivery. Only undamaged used comforters are eligible for refunds. Customers are responsible for return shipping fees.
With a lightweight design and sustainable materials, the Eucalyptus Comforter keeps sleepers at a comfortable temperature year-round. In addition, the comforter is designed for easy cleaning, making it easy to ward off grime and allergens for those who choose not to use a duvet cover.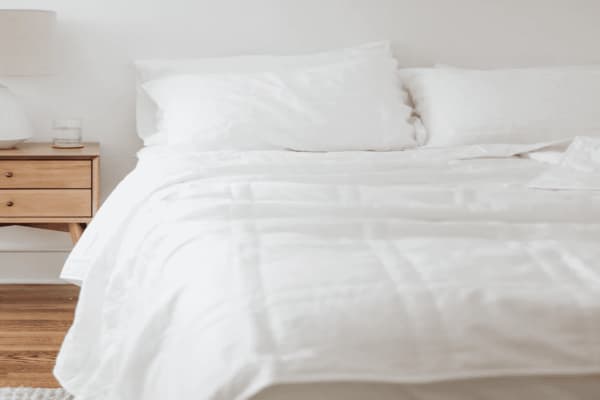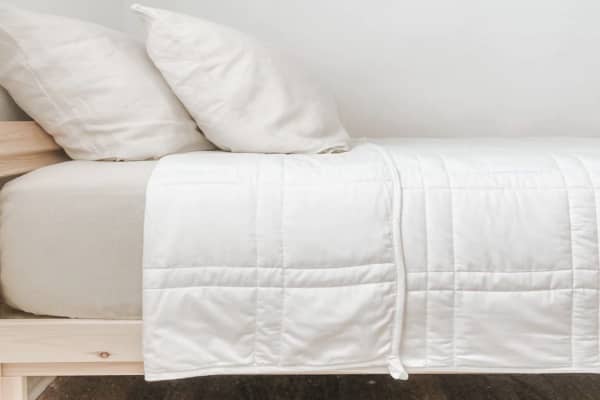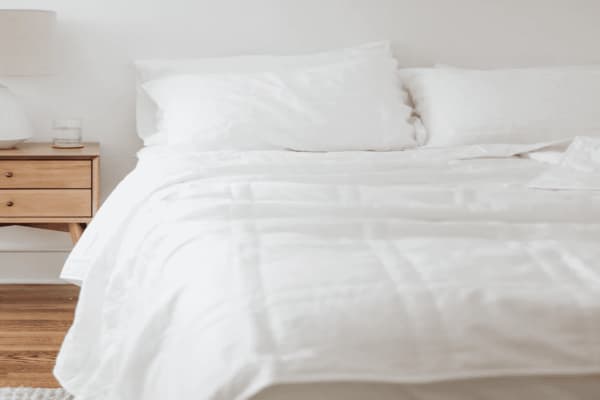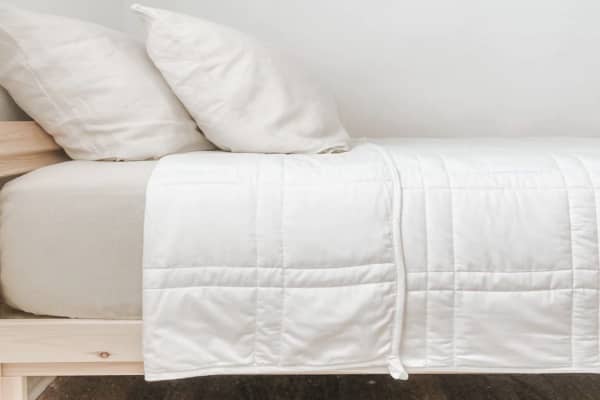 Cover Material: 100% cotton

Fill Material: Cotton batting and glass microbeads

Price: $279
Available in weights of 15, 20, or 25 lbs.
All designs are oversize to accommodate couples
Breathable cotton shell and glass microbead fill
People who weigh between 120 and 280 pounds
Sleepers who normally share a comforter with someone else
Those who run hot in bed
If you're looking for a covering that combines the softness and loftiness of a traditional comforter with the gentle compression of a weighted blanket, then the Baloo Weighted Comforter might be a worthwhile investment. You can choose from weights of 15, 20, or 25 pounds. Using the "10% rule" as a guide with a little wiggle room in either direction, this makes the comforter best suited to people who weigh anywhere from 120 to 280 pounds.
You should also consider the Weighted Comforter if you usually sleep with a partner. The two lightest designs are intended to be used with full/queen mattresses, and measure 90 inches wide by 90 inches long. These oversize dimensions ensure plenty of coverage for you and your co-sleeper. If you share a king or California king size bed with someone else, the 25-pound blanket might be the way to go. This option measures 92 inches wide by 108 inches long.
The fill consists of tiny glass beads that don't retain heat to a bothersome degree. Another cooling component is the breathable cotton shell encasing the fill. The cotton is natural, and has a soft, smooth hand-feel. The shell is quilted with tight baffles, so the beads remain evenly distributed without shifting or clumping to one side.
If you opt for the 15-pound full/queen blanket, it comes equipped with 10 perimeter loops to help you secure it to a duvet cover. The comforter is machine-washable, though likely too large for your household machines — Baloo recommends using commercial appliances whenever a cleaning is needed.
Although the comforter is on the expensive side, its sticker price is comparable to the average weighted blanket. You'll also receive free ground delivery with your order if you reside in the contiguous U.S. Baloo accepts returns and exchanges within 30 days throughout much of the calendar year, and extends their trial period during the holiday season.
Why You Should Trust Us
Comfort means different things to different sleepers, which is why our testers encompass varying body sizes and sleep preferences. Our testing team rigorously tests dozens of comforters that span a range of materials, styles, and price-points. We measure qualities like softness, durability, ease of cleaning, and temperature control to determine the best comforters available on the market today. We're also constantly revising our selections so that readers are informed of the latest products and pricing.
Comforters are designed to add warmth and comfort to a bed. They cover top sheets and come in a variety of materials like down, polyester, cotton, wool, and silk.
Comforters feature a cover and built-in insert. A comforter's feel and performance largely depend on its materials and craftsmanship. Some designs are thin and airy, while others are more substantial.
While they're distinct from mattress pads and protectors, comforters can shield your mattress and bedding from surface spills or accidents. Since most people in the U.S. use a top sheet as a barrier, comforters don't need to be washed as frequently.
Comforter vs. Duvet
Many shoppers think comforters and duvets are identical since they serve the same basic function. However, they do vary slightly in performance and care.
Duvet is a French word that means down and refers to the fine plumage commonly used in duvet fills. Duvets have a fluffy insert and a removable cover. Inserts today consist of a number of natural and synthetic materials as well as down or feathers. Covers are meant to be washed on a regular basis, while inserts are usually spot-treated.
The main difference between a comforter and duvet is that a comforter has a built-in cover, whereas a duvet cover is detachable for easier cleaning. This distinction stems from the fact that top sheets are more commonly used in the U.S. as a buffer between the comforter and sleeper, while Europeans tend to only use a duvet. Without a sheet to serve as a barrier, it makes sense that duvets are designed for greater ease of cleaning.
Comforter

Duvet

Simple one-unit design
Available in a variety of patterns and colors
Can be paired with a duvet cover or used alone

Convenient to clean
Inserts can be exchanged to meet different climate needs
Covers can be swapped out to match bedroom decor

Bulkier and less convenient to wash
Tends to flatten over time
Less adaptable to different seasons

Bunching can be an issue with some inserts
Covers are usually purchased separately
Inserts are sometimes difficult to swap out
How Much Does a Comforter Cost?
The average comforter ranges from $75 to upward of $250. Pricing depends mostly on materials, size, and brand name. There are plenty of budget-friendly comforters available, but shoppers can also splurge on a number of luxury models. Expect to pay more for designs made with natural, organic, or ethically sourced materials.
How Long Does a Comforter Last?
Most quality comforters should last around 10 to 15 years. Lifespan varies based on material quality, workmanship, and how well you care for your comforter. Some materials are naturally more durable and hold up to washing better than others. Following proper care guidelines can prevent premature wear.
How to Clean and Care for a Comforter
Care instructions differ according to model, so it's important to refer to the product label before washing your comforter, as properly caring for your comforter can extend its lifespan.
Regardless of model, you can protect your comforter by not eating in bed and using a duvet cover. These practices will reduce how frequently you need to wash your comforter.
If your comforter is machine-washable and your washing machine is large enough to accommodate it, it's safest to use a delicate setting with cold or warm water and a mild detergent. Avoid using hot water. Many comforters can be machine-dried on a low setting, but a large capacity dryer may be necessary. Additionally, air-drying in the sun can refresh a comforter. Since comforters are often difficult to wash, minor stains can be spot-treated instead.
What Types of Comforters Are Available?
Comforters use a variety of materials to achieve different feels. Depending on the model, a shell might use entirely different materials from the fill. Knowing how each type of material impacts the feel of a comforter can help point you to the right fit.
Down and Down Alternative
Natural down comes from the fine down feathers of geese or other waterfowl. Notably soft and fluffy, down remains a popular fill material. Down comforters are lightweight and breathable, yet they also insulate well during colder months.
Some people are allergic to natural down, and not everyone is comfortable with animal-sourced products. Down alternative fill is a more suitable option in these scenarios, as it consists of synthetic fibers. Most down alternative is polyester-based and has a feel similar to natural down. Down alternative comforters vary greatly when it comes to breathability, loft, and durability. Some high-end models are virtually indistinguishable from natural down comforters.
Cotton
Cotton is a natural fiber widely used in bedding for its softness and breathability. Cotton shells can help sleepers stay cooler by wicking away heat and moisture. Cotton fill comforters tend to be lighter and less insulating than other materials like down or wool, making them a good choice for summer months.
Silk
Silk is more common in luxury comforters, as it's more expensive to manufacture. The natural fiber is exceptionally smooth and lightweight. Silk comforters are popular in hot and humid climates because of their breathability.
Wool
Wool comforters are very soft and insulating, making them suitable for colder seasons. They tend to be less fluffy than down or polyester models. Because wool is moisture-wicking, even very heavy wool comforters remain fairly breathable.
Eucalyptus
Eucalyptus fibers have a cooling, silky-soft texture that can be soothing to sensitive skin. Shells made from eucalyptus tend to be lightweight yet durable. They also drape well and resist wrinkling.
Most eucalyptus bedding is eco-friendly since it requires less water to manufacture than other materials. Eucalyptus comforters tend to avoid harsh chemicals in the manufacturing process as well.
What Should You Consider When Choosing a Comforter?
Everyone has different needs and preferences when it comes to bedding. Some people tend to overheat at night, while others require extra insulation to stay comfortable.
Consider your mattress size, material preference, bedroom aesthetic, and budget when shopping for your next comforter.
Your Mattress Size
Sizing options vary according to manufacturer, but all are designed to fit standard mattress sizes. Many models come in single sizes, such as twin, twin XL, queen, king, and California king. Other companies consolidate sizes for greater versatility. Full/queen and king/California king are common examples.
To ensure a good fit, always double-check your mattress size before buying a comforter, particularly if you share a bed. A comforter that is too small may not cover both partners in bed. A larger size is less problematic, and some sleepers even prefer oversized models.
For combined sizes, often more than one option can fit a given mattress. Just keep in mind that comforter prices generally increase with size.
Your Budget
Being clear on your budget prior to shopping can help narrow your search. Those with larger means naturally have more options, but there are plenty of models for shoppers on stricter budgets. Look for discounts or holiday sales to cut down on costs. Be sure to factor in potential shipping fees to the overall cost.
Your Personal Preferences
Some people enjoy a very lightweight and fluffy comforter, while others appreciate more heft. Consider the climate you live in and your typical bedroom temperature to help determine an appropriate insulation level.
Materials
Materials directly impact the way a comforter feels and performs. Shoppers should consider any allergies they have when choosing materials. For those who avoid animal-derived products, some models are vegan certified.