The majority of adults prefer sleeping on their side. In addition to promoting spinal alignment, side sleeping can help reduce symptoms for those who experience sleep apnea, acid reflux, or back pain.
While a supportive mattress plays a crucial role in sleeping comfortably, it's equally important that your pillow provides adequate support. A supportive pillow offers the right loft and firmness to keep your spine in alignment. Many types of pillows offer this support, though the best option is different for each individual sleeper.
We'll cover the best pillows for side sleepers and take a closer look at the roles loft, firmness, and body type play in sleep comfort so you can determine the best pillow for your needs.
Sleep Is the Foundation Shredded Memory Foam Pillow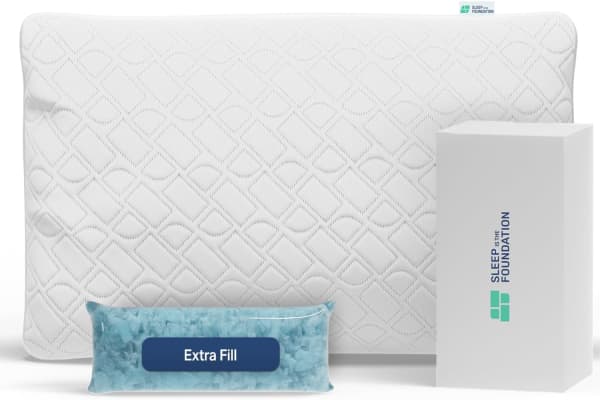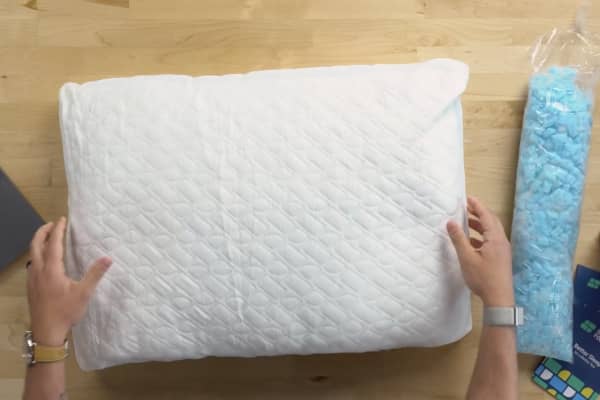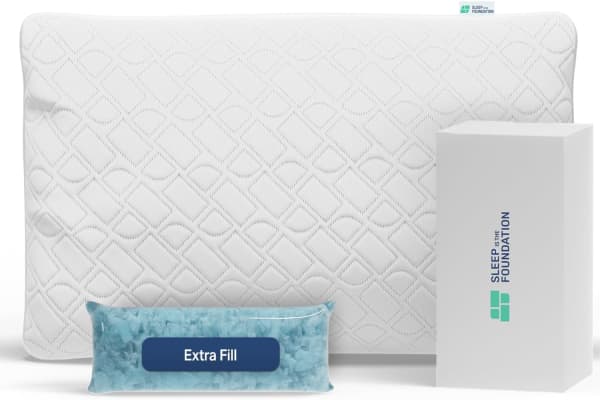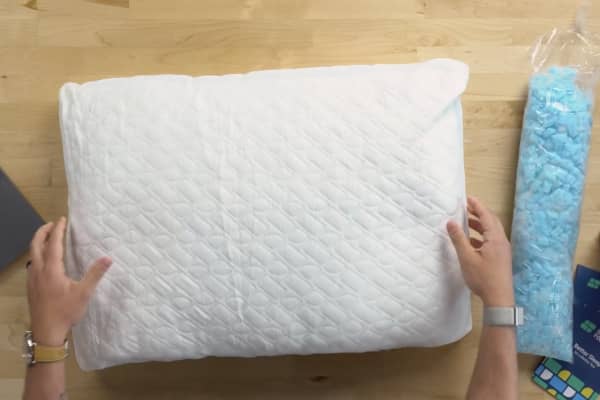 Shredded memory foam makes the pillow adaptive and squishy
Adjustable design lets you add or remove fill to customize the loft
Breathable, moisture-wicking cover made from bamboo-derived viscose
People who normally sleep hot on memory foam pillows
Primary side sleepers who sometimes use other positions
Amazon Prime members
For most side sleepers, the key to a comfortable pillow is ample cushioning to fill the space between the neck and downward-facing shoulder. This promotes proper alignment and reduces the potential for pressure buildup along the spine. With the Shredded Memory Foam Pillow from Sleep Is the Foundation, you can add as much fill as you need to create your ideal loft. Each order includes extra fill if you prefer maximum volume, but you can also remove the foam based on your head size and shoulder width.
How Does It Feel?
The pillow's shredded foam molds to your head and neck for a cradling effect some of our testers described as "cloud-like." How closely the foam contours will depend on how much fill you use. Most side sleepers on our team preferred the pillow full or nearly full, while back and stomach sleepers didn't need as much fill. Keep this in mind if you're a combination sleeper — we recommend keeping the fill close by whenever you change positions and need to adjust the loft.
The cover is composed of viscose derived from bamboo, a breathable fabric with moisture-wicking properties to keep you cool and dry. Viscose is also exceptionally soft. An inner pouch holds the foam. You can separate the outer cover from the pouch and machine-wash the former in any household machine, but the foam should never be exposed to moisture.
Why We Like It
For our side sleepers, being able to customize how thick and firm a pillow feels is an important quality. The inner pouch makes the pillow easy to adjust without making a mess. Unlike solid foam pillows — which can be somewhat dense — this Sleep Is the Foundation model feels squishy and adaptive, forming a gentle contour around the head and neck. Temperature control is another strength. The foam retains a bit of heat, but this is offset by the breathable, moisture-wicking cover.
The Shredded Memory Foam Pillow is available through Amazon.com. Amazon Prime members in the U.S. qualify for free expedited shipping, and all orders include a sleep trial that runs for 30 nights.
Eli & Elm Cotton Side-Sleeper Pillow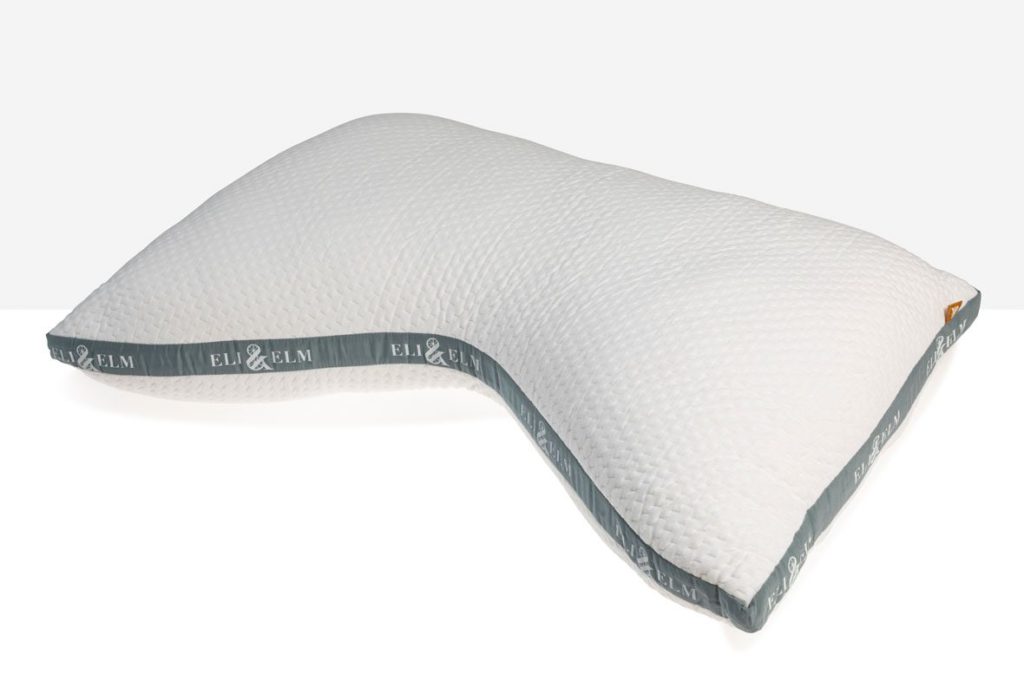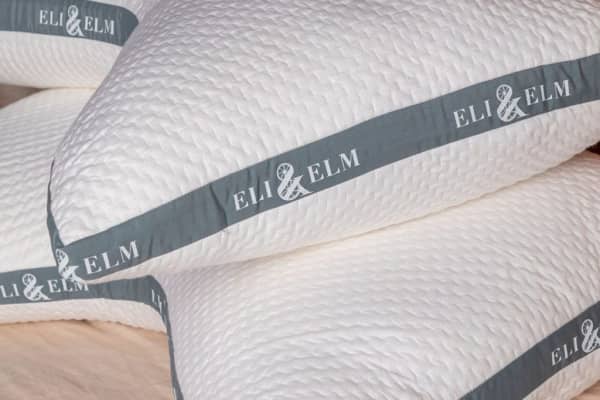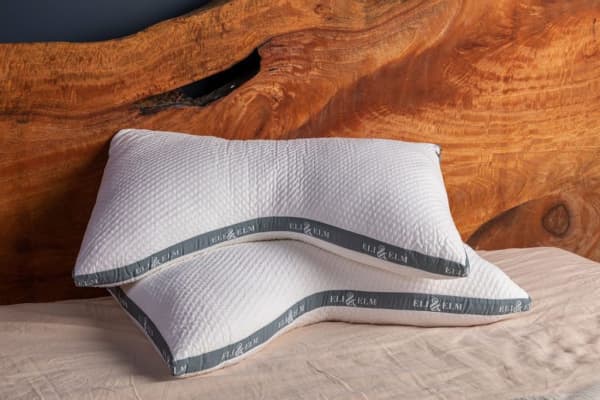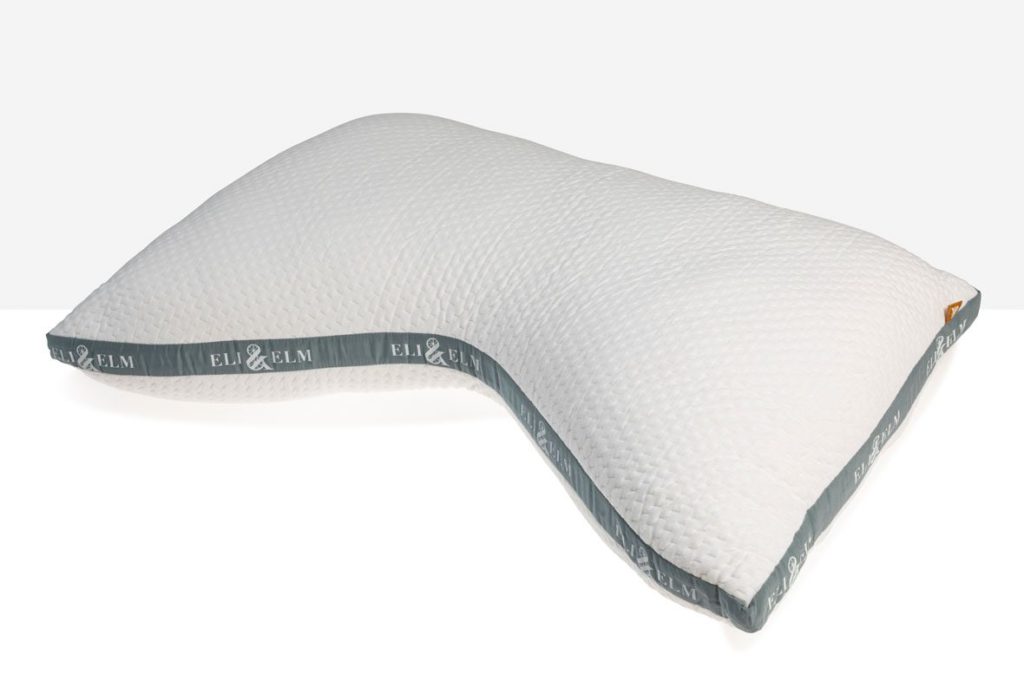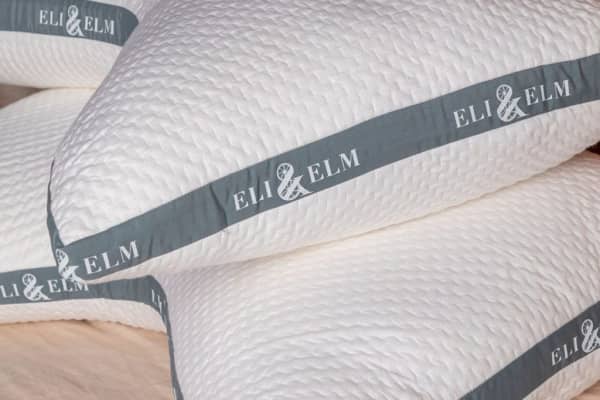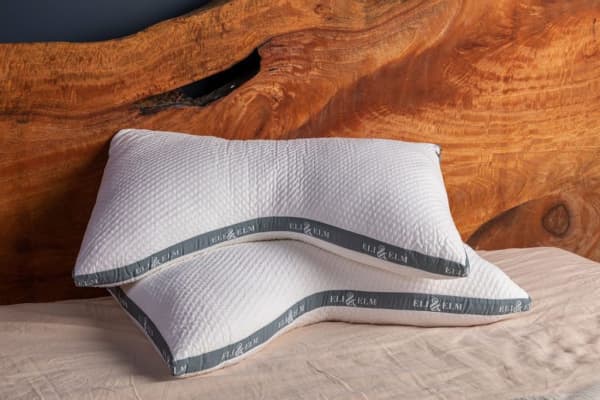 Unique contoured design specifically made to support side sleeping
Adjustable firmness
Breathable and removable cover makes it easy to clean
Side sleepers across weight ranges
Those who tend to sleep hot
Sleepers who enjoy the responsive support of latex
The U-shaped design of the Eli & Elm Cotton Side-Sleeper Pillow cushions the shoulder and lifts the head, encouraging proper spinal alignment for side sleepers. An interior fill consisting of 75% latex noodles and 25% polyester fibers provides responsive support.
How Does It Feel?
With a distinctive shape and adjustable firmness, the Eli & Elm Cotton Side-Sleeper Pillow caters specifically to side sleepers. The soft and supportive combination of latex noodles and polyester fibers makes the pillow especially moldable, making it a good option for side sleepers across all weight categories. A zippered cover made from cotton, polyester, and spandex allows sleepers to add or remove fill to adjust the medium firmness level.
Why We Like It
Side sleepers on our testing team found that the Eli & Elm Cotton Side-Sleeper Pillow responded well to gentle shaping while maintaining support. Some back sleepers may also enjoy the contouring for the neck and support for the head. The shredded fill makes the pillow quite moldable, so sleepers can readjust fill to get support where they need. But it also retains its shape quite well, preventing you from having to fluff it as often. With a mix of temperature neutral latex and breathable down alternative polyester, the pillow also earned high marks from our testers who sleep hot.
The Cotton Side-Sleeper Pillow is available in one size, though shoppers can purchase additional fill. Eli & Elm offers free shipping to the contiguous U.S., a 45-day return policy, and a five-year limited warranty.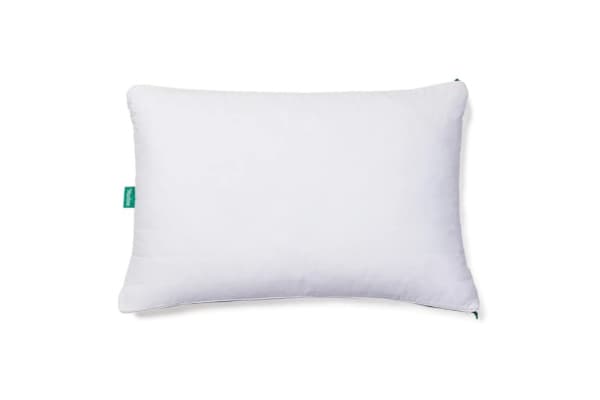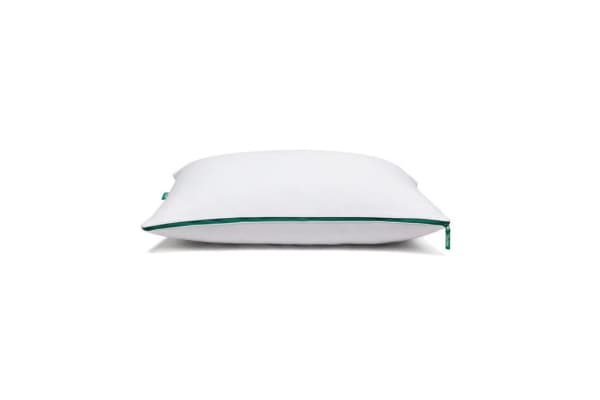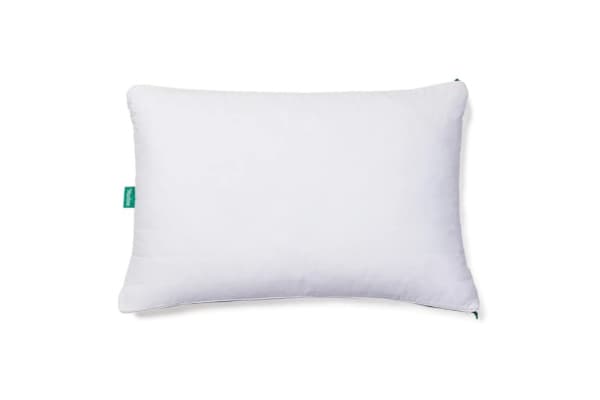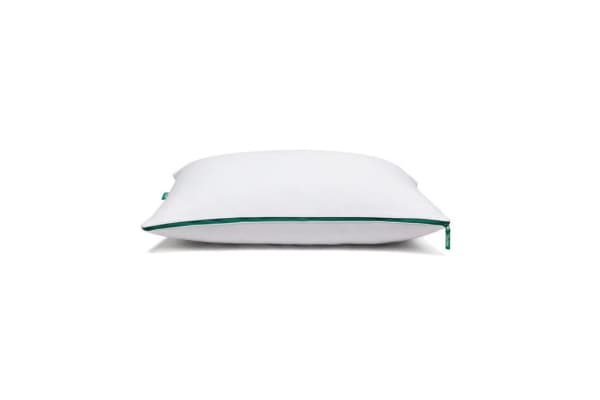 Double zipper allows for adjustable firmness level
Memory foam and polyester fill create soft yet supportive feel
365-day return policy
Side sleepers seeking a moldable and conforming pillow
Those who sleep hot
Value seekers
The Marlow Pillow's fill consists of 80% shredded gel-infused memory foam and 20% polyester fibers, which conform to the head and neck while offering support. A double zipper reveals a ventilated gusset and allows sleepers to easily adjust the firmness level between soft, medium, or firm.
How Does It Feel?
With an adjustable firmness level and breathable fabric, the Marlow Pillow offers an effective combination of softness and support for side sleepers on a budget. The cotton sateen shell has a smooth feel and is designed to ward off bacteria and dust mites.
Why We Like It
Our testers noted that the shredded memory foam was softer than solid memory foam but still provided a supportive feel. We found the Marlow Pillow to be a good option for side sleepers who are unsure of the best firmness or loft for their needs. Air moves freely through the pillow thanks to a breathable cover and mesh gusset, helping to keep sleepers cool throughout the night.
The Marlow Pillow comes in both standard and king sizes. Shoppers receive free shipping within the contiguous U.S., a 365-day return policy, and a two-year limited warranty.
PlushBeds Wool & Latex Side Sleeper Pillow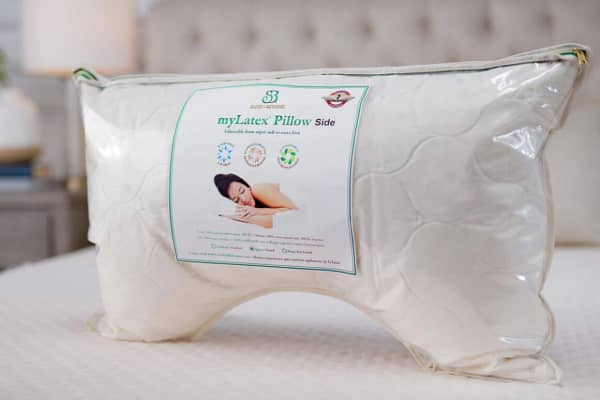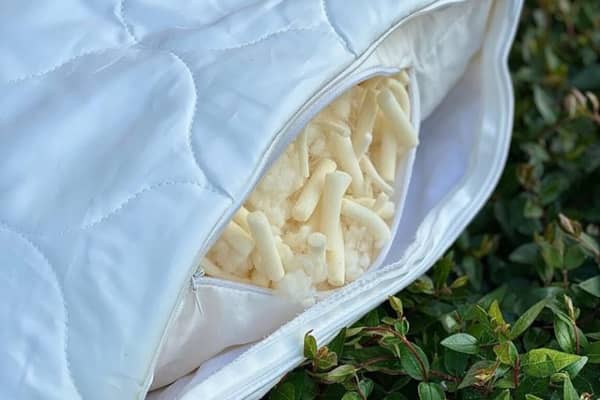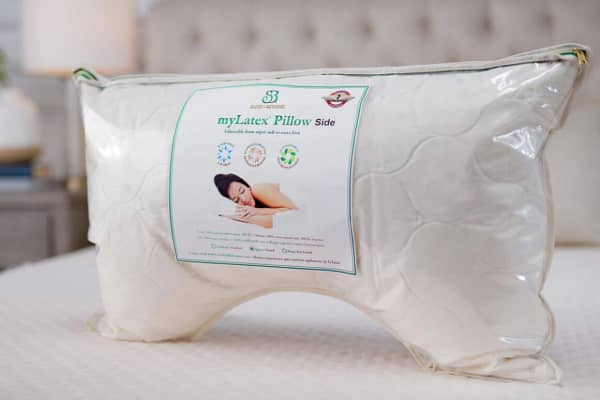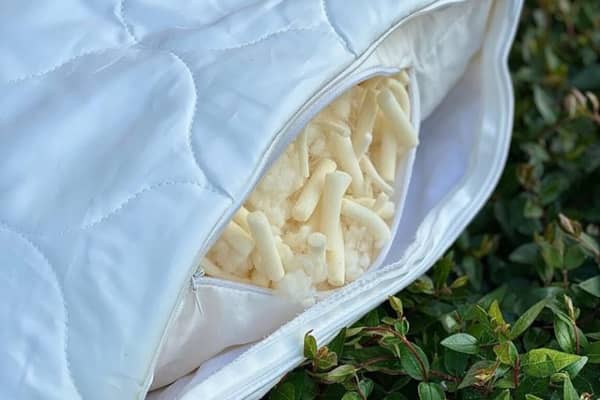 Shropshire wool and natural latex fill
U-shaped design specifically benefits side sleepers
Adjustable loft
Sleepers prone to allergies
Those who sleep hot
Shoppers looking for a natural alternative to memory foam
Ergonomically shaped and specifically designed with side sleepers in mind, the PlushBeds Wool & Latex Side Sleeper Pillow is filled with a combination of latex and wool for a responsive and plush feel. With high-quality materials and a unique shape, the PlushBeds Wool & Latex Side Sleeper Pillow suits hot sleepers who value a luxe feel. The pillow's natural materials also make it a good option for those who are prone to allergies.
How Does It Feel?
The combination of Shropshire wool and noodle-shaped latex pieces gives the pillow a moldable and highly responsive design. The cotton sateen cover features a 300 thread count and a zipper that allows sleepers to easily add or remove fill for customized loft.
Why We Like It
Side sleepers on our testing team found the pillow's unique shape easily accommodated their shoulders, helping to relieve pressure points. The adjustable fill allowed a range of body types to feel properly supported, and the natural breathability of the materials kept our testers from overheating.
The Wool & Latex Side Sleeper Pillow is available in queen size. PlushBeds offers a five-year limited warranty. All materials are hypoallergenic and designed to resist dust mites.
Tempur-Pedic TEMPUR-Neck Pillow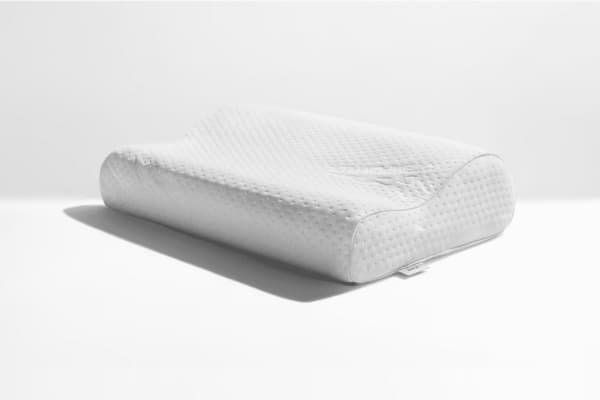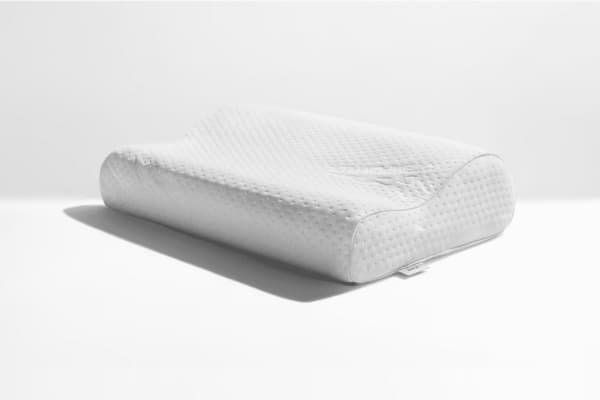 TEMPUR memory foam conforms to the neck and head
Choice of three lofts
Five-year limited warranty
Side sleepers weighing between 130 and 230 pounds
Those seeking relief from nighttime discomfort
Shoppers who prefer extra firm support
The contoured shape of the Tempur-Pedic TEMPUR-Neck Pillow is designed to help side sleepers relieve pressure points and maintain spinal alignment. Made from a solid piece of TEMPUR memory foam, the TEMPUR-Neck Pillow has a built-in cervical roll for the neck and a concave sleeping plane to support the head.
How Does It Feel?
The pillow's shape and material provide responsive contouring and deep pressure relief, which helps ease aches and pains. A choice of three lofts accommodates a wide range of body types. Regardless of which profile you choose, the TEMPUR-Neck Pillow's extra firm memory foam delivers exceptional support. Side sleepers who experience neck pain should find the pillow relieves pressure points and helps prevent aches and pains.
Why We Like It
With an extra firm feel, the pillow best suited our team's side sleepers who weigh between 130 and 230 pounds. The TEMPUR-Neck Pillow's noteworthy conforming capability provided tension relief in the neck and shoulders. Our testers noticed that it also exhibited excellent shape retention, meaning they didn't need to fluff their pillow. A removable polyester knit cover is hypoallergenic and easy to wash.
Tempur-Pedic offers free shipping to the contiguous U.S. and a five-year limited warranty that covers defects in craftsmanship or materials.
Luxome LAYR Customizable Pillow
Cooling cover and gel-infused memory foam designed to promote airflow
Three adjustable inserts allow for customizable loft and firmness
OEKO-TEX and CertiPUR-US certifications indicate the pillow is free of harmful substances
All side sleepers
People seeking customization
Those who tend to sleep hot
The Luxome LAYR Customizable Pillow allows sleepers to choose from a selection of adjustable inserts to create the loft, firmness, and performance that works best for them. Sleepers can combine the four inserts to find the best combination for their needs. A bamboo-derived viscose cover provides a soft and breathable sleep surface.
How Does It Feel?
Each LAYR Customizable Pillow comes with soft, medium, and firm inserts. The soft insert consists of down alternative fibers, while the medium insert contains a blend of shredded gel-infused memory foam and down alternative fibers. The firm inserts include 1- and 2-inch layers of gel-infused memory foam, though sleepers can opt to only use one of the firm inserts.
The gel-infused memory foam is engineered to wick away heat. Each insert is covered in breathable cotton, and the viscose cover is designed to promote airflow and help keep sleepers cool.
Why We Like It
We found that the LAYR Customizable Pillow's exceptional customization allowed side sleepers to find the right combination to support their needs. Hot sleepers should also appreciate the pillow's cooling materials. Our testers noted the pillow maintained a comfortable temperature while still offering support and alleviating pressure. Testers also enjoyed the pillow's above-average conforming capabilities and moldability, though it varied depending on the combination of inserts used.
The LAYR Customizable Pillow is available in standard and king sizes. Luxome offers free shipping within the contiguous U.S., and shoppers can return their pillow within 30 days of delivery.
Why You Should Trust Us
Our team consists of sleep product experts with different sleep positions, body weights, and preferences. Testers personally assess hundreds of pillows based on the criteria that matter most to sleepers, such as temperature control, moldability, and conforming. Our stomach sleepers were particularly interested in finding models that provide support and cushioning without excessive loft.
How to Pick a Pillow for Side Sleepers
Our sleep experts offer advice on how to pick a perfect pillow for side sleepers. We'll discuss pillow designs that are best suited for this sleep position, from the type of fill to the pillow's thickness.
What Type of Pillow Is Best for Side Sleeping?
Side sleepers need a pillow that is supportive enough to lift the neck away from the shoulders to maintain spinal alignment. Several pillow types achieve this, though the ideal option varies between individuals.
Solid memory foam tends to be the firmest option and provides a responsive, contouring foundation for side sleepers. Shredded latex or memory foam mixed with down or down alternative fibers are typically softer options that combine loftiness and support. These pillow types are sometimes adjustable, which allows sleepers to customize the fit and feel.
Shoppers should note, however, that there is no single pillow that works for everyone. When shopping for a pillow, side sleepers should consider their unique needs and preferences to find the best pillow for them.
Are Memory Foam Pillows a Good Option if You're a Side Sleeper?
In general, memory foam pillows are a good option for most side sleepers. Memory foam pillows generally offer the responsive pressure relief that side sleepers need to maintain spinal alignment. Side sleepers typically need a higher loft than other sleep positions to account for the space between the mattress and the base of the neck and shoulders.
Finding the Proper Pillow Height and Firmness as a Side Sleeper
Side sleepers generally need firmer, more supportive pillows than people who prefer other sleep positions. They also typically need pillows with a higher loft, which is another term for the height or thickness of a pillow.
The best pillow firmness and loft varies from sleeper to sleeper. We'll explore how to determine the right loft and firmness for your needs.
What Pillow Loft Do You Need?
Determining what pillow loft you need is based on your preferred sleep position and body weight. A pillow with the right loft prevents the head from resting too flat or too high, since either position can lead to strain on your neck.
The ideal loft allows the pillow to fit snugly between the neck and shoulders, preventing pressure points and aligning the spine for maximum comfort. Most side sleepers enjoy at least a medium-loft pillow, with many preferring high-loft models that measure at least 5 inches thick.
How Firm Should Your Pillow Be?
Firmness describes how much the pillow compresses and conforms under the head and neck. Side sleepers often need firmer pillows that keep their shape under pressure. This, along with a pillow's loft, helps properly support the head and neck. Generally, sleepers with larger frames and heads need a firmer pillow than lightweight sleepers.
Support and Keeping Your Spine Aligned While Sleeping on Your Side
A pillow's support is determined by its loft and firmness. Sleeping with an unsupportive pillow can create pressure points and lead to neck pain. Picking the right loft and firmness for your sleep position and body type can help avoid poor spinal alignment. Side sleepers generally need firmer pillows with a higher loft to ensure they are properly supported throughout the night.
How to Choose the Best Pillow – Video
In the video below, our product experts offer tips on how to pick the best pillow for your particular sleep preferences. Watch the video to see hands-on demonstrations of how different pillow materials and lofts perform for different types of sleepers.
How to Help With Neck Pain When Sleeping on Your Side
Selecting a pillow with the right loft and firmness is a key part of avoiding neck pain, but how you sleep is also important. This is especially true when sleeping on your side. Side sleepers should choose a pillow that helps them maintain spinal alignment.
Keeping your neck elevated allows it to rest on an even plane with your spine. If you find you need more support than a regular pillow can provide, consider sleeping on a pillow with a cervical roll. Investing in a body pillow can also provide greater stability and alignment.
Supportive Tips for Sleeping on Your Side
Maintaining a neutral spine position plays a key role in helping sleepers prevent aches and pains. Beyond selecting a supportive pillow that raises the neck away from the shoulders, there are several other ways sleepers can promote healthy alignment.