Body pillows are long pillows designed to increase comfort and support, making them exceptionally versatile pieces of bedding that are often overlooked. Usually around 48 inches or longer, body pillows are popular with side and stomach sleepers, pregnant people, and people who experience discomfort while in bed.
Sleepers can choose among a wide range of shapes, sizes, and fill types, making it easy to find a body pillow that suits an individual's unique needs. Some body pillows are also designed with specific sleepers in mind, such as pregnant people or those with painful health conditions.
We've put together a list of the body pillows that performed best during our testing. We also discuss the factors to consider when buying a body pillow, from deciding whether a body pillow is right for you to choosing a shape, firmness, and fill.
Sleep Doctor's Picks
Shop Now
Shop Now
Shop Now
Shop Now
MedCline Therapeutic Body Pillow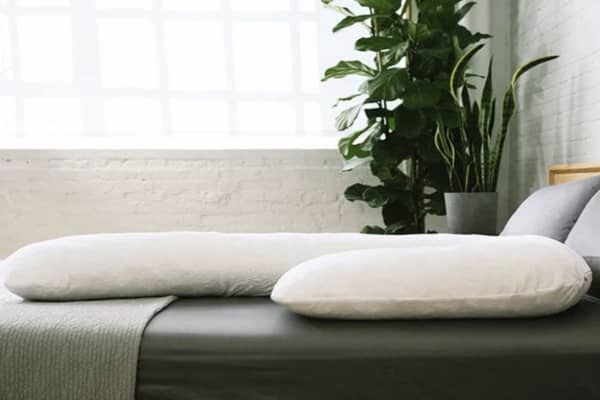 Fill Material: Shredded memory foam

Firmness: Medium

Price: $119
Available in two sizes to accommodate different height groups
Shredded memory foam fill is both plush and adaptive
Shoppers receive discounts when they add pillowcases to their purchase
Those seeking a body pillow that contours closely to the body
Pregnant sleepers
People who dislike pillows with seams
The MedCline Therapeutic Body Pillow checks a lot of boxes for anyone who enjoys sleeping with this type of pillow. Shredded memory foam fill gives the design a soft and squishy feel, adapting to your body's unique curves for a "hugging" sensation. You can also choose between two lengths depending on your height.
The "small" pillow, which measures 5 feet long, is intended for people who stand 5 feet 3 inches or shorter, and the "medium" design is 6 feet long and meant for anyone who's taller. Pregnant sleepers may want to opt for the longer design regardless of their height.
One notable aspect of the Therapeutic Body Pillow is its seamless construction. This allows you to rest your head on a completely even surface. The shell is composed of polyester, so the pillow may retain some heat, but MedCline includes a breathable matching pillowcase with each order. The cover can be removed and machine washed for quick, convenient care.
Both pillow sizes carry the same approachable price-point. MedCline does not accept returns of the Therapeutic Body Pillow after the packaging is removed, but MedCline offers full refunds for unopened pillows.
Sleep Number No Shift Body Pillow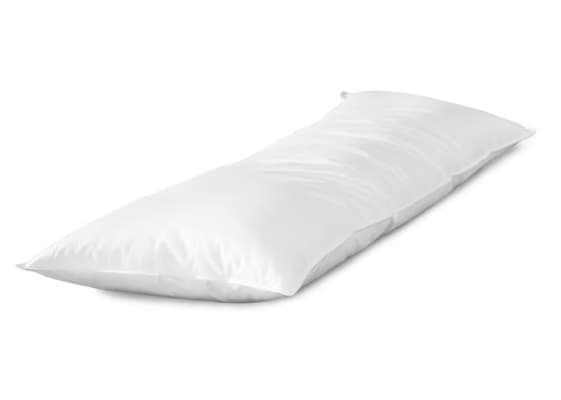 Fill Material: Down Alternative

Firmness: Medium

Price: $60
Down alternative offers the feel of down without the cost of traditional down
Chambered design prevents the fill from shifting and bunching
Pillow and cover can be washed and tumble-dried
Side sleepers of all body types.
Sleepers who shift or change position throughout the night
Budget-conscious shoppers
A budget-priced option from Sleep Number, the No Shift Body Pillow is a 54-inch rectangular pillow with a down alternative fill. It has a thoughtful design that embraces the benefits of its down alternative fill while avoiding many of the downsides. Despite its lower price-point, the No Shift outperformed many of its competitors during our performance testing.
The No Shift Body Pillow comes with a white, 300-thread count cotton sateen cover with a crisp feel. The interior construction includes three chambers to prevent fill from bunching together. Since the fill moves less than in an ordinary pillow, there is also less chance for it to become lumpy.
Polyester down alternative has a soft, squishy feel that provides good pressure relief but offers less support than other fill types. The chambered design and medium feel performed well for side sleepers of all weight categories as well as back sleepers under 230 pounds.
Sleep Number offers free UPS ground shipping for customers in the contiguous U.S.. Customers have a 100-night sleep trial to decide whether they enjoy their pillow, which is supported by a one-year limited warranty.
Coop Sleep Goods Body Pillow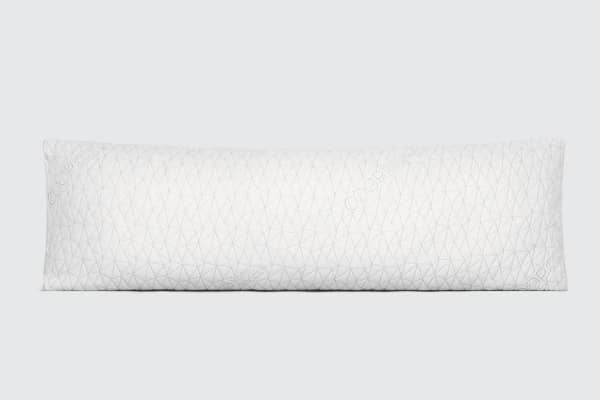 Fill Material: Proprietary blend of cross-cut memory foam and microfiber clusters

Firmness: Medium

Price: $99
Shredded memory foam molds to the body without the heat retention of traditional memory foam
Can easily be adjusted to change the firmness and loft
White jacquard fabric cover made from bamboo-derived viscose
Side sleepers, regardless of their body type
People who enjoy a squishy, contouring feel
Pregnant sleepers interested in a rectangular pillow
The Coop Home Goods Body Pillow is a 54-inch rectangular pillow with a shredded memory foam and microfiber fill. Body pillows filled with shredded memory foam tend to be exceptionally comfortable, and this version stands out from its competitors thanks to thoughtful touches and high-quality materials.
Coop Home Goods' signature pillowcase, made from ultra-soft bamboo viscose and quilted for a modern texture, is included with the body pillow. The pillow itself features an interlocking dual-case system so that sleepers can remove or add fill as needed, while preventing fill from escaping the pillow.
The fill, a proprietary blend of cross-cut memory foam and microfiber clusters, earned praise from our testers for its malleable support. They also appreciated its breathability, allowing the pillow to sleep cooler than many other memory foam models. The medium firmness level holds up well for side sleepers of all sizes, as the pillow was designed with side sleepers in mind. Stomach sleepers are more likely to enjoy a less contouring pillow with better support.
The Coop Home Goods Body Pillow has a 100-night return window and free shipping within the contiguous U.S. states. It also comes with a five-year limited warranty.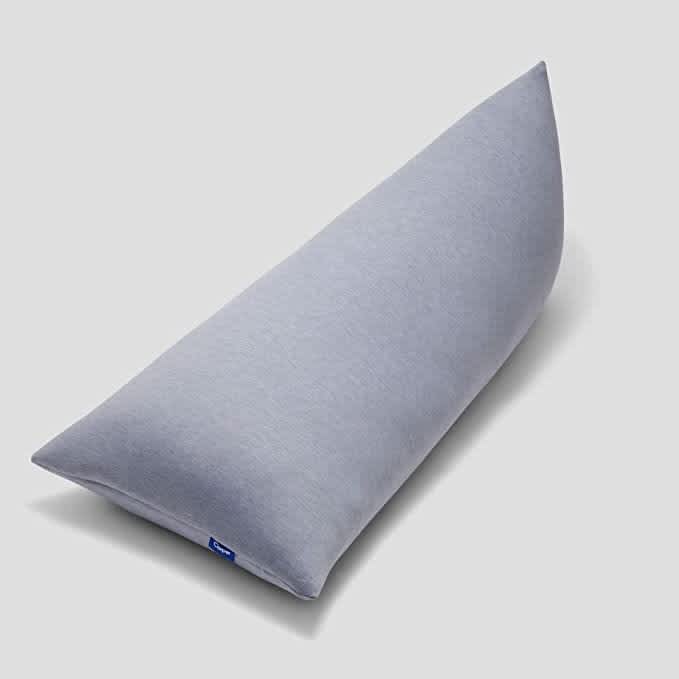 Fill Material: 100% polyester down alternative fill

Firmness: Medium Soft
Polyester microfiber fill is breathable and sleeps cool
Twist design engineered to promote neutral spinal alignment for side sleepers
Comfortable to hug and fits well between the knees
Side sleepers of all body types
Sleepers interested in a versatile and ergonomic pillow
People who sleep warm
Slightly rectangular in shape, Casper's 38-inch Hug Body Pillow has a unique ergonomic shape that is designed to provide side sleepers with the support and contouring they need for proper spinal alignment. The Hug earned exceptionally high marks from the side sleepers on our testing team.
The Hug's stretchy gray cover is made from polyester and viscose. However, it's the shape of the Hug that catches the eye, with a thick top and a twisted middle. As the name implies, this body pillow should be hugged to provide the best support. The end is intended to support the arms and shoulders, while the middle section is positioned to be placed between the thighs to enhance hip and lower back support.
A medium soft feel gives the Hug a soothing squishiness, though it also makes it unsuitable for stomach sleepers. Very tall or short people may find the pillow's scale does not suit their body.
Casper offers customers a 30-night trial, free delivery in the contiguous U.S. states and much of Canada, and a one-year limited warranty.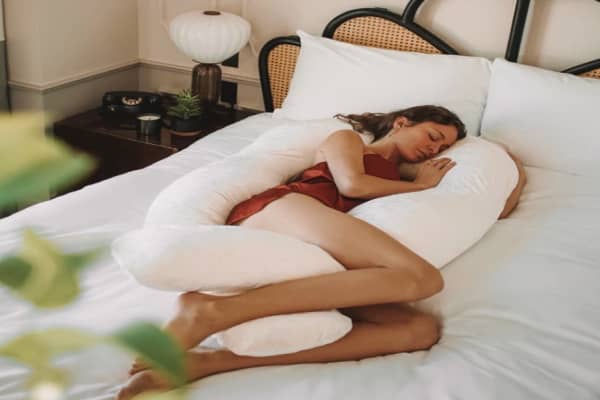 Fill Material: Shredded latex

Firmness: Medium

Price: $199
Shredded latex fill is resilient and holds up well to pressure
Twistable ergonomic shape is extremely versatile
Can be tied in a knot to save space while not in use
Side and stomach sleepers of all body types
Pregnant people looking for a pillow that will support them in every trimester
Eco-conscious shoppers
The flagship product from bedding company Yana, the Yana Pillow is a 55-inch U-shaped pillow that won over our testing team with its intelligent, usable design and choice of either shredded latex or latex-free cooling gel fill. While its price-point is higher than some competitors, the Yana is surprisingly affordable for a U-shaped body pillow with so many luxury touches.
The Yana has an appealing velour cover made from organic cotton and bamboo-derived rayon. The pillow's U-shaped design is perfect for both back and front support, qualities that are enhanced by the ergonomic curves down each arm of the U. Sleepers can also twist the Yana to suit their needs, including tying it in a knot for storage.
Our team found that the shredded latex fill contours well for pressure relief but has a responsive feel, and the Yana's medium firmness makes it appropriate for both side and stomach sleepers of all body types. The stomach sleepers on our testing team were particularly impressed with the Yana, as few body pillows provide them with support necessary for proper spinal alignment.
Thanks to its fill and breathable cover, the Yana sleeps very cool and is appropriate for use in all climates. The fill is also adjustable via a side zipper, so sleepers can make the pillow more or less firm as needed.
Yana offers a full refund for pillows returned unopened within 45 days, and a partial refund for opened products within the same time frame.
Why You Should Trust Us
Our editorial team has decades of combined experience in the sleep industry. This experience provides us with the insight we need to understand what people need from their sleep products, including body pillows. Each product we cover is put through a rigorous testing process by a diverse testing team with a range of body types, sleep position preferences, and other unique factors.
Body pillows are long pillows designed to improve comfort and support while in bed. They come in a wide range of shapes and sizes and can be used to support different parts of a sleeper's body.
People choose to use body pillows for many reasons. One of the most common uses is to support the arms and legs while side sleeping. Some people also choose a body pillow because they find it soothing to hug or lean against the pillow during sleep. Others buy body pillows for extra support during pregnancy, to relieve acute and chronic pain, and to manage conditions like acid reflux.
Choosing a body pillow involves deciding between the different pillow shapes, as well as deciding on a fill, loft, and exterior design. Each of these factors plays a role in the pillow's suitability for a sleeper's individual needs.
How Much Does a Body Pillow Cost?
Body pillows can cost anywhere from $10 to more than $200. As with standard pillows, the cost varies based on the design, materials used, and brand name. Long rectangular body pillows usually cost less than specialized designs, but most people can find a body pillow that fits both their needs and budget.
What Are the Benefits of a Body Pillow?
In addition to being soft and cuddly, body pillows encourage proper sleep posture and offer targeted support for areas where you need it most.
Some of the benefits of a body pillow include:
Making it easier and more comfortable to sleep on your side, which some experts consider to be the healthiest sleeping position
Providing pregnant people with adjustable support
Reducing strain on the hips and lower back when held between the knees
Elevating the head and shoulders for acid reflux relief
Allowing people with chronic or acute pain to find a position that reduces discomfort
Who Should Use a Body Pillow?
Body pillows can help sleepers who have struggled to find the support they need for a comfortable night's sleep, particularly when sleeping on their side. However, body pillows may also be recommended for pregnant people, people with acid reflux, and people with pain in the hips, shoulders, or back.
Who Should Not Use a Body Pillow?
Using a pillow that is the wrong shape or size can lead to poor spinal alignment, and body pillows are most useful for people who sleep on their side or stomach. If you sleep on your back or are otherwise concerned about whether a body pillow is right for you, speaking with your doctor or a physical therapist may provide you with the information you need to make the right choice.
What Are the Different Types of Body Pillows?
Body pillows are available in a wide range of shapes and sizes, as well as a variety of fills and outer materials. We'll walk through the most common types as well as their benefits and drawbacks.
By Shape
The most important factor to consider when choosing a body pillow is its shape. Pillows are often shaped for a specific purpose, and different shapes can be more or less useful depending on a sleeper's needs.
Type
Description
U-Shaped
U-shaped body pillows are long enough to provide wrap-around cushioning and support for both sides of the body. They can also be placed around the head and feet.

While they can sometimes be unwieldy due to their size, U-shaped pillows are preferred by many pregnant people due to their versatility and cradling support. They are also a good choice for people who struggle to stay in a side sleeping position through the night.
C-Shaped
Some C-shaped pillows are shaped like an elongated letter C, while others look like a circular pillow with a smaller open section.

Depending on a sleeper's needs, C-shaped pillows can be moved to offer support for all sides of the body. While not as adjustable as some U-shaped pillows, C-shaped pillows take up less room while still providing full-body support.
Rectangular
Rectangular body pillows look like an elongated standard pillow and are among the most popular and budget-friendly body pillows.

While they cannot support both the back and front at once, rectangular body pillows can fulfill both purposes as needed. Some are also long enough to hold between the thighs while still supporting the arms and shoulders.
J-Shaped
J-shaped body pillows look like half of a C-shaped pillow.

While they do not provide full-body cushioning, J-shaped pillows are an excellent choice for people who want one-sided support as well as support for their neck or thighs. They are usually more expensive than rectangular pillows but are more budget-friendly than most U or C-shaped pillows.
Cylindrical
Body pillows with a long cylindrical shape are also known as bolster pillows.

Cylindrical body pillows are similar to rectangular pillows in many ways, as they can be used to provide one-sided support as well as targeted positional support along the back and between or beneath the legs.
By Fill
As with standard pillows, the fill used in a body pillow affects its firmness, price, and durability. Other qualities, such as how warm the pillow gets during use, are also affected by the pillow's fill material.
Down & Down Alternative
Birds are the source of the fine and plus feathers known as down, whereas down alternative usually consists of polyester microfibers that are created to imitate the feel of down. Real down is softer and more durable, while down alternatives are less expensive and less likely to bother people with allergies. Down alternatives are also suitable for vegans and other people interested in materials not sourced from animals.
Due to down's softness, both down and down alternative pillows are less supportive than pillows with other types of fills. However, they provide a luxurious feel that appeals to people who use their body pillow for tactile stimulation, stress reduction, and secondary support.
Memory Foam
Memory foam is a synthetic foam that adapts to your body's shape with pressure and warmth, then springs back to its original shape once pressure is released. These qualities make memory foam exceptional at contouring and relieving pressure.
Body pillows filled with a solid piece of memory foam are highly supportive, particularly if the foam has been carved into an ergonomic shape. However, they tend to be very warm and may feel too solid for some sleepers. Shredded memory foam is cooler and more versatile, but it provides less support and the fill can shift during the night.
Polyester
Polyester fiberfill, also known as poly-fill, is a fluffy synthetic stuffing. Since polyester can be extremely budget-friendly, it is one of the most common fills for body pillow.
In addition to its price, polyester is also washable, often hypoallergenic, and breathable. New polyester pillows often have a pleasing balance between support and comfort thanks to the fill's springy feel. On the other hand, polyester fiberfill pillows are not very durable. They easily develop lumps and flat spots with use, requiring regular fluffing and replacement.
Latex
Latex is a material that can be made synthetically or from rubber tree sap. Natural latex is a popular choice among eco-conscious shoppers. Like memory foam, latex body pillows can be made from either shredded or solid latex.
With a naturally bouncy yet supportive feel, latex makes for a very versatile body pillow. Latex sleeps cooler than down and memory foam. However, latex can have a much higher price-point than other fill types. Latex body pillows are also heavier than other fill materials, making them more awkward to move.
How to Choose a Body Pillow
When choosing a body pillow, it can be helpful to consider a wide range of factors, starting with the reason for your purchase, as well as your body type, preferred sleep position, budget, and texture preferences. Taking these factors into account can help you find a body pillow that fits your unique needs and provides the right support.
What Should You Consider?
The right body pillow for you depends on your needs and preferences. Additionally, a body pillow's suitability depends on its ability to support your body weight, preferred sleep position, and health needs. It's also important to consider your budget, as this can determine the right size and fill for you.
Your Body Type
When considering the performance of body pillows for individuals, our testing team groups sleepers into those under 130 pounds, those between 130 and 230 pounds, and those over 230 pounds. In addition to other factors, a person's body weight affects a body pillow's optimal level of firmness. Sleepers under 130 pounds usually sink less into pillows and prefer much softer body pillows than those above 230 pounds.
Your Sleeping Position
Body pillows are best for side and stomach sleepers, but both of these positions require different things from a body pillow. Most body pillows are intended for side sleepers, particularly those designed for pregnancy. Stomach sleepers tend to prefer thinner body pillows and should choose a fill type that does not flatten easily, such as solid memory foam or latex.
Your Health Needs
Many people use a body pillow for support during pregnancy or because of pain or other health concerns. In these cases, a pillow specifically designed for your condition can make it easier to find the right balance of cushioning and support. Speaking to your medical team can also offer insight into what body pillow would be best for your unique needs.
Your Budget
There are body pillow options for every budget, although shoppers with a smaller budget may have fewer options in terms of size and fill type. Smaller and rectangular body pillows are often less expensive than other shapes. Pillows designed specifically for pregnant people tend to be more expensive than those made for general use.
What to Look for in a Body Pillow
The right body pillow can make sleep much more comfortable. To choose the right pillow, consider turning your unique needs into a kind of checklist, then using that to find a body pillow that fits your budget and preferences.
Shape and Material
Different shapes of body pillow are intended to support the body in different ways, while the fill material influences how the pillow feels and performs. The material used in the cover is also worth considering, as well as whether the cover can be replaced easily. Other considerations when deciding on a fill material include whether you have allergies, if the pillow is washable, and how warm it sleeps.
Firmness
A body pillow's firmness refers to how it compresses under pressure. Firmness is affected by a pillow's fill material as well as its loft, which describes a pillow's thickness. Which firmness to choose depends on how you use the body pillow, your body type, and your preferred sleep position. When used under the head and neck, stomach and back sleepers do well with softer pillows, while side sleepers benefit from firm pillows that offer sufficient support to keep the spine in alignment.
Special Features
Some body pillows feature selling points like adjustability, cooling features, and ergonomically carved foam. Not all features can be found in all types of body pillows, so finding a pillow with the feature you want may mean compromising on shape or fill. If a given feature is not one that interests you, you may be able to find a less expensive pillow without that feature.
Should You Buy a Body Pillow?
Many people can benefit from using a body pillow for extra comfort and support, but body pillows aren't appropriate for everybody. While body pillows can help side and stomach sleepers maintain healthy sleep posture, they are less useful for back sleepers. To decide whether or not a body pillow is right for you, consider the pros and cons.
Body Pillow
Reduces strain on the body when used correctly
Offers support for pregnant people while encouraging proper sleep posture
Soothing to rest against or hug
Can cause muscle tension if using the wrong size, position, or firmness
Some people find they sleep warmer when using a body pillow
Can be bulky and difficult to use, especially when sharing a bed