Consumers are increasingly interested in outfitting their bedrooms with organic bedding, including organic pillows. This trend stems from environmental concerns and a desire to surround themselves with healthy and safe materials.
To keep up with consumer demand, pillow manufacturers are producing more organic pillows than ever. With so many choices, it can be tough to determine which is right for you.
We'll explore our top picks for the best organic pillows, the different types of organic pillows available, how to choose the right organic pillow for you, and what organic certifications mean. We'll also discuss the difference between organic and regular pillows, including the potential for toxicity.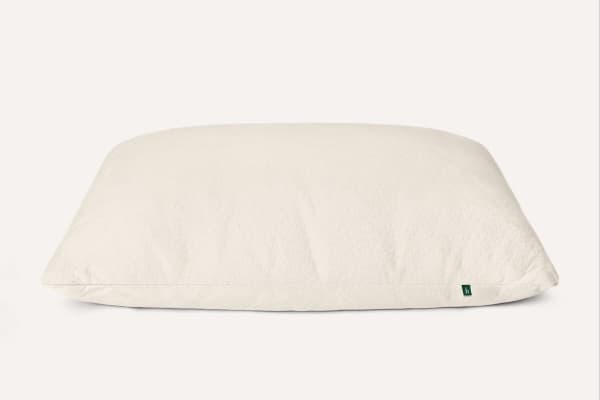 Fill Material: Shredded Talalay latex, organic wool

Firmness: Medium

Price: $149
Holds several certifications related to contents and sustainability
Shredded Talalay latex and organic wool for breathable plushness
100-night sleep trial
Combination sleepers
Eco-conscious shoppers
Those who prefer a generous sleep trial
Birch seamlessly blends natural components, like cotton, wool, and latex, for a plush yet supportive pillow perfect for eco-conscious sleepers.
The Birch Organic Pillow features a GOTS-certified organic cotton cover, a wool cushioning layer, and a shredded Talalay latex core. The pillow also holds certifications from GREENGUARD Gold, eco-INSTITUT, Forest Stewardship Council, and Fair Trade.
In our tests, side, back, stomach, and combination sleepers experienced a balance of comfort and support from the Birch Organic Pillow. The shredded Talalay latex core provides head, neck, and shoulder support, while the wool adds comfortable plushness. The medium firmness and mid-range loft help align the spine with the upper body across sleep positions. While testers liked the pillow more fluffed up for side sleeping, they easily scrunched it down to accommodate stomach sleeping.
We found the pillow performed well in temperature regulation. The breathable cotton shell lets air circulate in and out of the pillow. Meanwhile, the wool layer naturally wicks heat and moisture, which kept our testers cool and dry. The shredded Talalay latex core also allows airflow to further reduce the likelihood of the pillow heating up.
The Birch Organic Pillow is handmade in the U.S. and comes in standard and king sizes. Purchases include free shipping, a 100-night sleep trial, and a one-year limited warranty.
Our team concluded the Birch Organic Pillow remains supportive and cushioning across positions. Its medium feel and loft are appropriate for almost any sleeper, including those who change position throughout the night.
Boll & Branch Down Alternative Pillow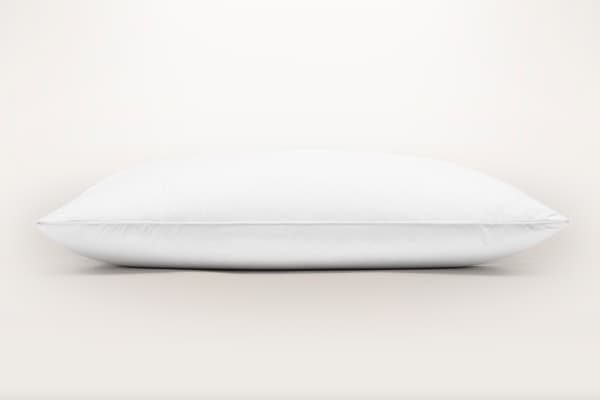 Fill Material: PrimaLoft synthetic microfibers

Firmness: Soft, Medium, Firm

Price: $80
Three firmness options available
PrimaLoft down alternative imitates the lightweight fluffiness of down
Machine-washable
Shoppers looking for a specific firmness
Sleepers who enjoy down-like plushness
Those who like to launder their pillow
With three firmness options and a budget-friendly price-point, the Boll & Branch Down Alternative Pillow allows sleepers to choose the right pillow for their sleeping position without breaking the bank.
The Boll & Branch Down Alternative Pillow is OEKO-TEX Standard 100 certified, which means it's third-party verified free of common harmful substances. Its cover contains organic cotton, while the fill consists of PrimaLoft synthetic microfibers. This signature fill is a vegan-friendly down alternative that mimics the feel and weight of down.
This pillow is available in three firmness options: soft, medium, and firm. Our testing team found the soft option optimal for stomach sleepers, who need their heads to sink in to maintain good posture. Side and back sleepers preferred the medium and firm options, which kept their heads in line with their necks and spines.
The Boll & Branch Down Alternative Pillow comes in standard and king sizes. It is machine-washable in cold water on the gentle cycle. Free domestic ground shipping is included within the U.S. Shipping to Canada incurs an additional $50 fee. The pillow carries a 30-day return policy provided it remains in original condition with the tags and packaging.
With three firmnesses available, all of our testers found at least one option that was comfortable for their sleep position and body type. Therefore, we recommend the Boll & Branch Down Alternative Pillow for budget shoppers with distinct firmness preferences.
Naturepedic 2-in-1 Adjustable Latex Pillow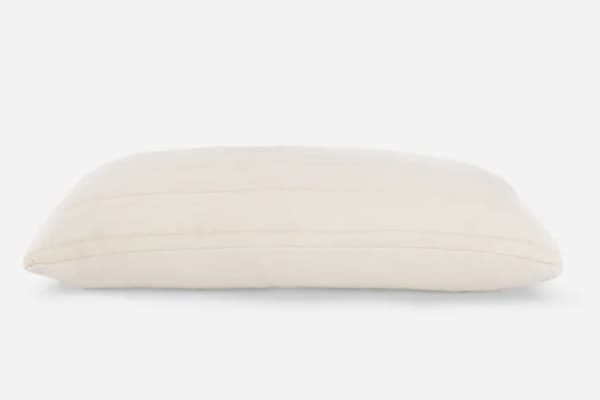 Fill Material: Shredded organic latex and PLA batting

Firmness: Medium

Price: $99
Holds multiple environmental and health-based certifications
Adjustable fill allows sleepers to choose from multiple firmness levels
One quilted and one flat side provide two different feels
All sleeping positions, including combination sleepers
Sleepers looking for breathable pressure relief
Those with changing needs or preferences
The Naturepedic Organic 2-in-1 Adjustable Latex Pillow features an innovative two-layer design and adjustable fill to provide customizable support, comfort, and pressure relief.
This pillow contains a GOTS-certified organic cotton outer layer and a shredded GOLS-certified organic latex core. The outer layer consists of two sides: a stretch-knit side for contouring and a sateen side quilted with PLA batting for extra plushness. Sleepers can remove the latex core and adjust the fill for their desired firmness and loft. When the core is removed, the outer layer of the pillow is also machine-washable.
In addition to GOTS and GOLS certifications, the pillow holds certifications from Made Safe, GREENGUARD Gold, Zero Toxics, and 1% for the Planet. The pillow is made in the U.S.
We concluded that the adjustable fill provides a high level of customization. This allowed our testers to find balanced pressure relief and support regardless of their sleeping position and body type. The two distinct sides of the pillow gave testers additional control over the feel. Our temperature readings also showed that the breathable materials didn't trap much heat, and our testers reported staying cool and dry.
The Naturepedic Organic 2-in-1 Adjustable Latex Pillow is available in standard, queen, and king sizes. It comes with free shipping in the contiguous U.S., a 30-day return policy, and a one-year limited warranty.
We found that the pillow's unique design and personalization options alleviate head, neck, and shoulder tension while promoting spinal alignment for every sleeping position, including combination sleepers.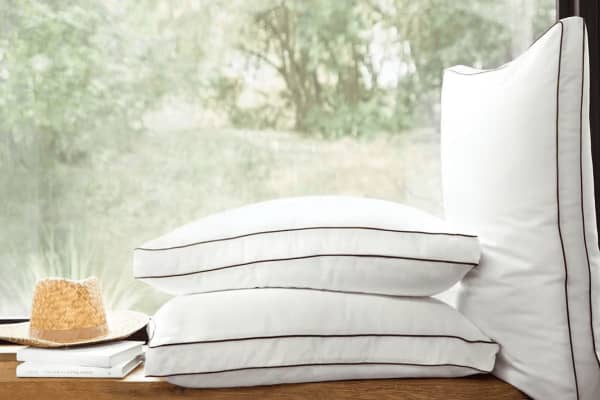 Fill Material: Shredded Talalay latex and down alternative

Firmness: Medium soft

Price: $165
Adjustable pillow-in-pillow design
Shredded Talalay latex core promotes shape retention
Machine-washable cover
Sleepers who enjoy a hotel-style pillow
Those looking for adjustability without handling fill
Side and back sleepers under 230 pounds
The Saatva Latex Pillow uses a pillow-in-pillow design that combines support and cushioning for a hotel-like feel.
A Fair Trade certified cotton sateen cover encases the pillow. This cover is removable and machine-washable for easy cleaning. The pillow itself consists of two separate components: a down alternative layer for softness and a shredded latex core for responsive support. These component pieces can be used together or separately, allowing for an adjustable loft between 2 and 8 inches thick. When fully assembled, the pillow has a medium soft feel and 8-inch loft.
Because of its high loft, we found the fully assembled pillow well suited to side sleepers under 230 pounds. It filled the space between their heads and the mattress for gentle cushioning and consistent support. Our testers also noted that the pillow holds its shape due to its buoyant shredded latex core. That means it shouldn't go flat under a side sleeper's head, reducing the need for overnight fluffing.
Removing the latex core significantly lowers the loft, which our testers found more comfortable for lying on their stomachs. The lower loft allowed them to maintain better posture, putting less strain on their necks.
The Saatva Latex Pillow is available in queen and king sizes. Purchases include free shipping to the contiguous U.S., a 45-day return policy, and a one-year limited warranty.
Our testing team concluded the Saatva Latex Pillow's high-quality materials, pillow-in-pillow design, and responsive shredded latex core provide hotel-like comfort for side and back sleepers under 230 pounds.
Nest Bedding Easy Breather Natural Latex Pillow (Side Sleeper)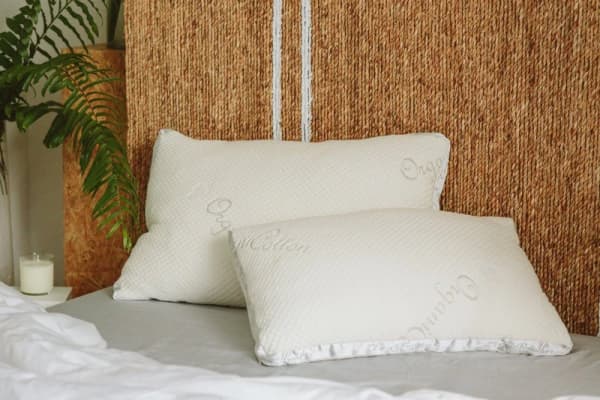 Fill Material: Shredded latex pillow

Firmness: Medium Firm

Price: $99
Adjustable fill allows sleepers to modify the pillow's loft and firmness
Curved edge designed to accommodate a side sleeper's shoulder
Proprietary blend fill with shredded latex and polyester to mimic down
Those who value durability
Side sleepers of all body types
Hot sleepers
Designed with a unique curved shape, the Nest Bedding Easy Breather Natural Latex Pillow (Side Sleeper) molds to a side sleeper's head and neck while leaving open space for their shoulder to promote spinal alignment.
The Nest Bedding Easy Breather Natural Latex Pillow (Side Sleeper) includes a cover, an inner pouch, and fill. The cover contains a soft, stretchy blend of organic cotton, polyester, and spandex. The inner pouch uses breathable knit cotton, and the fill consists of a mixture of OEKO-TEX-certified shredded latex and polyester.
With a U-shaped bottom end, the 29-inch by 17-inch pillow curves around a side sleeper's shoulder for optimal head and neck support. Nest overstuffs the pillow, so it effectively fills the space between a side sleeper's head and the mattress. While most of our testers preferred the loft and firmness as-is, sleepers can also unzip the pillow to make adjustments. Each pillow comes with a storage bag to keep any unused fill.
When lying on their sides, our testers found that the pillow molded closely to their heads and necks without flattening under pressure. Meanwhile, the curve left ample room for their shoulders without causing the pillow to bunch. We also expect this pillow to withstand wear and tear due to its high-quality materials, overfilled pouch, and notable shape retention.
The Nest Bedding Easy Breather Natural Latex Pillow (Side Sleeper) comes with a 30-night trial and a two-year limited warranty. The outer cover is machine-washable.
Thanks to its curved design built for side sleepers, its overfilled core, and its adjustable fill, we recommend the Nest Bedding Easy Breather Natural Latex Pillow (Side Sleeper) for nearly anyone who favors this popular sleeping position. The model checks all the boxes that most side sleepers look for in a pillow.
PlushBeds Organic Shredded Latex Pillow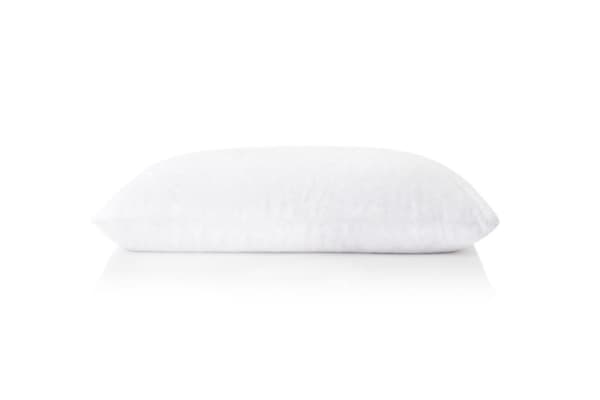 Fill Material: GOLS-certified shredded organic latex

Firmness: Medium

Price: $99
GOLS-certified organic shredded latex fill for springy support
Breathable GOTS-certified organic cotton cover
Three-year limited warranty
Combination sleepers
Hot sleepers
Eco-conscious shoppers
The PlushBeds Organic Shredded Latex Pillow offers responsive support to relieve pressure and promote neck alignment.
Made in the U.S., the pillow consists of a GOTS-certified organic cotton cover and shredded GOLS-certified organic latex fill. While the cover provides softness and breathability, the fill offers buoyancy and conforming. In addition to GOTS and GOLS certifications, the pillow holds GREENGUARD Gold and OEKO-TEX certifications.
Across body types, our testers found the PlushBeds Organic Shredded Latex Pillow's medium feel and exceptional moldability comfortable for all sleeping positions. Team members reported that the pillow's balanced conforming and support helped them maintain good posture while relieving pressure. The combination of cotton and shredded latex also enables airflow throughout the pillow, staving off excess heat and sweat.
Since natural latex and organic cotton tend to be highly durable, we expect the pillow to maintain its support and plushness for a longer-than-average lifespan.
The PlushBeds Organic Shredded Latex Pillow is available in standard, queen, and king sizes. Each purchase includes free shipping in the contiguous U.S. and a three-year limited warranty.
We found the supportive and responsive latex fill alleviated head, neck, and shoulder discomfort. This makes the pillow a good fit for sleepers who have pressure- or posture-related neck pain.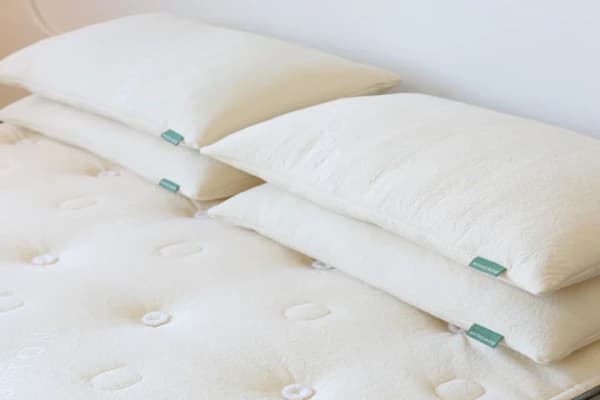 Fill Material: GOLS-certified shredded latex and GOTS-certified kapok fibers

Firmness: Medium

Price: $89
Adjustable fill allows sleepers to fine-tune loft and firmness
Combines GOLS-certified organic latex and GOTS-certified organic kapok
Comes with extra fill
Side and back sleepers
Those who value durability
Sleepers who prefer a highly conforming pillow
The Avocado Green Pillow is plush, conforming, and adjustable, making it comfortable for most sleepers.
A quilted GOTS-certified organic cotton cover is removable and machine-washable. Inside, an organic cotton jersey liner holds the fill in place. You can unzip the liner to access the adjustable fill, which consists of shredded GOLS-certified organic latex and GOTS-certified organic kapok. The pillow arrives with a medium feel, but sleepers can easily add or remove fill to achieve their preferred loft and firmness. An extra bag of fill is included with purchase to provide more options.
In addition to GOTS and GOLS certifications, the pillow holds certifications from eco-INSTITUT, GREENGUARD Gold, MADE SAFE, FSC, Climate Neutral, and Vegan Action.
We found the pillow excelled at conforming and breathability, gently relieving pressure from our testers' heads and necks without trapping much heat. By adjusting the fill, most of our team members achieved a loft and firmness ideal for them. We also expect this pillow to hold up well over time thanks to its high-quality materials.
The Avocado Green Pillow is available as a single or pair in standard, queen, and king sizes. The pillow, which is handmade in Los Angeles, comes with a 100-night trial and a one-year limited warranty.
Overall, the Avocado Green Pillow combines the breathability of cotton, the responsiveness of latex, and the fluffiness of kapok for balanced comfort. The adjustable fill also enables sleepers to fine-tune the feel and loft for a more personalized sleep experience.
Why You Should Trust Us
Our team of product testers has years of experience in the sleep product industry, assessing a wide variety of pillows, including organic models. The team consists of diverse individuals with various body types, sleeping positions, and personal preferences to ensure we collect well-rounded testing data.

To evaluate each organic pillow, we looked at the firmness, loft, and construction. We then conducted a series of tests to rate performance in the categories that matter most to sleepers, including sleep position, shape retention, moldability, and temperature neutrality.
Why Choose an Organic Pillow?
Organic pillows provide several potential advantages over non-organic pillows, making them an attractive option. Organic pillows are typically more environmentally and socially sustainable. Additionally, they tend to use high-quality materials that increase their life expectancy, improve air circulation, and lessen the likelihood of irritation. Many are also hypoallergenic. Since organic pillows reduce exposure to chemicals, shoppers often see them as a healthier option.
We'll explore the difference between organic and non-organic models to help you pick the right pillow for you.
What Is an Organic Pillow?
An organic pillow may contain any number of organic materials, such as cotton, latex, wool, buckwheat, or kapok. Organic farming aims to reduce negative impacts on humans, animals, and the environment by limiting the use of potential toxins, reducing water usage, and preventing soil erosion. To that end, the production process for organic pillows also frequently eliminates the use of bleach, chemical dyes or fire retardants, and formaldehyde.
The government and third-party organizations offer several certifications to ensure consumers can easily identify which materials are truly organic. Common organic certifications for pillow materials include USDA Organic, Global Organic Latex Standard (GOLS), and Global Organic Textile Standard (GOTS). We'll discuss these certifications in more detail so consumers are better prepared when choosing organic pillows.
Because of their high-quality natural materials, organic pillows are often hypoallergenic and excel in temperature regulation and durability.
Are Non-Organic Pillows Toxic?
Some non-organic pillows may contain potentially harmful substances.
Non-organic materials are grown using conventional farming that often relies on chemical pesticides, fertilizers, and other substances intended to improve crop yield. Not only can chemical fertilizers and pesticides contaminate the environment, but they can also cause acute and chronic health effects ranging from rashes to cancer.
The manufacturing process also involves the use of potentially harmful chemicals. For instance, non-organic pillows typically contain flame retardants to slow potential fires. Although they are a safety measure, chemical flame retardants have also been linked to cancer and reproductive issues. Non-organic pillow manufacturing also frequently produces volatile organic compounds. You can reduce exposure by letting your new pillow air out in a well-ventilated space. Common signs of excessive exposure include headache and irritation of the eyes, nose, or throat.
Keep in mind that product regulations vary by country. Pillows manufactured abroad may not comply with U.S. regulations, though a U.S. company outsourcing the manufacturing is expected to communicate relevant standards.
For additional reassurance that you're limiting your exposure to potentially harmful substances, look for relevant third-party certifications. OEKO-TEX Standard 100, GREENGUARD Gold, and eco-INSTITUT are popular health-based certifications. For pillows that contain synthetic foam, you might also look for CertiPUR-US certification.
Common Types of Organic Pillows
As eco-friendly and sustainable products grow in popularity, the demand for organic pillows also increases. To meet this demand, pillow manufacturers are crafting more and more organic pillows. This has also led to more types of pillows available on the market, ranging from cotton to buckwheat.
Organic Cotton
Organic cotton is a soft plant-based fiber that can be woven into a pillow cover or stuffed into the pillow as a fill. While firmness varies depending on the construction, many pillows with cotton fill have a slightly firmer feel. At first, they may appear fluffy, but they often clump or flatten over time. Cotton is highly breathable, making cotton pillows a popular choice for hot sleepers.
Non-organic cotton requires intense water irrigation and pesticide use, which often contaminates local waterways. Organic cotton uses environmentally friendly alternatives, reducing the environmental impact. USDA Organic certification verifies that cotton was grown in accordance with organic standards, whereas GOTS certification attests to sustainable practices from cultivation through manufacturing.
Organic Latex
Natural latex uses the sap of rubber trees, resulting in a responsive, breathable, and contouring material. Pillow fill may include a solid piece of latex or shredded latex. Solid latex is usually more supportive, while shredded latex tends to be more moldable. Generally, latex pillows have a longer-than-average lifespan thanks to the material's natural durability.
There are two types of natural latex production processes. Talalay latex uses a more complex manufacturing process, resulting in a lighter material that does not meet strict organic requirements. Dunlop latex utilizes a simpler, more efficient manufacturing process that produces a firmer, more durable material. GOLS organic certification verifies the rubber is grown on certified organic plantations, has a traceable supply chain, and meets limits for emissions, fillers, and harmful substances.
Organic Wool
Typically derived from sheep, organic wool has a soft yet supportive feel. Wool may appear in the pillow's cover or fill. In either place, wool's exceptional moisture-wicking and temperature regulation help promote all-season comfort. We often find that pillows with wool fill are firmer, but they tend to lump or go flat.
For wool to be certified as organic, it must come from animals raised in accordance with USDA Organic livestock standards. Producers cannot use prohibited feed ingredients, added growth hormones, or genetic engineering. They must also ensure livestock have year-round access to the outdoors and implement preventative disease management practices. GOTS certification verifies that the processing of organic raw wool also meets organic standards related to dyes, treatments, and water discharge.
Kapok
Kapok is a light and fluffy fiber that comes from kapok trees native to tropical rainforests. The fiber is silkier and lighter than cotton, making it a popular natural option for pillow fill. Because it's similar to down in its lightness and plushness, pillows with kapok fill compress easily under a sleeper's head.
Kapok is one of the most sustainable fibers on the market, requiring minimal intervention and irrigation. The fibers naturally grow without chemical fertilizers or pesticides. GOTS certification verifies kapok fiber meets ecological and social standards.
Buckwheat
A buckwheat hull is the outer shell of a buckwheat seed, meaning the resulting pillow fill is firm and supportive but conforms to your head, neck, and shoulders. Buckwheat pillows are known for providing pressure relief, support, and air circulation. They're also typically durable and adjustable.
Organic buckwheat naturally grows quickly, with plants maturing 10 to 12 weeks after planting. Buckwheat's large leaves also stop sunlight from reaching the surrounding soil, preventing weed growth. Organic buckwheat hulls can hold GOTS or USDA certification.
Responsible Down
Sourced from the underbelly of waterfowl, such as ducks or geese, down feathers are delicate and silky to the touch. High-quality down fill contributes to a soft and lightweight pillow. While down pillows are fluffy and moldable, they often go flat overnight.
While down doesn't typically hold organic certification, Responsible Down Standard certification can provide some reassurance about production methods. The Responsible Down Standard promotes the humane treatment of animals.
What Is the Best Organic Pillow for You?
The best organic pillow varies between individuals. Each person has their own specific needs depending on their body type, sleeping position, and preferences. The right balance of support and softness is essential to maintaining spinal alignment, but other factors also influence comfort and overall satisfaction.
Organic Certifications
When searching for the right organic pillow, check for organic certifications. This ensures the pillow has met specified criteria and regulations outlined by a governing body, whether that be the government or a third-party organization. The most common organic certifications to look for include GOTS and GOLS.
Some companies advertise pillows as organic without noting relevant certifications. If you're interested in such a product, you may want to reach out to the manufacturer to inquire about certifications. In some cases, companies simply don't use their certification status for marketing. In other instances, the manufacturer has chosen to forgo the certification process or the product does not meet the certification standards.
Loft and Firmness
Every sleeping position requires a different loft and firmness level to promote proper spinal alignment. The optimal pillow loft should fill the space between the sleeper's head and the mattress while supporting the natural curvature of the neck. Ideal firmness depends on the level of support you need to maintain good posture. Some sleepers need more consistent lift, while others need to sink in.
| Sleeping Position | Pillow Loft Needed | Pillow Firmness Needed |
| --- | --- | --- |
| Side Sleepers | Medium to High | Medium to Firm |
| Back Sleepers | Low to Medium | Medium |
| Stomach Sleepers | Low | Soft |
| Combination Sleepers | Medium or Adjustable | Medium or Adjustable |
Pressure Relief
Pillows provide pressure relief by alleviating pressure buildup at contact points and supporting the neck to minimize tension. Pillows that excel in our conforming tests usually offer superior pressure relief, adjusting to different sleeping positions and body types. Common pressure-relieving natural materials include latex, buckwheat hulls, and kapok fibers.
Shape and Moldability
Although most pillows are rectangular, alternative designs address specific sleeper needs. For instance, contour pillows have a curved design intended to promote spinal alignment and alleviate pressure. Latex is often the material of choice for pillows with distinct shapes due to its responsiveness and durability.
While a specific shape may appeal to some sleepers, others prefer traditional pillows that are easily moldable to their sleeping position. Materials like cotton and kapok are easy to squish and manipulate to accommodate your current needs and preferences. Since latex tends to hold its shape, it's usually less moldable.
Temperature Regulation
Those who tend to sleep hot should look for a pillow that regulates temperatures and disperses heat. Organic pillows contain breathable materials, such as cotton, kapok, latex, or buckwheat hulls, which enables ample airflow to keep the surface cool.
How to Tell if Your Pillow Is Really Organic
Identifying a true organic pillow isn't always easy. Not every brand is forthcoming about its materials, manufacturing, and production. If the pillow is produced outside of the U.S., determining whether it's organic becomes that much more complicated. The easiest way to verify whether a pillow is really organic is through certification. We'll explore common certifications and what they indicate.
Organic, Natural, Eco-Friendly, and Green – Are They All the Same?
As the organic pillow industry grows, many retailers are jumping on the bandwagon by referring to their products as organic, natural, eco-friendly, or green. While these terms are closely related, they often refer to different things. For instance, a fully synthetic pillow could be described as eco-friendly if the manufacturer uses more sustainable production techniques. Looking for relevant certifications is often the only way to verify these marketing claims.
Organic Certifications
The organic pillow industry commonly uses several standards related to product contents and sustainability. A company must follow a predetermined set of rules and regulations to achieve certification. Frequently, certification also requires third-party testing for verification.
Global Organic Textile Standard (GOTS)
GOTS is a third-party organization founded by the Organic Trade Association (OTA), the International Association of Natural Textile Industry (IVN), the Soil Association (SA), and the Japan Organic Cotton Association (JOCA) to set international standards for the organic textile industry. GOTS textiles contain 70% certified organic fibers, and those with an organic GOTS label have 95% certified organic fibers.
Global Organic Latex Standard (GOLS)
The Control Union, an organization focused on developing sustainability certifications for the agriculture industry, introduced GOLS to verify organically grown natural rubber latex. A GOLS certification ensures the product limits harmful substances and passes emission tests.
OEKO-TEX Standard 100
OEKO-TEX, an independent research and testing organization for the textile industry, created the Standard 100 certification. The label tells consumers that a product is free of many harmful substances, both regulated and non-regulated. OEKO-TEX can test several aspects of a product, including the fabric, coating, stitching, and zipper.
Eco-INSTITUT
Awarded by a German-based organization of the same name, the eco-INSTITUT label verifies that a product has been tested for emissions and pollutants.
GREENGUARD
Provided by UL Solutions, a safety science company, GREENGuard certification ensures a product's compliance with chemical emissions standards. UL Solutions also offers a GREENGUARD Gold certification, which has more stringent requirements.
USDA Organic
A USDA Organic certification applies to crops and livestock, verifying they were cultivated in accordance with set organic standards. These standards include the prohibition of genetic engineering, the responsible management of biodiversity, and more.