Pillows play an important role in sleep quality. The right pillow helps maintain healthy spinal alignment, and different sleeper types require different types of pillows. Pillows come in a variety of styles and sizes and offer a range of features to suit a variety of sleeper types.
Cooling pillows are designed to reduce heat buildup by improving a pillow's airflow and temperature neutrality. These pillows can be made from materials such as gel-infused memory foam, breathable fabrics, or phase change materials that trap and dissipate body heat. Cooling pillows can be especially helpful for sleepers who tend to overheat or experience night sweats.
We'll explore the best cooling pillows in a variety of categories, including our top picks for comfort, luxury, side sleepers, neck pain, and pressure relief. We'll also cover how cooling pillows work, the best pillows to relieve night sweats, and other tips for a comfortable night's rest.
Slumber Cloud UltraCool Pillow
Fill Material: Polysilk down alternative fibers

Firmness: Medium Soft, Medium Firm

Price: $69
Two firmness options provide choices for any sleep position
Cooling fabric designed to regulate temperature
OEKO-TEX 100 certification ensures pillow is free from harmful substances
Side and back sleepers
People looking for the feel of down without the heat retention
Sleepers who want easy maintenance
Slumber Cloud achieves an exceptional cool-to-the-touch pillow by combining their proprietary Outlast fabric and down alternative fiber fill. This pillow performed well across categories, earning high marks in moldability, temperature regulation, and ease of cleaning.
The Slumber Cloud UltraCool Pillow staves off heat from the inside out. The pillow contains polysilk down alternative fibers that imitate the feel of down without down's tendency to trap heat. On the outside, the pillow boasts Slumber Cloud's trademark Outlast fabric. The pillow is also OEKO-TEX Standard 100 certified, meaning it's been tested for and does not contain a wide range of harmful substances.
The pillow is available in two firmness levels: medium soft and medium firm. The medium soft option is better suited for stomach sleepers who prefer a plush feel, while side and back sleepers benefit from the extra support from the medium firm model.
The Slumber Cloud UltraCool Pillow is available in standard and king sizes and is designed for easy cleaning. Slumber Cloud recommends washing the pillow using a mild detergent and cool water, then drying it on a delicate spin cycle with low heat. The purchase comes with free shipping and a 60-night trial.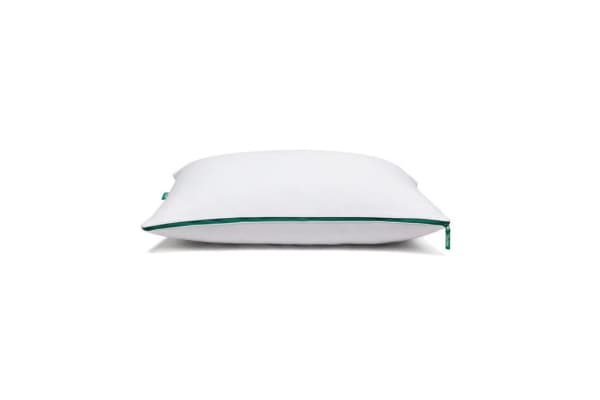 Fill Material: 80% memory foam, 20% polyester fiber

Firmness: Adjustable

Price: $65
Easily unzips to adjust the loft and firmness
Breathable mesh cover is cool to the touch
Combination of memory foam and polyester fiber offers comfort and support
Budget-conscious shoppers
Side sleepers of any body weight
People who want to quickly adjust their pillow's loft during the night
Brooklinen's Marlow Pillow offers features found in high-end cooling pillows but with a lower price tag. Both moldable and conforming, we found this pillow to be an excellent value.
The Marlow Pillow's interior combines 80% gel-infused memory foam and 20% polyester fiber, while the exterior is made of cotton with a silky sateen weave. The pillow also features polyester mesh gussets for added breathability. Sleepers can easily adjust the pillow's firmness and loft with a built-in zipper.
During testing, our team found that the Marlow Pillow's material and construction provided the optimal balance of softness and support for side sleepers of any body weight, as well as back and stomach sleepers under 230 pounds. Side sleepers on our team found the pillow better suited them when the zipper was open to increase the loft, while stomach and back sleepers appreciated the lower profile when the pillow was zipped.
The Brooklinen Marlow Pillow comes in standard and king sizes. Sleepers can purchase the pillow in packs of one, two, or four. Brooklinen offers a 365-day return policy.
Brooklyn Bedding Luxury Cooling Memory Foam Pillow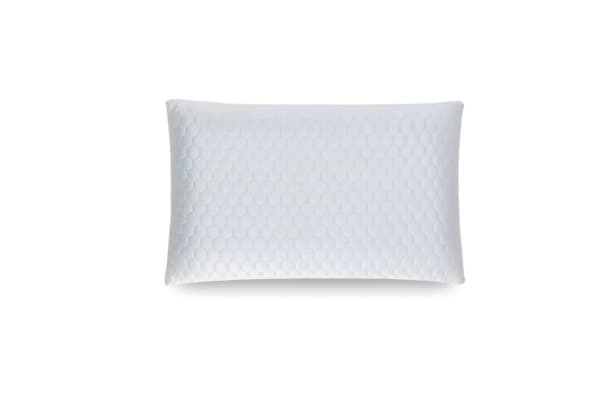 Fill Material: Open-cell memory foam

Firmness: Medium

Price: $129
Two loft options for personalized comfort
Open-cell memory foam balances responsiveness and support
Gel infusion designed to enhance breathability
Stomach sleepers
Those who desire the contouring and support of memory foam
People who don't want to fluff their pillow
Designed to achieve the comfort of memory foam without the heat retention, the Brooklyn Bedding Luxury Cooling Memory Foam Pillow offers two profile options to provide a wide range of sleepers with coolness and contouring support.
The Brooklyn Bedding Luxury Cooling Memory Foam Pillow is engineered to draw heat away from the body, featuring an open-cell memory foam core, pin core ventilation, and a gel-infusion on the foam's surface. The circular knit cover also encourages airflow for enhanced breathability.
The Luxury Cooling Memory Foam Pillow has a medium firm feel and is available in 4.5- and 6-inch lofts. Our diverse testing team of side, back, and stomach sleepers found that the two loft options made the pillow well suited to all positions. Stomach sleepers found the low loft option especially comfortable and that the memory foam core provided optimal contouring capabilities to support spinal alignment.
The Brooklyn Bedding Luxury Cooling Memory Foam Pillow is available in queen and king sizes. It ships for free within 3 to 10 business days and includes a 30-day return policy. It also comes with a three-year limited warranty.
Fill Material: Long-Strand Mulberry Silk

Firmness: Medium Soft

Price: $299
High-end materials offer a luxurious sleeping experience
Moisture-wicking fabric pulls sweat away from the body
Durable weave reduces pilling
Side sleepers
Sleepers interested in a soft yet durable luxury pillow
People shopping for a long-lasting pillow
Cozy Earth's luxurious combination of silk and bamboo viscose results in a plush and durable pillow that maintains its coolness throughout the night.
The Cozy Earth Silk Pillow is filled with long-strand mulberry silk, known for its plushness, longevity, and breathability. The pillow's cover is composed of bamboo-derived viscose fabric, enabling the pillow to wick moisture and draw sweat away from the body. It also utilizes Cozy Earth's enhanced weave to reduce pilling and increase the pillow's lifespan.
During testing our team found that the Cozy Earth Silk Pillow's medium soft feel was a good choice for any type of sleeper. However, we noticed it was especially comfortable for side sleepers who weigh less than 230 pounds and back sleepers less than 130 pounds. We also found that the pillow holds its shape exceptionally well and doesn't flatten with use.
The Cozy Earth Silk Pillow includes free shipping and returns in the U.S. and is available in standard and king sizes. Cozy Earth offers a 100-night trial to test the pillow and a 10-year limited warranty.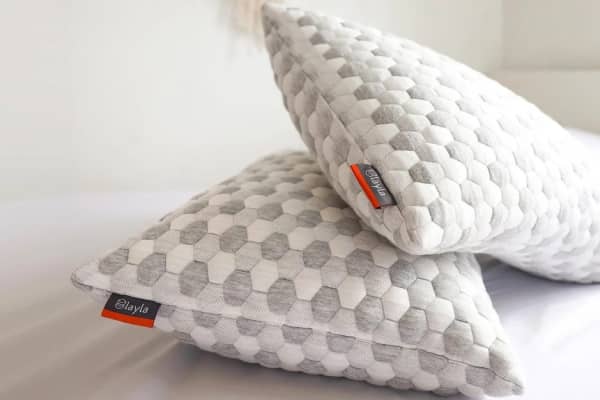 Fill Material: Shredded memory foam and kapok tree fiber blend

Firmness: Medium Soft

Price: $109
Kapok tree fibers give pillow a soft and silky feel
Shredded memory foam promotes contouring
Adjustable fill allows for custom height and firmness
Side and back sleepers
People who want a supportive pillow with a high-end look
Those interested in natural and durable materials
Layla seamlessly blends the contouring benefits of shredded memory foam with the plushness and durability of kapok tree fibers. Our testing team found this created a soft yet supportive pillow that was ideal for side sleepers.
The Layla Kapok Pillow's cover is made of a blend of polyester, viscose, and poly/lycra. The fill consists of a blend of kapok tree fibers and shredded memory foam. Kapok tree fibers provide moisture-wicking properties and are lighter than cotton and down. The pillow also contains an upscale hexagon stitching designed to enhance breathability.
Our testing team found the Kapok Pillow was highly moldable and temperature neutral. It was also easy to adjust the pillow's loft and firmness using the zipper to add or remove filling as needed. While most of our testers found the pillow comfortable, the highest ratings came from our side sleepers under 230 pounds.
The Layla Kapok Pillow is available in queen and king sizes. It comes with a 120-night trial and a five-year limited warranty. Shipping is free to the contiguous U.S.
Tempur-Pedic TEMPUR-Cloud Breeze Dual Cooling Pillow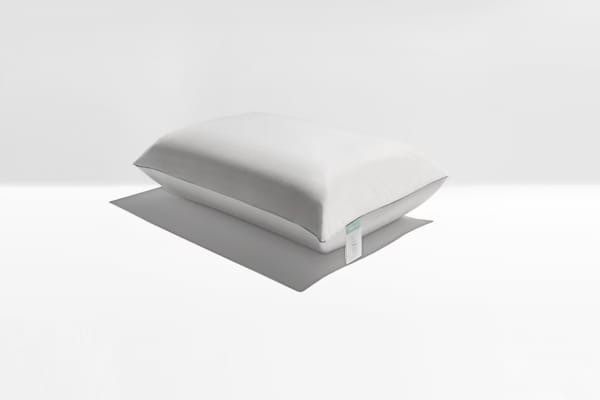 Fill Material: TEMPUR memory foam with TEMPUR-Breeze Gel coating

Firmness: Medium (5)

Price: $199
Layers of TEMPUR-Breeze Gel designed to stay cool
TEMPUR memory foam conforms closely to the head and neck
Removable cover for easy cleaning
People who want a pillow that cradles the neck
Side and back sleepers
People who value a well-established brand
With cooling technology embedded in both sides of the pillow, the Tempur-Pedic TEMPUR-Cloud Breeze Dual Cooling Pillow supports the neck while staying cool through the night.
The Tempur-Pedic TEMPUR-Cloud Breeze Dual Cooling Pillow has a removable quilted cotton cover and a high loft of 6.4 inches. Inside, it has a layer of TEMPUR-Breeze Gel, which is designed to sleep cooler than traditional memory foam. The core is composed of a solid piece of TEMPUR memory foam with a medium firm feel to provide consistent support and spinal alignment.
Our team of diverse product testers found that the TEMPUR-Cloud Breeze Dual Cooling Pillow lived up to its promise, conforming closely to the head and neck without trapping heat. A range of sleepers on our team found the pillow exceptionally comfortable, especially our side and back sleepers and those prone to developing pressure points in their shoulders and neck.
The Tempur-Pedic TEMPUR-Cloud Breeze Dual Cooling Pillow comes in queen and king sizes. Purchase includes free shipping and a five-year limited warranty. Tempur-Pedic does not accept returns unless the pillow is damaged or has a defect.
Why You Should Trust Us
To help you choose the best pillow, our product testing team encompasses a range of sleeping positions and body sizes to ensure our reviews better reflect the differences among the general population. Each product reviewer has extensive experience in the sleep industry that provides them with the background to assess the performance of each cooling pillow in categories ranging from firmness to pressure relief.
How Do Cooling Pillows Work?
Cooling pillows are designed to regulate a sleeper's temperature by promoting airflow and reducing heat buildup in the head and neck. Manufacturers use various materials and design features to create cooling pillows. Common materials include gel-infused foams, latex, kapok, and down alternatives.
Cooling pillows often feature design elements like air channels or a higher loft. Air channels can increase airflow, while a higher loft can reduce heat buildup by preventing a sleeper's head from sinking too deeply into the pillow. Some manufacturers may also incorporate cooling technology into the pillow cover, such as a phase change material that draws heat away from the body or moisture-wicking fabrics like cotton or bamboo.
Sleepers looking for the best pillow should consider their own sleeping preferences and habits, as well as the materials and features that will best suit their needs.
What Are Cooling Pillows Made of?
There are two major types of temperature-regulating fills used in cooling pillows. Natural fills, including materials like buckwheat, silk, kapok, or cotton, are derived from plants or animals. These fills are often breathable, eco-friendly, and have a longer lifespan. Synthetic fills, such as shredded memory foam, gel memory foam, or foams infused with copper, typically come at a lower price-point and are designed to be allergy-resistant and enhance certain characteristics of the pillow.
Natural vs. Synthetic Cooling Pillows
Natural Cooling Pillows
Synthetic Cooling Pillows
Description
Natural cooling pillows contain naturally made materials, such as silk, kapok, cotton, or buckwheat
Synthetic cooling pillows consist of man-made fills, such as shredded memory foam, infused foams, or cooling gels
Pros

Soft and breathable feel
Biodegradable and environmentally friendly
Durable and long-lasting

Lower price
Many fills are hypoallergenic
Resistant to clumping

Cons

Higher price
Some fills require regular fluffing or refilling to maintain shape
Not all fills are vegan-friendly

Less breathable
Not as eco-friendly as some natural fills
Not biodegradable
What Pillows Work Best to Relieve Night Sweats?
The best pillow for relieving night sweats is different for every sleeper. In general, pillows that work well for night sweats include breathable, moisture-wicking covers and fills that promote airflow. There are many types of temperature-regulating fills and cover materials to choose from. Some sleepers may find latex pillows with cotton covers reduce night sweats, while others prefer a cooling gel-infused foam core with a phase change material cover.
The right material and fill combination also depends on your sleep position and individual needs. For instance, if you're a back sleeper, you should opt for a medium loft pillow that contours to the head to keep it aligned with the spine. Side sleepers, on the other hand, benefit from a pillow with a high loft that elevates their head and helps maintain spinal alignment.
Pillow Height, Firmness, Support, and Keeping Your Spine Aligned
A pillow's height and firmness affect how well it supports healthy spinal alignment. To find the right loft and firmness, sleepers should consider their primary sleep position. For example, side sleepers benefit from a higher loft and a firmer pillow compared to people who sleep on their stomach or back.
The Height (or Loft) of Your Pillow
The height of a pillow, also called its loft, plays a crucial role in determining the position of the head and neck during sleep, which in turn impacts the alignment of the spine. Achieving healthy spinal alignment during sleep requires the appropriate pillow height for a person's preferred sleep position.
We'll cover the recommended pillow loft for different sleeper types so you can choose the appropriate loft for your sleep position.
| Sleeping Position | What Pillow Loft Do You Need? |
| --- | --- |
| Side Sleepers | Lying on one's side leaves ample space between the head and the mattress, so side sleepers typically require pillows with higher lofts to keep their head elevated and aligned with the spine. |
| Back Sleepers | Back sleeping is a neutral posture, and sleepers who prefer this position benefit from a pillow with a medium loft and contouring properties. A medium loft ensures the head doesn't tilt uncomfortably. |
| Stomach Sleepers | Stomach sleepers require a pillow with a low loft to keep their neck aligned with the spine. A low loft ensures that the head isn't elevated or at an uncomfortable angle. |
| Combination Sleepers | Combination sleepers prefer adjustable lofts so they can alter the pillow according to their needs. Some cooling pillows allow users to add fill when they want to sleep on their side or remove fill when they want to sleep on their stomach. |
How Firm Should Your Cooling Pillow Be?
A pillow's firmness refers to how hard or soft it feels. Firmness is generally described as a range, from soft to medium to firm. The right level of firmness for a sleeper depends on their preferences, weight, and sleeping position.
To help you find the right level of firmness, we'll cover the ideal firmness for each sleeping position.
| Sleeping Position | What Firmness Do You Need? |
| --- | --- |
| Side Sleepers | Side sleepers find firmer pillows more supportive than soft or medium models. Firm pillows provide sturdy support and are more likely to retain their shape through the night. |
| Back Sleepers | A medium or medium firm pillow is optimal for most back sleepers. These firmness levels provide a balanced level of support and comfort to support this neutral sleep posture. |
| Stomach Sleepers | Stomach sleepers enjoy softer pillows with a low profile. This ensures the sleeper's head is able to stay closer to the mattress and maintain healthy spinal alignment. |
| Combination Sleepers | Because combination sleepers often switch their positions during the night, they usually need a medium or adjustable firmness level. While adjustable pillows can be changed to achieve optimal comfort, a medium feel is a great in-between option for those who aren't able to find an adjustable pillow. |
It's Cool to Support Your Spine and Keep It Aligned
Support is a crucial aspect of picking the right pillow, as it relates to how well the pillow promotes proper spinal alignment. Proper support from a pillow is necessary to ensure that the head, neck, and back remain in a neutral position, reducing the risk of neck pain and stiffness in the morning. Each sleeping position and body type requires a different level of support for comfortable and restful sleep.
Cool Tips to Help Hot Sleepers Sleep Comfortably
Picking the right pillow is only one way to avoid overheating at night. Other factors, like your choice of bedding and room temperature, can also contribute to whether you sleep hot or cool.
Avoid Memory Foam: Memory foam can restrict airflow and cause a pillow to retain heat. When looking for a cooling pillow that also provides the contouring properties of memory foam, try pillows with open-cell memory foam, shredded memory foam, or memory foam infused with cooling gel or copper. You may also want to avoid memory foam mattresses unless they feature similar cooling technologies. More breathable mattress types include latex, innerspring, and hybrid models.
Take a Look at Your Bedding: When sleeping you're surrounded by materials, from pajamas and mattress toppers to pillows and comforters. For those who overheat easily, it's important to pick breathable materials such as cotton, linen, silk, or bamboo.
Try to Keep Your Bedroom Cool: To stay cool at night, try lowering your thermostat to around 65 to 68 degrees Fahrenheit, a range that experts suggest is an ideal temperature for sleep. Bedroom fans can also help keep air moving and prevent your bedroom from feeling too warm or stuffy.