Sleeping hot is a common issue for adults and children. Although our bodies naturally cool down during sleep, many people overheat and sweat in bed. A mattress constructed with breathable components can mitigate this problem. Some of the best mattress materials for cooling include ventilated foam or latex, coil systems that promote airflow, and covers made from breathable fibers like cotton, Tencel, or rayon derived from bamboo.
Most mattresses regulate temperature through passive cooling, but some newer models include features that provide active cooling by reducing the temperature of your sleep surface. People who sleep hot should consider investing in a mattress that excels at either passive or active cooling. We've personally tested hundreds of mattress models in our lab, and temperature control is one of the main criteria we use to evaluate each model.
Our top five picks for the best cooling mattresses on the market today are outlined below. Scroll down to learn more about each one.
If you tend to sleep hot, you know how detrimental it can be to your overall sleep quality. I recommend looking for mattresses and bedding accessories made from breathable materials like cotton, latex, and coils for a cool night's sleep.
Dr. Michael Breus,
Clinical Psychologist, Sleep Medicine Expert and Combination Sleeper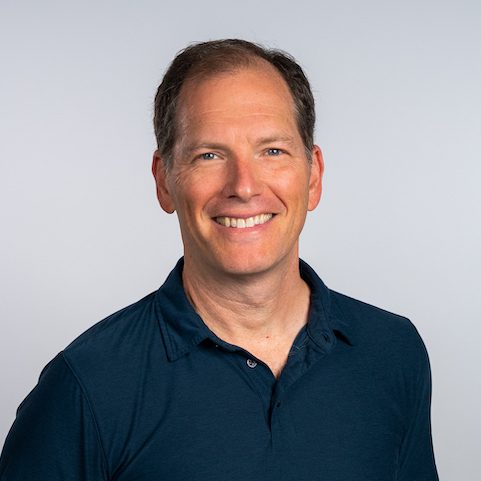 Molecule 2 AirTEC Mattress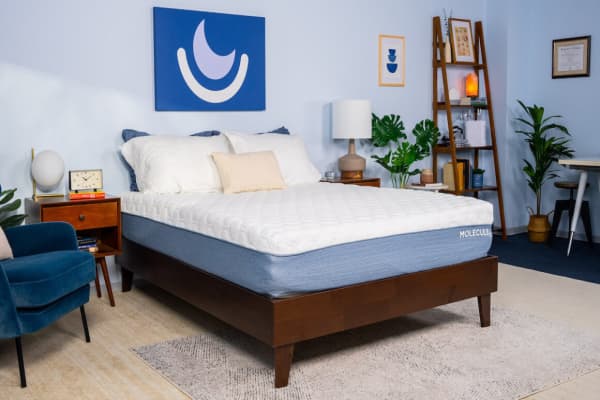 Trial Length 100 nights (30-night requirement)

Warranty Lifetime, Limited

Trial Length / Warranty

100 nights (30-night requirement) / Lifetime, Limited
Sleep Doctor's Take

The Molecule 2 AirTEC uses breathable foams to promote airflow and minimize the heat retention that often occurs with all-foam mattresses. Another standout feature is the zoned transitional layer, which provides extra reinforcement to the midsection and helps prevent sinkage.
Breathable foams promote airflow and reduce heat retention
Zoned transitional layer feels firmer and more supportive around the midsection
Great motion isolation for couples and co-sleepers
May not be supportive enough for stomach sleepers
Limited edge support can lead to perimeter sinkage
The Molecule 2 AirTEC is a foam mattress designed with hot sleepers in mind. Geared toward athletes and active individuals who want both temperature control and pressure relief, the mattress offers solid support at a reasonable price while still retaining less heat than the average all-foam mattress.
How Does It Feel?
The mattress is constructed with a top layer of adaptive polyfoam infused with cooling crystals, followed by a second foam layer ventilated with small holes to promote airflow near the surface. A third foam layer features a convoluted shape that also circulates air, and a breathable cover completes the design.
Why We Like It
During our sleep lab tests, we found that the Molecule 2 AirTEC's medium firm (6) feel makes it well suited to side sleepers of any weight group and back sleepers who weigh up to 230 pounds. Our side sleepers between 130 and 230 pounds rated it highest, noting that its foam layers provide ample cushioning around areas prone to pressure buildup, like the shoulders and hips. Our back sleepers under 230 pounds especially liked the zoned third foam layer, which is designed to feel extra supportive beneath the torso and hips.
The Molecule 2 AirTEC performed exceptionally well during our motion isolation tests. While lying side by side on the mattress, both testers felt minimal movement when the other person changed positions or got out of bed. This means the mattress is probably suitable for anyone whose sleep is easily disrupted by their partner's nighttime movements.
Shipping is free within the contiguous U.S. Molecule also ships to Alaska and Hawaii for a fee. Each order is backed by a 365-night sleep trial with a required 30-night break-in period, and those who keep their mattress also receive a limited warranty that covers structural defects for its entire lifespan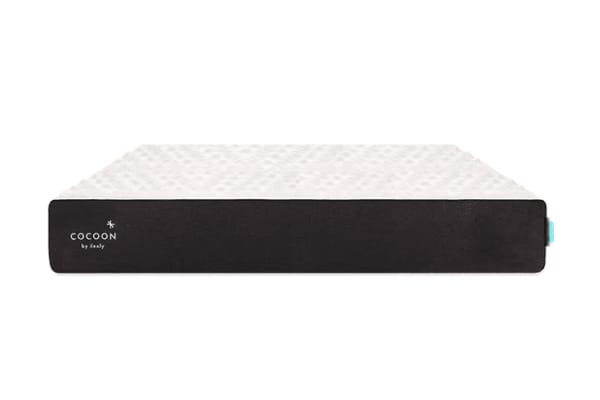 Trial Length 100 Nights (30-Night Requirement)

Warranty 10 Year, Limited

Trial Length / Warranty

100 Nights (30-Night Requirement) / 10 Year, Limited
Sleep Doctor's Take
The Cocoon Chill's cover contains phase change material intended to absorb and release body heat on contact, allowing the mattress to sleep cool despite its all-foam design. Other testing highlights include excellent pressure relief and consistent motion isolation for couples.
Well-rounded mattress at a competitive price-point
Phase change cover designed for temperature neutrality
All-foam construction keeps motion transfer to a minimum
Top layer may develop indentations in relatively short time
Perimeter lacks support and may sink excessively
Cooling technologies often add significantly to the cost of a mattress. A notable exception is the Cocoon Chill from Sealy, an all-foam model that includes cooling features at a reasonable price-point.
How Does It Feel?
The Cocoon Chill Mattress features a knit cover with phase change material engineered to keep sleepers cool by absorbing and dissipating heat. Our testing team found that they stayed reasonably cool even with the top memory foam layer, which conforms to the body to provide pressure relief. This effective temperature control is due in part to a polyfoam transitional layer that helped prevent our testers from sinking into the mattress and allowed them to move more easily across the surface of the bed.
For an added cost, shoppers can upgrade the mattress to "extra-chill." This option adds phase change material to the memory foam layer and features enhanced cooling in a premium version of the PCM cover.
Why We Like It
Falling at a medium firm (6) on our 10-point firmness scale, the 10-inch Cocoon Chill is designed to suit most body types and sleeping positions. All of our back and stomach sleepers found the mattress comfortable, though it was ranked highest by back sleepers weighing between 130 and 230 pounds. Most of the side sleepers on our team also enjoyed its balanced feel, although some side sleepers under 130 pounds found it a bit too firm and said it lacked the close contouring they prefer.
Sealy offers free shipping to all U.S. customers, a 10-year limited warranty, and a 100-night sleep trial with a required 30-night break-in period.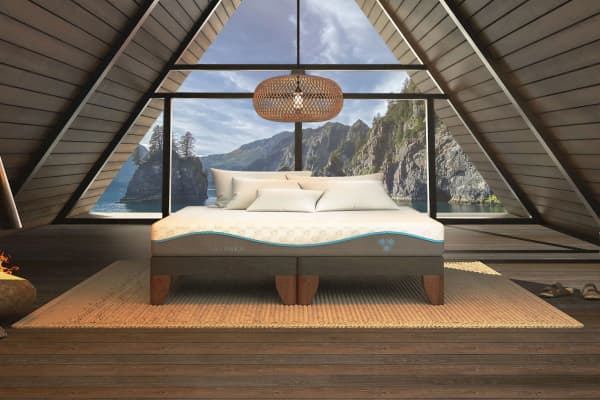 Trial Length / Warranty

100 nights / 10-Year
Sleep Doctor's Take
The Solace Alaska Mattress prioritizes cooling, featuring naturally breathable materials like latex, cotton, and wool. The quintessential hybrid also offers a great balance of adaptive foam layers and supportive coils that many sleepers should find comfortable.
Foam layers contour to the body to alleviate pressure buildup
Breathable latex, coils, cotton, and wool facilitate airflow and regulate temperature
Latex and coils create a responsive feel that's easy to move across
Size options are limited to queen and king
People weighing less than 130 pounds will likely find the surface too responsive and firm
Sleepers seeking a cooling mattress with a balanced feel should look no further than the Solace Alaska Mattress. A mid-range firmness level and foam-over-coil construction should feel comfortable and supportive for a wide swath of sleepers. 
How Does It Feel?
The mattress' comfort system begins with a layer of high-density memory foam that contours to the body to relieve pressure without sinking excessively. Underneath is adaptive, gel-infused foam treated with Kulkote, which uses phase change material and cooling infusion to combat heat retention. A layer of natural latex rounds out the comfort system, ensuring your weight is evenly distributed across the mattress surface. 
Individually wrapped pocketed coils reinforce the sleep surface, offering targeted support to the midsection and shoulders to prevent uncomfortable sinkage. A foam perimeter encasement bolsters the edges of the bed, helping them bear your weight without sagging. The coils rest on a polyfoam base layer for stability, and the entire mattress is encased in a breathable cotton-wool blend cover. 
Why We Like It
Our testing found the mattress' medium firm (6) feel and hybrid construction best suited back and stomach sleepers weighing between 130 and 230 pounds. Sleepers in these categories enjoyed the mattress' responsive feel, which helped keep their bodies on an even plane. Side sleepers weighing more than 230 pounds also enjoyed the extra support and cushioning for sore spots. However, people who weigh less than 130 pounds may find they need a softer model. 
The mattress' responsive feel made it appealing for active sleepers. Our testers found the surface unrestrictive, so you should have little trouble changing positions at night. The bouncy feel and supportive perimeter also make the mattress a great option for couples, who can use the full surface for sleep or sex without sinking near the edges. 
Queen and king sizes are available. Solace offers free shipping to customers living in the contiguous U.S. The Alaska Mattress is backed by a 100-night sleep trial and a 10-year warranty against structural defects.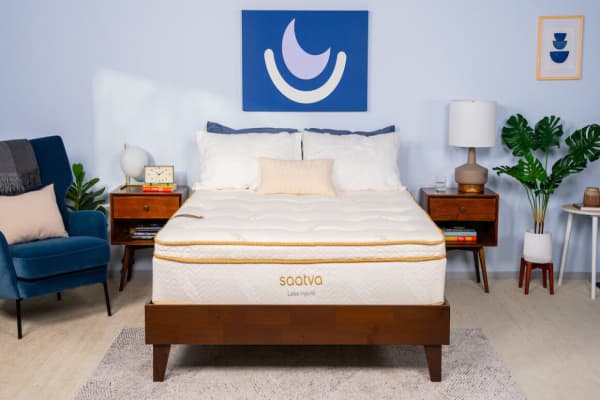 Trial Length 365 Nights ($99 Return Fee)

Warranty Lifetime, Limited

Trial Length / Warranty

365 Nights ($99 Return Fee) / Lifetime, Limited
Sleep Doctor's Take
The Saatva Latex Hybrid offers excellent temperature control thanks to a breathable organic cotton cover, moisture-wicking wool beneath the surface, and a coil system that promotes steady airflow. Additional perks include free White Glove delivery and a 365-night sleep trial.
Hybrid design allows for greater airflow
Made with certified organic cotton and wool
Free White Glove delivery within the contiguous U.S.
Responsive construction minimizes motion isolation
Expensive pricing may be a barrier for shoppers
The Saatva Latex Hybrid combines the breathability of natural latex with the cooling airflow of a pocketed coil support core. Made with an emphasis on natural materials, this 12-inch mattress features cotton and wool that are certified organic by the Global Organic Textile Standard and latex certified by the Rainforest Alliance. To avoid the use of chemical adhesives, the bed is hand-tufted.
How Does It Feel?
The medium firm (6) Saatva Latex Hybrid features a breathable cotton cover lined with a moisture-wicking natural flame barrier. The 3-inch Talalay latex comfort layer has five zones for enhanced lumbar support and is perforated for better breathability. A pocketed coil support core reinforces the sleep surface, offering targeted support to wider areas of the body. The coils also encourage steady internal airflow to regulate temperature.
Why We Like It
Our sleep lab testers of all body types and preferred sleep positions appreciated this mattress, with the exception of side sleepers under 130 pounds. These sleepers found the latex comfort system a bit too firm for their liking. However, back and stomach sleepers between 130 and 230 pounds appreciated its balanced feel and breathable surface.
The combination sleepers on our team found that the bed's responsive latex and recycled steel coils facilitate movement, making it easy to change positions. Additionally, we found that the pocketed coil support core encourages above-average edge support, so sleepers can use the entire surface of the bed without any concerns about sagging.
Saatva offers free White Glove delivery to shoppers in the contiguous U.S., which means the company delivers and sets up the bed in your home. Saatva will also remove your old mattress if necessary. The bed comes with a 365-night sleep trial and a limited lifetime warranty.
Yogabed Cool Gel Memory Foam Mattress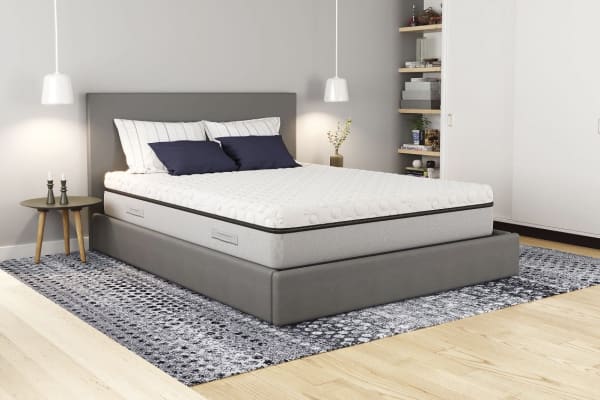 Trial Length 101 nights (30 day break-in)

Warranty 10 Year, Limited

Trial Length / Warranty

101 nights (30 day break-in) / 10 Year, Limited
Sleep Doctor's Take
The Yogabed Cool Gel Memory Foam Mattress is a standout for breathability and temperature control compared to other all-foam models we've tested. Other highlights of the mattress include strong pressure relief, great motion isolation, and an easy-to-clean cover.
Plush, pressure-relieving surface cushioned with adaptive foam layers
Excellent motion isolation for couples
Copper and gel infusions help the comfort system resist overheating
Likely too soft and prone to sinkage for back and stomach sleepers over 230 pounds
Minimal edge support can cause excessive perimeter sinkage
Many all-foam mattresses absorb and trap body heat, leading to an uncomfortable sleep temperature and a greater risk of night sweats. The Yogabed Cool Gel Memory Foam Mattress lives up to its name thanks to cooper and cooling gel infusions in the topmost layers. These materials effectively offset heat retention and help ensure a comfortable night's rest throughout the year.
How Does It Feel?
Although the Cool Gel Memory Foam Mattress is medium firm (6), the comfort system features two memory foam layers that make the surface feel highly adaptive. The mattress responds slowly to movement and contours closely, resulting in the signature "body hug" people have come to expect from memory foam. Transitional and base layers made of high-density polyfoam reinforce the mattress and evenly distribute your weight. 
The cover is composed of knit polyester. You may unzip, remove, and machine wash the cover in your household appliances. Comparatively, most mattresses made today have non-removable covers that should only be spot cleaned if stains occur, so the Cool Gel Memory Foam Mattress is relatively easy to keep cleaned.
Why We Like It
During our tests, we were impressed with the Cool Gel Memory Foam Mattress for its comfortable balance of body-contouring and breathability. The foam layers provide ample cushioning, making this model particularly well-suited to side and back sleepers up to 230 pounds, and our tests show excellent motion isolation for couples. At the same time, both memory foam layers sleep at a comfortable temperature due to their cooling infusions. 
Approachable pricing and free ground shipping within the contiguous U.S. make the Cool Gel Memory Foam Mattress a solid pick for shoppers on a budget. Your order comes with a 101-night sleep trial. If you decide to keep the mattress after the trial period ends, you'll also receive a 10-year warranty against structural and material defects.
Why You Should Trust Us
We have many years of experience in the sleep product industry, and each product we review goes through a stringent testing process. We then turn that research into actionable advice for different sleeper types, including those who sleep hot.

Our testing team includes people of various body types and preferred sleep positions so that we can give you the most wide-ranging and comprehensive feedback on the products we review.
More Mattress Options for Unique Groups
How to Pick a Cooling Mattress
Watch our video to learn some hands-on tips to finding a mattress that helps keep you cool at night. We'll explain how certain mattress types and designs are better suited for hot sleepers than others.
What Do Hot Sleepers Need for a Good Night's Sleep?
To find the perfect sleep temperature, you'll need to consider multiple factors, from your mattress to your bedding and bedroom environment.
Find the Type of Mattress That Helps You Sleep Cool
The materials used to construct a mattress — including the cover, comfort layers, and support core — all contribute to how well it regulates temperature. Your sleeping position and body type may also play a role in whether you find that a mattress sleeps hot or cool. When choosing a mattress, consider the materials it's made of and how far it lets you sink in. The more you sink in, the more likely it is that you'll trap heat around your body.
What Makes a Bed Sleep Cool?
Some mattresses, such as innersprings or hybrids, naturally have more open space for heat to dissipate, thanks to their use of coils. Other mattresses attempt to regulate temperature by adding cut-outs or perforations to solid layers. They may also use components such as gel infusions, phase change material, or other elements designed to actively pull heat away from the surface of the bed.
Build a Cooler Sleeping Environment
In addition to a cooling mattress, there are many ways to optimize temperature for sleep. If you're a hot sleeper, you may want to stay away from heat traps, such as memory foam pillows, and use a fan or air conditioning during warmer weather. You may also want to try incorporating breathable materials like cotton and linen into your bedding.
Best Cooling Mattress Types
The best cooling mattress should dissipate heat away from the sleeper. Mattresses can accomplish this using either breathable designs or cooling technology.
Foam Mattresses
Memory foam and polyfoam are often used in the comfort or support layers of a mattress. Synthetic foams have a tendency to trap heat, although many manufacturers add technology such as gel infusions or use open-cell designs to reduce heat retention.
Why Does Memory Foam Get Hot?
Memory foam is known for its close conforming. While this is ideal for relieving pressure, it leaves less room for heat to dissipate. The greater the surface contact with the body, the more heat the bed absorbs.
Foam Density, Heat Retention, and Sleeping Hot
Denser polyfoam and memory foam are often seen as more desirable mattress materials because they tend to last longer than low-density foams. However, denser foams are also more likely to trap heat, since they don't have as much space between cells. If you sleep hot, you may want to seek out mattresses made with low-density foams or opt for a hybrid design with room for heat to escape through the support core.
Hybrid Mattresses

Hybrid mattresses generally offer more breathability than their all-foam counterparts. Because hybrid mattresses combine foam, gel, or latex with a support layer of innersprings, they provide room for airflow that helps mitigate heat retention from the upper layers. Certain hybrids may sleep hotter than others depending on the firmness and the materials used in the comfort system.
Latex Mattresses
Although they don't have the open design of coils, all-latex mattresses generally sleep cooler than polyfoam or memory foam mattresses. Natural latex is relatively breathable and doesn't conform as closely to the sleeper, so it tends to trap less heat around the body. Many companies also use perforated latex to allow more room for heat to escape.
Airbeds
The ability of an airbed to regulate temperature depends largely on its comfort layers. Airbeds made with memory foam may trap heat, whereas those made with latex may sleep cooler. The air chambers themselves generally retain minimal heat.
Cooling Mattress Materials
Mattress manufacturers use a variety of cooling technologies designed to keep sleepers cool.
Coils and Springs
Coils and springs are mostly empty space, which allows for airflow and encourages heat to escape the mattress. Innerspring mattresses with minimal comfort systems tend to sleep the coolest. Hybrid mattresses combine springs with layers of foam or latex, which can add benefits like pressure relief while still maintaining a more neutral temperature compared to an all-foam mattress.
Gel-Infused Foam
Memory foam and polyfoam mattresses often incorporate gel infusions intended to help them sleep cooler. The gel is designed to absorb and release body heat instead of allowing it to stay in the mattress.
Copper-Infused Foam
Copper has a reputation for its ability to conduct heat. Manufacturers may include copper infusions in a mattress with the intention of drawing heat away from the surface.
Natural Latex
Natural latex is very breathable and it tends to conform less closely, meaning sleepers make less contact with the surface of the mattress. Additionally, latex may contain tiny pinholes that allow heat to escape.
Celliant Fiber
Celliant is a proprietary material designed to convert body heat into infrared energy. This is thought to reduce moisture buildup and help moderate temperature.
Less Sweat and More Shut-Eye: Creating an Ideal Sleeping Environment
Sleeping in a hot room can be difficult. If you're finding it impossible to sleep soundly during warm summer nights, you may find it helpful to make changes to your bedding or invest in a fan or air conditioning. However, while these solutions should help keep most hot sleepers cool, they may not be sufficient if your mattress traps an excessive amount of heat.
Find the Right Temperature for a Cool Night's Sleep
Many people find that the ideal temperature for sleeping is around 65 degrees Fahrenheit, although this is subjective. Those who sleep hot may wish to set the temperature lower. Experiment to see which temperature works for you.
You can keep the room cooler by closing the shades during the day and opening windows in the evening. A bedroom fan or air conditioning may also be helpful.
Look for Breathable Sheets
Some bedsheet materials retain more heat than others. Flannel and fleece are perfect for many sleepers on a chilly winter evening, but lightweight materials like linen breathe better. Wool also excels at wicking moisture to prevent sweat from building up.
The breathability of materials can also vary depending on their density and weave. For example, cotton fabric with a percale weave tends to be more breathable than a sateen weave. Polyester can also take on different qualities depending on its weave.
Cooler Sheet Types:
Linen
Tencel
Cotton with a percale weave
Hotter Sheet Types:
Flannel
Fleece
Cotton with a sateen weave
Don't Weigh Yourself Down With Heavy Blankets
Many people find they sleep easier using a blanket, but this may cause problems in a hot climate. For hot sleepers, it's important to seek out materials that allow heat and moisture to escape the bed. Wool is a good option, as it stays dry and generally maintains a neutral temperature. As a general rule, lightweight materials tend to trap less heat.
Swap Out Your Old Pillow With a Cooling Pillow
Whereas polyester or memory foam pillows may retain heat, cooling pillows are built with breathable components designed to reduce overheating. Some options include buckwheat, kapok fibers, or some natural latex models. It's also important to choose a breathable pillowcase.
If Your Bed's Too Hot, Try a Cooling Mattress Topper
For hot sleepers who aren't ready to invest in a new mattress, a cooling mattress topper may offer a solution. Usually between 1 and 4 inches thick and made of gel-infused memory foam, latex, or wool, a cooling topper adds an extra breathable layer between the mattress and sleeper. Some mattress toppers may also incorporate cooling technology, such as phase change material.
Keep in mind that certain mattress toppers may worsen overheating problems. For instance, regular memory foam toppers are likely to display the same heat retention as traditional memory foam mattresses. Just like you would when choosing a mattress, be sure to look for materials known for their cooling abilities.