Hybrid mattresses are some of the best options on the market today. Because they combine an all-foam or latex model's comfort system with a coil core, hybrids tend to have a balanced performance. Many models tick the boxes that matter most to sleepers, like motion isolation, bounce, contouring, edge support, ease of movement, and temperature regulation.
The best hybrid mattress can accommodate virtually any sleeper regardless of their sleep position, body type, or firmness preference. However, because so many models are available, choosing the right option for your needs can be intimidating.
Our sleep experts tested dozens of mattresses to bring you their top picks. We also look at what makes hybrid mattresses unique and how this design differs from other options.
Hybrids often have exceptionally balanced feels thanks to the combination of a thick comfort system and a sturdy coil support core. To find the best hybrid for you, I recommend looking at the comfort system's materials to see if they suit your needs.
Dr. Michael Breus,
Clinical Psychologist, Sleep Medicine Expert and Combination Sleeper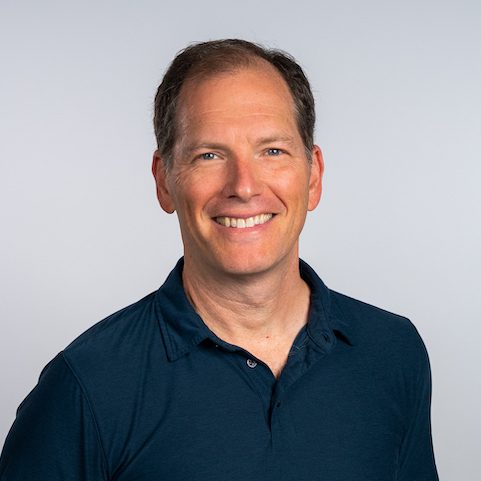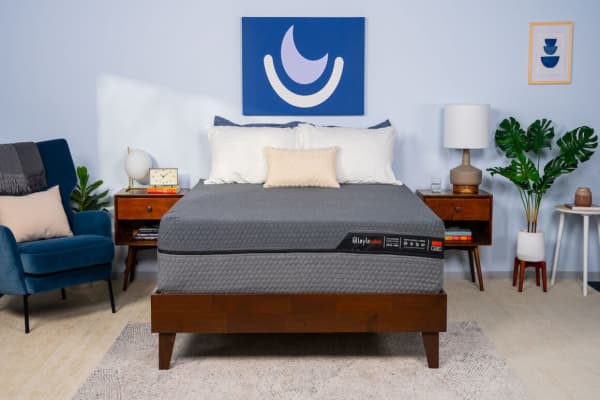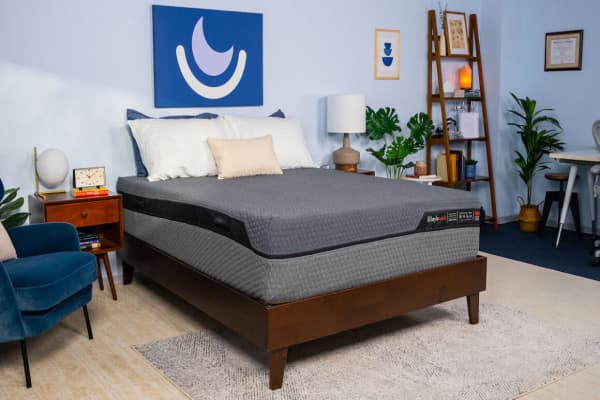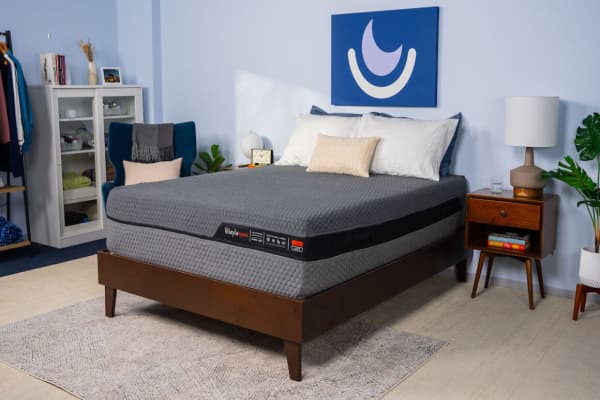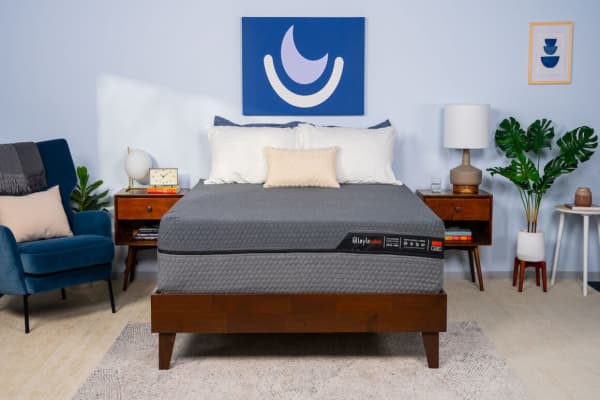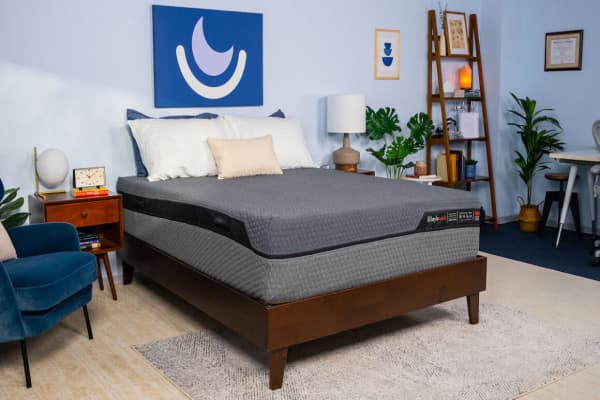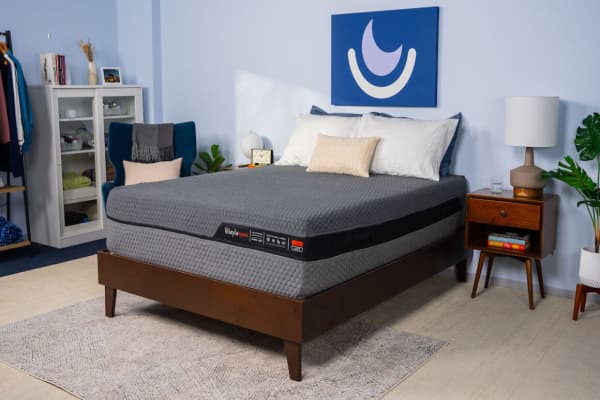 Warranty 10 year, Limited

Trial Length / Warranty

120 nights / 10 year, Limited

Firmness Reversible: Medium Soft (4), Firm (7)
Sleep Doctor's Take
The reversible Layla Hybrid features a medium soft (4) feel on one side, a firm (7) feel on the other, and strong side handles to help you lift and flip the mattress with ease. Cushioning foam layers and a zoned coil system showcase the quintessential hybrid design.
Flippable design with two firmnesses
Copper-infused memory foam designed for cooling
Zoned polyfoam for spinal support
People between 130 and 230 pounds may not feel comfortable on either side
Foam layers can hinder movement across the surface
We found that the flippable Layla Hybrid relieves pressure across all sleeping positions and a variety of body types thanks to its two built-in firmness options. One side has a medium soft (4) feel well suited for individuals under 130 pounds. The other is firm (7) to support those over 130 pounds.
How Does It Feel?
A soft, breathable cover made of polyester, rayon, viscose, and poly-lycra encases the mattress. The memory foam also includes a copper infusion engineered for temperature control. The softer side uses 2.5 inches of this material, while the firm side uses 1 inch.
Both sides incorporate a zoned polyfoam transition layer designed to relieve pressure and support the spine. The foam's surface also includes air channels designed to limit heat buildup. The softer side includes a 2-inch transition layer, and the firm side uses 1 inch. A pocketed coil core with a reinforced perimeter is sandwiched between the comfort systems.
Why We Like It
The firm side was the clear choice for our back and stomach sleepers over 130 pounds, as well as side sleepers over 230 pounds. The soft side received the highest praise from the side sleepers on our team weighing less than 130 pounds, while back and stomach sleepers in this weight group also felt comfortably supported.
Our testers reported that the memory foam in the comfort layers eased pressure in the hips and shoulders. The bed's above-average edge support is aided by two rows of narrower coils that fortify the perimeter. Our testing team noted that they felt supported even when sleeping at the very edge of the mattress.
The mattress ships free to the contiguous U.S. It also comes with a 120-night sleep trial and a 10-year limited warranty.
Latex Mattress Factory Luxerion Hybrid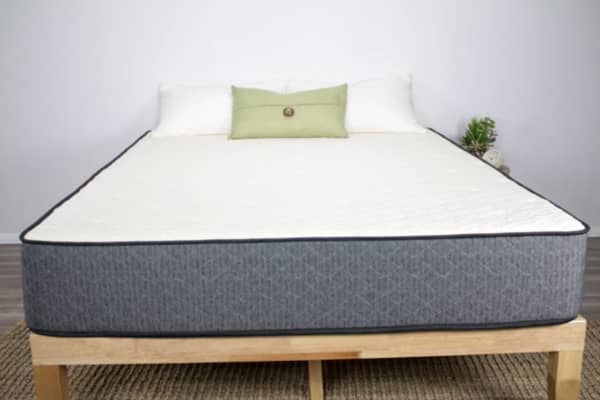 Trial Length 100 nights ($99 restocking fee)

Trial Length / Warranty

100 nights ($99 restocking fee) / None
Sleep Doctor's Take
Latex hybrids can be fairly pricey due to their longer-than-average lifespans and generally strong performance, but the Luxerion Hybrid from Latex Mattress Factory bucks this trend with a high-quality design and approachable pricing. The firm feel and gentle cushioning should be a particularly good fit for back and stomach sleepers.
Durable latex hybrid design at an affordable price
Responsive surface feels bouncy and resists sinkage
Breathable, moisture-wicking cover
Minimal motion isolation for couples
No warranty coverage
If you enjoy the feel of solid latex but are shopping with a limited budget, the Latex Mattress Factory Luxerion Hybrid should check both boxes. The mattress delivers consistent cooling, strong bounce, and a long lifespan at a price that falls well below average for a latex hybrid model.
How Does It Feel?
The Luxerion Hybrid's comfort layer consists of solid, natural latex measuring 3 inches thick. This material is fairly bouncy and doesn't conform very closely, which may appeal to sleepers who dislike the slow response and deep hug of memory foam. Pocketed coils form the support core to accentuate the bounciness and provide great overall stability. Most people should encounter little to no resistance when moving across the surface — even if they weigh more than 230 pounds.
An organic cotton cover encases the mattress. Wool batting sewn to the bottom of the cover serves as the fire barrier, but the material also has moisture-wicking properties to help you stay dry and comfortable. At 9 inches thick, the Luxerion Hybrid has a below-average profile. This contributes to the mattress' firm (7) feel.
Why We Like It
We recommend the Luxerion Hybrid if you're a fan of responsive, springy sleep surfaces. Even compared to other latex hybrids, this model feels fairly bouncy and none of us sank excessively during ease of movement tests. Temperature control is another testing highlight. The cover promotes breathability and moisture control, the latex shouldn't trap too much heat, and the coils generate enough airflow to maintain a comfortable interior temperature.
In addition to below-average pricing for a latex hybrid, the Luxerion ships free of charge to customers in the contiguous U.S. Although the mattress is not backed by a manufacturer's warranty, Latex Mattress Factory allows you to test it out for up to 100 nights before deciding whether to return it for a refund or keep it.
Brooklyn Bedding Signature Hybrid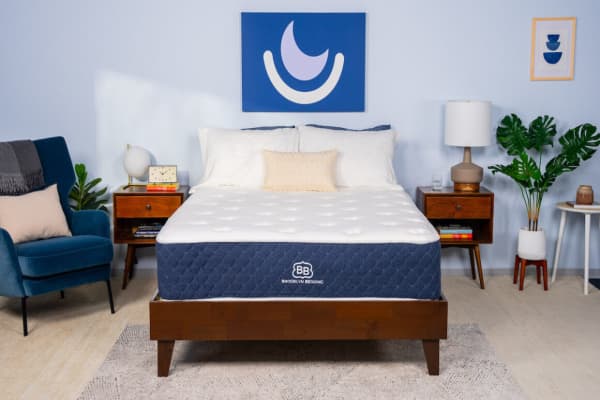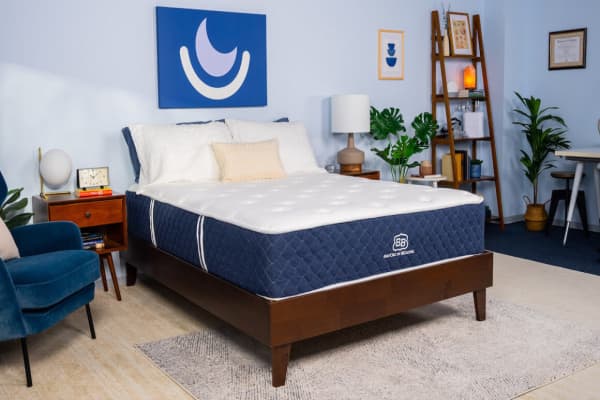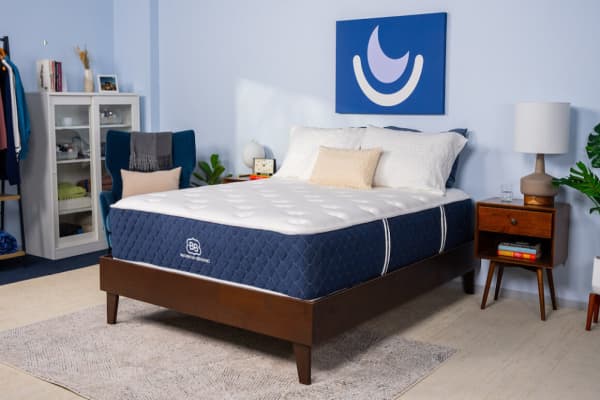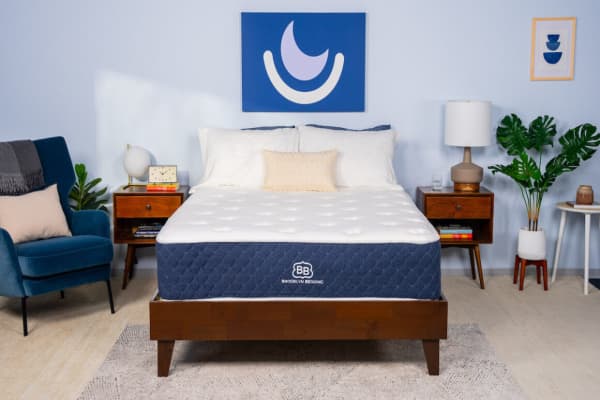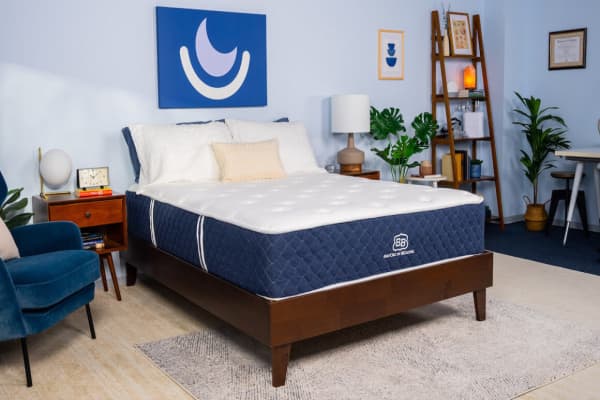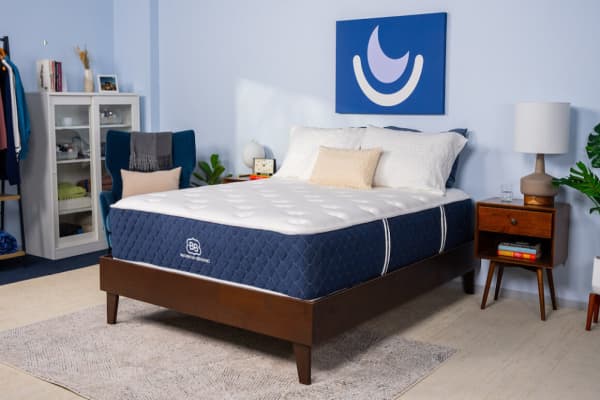 Trial Length 120 nights (30-night requirement)

Warranty 10 Year, Limited

Trial Length / Warranty

120 nights (30-night requirement) / 10 Year, Limited

Firmness Medium Soft (4), Medium Firm (6), Firm (8)
Sleep Doctor's Take

Available in three firmness levels, the Brooklyn Bedding Signature Hybrid cushions the body with adaptive foam and reinforces with sturdy pocketed coils. Approachable pricing makes this mattress a good option for shoppers with limited budgets.
Three firmness options
Responsive polyfoam comfort layer
Zoned coils along the edge for extra support
Medium soft design provides limited support for people over 130 pounds
Medium firm and firm models may not offer enough cushioning for side sleepers
Brooklyn Bedding's Signature Hybrid balances quality and affordability to provide comfort at a fraction of the average hybrid cost.
How Does It Feel?
A responsive TitanFlex polyfoam layer cradles the body to relieve pressure in the hips and shoulders. Its gel infusion is engineered for enhanced cooling. Next, a transitional layer of VariFlex polyfoam acts as a cushion between the comfort system and the support core. A pocketed coil core limits motion transfer, adds bounce, and provides even support. Zoned coils around the perimeter reduce edge sinkage so you can use the full surface of the mattress. Good edge support also makes it easier to get into and out of bed.
Why We Like It
The Signature Hybrid comes in three firmnesses. Our side sleepers who weighed under 130 pounds preferred the medium soft (4) feel. The medium firm (6) option appealed to testers across all sleeping positions, and the firm (8) option was popular with testers who weighed over 130 pounds. Our combination sleepers in that same weight range found it particularly comfortable.
Our tests showed that the thicker polyfoam comfort layers in the medium soft and medium firm versions help isolate motion, making these options a good solution for partners trying to avoid disturbing each other when they toss and turn. However, the firm version's sturdy build provides better edge support and allows for easier movement overall. If you move a lot in your sleep or have trouble getting into or out of bed, the firm option may be the best fit for you.
Along with the competitive price, Brooklyn Bedding includes free shipping to the contiguous U.S., a 120-night sleep trial, and a 10-year limited warranty.
Best for Combination Sleepers
Minocasa Mino Hybrid Mattress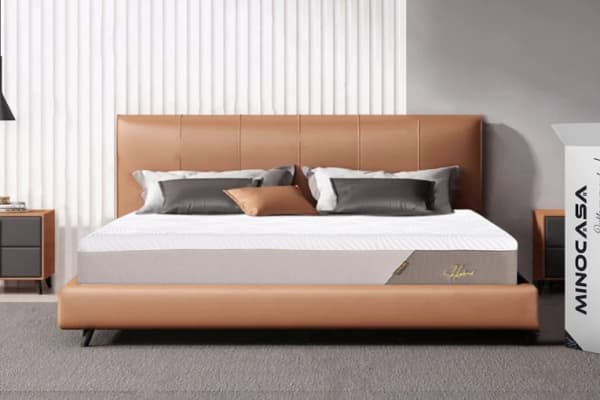 Warranty 10 year, limited

Trial Length / Warranty

180 nights / 10 year, limited
Sleep Doctor's Take
The Minocasa Mino Hybrid is softer and more adaptive than the average hybrid model, giving it an edge over competitors when it comes to pressure relief and motion isolation. This is also a great option for shoppers with limited budgets, and a 6-month sleep trial further sweetens the deal.
Adaptive foam layers contour evenly to reduce pressure along the spine
Zoned coils provide targeted support for your torso and hips
All orders include a 180-night trial period
Foam layers may hinder movement
People weighing more than 230 pounds may sink excessively
Side sleepers generally need softer mattresses that cushion the shoulders and hips — two areas of frequent pressure buildup for people who use this position — while back sleepers tend to prefer firmer, more supportive sleep surfaces. The Minocase Mino Hybrid Mattress bridges the gap between soft and firm with adaptive foam layers over zoned pocketed coils. This balanced design makes the mattress a good option for side and back sleepers up to 230 pounds, as well as combination sleepers in this weight range who switch between the side and back positions.
How Does It Feel?
The medium firm (6) Mino Hybrid begins with a layer of gel memory foam, followed by two polyfoam layers. Each of these layers feels progressively denser, so you'll notice some plush cushioning when you get into bed and extra pushback as your body settles. The memory foam is infused with cooling gel intended to reduce heat buildup. Another cooling component is the cover made from moisture-wicking Tencel fabric.
The coils are divided into five zones based on weight distribution. Thicker coils reinforce the chest, stomach, and hips to prevent these areas from sinking excessively, while thinner coils cradle the head and legs. The perimeter coils are also thicker to stabilize the edges when you get in and out of bed. 
Why We Like It
Most hybrids we've tested are on the firmer side and don't contour very closely. Although the Mino Hybrid is medium firm, thick foam layers give this mattress an adaptive feel that is particularly beneficial to side sleepers. Back sleepers should receive adequate support from the zoned coils, especially if they weigh 230 pounds or less.
Our hands-on tests of the Mino Hybrid also show above-average performance for motion isolation. All three foam layers absorb movement well and the coils shouldn't generate too much transfer, so we're recommending this mattress to couples who have experienced sleep disruptions on firmer, more responsive hybrids.
The Mino Hybrid's sticker price falls well below average for this type of mattress and shipping is free within the contiguous U.S. You'll also receive a 180-night sleep trial with your purchase, ensuring ample time to test out the mattress and decide if it's right for you. Minocasa further backs this model with a 10-year manufacturer's warranty.
Diamond Flurry Lux Cooling Hybrid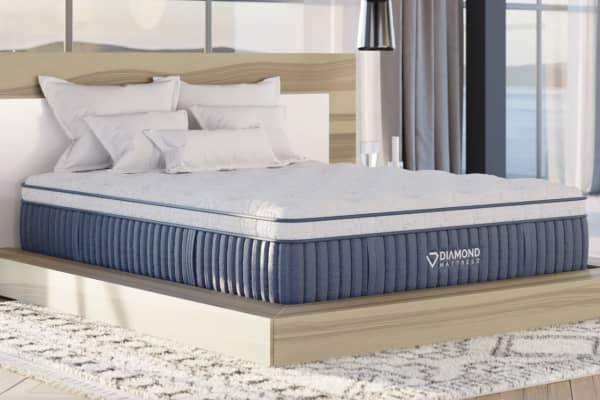 Warranty Lifetime, Limited

Trial Length / Warranty

120 nights / Lifetime, Limited

Firmness Medium (5), Firm (7)
Sleep Doctor's Take
The Diamond Flurry Lux Cooling Hybrid pairs a foam-cushioned Euro-top with pocketed coils, resulting in a comfortable balance of contouring and support. You can choose from two firmness levels, medium (5) or firm (7), depending on your body type and primary sleep position.
Euro-top hybrid design offers deep cushioning and sturdy overall support
Thick perimeter coils protect the edges from deep sinkage
Excellent temperature regulation thanks to breathable foam and steady internal airflow
Coils may generate disruptive motion transfer
Foam layers can absorb body heat to an uncomfortable degree
The Euro-top hybrid is one of the most luxurious mattress types on the market, but many of these models carry expensive sticker prices. The Diamond Flurry Lux Cooling Hybrid is on par with the average hybrid in terms of cost, making it relatively affordable compared to many competing Euro-top models.
How Does It Feel?
The Flurry Lux Cooling Hybrid's Euro-top is cushioned with proprietary Graphene foam, a material engineered to resist heat buildup. The hybrid's pocketed coils reinforce the sleep surface and promote steady airflow. Thicker coils line the perimeter, so you'll notice more pushback when you get in and out of bed, and uncomfortable sinkage shouldn't be an issue if you frequently sleep along the edges of your mattress.
Why We Like It
Two firmness levels are available. Our tests indicate the balanced firm (7) feel is best suited to side sleepers who weigh more than 230 pounds, as well as back and stomach sleepers in the range of 130 to 230 pounds. If you weigh less, the softer and more adaptive medium (5) feel may feel more comfortable.
We also found the mattress sleeps exceptionally cool, so we're recommending the mattress to anyone who considers themselves a hot sleeper. Edge support proved to be another major strength during our tests.
In addition to approachable pricing for the Flurry Lux Cooling Hybrid, Diamond offers free nationwide shipping. Your order includes a sleep trial that runs for 120 nights. If you decide to keep the mattress, you'll also receive a lifetime warranty covering structural defects for as long as you retain original ownership.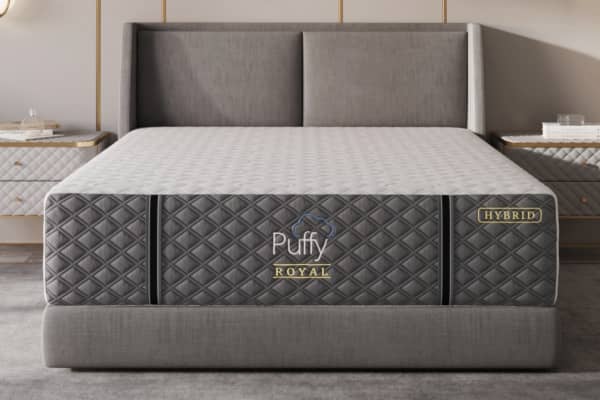 Warranty Lifetime, Limited

Trial Length / Warranty

101 nights / Lifetime, Limited
Sleep Doctor's Take
The Puffy Royal Hybrid is softer and more adaptive than the average hybrid model, allowing the mattress to contour closely and alleviate pressure points along the spine. We've also found the mattress isolates motion well, and the stain-resistant cover leaves your sleep surface looking pristine over time.
Gel-infused memory foam designed to wick away excess heat
Zoned polyfoam transition layer provides targeted support
Stain-resistant polyester cover
Too soft for many back and stomach sleepers
Thick foam layers can lead to uncomfortable heat retention
At 14 inches thick, the Royal Hybrid is Puffy's highest-profile model. Its height, generous layers of memory foam, enhanced cooling technology, and zoned support are likely to appeal to those looking for a luxurious sleep experience.
How Does It Feel?
A stain-resistant fabric covers the Royal Hybrid, followed by two 1.5-inch memory foam layers that contour the body. Plus, the top foam layer incorporates gel beads designed to dissipate heat. Next are two 2-inch layers of polyfoam. The first is a layer of Puffy's Climate Comfort polyfoam designed to increase airflow and reduce moisture — another element likely to appeal to hot sleepers. The second layer uses Puffy's Cloud Air Technology polyfoam with five zones to support the body's heaviest areas and promote good posture.
The core is made up of 6-inch pocketed coils that provide support and help prevent motion from transferring when you shift positions. The edges of the mattress are also reinforced with firm polyfoam, so most people should be comfortable sitting or lying on the perimeter.
Why We Like It
Body weight can have a significant impact on the feel of a mattress and how well it fits your needs. For example, our testers under 130 pounds enjoyed the Puffy Royal Hybrid's close-conforming foam comfort layers and medium (5) firmness level. Side sleepers between 130 and 230 pounds also appreciated its pressure-relieving foam. However, testers over 230 pounds found that they sank too deeply into the mattress to be comfortable.
Our tests showed that the foam layers do a great job of distributing weight and providing pressure relief, making this mattress a good choice for those who are more physically active or experience pain at pressure points. In our motion isolation tests, we found that the individually wrapped springs and the thick foam comfort system kept our testers from feeling too much motion coming from the opposite side of the bed. This means that the Puffy Royal Hybrid could be a good fit if you're likely to be disturbed by your partner's movements.
Puffy has free standard shipping in all 50 states. The Royal comes with a 101-night sleep trial and a limited lifetime warranty.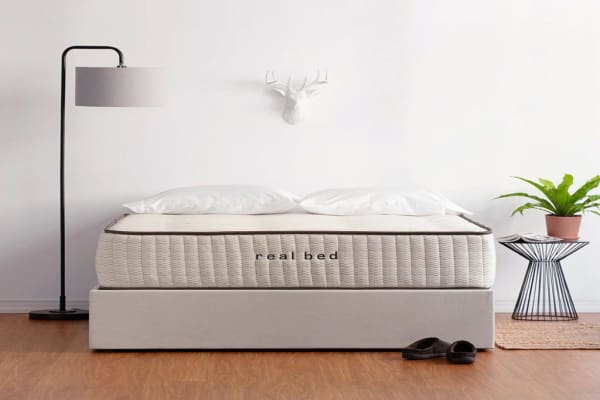 Warranty 25-Year, Limited

Trial Length / Warranty

100 nights / 25-Year, Limited
Sleep Doctor's Take
The Real Bed boasts a supportive, responsive latex hybrid design that excels at edge support and won't sink too much when you move across the surface. Breathable and moisture-wicking components make this mattress particularly well suited to hot sleepers.
Long-lasting latex hybrid design
Breathable, moisture-wicking materials ensure excellent cooling
Exceptionally responsive feel facilitates movement across the surface
Couples may notice excessive motion transfer
Limited pressure relief for side sleepers
Hybrids generally sleep cool because their coil systems promote steady internal airflow, but some hybrid models feature comfort layers that absorb and trap heat near the surface. The Real Bed is constructed with breathable materials that effectively regulate temperature throughout the night.
How Does It Feel?
Comfort layers of rayon, wool, and ventilated latex gently cradle the body to alleviate pressure buildup. Meanwhile, these naturally breathable materials circulate air throughout the mattress interior. The wool also has moisture-wicking properties to keep you dry on excessively hot or humid nights. Pocketed coils make up the support core, pushing back against your body to prevent sinkage. The coils rest on layers of latex and wool for extra support.
Why We Like It
Our tests also show the Real Bed is a solid choice for back and stomach sleepers thanks to the firm (7) feel. The testers on our team who primarily use these positions awarded very favorable ratings to the Real Bed. This was particularly true of our back and stomach sleepers who weigh at least 130 pounds.
The Real Bed's wool, natural latex, and GOTS-certified organic cotton cover should appeal to shoppers who prefer to buy and use sustainably made products.  Latex is a naturally responsive material, so you'll notice significant bounce when getting in and out of bed. This quality allows most people to move across the mattress without sinking or feeling stuck. Sturdy coil support makes the perimeter feel stable, so there shouldn't be deep sinkage when you sleep near the edges of the mattress or get in and out of bed.
The Real Bed's sticker price falls well below average for a latex hybrid and shipping is free throughout the contiguous U.S. You can also opt for full-service White Glove delivery, which costs $199. Each mattress order comes with a 100-night trial period, and those who keep their Real Bed also receive a warranty covering structural defects for up to 25 years.
Why You Should Trust Us
Our sleep experts analyzed hundreds of hybrid models to determine our top picks. Since our testers vary in sleeping position, body type, and firmness preferences, we can assess how different sleepers may experience a mattress.

Each tester takes a turn lying on the mattress. They tell us how soft or firm it feels, how closely it hugs their body, and their overall impressions. We also use tools and sensors for objective measures of a mattress' characteristics, such as temperature neutrality and motion isolation. We continue to revisit and update our analyses to account for changes in design and new product releases.
How to Buy a Hybrid Mattress Video
What Is a Hybrid Mattress?
A hybrid mattress generally contains a significant foam or latex comfort system paired with a coil support core. Most models have a balanced performance that combines the best qualities of multiple materials. Coil cores typically offer more bounce and airflow than all-foam options. Meanwhile, memory foam, polyfoam, and latex comfort systems provide more contouring than most traditional innerspring mattresses.
How They're Constructed
Two distinct sections consisting of different materials make up a hybrid mattress. The comfort system may contain foam, latex, microcoils, fiber, or a combination of these components, while the support core uses coils.
Pocketed Coil Cores
Hybrid mattresses typically feature pocketed coil support cores. Each coil is individually wrapped and compresses independently for enhanced contouring, motion isolation, and edge support. Some hybrids incorporate zoned pocketed coils with varying firmness levels for targeted pressure relief and ergonomic support.
Hybrid Mattress Comfort Layers
Hybrids differ from innerspring models because of their comfort systems. Innersprings typically have a thin layer of fabric or padding that separates the body from the coils, while a hybrid has a more substantial comfort system.
The most common materials used in hybrid mattress comfort layers are memory foam, polyfoam, and latex. Memory foam comfort layers are known for their conforming hug, while polyfoam generally contours less closely but responds more quickly to pressure changes. Latex has a bouncier and more responsive feel.
Microcoils, cotton, wool, polyester, or other components are also sometimes part of a hybrid's comfort system.
Why Should You Sleep on a Hybrid Mattress?
If you're looking for a mattress that balances support and comfort, a hybrid mattress may be right for you. All-foam mattresses can trap heat, while innerspring mattresses may not provide enough support. Hybrid mattresses, on the other hand, can suit many different sleepers. For example, if you share a bed, change positions throughout the night, or tend to sleep hot, you may benefit from a hybrid mattress.
You Sleep With a Partner
Because of their coil cores, hybrids are typically bouncier than all-foam options. Couples often appreciate this responsiveness for sex. At the same time, the thicker comfort layers and pocketed coils isolate more motion than typical innerspring models. If you're a light sleeper, you will probably find that sleeping on a hybrid cuts down on the amount of disturbance you experience when your partner moves around. Hybrids also usually have better edge support, so you can use more of the mattress surface without slipping off or feeling too crowded.
You Change Positions Often
A hybrid's pocketed coil core tends to limit sinkage, making it easier for combination sleepers to switch positions. Additionally, many hybrid models balance the contouring side sleepers typically prefer with the stable support back and stomach sleepers generally need. This makes a hybrid mattress a good fit for a wider range of sleepers.
You Sleep Hot
Traditional all-foam mattresses often trap heat. While many hybrids have foam comfort layers, air circulation through the coil core helps regulate temperature. Latex hybrids may be especially well suited for hot sleepers due to their breathable materials. However, many options with polyfoam or memory foam also have good temperature regulation. These cooling mattresses often incorporate specialty materials designed to draw heat away from the body.
Hybrid Mattresses vs. Memory Foam Mattresses vs. Innerspring Mattresses
A hybrid's performance usually differs from all-foam mattresses and innerspring models in a few areas. Most all-foam models provide good contouring and pressure relief, but they tend to trap heat and lack bounce. Innerspring mattresses often have great support, bounce, and temperature regulation, but they generally provide very little pressure relief and can transfer motion more than other kinds of mattresses. Hybrid models typically balance the performance attributes of foam and innerspring models.
| | Hybrid Mattresses | Memory Foam Mattresses | Innerspring Mattresses |
| --- | --- | --- | --- |
| | | | |
| | Memory Foam, Polyfoam, Latex, Fiber, Microcoils | | |
| | | | |
| | | | |
| | | | |
| | | | |
| | | | |
Hybrid Mattresses vs. Latex and Memory Foam Mattresses – Video
Our product experts got hands-on with hybrid, latex, and memory foam models to compare the pros and cons of each mattress type. Check out our video for deeper insights into the advantages and disadvantages of hybrid models.
Last Facts About Hybrid Mattresses
Considering a few additional key factors may simplify the process of choosing a hybrid mattress. The feel, cost, and durability can all make a difference.
How Does It Feel to Sleep on a Hybrid Mattress?
Hybrids usually have a balanced feel that both supports and cradles your body as you sleep. A hybrid's soft comfort system contours to relieve pressure in the shoulders and hips, while the sturdier support core limits sinkage to help keep the spine aligned. Most hybrids maintain a fairly neutral temperature due to air circulation through the coil core. Robust coil support systems also tend to provide more edge support, responsiveness, and bounce.
Out of all our testers, side sleepers in particular often appreciate the hybrid mattress' balance of support and contouring for the hips and shoulders. Back and stomach sleepers also consistently report that the coil core helps them feel supported. With the many different comfort system options available in hybrid mattresses, most sleepers can find a model that suits their needs.
How Much Does a Hybrid Mattress Cost?
On average, a hybrid mattress can range from around $1,600 to $2,200. Hybrids tend to cost more than all-foam or innerspring models because of their more complex constructions. However, the cost varies depending on the materials. Pocketed coils, natural latex, and proprietary foam formulations usually increase the price-point. More layers and thicker profiles can also add to the expense.
How Long Does a Hybrid Mattress Last?
The average lifespan of a hybrid mattress is 6 to 8 years, but it can extend further than that depending on a variety of factors, including the materials used in its construction. For example, latex hybrids often last longer because latex is quite durable. Pocketed coils are also usually more durable than other types of springs.