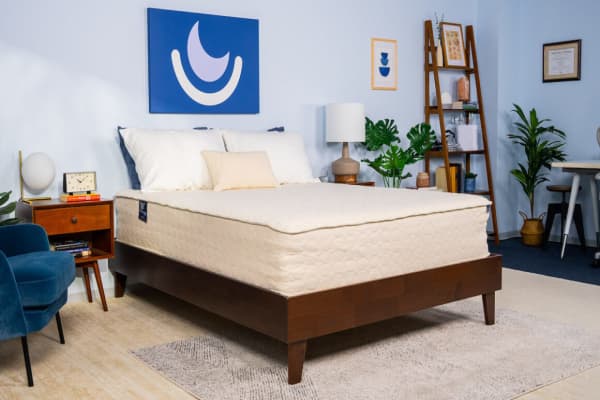 Type: Hybrid

Firmness: Medium (5)

Sizes: Twin, Twin XL, Full, Queen, King, California King

Price Range: $1,299 – $2,199

Warranty: Lifetime, Limited
Blend of bounce and pressure relief from a combination of Talalay latex and pocketed coils
Medium (5) firmness level suits sleepers under 230 pounds
Eco-conscious design incorporates organic, sustainable, and recycled materials without sacrificing quality or durability
Sleepers weighing more than 230 pounds may find the mattress to be too soft
Average levels of motion isolation may not be enough for those who are easily awoken by the movements of a bed partner
The gentle cradle of latex offers less pressure relief than the deeper contour of memory foam
Sleep Doctor's Take: EcoCloud Mattress
The EcoCloud is a latex hybrid with an appealing mix of comfort and support that is enhanced by sustainable, high-quality materials. Designed with Talalay latex and pocketed coils, the EcoCloud offers a sleep surface with gentle contouring, plenty of bounce, and excellent temperature neutrality.
WinkBeds EcoCloud Mattress: An Introduction
WinkBeds is an American mattress brand established in 2015. Their lineup of handcrafted mattresses are made in the U.S. using thoughtfully sourced materials. WinkBeds offers three mattress models including their memory-foam hybrid WinkBed and the all-foam GravityLux.
The EcoCloud is WinkBed's latex hybrid option that features natural, sustainable, and recycled components. With a medium (5) firmness level, the EcoCloud suits a wide range of sleepers and showed strong results in our testing.
We'll explore what it's like to sleep on the EcoCloud and go into detail about its ratings in key categories like pressure relief, ease of movement, and motion isolation. We'll also look at how much the EcoCloud costs, where you can buy it, and which sleepers are most likely to find it to be a match for their sleep needs.
How We Review
We've assembled a team of sleep product experts with different body types and sleep position preferences, and this team thoroughly researches and tests all of the mattresses we review. The result is informed and meaningful data that we use as the basis for our ratings. With this information, you can feel confident in the process of choosing the right mattress for your bedroom.
What's It Like to Sleep on the EcoCloud Mattress?
The EcoCloud is a hybrid mattress featuring a mid-range, medium (5) firmness level that works especially well for sleepers weighing less than 230 pounds. Bouncy Talalay latex in the comfort layer and durable coils in the support core give the EcoCloud a springy, highly responsive feel.
The mattress is also lightly conforming, giving gentle pressure relief while making it easy to change sleeping positions. The EcoCloud's materials resist heat retention, so the mattress can be an appealing choice for those who are worried about sleeping hot.
Overall, the EcoCloud is a highly versatile mattress that boasts sustainable materials and can meet the needs of a broad range of sleepers.
EcoCloud Mattress Pros and Cons
Balance of comfort and support from latex and pocketed coils
Medium (5) firmness works for a wide range of people
Highly responsive mattress surface that's easy to move around on
Sleeps cool thanks to temperature-neutral and airflow-promoting materials
Lacks enough firmness to prevent sinkage for sleepers over 230 pounds
Less motion isolation means sleepers may be disturbed by movement on the other side of the bed
Lighter conforming capability may not offer enough pressure relief for some people
Sleeping Positions, Body Weight, and Firmness
The most comfortable firmness level varies by person, but in general, the mattress that offers the most support and comfort is one that suits your sleeping position and body weight in order to promote spinal alignment. Side sleepers and sleepers who weigh less than 130 pounds typically prefer mattresses that are softer and more conforming, while back and stomach sleepers and those weighing more than 230 pounds tend to prefer a firmer mattress.
Our testers determined that the EcoCloud was a 5 on our 10-point firmness scale. This means the mattress represented a middle ground that can work for a wide range of people.
WinkBeds EcoCloud Sleeper Ratings
| | Under 130 lbs. | 130-230 lbs. | Over 230 lbs. |
| --- | --- | --- | --- |
| Side Sleepers | 5/5 | 4/5 | 2/5 |
| Back Sleepers | 5/5 | 4/5 | 3/5 |
| Stomach Sleepers | 3/5 | 3/5 | 3/5 |
Side Sleepers
The EcoCloud's balance of comfort and support garnered high praise from our side sleeping testers under 230 pounds. In particular, those weighing less than 130 pounds enjoyed the gentle contour of the Talalay latex and the targeted support of the pocketed coils. However, testers weighing over 230 pounds were less satisfied as they felt that they were at times sinking too far into the latex.
Back Sleepers
Our back sleeping testers under 130 pounds found that the EcoCloud delivered exemplary support. Those weighing between 130 and 230 pounds were also highly impressed, citing an effective mix of pressure relief and sturdiness around the midsection that kept the spine aligned. For our back sleepers weighing more than 230 pounds, the EcoCloud lacked enough firmness to be a great fit, but its innerspring coils provided just enough pushback to earn an average score.
Stomach Sleepers
In our tests, stomach sleepers of all body weights found that the EcoCloud was acceptable but not optimal. The latex and coils didn't sag excessively under the abdomen, but our stomach sleepers did detect more softness and sink than they would ideally have in a mattress. While this mattress might not be the perfect fit for stomach sleepers, it can be a viable option for stomach sleepers who share a bed with someone who sleeps on their side or back.
During our in-lab tests, we rated the EcoCloud Mattress across multiple key performance categories using a 5-point scale with one being poor and five being excellent.
Pressure Relief
Rating: 3/5
Latex typically offers less pressure relief than foam, and the EcoCloud's comfort layer is no exception. It's not quite as effective as memory foam at cradling areas like the shoulders and hips. However, its springy responsiveness and light conforming do promote spinal alignment, and this level of pressure relief is sufficient for many people.
Temperature Neutrality
Rating: 4/5
The EcoCloud is a solid option for people who want to avoid sleeping hot. One of the distinct advantages of latex is its natural temperature neutrality. The EcoCloud takes this a step further by using latex with an open-cell structure to maximize breathability. The underlying support coils allow for additional cooling airflow, and the cover is made with fabrics that help wick moisture away from the body. Together, these materials did an effective job of keeping the sleep surface cool when we evaluated the mattress in our sleep lab.
Motion Isolation
Rating: 3/5
In our tests, the EcoCloud Mattress scored about average for motion isolation. In general, latex is not as good as foam at dampening a bed partner's movements. The springs add additional bounce that can also contribute to motion transfer. While sleepers won't feel heavy vibrations from movement on the other side of the bed, this mattress may not be the ideal choice for people who are easily awoken during the night and share their bed with a partner or pet.
Edge Support
Rating: 4/5
Our testers experienced significant edge support from the EcoCloud Mattress. The EcoCloud's design features firmer springs around the perimeter of the mattress. Combined with the sturdy nature of its latex comfort layer, the edges of the EcoCloud resist collapsing when under pressure. This superior edge support makes it easier to get into and out of bed and allows sleepers to more effectively use the entire surface area of the mattress.
Durability
Rating: 5/5
Latex tends to be a very durable material, and the Talalay latex in the EcoCloud is thoughtfully sourced and carefully manufactured. The steel coils in the EcoCloud are triple tempered, making them stronger than many other innerspring or hybrid options. WinkBeds also stands behind its American-made mattress, offering a generous lifetime warranty.
Given EcoCloud's high-end materials and construction, we expect the mattress to meet or even exceed the standard lifespan of hybrid mattress of 6.5 to 7.5 years. However, the durability of a mattress can vary based on individual factors and whether it is properly cared for.
Ease of Movement
Rating: 5/5
The EcoCloud got excellent marks for ease of movement in our testing. The thick Talalay latex layer works in conjunction with the pocketed coils to give the mattress a buoyant and bouncy feel. As a result, our sleepers never felt stuck in the bed and were able to easily adjust their sleeping position.
Sex
Rating: 5/5
The EcoCloud Mattress has all of the characteristics that make a mattress appealing for sex. Its ultra-responsive latex comfort layer and bouncy support core make it quick and easy to move on top of the mattress. The medium (5) firmness level gives just enough cushioning, and the resistance to heat buildup keeps the mattress a cool temperature.
Off-Gassing
Rating: 4/5
Our testing team found very little off-gassing or smell associated with the EcoCloud. Natural latex does not give off the same volatile organic compounds (VOCs) that can be off-gassed by foam mattresses. The steel coils also do not produce any significant odors. While it's normal to detect a very light odor right after unboxing the EcoCloud, any smell will go away rapidly.
What Is the WinkBeds EcoCloud Mattress Made Of?
The EcoCloud's quilted cover blends cotton that is certified organic by the Global Organic Textile Standard and New Zealand wool, creating an exterior that is moisture-wicking and breathable. The comfort layer is 4 inches of Talalay latex that has a zoned construction to give extra support to the midsection. The latex is certified by the Rainforest Alliance, reflecting the company's commitment to sustainable materials.
The support core is made with durable recycled steel coils that are zoned to give extra reinforcement to the body's heaviest areas. The reinforced perimeter is designed to resist sagging around the edges.
In addition to its other certifications, the EcoCloud is OEKO-TEX Standard 100 certified to be free of a long list of harmful chemicals.
Construction Layers
| Mattress Construction Layers | Details |
| --- | --- |
| Cover Material | Organic cotton and New Zealand wool |
| Comfort Layers | 4" zoned Talalay latex |
| Support Core | Pocketed, recycled steel coils with zoned construction and reinforced perimeter |
How Much Does the EcoCloud Mattress Cost?
The EcoCloud Mattress has an accessible price point for a hybrid mattress, especially one with its sustainable materials and robust design.
The EcoCloud's hybrid construction means its price will generally be higher than comparable beds that feature a single material. Using latex in the comfort layer is also a costlier choice than using foam. Factoring in that it has other high-quality components and is made in the U.S., shoppers might expect to pay luxury-model prices. However, with a price that's squarely in the mid-range of most hybrid mattresses, the EcoCloud represents a solid value.
| Sizes | Price | Dimensions | Height | Weight |
| --- | --- | --- | --- | --- |
| Twin | $1,399 | 38" x 75" | 12.5" | 78 lbs. |
| Twin XL | $1,499 | 38" x 80" | 12.5" | 81 lbs. |
| Full | $1,699 | 54" x 75" | 12.5" | 100 lbs. |
| Queen | $1,999 | 60" x 80" | 12.5" | 117 lbs. |
| King | $2,399 | 76" x 80" | 12.5" | 135 lbs. |
| California King | $2,399 | 72" x 84" | 12.5" | 135 lbs. |
Which WinkBeds Mattress Is Right for You?
The latex hybrid EcoCloud is one of three mattress models in the WinkBeds lineup. The brand has another hybrid mattress, the flagship WinkBed, which features polyfoam in the comfort layer. That mattress is a good option for those who want a hybrid's balance of comfort and support but prefer foam's deeper contouring and pressure-relieving capabilities. The WinkBed is available in four firmness levels, offering more options to suit individual comfort preferences.
The brand's other model is the all-foam GravityLux. This mattress uses memory foam in the comfort layer for maximum cradling of the body's curves and pressure points. The GravityLux is offered in three different firmness levels.
WinkBeds Mattresses at a Glance
| Model | Firmness | Mattress Type | Height | Base Price (Queen) |
| --- | --- | --- | --- | --- |
| WinkBed | Medium Soft (4), Medium Firm (6), Firm (7), Firm (8) | Hybrid | 13.5" | $1,799 – $1,999 |
| EcoCloud | Medium (5) | Hybrid | 12.5" | $1,999 |
| GravityLux | Medium Soft (4), Medium (5), Firm (7) | Foam | 11" | $1,799 |
Discounts and Coupons
WinkBeds runs frequent sales that often coincide with holidays and three-day weekends. Certain groups like current and former U.S. military members and their families, first responders, and healthcare workers can access special discounts.
Where Can You Buy the WinkBeds EcoCloud Mattress?
The EcoCloud is available online via the Winkbeds company website. This direct-to-consumer business model allows WinkBeds to keep their overhead low and offer competitive pricing. The company offers a 120-night sleep trial with free returns and a full refund of the purchase price.
In addition, WinkBeds has made the EcoCloud available to try in 13 brick-and-mortar showrooms across the country. However, take note that these are display models only. Purchases may still only be made online.
| | Buying Information and Customer Policies |
| --- | --- |
| Availability | The EcoCloud is available exclusively through the Winkbeds website. Although all purchases must be made online, shoppers are able to try out the WinkBeds models in 13 brick-and-mortar showrooms in New York, Virginia, Florida, Massachusetts, California, Minnesota, Illinois, Ohio, and Texas. |
| Shipping | WinkBeds ships to all 50 U.S. states. Shipping is free to the contiguous 48 states, but an additional fee applies to shipments made to Alaska and Hawaii. Mattresses arrive compressed, rolled, and sealed in plastic that is shipped inside a box. The mattress usually arrives within two weeks of placing an order. Once it arrives, the mattress needs to be removed from the packaging so that it can decompress and regain its full size. |
| Sleep Trial | WinkBeds offers a 120-night sleep trial with a requirement that you keep and try the mattress for a minimum of 30 nights. After 30 nights, you can initiate a return or exchange. Returns within the trial period are free and eligible for a full refund. |
| Warranty | WinkBeds offers the original owner of the EcoCloud a limited lifetime warranty that covers excessive sagging and other manufacturing flaws. Under the warranty, WinkBeds will replace a faulty mattress with a new one of the same model and size for free. |
Is the EcoCloud Mattress Good for Side and Back Sleepers?
The EcoCloud is a good choice for side and back sleepers who weigh less than 230 pounds. Those weighing more than 230 pounds may not find enough firmness and support to prevent the hips and midsection from sinking too deeply into the mattress.
Will Combination Sleepers Enjoy the EcoCloud Mattress?
For combination sleepers, there's a lot to like about the EcoCloud. The mattress is versatile, performing well for sleepers under 230 pounds no matter their sleep position. Plus, super-responsive latex and targeted pushback from the pocketed coils make it easy for people to adjust their position when sleeping on the EcoCloud.
Is a Latex Hybrid Better than a Memory Foam Hybrid?
Both latex and memory foam can be effective in the comfort layer of a hybrid mattress.
Which one is a better choice comes down to your personal preferences and the performance characteristics that are most important to you. Latex is springy, reacting quickly to changes in position and offering buoyant support that resists heat buildup and prevents you from feeling stuck in the bed. Memory foam conforms to the body, and this deep hug typically offers more pressure relief and motion isolation.
Will the EcoCloud Hybrid Get Softer Over Time?
While all mattresses eventually get softer over time, Talalay latex is a durable material that stands up very well to normal use. In the EcoCloud, this latex is combined with other quality components like robust innerspring coils, organic cotton, and New Zealand wool that should hold up well over the lifespan of the mattress.