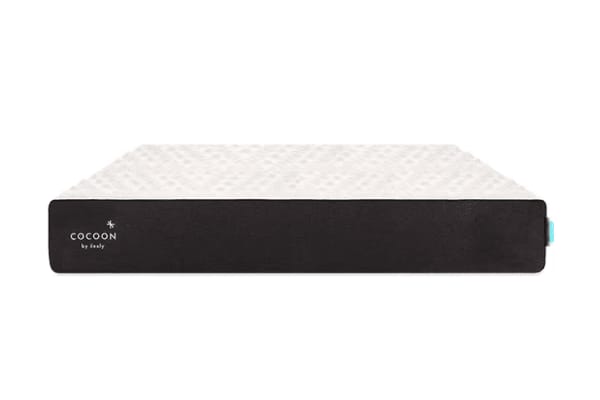 Type: Foam

Firmness: Medium Firm (6)

Sizes: Twin, Twin XL, Full, Queen, King, California King

Price Range: $619 – $1,389

Warranty: 10 Year, Limited
Above-average motion isolation and pressure relief
Suits a wide range of body types and sleep positions
100-night sleep trial
Side and back sleepers between 130 and 230 pounds
Hot sleepers
Couples
Cocoon Chill Mattress: Our Verdict
Sealy has been in the mattress business for over 140 years, and the Cocoon Chill Mattress represents one of the brand's newer offerings. This mattress takes advantage of an all-foam design to offer both support and comfort while building in design elements intended to prevent the mattress from sleeping hot.
The Cocoon Chill Mattress is worth considering for budget-conscious shoppers who want a mattress that performs well without the high-end price-point. That said, Sealy does offer optional upgrades that incorporate materials engineered to further reduce heat buildup.
As a memory foam mattress with a medium firm (6) feel, the Cocoon Chill Mattress will likely best suit side and back sleepers who weigh between 130 and 230 pounds. Our tests also found that it effectively stopped motion transfer, making it a good choice for anyone who shares their bed with a partner or pet.
Cocoon Chill Mattress: An Introduction
Sealy is a well-known brand offering a wide range of mattresses and sleep products. Launched in 2016, the Cocoon Chill is a newer all-foam model. It includes both memory foam and polyfoam in the comfort system, which is supported by a thick polyfoam support core. The phase change material used in the cover is designed to help with temperature regulation.
For sleepers who want a little more temperature regulation, Sealy offers the option of upgrading to their Extra-Chill Technology. This design includes additional phase change material in the comfort layer and specialty yarns that are woven into the cover.
We'll discuss what it's like to sleep on the Cocoon Chill Mattress and provide our ratings in key performance categories. We'll also cover the mattress' materials, construction, and overall value.
How We Review
Our team uses a rigorous product testing methodology to evaluate mattresses like the Cocoon Chill. We test each mattress in several performance categories and assess how well they work for various sleep styles and body shapes. This information can help you select the best mattress for you.
What's It Like to Sleep on the Cocoon Chill Mattress?
The Cocoon Chill Mattress provides a medium firm (6) feel with notable body contouring. For many sleepers, this feel provides a solid balance of comfort, firmness, and pressure relief. Because of its all-foam construction, the Cocoon Chill isolates motion isolation well, which can significantly cut down on how much you notice your bed partner's movement.
The Cocoon Chill provides significant benefits but also has some potential drawbacks. Knowing about these characteristics can help determine whether this mattress will work for you.
Cocoon Chill Mattress Pros and Cons
Contouring foam does a good job of relieving pressure
High level of motion isolation decreases sleep disruptions from a partner's movement
Phase change material in the cover is designed to reduce excess heat buildup
Only available in medium firm (6)
May be too firm for side sleepers under 130 pounds and not firm enough for some people over 230 pounds
Below-average edge support reduces stability around the perimeter of the mattress
Sleeping Positions, Body Weight, and Firmness
The Cocoon Chill is a medium firm (6) on our 10-point firmness scale. This means it has a relatively firm feel but also offers considerable give, thanks to its all-foam construction. Mattresses with medium firmness ratings tend to appeal to the widest range of sleepers.
When evaluating a mattress, it's important to remember that factors like body weight and body position during sleep can influence a bed's comfort level. Our testing team considers these factors when trying out and rating mattresses in order to provide accurate and relevant evaluations.
Most of our testers felt comfortable on the Cocoon Chill. However, it was a little too firm for our side sleepers under 130 pounds. The stomach sleepers on our team liked the mattress but would have preferred something a little firmer.
Cocoon Chill Mattress Ratings
| | Under 130 lbs. | 130-230 lbs. | Over 230 lbs. |
| --- | --- | --- | --- |
| Side Sleepers | 2/5 | 4/5 | 3/5 |
| Back Sleepers | 3/5 | 5/5 | 3/5 |
| Stomach Sleepers | 3/5 | 3/5 | 3/5 |
Side Sleepers
In our testing, side sleepers between 130 and 230 pounds found that the Cocoon Chill Mattress offered solid support for the hips, shoulders, and neck. The mattress was slightly less comfortable for side sleepers over 230 pounds, who felt they didn't get enough support. Side sleepers on our team who weighed under 130 pounds found the Cocoon Chill too firm.
Back Sleepers
Typically, a back sleeper needs a firmer mattress to keep their spine aligned. Back sleepers between 130 and 230 pounds got the most spinal support from the Cocoon Chill, while those under 130 pounds and over 230 pounds found moderate levels of comfort and support.
Stomach Sleepers
Stomach sleepers are usually most comfortable on a mattress with enough firmness to limit how much their midsection sinks into the bed. As a medium firm (6) mattress, the Cocoon Chill may appeal to some stomach sleepers, while others find it a little too soft.
Our testing team rated the Cocoon Chill Mattress in several performance categories using a 5-point scale. A score of five means the performance was excellent, while a score of one means it was poor.
Pressure Relief
Rating: 4/5
All-foam mattresses typically offer a high level of pressure relief, which means that they can prevent pressure points from forming at the shoulders, hips, and lower back. The memory foam layer in the Cocoon Chill Mattress closely contours to the body without letting you sink in too deeply.
Temperature Neutrality
Rating: 3/5
Mattresses with memory foam comfort layers tend to sleep hotter than other types of mattresses. This is because memory foam contours closely to your body, which can trap heat and block airflow. The Cocoon Chill has phase change material in its cover, which is designed to maintain temperature balance. While this helps keep the mattress cool to a certain degree, it may still be too warm for people who typically sleep hot.
Motion Isolation
Rating: 4/5
The Cocoon Chill's all-foam construction, especially the memory foam comfort layer, prevents a significant amount of motion transfer across the surface of the bed. Because the foam absorbs vibrations, you're less likely to feel your partner's movements throughout the night.
Edge Support
Rating: 2/5
A sturdy perimeter provides a mattress with a stable sleep surface, making it easier to get into and out of bed. Because of their tendency to compress under weight, all-foam mattresses don't usually have good edge support. This is true of the Cocoon Chill Mattress, which our testers found offered below-average support around its edges.
Durability
Rating: 2/5
All-foam mattresses can be less durable than other mattress types because of the potential for the foam to sag or soften over time. Consequently, the Cocoon Chill Mattress isn't likely to last as long as a hybrid or latex bed. That said, it's important to remember that the durability of any mattress depends on its proper use and may be affected by a sleeper's body weight and sleep position.
Ease of Movement
Rating: 3/5
Because they conform to your body, many all-foam beds can restrict your ability to move around on the mattress. However, the Cocoon Chill's medium firm (6) feel allowed it to perform fairly well in this area, particularly for a foam mattress.
Sex
Rating: 2/5
The top comfort layer of the Cocoon Chill mattress is made with memory foam, which is slow to spring back to its original shape when you move on top of it. As a result, the mattress doesn't have a particularly bouncy surface, making it less than ideal for sex. The below-average edge support may also allow for less surface area to move around.
Off-Gassing
Rating: 2/5
All of the foam used in the Cocoon Chill is certified by CertiPUR-US, which means it is free of many hazardous chemicals. However, we found that there was still a fairly significant amount of off-gassing, which occurs when volatile organic compounds (VOCs) are released during the process of setting up a new mattress. VOCs are generally considered harmless, but if you're concerned about the smell, you may want to leave the bed in a well-ventilated area so that it dissipates more quickly.
What Is the Cocoon Chill Mattress Made Of?
The Cocoon Chill Mattress has three foam layers. The comfort system is made with a top layer of memory foam and a second layer of supportive polyfoam. Underneath, a thicker polyfoam layer makes up the support core. These foams have been certified to be free of common harmful chemicals, according to the standards required by CertiPUR-US.
The mattress' cover is made with phase change material that is intended to help the mattress sleep cool by dissipating heat.
Cocoon Chill Construction Layers
| | |
| --- | --- |
| Cover Material | Phase Change Material |
| Comfort Layers | Memory Foam, Polyfoam |
| Support Core | Polyfoam |
Are Other Mattress Types and Upgrades Available?
Sealy offers different versions of the Cocoon Chill Mattress. One alternative version is the Cocoon Chill Hybrid, which is a taller model that includes a combination of foam and pocketed coils. Another version of the Cocoon Chill is available with Sealy's Extra-Chill Technology, which incorporates phase change material into the layers below the cover.
Cocoon Chill Hybrid Mattress
The Cocoon Chill Hybrid Mattress uses a similar type of foam comfort system as the all-foam Cocoon Chill Mattress. The primary difference is that the Cocoon Chill Hybrid has a support core of pocketed coils instead of polyfoam. This change in design adds two inches to the mattress' thickness, giving the Cocoon Chill Hybrid a 12-inch profile.
Compared to the all-foam model, the Cocoon Chill Hybrid rates a little higher in edge support, temperature neutrality, and ease of movement. The pocketed coils add bounce while helping to support the bed's perimeter. Coils also resist heat buildup, which improves temperature regulation in the Cocoon Hybrid.
Extra-Chill Technology Upgrade
For an additional charge, you can opt to include Extra-Chill Technology in your Cocoon Chill Mattress. This upgrade includes an addition of phase change material to both of the top two foam layers, along with specialty yarns in the cover that are designed to help the mattress sleep cooler. The Extra-Chill Technology is intended to counteract some of the heat retention common to foam.
How Much Does the Cocoon Chill Mattress Cost?
Prices for memory foam beds can vary considerably, and the Cocoon Chill Mattress has a mid-range price point that is well-suited for many shoppers looking for an affordable mattress. 
On top of the base price, there is an option to add Sealy's Extra-Chill Technology to the Cocoon Chill. The Cocoon Chill is also available as the Cocoon Chill Hybrid, a hybrid version of the mattress, which has a pocketed coil support core.
| Sizes | Dimensions | 10" Memory Foam Price | 12" Hybrid Price |
| --- | --- | --- | --- |
| Twin | 38" x 75" | $769 | $1,139 |
| Twin XL | 38" x 80" | $869 | $1,309 |
| Full | 53" x 75" | $969 | $1,469 |
| Queen | 60" x 80" | $1,239 | $1,699 |
| King | 76" x 80" | $1,539 | $1,999 |
| California King | 72" x 84" | $1,539 | $1,999 |
Discounts and Coupons
Sealy provides various sales and discounts throughout the year, which you can find on their website. Deals from Sealy often involve reduced prices and a free bedding kit with your mattress. The bedding kit is a bundle that includes a set of pillows, pillowcases, and sheets.
Where Can You Buy the Cocoon Chill Mattress?
Although Sealy does stock some of its mattress models in brick-and-mortar stores, the Cocoon Chill Mattress is only available from their website. With this online purchase, the Cocoon Chill Mattress ships for free and is covered by a 100-night sleep trial and a 10-year limited warranty.
| | Buying Information and Customer Policies |
| --- | --- |
| Availability | The Cocoon Chill is only available on Sealy's website. The company ships to all 50 U.S. states but does not yet offer international shipping. |
| Shipping | Customers in the contiguous U.S. receive free shipping via UPS Ground. Orders to Alaska and Hawaii may incur additional shipping charges. The mattress arrives compressed in a box, and the company includes unboxing instructions. It will take up to 48 hours for the Cocoon to fully decompress, but you can sleep on the mattress as soon as it is unboxed. |
| Additional Services | Sealy does not offer White Glove delivery on the mattress alone. If you purchase an Ease Power Base with your mattress, the company provides free White Glove delivery, including setup and old mattress disposal. |
| Sleep Trial | Sealy offers a 100-night sleep trial but recommends trying out the mattress for at least 30 nights before initiating a return. The company offers a full refund on returns during the trial period. Returned mattresses are donated to local organizations. |
| Warranty | A 10-year limited warranty covers the Cocoon Chill Mattress. Sealy will repair or replace your mattress if it shows manufacturing defects, including significant premature indentations or other physical flaws. Sealy's warranty does not cover typical wear and tear or damage from improper use. |
Cocoon Chill Mattress FAQ
Is the Extra-Chill Technology Upgrade Worth It?
The Extra-Chill Technology upgrade may be worth considering for hot sleepers. The additional phase change material in the memory foam layer and mattress cover are designed to boost the Cocoon Chill's cooling properties. However, as an all-foam bed, this mattress may still retain more heat than other mattress types.
Does the Cocoon Chill Mattress Arrive in a Box?
The Cocoon Chill Mattress comes compressed, sealed in plastic, and shipped in a box. When it arrives at your home, simply remove the mattress from the box, place it on a foundation, and then remove the plastic. After that, you only need to unroll the mattress and allow it to decompress fully.
How Long Does the Cocoon Chill Mattress Take to Expand?
The mattress only takes about a minute to expand, but it can take up to 48 hours to completely decompress to its full size. However, it's safe to sleep on the mattress almost immediately.
Does the Cocoon Mattress Need a Box Spring?
The mattress requires a box spring or a frame with slats. The slats must have a width of 3 inches or more with a maximum distance between the slats of 4 inches. Sealy recommends using their flat foundation for the Cocoon Chill Mattress, but traditional box springs work, too.
Are Cocoon by Sealy Mattresses Made With Safe Materials?
The foams used in Sealy's mattresses are certified by CertiPUR-US. This non-profit organization tests foam products for common harmful chemicals, including formaldehyde, lead, and heavy metals.