Purple Hybrid Mattress Review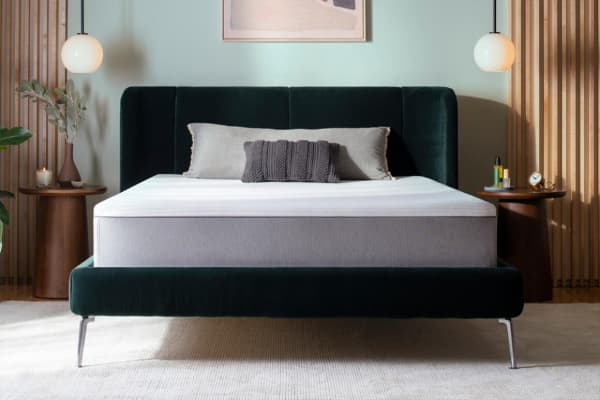 Type: Hybrid

Firmness: Medium Firm (6)

Sizes: Twin XL, Full, Queen, King, Split King, California King

Price Range: $1,899 – $3,598

Warranty: 10 Year, Limited
2-inch Purple GelFlex Grid prevents pressure points and provides support
Individually wrapped stainless steel coils encourage responsiveness
Combination of comfort layers and coils helps you sleep cool
Side and back sleepers
Stomach sleepers under 230 pounds
Anyone who shares a bed
Purple Hybrid Mattress: Our Verdict
The Purple Hybrid Mattress is ideal for side and back sleepers, as well as stomach sleepers under 230 pounds. The mattress' medium firm (6) feel and good contouring help you maintain healthy spinal alignment.
This multilayer mattress balances pressure relief and support. The Purple GelFlex Grid prevents pressure points from forming around the shoulders and hips while still providing support to the back and legs.
The Purple Hybrid Mattress did well across all performance areas. In particular, our testers reported that it was easy to move on, and heat retention tests showed that the surface stayed relatively cool. We detected very little off-gassing, and our testers noted that they could change positions on the mattress without disturbing each other.
Purple Hybrid Mattress: An Introduction
Available in six sizes with optional bed frame add-ons, the Purple Hybrid Mattress is one of Purple's three hybrid mattress options. It combines the supportiveness of wrapped stainless steel coils with the contouring properties of the brand's signature Purple GelFlex Grid. The mattress features 2 inches of the Purple Grid, a buckling column gel that provides a balance of contouring and support.
We'll discuss our test results for the Purple Hybrid Mattress, including how it performed in areas like temperature neutrality, pressure relief, and edge support. We'll also provide our recommendations for which kinds of sleepers are most likely to enjoy it.
How We Review
We base our reviews on comprehensive hands-on examinations conducted by a diverse group of experienced testers. Our tests cover a variety of performance areas, including pressure relief, temperature neutrality, motion isolation, edge support, and durability.
What's It Like to Sleep on the Purple Hybrid Mattress?
Our testers reported that the Purple Hybrid Mattress does a good job of cradling the body to alleviate pressure points, such as the shoulders and hips. At the same time, the rest of the body still gets good support from the combination of the comfort system and the coils.
The mattress' ability to quickly reshape as you adjust positions encourages easy movement. It also sleeps cool throughout the night, thanks to the design of the Purple Grid, which allows for good airflow.
Purple Hybrid Mattress Pros and Cons
Combination of coils and proprietary buckling column gel enable ample airflow and good temperature control
2-inch Purple GelFlex Grid provides solid pressure relief
Responsive materials make it easy to move on the mattress
May produce a slight off-gassing odor
Not suited to stomach sleepers who weigh more than 230 pounds
Not available in a twin size
Sleeping Positions, Body Weight, and Firmness
The Purple Hybrid Mattress is medium firm (6), meaning it sits just above the middle of our 10-point firmness rating scale (1 being extra soft and 10 being extra firm). This firmness rating makes the Purple Hybrid Mattress ideal for most side and back sleepers, who usually like mattresses in this middle range.
While there are general trends when it comes to which mattress works best for which kind of sleeper, your personal preference may vary. Elements like body weight and sleep position can both affect which mattress firmness provides you with the best balance of comfort and support.
Purple Hybrid Mattress
| | Under 130 lbs. | 130-230 lbs. | Over 230 lbs. |
| --- | --- | --- | --- |
| | | | |
| | | | |
| | | | |
Side Sleepers
In general, most of our side sleeping testers felt comfortable on the Purple Hybrid Mattress. Side sleepers weighing between 130 and 230 pounds gave it the highest scores, probably because this mattress' firmness is within the medium firm to firm range that side sleepers typically prefer.
Back Sleepers
Similar to side sleepers, our back sleeping testers between 130 and 230 pounds also enjoyed the feel of this mattress and reported that it offered them good support without too much sagging. However, back sleepers weighing over 230 pounds didn't get quite as much support as sleepers in other weight categories.
Stomach Sleepers
Our stomach sleeping testers under 230 pounds found the mattress provided a good balance of support and contouring. However, stomach sleepers over 230 pounds reported that they sank in too deeply for comfort.
Our product testers rate mattress performance on a 5-point scale, which ranges from 1 (poor) to 5 (excellent). When rating the Purple Hybrid, we reviewed test results for areas like pressure relief, temperature neutrality, and motion isolation.
Pressure Relief
Rating: 3/5
The Purple Hybrid Mattress includes a 2-inch layer of proprietary Purple GelFlex. This hyper elastic material is shaped into a grid that contours to the body and provides good pressure relief. Our testers reported feeling like they were sinking slightly into the mattress, particularly around the hips and shoulders, but without the close hugging sensation that you sometimes find in memory foam mattresses.
Temperature Neutrality
Rating: 5/5
Our heat retention tests showed that the Purple Hybrid Mattress has good air circulation and is likely to sleep cool. The combination of pocketed coils and the Purple Grid's air channels enable easy airflow through the mattress, making the Purple Hybrid a good choice for those who sleep hot.
Motion Isolation
Rating: 4/5
Motion isolation refers to whether a sleeper can feel movement on another area of the mattress. This makes it a key factor for those who sleep with a partner. Because of their springy layer of coils, hybrid mattresses are often less adept at motion isolation than other mattress types. However, the Purple Hybrid's GelFlex Grid provides enough contouring to prevent significant motion transfer, which can help ensure uninterrupted sleep for couples and others who share a bed.
Edge Support
Rating: 4/5
Like many hybrid mattresses, the Purple Hybrid Mattress has very good edge support. This means it should be fairly easy to sleep closer to the edge of the mattress without sinking in. Edge support is also important for those with mobility issues who might have trouble getting into and out of bed.
Durability
Rating: 3/5
Determining a mattress' lifespan and overall durability can be difficult, given how many factors are involved. However, based on the Purple Hybrid's construction and our evaluation of the materials used to make it, this mattress is likely to last the typical six to eight years we'd expect from a hybrid mattress. The combination of 2.5 inches of Purple Grid and 7.5 inches of pocket coils is designed to prevent significant sagging, leading to a more durable mattress.
Ease of Movement
Rating: 5/5
Thanks to its bouncy layer of individually wrapped coils, the Purple Hybrid Mattress is extremely responsive and easy to move on. Additionally, the Purple Grid reacts quickly to any movement, conforming under weight and then springing back when the weight is removed. This construction makes it easy to move on the mattress without sinking in too deeply.
Sex
Rating: 4/5
The Purple Hybrid Mattress is bouncy and easy to move on, making it a good mattress for sex. The individually wrapped coils reduce noise caused by movement on the mattress, and the GelFlex Grid provides good support and conforming during sexual activity.
Off-Gassing
Rating: 4/5
Our tests showed that the Purple Hybrid Mattress produces minimal off-gassing of volatile organic compounds, or VOCs. VOCs are associated with synthetic materials and the compression process used to ship mattresses. They are generally believed to be harmless, but the smell can be unpleasant. We recommend leaving the mattress in a ventilated room for several nights until the odor dissipates.
What Is the Purple Hybrid Mattress Made Of?
The Purple Hybrid Mattress begins with a cover made of a blend of polyester, viscose, and lycra designed to be soft, stretchy, and breathable.
The top comfort layer contains 2 inches of Purple GelFlex Grid, which consists of hyper elastic polymer covered with a nontoxic, moisture-wicking treatment. The Purple Grid is a proprietary design meant to provide both contouring and support. Beneath that, there's a .5-inch layer of polyfoam.
The support core includes 7.5 inches of individually wrapped springs, followed by a 1-inch polyfoam base.
Purple Hybrid Mattress Construction Layers
Mattress Construction Layers

Details

Top Panel – Polyester
Side Panel – Polyester, Rayon, Cotton
Non-Slip Bottom Panel – Polyester, Acrylic Latex

2" Buckling Column Gel
1" Polyfoam

7.5" Pocketed Coils (13.75 gauge)
.5" Polyfoam
How Much Does the Purple Hybrid Mattress Cost?
The cost of a Purple Hybrid Mattress is on par with the average cost of a hybrid mattress. The mattress' price varies based on size and add-ons. Shoppers can also add three types of accident protection plans, as well as a bed frame.
| Size | Price | Dimensions | Height | Weight |
| --- | --- | --- | --- | --- |
| | | | | |
| | | | | |
| | | | | |
| | | | | |
| | | | | |
| Split King | | | | 154 lbs. |
Which Purple Hybrid Mattress Is Right for You?
Every sleeper has different needs and preferences, so each individual's idea of the best mattress for them will be different. For instance, side sleepers under 130 pounds who need significant pressure relief may prefer the Purple Mattress over the Purple Hybrid. And stomach sleepers over 230 pounds may need an altogether different mattress with a comfort system that doesn't cause them to sink in as much.
Purple Mattresses at a Glance
| Model | Firmness | Mattress Type | Height | Base Price (Queen) |
| --- | --- | --- | --- | --- |
| | | | | |
| | | | | |
| | | | | $2,399 |
| | | | | |
| | | | | |
Discounts and Coupons
Purple always offers a 10% discount to health care professionals, military members, first responders, truckers, and educators. Coupon codes are also sometimes available online. Purple typically holds sales during holidays, and customers can often save by purchasing other products at the same time as a mattress.
Where Can You Buy the Purple Hybrid Mattress?
Sleepers can buy the Purple Hybrid Mattress in both brick-and-mortar stores and online. Purple sells the mattress in third-party stores such as Mattress Firm and Raymour & Flanigan. The brand also offers the mattress on its website and through third-party online vendors like Amazon. Purchasing the Purple Hybrid Mattress online may be the most cost-efficient option, since it allows for better pricing, special discounts, and sleep trials that may be unavailable in stores.
| | Buying Information and Customer Policies |
| --- | --- |
| | Shoppers can purchase the Purple Hybrid Mattress online at Purple's website or through third-party websites like Amazon. Sleepers can also test the mattress in-store at locations such as Mattress Firm or Raymour & Flanigan. Purple ships to the U.S. and Canada. |
| | Purchase of the Purple Hybrid Mattress includes free shipping. Purple ships mattresses via FedEx or UPS in a waterproof bag with handles. Because most mattresses weigh over 100 pounds, sleepers may need assistance with setup. Shoppers can add in-home setup services for an additional fee. |
| | Shoppers can upgrade to White Glove delivery for $200. This service includes old mattress removal and a new mattress setup. Purple will not remove old frames, box springs, or other furniture. |
| | Purple offers a 100-night trial, which begins on the day of delivery. Purple recommends sleepers test the mattress for at least 21 days before starting a return. As part of the return process, Purple will pick up the mattress and issue a full refund. |
| | The Purple Hybrid Mattress comes with a 10-year limited warranty. Purple will only replace or repair a mattress with manufacturer defects. The warranty does not apply to natural wear and tear. |
Purple Hybrid Mattress FAQ
How Are the Purple Hybrid and the Hybrid Premier Models Different?
The major difference between the Purple Hybrid and Hybrid Premier models is the thickness of the Purple Grid. The Hybrid model has a 2-inch grid, while the Premier options have a 3- or 4-inch grid layer.
Is the Purple Grid a Type of Memory Foam?
The Purple Grid is not the same as memory foam, but it may feel somewhat similar. The Purple Grid is a proprietary material made of hyper elastic polymer that is designed to be contouring and cooling without sacrificing support.
Is the Purple Hybrid Mattress Bouncy?
As is the case with most hybrid mattresses, the Purple Hybrid Mattress has ample bounce due to its layer of individually wrapped coils.
Are Purple Mattresses Easy to Return?
Purple mattresses are relatively easy to return. Sleepers have 100 days from the purchase date to return the mattress. Purple refunds the full price of the mattress, except for discounts, interest, and shipping charges.