The best pillows strike a balance between comfort and support, providing cushioning while promoting good posture. Firm pillows do not compress as much as soft or medium models. Their ability to hold their shape makes firm pillows ideal for many side and back sleepers. By lifting and subtly contouring to the head, the right firm pillow can help a sleeper maintain healthy spinal alignment.
We'll examine our top picks for the best firm pillows based on our comprehensive in-house evaluation process. We'll also delve into factors to consider when choosing a firm pillow, explain the potential benefits of firm pillows, and explore the types of sleepers who should use a firm pillow.
Sleep Doctor's Picks
Shop Now
Shop Now
Shop Now
Shop Now
Shop Now
Shop Now
Shop Now
Shop Now
Brooklinen Down Pillow – Firm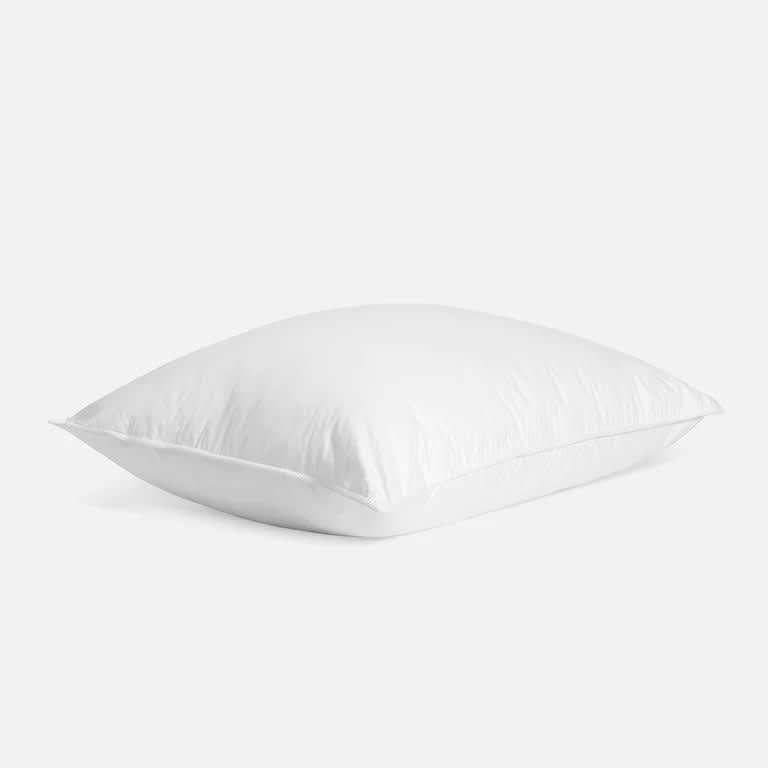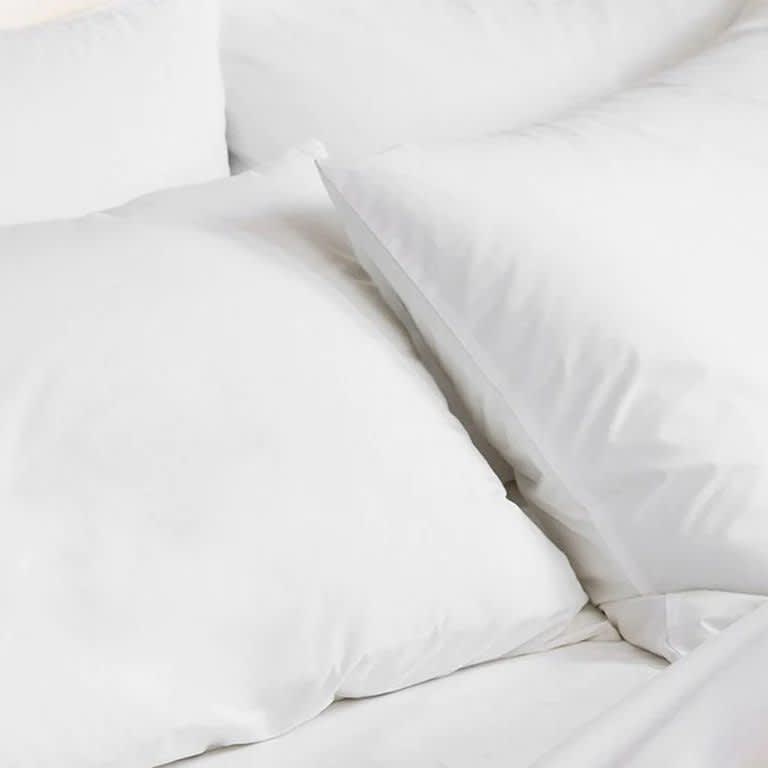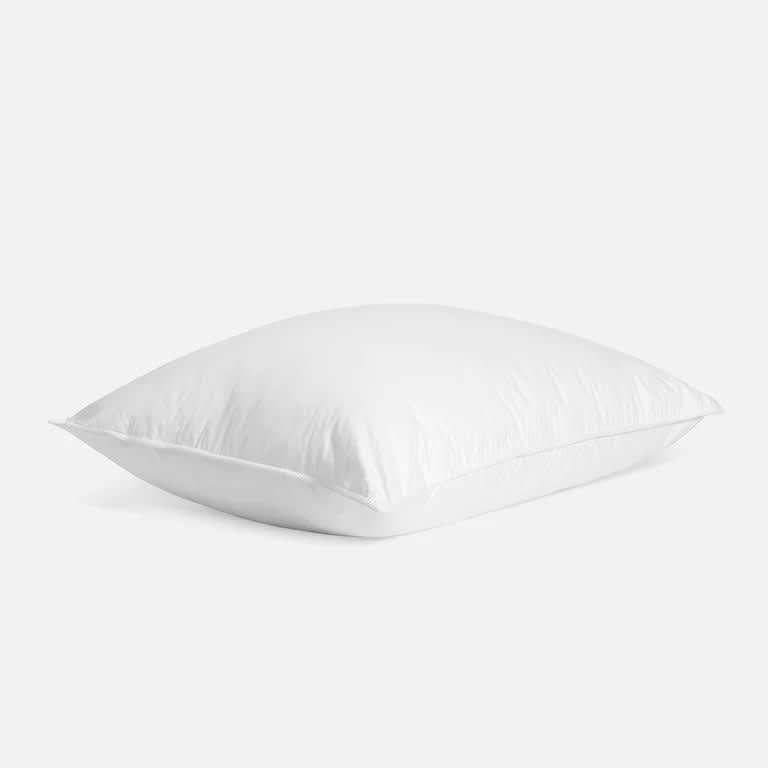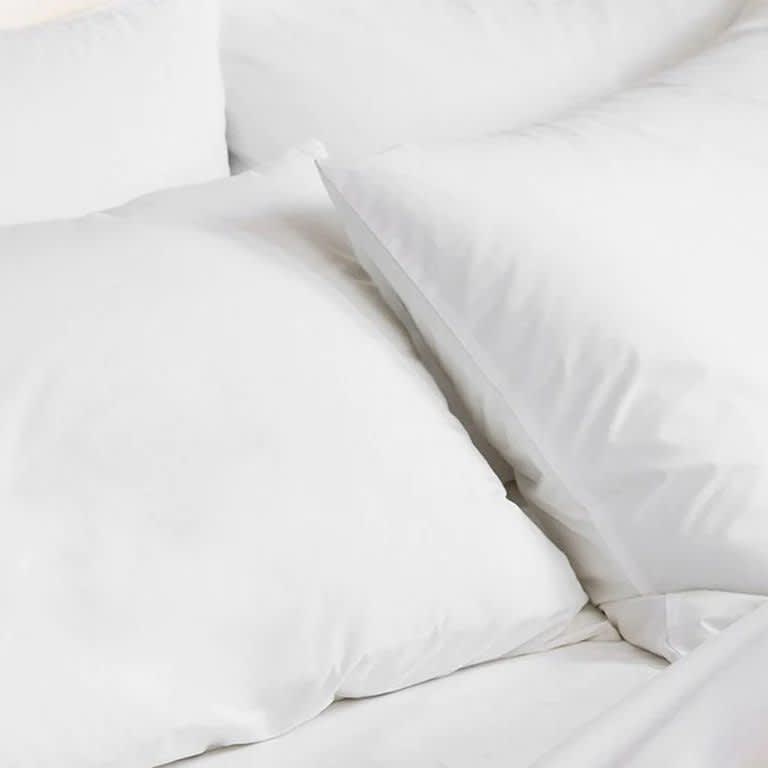 Fill Material: Canadian white down with feather core

Firmness: Firm

Price: $129
Dual-chamber design features supportive feather clusters cushioned with soft down
Shell composed of soft cotton sateen
Shoppers receive discounts for purchasing multiple pillows
Side sleepers
People who tend to sleep hot
Value seekers
The Brooklinen Down Pillow boasts a straightforward design that should appeal to anyone who enjoys the lofty feel of down and feathers but needs extra support. You can choose from three firmness levels, including a firm option with two chambers. Strong feather clusters fill the bottom chamber, creating a strong base to minimize sinkage, while the top chamber contains plush down to provide cushioning for your head and neck.
After testing each version of the Brooklinen Down Pillow, our team found that the firm feel is best suited to side sleepers. The higher loft helps fill the gap between your head and downward-facing shoulder, which promotes even alignment and reduces pressure along the spine. If you're a back or stomach sleeper, you may feel more comfortable using one of the softer pillows.
A shell composed of cotton sateen encases the pillow. This fabric is soft, smooth, and breathable, offsetting some of the down's heat-retaining properties to keep you cool at night. Double-stitched edges protect the cotton from rips and tears that can allow the fill to escape. Daily fluffing is recommended to help the pillow maintain a full shape. Machine washing can damage the pillow, so you should only spot clean or dry clean as needed.
Standard and king sizes are available, both reasonably priced compared to the average down and feather pillow. You'll also receive a 10% discount if you purchase two pillows, and a 15% discount if you purchase four. Each order includes a generous sleep trial that runs for 365 nights, ensuring you'll have plenty of time to test the pillow and decide if it's right for you. Those who keep their pillow receive an additional year of warranty coverage against structural and material defects.
The Brooklinen Down Pillow – Firm is filled with thick feather clusters, resulting in above-average support and thick loft. These qualities make the pillow a solid choice for side sleepers, as well as anyone who normally finds down and feather pillows too plush.
Fill Material: Recycled PET fibers

Firmness: Soft, Medium, Firm

Price: $49
Crafted from recycled plastics and sustainably sourced wood
Fiber fill balances support and cushioning
Moisture-wicking fiber results in a cool and dry pillow
Value seekers
Side sleepers
Those who prefer moldable firm pillows
The Buffy Cloud Pillow – Firm offers many of the advantages of a luxury firm pillow at a more budget-friendly price-point. It combines support and moldability, so our testers could squish it to fit the shapes of their heads and necks without the pillow going flat.
The shell consists of a 300 single-ply thread count sateen weave fabric made from Tencel lyocell fiber. This fiber is derived from sustainably sourced wood, such as eucalyptus. The resulting fabric feels soft and cool to the touch. It also wicks away moisture, which our team members found kept them cool and dry.
The inner fill contains BPA-free recycled PET fill. This shredded fiber has a soft, fluffy feel similar to down alternative.
Our hands-on testers found that the Buffy Cloud Pillow – Firm provided exceptional support without feeling hard. The shredded plastic-based fill lifts the head to promote good posture, but it's also more malleable than most firm pillow fill. Sleepers can scrunch the pillow based on their personal preferences and sleep position. This appealed most to our testers who sleep on their sides.
The Buffy Cloud Pillow – Firm is available as a single-, double-, or quad-pack in standard and king sizes. The standard size boasts 34 ounces of fill, while the king has 54 ounces. Buffy offers a seven-night home trial so sleepers can test the pillow before they commit. A 100-night return policy is also available. Shipping is free in the contiguous U.S.
The Buffy Cloud Pillow – Firm stood out to us for its ability to hold its structure under the weight of the head without sacrificing moldability. Given its cost-effective price, this model may be ideal for shoppers looking for a firm pillow on a budget.
Fill Material: European white down ~85% Down/feather blend ~15%

Firmness: Soft, Medium, Firm

Price: $129
Contains primarily European white down fill
100% cotton sateen shell
Fill provides plush support
Sleepers who like to scrunch their pillow into different shapes
Side sleepers of all weights
Those who value natural materials
Our testing team found that the Parachute Down Pillow – Firm felt plush despite its firm support. This balance of conforming and stability gave the pillow a luxuriously cozy feel that still maintained good structure under our testers' heads.
The Parachute Down Pillow – Firm features a sateen weave cotton shell, which makes the pillow feel silky and smooth. A double-stitched piping seam fortifies the fill and cover. This combination gives the pillow a polished appearance and helps prevent the fill from escaping. The fill consists of 85% European white down and 15% down and feather fibers. With 750 fill power, the pillow should retain its firmness well.
Our testers of all weights found the Parachute Down Pillow – Firm well suited for side sleeping. Its 7-inch loft, firm feel, and ability to hold its structure under the head gave our side sleepers the support they needed to maintain good posture. The pillow's internal down fill and sateen weave shell retain some heat, making the pillow comfortable for those who sleep cool. However, the firm feel also limits sinkage, so our temperature readings did not detect excessive heat buildup.
The Parachute Down Pillow – Firm requires dry cleaning or machine-washing on a delicate cycle. It is available in standard and king sizes. Parachute offers free returns within 60 days and carbon-neutral shipping. The pillow also comes with a three-year limited warranty.
Overall, the Parachute Down Pillow – Firm maintains a firm and supportive shape that promotes spinal alignment while feeling plush. This may be ideal for sleepers who appreciate cushioning but need support.
Sweet Zzz Buckwheat Pillow
Fill Material: Organic Buckwheat Hulls

Firmness: Firm

Price: $139
Adjustable fill for customizable loft
Breathable buckwheat hulls allow significant air circulation
Durable materials for long lifespan
Hot sleepers
Back sleepers of all weights
Stomach sleepers under 130 pounds
The Sweet Zzz Buckwheat Pillow uses a supremely supportive buckwheat hull fill. Sleepers can add or remove hulls to customize the pillow to fit their needs.
This model uses 100% organic certified buckwheat hulls, which are the outer shells of buckwheat seeds. These 3D hulls give the pillow a firm feel and enable the pillow to contour to the sleeper's head, neck, and shoulders. The pillow comes with 5 pounds of buckwheat hulls and measures 7 inches thick when fully packed. Sleepers can remove fill to adjust the pillow's height. Two zippered organic cotton covers encase the inner fill. The pillow also comes with an extra bag you can use to store removed hulls.
Our team found that the Sweet Zzz Buckwheat Pillow was comfortable for all sleep positions and weight groups. However, our back-sleeping testers in all weight categories and stomach sleepers under 130 pounds were the biggest fans. This versatility is mainly due to the pillow's adjustability. The buckwheat hulls also permit ample airflow, making the pillow optimal for those who sleep hot.
This pillow is available in a traditional buckwheat pillow size, which measures 14 inches by 20 inches. Sweet Zzz provides free shipping and a 50-night return policy. The pillow also comes with a one-year limited warranty.
The Sweet Zzz Buckwheat Pillow is a breathable and adjustable firm pillow well suited for a range of sleepers, including those with changing loft needs.
Avocado Molded Latex Pillow
Fill Material: Solid Charcoal-Infused Latex

Firmness: Medium Firm

Price: $129
Exceptional temperature regulation
Retains shape well and springs back when the sleeper moves
Durable and easy to clean
Side sleepers over 230 pounds
Back sleepers 130 pounds or more
Hot sleepers
The Avocado Molded Latex Pillow's construction and materials provide ideal head support for many back and side sleepers. This design holds its shape and structure, so sleepers don't have to worry about their pillow going flat during the night.
Assembled in California, the Avocado Molded Latex Pillow contains two components: the supportive inner core and the soft outer cover. The inner core consists of solid charcoal-infused latex. Our testers compared the latex's contouring and responsiveness to a floating sensation. The charcoal infusion is intended for temperature-regulating, moisture-wicking, and odor-fighting effects.
Made of 100% GOTS organic cotton, the outer shell is soft and well suited for sensitive skin. It is also removable and machine-washable for easy cleaning. The pillow holds several certifications related to health-based and environmental standards, including eco-INSTITUT and GREENGUARD Gold.
After extensive product testing, our team found the Avocado Molded Latex Pillow does not compress under the head as easily as other models. It has enough give to contour evenly and relieve pressure, but it still retains its general structure and shape. This makes it optimal for individuals who need consistent support, such as side sleepers over 230 pounds and back sleepers over 130 pounds.
In our temperature readings, the Avocado Molded Latex Pillow also dissipated heat quickly. Our testers attribute this to the breathable cover, hole-punched latex core, and charcoal infusion. Even our hot sleepers remained cool and sweat-free throughout the testing process.
The Avocado Molded Latex Pillow is available as a single- or pair-pack in standard, queen, and king sizes. The pillow comes with free carbon-negative shipping in the contiguous United States, a 100-night trial, and a one-year limited warranty.
This pillow is great for sleepers interested in a shape-retaining pillow that stays firm without going flat or trapping heat. Eco-conscious customers may especially enjoy the natural materials.
Luxome LAYR Customizable Pillow
Fill Material: Down Alternative, Shredded Gel-Infused Memory Foam, Solid Gel-Infused Memory Foam

Firmness: Adjustable

Price: $120
Multiple adjustability options enable total personalization
Bamboo viscose cover helps regulate temperatures
Comes with three inserts of varying firmness levels
Sleepers of all weights
Those who value customization
Sleepers with changing needs
Thanks to its three inserts of varying materials and firmness levels, the Luxome LAYR Customizable Pillow is versatile enough to accommodate sleepers of all weights, sleeping positions, and preferences.
The Luxome LAYR Customizable Pillow includes an outer cover made from bamboo viscose. This breathable material lets heat escape while wicking away moisture, which kept our testers cool and dry.
Three inserts make up the core: a soft insert made of down alternative, a medium insert crafted from gel-infused shredded memory foam and down alternative, and a firm insert made from 1-inch and 2-inch thick pieces of solid gel-infused memory foam. Sleepers can change the configuration of the inserts to fine-tune the firmness level and loft. In addition, sleepers can remove fill from the soft and medium inserts or remove one of the memory foam slabs from the firm insert to further customize the pillow.
This pillow stood out to our testing team due to its adjustability. Sleepers can easily personalize the pillow to suit their needs by combining different inserts or adding or removing fill. Side sleepers can combine all three inserts to reach a high loft, while back sleepers might mix the firm and medium inserts for a lower-loft, medium-firm pillow. Across weight groups and position preferences, all of our testers found a configuration they thought was particularly comfortable.
Both the pillow cover and the pillow insert covers are machine-washable. The Luxome LAYR Customizable Pillow is available as a single- or two-pack in standard and king sizes. Luxome offers free shipping to the contiguous U.S. and a 30-day return policy.
Because of its unparalleled adjustability, our testers found this pillow exceptionally comfortable regardless of their body type and sleep position. This customization may be especially important for sleepers with changing needs or preferences.
Saatva Memory Foam Pillow
Fill Material: Shredded Gel Memory Foam

Firmness: Medium

Price: $165
Two-layer design for balanced support and contouring
Graphite infusion designed for cooling
Breathable, machine-washable cotton cover
Side sleepers over 130 pounds
Back sleepers under 130 pounds
Those looking for fluffy, conforming support
Two memory foam layers ensure the Saatva Memory Foam Pillow remains supportive for side sleepers, who typically require additional structure and loft.
The Saatva Memory Foam Pillow contains three layers: an organic cotton cover, a graphite-infused solid memory foam layer, and a shredded memory foam core. Since the cover is highly breathable, heat can escape the pillow. This cover is also removable and machine-washable.
All of the memory foam is CertiPUR-US certified, meaning it meets standards for content and emissions. The graphite-infused memory foam outer layer is designed to remain cool to the touch while contouring to the head and neck support. The shredded memory foam core helps maintain the pillow's structure and shape. We found this two-layer construction enhanced the support and conforming.
Because side sleepers have a larger gap between their heads and the mattress, they require a pillow with a higher loft and consistent support. Our testers found the Saatva Memory Foam Pillow's 8-inch loft and medium feel were well suited to this unique need. The pillow seamlessly fills the gap for most side sleepers while providing substantial support for their heads and necks. It does not compress excessively under weight for stable spinal alignment, but it also offers notable conforming.
The Saatva Memory Foam Pillow is available in queen and king sizes. Saatva offers free shipping in the contiguous United States, a 45-day trial, and a one-year limited warranty on the pillow.
After comprehensive product testing, we found that the Saatva Memory Foam Pillow is optimal for most side sleepers. Its high loft and supportive cushioning help promote spinal alignment while preventing pressure buildup.
Tempur-Pedic TEMPUR-Neck Pillow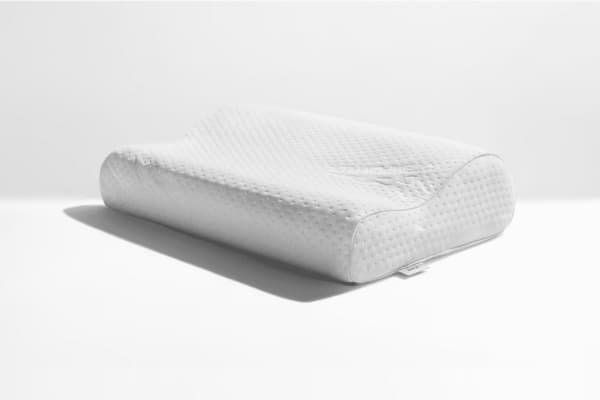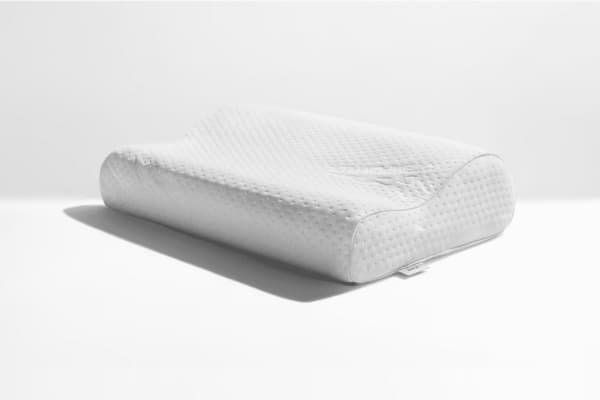 Fill Material: Solid Memory Foam

Firmness: Extra Firm

Price: $129
Unique shape effectively contours to the natural curves of shoulders, neck, and head
Available in three sizes to fit most body types
Above-average shape retention and conforming
Sleepers who experience neck pain
Side sleepers between 130 to 230 pounds
Back sleepers over 230 pounds
The Tempur-Pedic TEMPUR-Neck Pillow is ergonomically designed based on the shape of the head, neck, and shoulders. This helps provide substantial support and relief for pain points.
The pillow consists of a removable, machine-washable polyester knit cover and a solid TEMPUR memory foam inner core. The TEMPUR material is extra firm to maintain its shape for consistent head and neck. However, it has just enough give to limit pressure buildup around a side sleeper's ear.
The Tempur-Pedic TEMPUR-Neck Pillow is available in small, medium, and large to accommodate different body types and sleep styles. The small measures 3.5 inches thick, the medium is 4 inches, and the large is 4.75 inches. The length from your neck to shoulder and your preferred sleeping position determine the right size for you.
We found the Tempur-Pedic TEMPUR-Neck Pillow offered above-average support and relief to testers with neck pain. The contoured design fit the natural curve of their necks, allowing team members to relax their muscles while maintaining good spinal alignment. Our testers over 130 pounds who sleep on their sides or backs found the pillow most comfortable.
The Tempur-Pedic TEMPUR-Neck Pillow includes free shipping within the contiguous U.S. and a five-year limited warranty.
In general, the Tempur-Pedic TEMPUR-Neck Pillow is appropriate for side and back sleepers looking for steady, ergonomic support to relieve neck pain.
Why You Should Trust Us
Our team of seasoned product testers personally evaluates a wide variety of pillows against stringent performance criteria, such as shape retention, conforming, and temperature control. Our research team consists of a range of sleepers with different body types and position preferences to ensure comprehensive and robust data. We leverage our expertise along with our testing data to determine which pillows are our top recommendations.
Should You Use a Firm Pillow?
Firm pillows compress less than medium and soft options, limiting how deeply the sleeper's head sinks in. In contrast, softer pillows compress more, molding to the shape of the head and neck. While firm pillows generally feel more supportive, softer models traditionally provide more cushioning.
Is a Firm Pillow Good For You?
Firm pillows are typically recommended for sleepers interested in ample neck and head support. The pillow's ability to hold its structure helps keep the head in line with the chest and back, promoting healthy spinal alignment. Good sleep posture is essential because it reduces back and neck strain, minimizes pressure points, and helps the muscles relax more completely.
Although firm pillows typically provide more support, they might not be the right firmness level for your needs. To determine your ideal firmness, consider your body weight, head size, sleeping position, and preferences.
Who Is the Best Match for a Firm Pillow?
A firm pillow is often the best match for side sleepers, sleepers who weigh more than 230 pounds, and those who simply prefer a firm feel.
Side sleepers: Side sleepers have a gap between their head and mattress created by their shoulders resting on the bed. This requires greater support, which a firm pillow with a higher loft can achieve.
Sleepers who weigh more than 230 pounds: Sleepers who weigh more than 230 pounds are more likely to compress their pillows more when lying down. Firm pillows hold their structure and resist flattening.
Sleepers who prefer a firm feel: Sleepers who appreciate a more solid feel under their head and neck may prefer a firm pillow. However, they should also pay careful attention to the pillow's loft to avoid neck strain.
Can a Pillow Be Too Firm?
Depending on the sleeper's needs and preferences, a pillow can be too firm. This may result in pressure points, neck pain, shoulder pain, or back pain. A pillow that is too firm may push the head forward excessively, resulting in poor spinal alignment. This can strain your neck and cause you to tense your muscles. Meanwhile, a lack of sufficient cushioning could cause pressure buildup.
Stomach sleepers and those weighing under 130 pounds are less likely to find firm pillows comfortable. Unless the pillow is very thin, a firm model can push a stomach sleeper's head too far back, putting pressure on their neck. Additionally, sleepers under 130 pounds may notice more pressure points on a firm pillow since they don't sink in as easily as heavier individuals. Smaller individuals may also have narrower shoulders, reducing the firmness and loft necessary for side sleeping.
Sleepers unsure about their pillow preferences and needs may want to invest in an adjustable model. This enables them to change the loft and firmness levels, even if their preferences change nightly.
How Firm Should Your Pillow Be?
The optimal firmness of your pillow depends on several factors, including sleep position, body weight and shape, support needs, and comfort preferences.
Sleep Positions, Pillow Height, and Firmness
Your sleep position should determine your pillow's loft and firmness level. Sleep position affects the size of the space between your neck and the mattress, and it also influences the angle of your head. For instance, side sleepers experience a larger gap than back sleepers. Meanwhile, stomach sleepers usually sleep with their head turned to the side.
To support spinal alignment, the pillow's loft and firmness should correspond to the sleeper's preferred position and accommodate the natural curvature of the neck.
| Sleep Position | Pillow Height | Firmness |
| --- | --- | --- |
| | Medium (3-5") to high (5" and above) | |
| | | |
| | Low (under 3") to medium (3-5") | |
| | Medium (3-5"), adjustable | |
Side Sleepers
Side sleepers typically require a higher pillow loft to fill the gap between their head and the mattress. Medium firm and firm pillows generally provide added support and structure.
Back Sleepers
Back sleepers tend to prefer a medium loft, medium firm pillow to cradle the head and neck without pushing it too far forward.
Stomach Sleepers
Stomach sleepers require lower lofts. Higher lofts can force the head back and to the side, putting stress on the neck and shoulders. Stomach sleepers also prefer soft to medium firmness levels.
Combination Sleepers
Combination sleepers regularly change positions, so adjustable pillows are often ideal. Sleepers can easily change the loft and firmness to meet their nightly preferences. A pillow with a mid-range firmness and loft may also fit most combination sleepers' needs.
Body Weight and Frame
Body frame, weight, and head size are key determinants of the ideal firmness level. Pillow firmness indicates how well the pillow maintains its shape and structure when a sleeper puts their head on it. Individuals with different body types require varying levels of support.
Sleepers over 230 pounds: Sleepers who weigh more than 230 pounds often favor firm pillows because they do not compress as easily under their weight.
Sleepers under 130 pounds: Pillows tend to compress less under the heads of sleepers who weigh under 130 pounds. Therefore, softer pillows are often ideal for this weight group.
Support vs. Comfort
We've consistently found that a pillow with the right balance of support and comfort enhances the sleep experience. Fill material is often key to these performance characteristics. The perfect amount of support and comfort varies from sleeper to sleeper, but understanding these criteria can help you decide what's best for you.
Softer pillows are generally plusher but less supportive, making them popular with sleepers who prioritize cushioning. These pillows usually flatten under the sleeper's head, providing little support. For side and back sleepers, this can cause neck or back pain due to spinal misalignment.
Firmer pillows tend to offer ample support, but they may feel too solid to some sleepers. A pillow that's too firm can cause pressure point pain.
Fill is integral to a pillow's overall comfort and support levels. Some fill types are light, airy, and easily compressed, while others have a denser structure that doesn't collapse under a sleeper's head. Anyone interested in a firm pillow should consider fills made of polyfoam, memory foam, latex, buckwheat, down, and down alternative.
Polyfoam
Polyfoam is a synthetic material that may be used for shredded or solid core fill. Solid cores are often firmer. Different formulations of polyfoam vary significantly in their feels, so shoppers seeking a firm pillow should pay careful attention to how the manufacturer describes the model. While polyfoam is less dense than memory foam and latex, pillows made of the material are often more affordable.
Memory Foam
Memory foam is a type of heat-responsive polyfoam with greater viscosity, elasticity, and density. In pillows, these traits usually lend to close contouring and notable pressure relief. Shredded and solid memory foam cores are widely available. In our tests, shredded memory foam pillows are usually cooler and more moldable, while solid memory foam models are often firmer.
Latex
Latex fill is available in natural, synthetic, and blended forms. Most firm latex pillows contain a natural, solid latex core, which contours evenly to the head while limiting sinkage. Shredded latex pillows are also available, but they're less common. Latex pillows tend to retain their shape well, respond quickly to position changes, and resist wear and tear.
Buckwheat
Buckwheat fill contains the hard outer shells of buckwheat seeds, also known as hulls. These hulls make a pillow breathable, dense, heavy, and extra firm. Buckwheat pillows are usually adjustable, allowing sleepers to add or remove hulls to attain their desired loft.
Down
Down traditionally consists of the underbelly feathers of geese or ducks. This fill is well known for its insulation, malleability, and durability. While the material itself is soft, lightweight, and most common in soft or medium pillows, some manufacturers craft firm down pillows by packing the fill more densely.
Down Alternative
Down alternative mimics the softness of down without the use of animal products. Most down alternative fill consists of synthetic, hypoallergenic polyester fibers. Down alternative pillow firmness levels generally range from soft to medium firm.
Choosing the Best Firm Pillow
The best firm pillow varies by sleeper. Some sleepers need additional support, while others value plushness. Individuals may sleep hot, requiring a breathable, temperature-regulating pillow. Others prioritize pressure relief. Choosing the best pillow for your needs depends on several factors, ranging from sleep position to cost.
Sleep position: Each sleep position requires a different level of firmness and loft to promote good posture. For instance, side sleepers traditionally benefit from firmer pillows with higher lofts, while stomach sleepers favor softer, lower-loft models.
Pillow types and materials: Pillow fill material contributes to a pillow's firmness. Firm pillows often use buckwheat hulls, memory foam, latex, or polyfoam.
Pillow height (loft): Pillow loft refers to the pillow's thickness. There are three categories: low loft (under 3 inches), medium loft (3 to 5 inches), and high loft (over 5 inches). Sleeping position and support needs determine the most appropriate loft.
Firmness: Pillow firmness indicates the pillow's ability to maintain its shape under pressure. Most models range from soft to firm. The best firmness level depends on a sleeper's weight, shape, sleep position, and comfort preferences.
Support: Support indicates how well the pillow holds the head without flattening. This factor is critical for proper spinal alignment and reducing head, neck, and shoulder pain. Firm pillows are usually more supportive than soft pillows.
Pillow shape: Most pillows come in rectangular standard, queen, and king sizes. However, firm contour and cervical pillows are ergonomically designed for additional neck support.
Pressure relief: Pressure relief refers to a pillow's ability to contour to your head, neck, and shoulders. Generally, firm pillows provide less pressure relief than soft pillows. However, materials that conform to the sleeper's head, like memory foam and latex, often balance pressure relief and support.
Moldability: Moldability indicates the ability to adjust the shape of the pillow to your needs. Although firm pillows with solid foam cores are not moldable, those with shredded foam, down, or down alternative usually are.
Temperature regulation: Temperature-regulating pillows remain cool as you sleep, making them ideal for hot sleepers. Because firm pillows with solid cores are usually denser, they often retain more heat. If you want a firm yet temperature-regulating pillow, we suggest considering a buckwheat or latex model.
Cost: Firm pillow prices vary based on several factors, including materials, quality, construction, and features. However, firm pillows tend to be higher in price because they typically consist of high-quality, durable materials.