Daily activities can be negatively impacted by neck pain, and sleep is no exception. While an uncomfortable, unsupportive pillow can cause or worsen neck pain, the right pillow for your body type and sleep style can ease pressure and help you obtain restorative rest.
We'll review our picks for the best pillows for neck pain and share our testing team's thoughts on their construction and performance. We'll also outline what to look for in a pillow, including how loft, firmness, and pillow type can contribute to or help alleviate neck pain.
Sleep Is the Foundation Shredded Memory Foam Pillow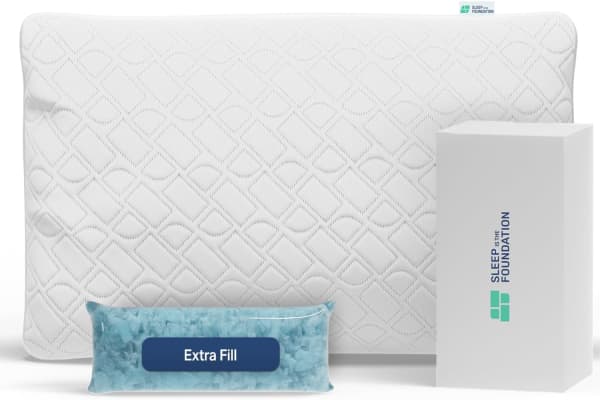 Fill Material: Shredded memory foam (gel-infused)

Firmness: Adjustable (Soft to Medium)

Price: $96
Shredded foam is highly moldable
Gentle cradling eases pressure buildup
Adjustable design allows users to change loft and feel
Back and side sleepers
People who experience neck discomfort or pain during sleep
Shoppers who want to experiment with different thicknesses
The Sleep Is the Foundation Shredded Memory Foam Pillow is a customizable pillow that allows you to adjust the firmness and loft to suit your sleep needs. This design is beneficial for sleepers with neck pain, since you can fine-tune the pillow until it feels just right for your head, neck, and spinal alignment.
The pillow is filled with shredded memory foam that gently conforms to your head and neck and is highly moldable. When fully stuffed, the pillow measures 8 inches thick, but you can remove the fill to achieve a lower loft. The overall firmness of the pillow ranges from soft to medium, depending on how much fill you use. The cover is composed of a blend of polyester and bamboo-derived viscose. You may remove and machine wash the cover as needed.
We found that our side-sleeping testers preferred a thicker loft, since this ensures the pillow will fill the space between your neck and sleep surface. Back-sleeping testers gravitated toward less loft to avoid cranking the head too high. Some stomach sleepers found the pillow comfortable after removing a good amount of fill, but many stomach sleepers may find they prefer an overall thinner pillow.
The pillow is available on Amazon.com, with free shipping for Amazon Prime members. You may return the pillow within 30 days, and you'll also receive a 1-year warranty.
Eli & Elm Cotton Side-Sleeper Pillow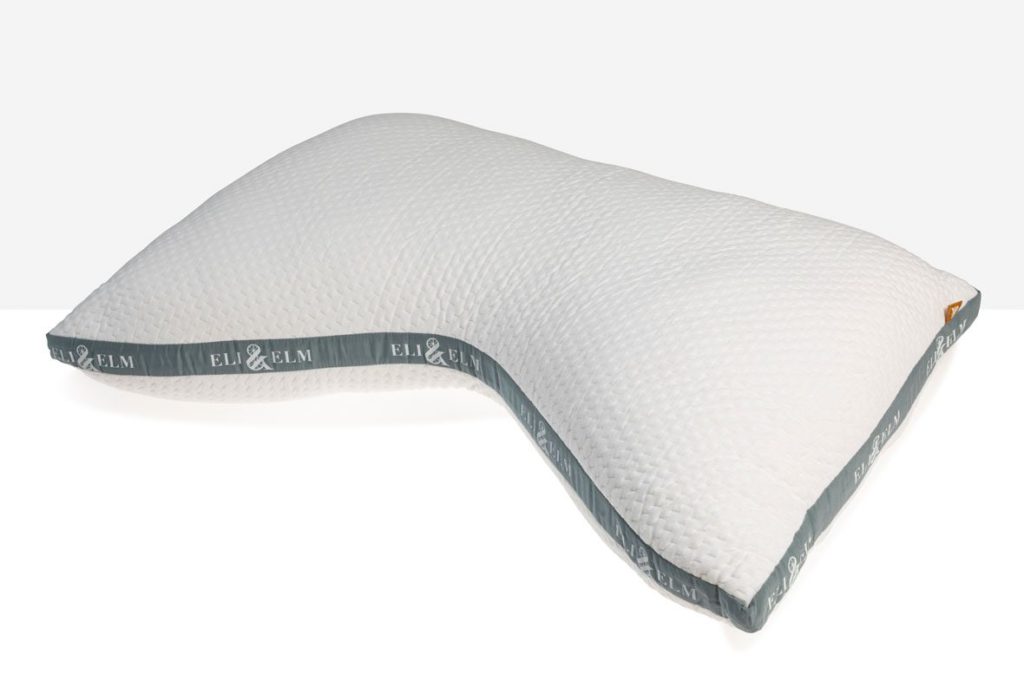 Fill Material: 75% Latex and 25% Polyester Fiber

Firmness: Medium, Adjustable

Price: $131
Adjustable fill for customizable loft
U-shaped design conforms to neck and shoulders
Cotton cover and latex fill promote cooler sleep
Side and back sleepers
Those who tend to sleep hot
Sleepers seeking the bounce and responsiveness of latex
With a mix of latex noodles and polyester fill, the Eli & Elm Cotton Side-Sleeper Pillow is designed to conform to the sleeper's neck and head while providing strong support and easing pressure.
The latex balances contouring with a responsive feel that works well for side and back sleepers. A soft, breathable cotton-blend cover contributes to above-average temperature neutrality.
Our testers found the Eli & Elm to be a versatile choice. Its distinctive U-shape has room to accommodate the shoulders while supporting the neck and head, earning it excellent ratings from our side sleepers. Back sleepers under 230 pounds also rated the pillow highly, citing its superior support. Stomach sleepers on our team, while less enthusiastic overall, appreciated the ability to remove fill to decrease the loft.
Eli & Elm offers a 45-day return policy, free shipping in the contiguous U.S., and a five-year limited warranty. Additional fill and pillowcases are also available for purchase.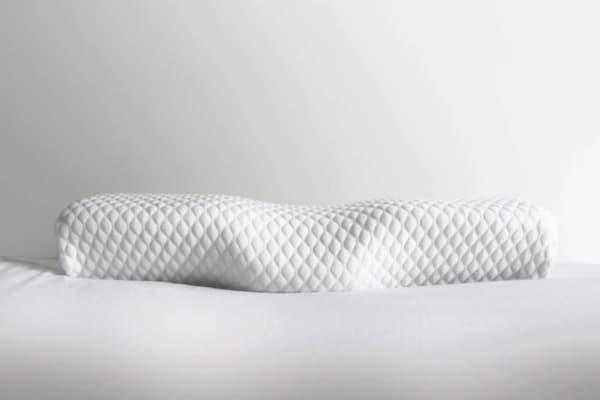 Fill Material: Bamboo charcoal-infused memory foam

Firmness: Medium Firm

Price: $60
Unique design includes central dip and lateral rise for position-based neck support
Temperature-regulating material built into the inner layer
Allergy resistant bamboo charcoal memory foam
Back and side sleepers
Value seekers
Those who prefer the deep contour of memory foam
Charcoal-infused bamboo memory foam makes up the interior of the Original Groove Pillow. This material resists the buildup of common allergens and supports sleepers differently depending on their preferred sleep position. Back sleepers can use the central dip for head and neck support. The lateral rise on either side of the dip works to keep the spine in alignment for side sleepers.
The pillow also features a thermogenic inner protective layer that helps regulate temperature and protect the memory foam from dust and other contaminants. An outer cover of scuba-knit polyester has a soft, smooth feel.
During testing, the Groove Pillow garnered high marks from side sleepers, who appreciated its shape retention and conformability. Back sleepers, especially those under 130 pounds, also rated the pillow well, noting that the central dip held its shape and gave them consistent support.
Groove offers full refunds or exchanges within 100 days of purchase. The U.K.-based company ships to most countries, though delivery times vary.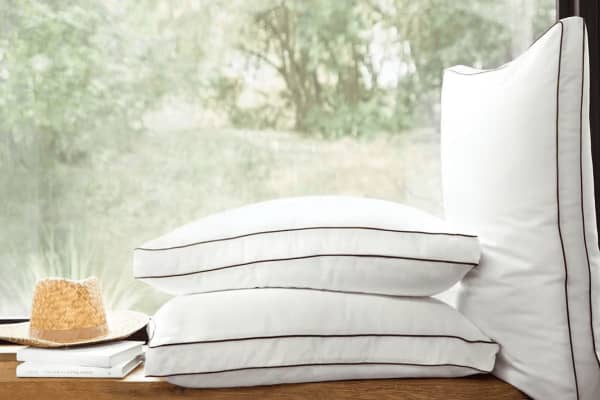 Fill Material: Shredded Talalay latex and down alternative

Firmness: Medium soft

Price: $165
Shredded Talalay latex core is adjustable for customizable loft and firmness
Removable layer mimics the feel of down
Crisp and smooth organic cotton sateen cover
Side and back sleepers under 130 pounds
Those looking for support without sacrificing plushness
People who want a pillow that's easy to wash
High-quality materials give the Saatva Latex Pillow a plush, high-end feel. Shredded Talalay latex makes up the responsive support core, while a middle layer of down-like microdenier fibers provides breathable loft. The pillow's organic cotton sateen cover has gusseted sides that help maintain its shape, reducing the need for fluffing.
Our side and back sleepers under 130 pounds were the best fit for the Saatva Latex Pillow, giving it excellent scores. Side and back sleepers on our testing team between 130 and 230 pounds also gave the pillow good marks, noting its above-average shape retention. However, those over 230 pounds were less impressed with the pillow's performance, and stomach sleepers across the board didn't find the moldability they desire from a pillow.
The Saatva Latex Pillow comes in queen and king sizes. The company offers a 45-day trial period and a one-year limited warranty, plus free shipping within the contiguous U.S.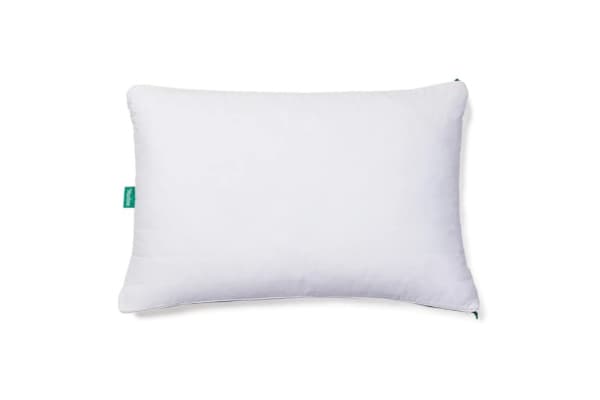 Fill Material: 80% memory foam, 20% polyester fiber

Firmness: Adjustable

Price: $65
Zipper-adjusted loft for customizable firmness
Ventilated gussets and cotton shell fabric aid with breathability
Mix of memory foam and microfibers balances support and comfort
Side sleepers
People seeking adjustable firmness
Those who anticipate their sleep needs changing
The Marlow Pillow has a core of chopped gel-infused memory foam surrounded by a down alternative microfiber fill, providing a mix of contoured support and airy plushness. A hidden zipper in the cotton sateen shell reveals ventilated gussets that create variable firmness and loft depending on how far they're unzipped.
Our testers were particularly impressed with the Marlow Pillow's variable firmness options. Side sleepers noted the pillow's exemplary contouring and gave the Marlow excellent scores across the board, as did our back sleepers weighing between 130 and 230 pounds. The Marlow also earned decent marks from stomach sleepers under 230 pounds.
The Marlow Pillow is available in standard and king sizes. All pillows come with a generous 365-day return policy and a two-year warranty.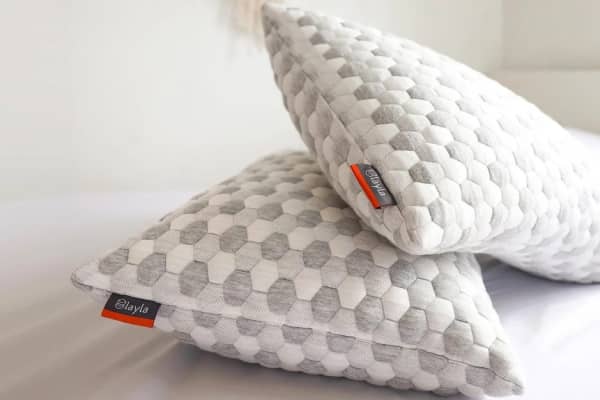 Fill Material: Shredded memory foam and kapok tree fiber blend

Firmness: Medium Soft

Price: $109
Mix of soft kapok fibers with shredded memory foam offers plush support
Adjustable fill for customizable loft
Breathable materials help minimize heat retention
Side and back sleepers under 230 pounds
Those looking for an alternative to down
People who tend to sleep warm
The Layla Kapok Pillow uses silky fibers from the seeds of the tropical kapok tree. Cushier than cotton or wool with more loft, kapok is a durable alternative to down. Mixed with shredded open-cell memory foam, the pillow is designed to cradle the neck and head. It comes slightly overstuffed so owners can adjust the fill to suit their sleep position.
The zippered polyester, viscose, and Lycra cover is soft and breathable. This, combined with the airy kapok fibers and open-cell memory foam, helped the pillow score well in temperature regulation.
Our side sleepers under 230 pounds were particularly impressed by the pillow's superior moldability. Back sleepers under 230 pounds rated the pillow similarly, and most of our stomach sleepers were also satisfied after removing some fill.
The Layla Kapok Pillow is available in both king and queen sizes. Purchases come with a 120-night sleep trial and a five-year warranty.
Brooklyn Bedding Luxury Cooling Memory Foam Pillow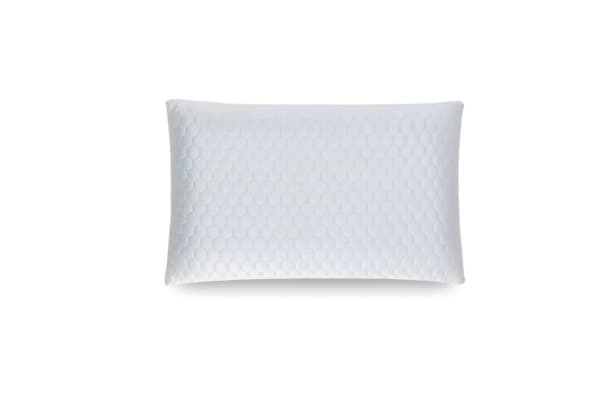 Fill Material: Open-cell memory foam

Firmness: Medium

Price: $129
Choice of two lofts
Memory foam provides contoured support to the head, neck, and shoulders
Cooling gel and ventilated surface improve breathability
People seeking the hug of memory foam
Those who tend to sleep warm
Combination sleepers
Created from open-cell memory foam, the Brooklyn Bedding Luxury Cooling Pillow is designed for responsive contouring and pressure relief.
The Luxury Cooling Pillow comes in two height options. The 5-inch model works best for side sleepers, giving them space for their shoulders while helping ensure their head and neck remain aligned. The 4-inch option works better for stomach sleepers, who generally require less loft from their pillows.
Back sleepers under 130 pounds may want to go with the lower loft, as they tend to exert less pressure on the pillow surface. Those over 230 pounds may prefer the higher-loft pillow to compensate for greater sinkage.
The Luxury Cooling Pillow comes in both queen and king size. Brooklyn Bedding offers free returns within 30 days of purchase and a three-year warranty for pillows.
Why You Should Trust Us
Our diverse team representing different sleep positions and body types has personally researched and tested hundreds of pillows. We've used our years of experience in the sleep products industry to sift through the data, bringing you information you can use and recommendations you can trust.
Neck pain describes discomfort within the muscles, nerves, and vertebrae that help stabilize the head. It is common, impacting about 10% to 20% of adults.
A range of activities and conditions can cause neck pain, including poor posture, arthritis, extended periods of sitting, overuse due to exercise or sports, whiplash or other trauma, and stress-induced tension.
Some neck pain will resolve on its own, while other types can become chronic. Symptoms of neck pain vary but can include stiffness, limited range of motion, headaches, muscle spasms, and reduced sleep quality.
It's important to note that people whose neck pain is severe or chronic should speak with their primary care physician or a chiropractor to diagnose the specific condition and discuss treatment options.
How Does Neck Pain Affect Sleep?
Neck pain and sleep quality are interrelated, with research suggesting bidirectional cause and effect . While neck pain can make it difficult to fall asleep and stay asleep, poor sleep can cause or exacerbate pain. Thus, taking steps to improve sleep comfort may help reduce neck pain.
How Does Your Sleeping Position Affect Neck Pain?
Sleep position can play a significant role in causing or preventing neck pain. In general, stomach sleeping is not recommended since it requires tilting the head to one side at a different angle than the rest of the body. This in turn puts stress on the cervical spine and can lead to neck soreness.
It is typically easier to maintain proper spinal alignment when sleeping on your side or back, making these positions preferable for preventing or managing neck pain. However, each of these positions has different mattress and pillow needs, with side sleepers typically preferring a softer mattress and a firmer pillow with higher loft.
How Does Your Pillow Affect Neck Pain?
Your pillow is an important factor in managing neck pain. The right pillow can help prevent pressure points from forming and keep your spine in alignment, mitigating neck pain. The wrong pillow can lead to or worsen neck pain.
A pillow that's too soft can provide improper support, while a pillow that's too firm can tilt the head at an odd angle. Pillows with lofts that are too high or too low for your preferred sleep position can also impact your neck health.
How to Choose a Pillow for Neck Pain
Matching your pillow to your sleeping position can go a long way toward alleviating neck pain. Specifically, finding the right combination of firmness and loft can help ensure your neck is properly supported and your spine is appropriately aligned.
What Is the Best Pillow Loft?
Loft is another term for the height or thickness of a pillow. The best pillow loft for a given person is closely tied to their preferred sleep position, with body type and personal preferences also being key considerations.
| Sleeping Position | What Pillow Loft Do You Need? |
| --- | --- |
| Side Sleepers | Side sleepers typically benefit from a high-loft pillow that's 5 or more inches thick. The extra height helps fill the gap between the head and shoulders to keep the neck aligned with the rest of the spine. |
| Back Sleepers | A pillow that's too thick or too thin can cause a back sleeper's head to tilt upward or downward at an unnatural angle. For this reason, back sleepers often fare well with a medium-loft pillow between 3 and 5 inches tall. |
| Stomach Sleepers | Stomach sleepers usually prefer a very thin pillow with a loft less than 3 inches. Anything thicker can crane the neck at an awkward angle and cause neck strain. |
| Combination Sleepers | A mid-loft pillow is generally the best choice for combination sleepers since they have to consider the requirements of multiple positions. These sleepers may want to hedge toward a slightly higher or lower loft depending on their most common sleep position. |
How Firm Should Your Pillow Be?
Pillows vary in firmness depending on the type of materials used in their construction. Like loft, firmness is another essential element of support that should be matched to your preferred sleep style.
| Sleeping Position | What Firmness Do You Need? |
| --- | --- |
| Side Sleepers | Firmer pillows provide the support side sleepers typically need to keep their head adequately elevated and their spine properly aligned. |
| Back Sleepers | Many back sleepers find that medium firm pillows have enough give to allow the head and neck to rest comfortably on the pillow but enough pushback to prevent sinkage. |
| Stomach Sleepers | Stomach sleepers sometimes have difficulty finding a pillow that's thin enough for their needs. But a soft pillow that allows the head to sink in considerably can replicate the low-loft feel stomach sleepers generally prefer. |
| Combination Sleepers | A pillow with a mid-range firmness level should have the adaptability combination sleepers need, though they may want to go a touch firmer or softer if they sleep in one position more often. |
What Type of Pillow Is Best for Neck Pain?
Pillow type can be classified by either material or shape. While both categories can have a significant impact on neck health, there isn't a universal combination of materials and shape that works best for all people with neck pain. When choosing a pillow, consider how the materials and shape impact the overall support of the pillow — and how that support level fits your sleep style, body type, and preferences.
If you aren't sure what you need or you anticipate your needs changing over time, an adjustable pillow may be a good option since the removable fill makes it easy to change the loft and firmness.
Pillows by Material
Pillows are often classified by their inner fill material. We'll discuss some of the most common types of fill on the market and which sleepers may find them most beneficial for alleviating neck pain.
Memory Foam
Memory foam is known for its deep contouring and ability to cradle the neck and head. Side and back sleepers with neck pain often appreciate memory foam pillows because they are designed to relieve pressure while providing conforming support.
Pillows can use solid or shredded memory foam. Solid memory foam pillows are heavier and less malleable, with a uniform surface. Shredded memory foam pillows are usually lighter, more easily moldable, and adjustable, but because there is less continuity in the surface, they may lose some of the support the solid version offers.
Down and Alternative Down
Down pillows are made from the soft inner layer of feathers found beneath the quilled exterior feathers of ducks and geese. Down feathers do not have any quills and are soft and airy, combining into fluffy clusters that collapse under pressure.
Down alternatives mimic the look and feel of down, but are not sourced from animals. Most commonly they're made from polyester, microfiber, or other synthetic materials. Down and down alternative pillows with denser fill and higher lofts can be good options for back and side sleepers, though some models may be too soft for people who sleep on their side.
Feather
Since they contain quills, the fill of feather pillows is less likely to clump together and is generally more breathable than down. They are typically firmer than down pillows and may be preferred by side sleepers for this reason, though they also tend to flatten under pressure. Feather pillows are generally more affordable than those made with down.
Latex
Derived from the sap of rubber trees, natural latex is bouncy and breathable. It's known for being responsive with less contouring than memory foam.
Latex is generally a firm fill material, meaning latex pillows may not be a good fit for stomach sleepers or people who want more give from their pillow. Side and back sleepers prone to neck pain may benefit from a latex pillow's excellent shape retention and supportiveness.
Buckwheat
The hard outer casings of buckwheat seeds are used in buckwheat pillows, creating a dense feel similar to a tightly stuffed bean bag. Buckwheat pillows conform closely to the head and neck and have very little give. While their loft is adjustable, their feel remains on the firm to very firm side regardless of fill level.
Buckwheat pillows work best for side and back sleepers seeking sturdy support. They are generally too firm for stomach sleepers even with fill removed.
Pillows by Shape
While many sleepers with neck pain can find a conventional rectangular pillow that fits their needs, others may benefit from specialized shapes designed for specific purposes.
Contour
Designed to fit the natural curve of the neck, head, and shoulders, contour pillows have unique shapes depending on their compatible sleep style. Contour pillows geared toward back sleepers have an exaggerated rise that dips into a concave surface. Contour pillows designed for side sleepers often have a notch in the center to accommodate the shoulders. In general, this style of pillow is incompatible with stomach sleeping.
D-Core
These pillows have higher sides and a built-in neck roll that surrounds a D-shaped depression. The indentation creates room for the head, cradling it in place while the raised areas help ensure proper alignment. D-core pillows are an especially good match for back sleepers.
Neck Roll
Also called cervical rolls, these cylindrical pillows are designed to rest under the neck. They can be used alone or in combination with another pillow. Their shape is most compatible with back sleeping.
Horseshoe
With a U-shaped design, horseshoe pillows cradle the head and support the neck. Their extended sides act as buffers, helping to keep the spine aligned. This shape more often benefits back sleepers, but side sleepers may find the space within the U-shape helpful to accommodate their shoulders.