Medical Disclaimer: The following content should not be used as medical advice or as a recommendation for any specific supplement or medication. It is important to consult your health care provider prior to starting a new medication or altering your current treatment.
Pain can make getting quality sleep more difficult. Shoulder pain is especially common. Even if it isn't severe, you might struggle to get comfortable in bed. Certain sleeping positions and products may cause shoulder pain or intensify existing pain. Finding the right pillow can help take pressure off your shoulders, promote good posture, and enhance comfort.
Pillows vary by materials, lofts, sizes, shapes, and styles, all of which influence their performance. Each sleeper has unique needs and requires distinct pillow characteristics. Factors such as sleeping position, body size, and the nature of the discomfort determine the best pillow for shoulder pain.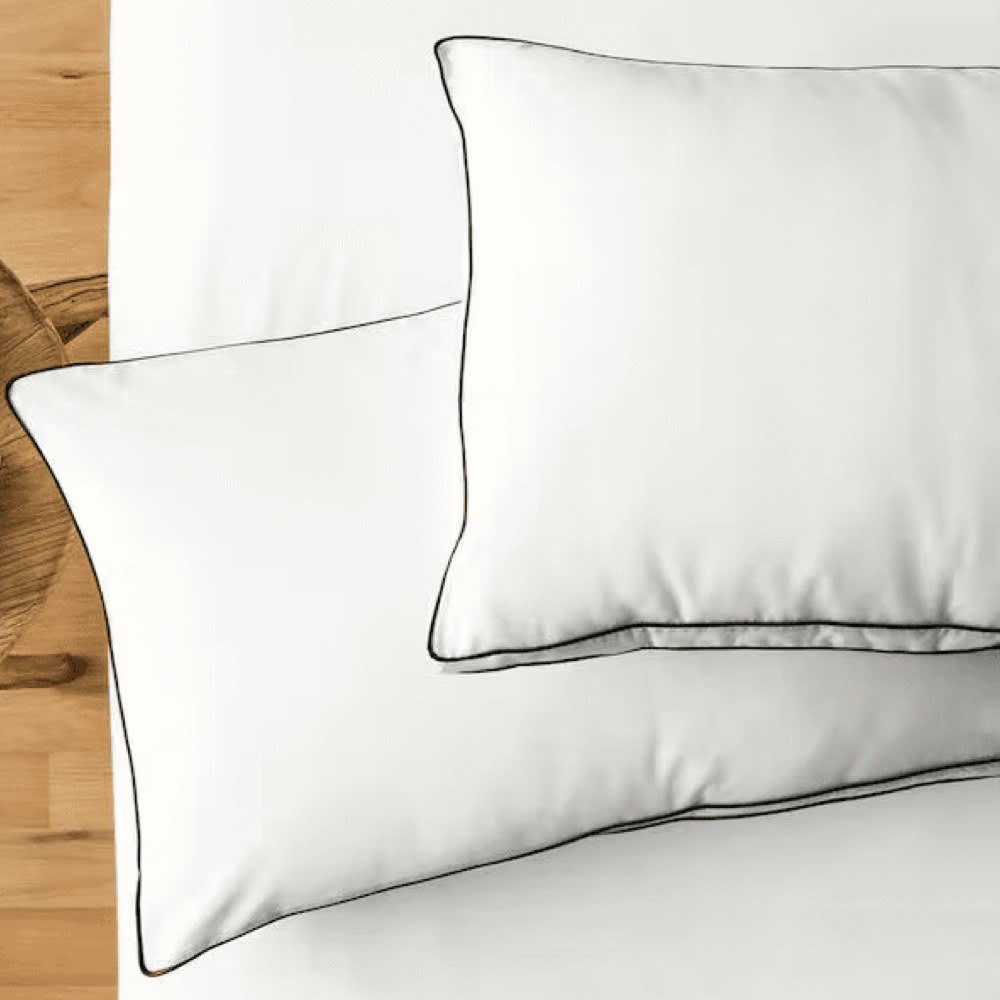 Fill Material: Shredded Talalay latex and down alternative

Firmness: Medium Soft

Price: $165
Shredded latex core promotes durability and breathability
Adjustable loft makes the pillow ideal for multiple sleep positions
Responsive design balances pressure relief and support
Side and back sleepers under 130 pounds
Hot sleepers
People seeking a pillow with a machine-washable cover
The Saatva Latex Pillow is a medium soft model that combines plushness and support without going flat, helping sleepers with shoulder pain maintain good posture.
This pillow uses a two-layer design. The inner support core consists of shredded Talalay latex that contours to the head and neck. An outer layer contains plush down alternative fill for cushioning. A zippered organic cotton cover encases the pillow, promoting air circulation and allowing easy access to the interior components.
The pillow's shape retention stood out to our testers. Gusseted edges help the pillow maintain its shape over time, while the shredded latex core prevents the pillow from going flat while maintaining a buoyant feel.
Two versions of the pillow are available: standard loft and high loft. With either loft option, you can use both layers together to increase the thickness or just one component for a thinner pillow. Depending on your choice and configuration, the loft can range from 2 inches to almost 8 inches.
Our product testers found the high-loft version of the Saatva Latex Pillow to be a good fit for side and back sleepers weighing less than 230 pounds, with those under 130 pounds giving it our highest rating. Many back sleepers also enjoyed the standard-loft option, and stomach sleepers were most comfortable using just the down alternative insert.
The Saatva Latex Pillow is available in queen and king sizes. It comes with free shipping in the contiguous United States, a 45-day return policy, and a one-year limited warranty. Both the cover and the down alternative layer are machine-washable.
We found the Saatva Latex Pillow an excellent choice for side, back, and combination sleepers experiencing shoulder pain. The responsive and supportive materials promote good posture, taking pressure off the shoulders. The adjustability also allows you to modify the pillow if your needs or preferred sleep position change.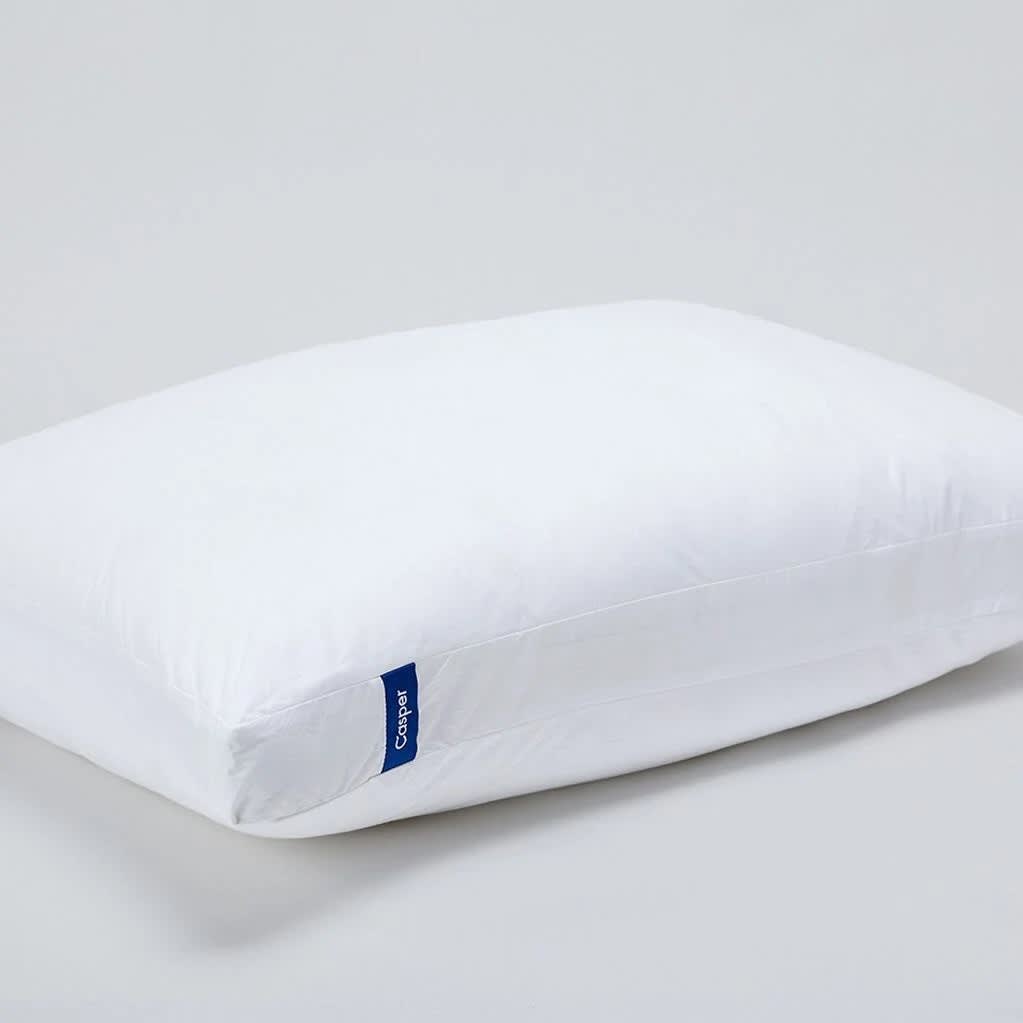 Fill Material: Crimped Polyester Microfiber Fill

Firmness: Medium Soft

Price: $65
Soft yet supportive pillow-in-pillow design
Cotton cover allows air to circulate
Machine-washable for easy cleaning
Side and back sleepers of all weights
Those who sleep hot
Budget-conscious shoppers
The Casper Original's pillow-in-pillow design and competitive price-point make it well suited to side and back sleepers of all weights and budgets.
This model has a supportive inner pillow and a soft outer pillow to achieve a medium soft overall firmness level. It contains polyester microfiber fill, a polyester fabric lining, and a cotton cover. The pillow has a 2-inch gusset for shape retention and measures 5 to 6 inches in loft depending on which size you select.
Because of its medium soft feel and high loft, the Casper Original Pillow was a favorite among testers who sleep on their side or back, comfortably filling the gap between their head, neck, and the bed. The fully constructed pillow was too lofty for our testers who sleep on their stomach, but using just one layer of the pillow provided some cushioning without excessive lift.
We found the fill highly moldable, allowing our testers to manipulate the pillow's shape based on their unique aches and pains. At the same time, the pillow held its shape well. While we fluffed it between tests, our team members didn't need to keep repositioning it once they were comfortable.
Another aspect that stood out to testers is the ease of cleaning. Owners can deconstruct the pillow and put both components in the washing machine with mild detergent on a gentle cycle.
Casper offers free shipping in the contiguous U.S. and Canadian territories, as well as a 30-night sleep trial. The pillow is available in a single or double pack in standard or king size.
Overall, testers expressed that the support and softness of the Casper Original Pillow alleviated tension in their shoulders at a cost-effective price.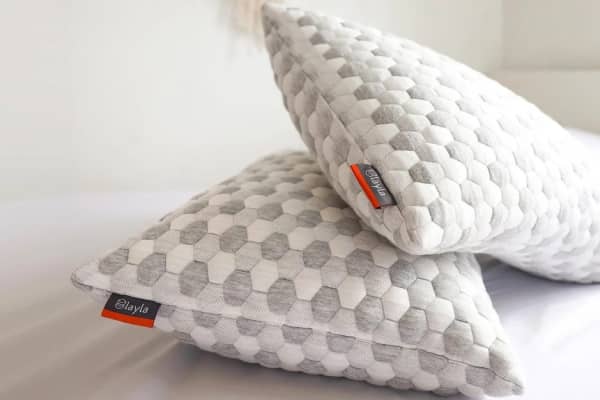 Fill Material: Shredded memory foam and kapok tree fiber blend

Firmness: Medium Soft

Price: $109
Blend of shredded memory foam and kapok fibers creates a plush and supportive feel
Airy and breathable materials promote temperature neutrality
Removable fill for adjustable loft and firmness
Side and back sleepers under 230 pounds
People who tend to sleep hot
Sleepers with changing needs or preferences
Constructed from a unique blend of materials, the Layla Kapok Pillow offers comfort and support for nearly any sleeper due to its adjustability.
The pillow contains a blend of shredded memory foam and natural kapok fibers. Derived from a tree cultivated primarily in Southeast Asia, kapok fibers are highly buoyant and lighter than cotton. They're also breathable and quick-drying to help keep the pillow cooler. When combined with shredded memory foam, this unique fill balances responsiveness, support, and plushness.
The cover uses a blend of polyester, viscose, and Lycra that lets air circulate into and out of the pillow. A zippered side allows sleepers to remove fill to adjust the loft and firmness.
Because of its adjustability, the Layla Kapok Pillow was popular with the majority of our testers. Stomach sleepers removed some fill so that the pillow didn't force them to crane their neck excessively, while side sleepers appreciated the plush support of the fully stuffed pillow. In addition, testers noted that the pillow is easy to mold and manipulate as needed, and the surface also stayed quite cool in our temperature readings.
The Layla Kapok Pillow is available in queen and king sizes. Layla offers free shipping in the contiguous U.S., a 120-night trial period, and a five-year limited warranty.
The signature material blend and adjustable design make the Layla Kapok Pillow a comfortable option for many sleepers with shoulder pain regardless of their body type and sleep position.
Avocado Organic Luxury Plush Pillow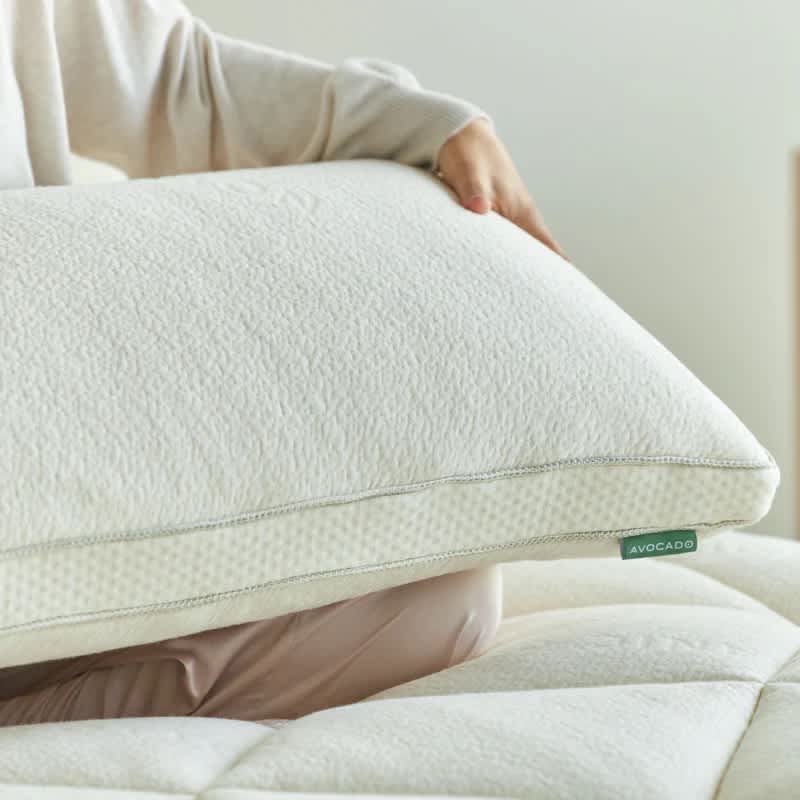 Fill Material: Solid, ventilated Talalay latex with wool, silk, and mohair padding

Firmness: Medium Soft

Price: $229
Three-layer construction for comfort and support
GOTS-certified organic cotton cover
Resilient design for long-term shape retention
Side and back sleepers under 130 pounds
People seeking a highly durable pillow
Eco-conscious shoppers
Made from natural materials, the Avocado Organic Luxury Plush Pillow is a three-layer medium soft pillow that balances support and comfort.
A natural Talalay latex core contours to the sleeper's shape while redistributing their weight, providing a buoyant feel and durable support. Comfort layers on either side of the pillow add plushness. They contain a blend of wool, silk, and mohair for breathable, moisture-wicking cushioning.
The pillow's cover is made with cotton that's certified organic by the Global Organic Textile Standard. This model is also GREENGUARD Gold certified, meaning it meets third-party health-based standards.
We found the Avocado Organic Luxury Plush Pillow well suited to side and back sleepers of all sizes, though it particularly stood out for our testers under 130 pounds. The latex core held its shape under the weight of our testers' heads, keeping their necks and shoulders in more neutral alignment. At the same time, the plush outer layer stayed cool and allowed our testers to mold the pillow to their curves.
The Avocado Organic Luxury Plush Pillow includes free shipping in the contiguous U.S., a 100-night sleep trial, and a one-year limited warranty. It is available in queen and king sizes.
For eco-conscious shoppers with shoulder pain, it's hard to beat the Avocado Organic Luxury Plush Pillow. Our testers noted that its combination of conforming and support helped reduce pressure buildup and promoted good posture.
Eli & Elm Cotton Side-Sleeper Pillow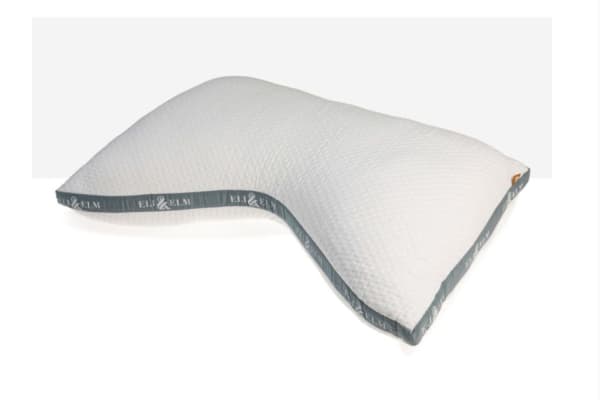 Fill Material: 75% Latex and 25% Polyester Fiber

Firmness: Medium, Adjustable

Price: $131
Special shape leaves room for a side sleeper's shoulder
Removable fill for adjustable firmness and loft
Custom pillowcase sold separately
Side sleepers of all body types
Hot sleepers
Those who value moldability
The Eli & Elm Cotton Side-Sleeper Pillow's unique U-shape design supports a side sleeper's head and neck while leaving room for their shoulder. This may make it easier for side sleepers to avoid scrunched shoulders and the resulting discomfort.
This model's fill consists of latex noodles and polyester fibers. While the latex is responsive and supportive, the polyester is plush and fluffy. Since the fill is removable, sleepers can add or remove material according to their firmness and loft preferences. The cover contains cotton, spandex, and polyester.
The pillow's signature U-shape provided plenty of space for our side sleepers' shoulders, effectively supporting their heads and necks without digging into their arms. Testers could also easily adjust the fill to achieve their optimal loft and firmness for good spinal alignment.
The Eli & Elm Cotton Side-Sleeper Pillow is available in one size measuring 17 by 29 inches. Extra fill is sold separately. Eli & Elm also sells a custom pillowcase to fit this model's unique shape. The pillow comes with a five-year limited warranty and a 45-day return policy.
Overall, we found the Eli & Elm Cotton Side-Sleeper Pillow optimal for side sleepers with shoulder pain made worse by pressing against a pillow. The unique shape, adjustable fill, and supportive material work together to provide targeted comfort and support.
Why You Should Trust Us
Our product testers range in body type, weight, preferred sleeping positions, and preferences to ensure a well-rounded review and analysis of all the pillows we assess. We have years of experience evaluating a variety of pillows, and we rate each model based on established performance criteria. To find the best pillows for shoulder pain, we focused primarily on each model's ability to relieve pressure and support the spine.
Shoulder pain is among the most common orthopedic ailments. The cause is often difficult to pinpoint because so many muscles, tendons, ligaments, bones, and fluid-filled sacs occupy the area. In some cases, shoulder pain clears up in a few months. In others, it may become chronic and go on for years.
Persistent shoulder pain can result from a variety of medical conditions, including:
Rotator cuff injuries
Osteoarthritis
Tendinitis
Bursitis
Frozen shoulder
Depending on the cause of the issue, associated symptoms may include discomfort during daily activities, limited movement, swelling, and stiffness.
Talk to your doctor to assess the root cause and possible treatments, particularly if you're experiencing chronic pain.
Why Does Shoulder Pain Feel Worse at Night?
Inflammation is linked to pain, and compressing the affected shoulder can make it that much more pronounced — particularly if you sleep on your side and put weight on your shoulder. Many conditions that cause shoulder pain, including arthritis and tendinitis, are associated with inflammation.
How Does Your Pillow Affect Shoulder Pain?
Inadequate head and neck support can put stress on the shoulders, contributing to pain. Sleepers must consider pillow height, firmness, and support in relation to their needs. Ideally, a pillow should support the natural curvature of the spine, allowing the sleeper's muscles to relax.
While your pillow can make a big difference, other factors come into play. To avoid or reduce shoulder pain, your pillow and mattress should both be compatible with your sleeping position and body type.
Can Sleeping on Your Side Cause Shoulder Pain?
Although shoulder pain can arise with any sleeping position, it is most prevalent for side sleepers because of the pressure they place on one shoulder. Any side sleeper may experience occasional shoulder discomfort, but it's especially common for those with chronic inflammation in their shoulder or conditions like bursitis, rotator cuff injury, tendinitis, or frozen shoulder.
Side sleepers typically require specific support to maintain proper spinal alignment. Thicker pillows fill the gap between the head and the mattress, while a contouring mattress relieves pressure by letting the shoulder sink in more deeply. Without the right pillow and mattress, side sleepers may be more susceptible to shoulder pain.
Choosing the Best Pillow for Shoulder Pain Relief
Choosing the best pillow for shoulder pain requires careful consideration. Because every person has different needs, the ideal pillow for shoulder pain varies. We recommend considering your sleep position and body type to determine the best loft and firmness for you. Striking the right balance can help provide proper support to promote healthy spinal alignment and greater comfort.
Support and Keeping Your Spine Aligned
Support refers to a pillow's ability to promote proper spinal alignment. A pillow with the right level of support keeps the head, neck, shoulders, and spine in a neutral position, reducing tension and pressure that could otherwise contribute to discomfort.
An individual's preferred sleeping position impacts the level of support they require from a pillow. For instance, side sleepers generally need pillows with ample support to keep their head aligned with their shoulders. On the other hand, stomach sleepers typically benefit from less support since too much lift could strain their neck. Back sleepers usually fare best with a medium-loft pillow that neither forces their head up nor lets it sag.
Pillow Loft
Pillow loft refers to the height of the pillow. Low-loft pillows are less than 3 inches thick, medium-loft varieties measure 3 to 5 inches, and high-loft options are more than 5 inches. The ideal loft varies depending on sleep position, but personal preferences also contribute.
| Sleeping Position | What Pillow Loft Do You Need? |
| --- | --- |
| Side Sleepers | Side sleepers typically need a pillow with medium to high loft (5+ inches) to maintain proper spinal alignment. This should fill the space between the neck and shoulder. |
| Back Sleepers | A medium loft (3 to 5 inches) is most effective for back sleepers. The pillow should neither push the head forward nor let it tip back, either of which could create neck tension. |
| Stomach Sleepers | Due to the nature of the position, stomach sleepers generally prefer a pillow with a low loft (under 3 inches). Anything higher can tilt the head upward and strain the neck. Some stomach sleepers prefer sleeping without a pillow. |
| Combination Sleepers | Combination sleepers often use a medium loft pillow that provides comfort and support for multiple positions. They then mold the pillow to accommodate their current position of choice and support proper alignment. |
How Firm Should Your Feather Pillow Be?
The ideal pillow firmness varies depending on the sleeper's position preference. A pillow's firmness relates to its level of support and overall feel. Firmness determines how much your head sinks into the pillow, which, by extension, affects spinal alignment. Although feather pillows are typically relatively soft, the density of the fill influences the firmness.
| Sleeping Position | What Firmness Do You Need? |
| --- | --- |
| Side Sleepers | Moderately firm pillows that balance comfort and support are ideal for most side sleepers. Extra firm pillows may allow pressure buildup, while extra soft pillows tend to let the head sink excessively. |
| Back Sleepers | Back sleepers generally fare best with a medium firmness level. Firmer pillows can raise the head, misaligning the neck, while softer pillows often flatten and let the head sag. |
| Stomach Sleepers | Stomach sleepers typically enjoy a softer pillow that allows their head to sink in and rest near the mattress, though some prefer a slightly firmer model if they can find one that's thin enough for their needs. |
| Combination Sleepers | Combination sleepers often find medium to medium firm pillows most comfortable. However, moldability is key since combination sleepers may need to manipulate the pillow into different positions. |
Other Pillow Features to Consider
While loft and firmness are the two primary factors to consider when selecting a pillow for shoulder pain, other aspects can also influence how comfortable the pillow is for you.
| Pillow Features | Description |
| --- | --- |
| Shape | Rectangular pillows are the most traditional, but other shapes are widely available. Sleepers with shoulder pain might also consider contour pillows, body pillows, wedge pillows, or other designs. |
| Pressure Relief | A pressure-relieving pillow redistributes the weight of the sleeper's head and neck to limit pressure buildup. |
| Quality Materials | High-quality materials typically resist wear and tear better than cheaper varieties, allowing them to maintain their support longer. |
| Moldability | Moldable pillows enable the sleeper to scrunch up and position it as needed. This quality may be especially beneficial for combination sleepers and individuals with fluctuating shoulder pain. |
| Temperature Regulation | Hot sleepers may prefer a pillow with temperature-regulating properties. Breathable materials like cotton and latex may suffice for some sleepers, but other models use components like gel infusions specifically engineered for cooling. |
What Pillows Are Best for Shoulder Pain?
The best pillows for shoulder pain keep the head, neck, and shoulders in a neutral position while relieving pressure. Pillows that excel at easing shoulder pain often contain memory foam, latex, buckwheat, or polyfoam.
That said, each sleeper has unique needs that may be better met by one type of pillow than another. Sleepers who are unsure what they prefer or who have changing needs may benefit from an adjustable pillow.
Memory Foam: Memory foam pillows have either a solid or a shredded core. Solid cores generally provide more consistent support to promote good posture. However, shredded memory foam pillows tend to be more moldable, allowing greater flexibility.

Latex: Latex pillows also use either solid or shredded fill. Like memory foam, solid latex fill is more consistently supportive, while shredded varieties are more moldable. Latex redistributes weight while limiting sinkage, providing an excellent balance of pressure relief and support for sleepers with shoulder pain.

Buckwheat: Buckwheat pillows contain the outer casings of buckwheat seeds, also known as hulls. The buckwheat hulls make the pillow firm and supportive, ensuring the upper body does not sink. They're also frequently adjustable, allowing individuals with shoulder pain to add or remove hulls to select the ideal loft for them.

Polyfoam: Available with solid or shredded fill, polyfoam pillows are similar to memory foam but are generally not as conforming. That said, they often provide the necessary support at a more affordable price-point.
What Pillows Are Worse for Shoulder Pain?
For side sleepers, pillows with minimal support may worsen shoulder pain. Down, down alternative, and feather pillows tend to flatten under pressure. This may allow a side sleeper's head to sag, which can lead to tension throughout the upper body. Although these materials may not be ideal for side sleepers, they're often preferable for people who sleep on their stomach.
Specialty Pillows for Shoulder Pain Relief
The most common specialty pillows for shoulder pain relief are wedge, contour, and body pillows. Wedge pillows elevate the head and neck, relieving pressure from the shoulders. Contour pillows have a distinct molded shape designed to support the head and neck. Some also have a cutout or curved edge to accommodate a side sleeper's shoulder. A body pillow allows the sleeper to drape their arm over it, providing additional shoulder support.
How to Sleep With Shoulder Pain
Although the right pillow can make a considerable difference in relieving shoulder pain, how you sleep also heavily contributes. It is usually best to avoid lying on the affected area when possible, since pressure often worsens shoulder pain. Consider all aspects of your sleeping environment, including your position, pillow, and mattress when formulating a strategy to prevent neck pain while sleeping.
Side Sleepers
A supportive pillow combined with a contouring mattress generally reduces shoulder pressure and the resulting pain. Side sleepers typically prefer a relatively firm, high-loft pillow to promote spinal alignment. If the affected shoulder hurts when you lie on it, you might try switching sides and propping up that arm with another pillow to support the shoulder.
The best mattress for side sleepers usually contours to the shape of the body so that the lower shoulder can sink in, thereby redistributing pressure.
Back Sleepers
Medium-loft pillows with a medium firmness level usually keep a back sleeper's head in a neutral position, promoting spinal alignment. Firmer pillows may force the head to angle upward, and softer pillows can let the head sink closer to the mattress. Either of these scenarios could aggravate shoulder pain.
The best mattress for back sleepers generally balances moderate contouring with strong support to promote good posture.
Stomach Sleepers
Low-loft pillows are ideal for stomach sleepers, limiting neck strain by keeping the head closer to the mattress. As long as the loft is low, soft through medium firm pillows might be suitable.
While people under 130 pounds might prefer a softer bed, the best mattress for stomach sleepers is usually medium firm to firm to prevent the midsection from sagging.
While the right pillow and mattress may reduce discomfort for stomach sleepers, we usually advise against this sleeping position for people who experience chronic shoulder pain. Stomach sleeping requires tilting the head to one side, which can lead to tension in the neck that spreads to the shoulders.
Last Tips for Dealing With Shoulder Pain
Beyond choosing the right pillow, you can make several other lifestyle and sleeping changes to alleviate shoulder pain.
Find the Right Mattress
When it comes to easing shoulder pain, a mattress can be just as important as a pillow. Mattresses that are too soft for your body type and sleep position allow excessive sinkage, which can lead to tension and poor posture. Those that are too firm may contribute to pressure buildup around a side sleeper's lower shoulder.
Arrange Your Pillows to Alleviate Shoulder Pain
Depending on your sleep position, you may be able to arrange pillows around your body to ease shoulder pain. Side sleepers can rest on their non-painful side with one or two pillows propping up their affected arm. If you must lie on your painful shoulder, consider placing a pillow under your lower back and hip to create an open channel around your arm.
Back sleepers may benefit from placing a pillow under their knees to improve overall posture. Stomach sleepers may want to consider using a body pillow to transition toward sleeping on their side. Alternatively, stomach sleepers can place a body pillow on either side of their torso to encourage back sleeping.
Consult Your Doctor
In some cases, changing your sleeping environment is not enough. Shoulder pain accompanied by chest discomfort, shortness of breath, or feeling lightheaded may be signs of a heart attack, requiring immediate medical attention. If your shoulder pain is severe or includes sudden swelling, a visible deformity, or an inability to use the joint, you should also see a doctor immediately.
Even if the pain is mild but persistent, you should talk to your medical provider. They can diagnose the problem and prescribe an appropriate course of action.