Continuous positive airway pressure (CPAP) machines are a common form of therapy for sleep apnea. They are designed to be quiet and durable, and most will fit easily on a nightstand. However, they can be a bit unwieldy on a flight or long car trip. That's where travel CPAP machines can come in handy.
With their lighter weight and smaller dimensions, travel CPAP machines are designed to be more portable than standard CPAP machines. They can make it easier to continue PAP therapy no matter where you are.
We'll review our top picks for travel CPAP machines, including their features, performance, and cost. We'll also discuss how travel and standard CPAPs differ, as well as important travel CPAP features and performance characteristics to keep in mind while shopping for a machine.
Sleep Doctor's picks
Shop Now
Shop Now
Shop Now
Price: $968

Dimensions: 5.4″ x 3.3″ x 2.1″

Weight: 0.66 lbs.

Noise Rating: 30 dBA
Ramping function for increased comfort
Waterless humidification
Compatible with five mask options
Frequent travelers
Sleepers seeking a portable humidification option
Those looking for a robust accompanying app
The ResMed AirMini is designed to provide the comfort and performance of a full-sized PAP machine in compact form. Its smaller size and slim profile make it easy to carry in a handbag, backpack, or suitcase.
In addition to CPAP, the AirMini has two automatic positive airway pressure (APAP) modes: AutoSet and AutoSet for Her. While the CPAP mode provides a steady level of pressure, the AutoSet modes adjust the air pressure automatically, based on your needs throughout the night.
The AirMini's built-in waterless humidification system is designed to prevent dry mouth and nasal irritation without the need for a bulky external humidifier. The AirMini's companion app provides a nightly sleep score based on factors like length of use, number of apnea events, and the strength of the mask seal.
The AirMini comes with a drawstring bag and 20-watt power supply. Shoppers can also choose from five setup kits that each contain a 6-foot AirMini tube and a face mask or nasal pillow. The tubes and masks in these kits are the only ones compatible with the AirMini.
Purchasing the AirMini requires a prescription. It's available through a variety of third-party sellers, and it comes with a 2-year manufacturer's warranty.
Breas Z2 Auto Travel CPAP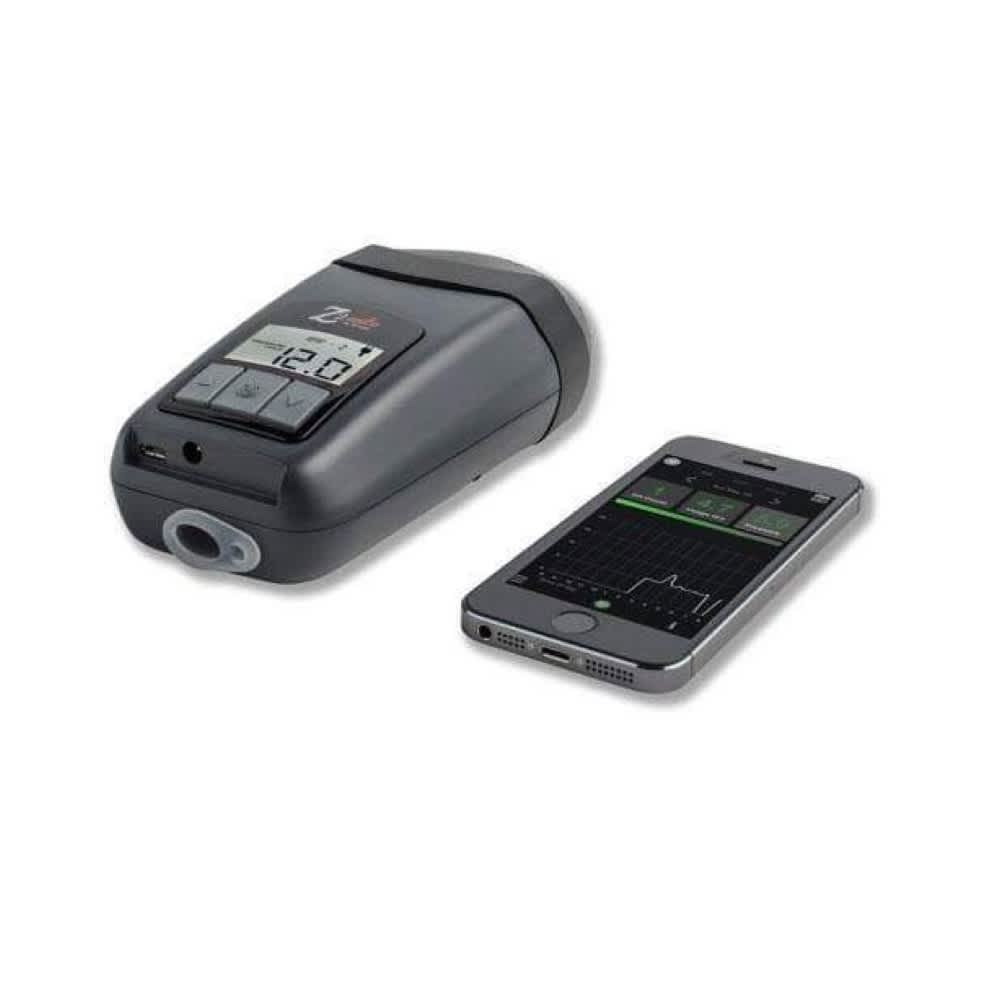 Price: $799

Dimensions: 6.5″ x 3.3″ x 2″

Weight: 0.65 lbs.

Noise Rating: 26 dBA
Includes both CPAP and APAP modes
Auto Start/Stop function begins therapy when you put on your mask and stops when you remove it
Optional rechargeable battery keeps the device running overnight on a single charge
Sleepers who want to use their preferred mask and tubing
Travelers with destinations that have different voltage standards
Those who want a simple humidification system
The Breas Z2 Auto CPAP is a small but versatile device with both CPAP and APAP modes. It includes Qlite technology designed to minimize sound in the mask, leading to a quieter sleep.
The Breas Z2 has a variety of features designed to keep you comfortable during therapy. The ramp mode gradually increases pressure to your prescribed level, which can make it easier to fall asleep. Built-in Z-Breathe technology minimizes the pressure fluctuations between inhales and exhales. The Auto Start/Stop feature begins therapy when you put on your mask and stops it when you take your mask off, making quick trips to the bathroom or accidental mask removal less of a hassle.
The Z2 Auto is compatible with most masks and tubing, and the free Nitelog app allows sleepers to track and share sleep data with their providers.
The Breas Z2 has an optional add-on PowerShell, which is an integrated rechargeable battery intended for overnight use. This add-on is particularly useful for campers, hikers, and others who anticipate sleeping away from a power source.
When a plug is available, the Z2 Auto's power supply automatically converts voltage ranging from 100 to 240 volts – a plus for international travelers.
The Z2 Auto requires a prescription. It is available through various medical supply retailers and comes with a 2-year warranty.
Transcend Micro Travel Auto-CPAP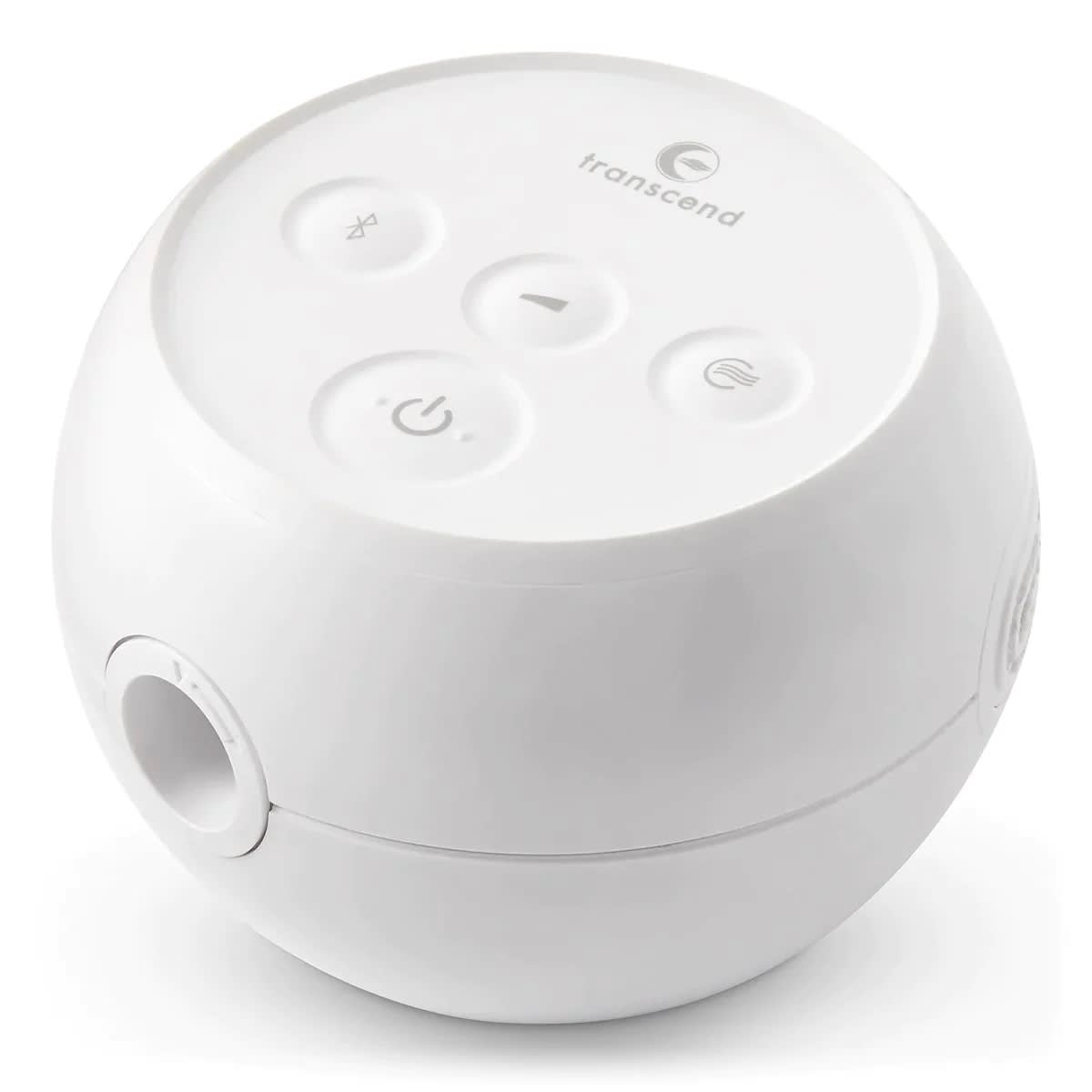 Price: $860

Dimensions: 3.6″ x 3.6″ x 2.4″

Weight: 0.48 lbs.

Noise Rating: 31 dBA
One of the smallest and lightest travel machines on the market
GentleRise feature gradually ramps up air pressure as you fall asleep
Auto-adjusting AirRelief reduces air pressure on exhalation
Travelers who want to avoid having to keep their device plugged in
Sleepers who want the option to use their own mask
People who prefer to pack light
Measuring less than 4 inches wide and weighing less than half a pound, the Transcend Micro Travel Auto-CPAP takes up very little space. It's also discreet, with a WhisperSoft muffler designed to allow the machine to operate in close quarters without disturbing others.
Sleepers can use their preferred mask with the Transcend Micro. It comes with a 6-foot hose and a travel bag. There are also optional add-ons, including a rechargeable P8 battery that allows the machine to run unplugged for up to two nights. Alternatively, shoppers can choose the Transcend Solar Battery Charger, which lets sleepers continue therapy even when access to power isn't guaranteed.
The Transcend Micro also comes with performance and comfort-enhancing features. To make it easier to fall asleep, the GentleRise feature gradually ramps up air pressure to prescribed levels. The Transcend Micro also uses AirRelief to adjust air pressure on the exhale. Additionally, the device is equipped with a drying mode that can be switched on after you wake up in the morning to initiate a 30-minute drying cycle through the mask and hose.
Sleepers with a prescription can purchase Transcend Micro on the brand's website and through various third-party retailers. It comes with a 2-year manufacturer's warranty.
How we make our picks
We do extensive product research on all of the CPAP devices we recommend. Our findings are grounded in many years of experience with sleep products, as well as our knowledge of sleep apnea and CPAP therapy.

We compare CPAP products based on key factors, including performance features, brand reputation, customer reviews, and availability. The resulting recommendations are meant to improve the shopping experience by taking the guesswork out of your purchase decision.
What are the benefits of using a travel CPAP machine?
Travel CPAP machines are small and lightweight, making them easy to pack. This portability allows sleepers to continue therapy while on the go, affording them all the advantages of CPAP use without needing to lug around a full-sized machine.
How do travel CPAP machines and standard CPAP devices differ?
While they deliver similar results, travel CPAP and standard CPAP machines differ in several ways.
Pricing, sizing, and weight
The price of standard CPAP machines varies widely. Some budget options can cost around $500, while higher-end brands can be closer to $1,000. Travel CPAP machines tend to cost more on average. It's also worth noting that travel CPAP machines are less likely to be covered by insurance.
In general, standard CPAP machines are about the size of a small shoebox, with a length of less than a foot and a weight of around 3 or 4 pounds. Travel CPAP machines are noticeably smaller and lighter, with measurements that are often half of what you'd see for full-sized machines.
Their smaller footprint makes travel CPAP machines more attractive for when you're on the go, and space is at a premium. This is particularly true for use on planes, where a compact machine can fit more easily on the tray or under the seat.
Compatibility with your CPAP accessories
CPAP machines can vary in their compatibility with masks, tubes, and other accessories. The accessories that work on a sleeper's standard machine may use a proprietary connection that won't fit a travel CPAP. Conversely, the travel CPAP may not have universal connectivity. In either case, sleepers will need to purchase an adapter or separate mask and hose kit made specifically for their travel CPAP.
Selecting a travel CPAP machine that fits your preferred mask and tubing can save money and help you feel more comfortable. Most brand websites list compatibility specifications for their products.
Humidifiers
Some CPAP machines have integrated or external humidifiers that add moisture to the pressurized air. Humidifiers can help keep the throat, mouth, and nasal passages from drying out and causing discomfort. However, humidifiers usually use water reservoirs, which can be bulky or cumbersome. Some travel CPAP machines get around this difficulty by using waterless humidification.
CPAP batteries
Standard CPAP machines typically plug into the wall. Travel CPAPs also come with an AC power adapter, but many have built-in or external batteries that allow the machine to function when an outlet is not available. This can be especially helpful if you're using a travel CPAP while camping or anywhere else where power outlets aren't readily available. However, the addition of a battery does impact the weight and size of a travel CPAP.
Are there travel versions of BiPAP or APAP machines?
Many travel CPAP machines include APAP modes. Separate APAP and BiPAP travel machines are harder to come by, in part because they generally aren't small enough to be conveniently portable.
How to find the best travel CPAP machine for you
There are several considerations to take into account when selecting a travel CPAP machine. You'll want to think about your desired pressure and noise levels and determine whether you want a machine with data tracking, ramp settings, or other smart features.
Pressure ranges and noise levels
| Pressure ranges | Noise levels |
| --- | --- |
| Travel CPAP machines typically have a pressure range of between 4 and 20 cm H2O. Most pressure prescriptions fall within this span. | Travel CPAPs usually run at a noise level that falls between 25 and 30 decibels. This is sometimes referred to as "whisper quiet" and is about on par with regular CPAP machines. |
CPAP data tracking, ramp settings, and smart features
| Data tracking | Ramp settings | Smart features |
| --- | --- | --- |
| Travel CPAPs may have onboard or app-based data tracking. Tracked categories can include total hours used, number of apnea events, and quality of the mask seal. Comparing data collected while traveling versus at home could offer additional insights into your therapy plan. | Some travel CPAP machines come with ramp settings. These allow the machine to gradually increase the air pressure over time until it reaches the prescribed level. The feature is designed to make it easier to fall asleep. Ramp settings can be especially handy for sleepers who have trouble falling asleep while traveling. | Many travel CPAPs are equipped with smart features that include Wi-Fi connectivity and pre-heating humidifiers. These additional benefits can increase comfort and convenience while you're on the road. |
Can a portable CPAP machine work as your primary CPAP device?
Portable CPAP machines can work as your primary CPAP device, especially if they are made by a trusted brand using high-quality components. However, it's important to note that travel CPAP machines aren't generally designed for long-term use, so you might be better off saving them for use when you're away from home.
CPAP prescription, insurance, and purchase information
Purchasing a travel CPAP machine is fairly straightforward, provided you have a prescription and an understanding of what your insurance will and won't cover in terms of cost.
Do you need a prescription for a travel CPAP machine?
The FDA considers travel CPAPs to be Class II medical devices, meaning sleepers need a prescription in order to purchase one. Following a sleep test, a doctor's prescription will include a pressure setting that is personalized to the sleeper.
Does your health insurance or medicare cover the costs of a travel CPAP device?
Health insurance or Medicare may cover the costs of a travel CPAP machine. However, even if your machine is covered by insurance, you may still need to pay monthly installments and provide usage data. It's important to verify your coverage benefits and any other requirements with your insurance provider.
Where can you buy a travel CPAP machine?
Travel CPAP machines can be purchased online or in stores, and the buying process can look different depending on which option you choose.
Brand websites typically have an online storefront. There are also many web-based, third-party sleep product retailers that sell travel CPAP machines. Be sure to have your prescription and insurance information on hand so you can enter it at checkout.
Buying from a brick-and-mortar store can give you access to a knowledgeable salesperson who can help guide you through the buying process. However, some deals, sleep trials, and models may be unavailable when shopping in person.
Last things to think about when traveling with CPAP machines
Traveling with a CPAP machine doesn't need to be complicated. As with most things, preparing ahead of time for your trip helps. This is especially important when it comes to airline travel. You'll want to ensure that your device is FAA approved, including any external batteries or accessories. If you plan to use your machine on the plane, make sure your airline doesn't have a notification requirement.
How do you pack a CPAP machine for air travel?
It's best not to pack your CPAP machine in checked baggage to protect it from getting lost, stolen, or broken. However, your CPAP machine must be FAA approved in order for you to bring it on board. Flyers can also carry their CPAP in a separate bag or case, which, according to FAA regulations, won't count toward a carry-on limit.
If you use a humidifier, make sure it's empty, and plan to refill it with distilled water at your destination.
How do you travel internationally with a CPAP machine?
International travelers who want to use a CPAP while abroad should keep varying outlet sizes and power inputs in mind. Check to see if a converter is needed to plug your CPAP into the wall. You'll also want to double-check your machine's voltage requirements.