Sleeping on your back – with an appropriate level of support – can help keep the spine aligned and relieve discomfort caused by poor posture. Check out our top picks for the best mattress for back sleepers, including foam, innerspring, and hybrid models, then read on to learn the factors that may influence which mattress is best for you, including firmness, temperature regulation, and edge support.
Trial Length 100 nights (30-night requirement)

Warranty 10 Year, Limited

Trial Length / Warranty

100 nights (30-night requirement) / 10 Year, Limited
Sleep Doctor's Take
The Helix Dusk is a hybrid model made with specialized foam that's more responsive than traditional foam. Our testers describe the mattress as sturdy and supportive while still offering ample cushioning for pressure points along the spine.
Foam and coil design gently cushions pressure points
Coil base generates strong support
Mixed-foam comfort layers reduce motion transfer
Back sleepers over 230 pounds may need a firmer bed
Available in just one firmness option
The Helix Dusk is a hybrid model with a medium firm (6) feel. The foam and coil layers carefully balance contouring and support, making this a strong choice for anyone who sleeps on their back.
The mattress begins with a layer of Helix Dynamic Foam, which conforms closely to the body but also has a responsive feel to prevent uncomfortable sinkage. Beneath is a memory foam layer that enhances contouring and cushions your body from the pocketed coils beneath. The coil layer is 8 inches thick and provides sturdy support. Two sides of the bed are also reinforced to bolster support along the edges.
Most back and side sleepers on our team received plenty of support for the lumbar region, thanks to the sturdiness and pushback from the coil base. Meanwhile the foam layers gently cushioned our shoulders, hips, and spine to minimize painful pressure buildup in these areas. The mattress was most comfortable for sleepers up to 230 pounds. If you weigh more, you may prefer a firmer bed with more support.
The Helix Dusk excels at absorbing motion and noise, so this bed is well suited to co-sleepers who wake each other up with movement at night. Hot sleepers should find the bed fairly cool thanks to the airflow through the coils. For an additional fee, you can also opt for a GlacioTex Cooling cover, which is engineered to regulate temperature on the surface.
Helix offers free shipping to all 50 states. You'll receive a 100-night sleep trial to try the bed at home, and a 10-year warranty if you decide to keep the mattress.
Warranty Lifetime, Limited

Trial Length / Warranty

365 nights / Lifetime, Limited
Sleep Doctor's Take
The Nectar Mattress is a quintessential all-foam mattress that offers deep cushioning for the spine and moderate pushback from denser foam layers. The side and back sleepers on our team gave the bed high marks for its well-balanced design.
Gel infusion designed to regulate temperature
Affordable price-point
Limited lifetime warranty and 365-night sleep trial
Some sleepers may prefer a bed with more bounce
Hot sleepers may feel warm on the foam layers
Nectar's flagship product is a budget-friendly all-foam model with a medium firm (6) feel that's suitable for many types of back sleepers.
The Nectar Mattress includes three layers. The top comfort layer consists of 2 inches of memory foam designed to cushion and contour the body. This layer is infused with gel designed to transfer heat away from the body. Our testers found that the 3-inch transitional layer of polyfoam added support and prevented them from sinking too far into the bed. The support core uses 7 inches of polyfoam to stabilize the mattress.
The cover is a blend of polyester, nylon, and polyethylene crafted to feel soft, smooth, and cool to the touch while wicking away moisture. Partners sharing a sleep surface should appreciate the Nectar's exceptional motion isolation.
The mattress earned high marks from our testers under 230 pounds who sleep on their back. Since the mattress can also accommodate side and stomach sleepers in this weight range, it may be ideal for combination sleepers and couples with different position preferences.
The Nectar Mattress includes free shipping within the contiguous United States. Purchases also come with a 365-night sleep trial and a limited lifetime warranty.
Our testing team found the Nectar Mattress offered a contouring surface with good temperature regulation and solid support at an affordable price-point, making it a good option for back sleepers on a budget.
Trial Length 120 nights (30 night requirement)

Warranty Lifetime, Limited

Trial Length / Warranty

120 nights (30 night requirement) / Lifetime, Limited

Firmness Medium Soft (4), Medium Firm (6), Firm (7), Firm (8)
Sleep Doctor's Take
The WinkBed has a Euro-top design that offers excellent cushioning on the surface combined with sturdy support from the coil base. With four firmness options to pick from, the back sleepers on our team all found the bed comfortable regardless of their body type.
Four firmness options
Euro-top with Tencel cover and gel-infused polyfoam designed for cooling
Zoned support engineered for back relief
Profile may be high for sleepers who prefer low beds
Firmer models produce some motion transfer
For optimal support and comfort, back sleepers need a mattress with the right firmness level. The WinkBed is an innerspring model that comes in four distinct firmness levels to accommodate a wide array of sleepers.
The Softer model is medium soft (4), which many of our team's back sleepers under 130 pounds found comfortable. As a medium firm (6) mattress, the Luxury Firm model is appropriate for most back sleepers, especially those under 230 pounds. The Firmer is truly firm (7), so we found it was generally supportive enough for back sleepers over 130 pounds. Our testing team noticed that back sleepers over 230 pounds benefited from the extra support of the Plus, a firm (8) option designed for larger individuals.
Each firmness option varies slightly in construction. The Softer, Luxury Firm, and Firmer versions use a quilted Euro-top with gel-infused polyfoam designed to cushion the surface while regulating the temperature. The Luxury Firm and Firmer versions use two layers of polyfoam, and the Softer uses three for extra conforming. Meanwhile, the Plus uses a comfort system of polyfoam and zoned latex for extra support.
Each firmness option contains a pocketed coil core that enhances the bounce and breathability while limiting motion transfer. Zoning in this layer helps support the sleeper's back, and a reinforced edge makes more of the surface usable. In the Plus, the coils are banded together to further reinforce the surface for heavier individuals.
A Tencel cover encases the WinkBed. This material is designed to wick away moisture while staying cool to the touch.
WinkBeds include free shipping within the contiguous U.S. and a 120-night sleep trial. A limited lifetime warranty covers defects in the materials or craftsmanship.
With four firmness options, a surface designed to keep sleepers cool, and zoned support, back sleepers should find the WinkBed provides an appealing balance of support and contouring.
Trial Length 365 Nights ($99 Return Fee)

Warranty Lifetime, Limited

Trial Length / Warranty

365 Nights ($99 Return Fee) / Lifetime, Limited

Firmness Soft (3), Medium Firm (6), Firm (8)
Sleep Doctor's Take
The Saatva Classic has a thoughtful dual-coil design that ensures plenty of support for back sleepers. With three firmness options available, you can pick the amount of cushioning that suits you best.
Three firmness levels and two profile options
Lumbar pad to promote good posture
Dual-coil design
Price-point may be high for shoppers on a budget
Motion transfer is noticeable
The Saatva Classic is a luxury innerspring model with enough options to suit nearly any back sleeper. It comes in two profiles: 11.5 inches and 14.5 inches. Shoppers can also select between three firmness options: soft (3), medium firm (6), and firm (8). Depending on their weight, most back sleepers prefer the medium firm or firm option. However, some of our testers under 130 pounds liked the soft version.
A 3-inch Euro-top with polyfoam cushions the surface, while a memory foam lumbar pad reinforces the center of the bed for enhanced back support. We found that the 4 inches of pocketed microcoils contoured to our bodies and relieved pressure. The support core consists of sturdier Bonnell coils for sag-resistant support. A firm, high-density polyfoam layer wraps around the outer edge, which our testers noticed reinforced the perimeter. A cotton cover lets air circulate through the mattress.
Thanks to its breathable design, the Saatva was especially popular with our testers who sleep hot. The combination of cushioning and bounce also makes it appropriate for those who want a balance between pressure relief and ease of movement.
The Saatva Classic comes with free White Glove delivery in the contiguous United States, a lifetime warranty, and a 365-night sleep trial.
The Saatva Classic features three firmness options, a conforming Euro-top, and a dual-coil design that prevents heat buildup. This makes it suitable for a variety of back sleepers — particularly those who prefer a slightly responsive surface.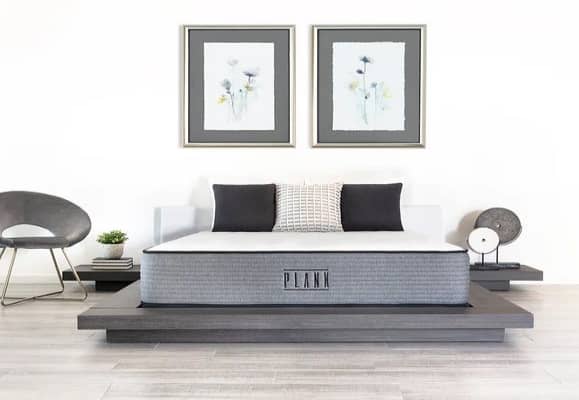 Trial Length 120 nights (30-night requirement)

Warranty 10 Year, Limited

Trial Length / Warranty

120 nights (30-night requirement) / 10 Year, Limited

Firmness Firm (7), Extra Firm (9)
Sleep Doctor's Take
The Plank Firm Luxe is a dual-sided mattress that offers a different feel on each surface — both with above-average firmness for a hybrid model. Our testers recommend this model for sleepers who need extra-firm support to help with back pain.
Reversible design with exceptionally firm surfaces on each side
Optional phase change panel dissipates body heat
Available in 12 sizes
Back sleepers under 130 pounds may prefer a softer bed
Produces some motion transfer
Sleepers who live with back pain should invest in a mattress that provides even support and doesn't sink excessively beneath their weight. The Plank Firm Luxe is a reversible mattress with firm (7) and extra firm (9) sides. The former is ideal for sleepers who need strong support and a bit of cushioning for their body, while the latter contours to a very minimal extent and provides excellent reinforcement from head to toe.
The firm surface features a layer of quilted padding material, followed by a TitanFlex foam comfort layer and a polyfoam transitional layer. TitanFlex is a proprietary material that combines the cushioning of foam with the responsiveness of latex, so this side felt somewhat bouncy when our testers moved across the surface. The extra firm side omits the TitanFlex to maintain its ultra-supportive feel.
The shared support core consists of pocketed coils. Air circulates freely throughout the coil system and both sides of the mattress retain very little heat, so the mattress should sleep cool for most people. If you're an exceptionally hot sleeper, you can also add a panel of phase change material (PCM) to the top of each side of the mattress for an extra fee. PCM is designed to capture and release heat on contact, keeping the surface at a comfortable temperature even on hot or humid nights.
Our testing indicates the firm side of the Plank Firm Luxe is best suited to back and stomach sleepers who weigh at least 130 pounds. People who use these positions and weigh more than 230 pounds may also feel comfortable on the extra firm side. The mattress weighs between 60 and 105 pounds depending on its size, so flipping it over may require assistance from a lifting partner.
The Plank Firm Luxe is reasonably priced and shipping is free throughout the contiguous U.S. Brooklyn Bedding offers 12 sizes for the mattress, including a pair of RV-friendly options. All purchases include a 120-night sleep trial, and those who keep the mattress after the trial ends also receive a 10-year warranty that covers structural defects.
The Plank Firm Luxe's flippable design and extra firm option should appeal to back sleepers looking for a mattress with minimal contouring, particularly those who sleep hot.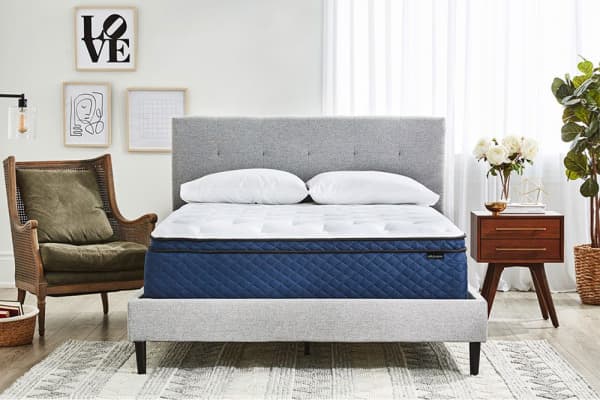 Trial Length 100 nights (30-night requirement)

Warranty 15 Year, Limited

Trial Length / Warranty

100 nights (30-night requirement) / 15 Year, Limited
Sleep Doctor's Take
The quilted cover and double foam layers make the Silk & Snow Hybrid an excellent choice for back sleepers who need cradling to relieve pressure off their spine. The bed was most popular among our back-sleeping testers between 130 and 230 pounds.
Zoned coils to relieve pressure and support the spine
Silver-infused cover designed to inhibit microbial growth
Two foam layers for contouring and pressure relief
Only one firmness option
Coils create some motion transfer
The Silk & Snow Hybrid is a medium firm (6) model that balances conforming and support at a competitive price-point. Thanks to its relatively even weight distribution, our testers noted less pressure buildup when lying on their back.
This model's polyester and spandex cover is infused with silver, which is intended to protect against bacterial growth. A 1-inch layer of polyfoam is quilted into the cover for plush cushioning. Next, 2 inches of memory foam gently cradle the curves of the spine to promote good posture while relieving pressure. Both the polyfoam and memory foam layers are infused with gel, which is designed to transfer heat away from the body for a cooling effect.
A pocketed coil core adds support, airflow, and bounce. The coils are zoned, giving the center of the bed a sturdier feel to support the lumbar region while relieving pressure around the shoulders. A layer of firm foam wraps around the perimeter to stabilize the edges.
The Silk & Snow Hybrid earned high marks from the back sleepers on our testing team weighing less than 230 pounds. Its breathable design is ideal for many hot sleepers, and couples should appreciate its stable edges and responsive feel.
Silk & Snow offers free shipping to the contiguous U.S. and the 10 Canadian provinces. The mattress also comes with a 100-night trial and a 15-year limited warranty.
For back sleepers looking for pressure relief, the Silk & Snow Hybrid offers support with a conforming surface. Zoned coils and a cover designed to dissipate heat help keep sleepers cool and comfortable at an affordable price-point.
Why You Should Trust Us
Thanks to our many years of experience in the sleep industry, we understand what matters most when it comes to getting a good night's rest.

Our reviews and guides are based on extensive research and in-house testing of dozens of competing models. We enlist a diverse array of testers with varying body types and sleep position preferences for insight into how different individuals experience the same mattress. This combination of objective and subjective feedback enables us to provide the most comprehensive reviews possible.
How to Pick a Mattress for Back Sleepers
What do back sleepers need from a mattress in order to sleep comfortably? In the video below, our sleep experts get hands-on with mattresses to show you exactly what to look for when shopping for beds for back sleepers.
What Do Back Sleepers Need for a Good Night's Sleep?
Most back sleepers look for a mattress that supports the spine while easing pressure points. However, many also need additional sleep accessories to be comfortable. We'll explain key elements a back sleeper should consider.
Find the Type of Mattress That Works for You
Back sleepers may rest comfortably on foam, hybrid, innerspring, latex, or airbed models, but the ideal type varies depending on your unique preferences.
Find the Right Mattress Firmness
Back sleepers need the right level of support to keep their spines aligned and limit lumbar discomfort. Firmness usually affects support, making it an important consideration. The optimal firmness varies depending largely on an individual's weight. Most back sleepers between 130 and 230 pounds prefer a medium to medium firm model. Lighter individuals may favor a softer model, while heavier people often look for a firmer option.
Back Pain, Sleep Apnea, Acid Reflux, and Pillows
For some sleepers, back sleeping aggravates back pain, sleep apnea, or acid reflux. Pillows and other accessories may ease symptoms. Those who experience back pain often tuck a small pillow under their knees to help maintain the natural curvature of the spine.
Those with sleep apnea should discuss solutions with their doctor, but many benefit from a CPAP machine or a wedge pillow that elevates the upper body. Individuals with acid reflux also frequently use wedge pillows to relieve discomfort.
What Type of Mattress Is Best for Back Sleepers?
While back sleepers generally need a supportive surface with moderate contouring, there isn't one type of mattress that is ideal for all back sleepers. Each popular variety of mattress can meet a back sleeper's needs in different ways. Ultimately, the best type of mattress for a back sleeper depends on that individual's preferences.
Hybrid Mattresses
Hybrid mattresses incorporate a comfort layer of foam or latex with a core of supportive coils. For many back sleepers, hybrid models represent the best of both worlds. Their comfort systems usually contour to the spine, while the coils provide essential support. Most hybrids have a balanced performance that combines motion isolation, bounce, and breathability.
Innerspring Mattresses
Innersprings are the most traditional type of mattress, consisting primarily of metal coils. Many modern innerspring mattresses also include foam or latex for cushioning. While some manufacturers use the terms hybrid and innerspring interchangeably, the comfort system of an innerspring is typically thinner or nonexistent.
Hot sleepers often like innerspring models because of their breathability. Back sleepers who prefer a responsive surface with minimal cushioning also gravitate toward this mattress type. However, back sleepers should make sure that the model they're considering has enough coils to support them.
Latex Mattresses
Latex mattresses use latex in both their comfort systems and support cores. Natural latex is made from rubber tree sap, so it's popular with eco-conscious shoppers. However, manufacturers also make synthetic and blended options.
Models made of latex typically cradle the body to relieve pressure without the close hug of memory foam, which might appeal to back sleepers looking for additional support. Latex's buoyancy also facilitates movement across the surface, enabling easy position changes.
Foam Mattresses
Foam mattresses generally use memory foam or polyfoam in their comfort systems and high-density polyfoam cores. Memory foam mattresses in particular are known for their ability to mold closely to the sleeper's body and ease pressure.
Many back sleepers benefit from foam mattresses that offer a balance of contouring and support. Foam models are often good options for couples wanting to limit motion transfer across the sleep surface.
What's the Best Mattress Firmness for Back Sleepers?
Medium (5) to medium firm (6) mattresses can accommodate many back sleepers, but the ideal firmness varies between individuals based on their weights and preferences. Sleepers under 130 pounds may prefer a softer mattress, while those over 230 pounds may require a firmer model for support.
Our Firmness Scale and the Ideal Range for Back Sleepers
We rate every mattress we test on a 10-point firmness scale. The softest mattress scores a 1, providing the most contouring. The firmest mattress rates as a 10, which equates to an extremely firm surface with no conforming.
A sleeper's body weight plays a major role in how soft or firm a mattress feels. A heavier individual exerts more force on the mattress than a lighter person, so the same bed may feel soft to one sleeper and firm to another. Therefore, back sleepers who weigh more than 230 pounds usually prefer a firmer mattress, while those under 130 pounds generally favor a softer surface.
Are Soft Mattresses Good for Back Sleepers?
Soft mattresses usually aren't recommended for back sleepers, though they may be appropriate for some individuals. Back sleepers under 130 pounds might prefer soft models since these individuals don't sink in as deeply as their heavier counterparts. While other back sleepers may also enjoy a plush surface, a mattress that's too soft can allow their hips to sink in too deeply. This can place excess pressure on the lower back and may be problematic for spinal alignment.
Last Things Back Sleepers Should Know
All sleep positions come with potential pros and cons. Improper alignment is often a concern for back sleepers, contributing to discomfort and interfering with sleep. Those with sleep apnea and acid reflux also frequently experience more symptoms when lying on their back. In many cases, the right accessories can make a difference.
What Kind of Mattress Will Help With Back Pain?
A mattress that promotes alignment by supporting the natural curvature of the spine should help with back pain. This requires finding the ideal firmness for your body type so that your hips can sink into the mattress without sagging. The trick is to find the right balance of contouring and support.
Sleep Apnea and Acid Reflux
Back sleeping can aggravate sleep apnea and acid reflux, but the right accessories can help counteract this effect.
Many back sleepers with sleep apnea or acid reflux use a wedge pillow to elevate their upper bodies so that gravity works in their favor. Some individuals with sleep apnea also benefit from a mandibular advancement device, which is a mouthpiece designed to move the jaw forward to help prevent soft tissues from blocking the throat.
Back sleepers who experience sleep apnea or acid reflux may also try side sleeping to see if a change of sleep position eases symptoms. If you keep rolling onto your back, placing a body pillow behind you can help encourage you to stay on your side.
If you suspect you have sleep apnea or acid reflux, you should talk with your doctor. They can recommend the best course of action, assess the health implications, and prescribe other remedies if necessary.
Best Mattress Accessories for Back Sleepers
Accessories that help support spinal alignment can help back sleepers rest more comfortably and wake up with fewer aches and pains. Pillows and mattress toppers are some of the most popular solutions.
Pillows
Back sleepers can use several types of pillows to help maintain good posture. The right traditional pillow supports the head and neck to keep the neck in a neutral position. Usually, a medium loft is ideal for back sleepers.
A cervical or chiropractic pillow is another good solution for promoting good sleep posture. Back sleepers also frequently use wedge pillows to elevate their upper bodies, which can help reduce snoring and acid reflux. Additionally, a pillow placed under the knees may limit lower back strain, and a lumbar pillow positioned under the lower back can provide added support.
Mattress Toppers
For back sleepers, the right firmness is key to comfort. As the name implies, a mattress topper provides an extra layer on top of your mattress. They come in a multitude of thicknesses, materials, and firmness levels to adjust the feel of your sleep surface without the expense of replacing your mattress. If your bed is slightly too soft or too firm for back sleeping, a topper can fine-tune the feel so that it's closer to your ideal firmness level.