Tempur-Pedic harnessed the unique properties of memory foam, a material developed by NASA scientists, to create mattresses that balance contouring and spinal support. The company's signature TEMPUR material may be particularly beneficial for back sleepers, cradling the lumbar area to relieve pressure while promoting good posture.
We'll share our top picks for the best Tempur-Pedic mattresses for back sleepers. Our recommendations are based on extensive in-house testing of each model in Tempur-Pedic's lineup. Then, we'll highlight the Tempur-Pedic brand, its history, its potential benefits, and additional factors for back sleepers to consider.
Tempur-Pedic TEMPUR-Adapt
Trial Length 90 Nights (30-Night Requirement)

Warranty 10 Year, Limited

Trial Length / Warranty

90 Nights (30-Night Requirement) / 10 Year, Limited
Sleep Doctor's Take
The Tempur-Pedic TEMPUR-Adapt comes in all-foam and foam hybrid options, both of which offered great cushioning to help our back sleepers maintain healthy alignment. Ample cushioning along the spine also helps alleviate pressure-induced pain, while the polyfoam or pocketed coil support core prevents excessive sinkage.
Available in all-foam and hybrid designs
Open-cell material and cool-to-the-touch cover designed for temperature regulation
Exceptional motion absorption
People who have trouble getting in and out of bed may prefer a model with more edge support
Couples who prefer responsiveness for sex may find the foam layers restrict movement
Built with signature TEMPUR materials, the TEMPUR-Adapt Mattress is a medium (5) model that cradles back sleepers. All-foam and hybrid versions are available.
Each TEMPUR-Adapt Mattress has a cover designed for cooling. The comfort system consists of two layers of memory foam that mold to the body. Our testers noted that the material conformed closely to their bodies, redistributing their weight while supporting their spines.
The all-foam version's support core uses polyfoam that adjusts to a sleeper's movements while absorbing vibrations. In our side-by-side tests, team members noted virtually no disruptive motion. The hybrid version of the mattress uses a pocketed coil core. While our tests showed that this doesn't isolate vibrations to the same extent, our team also found it made the mattress cooler and easier to move on.
Our back sleepers under 130 pounds enjoyed the balance of contouring and support from both the all-foam and hybrid versions of the TEMPUR-Adapt. Testers between 130 and 230 pounds also found the all-foam option comfortable for back sleeping.
This mattress is eligible for free White Glove delivery in the contiguous U.S. It comes with a 10-year limited warranty and a 90-night trial.
Thanks to its close-conforming support, the TEMPUR-Adapt is comfortable for back sleepers with sharp pressure points.
Tempur-Pedic TEMPUR-Cloud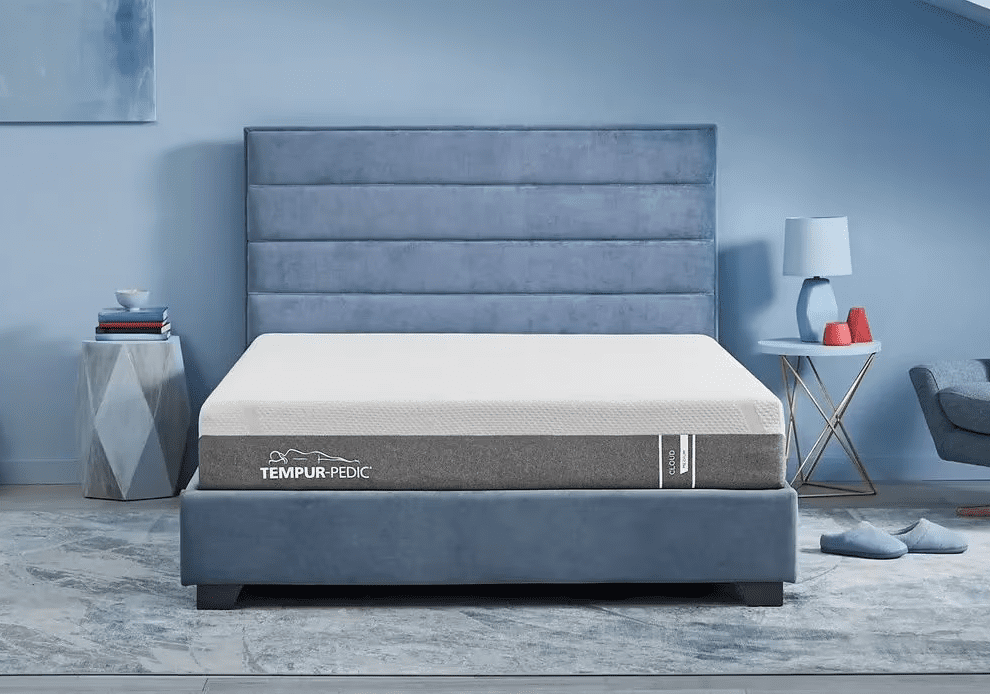 Trial Length 90 nights (30-night requirement)

Warranty 10 Year, Limited

Trial Length / Warranty

90 nights (30-night requirement) / 10 Year, Limited
Sleep Doctor's Take
Tempur-Pedic's TEMPUR-Cloud has a balanced medium feel and is the brand's least expensive model, which should appeal to many value seekers. Our testers enjoyed the balanced mid-range feel, especially our back sleepers who weigh up to 230 pounds. Foam layers also absorb most movement, so couples should experience fewer disturbances.
All-foam and hybrid options
Adjusts to body shape for comfort and support
Speedy to-the-door delivery
Back sleepers who weigh more than 230 pounds may find their hips sink excessively
Hot sleepers will likely find the foam layers trap too much heat
As Tempur-Pedic's most affordable model, the TEMPUR-Cloud is well suited to back sleepers on a budget. This medium (5) mattress comes in all-foam and hybrid versions to accommodate different needs and preferences.
The TEMPUR-Cloud uses a breathable, stretchy cover designed to wick moisture without restricting air circulation. Memory foam comfort and transition layers cushion and contour for supportive pressure relief. In the all-foam version, a polyfoam core completes the design. The hybrid option uses a coil core with a polyfoam base. Both versions performed well in our pressure relief and motion isolation tests, but we found the hybrid's coil core provided superior edge support and ease of movement.
Our testers noted that the TEMPUR-Cloud provided a plush yet supportive sleep surface. It molded to their bodies, limiting pressure buildup and motion transfer.
Of our back sleepers, those under 230 pounds found the mattress most comfortable. Side sleepers in this weight range also enjoyed the mattress, so it may be a good option for combination sleepers.
The TEMPUR-Cloud Mattress arrives compressed and encased in a reusable canvas bag. While the customer is responsible for moving the mattress into their room and setting it up, this shipping method speeds up delivery while cutting costs. The TEMPUR-Cloud comes with free UPS Ground delivery in the contiguous U.S. and a 10-year limited warranty. In addition, a 90-night trial is available.
At a fraction of the cost of many Tempur-Pedic models, the TEMPUR-Cloud lets value-minded back sleepers experience the cradling of TEMPUR material without breaking the bank.
Tempur-Pedic TEMPUR-breeze
Warranty 10 Year, Limited

Trial Length / Warranty

90 nights / 10 Year, Limited

Firmness Soft (3), Medium (5), Firm (7)
Sleep Doctor's Take
A breathable cover with phase change material and ventilated foams make the TEMPUR-breeze one of the coolest memory foam mattresses in our testing lab. Our heat guns detected minimal heat retention on the surface, and our hot-sleeping testers felt comfortable throughout testing.
Two models and three firmness options available
Hybrid and all-foam options
Multiple technologies designed for cooling
Couples may find the all-foam mattress hard to move across
The foams may produce some off-gassing odor after unboxing
The TEMPUR-Breeze Collection features two models: the ProBreeze and the LuxeBreeze. Both models feature extensive technology engineered for cooling, but the LuxeBreeze includes an extra layer of ventilated, pressure-relieving memory foam.
Between the two models, there are three firmness options. Available in all-foam and hybrid versions, the ProBreeze has a medium (5) feel. Meanwhile, the all-foam LuxeBreeze comes in soft (3) and firm (7). While both models are engineered for temperature neutrality, the LuxeBreeze is designed for greater ventilation. That said, our temperature readings showed that the firm LuxeBreeze and the hybrid ProBreeze stayed the coolest.
Each option has several temperature-regulating layers, including a SmartClimate Cover. A removable, machine-washable outer cover feels cool to the touch. The next layer contains phase change material, which is engineered to absorb and dissipate body heat. The comfort layer uses TEMPUR-CM+ memory foam built to further channel away heat and humidity.
The LuxeBreeze has a transitional layer of ventilated TEMPUR-APR memory foam for extra contouring and airflow. The ProBreeze uses original TEMPUR material in its transitional layer to enhance pressure relief and motion isolation.
A polyfoam core supports the all-foam versions of the ProBreeze and the LuxeBreeze. The hybrid ProBreeze uses a pocketed coil core for added bounce and breathability.
Both versions of the ProBreeze earned high marks from our back sleepers under 230 pounds. As we expected, the hybrid version outperformed the all-foam option in edge support, temperature regulation, and ease of movement.
Across weight groups, our back sleepers found that the firm LuxeBreeze molded to their hips and lower backs without excessive sinkage. Our testers under 130 pounds also enjoyed the soft LuxeBreeze. The firm option performed better in our temperature regulation, ease of movement, and edge support tests, but the soft excelled in pressure relief.
The TEMPUR-Breeze Collection comes with White Glove delivery to addresses in the contiguous U.S. Every model is also eligible for a 10-year limited warranty and a 90-night trial.
While the TEMPUR-Breeze models provide the pressure-relieving hug of memory foam, they retain less heat than most mattresses that use the material. This makes the line well suited to back sleepers who want a surface that molds to their spine without retaining excessive warmth.
Why You Should Trust Us
Our team of experts has years of experience in the sleep product industry. We ask back sleepers, stomach sleepers, and side sleepers of different weights to try each mattress and report their findings. In addition, we put every model through a series of objective evaluations to rate it on the factors that matter most to sleepers, including motion isolation, pressure relief, temperature control, edge support, and ease of movement.

Leveraging the results of these rigorous tests, we selected the Tempur-Pedic models best suited to back sleeping.
Tempur-Pedic is a popular mattress brand credited with popularizing the use of memory foam in sleep products.
TEMPUR material, a type of memory foam, was originally created in the 1960s by NASA scientists to limit the impact of rocket liftoff and return on astronauts' bodies. This viscoelastic polyfoam molds to a person's shape in response to their heat and weight. Several decades later, Swedish scientists realized this foam could be used in mattresses.
In the 1990s, Tempur-Pedic's founder traveled to Sweden and slept on a mattress that used the material. He soon started Tempur-Pedic, which quickly became a household name. The Tempur-Pedic brand has set itself apart in the industry with its signature material, durability, and ever-growing product line.
What Sets Tempur-Pedic Apart from Other Mattresses?
Several qualities set Tempur-Pedic apart from other mattresses:
Strong motion absorption: The unique NASA-designed viscoelastic foam springs back slowly to minimize vibrations from partners, kids, or pets on the bed.
CertiPUR-US certified foam: Tempur-Pedic's foam is verified free of ozone depleters, formaldehyde, mercury, lead, and other potentially harmful materials.
U.S.-based: Tempur-Pedic is headquartered in the United States, and its products are manufactured domestically.
High-density memory foam: Tempur-Pedic uses higher-density memory foam than most manufacturers, which provides greater durability and a longer average lifespan.
Many of these characteristics are especially beneficial to back sleepers. Spinal alignment is critical to this demographic. Tempur-Pedic's high-density memory foam cradles the back while limiting sinkage to promote good posture. The high-quality materials resist lasting indentations that could otherwise cause a back sleeper's hips to sag. Since the memory foam helps spread a sleeper's weight more evenly, it may also reduce pressure on areas that apply more force to the mattress, like the tailbone.
How Durable Are Tempur-Pedic Mattresses?
Tempur-Pedic mattresses use higher-density foam than most models, leading to a longer than average lifespan of 8 to 10 years. The quality materials mitigate body impressions and premature breakdown of the support core, contributing to the overall durability.
Do Tempur-Pedic Mattresses Sleep Hot?
Although traditional memory foam often retains heat by trapping it against the body, Tempur-Pedic incorporates features designed to keep sleepers cool. While technology varies between models, some Tempur-Pedic mattresses include ventilated support layers for breathability, open-cell comfort layers for airflow closer to the body, and phase change materials designed to wick away heat.
Does Tempur-Pedic Only Manufacture All-Foam Mattresses?
Tempur-Pedic initially focused on all-foam mattresses, but it has diversified its product offerings over the years to include hybrids. The hybrid models have a very similar construction to the all-foam options, but they switch out the polyfoam support core for pocketed coils. Each of Tempur-Pedic's current collections has a hybrid mattress option.
What Else Is Tempur-Pedic Known for?
Although best known for its mattresses, Tempur-Pedic has expanded its product offerings to include other sleep accessories. The brand now sells bed bases, bed frames, pillows, mattress toppers, bedding, weighted blankets, plush stuffed animals, and chair cushions.
Tempur-Pedic's vast array of pillows, chair cushions, and toppers incorporate TEMPUR material. Its sheet sets vary in their construction, including options with long-staple cotton, cotton and Tencel blend, Egyptian cotton, and rayon. In addition, the company has four adjustable bases with a range of capabilities.
What Mattress Firmness Is Best for Back Sleepers?
The best mattress firmness for back sleepers is usually medium to medium firm with sufficient cushioning and contouring for the hips to sink in a bit. However, the right firmness for back sleepers also depends on their body weight.
When assessing mattresses, we use a 10-point firmness scale with 1 being the softest and 10 being the firmest. Most back sleepers prefer a medium (5) or medium firm (6) mattress. We usually recommend a mattress on the softer end of the range for back sleepers under 130 pounds and a firmer model for those over 230 pounds.
Are Tempur-Pedic Mattresses Good for Your Back?
A Tempur-Pedic mattress that's the right firmness for your body type can be good for your back. Tempur-Pedic models offer above-average contouring compared to many mattresses on the market. As the TEMPUR material cradles the body, it helps relieve pressure points while supporting the lumbar region.
Can You Use Your Box Spring With a Tempur-Pedic Mattress?
Tempur-Pedic does not recommend using box springs with its mattresses. Placing a Tempur-Pedic mattress on a box spring can cause the mattress to sag quickly as it requires a more solid base. Putting particle board on top of the box spring may add a bit more support, but it's still not stable enough for a Tempur-Pedic mattress. The company recommends using one of its foundations or a platform bed.
How Do You Get the Best Deal on a Tempur-Pedic?
Looking for special offers and understanding the terms and conditions can help you get the best deal on your Tempur-Pedic mattress. We'll explore several ways to save on your purchase.
Shop during special promotions and holiday sales
Mattress manufacturers and retailers typically have promotions during the holidays, making holiday weekends a great time to buy. The most popular holidays for mattress sales include Presidents' Day, Memorial Day, Independence Day, Labor Day, and Black Friday.
Read the fine print
Policies vary by brand, so it's important to read the fine print to understand the actual cost of the mattress. Review the warranty, sleep trial, shipping costs, delivery fees, and return charges. In addition, read all of the offer information, which may clarify limitations. For instance, some mattress companies assess shipping or handling fees for sleep trial- or warranty-related returns. Additionally, many companies that advertise free shipping in the United States charge a fee for orders to Hawaii or Alaska.
Bundle and save
Like many mattress companies, Tempur-Pedic frequently offers sleep accessories, such as sheets, pillows, or bed frames, at a reduced price with the purchase of a mattress. If you need these additional products, bundling can be a great way to save money.
Where Is the Best Place to Buy a Tempur-Pedic?
The best place to buy a Tempur-Pedic mattress depends on your preferences. Models are widely available both online and in-store. We'll highlight the advantages and disadvantages of both methods.
Online vs. In-store?
Shoppers may face several benefits and drawbacks when shopping for a Tempur-Pedic mattress online or in-store.
For instance, purchasing a mattress online is more convenient and likely to yield more options. However, you won't be able to try the options before purchasing. Buying a mattress in-store from an authorized Tempur-Pedic dealer offers access to knowledgeable sales staff and allows you to test several models. However, physical stores may not have the space to carry all the models, limiting your options. Plus, some shoppers feel pressured to buy after interacting with the sales staff.
Buying Options

Pros

Cons

More options available
Convenience of buying from home
Easy to research different models
May be able to find a better price

Limited access to experts
Inability to test various options

Access to knowledgeable staff
Ability to test several options
May be able to negotiate price

Pressure to make a purchase
May not carry the full product line
Inconvenience of going to the store