Out of all the sleeper types, side sleepers typically need the most pressure relief. One of the best ways for a mattress to relieve pressure is to use memory foam in its construction, and Tempur-Pedic has been creating mattresses in this way for years. In fact, Tempur-Pedic was the first company to incorporate memory foam into its mattresses.
However, in order to get the most from their mattress, side sleepers need more than just pressure relief – they also need a mattress that supports good spinal alignment. We'll explore which Tempur-Pedic mattresses successfully achieve this combination, as well as how each one performed during our tests. We'll also delve into Tempur-Pedic as a company, examining its policies, reputation, and the pros and cons of owning a Tempur-Pedic mattress.
Tempur-Pedic TEMPUR-ProAdapt
Trial Length 90 nights (30-night requirement)

Warranty 10 Year, Limited

Trial Length / Warranty

90 nights (30-night requirement) / 10 Year, Limited

Firmness Soft (3), Medium (5), Firm (7)
Sleep Doctor's Take
Both the Tempur-Pedic TEMPUR-ProAdapt's all-foam and hybrid options earned high ratings from our side sleepers. Our testers noticed deep cushioning for common sore spots in the hips and shoulders, but they didn't sink to an excessive degree. The mattress also performed well in our motion isolation tests, appealing to couples.
Available in three firmness levels
Hybrid and all-foam options
Memory foam comfort system provides exceptional pressure relief
The foam layers may emit off-gassing odor for the first few nights
Hot sleepers may find the foams trap too much heat
The TEMPUR-ProAdapt mattress is Tempur-Pedic's most popular mattress. With three different firmness levels and two constructions to pick from, this model accommodates a range of sleeper types.
Shoppers who prefer an all-foam mattress can choose between soft (3), medium (5), and firm (7) firmness levels. The ProAdapt hybrid is available in a medium (5) firmness level. While exact specifications vary between models, all versions share the same basic components and performed similarly during our tests.
The ProAdapt's top layer is made from proprietary memory foam engineered to contour closely to your body, helping to evenly distribute weight and alleviate pressure. A memory foam transitional layer provides additional pressure relief and creates a buffer between the comfort system and the mattress core.
The all-foam ProAdapt models have a high-density polyfoam core that anchors the mattress and ensures its durability. On the other hand, the hybrid model features a pocketed coil core that increases responsiveness and bounce.
In addition to high scores in pressure relief, the ProAdapt also scored very well during the motion isolation and durability portions of our in-house testing. This means that couples should be able to shift sleep positions without disturbing their partner.
Though the ProAdapt carries an above-average price tag, sleepers who want a high-quality mattress may decide it's worth it, given that this model will likely have a lengthy lifespan.
Shoppers within the contiguous U.S. enjoy free White Glove delivery and a 90-night sleep trial. A 10-year warranty protects against manufacturer mistakes and defects.
Available in three firmness levels and two constructions, the Tempur-Pedic TEMPUR-ProAdapt appeals to a wide range of sleepers looking for a durable, supportive mattress. Side sleepers with aches and pains may especially appreciate the ProAdapt's focus on pressure relief and all-around comfort.
Tempur-Pedic TEMPUR-Cloud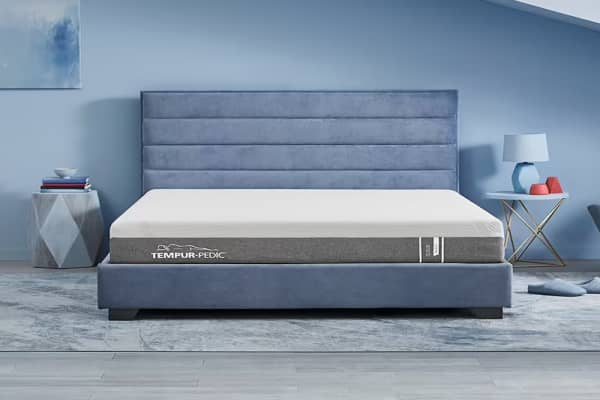 Trial Length 90 nights (30-night requirement)

Warranty 10 Year, Limited

Trial Length / Warranty

90 nights (30-night requirement) / 10 Year, Limited
Sleep Doctor's Take
The TEMPUR-Cloud is Tempur-Pedic's least expensive model, and it comes in all-foam and hybrid options. Our side sleepers weighing up to 230 pounds found the mattress greatly reduced pressure in their joints, while the polyfoam or pocketed coil support core kept their bodies in proper alignment.
Easy setup
Most affordable Tempur-Pedic mattress
Available in both hybrid and foam constructions
Side sleepers weighing more than 230 pounds may find their hips and shoulders sink too deeply into the mattress.
People who have trouble getting in and out of bed may prefer a mattress with better edge support
Shoppers looking for Tempur-Pedic performance without the hefty price tag should consider the TEMPUR-Cloud. Though this is the most affordable model in Tempur-Pedic's lineup, it doesn't sacrifice quality or performance to cut costs.
This model has a medium feel that's a 5 out of 10 on the firmness scale, placing it squarely in the range that most sleepers prefer. Its close-contouring memory foam and mid-range firmness are best suited to side sleepers who weigh less than 230 pounds. Those who weigh more may find they sink too deeply into the mattress to maintain proper spinal alignment.
The TEMPUR-Cloud's construction begins with a comfort layer made from a soft formulation of Tempur-Pedic's patented memory foam. This layer cradles high-impact areas like the hips and shoulders, helping to relieve pressure build up – a particularly important feature for side sleepers. Below the comfort layer, a firmer memory foam transitional layer enhances support and targets pressure points. The core is made from dense polyfoam that provides a supportive base.
Shoppers who opt for the hybrid model can expect the same comfort system but with a pocketed coil core. This version also provides substantial pressure relief but with added responsiveness from the coils.
The foam layers within the TEMPUR-Cloud absorb movement quite well, giving this model high scores for motion isolation. Co-sleepers should be able to move on their side without having to worry about disturbing their partner.
Tempur-Pedic does not offer standard White Glove delivery on this line. However, shipping is free within the contiguous U.S., and setup should be fairly simple with two people. The TEMPUR-Cloud comes with a 90-night sleep trial, including a 30-night minimum requirement. Each mattress includes a 10-year warranty that covers manufacturer defects.
If you're looking for an affordable mattress that provides solid motion isolation and pressure relief, the TEMPUR-Cloud may be a good fit. It's particularly well-suited to side sleepers under 230 pounds.
Tempur-Pedic TEMPUR-breeze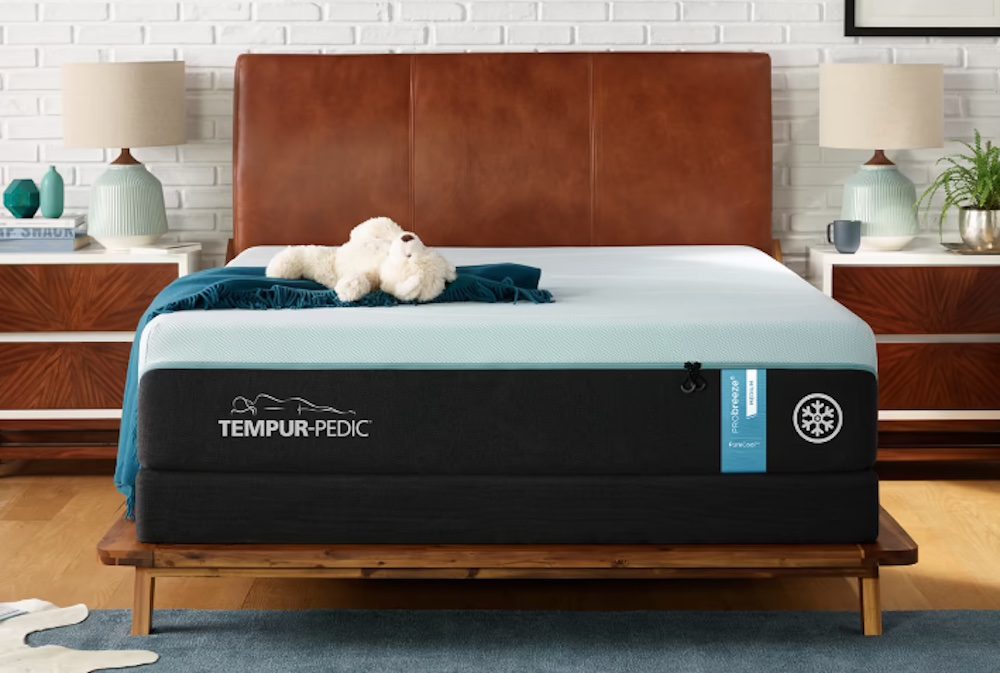 Warranty 10 Year, Limited

Trial Length / Warranty

90 nights / 10 Year, Limited

Firmness Soft (3), Medium (5), Firm (7)
Sleep Doctor's Take
Tempur-Pedic's TEMPUR-breeze is one of the coolest memory foam mattresses we've tested. We attributed this to the breathable cover, phase change materials, and steady airflow through the ventilated foam comfort system. Our hot-sleeping testers typically overheat on foam mattresses, but they awarded the TEMPUR-breeze high ratings.
Added cooling technology designed to regulate temperature
Choice between two cooling levels
Three firmness options and two constructions
Couples who prefer responsiveness for sex may find the mattress' plush surface lacks bounce
People who switch between side sleeping and other positions may find the foam layers too restrictive
Heat retention can be one of the major drawbacks of a memory foam mattress. However, the TEMPUR-Breeze's design uses phase change material to combat heat retention and help you sleep cooler.
The TEMPUR-Breeze line has two mattress models: the ProBreeze and the LuxeBreeze. The LuxeBreeze is an all-foam mattress that comes in soft (3) and firm (7) options, while the ProBreeze is available as either a hybrid or foam mattress with a medium (5) feel.
Each mattress shares a similar construction. They begin with a cooling cover made with phase change material, which is engineered to pull excess heat away from your body. The cover is also removable, and you can wash it in your home machine.
The first layer of the comfort system is made of TEMPUR-CM+, which has more airflow capacity than traditional memory foam. Next is a support layer, which differs between models. The LuxeBreeze uses ventilated memory foam to further enhance air circulation, while the ProBreeze has the original TEMPUR Support Layer. The all-foam versions have a durable polyfoam base, while the hybrid model incorporates pocketed coils to give the mattress added bounce.
Our tests showed that the TEMPUR-Breeze models each achieve the pressure relief, durability, and motion isolation that Tempur-Pedic mattresses are famous for. Our side sleepers across weight groups felt comfortable and supported.
These models all carry a significant price tag that reflects their added cooling technology, with the LuxeBreeze featuring the highest cost. However, they also come with free White Glove delivery and a 90-night sleep trial for shoppers in the contiguous U.S. Each purchase is covered by a 10-year warranty.
The TEMPUR-Breeze line includes mattresses that emphasize both the pressure relief side sleepers value and the cooling technology required to help hot sleepers stay comfortable throughout the night. While the cost is higher than average, the investment may be worth it if you're a hot sleeper.
Why You Should Trust Us
Our team of sleep product experts has reviewed hundreds of mattresses over the years, including every Tempur-Pedic model that's currently available. We put each mattress through a series of rigorous performance tests, examining aspects such as durability, temperature control, pressure relief, and motion isolation. In order to measure pressure points and spinal alignment – two very important factors for side sleepers – we use body mapping technology to determine each mattress' effectiveness in these areas.
What Is a Tempur-Pedic Mattress?
Tempur-Pedic was the first mattress manufacturer to use memory foam in its designs, but memory foam was originally invented by NASA to help absorb shock and relieve pressure in space shuttle seats and seatbelts. Today, memory foam is still used to alleviate pressure, but its benefits aren't limited to astronauts.
Most Tempur-Pedic mattresses have a similar construction that relies on memory foam to provide pressure relief and motion isolation. The company has crafted many memory foam formulations that each target a different need, and you can find them mixed and matched within its product range. Tempur-Pedic also manufactures a wide range of sleep products, including bed bases, pillows, toppers, and bedding.
Tempur-Pedic mattresses provide the full-body hugging sensation that many side sleepers prefer. The material contours closely to relieve pressure buildup while still providing enough support to keep your spine evenly aligned. However, not all sleepers enjoy the feeling of sleeping "in" rather than "on" their mattress.
How Long Do Tempur-Pedic Mattresses Last?
The average memory foam mattress has a lifespan of up to seven years, while Tempur-Pedic models are likely to withstand cracks, sagging, and indentations for longer. This is because Tempur-Pedic mattresses use high-quality memory foam that allows their mattresses to often outlast mattresses from competing brands. Additionally, our in-house testing found that Tempur-Pedic models scored highly across the board when it comes to durability.
A Tempur-Pedic mattress' lifespan may be extended even further by using proper care techniques.
How Much Do Tempur-Pedic Mattresses Cost?
Tempur-Pedic mattress prices vary depending on the model but generally range from about $2,000 to $5,000 for a queen. Even the most affordable Tempur-Pedic has an above-average price-point for a memory foam mattress. However, Tempur-Pedic mattresses are incredibly durable and use high-quality components. The added cost may be worth the investment for shoppers who want a mattress with a longer lifespan.
Budget-conscious shoppers should consider what they need from a mattress before purchasing. Added cooling technologies, White Glove delivery, and specialized foams can all increase a mattress' cost.
Sleep Trials and Warranties
Tempur-Pedic currently offers shoppers a 90-night sleep trial and a 10-year warranty. Trials begin upon delivery, and you must use your mattress for 30 days before initiating a return. The trial only extends to mattresses and does not necessarily include other sleep products. Those wishing to return their mattress may have to pay a $175 return shipping fee.
The 10-year warranty covers replacement or repair for certain flaws including cracks, indentations greater than .75 inches, and zipper defects. Customers must pay shipping costs associated with mattress warranties.
Tempur-Pedic Mattresses
Pros

Cons

Memory foam offers exceptional pressure relief
Top-notch materials are likely to last
Motion and movement are absorbed by the foam before they can transfer across the bed

Above-average price-point
Not all sleepers like the feeling of sleeping "in" their mattress
Can sleep hot without added cooling technology
What's the Best Mattress Firmness for Side Sleepers?
The best mattress for side sleepers is one that provides both pressure relief and spinal alignment. Side sleepers can develop pressure points in their hips and shoulders, where they feel the most impact while sleeping. Back and stomach sleepers can use more of their mattress' surface area to disperse their body weight, so they often don't feel pressure build up the same way side sleepers do.
Our Firmness Scale and the Ideal Range for Side Sleepers
We measure mattress firmness on a 10-point scale, with 1 being the softest and 10 being the firmest. Most adult sleepers prefer a mattress that falls between 5 and 7, though sleeper type and body weight directly impact which firmness level will feel the most comfortable. Side sleepers usually prefer more cushioning than back and stomach sleepers, so they often favor a softer mattress than the other two sleeper types.
Sleepers who weigh less than 130 pounds may also want something softer because they don't weigh enough to compress a firm mattress. On the other hand, sleepers who weigh more than 230 pounds are usually most comfortable on firmer mattresses. A mattress that's too soft for this weight group can cause the spine to fall out of alignment because the sleeper's midsection will sink too deeply into the mattress core. Sleepers between 130 pounds and 230 pounds need a mattress that's not too soft and not too firm.