During pregnancy, you may find that your usual sleep position feels uncomfortable or even painful. There are a wide range of pillow sizes and types available to help sleepers achieve a comfortable position. If you're expecting and have a difficult time staying comfortable while sleeping, a pillow designed specifically for pregnancy may help improve your sleep quality.
While a standard pillow supports your head and neck, a pregnancy pillow extends support and cushioning to the back and stomach, and many also offer support to the knees. Most pregnancy pillows are designed to promote side sleeping and help relieve strain from key pressure points created by your expanding stomach.
With many different shapes, sizes, and materials, it can be difficult to determine which type of pregnancy pillow is right for you. We'll walk you through the various types of pregnancy pillows, their benefits, and how to sleep comfortably when you're expecting.
Sleep Doctor's Picks
Shop Now
Shop Now
Shop Now
Belly Bandit S.O.S. Side Sleeper Pregnancy Pillow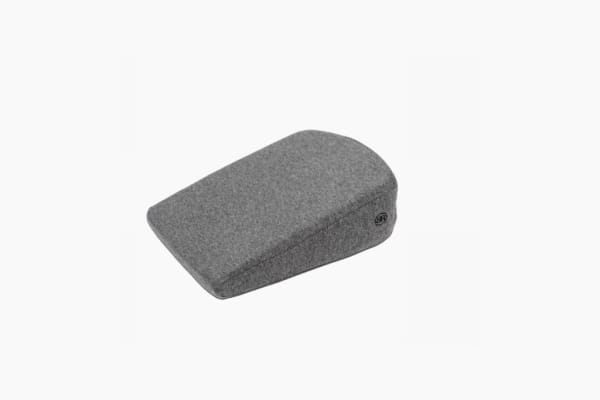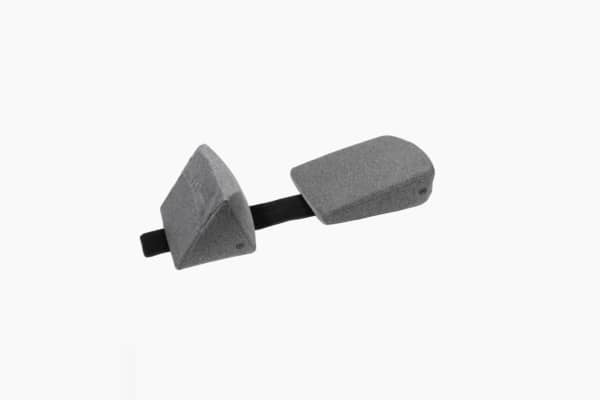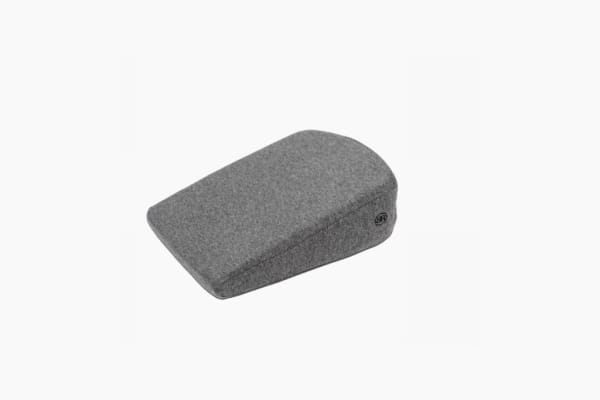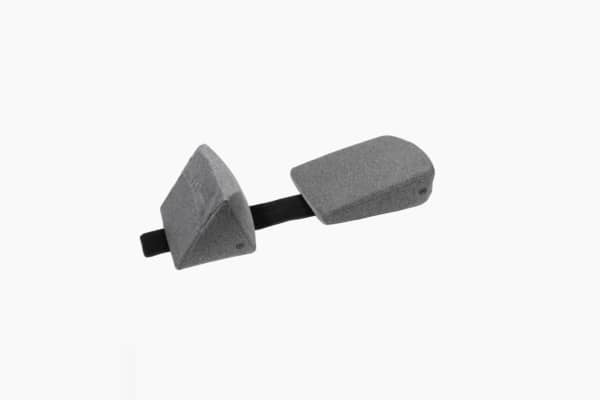 Fill Material: 100% Polyfoam

Firmness: Medium firm

Price: $80
Targeted support for the back and stomach
Adjustable design
Compact size
Pregnant sleepers looking for firmer support
Hot sleepers
Pregnant sleepers who need help staying on their side
The Belly Bandit S.O.S. Side Sleeper Pregnancy Pillow features a clever design that targets support to the back and stomach and keeps you sleeping on your side. With a durable construction, compact size, and adjustability, the Belly Bandit S.O.S. is one of the best pregnancy pillows available.
This pillow features a unique, dual wedge design. A thick but soft black band connects two wedge pillows with velcro tabs. The band allows sleepers to adjust the distance between the wedges and find a comfortable position for all stages of pregnancy. The larger wedge rests against your back, supporting the lumbar area and preventing you from rolling off of your side as you sleep. The smaller wedge helps support and cushion your stomach.
Each of the two wedge pillows are made of medium firm polyfoam with soft polyester, rayon, and spandex blend covers that are machine-washable. The polyfoam is solid, giving the Belly Bandit S.O.S. excellent shape retention. Additionally, the solid foam construction is fairly durable and sleeps relatively cool. However, the wedge pillows are not moldable.
Belly Bandit offers free shipping to all U.S. states on orders over $50. Shoppers can return their pillow up to 30 days after purchasing if it is in re-sellable condition. Returns incur a $6.95 processing fee. Each pillow includes a travel case.
The Belly Bandit S.O.S. Side Sleeper Pregnancy Pillow features a lightweight and compact design, making the pillow a good option for pregnant sleepers with smaller beds or those who plan to travel while pregnant.
Pregnancy Pillow Co. U-Shape Body Pillow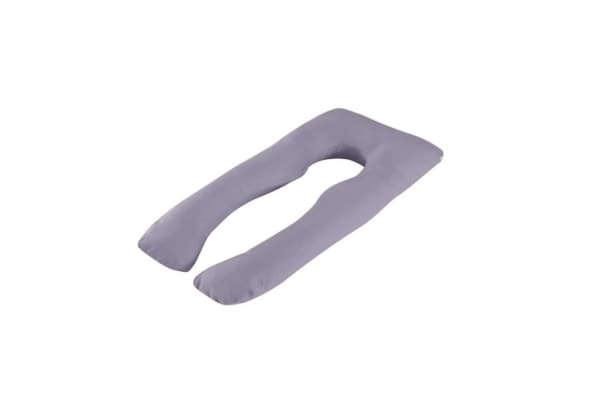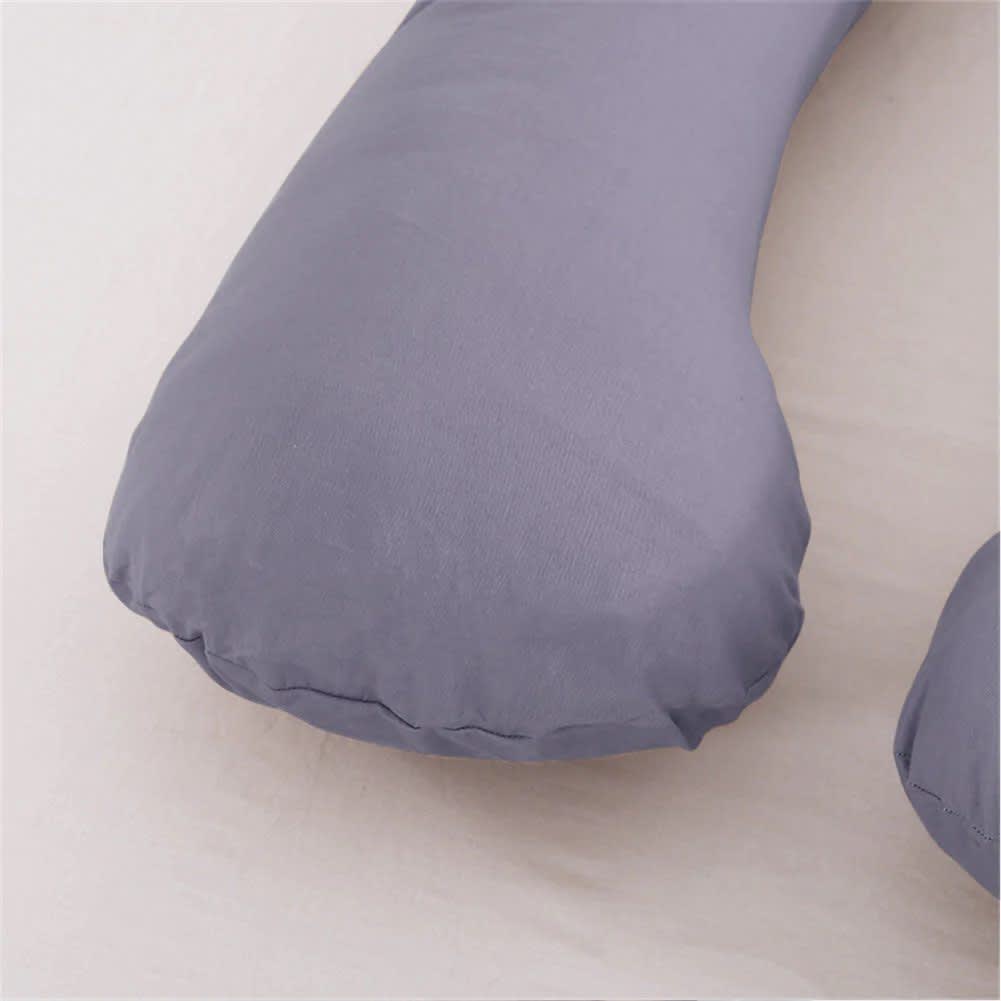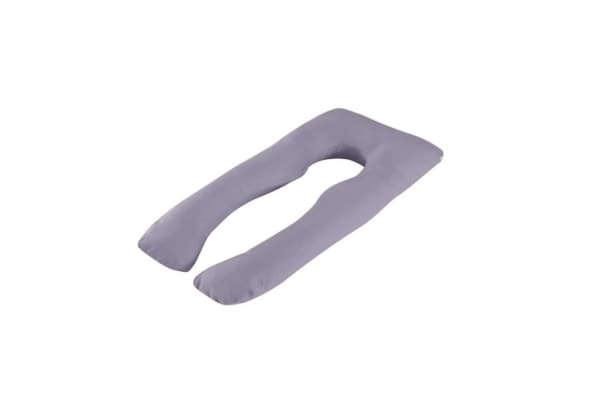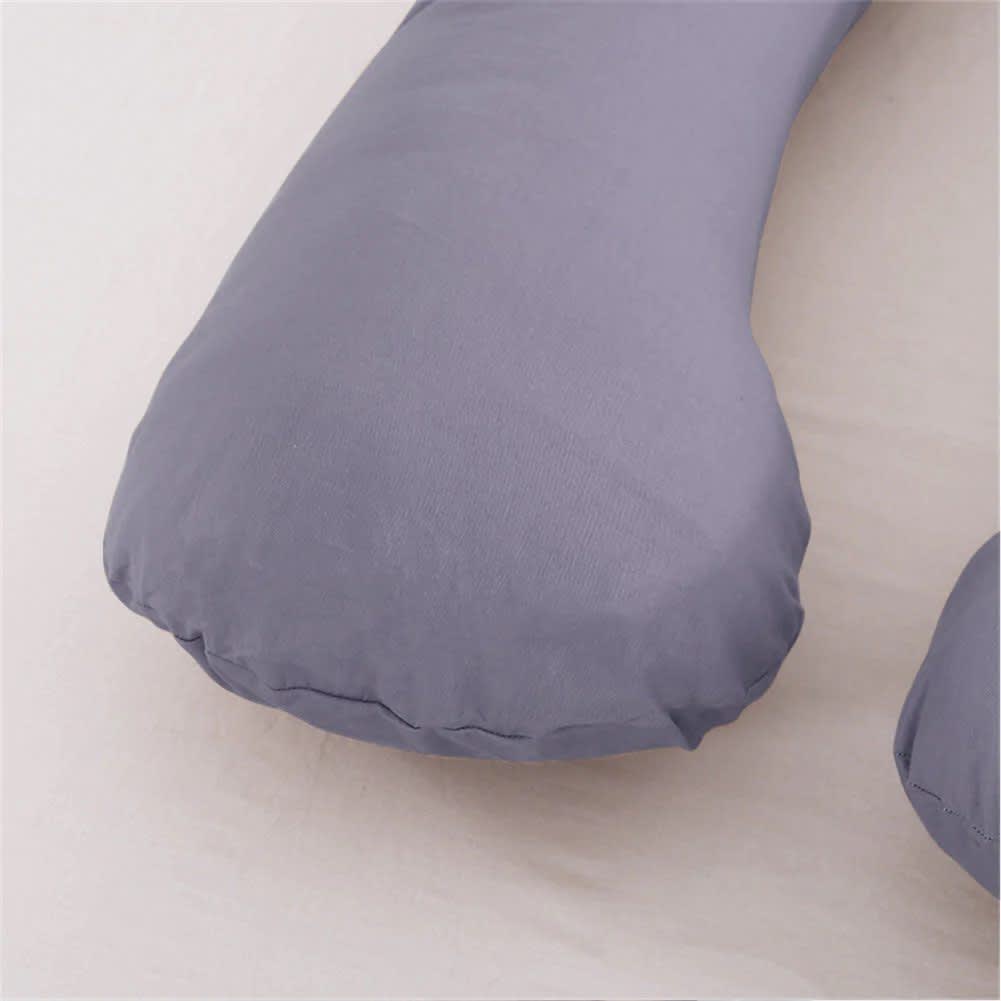 Fill Material: Cotton/polyester blend

Firmness: Medium

Price: $100
U-shape design
Large but relatively lightweight
100% cotton cover
Pregnant sleepers who want full body support
Hot sleepers
Those looking for a supportive yet moldable pregnancy pillow
The Pregnancy Pillow Co. U-Shape Body Pillow cradles your head and neck like a standard pillow while wrapping around your sides to support your entire body. This comprehensive support makes it easier for pregnant sleepers to find a comfortable position.
The pillow features a cotton-polyester blend fill. The fill is highly moldable so sleepers can adjust the loft where they need the most support. Although the pillow is pliable, it manages to retain its shape very well. The pillow's medium firmness provides a good balance between support and cushioning. As a result, the U-Shape Body Pillow is comfortable for a wide range of sleepers regardless of body weight or preferred sleep position. Shoppers should keep in mind that this pillow provides the most comfort for side sleepers.
The cover consists of 100% cotton fabric. A zippered design allows you to remove the cover for easy cleaning. The combination of a cotton cover and cotton blend fill keeps the U-Shape Body Pillow cool as you sleep. The pillow measures 23.5 by 47 inches but is fairly lightweight. This makes it easy to change pillow positions at night or carry the pillow to a different room for lounging.
Pregnancy Pillow Co. offers the U-Shape Body Pillow in four color options and ships pillows within four to five days of order placement. Shoppers can return their pillow up to seven days after receiving it. All returns incur a shipping fee of $8.95.
With full body support, a lightweight design, and a cooling cotton cover, those who sleep hot and prefer a moldable design should find the U-Shape Body Pillow meets their needs.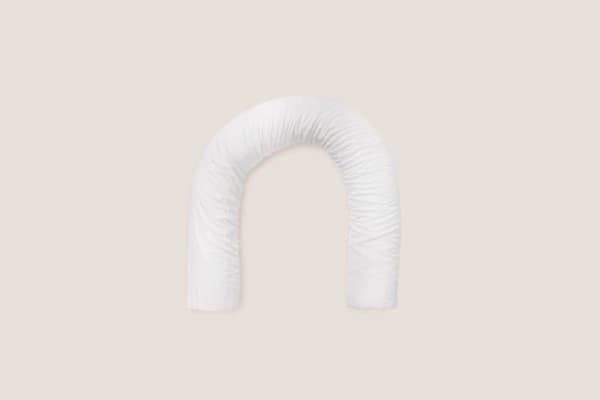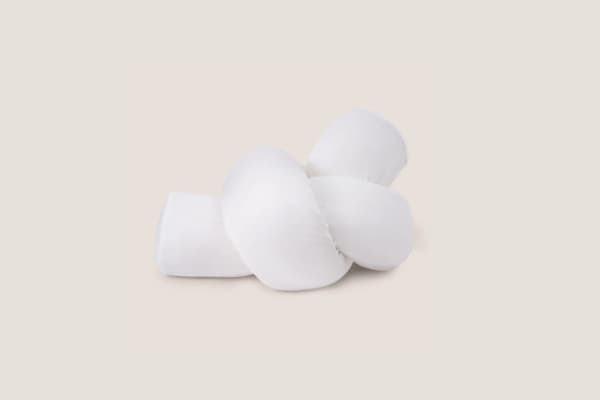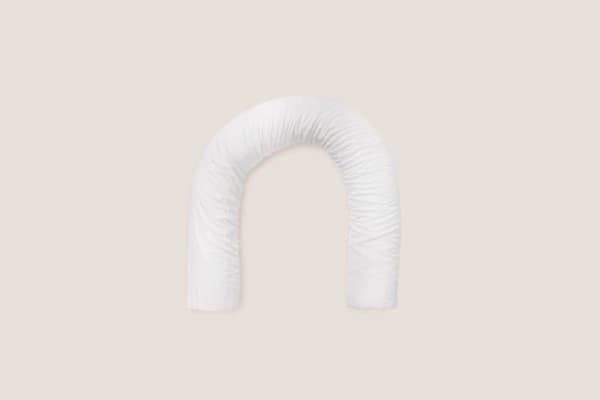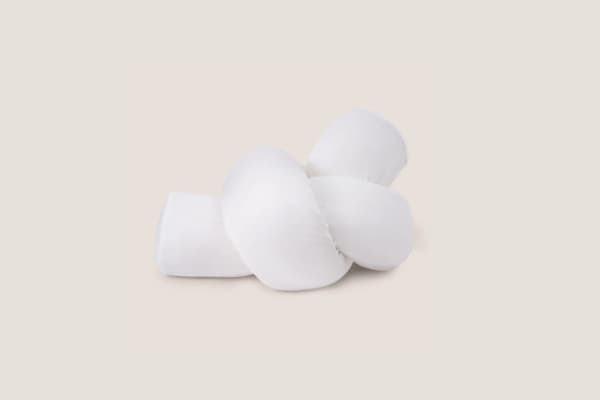 Fill Material: GOLS-certified Melofoam

Firmness: Soft

Price: $199
Latex fill is plush and adaptive but more supportive than polyfoam
Flexible design allows you to manipulate the shape
GOLS and GOTS certifications ensure the materials are sustainably sourced
Hot sleepers
Those who enjoy repositioning their body pillow throughout the night
Eco-conscious consumers
The Bearaby Cuddler lives up to its name thanks to a plush, supportive fill composed of organic latex. This material has a spongier, more responsive feel than shredded foam, making the pillow more comfortable. The latex is also fairly dense, allowing you to reposition the pillow without it immediately springing back to its original shape.
Measuring 82 inches in length, the Cuddler is exceptionally long and should be suitable for most pregnant individuals regardless of their height. A high loft also allows you to tuck the pillow between your knees, improving alignment and reducing lower back pain.
The pillow's cover is composed of organic cotton with certification from the Global Organic Textile Standard, a leading authority for verifying sustainably sourced materials. Similarly, the latex holds certification from the Global Organic Latex Standard. These credentials should appeal to consumers who prefer buying and using eco-friendly products. Cotton and latex are also breathable materials, so the pillow should sleep fairly cool.
You can opt for a stand-alone Cuddler, which consists of a liner packed with fill, or add a cover to your order for an additional fee. The cover can be washed and dried in household machines, but the liner should only be spot cleaned. The cover makes the pillow much easier to clean, though this addition increases the overall cost by a considerable margin.
The cover comes in a variety of colors and multiple fabric options. The knit covers are made from long-staple organic cotton, while the velvet covers are made from recycled polyester. Shipping is free of charge for all orders in the contiguous U.S., and Bearaby permits returns within 30 days.
If you want a pregnancy pillow with dense fill that molds closely, the Bearaby Cuddler should meet your needs. Breathable cover and fill materials also make the Cuddler a good option for hot sleepers.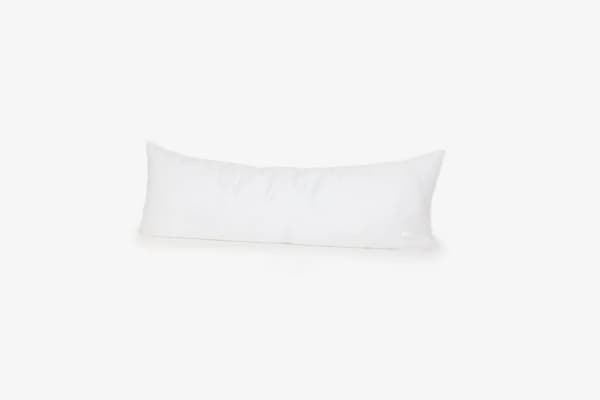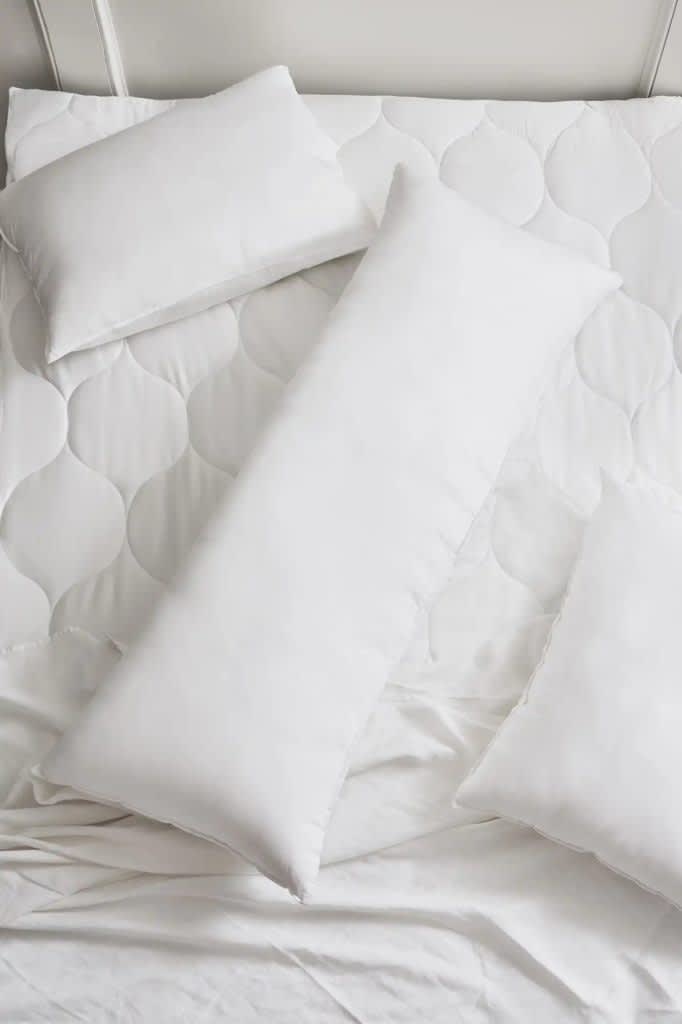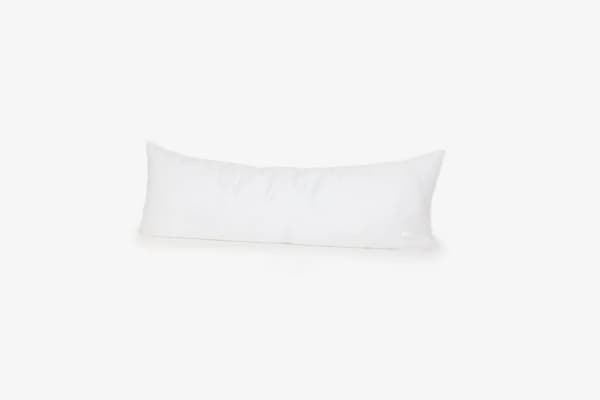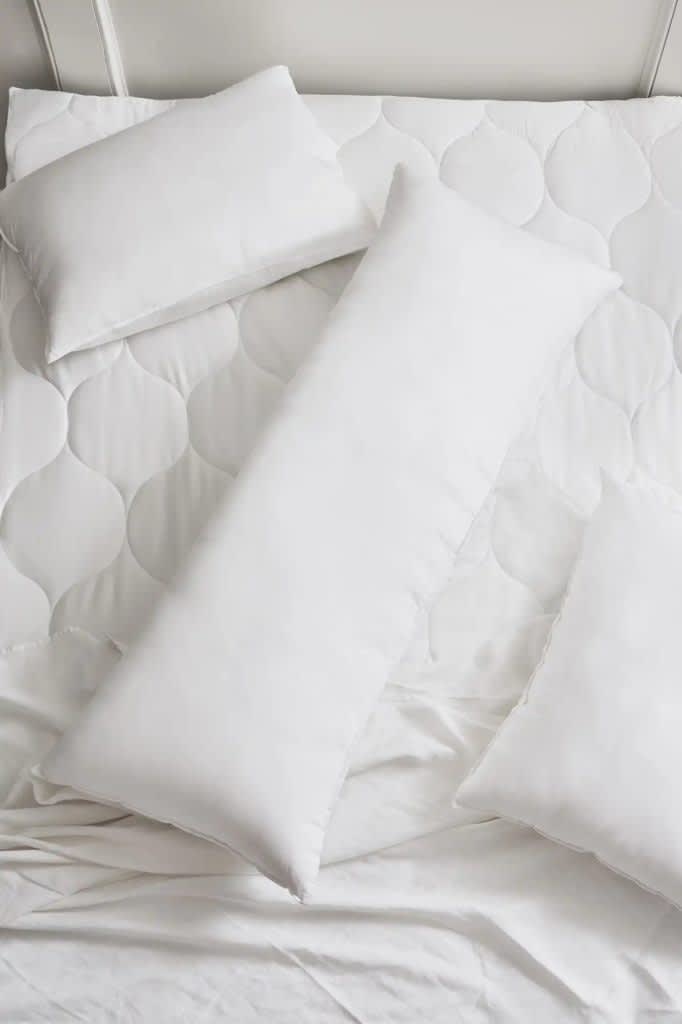 Fill Material: Recycled PET fibers

Firmness: Medium

Price: $55
Down alternative fill is exceptionally soft and fluffy
Tencel cover is breathable and has moisture-wicking properties
Fill and cover materials are sustainably produced
Pregnant individuals prone to night sweats
Budget-minded shoppers
Consumers who prefer to invest in eco-friendly products
The Buffy Body Pillow is packed with plush down alternative fibers, giving it a highly moldable feel conducive to snuggling when sleeping on your side. A lofty design also makes the pillow suitable for back sleeping. At 88 ounces, the pillow is very lightweight and easy to adjust whenever you switch between the side and back positions.
A breathable, moisture-wicking Tencel shell encases the fill. This material can be helpful for pregnant sleepers who tend to sweat heavily at night. Tencel is also silky smooth, so you shouldn't experience any irritation or harsh rubbing on your skin. Purchasing a cover makes caring for the pillow easier, as the shell should only be dry cleaned.
The fill is made from recycled plastic bottles and the Tencel comes from sustainably grown trees, so the pillow's footprint is somewhat low and it should appeal to eco-conscious individuals. A certification from the Global Recycling Standard backs the environmentally friendly design.
As is the case with most Buffy products, the Body Pillow is very reasonably priced. You can test the pillow for seven nights before your credit card is charged and return the pillow for a full refund within 100 nights.
The Buffy Body Pillow is exceptionally soft thanks to its fluffy fill and silky Tencel cover. Long enough to tuck between your knees and thick enough to support the head and neck, the pillow is a good choice for pregnant sleepers on a budget.
Why You Should Trust Us
With decades of experience in the sleep industry, our team helps readers discover the best mattresses, pillows, bedding, and sleep accessories for their needs. Our testing team includes sleeper types across a variety of weight categories and preferred sleep positions. This means our results reflect a wide range of comfort preferences as well as the needs of pregnant sleepers.
What Is a Pregnancy Pillow?
A pregnancy pillow is ergonomically designed to provide extra comfort and support to pregnant sleepers. Most experts recommend sleeping on your left side when you're expecting. But as your stomach grows, sleeping on your side may be uncomfortable without proper support.
Pregnancy pillows provide much needed support that make sleeping and lounging much more comfortable for pregnant individuals.
When Should You Start Using a Pregnancy Pillow?
Pregnancy pillows can make your sleep experience more comfortable at any pregnancy stage, but you may find it necessary once you reach your second trimester. However, incorporating a pregnancy pillow earlier can help you get used to your new sleep accessory, especially if you don't normally sleep on your side.
Why Do Pregnancy Pillows Encourage Side Sleeping?
Pregnancy pillows encourage side sleeping because your side tends to be the most comfortable and safe sleep position during pregnancy.
Most experts recommend pregnant people sleep on their side. Sleeping on the left side in particular helps improve blood flow and prevents putting too much weight on the liver. Back sleeping is not recommended, especially later in the pregnancy, as it is linked to a higher risk of stillbirth.
Pregnancy pillows help keep you tilted onto one side while supporting your back and stomach. Pregnant sleepers can also use a pillow between the knees while sleeping on their side. This helps improve spinal alignment and take pressure off the knees and hips.
What Pregnancy Pillow Shapes Are There?
Pregnancy pillows come in a wide range of styles and shapes, but the most common are C-, U-, and V-shaped. While all pregnancy pillows are designed to help sleepers achieve proper spinal alignment and relieve pressure points, each type offers unique benefits.
C-shaped pregnancy pillows have a long segment to support your back or stomach and flexible arms that can cushion your knees or neck. U-shaped pillows wrap around your entire body for full body support, and V-shaped pillows are slightly smaller for targeted support. We'll break down the most common types of pregnancy pillows below.
Breakdown of Pregnancy Pillow Shapes
C-Shaped
C-shaped pillows have a long spine and two flexible arms, which makes it easier to customize support where you need it most. This shape offers support from your head to your knees and is less cumbersome than larger styles of pregnancy pillows.
U-Shaped
Usually the largest type of pregnancy pillow, U-shaped pillows wrap around the whole body, offering support to the head, neck, stomach, back, knees, and legs. If you're struggling to sleep or find a comfortable position, the comprehensive support of a U-shaped pillow may help.
V-Shaped
V-shaped pillows are more compact and provide head, neck, and shoulder support. This style of pillow works well for pregnant sleepers with smaller beds. The V-shape also works well if you switch between your left and right sides at night and don't want to readjust your pillow each time.
What Are the Benefits of Using a Pregnancy Pillow?
An expanding stomach requires extra support to prevent lower back strain. Support refers to how well your mattress, pillow, and other sleep accessories promote proper spinal alignment. Each individual requires different levels of support depending on their comfort preferences, sleep style, and body weight.
A quality pregnancy pillow can help keep the spine aligned and relieve pressure from the lower back. Pregnancy pillows can relieve strain in the knees and neck and help you avoid rolling onto your back as you sleep. They can also make lounging more comfortable in the later stages of pregnancy.
Pillow Height and How Firm Your Pillow Should Be
Pillow loft refers to how high your pillow sits above your sleep surface. Pillow firmness describes how hard or soft your pillow feels.
Both pillow loft and firmness play a role in creating the right level of support for your head and neck. However, the optimal levels of loft and firmness depends on your individual needs and comfort preferences.
Pregnant sleepers tend to sleep on their sides, especially as they reach the second and third trimesters. Most side sleepers need a pillow with medium or high loft to support the head and keep the neck aligned with the rest of the spine. A medium level of firmness offers a balance between cushioning and support for the head.
However, pregnant sleepers need support for other areas than just the head and neck. Pregnancy pillows offer additional support and cushioning to key areas including the stomach, back, and knees.
Getting Better Sleep During Pregnancy
Sleep is crucial to good health, especially during pregnancy. Those who are expecting need plenty of sleep to support their developing fetus as well as their own physical and mental health.
Sleep during pregnancy can be challenging. Your body undergoes incredible physical changes to support a new life. However, these changes can also bring discomfort. Weight gain in the stomach can strain the lower back and you may be more prone to symptoms that can disrupt sleep, like nausea, heartburn, and snoring.
While pregnancy may make quality sleep more challenging, there are steps you can take to make sure you feel more rested in the morning.
Good sleep hygiene practices: When you're pregnant, the basic tenets of good sleep hygiene still apply. Keeping your bedroom cool, dark and quiet can help you sleep well. It's also important to go to sleep and wake up at the same time every day and to avoid caffeine and large meals right before bed.
Sleep position: During your second trimester, you may need to modify your sleep position. Even if you're not usually a side sleeper, sleeping on your side can reduce pressure on your spine from your growing stomach.
Daytime naps: If you have a poor night's sleep, napping during the day can help you feel refreshed and more alert. Try to keep naps under 30 minutes and several hours before your normal bedtime.
Talk with your doctor: If you experience frequent sleep disruptions during your pregnancy, talk with your doctor about your symptoms. Your physician can help you develop better sleep habits, diagnose sleep disorders, and prescribe a safe and effective treatment plan.