Latex is known for its durability, responsiveness, and excellent temperature control. Because of this, latex has become increasingly popular in bedding products such as mattresses, toppers, and pillows. Latex pillows, in particular, offer sleepers standout contouring and pressure relief.
Latex is derived from the sap of rubber trees and can have different qualities depending on the production process. Solid latex pillows tend to be firmer and more supportive, while shredded fills provide a fluffier feel. Latex pillows come in different lofts, sizes, and cover materials. Eco-conscious consumers may want to look for latex that's been certified as organic by the Global Organic Latex Standard (GOLS) or cover materials that carry Global Organic Textile Standard (GOTS) certification.
We'll review our favorite latex pillows and discuss how they stack up against down, polyester, and memory foam models. We'll also highlight which sleepers are most likely to enjoy a latex pillow.
Sleep Doctor's Picks
Shop Now
Shop Now
Shop Now
Shop Now
Shop Now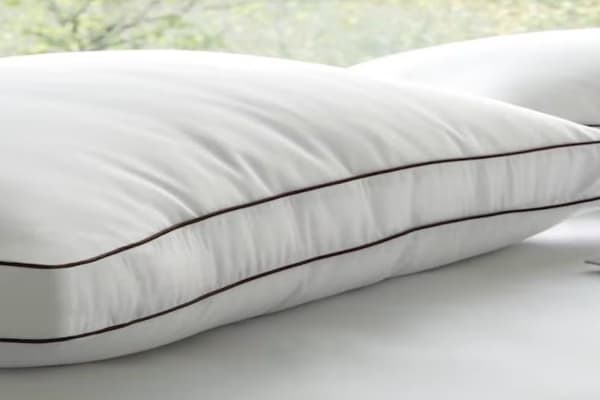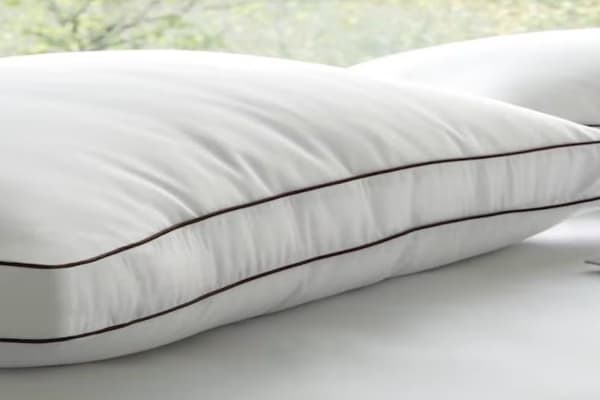 Fill Material: Shredded Talalay latex and down alternative

Firmness: Medium Soft

Price: $165
Heat-wicking organic cotton cover
A removable inner pillow to customize loft
Responsive and breathable Talalay latex core
Sleepers who need extra head and neck support
People with allergies or sensitive skin
Shoppers who value organic materials
Saatva's Latex Pillow is an adjustable three-layer design that balances plushness with support. A responsive Talalay latex core promotes head and neck alignment, while soft microdenier fiber eases pressure points. Our testing team found the pillow's medium soft feel and adjustable loft suited a wide range of sleeper types.
The organic cotton cover features a breathable, silky sateen weave. An outer removable pillow made from microdenier fiber lets users experiment with different lofts. The fiber has a fluffy texture similar to down and adds an extra layer of pressure relief. Back and stomach sleepers might opt to remove the outer pillow for a lower loft. The loft is 8 inches with both the inner and outer pillows.
A Talalay latex core encourages cervical alignment by preventing the head from sinking excessively. Shredded Talalay latex is more breathable than most foams, so the pillow shouldn't trap too much heat. Natural latex also resists dust mites, mildew, and other allergens.
Responsive latex and gusset piping help the pillow retain its shape by reinforcing the perimeter of the pillow. Sleepers who like to squish or fold their pillow, however, might not find the design malleable enough.
The cover is machine-washable, and the pillow comes in queen and king sizes. Saatva includes free shipping to the contiguous U.S. and a one-year warranty with a purchase of the Latex Pillow. New and used pillows can be returned for a refund within 45 days of delivery.
With a heat-wicking cover, breathable latex core, and removable fill, sleepers who need extra support or prefer organic materials should find the Saatva Latex Pillow meets their needs.
Turmerry Organic Latex Pillow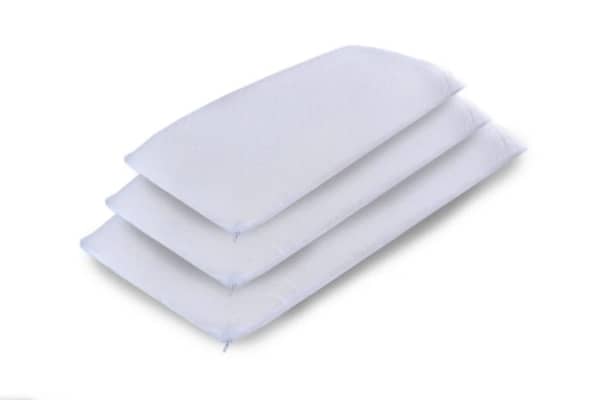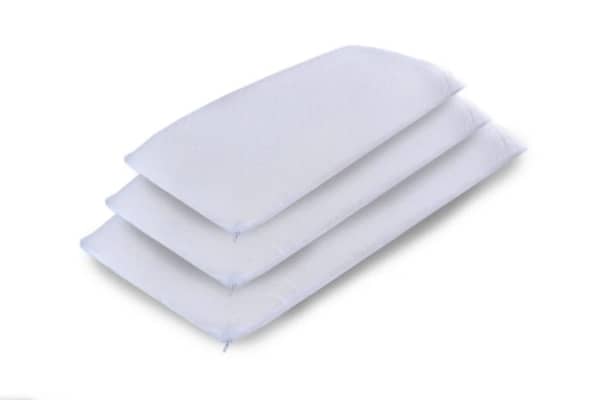 Fill Material: Solid, ventilated GOLS-certified organic latex

Firmness: Soft, Medium, Firm

Price: $80
Available in two lofts and three firmness levels
Solid Dunlop latex core offers excellent support
A zippered organic cotton cover
Side sleepers sensitive to allergens
Shoppers wanting different loft and feel options
Those who prefer natural and organic materials
The Turmerry Organic Latex Pillow offers sleepers a versatile design. Shoppers can choose between mid- and high-loft options. The pillow also comes in soft, medium, and firm, making it a good option for side sleepers. The loft varies based on the size and firmness selected, but all options are between 3.5 and 5 inches thick.
A soft organic cotton cover is designed to resist heat, dirt, and allergen buildup. The core is made from solid Dunlop latex, which is known for its durability. Since Dunlop latex is fairly dense, even the soft and medium models hold their shape well. All versions moderately contour the neck and head to help reduce tension. Additionally, the latex is ventilated to minimize heat buildup.
Natural and certified organic materials make the pillow a great choice for eco-conscious shoppers. GOLS, GOTS, and OEKO-TEX Standard 100 certifications show that harmful chemicals were not used while producing the cotton and latex. The pillow is available in standard, queen, and king sizes. Turmerry recommends spot-treating the pillow's core with warm soapy water and air drying.
Turmerry ships the Organic Latex Pillow for free to the contiguous U.S. Returns are accepted within 30 days of purchase. A two-year warranty protects customers from manufacturing and material defects.
Side sleepers who aren't sure which loft or firmness level best supports them as well as those who are sensitive to allergens should find the Turmerry Organic Latex Pillow's organic materials provides comfort and support.
PlushBeds Organic Shredded Latex Pillow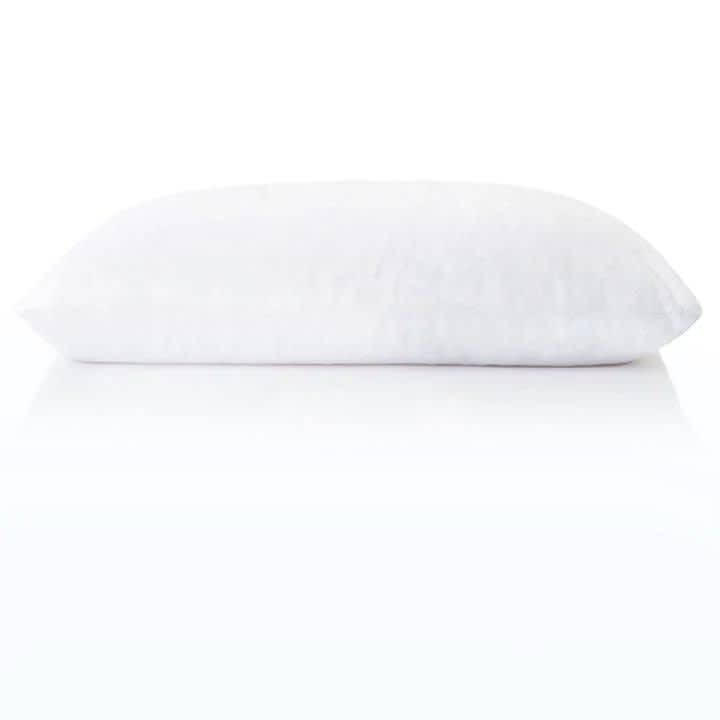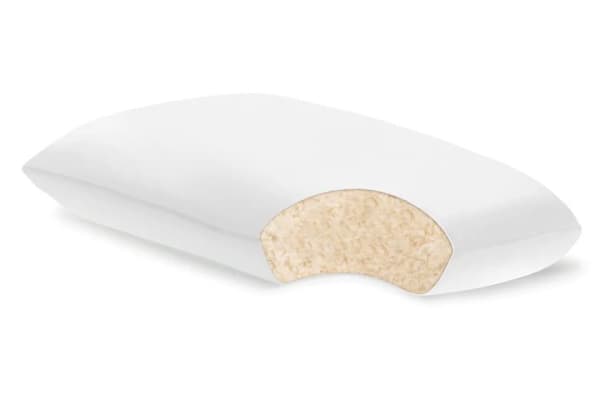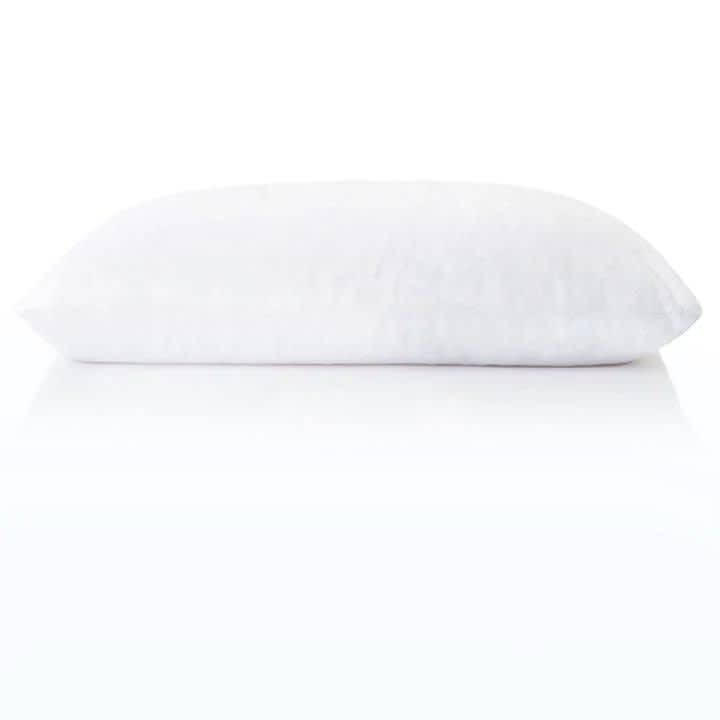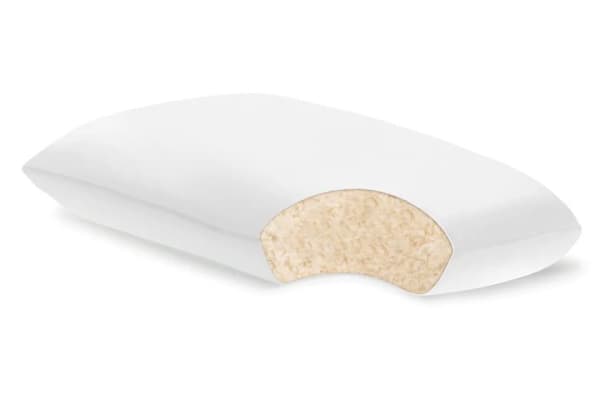 Fill Material: GOLS-certified shredded organic latex

Firmness: Medium

Price: $99
Fluffy and moldable design
Shredded latex core boosts airflow
Certified organic materials
Sleepers who like to mold their pillow
People who tend to sleep hot
Stomach, back, side, and combination sleepers
The PlushBeds Organic Shredded Latex Pillow is a great choice for people who find solid latex pillows too firm. While just as responsive as typical latex, the shredded interior is exceptionally plush and breathable. The fluffier feel is suitable for people who enjoy the feel of down or down alternative pillows.
The pillow is encased in soft organic cotton that wicks away heat and moisture. A GOTS certification shows that the cotton was made without skin irritants like chemicals or dyes. The cover also protects the core from dust mites and other allergens.
Our testers found that the pillow's medium feel accommodated most sleep styles. Side sleepers who want extra loft can easily fold the pillow in half. Despite its pliability, the shredded latex still supports head and neck alignment. Testing showed that the fill also resisted clumping.
Since shredded latex promotes air circulation, the pillow has above-average temperature control. The breathable cotton cover also helps the pillow stay cooler.
Shoppers can choose between standard, queen, and king sizes. The standard model has a 4-inch loft, while the queen and king sizes are 5 inches thick. The interior should be spot-treated only.
The PlushBeds Organic Shredded Latex Pillow includes free shipping to the contiguous U.S. While the company doesn't accept returns, the pillow is backed by a three-year warranty.
A shredded latex core and breathable cotton cover make the Organic Shredded Latex Pillow a particularly good option for hot sleepers. Our testing team found the pillow's moldable design suited sleeper types across the board.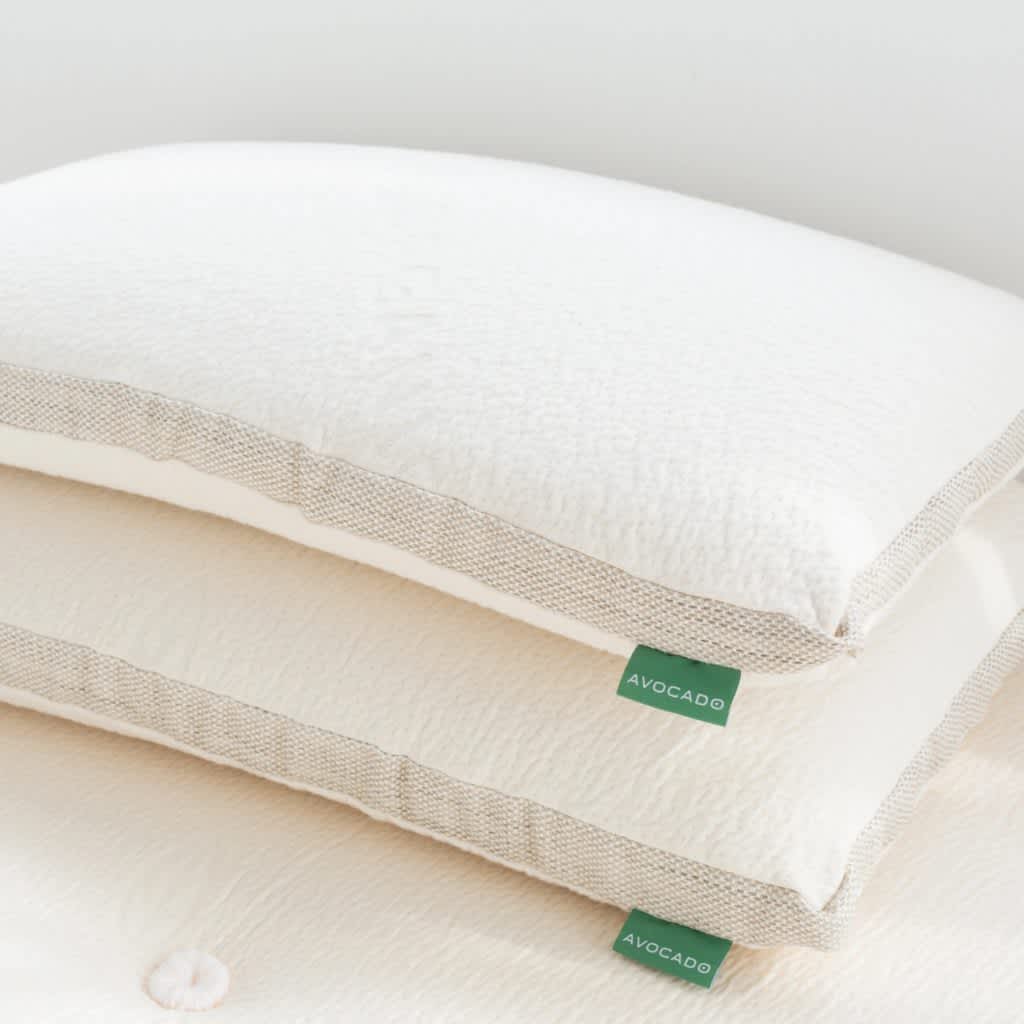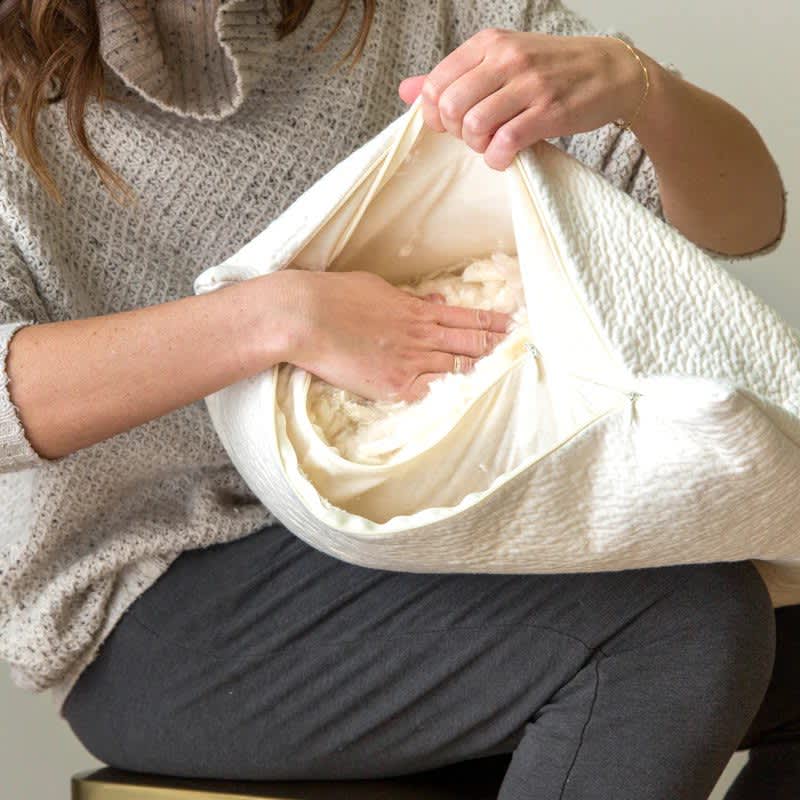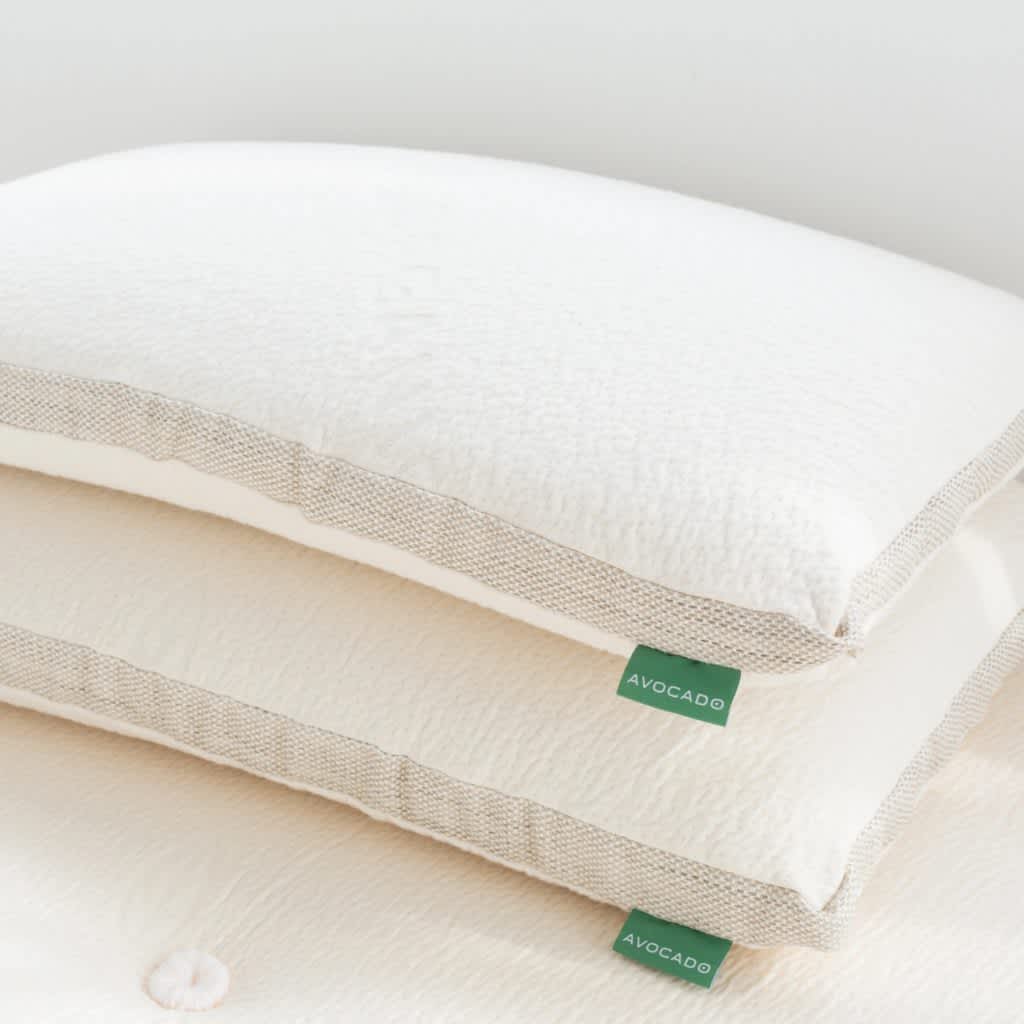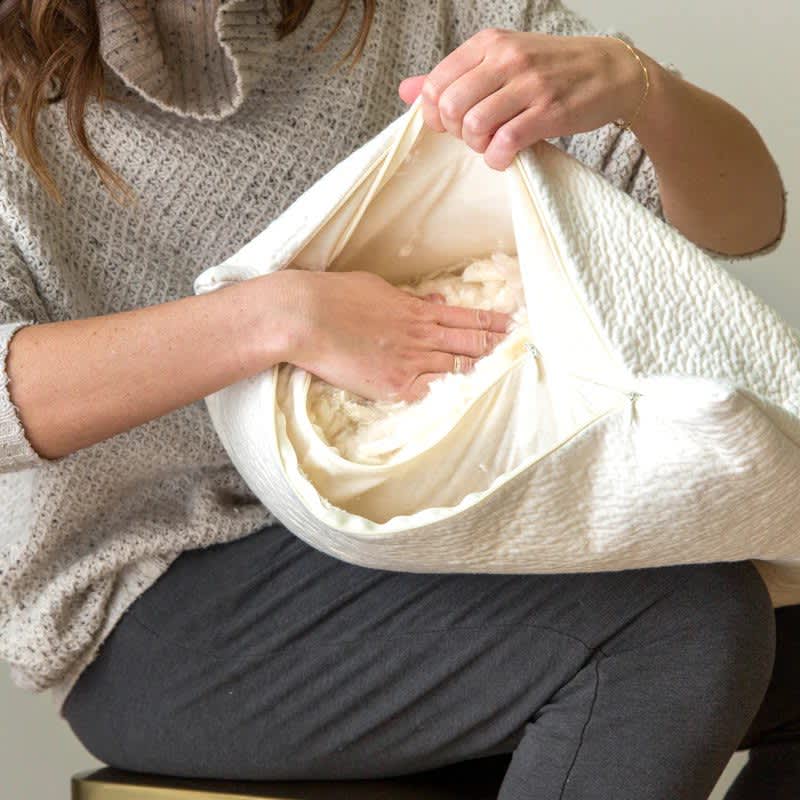 Fill Material: GOLS-certified shredded latex and GOTS-certified kapok fibers

Firmness: Medium

Price: $89
Machine-washable organic cotton cover
Breathable and eco-friendly blend of latex and kapok fibers
Adjustable loft
Those who like moldable pillows
Sleepers under 230 pounds
Shoppers who prioritize sustainable products
Handmade from natural and organic materials, the Avocado Green Pillow blends luxury with sustainability. An eco-friendly fill made from organic shredded latex and kapok tree fibers creates a balanced medium feel. Shoppers can adjust the loft by adding or removing fill, making the pillow exceptionally versatile.
Kapok fibers have a similar texture to down, which makes the Green Pillow lighter and fluffier than most latex models. Shredded latex enhances pliability and shape retention, so the pillow shouldn't flatten prematurely. Sleepers who prefer a higher loft will appreciate that the pillow comes overstuffed. An extra fill bag is included, though additional fill can also be purchased.
The breathable organic cotton cover features a plush quilted pattern. The zippered design allows users to conveniently access the fill, which is encased in soft organic jersey. The cover is machine-washable, but the jersey liner should only be spot-treated.
GOLS and GOTS certifications show that the latex, kapok fibers, and cotton all meet organic standards. The pillow is also vegan and is Made Safe Certified, meaning the materials meet strict safety guidelines.
The Green Pillow comes in standard, queen, and king sizes. Avocado backs the model with a 100-night sleep trial and a one-year warranty. Shipping is free to all 50 states.
We found the Avocado Green Pillow's combination of latex and kapok fibers offered sleepers a cooling and balanced feel. An adjustable loft, organic materials, and a washable cover make it a great option for those under 230 pounds who enjoy a moldable pillow.
Juvea Pillow with Cooling Cover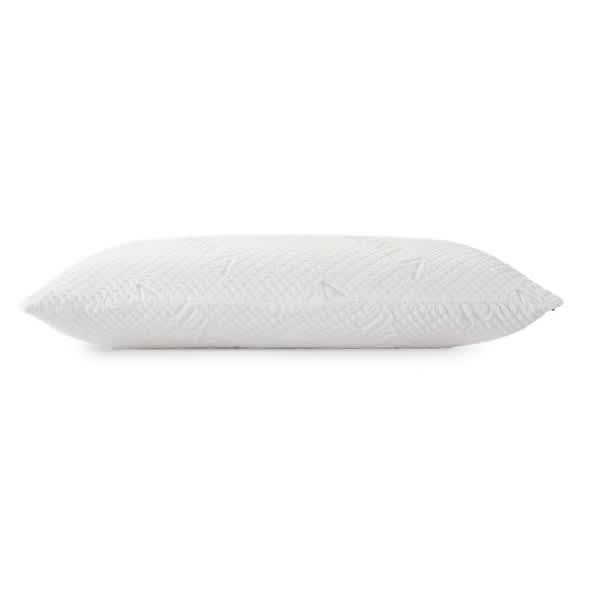 Fill Material: Shredded Talalay latex or down alternative fibers

Firmness: Medium Soft Medium Firm

Price: $100
Talalay latex supports the head and offers gentle contouring
Natural cooling properties help keep the pillow cool
Available in two lofts
Hot sleepers
Side and back sleepers
Those who prefer pillows with a firmer feel
The Juvea Pillow with Cooling Cover is designed for sleepers who tend to run hot at night or who prefer a temperature-neutral sleep surface. Both the insert and cover have notable cooling features that set it apart from the competition.
The pillow is filled with 100% Talalay latex, which has natural cooling properties and retains minimal to no heat. The latex features a perforated design that further promotes cooling by keeping the pillow well-ventilated. The cover is designed to minimize heat retention so most hot sleepers should find the pillow pleasant to sleep on, especially compared to pillows made of materials such as foam.
The Juvea Pillow has a medium firm feel and offers excellent support for your head. Since latex is responsive, the pillow contours moderately to your neck and head, which helps reduce pressure buildup. You can choose between a low-profile or high-profile option. Both provide ample support and loft for side and back sleepers, though the high-profile option may be too thick to maintain a healthy spinal alignment in some back sleepers. Pillows are available in a standard or king size.
Juvea offers free shipping, and you may return the pillow within 30 days. The pillow is further backed by a 1-year warranty.
Why You Should Trust Us
A supportive pillow is crucial for maintaining proper spinal alignment and sleeping comfortably. With decades of experience in the sleep product industry, we've personally tested dozens of latex pillows to determine our top picks.

When testing pillows, we pay special attention to support, pressure relief, and durability. We also test pillows in a range of price-points to consider different budgets. Our testing team includes diverse body types and sleep positions so we can anticipate which models will work best for different types of sleepers.
Natural latex is derived from the sap of rubber trees and manufactured using the Dunlop or Talalay method. Bedding companies may use synthetic latex, which is made from petrochemicals. Some manufacturers also incorporate a blend of natural and synthetic latex.
Latex pillows are known for their contouring and firm support. They are very responsive and maintain their shape over time. Latex is also breathable, especially when compared to most foams.
A latex pillow's feel and support depends on the construction. For example, solid latex cores are sturdier, while shredded latex pillows are more pliable and offer exceptional airflow.
Dunlop vs. Talalay
Natural latex is extracted from the sap of rubber trees and then manufactured using the Dunlop or Talalay method. The two techniques create distinct latex qualities.
Dunlop Latex
Sap is frothed, poured into a mold, and then baked during the Dunlop process. Sediment collects at the bottom of the mold, creating a denser type of latex. Dunlop products tend to be very firm and durable.
Talalay Latex
In the Talalay method, frothed sap is vacuum-sealed in a mold, frozen, and then baked. The result is a lighter, more uniform texture. Talalay latex products have notable airflow and responsiveness.
Latex vs. Memory Foam
Both latex and memory foam conform to the body and alleviate pressure buildup. Memory foam offers a deeper hug, while latex provides moderate contouring. Latex has a more responsive feel and returns to its original shape quicker than memory foam.
While the two materials are generally quite durable, memory foam is more vulnerable to sagging over time. Due to its durability and manufacturing process, latex tends to be more expensive than memory foam.
The biggest difference between the two materials is temperature control. Memory foam tends to trap heat, which can be problematic for hot sleepers. Latex, however, is more successful at preventing heat retention. Talalay latex retains even less heat, as it has a lower density than Dunlop latex. Shoppers that prioritize natural materials also tend to favor latex over memory foam.
Latex Pillow
Naturally breathable
Responsive contouring helps alleviate tension
Excellent shape retention
Very durable
Doesn't produce noise with movement or weight
More expensive than other bedding materials
Doesn't conform as closely to the head and neck
Not as moldable as other pillow types
Some people are allergic to natural latex
Who Is a Latex Pillow Best For?
Every sleeper has different pillow needs when it comes to support and comfort. An ideal pillow depends on body type, sleep position, and personal preferences.
Whether you opt for a latex pillow or a different style, it's important that your pillow encourages proper spinal alignment. Side and back sleepers and those with neck pain often benefit from a latex pillow's firm support. However, a latex pillow that is very thick or dense can distort spinal alignment for stomach sleepers.
While many manufacturers claim their pillow is hypoallergenic, people with latex allergies should still avoid latex pillows.
We'll discuss which types of sleepers are most likely to benefit from a latex pillow.
Side Sleepers
Side sleepers need a supportive pillow that minimizes the gap between their neck and mattress. Latex pillows typically achieve this since they're relatively dense and have a higher loft. Side sleepers who switch to latex pillows often find that they no longer need to fold their pillow in half to generate extra loft.
Back Sleepers
Back sleepers generally do well with a moderately firm, medium-loft latex pillow. This combination keeps the spine level for most back sleepers over 130 pounds. Back sleepers under 130 pounds don't sink as deeply into the mattress, so they require a higher loft pillow to maintain neutral spine alignment.
Those With Neck Pain
Pillows that lack support can cause neck pain. A sturdy latex pillow can prevent or minimize tension by enforcing good cervical alignment.
Hot Sleepers
As a naturally breathable material, latex is a good choice for people who tend to sleep hot. Shredded latex pillows have excellent airflow, but solid latex models sleep cooler than most memory foam, polyester, and down pillows.
How to Pick a Latex Pillow
Sleep comfort differs on an individual basis and depends on many factors. While there isn't a perfect pillow that satisfies every sleeper, some styles work with certain sleep positions and body types better than others.
Adjustable models can be helpful for sleepers who don't know what type of pillow offers the best support for their needs. Some shredded latex pillows have zippered covers that allow users to add or remove fill, which makes it easy for sleepers to experiment with different lofts and feels. Adjustable models are also a good solution for people whose preferences change over time.
What Kind of Support Do You Need?
Latex conforms to the body yet doesn't compress as much as other materials. As such, latex pillows encourage head and neck alignment while preventing pressure points from forming.
With a sturdy design, latex pillows are a good choice for sleepers who need extra support. People with chronic neck pain and sleepers over 230 pounds can benefit from their relatively dense cores.
Shoppers should consider their sleep position, body type, and support needs when choosing a latex pillow. For example, our testing revealed that side sleepers over 230 pounds feel most supported on a solid Dunlop model.
What Is the Best Pillow Loft?
Loft indicates a pillow's relative height. Since your pillow's loft determines how elevated your head is, it plays a critical role in support and neck alignment.
Pillows that are less than 3 inches are considered low loft. Medium-loft pillows are 3 to 5 inches, and high-loft models are taller than 5 inches.
The right loft for you largely depends on your sleep position.
| Sleeping Position | What Pillow Loft Do You Need? |
| --- | --- |
| | Side sleepers typically need a high-loft pillow to keep their head on the same level as their neck and shoulders. Many side sleepers with low-loft pillows fold them in half to create extra loft, but this isn't necessary when a thicker pillow is used. |
| | A medium-loft pillow encourages neutral spine alignment for most back sleepers. People under 130 pounds may need a slightly thicker pillow to keep their spines level. Back sleepers who snore or experience acid reflux may also benefit from a pillow with higher loft. |
| | Stomach sleepers do best with a low- or medium-loft pillow. Some stomach sleepers choose to not use a pillow at all. A higher loft pillow raises the head excessively, which can strain the lower back. |
| | A medium-loft pillow is a safe bet for all sleep positions. Combination sleepers can experiment with different lofts using adjustable pillows to find what works best for them. |
How Firm Should Your Latex Pillow Be?
A pillow's firmness refers to how well it holds its shape under weight and pressure.
Pillows range from soft to firm, with the former flattening more readily than the latter. Most latex pillow firmness levels range from medium to firm.
Similar to loft, every sleeping position has different firmness needs when it comes to support and pressure relief.
| Sleeping Position | What Firmness Do You Need? |
| --- | --- |
| | Most side sleepers enjoy a medium firm to firm pillow that doesn't allow the head to sink excessively. A pillow that's too soft can result in neck or back pain. |
| | A moderately firm pillow supports a back sleeper's upper body while keeping the head on an even plane. The pillow should be somewhat pliable so sleepers can comfortably turn their head from side to side. |
| | Stomach sleepers need a relatively soft pillow to prevent their heads from elevating too much. A firmer design can create an unnatural curve to the spine, potentially leading to aches and pains. |
| | A medium firm pillow is usually versatile enough to accommodate each sleep position. Many combination sleepers appreciate a pillow that easily folds in half, especially when sleeping on their side. |
What Should You Know Before Buying a Latex Pillow?
Sleeping position, firmness level, and loft are important factors to consider when determining what type of pillow is right for you. Shoppers should also look at a pillow's cost, durability, and care guidelines before purchasing.
How Much Does a Latex Pillow Cost?
Latex pillows tend to be more expensive than models made from polyester, fiber, and memory foam. That said, prices vary considerably depending on the brand, workmanship, and type of latex used. While budget designs may cost $40, shoppers can easily spend upwards of $200 on a luxury model. Cost usually increases with size, and adjustable models tend to be more expensive. Organic latex pillows typically command a higher price-point.
How Long Does a Latex Pillow Last?

Most latex pillows should last at least five years, assuming sleepers properly care for them. A high-quality model can easily maintain its shape and support for 10 years. Sleep style, body size, cleaning habits, and pillowcase use can impact how long your pillow lasts. Following the manufacturer's care guidelines is one of the best ways to extend your pillow's lifespan.
If you notice uneven support or experience new neck or shoulder pain, it may be time to replace your pillow. While latex pillows retain their shape longer than most types, they do flatten given enough time.
How to Care for a Latex Pillow
Since care instructions vary, it's important to refer to the product label before washing your pillow. Most latex pillows can be spot-treated with water and mild soap. The latex pillow itself is rarely machine-washable, but some models can be professionally dry cleaned. Some removable covers can be washed by machine.
Fluffing by hand typically refreshes a shredded latex pillow, but some pillows are safe to tumble dry on low. Prolonged sun exposure can degrade latex, so shoppers should keep their pillow away from direct sunlight.