Polyester pillows offer a good blend of value, comfort, and easy care for many sleepers. Filled with tiny fibers, polyester pillows can simulate the light, airy feel of down and adapt to the needs of many sleep styles. Polyester is also usually machine-washable for easy care.
Because they're so popular, there are many polyester pillows on the market today. We'll share our top picks for the best polyester pillows, including their construction and features, to help you choose the best pillow for you. We'll also cover how polyester is used in pillows and examine its pros and cons compared to other kinds of pillows.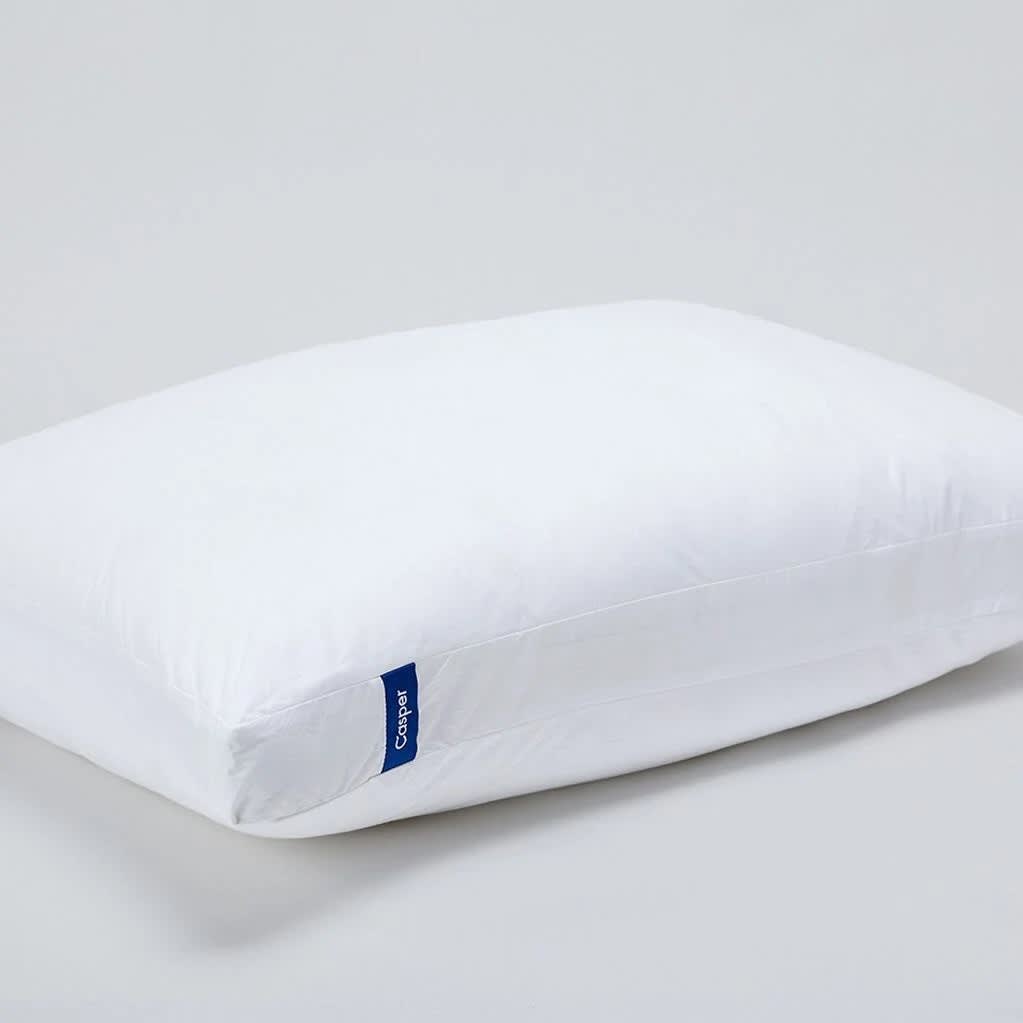 Fill Material: Crimped Polyester Microfiber Fill

Firmness: Medium Soft

Price: $65
Pillow-in-pillow design adapts to different sleep positions
Breathable cotton cover
Machine-washable
Combination sleepers
Hot sleepers
Buyers looking for an easy-to-clean pillow
The Casper Original Pillow provides adaptable softness and support inside a breathable shell. Its signature pillow-in-pillow design consists of a soft, removable outer pillow surrounding a firmer inner pillow. The outer pillow is actually part of the cover, which features cool cotton and polyester lining.
Inside the outer pillow, the long polyester microfiber fill resists clumping, while the crimped polyester in the inner pillow offers a fluffy, down-like feel that conforms to changes in position.
During testing, we found the Casper's loft is especially suited to side and back sleepers, supporting good spinal alignment in both positions. However, our stomach sleepers felt that the loft was too high for comfort.
Our tests showed that the cotton cover stayed quite cool, making this pillow a good option for hot sleepers. Additionally, we found that the Casper held its shape extremely well. The 2-inch gusset in the cover and clump-resistant fill ensures consistent loft and requires minimal fluffing. Both the inner and outer pillow are machine-washable.
Casper offers free shipping and free returns in the contiguous U.S. and Canada. It also comes with a one-year limited warranty.
With its unique design and breathable cover, we recommend the Casper for hot sleepers, combination sleepers, and those who want a low-maintenance pillow.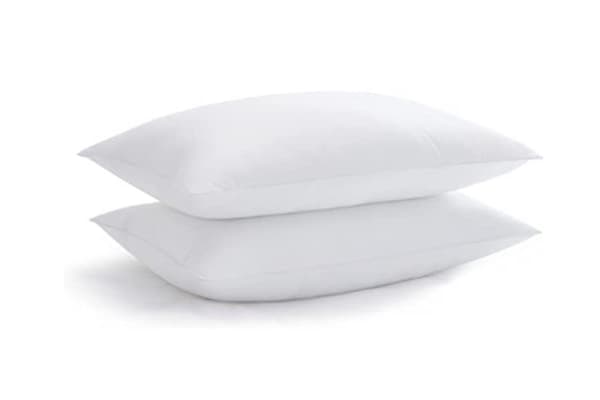 Fill Material: Polyester Microfiber

Firmness: Soft
Comes in a pack of two pillows
Can be easily molded
Affordable price-point
Combination sleepers
Value shoppers
People who are sensitive to down
Acanva Bed Pillows offer a plush down alternative requiring minimal care at an affordable price. Each package contains two 100% polyester pillows encased in soft microfiber covers. Our team members found them to be smooth and non-abrasive against their skin.
Sturdy stitching around the edges prevents any leakage of the fill, which is made of light, airy polyester microfiber.
The Acanva Pillows' 6-inch loft can be easily molded for different sleep positions and body types. However, it was especially comfortable for our side and back sleepers under 230 pounds. The fluffy loft encouraged healthy neck alignment and relaxed shoulders, and it did a good job of maintaining its shape even after extensive use.
During thermal testing, the microfiber cover proved comfortably cool but not as breathable as cotton. Those who sleep hot may prefer a pillow that incorporates more cooling technology. It's also machine-washable.
Shoppers can choose from standard, queen, and king sizes. The pillows are sold by Amazon and come with free shipping and free returns for Prime members.
The Acanva Bed Pillows are a good fit for combination sleepers and those with down sensitivities. A two-pack at a budget-friendly price is also a good option for value-seekers.
The Company Store Duo Sleep Neck Posture Pillow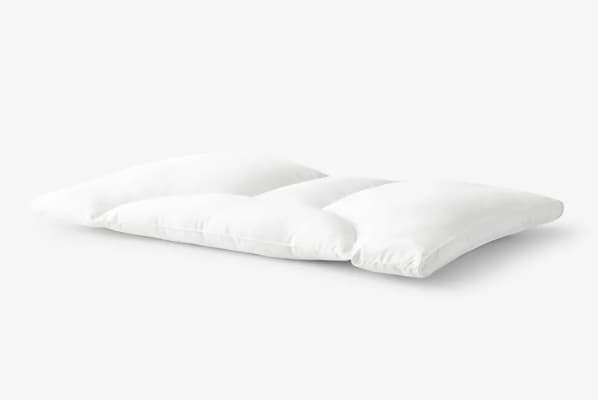 Fill Material: Down Alternative Fibers (100% Polyester)

Firmness: Medium

Price: $79
Sectioned padding for enhanced neck support
Variable loft supports side and back sleeping
Machine-washable for easy care
Side and back sleepers
People with neck pain
Hot sleepers
The Company Store Duo Sleep Neck Posture Pillow is designed to provide significant neck support while also being easy to care for. Its sectioned design consists of four separate areas that cradle the head. The soft, durable shell is made of cotton and polyester, and the down alternative fill tucked inside offers a slightly firmer surface than many other polyester pillows.
During our tests, we found that the Posture Pillow is best suited for side and back sleepers. Its design features a lower loft in the middle for back sleepers and higher loft on the sides for side sleepers. Our side and back sleepers were able to easily change positions without loss of comfort or support. However, our stomach sleepers didn't find the shape or firmness level particularly comfortable.
The Posture Pillow's airy interior and breathable cotton-polyester blend cover make it a good choice for hot sleepers. The pillow's individual sections also maintain their shape quite well, minimizing the need for fluffing. Additionally, the pillow is machine-washable for easy care.
Purchases over $75 receive free shipping in the contiguous U.S. Returns are free within the first 30 days.
The Company Store Duo Sleep Neck Posture Pillow is a great option for combination sleepers, hot sleepers, and those who need extra neck support. Its design promotes healthy spinal alignment, especially for side and back sleepers.
Best for Back and Stomach Sleepers
Amazon Basics Down-Alternative Pillows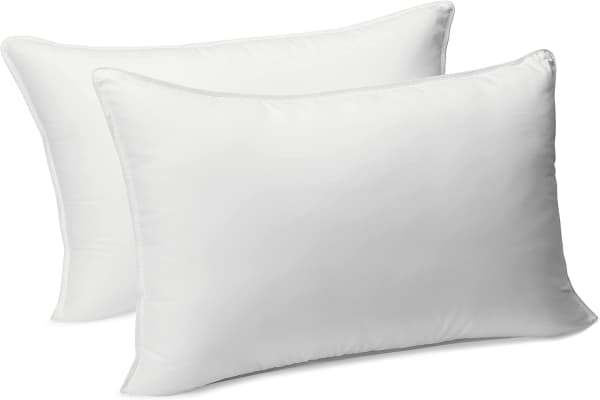 Fill Material: Down alternative fibers

Firmness: Soft, Medium
Two pillows in each pack
OEKO-TEX Standard 100 certification
Polyester microfiber mimics down's plushness
A variety of sleep positions
Hot sleepers
Those looking for a very moldable pillow
With two firmness options, Amazon Basics Down-Alternative Pillows offer plush support for a wide variety of sleepers, regardless of body type or sleep position. Each pillow is stuffed with a down alternative fill made of polyester microfiber. The cover is made from polyester microfiber that is smooth, soft, and designed to prevent skin irritation.
Shoppers can choose a two-pack of either soft or medium pillows. Our stomach and back sleepers found that the soft option allowed for proper neck alignment while cradling the head. Side sleepers on our team preferred the medium firmness for its added loft and support. Both firmness options are easily moldable and conform well to various body types.
Because of their polyester fill and cover, these pillows should stay relatively cool and could benefit those who overheat at night. They also require minimal care. Regular fluffing and machine washing should keep them in good condition.
Customers can choose from standard or king size pillows. Amazon Prime members receive free shipping and free returns within 30 days.
The Amazon Basics Down-Alternative Pillows are a good option for stomach and back sleepers and those who overheat easily. The OEKO-TEX Standard 100 certification should also give health-conscious shoppers peace of mind.
SHEEX Original Performance Down Alternative Side Sleeper Pillow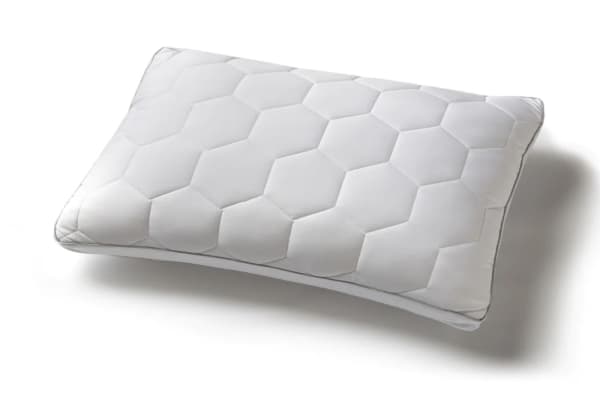 Fill Material: Polyester down alternative fibers

Firmness: Medium Soft

Price: $99
Uses proprietary Cell Solution CLIMA fibers for enhanced temperature regulation
Removable cover
Quilted cover for added softness
Side sleepers
Hot sleepers
Those who need extra pressure relief
The SHEEX Original Performance Down Alternative Side Sleeper Pillow is a down alternative pillow designed specifically for side sleepers. Its polyester-filled insert is encased in a removable zippered cover made from polyester and spandex for a smooth, moisture-wicking surface.
The cover is quilted with Cell Solution CLIMA fibers, a phase change material intended to absorb excess body heat. A 2-inch gusset in the cover helps maintain consistent loft.
Our testers who sleep on their side appreciated the generous loft and medium soft firmness, which kept the head and body aligned. The plush texture molds to each body type without being bulky, though it was most comfortable for our side and back sleepers under 230 pounds.
Stomach sleepers under 130 pounds also reported feeling comfortable, but a pillow with lower loft would likely provide better spinal alignment for stomach sleepers above that weight range.
Our tests also showed that the Side Sleeper Pillow didn't trap much heat, making it a good choice for hot sleepers. It's also machine-washable and only requires an occasional fluffling.
Shoppers have a choice between standard and king sizes. Orders within the contiguous U.S. receive free shipping, free returns within 60 days, and a one-year warranty.
Hollander Sleep Products Protect-A-Bed Snow Classic Pillow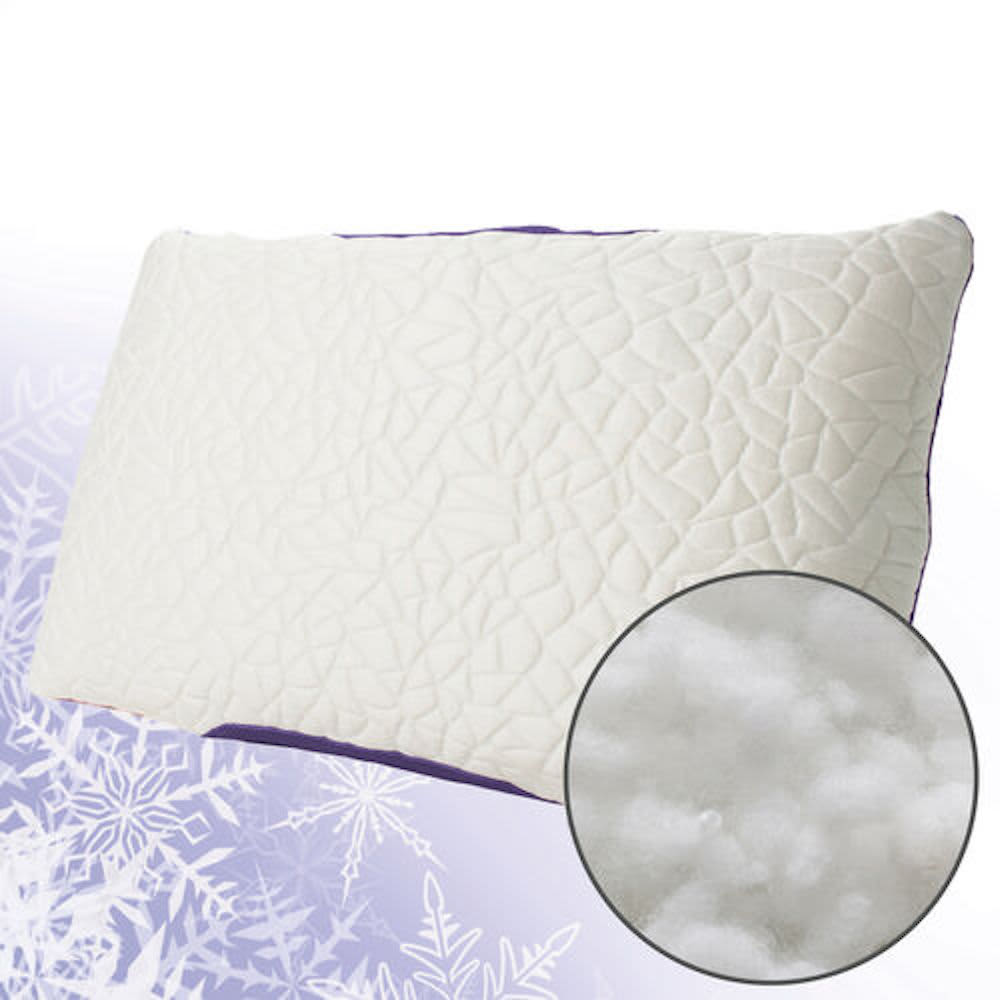 Fill Material: Down alternative polyester fibers

Firmness: Soft, Medium, Firm

Price: $114
Tencel fibers in cover wick moisture
Choice of soft, medium, or firm feel
Hypoallergenic fill designed to avoid triggering allergies
Hot sleepers
Combination sleepers
People with sensitive skin
Hollander Sleep Products designed the Protect-A-Bed Snow Classic Pillow to be breathable, hypoallergenic, and suitable for multiple sleep positions. Its quilted cover is made from a blend of polyester and Tencel fibers designed to inhibit bacterial growth, draw away body heat, and provide a cooling sensation on contact.
Our team enjoyed this pillow's smooth, non-irritating surface. Inside the shell, polyester fibers mimic down's fluffy texture, and you can choose from three different firmness levels: soft, medium, and firm.
Our stomach sleepers, especially those under 130 pounds, preferred the soft option, which helped them maintain a healthy neck position. Back sleepers tended to prefer the medium pillow, and our side sleepers enjoyed the support of the firm pillow.
All of our testers appreciated the pillow's temperature-regulating ability, and even our hot sleepers found that it remained cool to the touch. The pillow is also durable and machine-washable for easy care. However, it's only available in queen size.
Customers within the contiguous U.S. receive free shipping on purchases of more than $50. Orders come with free returns within 30 days and a one-year warranty.
With its cooling Tencel fibers and down alternative fill, The Hollander Sleep Products Protect-A-Bed Snow Classic Pillow is a great choice for hot sleepers, combination sleepers, and those with sensitive skin.
Why You Should Trust Us
Our team of sleep specialists has tested hundreds of sleep products over the years. To evaluate the best polyester pillows, we rigorously examined dozens of models with testers of varying weights and sleep preferences. We looked at essential criteria such as temperature regulation, firmness, and suitability to various sleep positions.
What Is a Polyester Pillow?
A popular synthetic fabric, polyester is often used in clothes, sheets, and upholstery. Polyester pillows tend to be filled with polyester that's been spun into thin, airy fibers that are sometimes referred to as polyfill or fiberfill.
Polyester is usually more affordable than natural materials such as cotton and down, making polyester products an appealing choice for value shoppers. People with allergies to down or other materials may also prefer polyester for its hypoallergenic qualities. It's not quite as durable as its natural counterparts but offers good value.
Polyester is versatile in form, appearance, and feel depending on how it's processed. It can be made into a smooth, soft material or tiny fibers that replicate down's airy texture.
How Is Polyester Used in Pillows?
Polyester is frequently used in a pillow's fill, cover, or both. In fact, polyester pillow filling has replaced cotton as the most popular fill material.
Polyester comes in a variety of forms. Down alternative pillows use polyester to mimic the soft and moldable feel of down. Some polyester pillows feature removable filling to create an adjustable loft. Polyester can also be blended with other materials, like foam or cotton, to combine the benefits of each.
Polyester Fiber in Down Alternative Pillows
Down alternative is usually a safe option for people with down allergies or sensitivities. It's also a more affordable option that doesn't use animal products. To mimic down, polyester fibers are spun to make them soft and fluffy. Cotton or rayon is also sometimes used. Down alternative pillows are soft, lightweight, and suitable for most sleep positions.
Can You Wash Polyester Pillows in the Washing Machine?
Polyester pillows can usually be washed in the washing machine, which makes them easier to care for than other types of pillows. They do require fluffing, but not the extensive care of real down. With regular fluffing and washing, polyester and down alternative pillows usually last one to two years before needing a replacement.
Pros and Cons of Polyester Pillows
While polyester pillows have many appealing characteristics, they do have some drawbacks as well. The huggable softness of polyester pillows is best suited to combination sleepers and those who want to sink into a plush surface. However, people who suffer with shoulder or neck pain may need more support than a polyester pillow can provide.
Price: Polyester and down alternative pillows are typically much more affordable than pillows made with real down.
Softness: Polyester fill effectively mimics the soft, airy feel of down for a plush sleep experience.
Temperature neutrality: Down alternative doesn't trap much body heat, and the fluffy nature of polyester fibers allows for good airflow.
Ease of care: While many pillows require delicate handling, polyester pillows are usually machine-washable.
Lightweight: Polyester microfibers make a very light pillow that is easy to move and carry.
Hypoallergenic: People with allergies to down, buckwheat, or latex will likely be able to safely use down alternative pillows made with polyester.

No noticeable odor: With a down alternative pillow, there is no odor and no danger of a musty smell from damp feathers after washing.
Poor support: Down alternative  compresses easily, which can lead to neck pain for side sleepers and those over 230 pounds.
Needs fluffing: To maintain its airy loft, polyester pillows require regular fluffing, usually on a daily basis.
Short lifespan: Down alternative tends to flatten over time and may only last up to two years.
Not eco-friendly: Polyester is a nonrenewable, petroleum-based product that requires an energy-intensive manufacturing process, which can contribute to climate change.
Dust mites: Polyester is appealing to dust mites, which seem to prefer synthetic materials.
Noise: Down alternative can make noise when you shift position. Some pillow covers used with polyester pillows are also comparatively noisy.
Choosing the Best Polyester Pillow
There is no perfect pillow that works for everyone. And because there are so many available options, it's important to consider your physical needs and preferences, such as support, firmness, and sleep position. Taking these things into consideration can help you choose the best pillow for you.
Sleep Position
Sleep position greatly affects what type of pillow works best for each sleeper. With their generous loft, polyester pillows are a favorite of side sleepers, but their ability to compress makes them suitable for back and stomach sleepers as well, especially if the loft is adjustable.
Pillow Loft
Loft refers to a pillow's thickness when it's lying flat with nothing on it. A thicker pillow lifts the head higher off of the bed. Typically, a higher loft is best suited for side sleepers who need more height to avoid neck and shoulder pain. Back sleepers tend to prefer medium loft pillows, and stomach sleepers need a low loft that won't strain their neck.
Support
Both loft and firmness determine a pillow's level of support. While polyester pillows often have a high loft, they tend not to be firm and therefore don't provide a lot of head and neck support.
Firmness
A comfortable level of firmness keeps the head and neck aligned with the body without creating pressure points. If a side sleeper's pillow is too firm, pressure can build up around the neck and shoulders. Polyester pillows tend to be soft enough to avoid creating pressure points.
Pressure Relief
Polyester pillows don't have the body-hugging conformity or superior pressure relief of memory foam. Still, their fluffy loft loosely contours to the head, providing adequate comfort and pressure relief.
Temperature Regulation
For hot sleepers, a cool pillow is a must. Polyester pillows, with their loose, airy fill, usually have good airflow, which can help keep you cool. Pillows with a breathable cover and cooling technology can be even more effective.
Quality Materials
Polyester pillows can vary widely in price, quality, and durability, depending on their materials and construction. By paying a bit more, you can get a more durable pillow with additional sleep-enhancing features.
Price
While inexpensive pillows may seem appealing, they can make it difficult to get a good night's sleep if they aren't made well. Inadequate support may lead to neck pain, and a pillow made with lower quality materials probably won't be very durable. You're likely to be better off focusing on finding a pillow with good value for the price.
Should You Buy a Polyester Pillow?
Polyester pillows appeal to a variety of sleepers for several reasons. People with allergies to other materials can safely use them, and they are comfortable for multiple sleep styles. However, they may not be suitable for people with neck and shoulder pain who need more support.
Who Is a Polyester Pillow Good For?
Sleepers from all sleep positions: Pillows with an adjustable loft can be customized to each position. Adding fill creates a higher loft for side sleeping, and removing fill reduces it for comfortable back and stomach sleeping.

Sleepers who want a soft, plush pillow: Because polyester fill is soft and fluffy, it's a good option for sleepers who enjoy sinking into their pillow or want to avoid pressure points in the neck and shoulders.

Sleepers who are allergic to other materials: Many people with down allergies and skin sensitivities can safely use polyester pillows while still enjoying the plushness they prefer.

Who Should Avoid Polyester Pillows?
Sleepers with back, neck, or shoulder pain: While polyester pillows are wonderfully fluffy, they can fall short on support. When overly compressed, they may lead to more neck and back pain from poor spinal alignment.
Sleepers who don't want to fluff pillows: Polyester pillows usually require regular fluffing to stay in optimal condition. For some people, this may be too much work.

Sleepers with dust allergies: Polyester fill is especially attractive to dust mites. Their droppings can trigger allergic reactions and breathing problems for those with allergies.