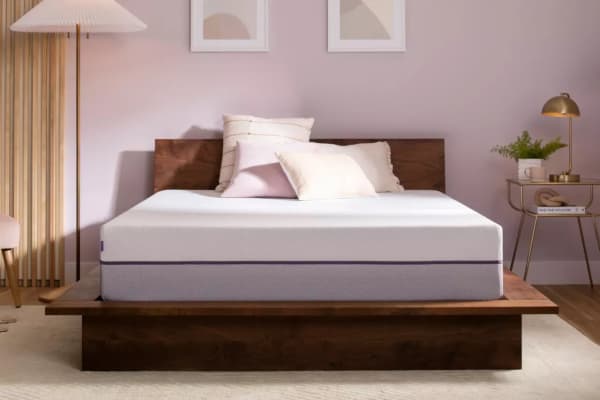 Type: Foam

Firmness: Medium (5)

Sizes: Twin, Twin XL, Full, Queen, King, California King, Split King

Price Range: $1,499 – $2,898

Warranty: 10 Year, Limited
Excellent pressure-relieving capability
The open structure of the GelFlex Grid is designed to promote airflow and a cool sleep surface
All-foam construction effectively resists motion transfer
Medium firmness level may be too soft to support stomach and back sleepers weighing over 230 pounds
Edges tend to sink under pressure
A higher price-point may put the mattress out of reach for some individuals
Sleep Doctor's Take: Purple Plus Mattress
Upgrading Purple's flagship Purple Mattress with an added layer of polyfoam, the Purple Plus offers sleepers a contouring and responsive surface. The combination relieves tension and helps align the spine. In addition to its excellent breathability and motion isolation, the mattress' medium firm feel makes it well suited to a wide range of sleeper types.
Purple Plus Mattress: An Introduction
Purple is a Utah-based mattress brand most well known for its GelFlex Grid comfort layer. Made from a proprietary hyper-elastic polymer, the GelFlex Grid is designed to deliver comfort and support with a flexible, pressure-responsive design.
The Purple lineup includes the Essential Collection of all-foam beds as well as the Premier Collection of hybrid models. Their newest collection, the Luxe, includes three top-of-the-line hybrid mattresses.
We'll cover the Purple Plus Mattress, an all-foam model with extra cushioning in the comfort system for added contouring and pressure relief. We'll also take a look at how it performed in key performance categories, as well as how much it costs, where you can buy it, and other frequently asked questions.
How We Review
Our team of experienced testers represents a range of body types and sleep position preferences. We research and test each of the products we review to bring you a well-rounded, informed perspective to help you choose a mattress that works for your sleep needs.
What's It Like to Sleep on the Purple Plus Mattress?
With an upper layer of proprietary GelFlex Grid material, the Purple Plus Mattress contours the sleeper and cushions pressure-prone areas like the hips and shoulders. It's able to respond quickly to changes in position, helping to maintain spinal alignment across sleep positions.
Overall, our testing team found the Purple Plus was an excellent fit for side sleepers under 230 pounds as well as stomach and back sleepers weighing less than 130 pounds.
GelFlex Grid offers responsive contouring with quick bounceback
Exceptional comfort and support for sleepers under 130 pounds
Superior airflow means the Plus sleeps cooler than other all-foam options
Stomach and back sleepers over 230 pounds may find the mattress permits too much sinkage
All-foam construction means edges struggle to hold their shape under pressure
More expensive than other all-foam mattress options
Sleeping Positions, Body Weight, and Firmness
Our team includes a range of sleepers with varying body types and sleep position preferences for a more well-rounded perspective. Together, we rated the Purple Plus as a 5 on our 10-point firmness scale. This equates to a medium firm feel that can work well for many types of sleepers.
In general, sleepers weighing less than 130 pounds prefer mattresses with a softer feel, while sleepers above 230 pounds need a firmer mattress for more support. In terms of sleeping position, side sleepers typically fare better on a mattress with more give in the upper layers, while back and stomach sleepers need a firmer sleep surface to maintain spinal alignment.
Purple Plus Mattress Sleeper Ratings
| | Under 130 lbs. | 130-230 lbs. | Over 230 lbs. |
| --- | --- | --- | --- |
| Side Sleepers | 5/5 | 5/5 | 3/5 |
| Back Sleepers | 5/5 | 4/5 | 2/5 |
| Stomach Sleepers | 5/5 | 3/5 | 2/5 |
Side Sleepers
For our side sleepers under 230 pounds, the Purple Plus was an excellent fit. The GridFlex Grid material in the topmost layer provides ample contouring, and the extra layer of polyfoam provides additional pressure relief.
Our testers weighing more than 230 pounds were satisfied with the Purple Plus, though some felt that it wasn't quite firm enough to create the pushback they needed to prevent sinkage.

Back Sleepers
The Purple Plus earned similar marks from our back-sleeping testers. Those weighing less than 230 pounds appreciated the targeted compression of the GridFlex Grid material, while the support core provided enough pushback to keep the spine in alignment.
For our back sleepers weighing more than 230 pounds the Purple Plus lacked adequate support to keep their spines aligned, which significantly impacted their comfort level.
Stomach Sleepers
As we found in other sleep positions, the mattress performed best for sleepers under 130 pounds. Those weighing less than 130 pounds gave the Purple Plus exceptional scores, finding it offered a balance of cushioning and support from the polyfoam core.
However, stomach sleepers weighing between 130 and 230 pounds gave the mattress average marks. Stomach sleepers over 230 pounds noticed the mattress permitted too much sinkage and thought a firmer mattress would better suit their needs.
Our team of testers rated the Purple Plus across eight performance categories on a scale of poor (1) to excellent (5), with one being poor and five being excellent.
Pressure Relief
Rating: 4/5
The testing team found the specially designed GelFlex Grid layer in the Purple Plus provided plenty of contouring while remaining responsive to even slight changes in position. With an added layer of polyfoam, the Purple Plus is better able to cradle the body, relieving tension and promoting spinal alignment for noticeable pressure relief.
Temperature Neutrality
Rating: 5/5
The material of the GelFlex Grid is designed to draw heat away from sleepers. The GridFlex Grid's open structure and breathable foams in the mattress' base work together to promote airflow. For our testers, this combination resulted in a sleep surface that prevented the heat retention common in most all-foam models.
Motion Isolation
Rating: 4/5
With four layers of movement-absorbing materials, the Purple Plus has above-average motion isolation. During testing, we detected few vibrations traveling across the sleep surface, even with exaggerated tossing and turning. This makes it a good choice for those who share the bed with active sleep partners, children, or pets.
Edge Support
Rating: 3/5
The collapsible nature of the GelFlex Grid makes it an effective material for pressure relief, but less well suited for maintaining a sturdy perimeter. While a firm base layer of foam offers some edge support, most of our testers found the Purple Plus only adequately maintained its shape at the edge, which required more effort to get in and out of bed.
Durability
Rating: 3/5
Engineered to gradually compress and instantly rebound repeatedly, the GelFlex Grid has been carefully designed to withstand normal wear and tear without forfeiting performance. Its underlying foams are made from high-quality materials.
With that in mind, we expect the Purple Plus to last for at least as long as the average all-foam mattress lifespan of six to seven years. Of course, this depends on how the mattress is used and cared for. Additionally, Purple backs the mattress with a 10-year warranty.
Ease of Movement
Rating: 3/5
Our testers reported that the Purple Plus was average for ease of movement. Like most all-foam mattresses, there's a trade-off between the hug of the comfort system and how easy it is to roll and shift across its sleep surface. Our testers noted that the GelFlex Grid's quick rebound helped offset some of the foam layers' tendency to trap movement.
Sex
Rating: 3/5
Top-notch temperature control, ample cushioning, and an adaptive top layer help create a comfy surface that works well for sex. For those who prefer a more responsive surface that facilitates movement, the all-foam construction of the Purple Plus can make position changes a challenge.
Off-Gassing
Rating: 3/5
As with most all-foam mattresses, our testers detected a noticeable odor from the Purple Plus upon initial use. This was expected, as foam tends to emit more volatile organic chemicals (VOCs) than other mattress types. VOCs are responsible for the distinctive off-gassing smell, though they don't pose a risk in small amounts.
However, the Purple Plus does come with CertiPUR-US and Clean Air GOLD certifications, meaning it meets rigorous product safety standards. Any off-gassing odors should dissipate in a few days.
What Is the Purple Plus Mattress Made Of?
The Purple Plus features a SoftFlex knit-blend cover with stretch to accommodate the responsiveness of the foam comfort system. A 2-inch top layer of Purple GelFlex Grid material has a buckling column design engineered for comfort and support.
An additional 2-inch layer of soft polyfoam delivers added cushioning, and 3 inches of firmer polyfoam creates a supportive transitional zone between the comfort layers and the 4-inch polyfoam support core.
All the foams used in the Purple Plus are CertiPUR-US and Clean Air Gold certified free of known harmful chemicals.
Mattress Construction Layers
Details
Cover Material
Viscose, Polyester, and Lycra
Comfort Layers
2" Buckling Column Gel
2" Polyfoam
3" Polyfoam
Support Core
4" Polyfoam
How Much Does the Purple Plus Mattress Cost?
Shoppers can expect to pay a bit of a premium for Purple's proprietary GelFlex Grid technology. With the additional foam comfort layer, the Purple Plus represents a step up from the brand's flagship model, the Purple Mattress. However, quality materials and craftsmanship along with superior performance may make the cost worthwhile for many shoppers.
| Sizes | Price | Dimensions | Height | Weight |
| --- | --- | --- | --- | --- |
| Twin | $1,495 | 38" x 75" | 11" | 67 lbs. |
| Twin XL | $1,545 | 38" x 80" | 11" | 71 lbs. |
| Full | $1,745 | 54" x 75" | 11" | 81 lbs. |
| Queen | $1,895 | 60" x 80" | 11" | 111 lbs. |
| King | $2,295 | 76" x 80" | 11" | 140 lbs. |
| California King | $2,295 | 72" x 84" | 11" | 144 lbs. |
| Split King | $3,090 | 38" x 80" (2 pcs.) | 11" | 71 lbs. (2 pcs.) |
Which Purple Mattress Is Right for You?
The Purple Plus is part of the brand's Essential Collection, which also includes the Purple Mattress. Nearly 2 extra inches of polyfoam in the Plus gives it a slightly softer feel for a medium (5) feel that most of our testers found comfortable.
Purple also makes hybrid mattresses as part of its Premium Collection. The Purple Hybrid features 2 inches of the GelFlex Grid combined with a polyfoam layer atop a core of pocketed coils. The other two mattresses in this Collection, the Hybrid Premier 3 and Hybrid Premier 4, share a similar construction to the Purple Hybrid but feature thicker GelFlex Grid layers.
All three hybrids have relatively similar performance characteristics compared to the Purple Plus, with two exceptions. Our back-sleeping testers weighing over 230 pounds preferred a Premier Collection hybrid to the Plus, while back sleepers weighing between 130 and 230 pounds appreciated the firmer feel of the Purple Hybrid.
Purple Mattresses at a Glance
| Model | Firmness | Mattress Type | Height | Base Price (Queen) |
| --- | --- | --- | --- | --- |
| Purple Mattress | Medium Firm (6) | Foam | 9.25" | $1,399 |
| Purple Plus | Medium (5) | Foam | 11" | $1,895 |
| Purple Hybrid | Medium Firm (6) | Hybrid | 11" | $2,399 |
| Purple Hybrid Premier 3 | Medium Firm (6) | Hybrid | 12" | $2,999 |
| Purple Hybrid Premier 4 | Medium (5) | Hybrid | 13" | $3,799 |
Discounts and Coupons
Purple runs frequent sales often coinciding with major holidays and popular shopping days, like Black Friday and Labor Day. They also frequently include free bedding accessories. The brand offers 10 percent discounts to verified health care providers, members of the military, first responders, truck drivers, and educators.
Where Can You Buy the Purple Plus Mattress?
Purple mattresses are available for purchase via the brand website as well as in over 3,400 brick-and-mortar stores across the United States, including thousands of Purple showrooms. You can also find Purple mattresses on Amazon and other third-party retail sites. Keep in mind that pricing, discounts, shipping, sleep trials, and warranty policies may be different for purchases not made directly through Purple.
Buying Information and Customer Policies
Availability
Purple mattresses are available in the contiguous United States and can be shipped to Alaska and Hawaii for an additional charge. Canadian customers can find Purple through their retail partner, Sleep Country.
Shipping
Shipping is free within the contiguous United States. Orders sent to Alaska and Hawaii incur shipping charges which vary depending on the location and the product purchased.

Purple mattresses arrive rolled in a waterproof bag with handles for easier transport. Mattresses need to be unrolled and decompressed within two weeks of delivery.
Additional Services
For an additional $200 fee, Purple offers Premier Delivery for the Purple Plus Mattresses. Premier Delivery includes the setup of the new mattress and the removal of the old one.

If you are a resident of California, Purple will remove your old mattress free of charge.
Sleep Trial
Purple mattresses are eligible for a 100-night sleep trial. Shoppers must keep the mattress for a minimum of 21 days before initiating a return for the full purchase price minus any discounts and shipping charges.

Returned mattresses are picked up for free by a local haul-away company and recycled.
Warranty
A 10-year limited warranty comes with all Purple mattresses purchased in the United States through Purple or a Purple-authorized retailer. The warranty covers the original purchaser from defects in the materials or workmanship. Mattresses with warranted defects will be either repaired or replaced.
Is the Purple Grid a Type of Memory Foam?
The Purple Grid is a type of material called a polymer. It has similar conforming capabilities to memory foam but is composed of a proprietary material designed for a springier feel and better breathability.
Where Can You Try the Purple Plus Mattress?
Shoppers can try the Purple Plus in thousands of Purple showrooms and retail partner shops across the United States and Canada. Purple mattresses also come with a 100-night sleep trial, so sleepers can try them out at home. Returns are free.
Which Purple Mattress Is Best for Sleepers Over 230 Pounds?
Side and back sleepers weighing over 230 pounds preferred both the Plus as well as the Hybrid and Hybrid Premier options over the flagship Purple Mattress. Back sleepers weighing more than 230 pounds preferred the Hybrid Premier 3 and Hybrid Premier 4 over the Purple and Purple Plus.
Does the Purple Plus Come in a Box?
The Purple Plus comes rolled in a durable bag rather than a box. The bag is waterproof and weather resistant with handles to make it easier to carry.