The cost and quality of mattresses vary widely. Many factors determine the price of a mattress, including the materials, size, and premium add-ons like cooling features. Prices also differ from brand to brand. However, you don't have to sacrifice quality construction or comfort to find a budget-friendly model.
We'll highlight several mattresses with affordable price-points that performed as well in our tests as more expensive alternatives. We'll also share tips on where and when to shop to save money on a mattress that fits your needs.
Materials and construction play a big role in a bed's sticker price. If you're looking for a mattress on a limited budget, try starting with foam and innerspring models. These beds offer excellent pressure relief and are often more affordable than latex and hybrid beds.
Dr. Michael Breus,
Clinical Psychologist, Sleep Medicine Expert and Combination Sleeper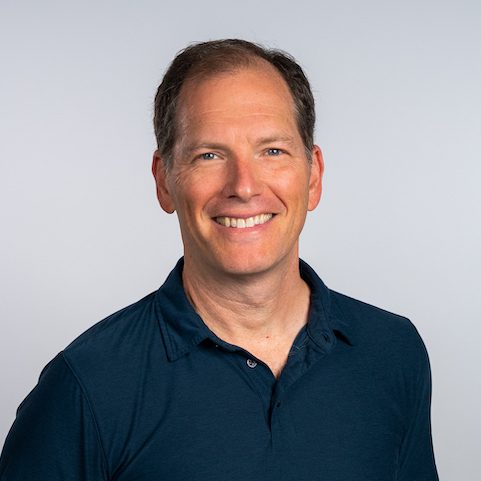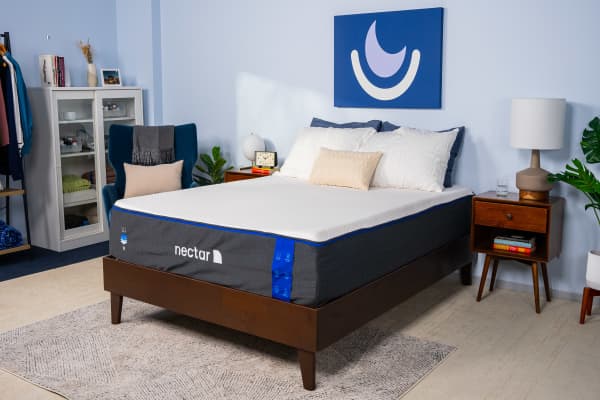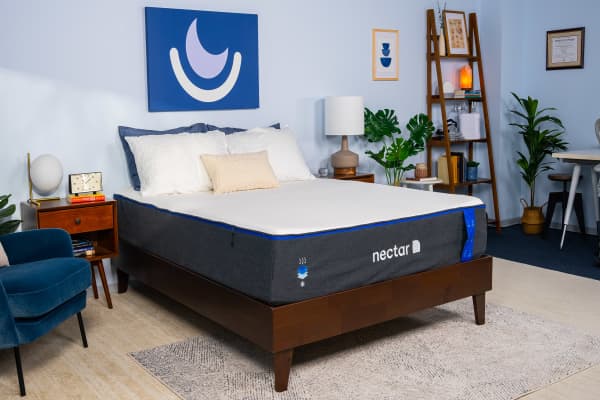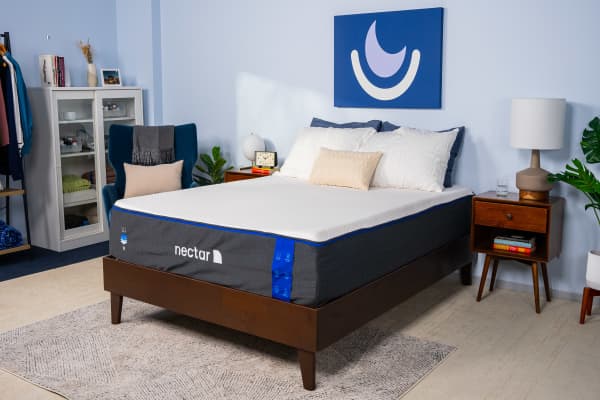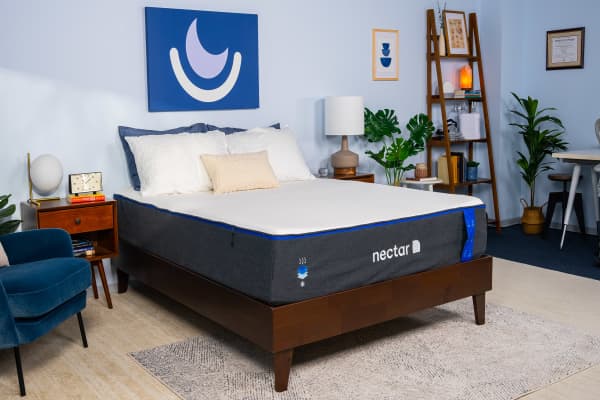 Warranty Lifetime, Limited

Trial Length / Warranty

365 nights / Lifetime, Limited
Sleep Doctor's Take
The Nectar Mattress proves a reliable, high-quality mattress can still carry an affordable sticker price. Its medium firm (6) feel delivers more support than the average all-foam model, and each customer receives a generous 365-night sleep trial with their purchase.
Thick comfort system for top-tier pressure relief
Gel memory foam designed for cooler sleep
Thicker coils at the perimeter for superior edge support
Surface may develop indentations and impressions after a few years of use
Foam layers have a tendency to sleep hot
The Nectar Mattress is a strong all-around option for shoppers on a budget. This all-foam model doesn't sacrifice support while offering outstanding motion isolation and pressure relief.
How Does It Feel?
Our testing team found that the Nectar's memory foam comfort layer provides a gentle hugging sensation that relieves pressure, making the mattress a good choice for sleepers who tend to experience pain or pressure points.
Despite the thick memory foam layer, our testers noted that the bed's transitional polyfoam prevented them from sinking too deeply. A dense polyfoam core completes the mattress and offers sturdy support.
Why We Like It
During partner tests, we found that the memory foam layer also does an excellent job of isolating motion and preventing movement from rippling across the bed's surface. Our tests also revealed minimal pressure buildup.
With a 12-inch profile and medium firm (6) feel, the Nectar received high ratings from the side sleepers on our testing team across all weight groups. Our back and stomach sleepers who weigh less than 230 pounds also enjoyed its balance of conforming and support.
The mattress comes with a generous 365-night sleep trial and a limited lifetime warranty. Nectar provides free shipping and returns to customers in the contiguous U.S.
Minocasa Mino Hybrid Mattress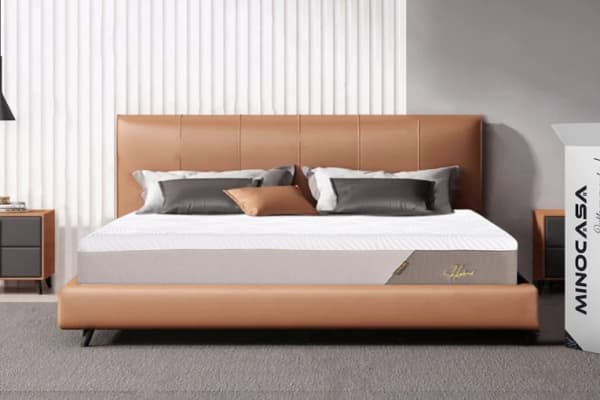 Warranty 10 year, limited

Trial Length / Warranty

180 nights / 10 year, limited
Sleep Doctor's Take
The Minocasa Mino Hybrid is designed with multiple foam layers that adapt to your body more effectively than other hybrid models we've tested. Meanwhile the coil base delivers excellent support, so most sleepers don't need to worry about excessive sinkage with this model. 
Adaptive foam layers contour evenly to relieve pressure buildup
Zoned coils provide extra pushback around heavier areas of the body
All orders include a 180-night sleep trial
Stomach sleepers over 130 pounds may need a firmer mattress
Foam layers may inhibit ease of movement
The Minocasa Mino Hybrid combines the strong contouring of memory foam with the sturdy support of a coil base. The result is a well-balanced mattress that felt comfortable for a wide range of body types and sleep preferences during our tests.
How Does It Feel?
The mattress begins with a cool Tencel cover over a layer of memory foam that conforms closely to your body. This is followed by two polyfoam layers that have a firmer feel but still promote contouring. Beneath is a thick layer of pocketed coils that generate ample support to prevent your body from sinking too deep. The coils are zoned to provide extra support where it's most needed. The bed has an overall medium firm (6) feel that earned high marks from our side-sleeping testers, especially those weighing up to 230 pounds. Back sleepers between 130 and 230 pounds also enjoyed the feel.
Why We Like It
Hybrid models offer great support, but sometimes at the expense of motion isolation. This is not the case with the Minocasa Mino Hybrid Mattress. Our testers found the memory foam excelled at absorbing motion, so you're less likely to feel nighttime movements of a co-sleeper. The adaptive foam layers were also ideal for relieving painful pressure buildup. This appealed to the side and back sleepers on our team, since this group sometimes experiences painful pressure points in the shoulders, hips, and spine.
Minocasa offers free shipping to addresses in the contiguous U.S. You'll receive a 180-night sleep trial to try out the mattress at home. The mattress is also backed by a 10-year warranty.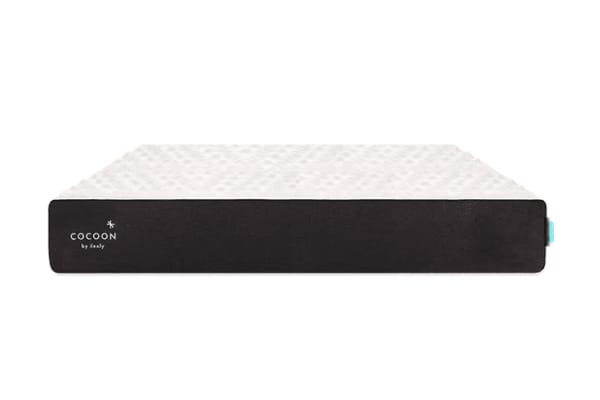 Trial Length 100 Nights (30-Night Requirement)

Warranty 10 Year, Limited

Trial Length / Warranty

100 Nights (30-Night Requirement) / 10 Year, Limited
Sleep Doctor's Take
The Cocoon Chill's gel-infused comfort layer and phase change cover offset the heat retention that often occurs with all-foam mattresses, allowing you to stay cool and comfortable throughout the night. This mattress also excels at pressure relief and motion isolation.
Dense, adaptive memory foam creates a cloud-like cradle for the body
All-foam design excels at motion isolation and pressure relief
Cover infused with phase change material to prevent overheating
Foam can sink beneath your weight and hinder movement across the surface
Limited edge support may lead to deep sinkage
The Cocoon Chill by Sealy is an all-foam mattress featuring adaptive memory foam over dense polyfoam. With a thoughtful construction and innovative cooling features, the mattress is an excellent choice for sleepers who like the feel of memory foam but tend to overheat in bed.
How Does It Feel?
The Chill's foam layers contour gently to cushion your body while maintaining even support. With a medium firm (6) feel, the mattress cradles the body without sacrificing stability. We also noted that the polyfoam transitional layer should prevent excessive sinkage, and the high-density polyfoam support core stabilized the mattress when we shifted positions.
The Chill's phase change material cover is engineered to absorb and redistribute heat, maintaining a comfortable surface temperature in the process. This helps the mattress offset heat retention from the foam layers and sleep relatively cool.
Why We Like It
Based on our tests, the mattress best suits back and stomach sleepers of all weights and side sleepers who weigh more than 130 pounds. It received the highest ratings from back sleepers on our team who weigh between 130 and 230 pounds.
Our tests showed that the memory foam comfort layer conforms to the body and relieves pressure along the spine. The Cocoon Chill also performed really well on our motion isolation tests, so this bed is a safe bet if you're trying to minimize sleep disruptions from a restless co-sleeper. Testers barely noticed when their partners moved around on the other side of the bed.
Shoppers can try out the Cocoon Chill for up to 100 nights. The mattress also comes with a 10-year limited warranty and free shipping to customers in the contiguous U.S.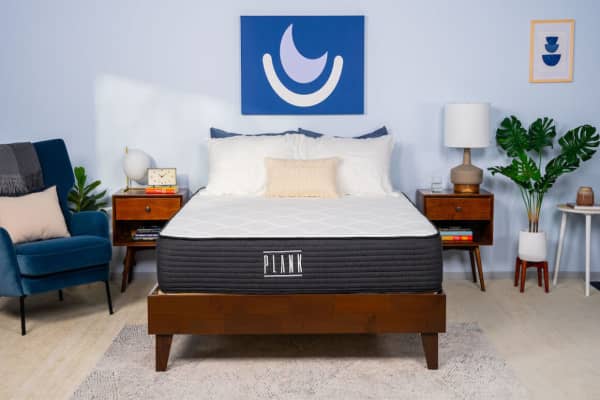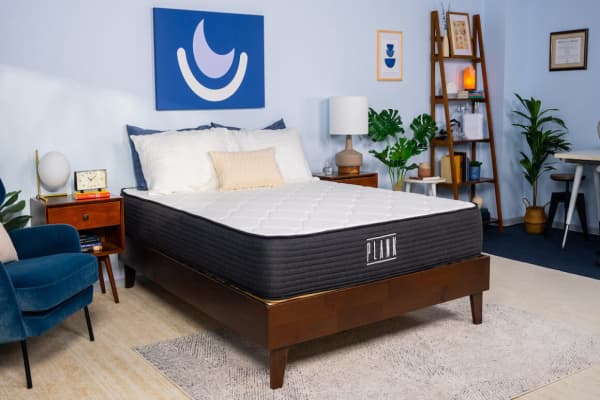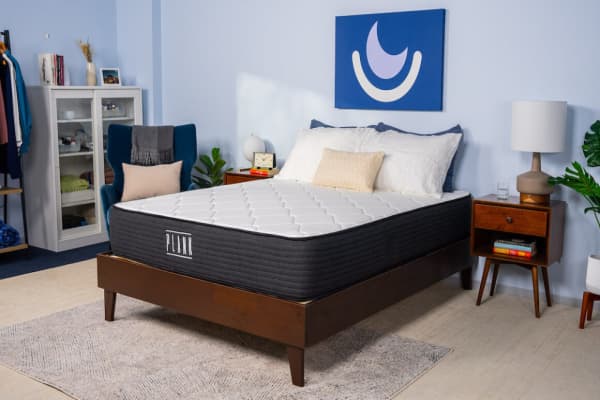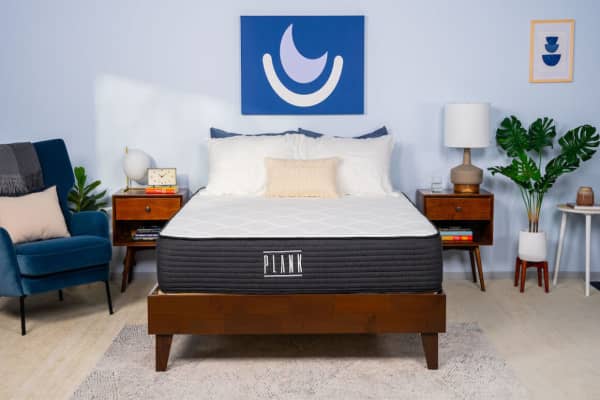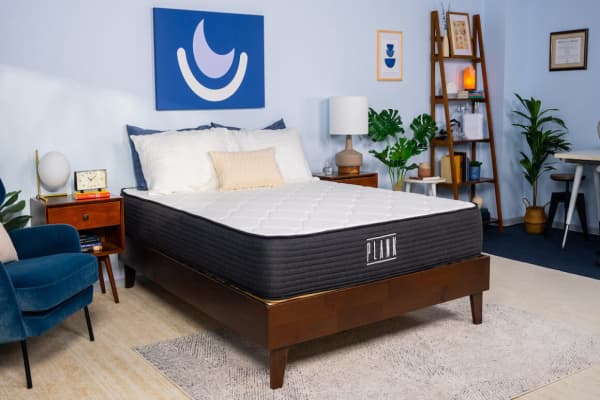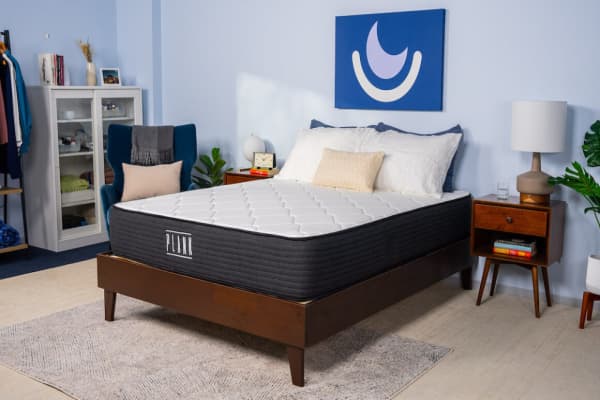 Trial Length 120 nights (30-night requirement)

Warranty 10 Year, Limited

Trial Length / Warranty

120 nights (30-night requirement) / 10 Year, Limited

Firmness Firm (7), Extra Firm (9)
Sleep Doctor's Take
The reversible Plank Firm offers firm (7) and extra firm (9) surfaces, making the mattress a great choice for back and stomach sleepers seeking maximum support. An optional phase change panel on both sides can reduce heat retention and help you stay cool.
Flippable design with two supportive firmness levels
Optional top panels engineered for cooling
Excellent edge support
Too firm for most side sleepers
More motion transfer and less pressure relief than the average foam mattress
Spinal alignment is a high priority for back sleepers. Featuring robust edge support and excellent ease of movement, the Plank Firm is a solid pick for back sleepers seeking an exceptionally supportive mattress. This flippable model allows sleepers to choose between two firmness levels: firm (7) and extra firm (9).
How Does It Feel?
The Plank Firm has an 11.75-inch profile. The firm side features 1.5 inches of quilted polyfoam and 2 inches of TitanFlex polyfoam. The extra firm side's comfort layer uses .75 inches of quilting. A layer of dense polyfoam acts as the shared support core. Our testing team noted that the firm side's TitanFlex foam conformed to their bodies slightly, while the extra firm side provided very minimal cushioning.
For an additional cost, the Plank Firm is available with top panels made with phase change material designed to cool the surface. While our testing team found that the Plank Firm regulates temperatures well without this add-on, exceptionally hot sleepers may prefer it.
Why We Like It
The Plank Firm's firm side suited all of our testers who sleep on their back or stomach, though it received particularly high marks from stomach sleepers who weigh more than 130 pounds and back sleepers over 230 pounds. Some side sleepers on our team weighing more than 230 pounds gave the firm side average marks, though others said they prefer a mattress with more cushioning.
Few of our testers preferred the extra firm side, though back and stomach sleepers over 230 pounds appreciated its even plane. We all agreed that the Plank Firm slept exceptionally cool, and thermal imaging confirmed this during our temperature control tests
The Plank Firm comes with a 120-night sleep trial and a 10-year limited warranty. Shipping and returns are free within the contiguous U.S.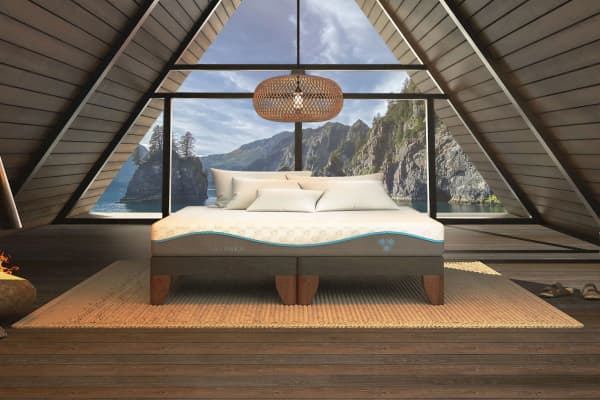 Trial Length / Warranty

100 nights / 10-Year
Sleep Doctor's Take
The Solace Alaska Mattress' unique foam and latex comfort system offers excellent contouring without sinking too deeply under the body. This ensures great pressure relief and spinal alignment in equal measure.
Foam and latex comfort system balances contouring and responsiveness
Naturally breathable components cut down on heat retention
Medium firm (6) feel offers strong support for back and stomach sleepers between 130 and 230 pounds
Only queen and king sizes are available
Side sleepers weighing up to 230 pounds will likely need more cushioning
Sleepers with sharp pressure points often benefit from a mattress with a well-cushioned surface, but some mattresses that fit this description can lack proper support. The Solace Alaska Mattress is a notable exception, thanks to the combination of foam and latex in the comfort system. The resulting surface produces a great balance of contouring and responsiveness. 
How Does It Feel?
A layer of high-density memory foam begins the comfort system. This layer adapts to the body to relieve pressure, but its enhanced density prevents too much sinkage. Next is a layer of gel-infused foam with Kulkote, which contains phase change material and cooling infusions. This technology is designed to prevent heat buildup. A bottom layer of latex ensures your weight is evenly distributed and prevents you from sinking into the coils.
Pocketed coils make up the support core, reinforcing the sleep surface. The coils are encased in foam, which prevents the mattress from sinking excessively when you sit along the edges. The coils rest on a base layer of polyfoam to limit shifting. A breathable cotton-wool blend cover encases the mattress.
Why We Like It
A medium firm (6) feel and foam-latex hybrid construction made the mattress popular with our back and stomach sleepers, particularly those weighing between 130 and 230 pounds. Side sleepers who weigh more than 230 pounds on our team also found the mattress comfortable, but those in lighter weight categories may prefer a more adaptive mattress. 
Temperature regulation was one of the mattress' key strengths. Breathable latex, cotton, wool, and coils ensured consistent airflow to keep our hot-sleeping testers comfortable. Since the mattress is more responsive, it was a popular choice with our combination sleepers. You should not feel restricted when changing positions at night. The bouncy surface and supportive perimeter will also appeal to many couples, who can use the full surface for sleep or sex without being confined to the middle. 
Solace offers free shipping to customers living in the contiguous U.S. You can return the mattress anytime within 100 nights of delivery for a full refund. After that period, it is backed by a 10-year manufacturer's warranty. 
Why You Should Trust Us
When it's time to replace your mattress, we understand how important it is to find a model that suits your needs without breaking your budget. We test hundreds of mattresses using a multitude of performance metrics related to motion isolation, support, ease of movement, and more.

Our testing team has a variety of body types and sleep position preferences, giving us valuable insight into how different individuals respond to a wide array of mattresses. For this list, we focused on models that balance affordability and performance.
What Do Sleepers on a Budget Need to Know for a Good Night's Sleep?
Many factors contribute to a good night's sleep, such as bedroom environment, pillows, and mattresses. However, a high-quality mattress doesn't necessarily require spending a lot of money. We'll cover the factors that determine mattress prices, how to save money on a mattress purchase, and why the right bed is a worthwhile investment. In the video below, we'll also offer some hands-on tips for buying a mattress while on a budget.
Find the Type of Mattress That Works for Your Budget
Mattress prices vary to fit nearly any budget. For example, latex mattresses and hybrids tend to have higher price tags, while innerspring and foam models are often more affordable. That said, a durable model may save you money in the long run even if it requires a larger upfront investment.
What Factors Add to Mattress Cost?
Materials that cost the manufacturer more, such as gel-infused memory foam, natural latex, and pocketed coils, add to the overall cost of a mattress. Premium features like cooling materials or special fabrics may also affect the price.
Look for Easy Ways to Save Money When Mattress Shopping
One of the best ways to save on a mattress is by waiting for a sale, which many mattress companies offer around holidays. You can also save money by comparison shopping, using coupon codes, and purchasing a mattress online rather than in a brick-and-mortar store.
Is a Bed Worth the Investment?
A mattress can greatly impact your quality of sleep and overall comfort, so the right option may be worth the investment. When a mattress is low-quality, old, or doesn't suit your body type or sleep position, you might experience discomfort or wake up in pain.
Which Mattress Types Are Best on a Budget?
Whether you're looking for a mattress that conforms to your body, sleeps cool, or alleviates back pain, it's crucial to know your sleep requirements and assess what type of mattress is best for you.
Foam Mattresses
Foam mattresses tend to be popular with shoppers on a budget since they often come with lower price tags. In an all-foam bed, both the comfort system and support core consist of foam. Most foam models conform to sleepers and isolate motion.
Polyfoam vs. Memory Foam: Which Is Best on a Budget?
While foam mattresses use polyfoam in their support cores, the comfort and transition layers may contain either polyfoam or memory foam. Memory foam is generally denser and more expensive than polyfoam. It conforms closely to the body by responding to heat and pressure, providing a pressure-relieving hugging sensation. Many budget mattresses favor polyfoam due to its lower price-point. Polyfoam is usually more breathable and responsive.
Hybrid Mattresses
A hybrid mattress consists of a foam or latex comfort system and a coil support core. Most use a pocketed coil core in which each spring is wrapped individually, adding greater motion isolation and contouring than most traditional coil systems.
Hybrid mattresses tend to cost more than foam and innerspring models due largely to the pocketed coil layer. However, hybrids tend to be more durable and they often combine some of the best performance characteristics of other mattress types.
Are Innerspring Mattresses Worth a Lower Price Tag?
Some buyers may prefer an innerspring mattress over a hybrid if budget is a main concern. Innerspring models often cost less than hybrids, but they tend to be less durable. Many sleepers also find them less comfortable.
Instead of pocketed coils, innerspring mattresses typically use interconnected coil systems. As a result, pressing down on one coil tends to contract those around it, causing motion transfer. Innerspring models also frequently lack pressure-relieving comfort systems, so sleepers may notice more sore spots in the morning.
Latex Mattresses
Latex mattresses tend to be among the most expensive mattress types due to the cost of latex. Natural latex is derived from the sap of rubber trees, though more affordable synthetic varieties are available. Latex has a conforming but bouncy feel that some sleepers prefer.
What Makes a Mattress Cost More or Less?
Certain materials, features, and shopping methods increase the cost of a mattress. Prices can also be impacted by brand name and reputation.
Material Quality and Mattress Construction
Mattress prices vary depending on the type and quality of materials. For example, pocketed coils tend to be higher quality and more expensive than traditional interconnected coils. Similarly, high-quality polyfoam costs more than lower-quality alternatives. Consider your personal needs and how long you'd like your mattress to last when making a purchase.
Buying a Mattress Online vs. In-Store
Many contemporary mattress companies sell their beds primarily online. By skipping brick-and-mortar stores, companies save on the cost of retail spaces and a more extensive sales staff. As a result, mattresses sold online often have lower price tags.
How Can I Save Money When I Buy a Bed?
Mattresses can be expensive, but there are ways to find quality options at affordable price-points.
Shop for a Mattress During Special Promotions and Holiday Sales
Shoppers often save big by waiting until the mattress of their choice goes on sale. Although mattress companies may run sales at any time, they are particularly popular during holidays. We suggest checking prices during Presidents Day, Memorial Day, Amazon Prime Day, Labor Day, or Black Friday sales.
Know What You're Buying by Reading the Fine Print
We recommend carefully reading company policies before making a decision. Sleep trial, warranty, shipping, and other policies vary. These policies can greatly affect the overall value of your purchase.
Bundle and Save
Many mattress companies sell sleep accessories and offer discounts when you buy multiple items at once. If you need a bed frame, mattress topper, sheets, pillows, or other accessories, look for bundled offers.
Try Shopping Secondhand When You Can
While we generally don't recommend buying used mattresses or pillows, you can find secondhand bedroom furniture at very affordable rates. You might be able to save on bed frames, headboards, and nightstands by searching resale websites, used furniture stores, and neighborhood apps. Closely examine items for cleanliness and quality before purchasing.
How Much Should You Spend When You Buy a Bed?
The prices of quality mattresses vary greatly, ranging from a few hundred to a few thousand dollars. Although mattress quality and cost are not always one and the same, more expensive mattresses tend to be made with higher-quality materials. That said, shoppers often save by waiting for sales, buying from direct-to-consumer online brands, and purchasing accessories in a discounted bundle with their mattresses.
When determining your mattress budget, consider your needs, preferences, and priorities. Sometimes a mattress that costs more upfront allows you to save money in the long term.