If you're trying to stick to a budget, choosing a new mattress can be intimidating. To help you get the most out of your money, we've evaluated a variety of popular direct-to-consumer mattress models available for less than $2,000. Our team focused on beds with high-quality materials and durable construction. Be sure to scroll down for our full buying guide.
Brooklyn Bedding Aurora Luxe
Trial Length 120 nights (30-night requirement)

Warranty 10 Year, Limited

Trial Length / Warranty

120 nights (30-night requirement) / 10 Year, Limited

Firmness Medium Soft (4), Medium Firm (6), Firm (7)
Sleep Doctor's Take
The Brooklyn Bedding Aurora Luxe offers excellent cushioning from the foam comfort system, while PCM and breathable coils combat heat retention. Three firmness levels are available, medium soft (4), medium firm (6), and firm (7), suiting most sleeping positions and body types.
Phase change material dissipates heat to maintain a cool sleep surface
Zoned coils provide extra reinforcement for the midsection
Available in three firmness levels and 10 sizes
People looking for especially strong edge support may find the perimeter sinks too much on the medium soft and medium firm models
The mattress doesn't offer the closest contouring
The Aurora Luxe offers a wide variety of firmness levels and sizes to meet just about any sleeper's needs. Its combination of cooling features and zoned coils make it a particularly good choice for hot sleepers looking for a balance of pressure relief and support.
How Does It Feel?
The Aurora Luxe's comfort system features a top polyfoam layer infused with copper that is designed to enhance the cooling properties of the PCM. Secondary layers of memory foam and transitional polyfoam add cushioning to the sleep surface. You can upgrade your mattress with an extra foam layer known as the "Cloud" pillow-top. This addition makes the surface feel noticeably softer/
The pocketed coils in the support core are divided into three zones with extra reinforcement beneath your torso and hips. Thicker coils also line the perimeter to limit sinkage when you get on and off the mattress. The cover and topmost layer feature phase change material (PCM) engineered to dissipate body heat, so this mattress is particularly well suited to hot sleepers.
Why We Like It
You can choose from three firmness levels. During our hands-on tests, the medium soft (4) feel was most popular with side sleepers up to 230 pounds and back sleepers under 130 pounds. This design provides the closest contouring. If you're looking for a more balanced feel, the medium firm (6) design gently cushions the body but also feels fairly supportive. Most of the side, back, and stomach sleepers on our team found this model comfortable, but the most favorable ratings came from those between 130 and 230 pounds. People who weigh more should consider the firm (7) feel, which is the most supportive option
Brooklyn Bedding offers the Aurora Luxe in 10 sizes. These include standard sizes, a split California king, and three RV-friendly sizes. Ground shipping is free for all orders in the contiguous U.S. The mattress is backed by a 120-night trial period and a 10-year manufacturer's warranty.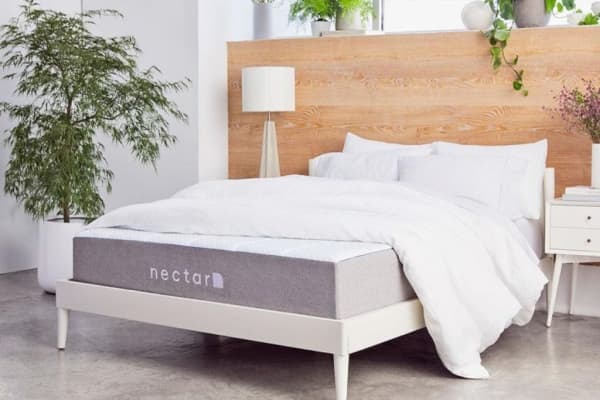 Trial Length 365 nights (30-night requirement)

Warranty Lifetime, limited

Trial Length / Warranty

365 nights (30-night requirement) / Lifetime, limited
Sleep Doctor's Take
The DreamCloud Premier is a high-profile foam hybrid that offers deep contouring and robust support in equal measure. Thick foam layers relieve pressure in sore spots, while a pocketed coil system keeps the body on an even plane. Thanks to these features, the Premier should feel comfortable for many sleepers.
Euro-top hybrid design with a plush surface and strong support
Excellent cooling, thanks to steady airflow and a breathable cover
365-night sleep trial
May be too soft for people who weigh more than 230 pounds
Couples who enjoy more responsiveness for sex may find the surface too restrictive
The DreamCloud Premier's balanced hybrid design ensures a plush, adaptive feel without sacrificing support or stability. This mattress should be ideal for anyone who normally finds coil mattresses too firm or stiff.
How Does It Feel?
The bed features a sophisticated six-layer design encased in a soft, cashmere-blend cover. The cover is sewn into a Euro-top quilted with memory foam for extra cushioning. Additional polyfoam and gel-infused memory foam layers round out the comfort system, providing extra cushioning to relieve pressure while keeping your body on an even plane.
The DreamCloud Premier's hybrid design also includes a pocketed coil support core. The zoned coils balance the plushness of the comfort system with stable support and reinforced edges. A base layer of high-density polyfoam also helps stabilize the mattress and reduce motion transfer.
Why We Like It
The mattress has a medium firm (6) feel and a 15-inch profile, making it a higher profile model that provides a cushioning, comfortable sleep surface for a wide range of sleepers. The foam layers create a plush yet supportive sleep surface that worked well for most of the back, side, and stomach sleepers on our testing team. We also found an excellent mix of features for couples. The DreamCloud Premier has above-average motion isolation, edge support, and ease of movement for sex. Additionally, it's quiet when bearing weight.
The mattress comes with free shipping and free returns for shoppers in the contiguous U.S. Your order includes a lengthy 1-year sleep trial, though you must allow for a 30-night break-in period before requesting a free return. If you keep the mattress, you'll also receive a lifetime warranty.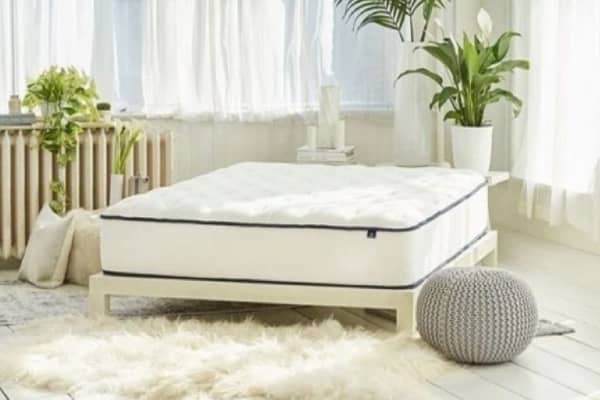 Trial Length 120 nights (30 night requirement)

Warranty Lifetime, Limited

Trial Length / Warranty

120 nights (30 night requirement) / Lifetime, Limited

Firmness Medium Soft (4), Medium (5), Firm (7)
Sleep Doctor's Take
Foam mattresses often excel in our pressure relief tests, and the WinkBeds GravityLux is no exception. The foam layers closely contoured to our bodies and significantly reduced pressure buildup in sore spots. Three firmness options also ensured decent support for most of our testers.
Available in three firmness levels
Memory foam and zoned polyfoam layers contour evenly to alleviate pressure
Excellent motion isolation
Stomach sleepers may find their midsections sink too deeply into the mattress
The mattress' all-foam construction can trap heat
With its multiple firmness options and high-quality memory foam that provides good pressure relief, the GravityLux is an excellent option for couples who want the comfort of foam without the typical heat buildup found in many all-foam beds.
How Does It Feel?
The bed features a Tencel cover cushioned with cooling, gel-infused polyfoam. A top layer of AirCell memory foam contours to the shape of your body while helping to disperse body heat.  Zoned polyfoam adds targeted support that cushions the shoulders and legs while bolstering the hips and lumbar region. A final layer of high-density polyfoam creates a durable base to support the comfort system.
Why We Like It
The GravityLux comes in medium soft (4), medium (5), and firm (7) designs. With these three choices, the GravityLux should provide optimal pressure relief regardless of your body type or favorite sleep position. The foam layers contour evenly to the body and alleviate pressure in sensitive areas along the spine. The GravityLux also offers excellent motion isolation for couples. People who easily wake from their partner's movement at night should notice fewer disturbances.
The WinkBeds GravityLux ships for free to customers in the contiguous U.S. The bed also comes with a 120-night sleep trial. If you're not satisfied with the bed's performance during the sleep trial, you can request a free return after a 30-day break-in period. Your purchase is further protected with a lifetime warranty.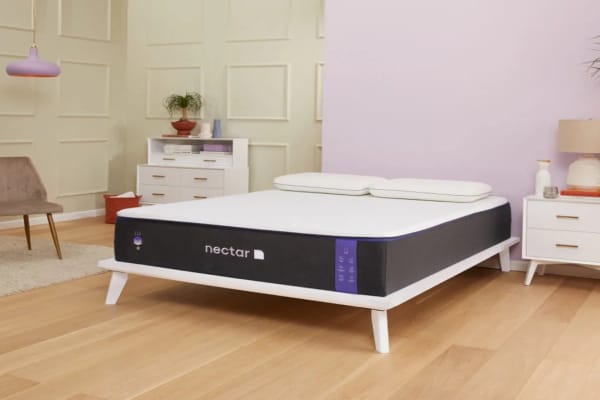 Warranty Lifetime, Limited

Trial Length / Warranty

365 nights / Lifetime, Limited
Sleep Doctor's Take

The Nectar Premier is one of the coolest memory foam mattresses we've tested, which is largely thanks to the cooling cover and phase change material. These features help regulate temperature throughout the night, combating foam's heat-trapping properties. Our hot-sleeping testers felt comfortable on the Premier throughout testing.
Adaptive yet supportive all-foam design
Gel infusion and phase change material help reduce heat buildup
365-night sleep trial
The mattress may be too soft for many stomach sleepers
Couples may find the plush surface restricts movement
The Nectar Premier offers more support and better cooling than the average all-foam mattress. The cushioning surface and adaptive layers should be ideal if you enjoy the cloud-like feel of memory foam.
How Does It Feel?
The top comfort layer consists of memory foam designed to cradle you and reduce pressure while also regulating your body temperature. Transitional polyfoam provides a balance of cushioning and support, acting as a buffer between your body and the support core. Lastly, a high-density polyfoam base stabilizes the mattress.
Why We Like It
Foam beds can sometimes absorb heat, but the Premier uses several features designed to keep you from feeling too warm while you sleep. These include a breathable cover, a cooling gel infusion, and phase change material engineered to dissipate heat from the bed's surface. Aside from its excellent cooling properties, the Premier stood out to our testers for its versatile comfort. Foam beds can sometimes feel too soft for certain types of sleepers, but our tests found that the Nectar Premier's medium firm (6) feel was comfortable and sufficiently supportive for most sleepers regardless of sleep position or body weight.
Nectar offers free shipping to the contiguous United States. Each Premier order includes a lengthy 365-night sleep trial and a lifetime warranty against structural defects.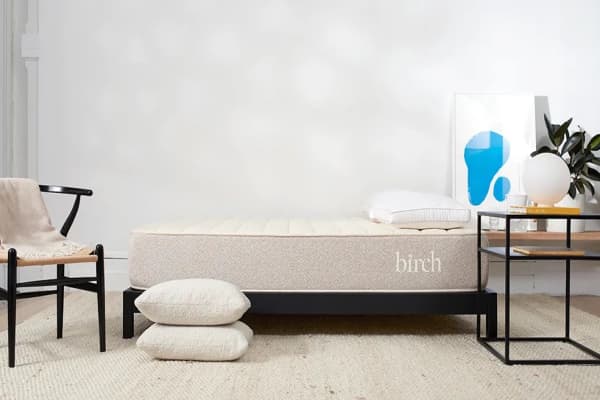 Trial Length 100 nights (30-night requirement)

Warranty 25 Year, Limited

Trial Length / Warranty

100 nights (30-night requirement) / 25 Year, Limited
Sleep Doctor's Take
Many mattresses made with natural and organic materials tend to hold a higher price-point, but the Birch Mattress is a notable exception. Made from organic cotton, organic wool and rayon blend, and Talalay latex, the mattress should appeal to eco-conscious shoppers on a budget.
Composed of natural and organic materials
Latex hybrid design is durable, breathable, and responsive
Below-average pricing for a hybrid model
Back and stomach sleepers who weigh more than 230 pounds may sink too deeply
The responsive latex and coils can cause more motion transfer and noise
Shoppers searching for an environmentally friendly bed should generally expect to pay a premium price. However, there are notable exceptions to this rule. One example is the Birch Mattress, which features natural and organic materials but costs less than $2,000.
How Does It Feel?
The mattress starts with an organic cotton cover, followed by a layer of organic wool and rayon batting that serves as a fire barrier. The first comfort layer is composed of organic wool that helps regulate body heat. Natural Talalay latex provides a balance of cushioning and support. Thick pocketed coils over a final layer of wool and rayon batting make up the support core. The coils are reinforced at the periment for strong edge support. A final layer of blended wool and rayon protects the mattress.
Why We Like It
The medium firm (6) Birch offers a balance of cushioning and support that should appeal to a wide range of sleepers. The mattress performed well across the board when we put it to the test. You can expect very good edge support, temperature control, durability, and ease of movement from this bed. The Birch is also fairly quiet for a hybrid mattress, and its natural construction means it has low potential for off-gassing, or that "new mattress" smell.
The Birch Mattress ships for free to all 50 states. Adding to the value of the mattress, shoppers receive two free Eco-Rest standard pillows with their purchase. The bed comes with a 100-night sleep trial, as well as a 25-year warranty.
Why You Should Trust Us
At SleepDoctor.com, we bring together decades of experience in the sleep product industry. Our knowledgeable team of testers personally vets every product we feature in our guides and reviews.

To find the best mattresses under $2,000, we considered hundreds of models that fall below this pricing benchmark. We then narrowed down the list based on performance during various stages of our firsthand tests.
What You Need to Know to Find a Mattress Under $2,000
It's not hard to find a budget-friendly bed. But if you want a high-quality mattress that meets your comfort and support needs, you'll need to do some research. There are several important factors to take into account when searching for a mattress priced at less than $2,000.
Find the Type of Mattress That Works for You
Each mattress type has defining features that make it suitable for certain sleepers and less suited to others. The best mattress for you largely depends on your personal preferences and needs.
Budget is another important factor. Foam and innerspring mattresses tend to be the most affordable, while latex, hybrid, and airbed models are often the most expensive.
What's a Good Price?
Mattresses come in a wide range of price-points, but the bed with the highest price tag isn't always the best. The best bed for you is the one that meets both your needs and your budget.
Expect to pay around $600 for a comfortable budget-friendly model, while $1,000 is the average price for a higher-quality, mid-range mattress. For a luxury model made with high-end materials and a more complex construction, expect to pay roughly $1,800.
Will a Mattress Under $2,000 Last?
The average lifespan for any mattress regardless of price-point is 6 to 8 years. However, if you want to maximize the lifespan of your bed, focus on choosing models made with high-quality materials. You can also rotate your mattress every 3 to 6 months to reduce surface-level wear and tear.
Best Mattress Types for Under $2,000
You can find every type of mattress for under $2,000, though some are more common in this price range than others. While each mattress category has something unique to offer, make sure to consider your own personal comfort preferences and sleep style. Each mattress type has strengths and weaknesses that should factor into your decision.
Foam Mattresses
Mattresses made entirely from foam layers tend to be quite affordable. Foam mattresses are coveted for their above-average pressure relief and body-hugging feel. This style of mattress is also great for couples because it's quiet when bearing weight and doesn't transfer motion.
For under $2,000, you can find a wide variety of foam mattresses. If your budget is closer to the $2,000 price-point, a memory foam mattress is an excellent upgrade that offers even contouring and consistent pressure relief.
Hybrid Mattresses
Hybrid mattresses combine thick foam or latex comfort layers with a coil support core. The hybrid design gives this type of bed the best of both worlds: the resilient bounce and superior airflow of an innerspring and the pressure relief of an all-foam or all-latex bed. The hybrid design is more complex and often carries a higher price tag, but you can still find many quality hybrids for under $2,000.
What About Innerspring Beds?
Although some brands use the terms interchangeably, traditional innerspring beds differ from hybrid beds in a few key ways. Unlike hybrids, innersprings typically lack thick, cushioning comfort layers. Hybrid beds tend to use individually pocketed coils, while innersprings have joined coils to make the surface feel responsive and bouncy. Whether you opt for a hybrid or innerspring, make sure the mattress you choose provides the right amount of cushioning for your body.
Latex Mattresses
Latex mattresses mostly consist of latex layers, though some also feature wool or cotton batting layers beneath their covers. Natural latex is sourced from the sappy extract of rubber trees, but some mattresses use synthetic latex made from chemicals or blended latex with natural and synthetic components. Latex beds tend to be more resilient, firm, and durable than foam models while still cushioning and contouring to the body in a similar manner. Latex is a luxury material, but it's possible to find models under $2,000.
What Is a Good Price for a Mattress?
The cost of a mattress varies widely from model to model and brand to brand. Remember that the most expensive bed isn't necessarily the best, and you can find a quality mattress that meets your needs no matter your budget.
| Mattress Tier | Average Price (Queen) | Description |
| --- | --- | --- |
| | | This is the most affordable category of beds. The designs are simple, and the materials are relatively inexpensive. Budget mattresses typically have an all-foam design that uses basic polyfoam. Innerspring mattresses with Bonnell coils may also fall into the budget category. |
| | | Mattresses in the mid-range between budget and luxury are quite diverse. They may use all-foam, innerspring, or hybrid constructions. Compared to budget beds, mid-range mattresses tend to use higher-quality materials, such as memory foam and pocketed coils. |
| | | Luxury beds mostly feature hybrid, latex, or airbed constructions. The category uses high-end materials such as natural latex, high-density foam, and organic textiles. Construction tends to be complex, with multilayered comfort systems and features such as cooling materials and zoned pressure relief. |
To determine whether a certain model is really worth the price tag, you'll need to know what features to look for and how they can affect mattress pricing.
What Affects the Price?
A wide range of factors help determine the price of specific mattress models. The primary influencers tend to be materials and construction, size, where you buy, and high-end features.
Materials and Construction
The quality of a mattress' materials and construction has a significant impact on its price. More expensive beds typically use more expensive materials, such as high-density memory foam, natural latex, organic cotton and wool, pocketed coils, and zoned comfort layers. Construction also tends to be more complex with a higher number of layers.
Mattress Size
Expect to pay more for a larger bed. Couples should note that a king or California king mattress can cost several hundred dollars more than a queen size. If you're single, you can save by choosing a full size or even a twin or twin XL mattress over a queen.
In-person vs. Online
Shopping at a traditional brick-and-mortar mattress retailer may come with a higher price tag than shopping online. That's because in-person retail stores must account for the cost of inventory storage, showroom space, and sales associates. Direct-to-consumer, online mattress brands have much lower overhead costs and can pass the savings on to their customers.
Luxury Features
Certain non-essential design features can also increase the price of a mattress. For example, standard memory foam may be included in a mid-range bed. But copper-infused memory foam designed to provide a cooling effect is going to be more expensive.
How Long Do Mattresses Under $2,000 Last?
In general, most mattresses, including those under $2,000, last between 6 to 8 years. However, this is an average. Beds with higher-quality materials and better construction may last 10 years or more.
Is a Mattress Under $2,000 Worth the Investment?
In most cases, a mattress under $2,000 is worth the investment. While it's hard to put a price tag on a restful night's sleep, mattresses priced closer to $2,000 represent a good balance between quality and affordability.
Keep in mind that the under-$2,000 price-point includes a wide range of options from simple budget beds to luxury models. While spending more can get you higher-quality materials and designs, price-points over $2,000 are also typically influenced by luxury features and mattress size.
How Do I Know I'm Getting the Best Deal?
It's not always easy to know whether you're getting the best price for a bed. However, there are several ways to increase your chances of finding the best possible deal on a new mattress.
Shop During Holiday Sales
Most mattress brands and retailers offer promotions and sales during major holidays. This can add up to significant savings, potentially slashing hundreds of dollars off the final price tag. The most popular holidays for mattress sales tend to be Presidents' Day, Memorial Day, July 4th, Labor Day, and Black Friday.
Read the Fine Print
The sticker price alone doesn't give you the complete picture of a bed's value. Make sure to read the fine print so you can understand the true value of a mattress model.
Things to look out for include shipping and delivery costs, return fees, at-home sleep trials, and warranty policies. For example, when shopping online, finding a mattress with free shipping and free returns could save you hundreds of dollars in case the bed doesn't end up meeting your needs.
Bundle and Save
Lastly, if you're shopping for more than just a mattress, look for ways to bundle and save on other sleep accessories. Many mattress brands offer bundles with pillows, sheet sets, bed frames, foundations, and mattress pads. You can sometimes get a steep discount when you purchase these items together with your mattress.