Smart mattresses are one of the latest household items to join the digital revolution. These mattress models use technology to adapt to different body types and sleeping styles. Common offerings include tracking physical parameters and providing insights on how to improve sleep.
Smart mattresses have obvious appeal for the technologically minded, but they may also tempt those who have trouble finding a comfortable bed or a sleep partner with differing firmness preferences.
We'll cover our top picks for the best smart mattresses as well as which types of sleepers are best suited to each one. We'll also discuss more general information on what to expect from a smart mattress and how to know if it's the right choice for you.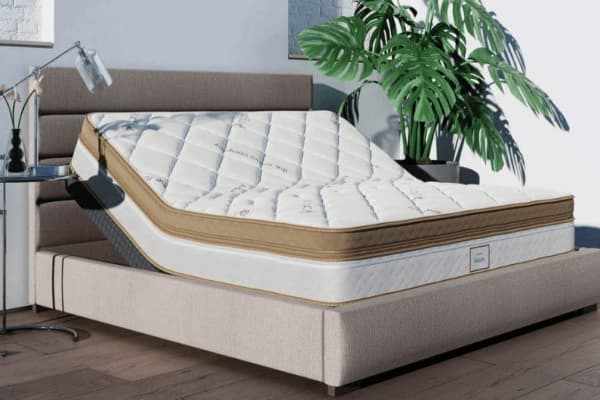 Trial Length 365 Nights ($99 Return Fee)

Warranty Lifetime, Limited

Trial Length / Warranty

365 Nights ($99 Return Fee) / Lifetime, Limited

Firmness Adjustable – Soft (3) to Firm (8)
Sleep Doctor's Take
The Solaire from Saatva is an airbed that allows you to adjust the mattress' firmness level between soft and extra firm feels. The adjustability and dual-sided design make the mattress a great choice for most sleepers and couples with different preferences.
Adjustable firmness with 50 settings
Zoned comfort system
Reinforced edge support
Sleepers who weigh less than 130 pounds may prefer a mattress with more cushioning
Couples who prioritize motion isolation may find the responsive surface transfers more movement
The Saatva Solaire is an adjustable airbed with 50 firmness options ranging from soft (3) to firm (8). Sleepers have the option to adjust the firmness using a remote control and save their favorite firmness level. Our testers liked that queen and larger mattress sizes featured a separate air chamber on each side of the bed, which allowed each partner to select their preferred firmness according to their individual needs.
Above the air chambers, a quilted organic cotton Euro-top cover sits atop a 1-inch layer of aerated Talalay latex. We found this gave the mattress a light, responsive feel. The natural latex is also certified by the Rainforest Alliance and zoned into five sections, which offered our testers targeted support and pressure relief.
An additional 2-inch layer of gel-infused memory foam adds contouring, and a moisture barrier protects the vulcanized rubber air chambers. The foam perimeter encasement helps reinforce the edges, making it easier for you to get in and out of bed.
Because of its adjustable design, the Solaire performed well for our testers across the board, particularly for those over 130 pounds. The breathable materials help keep heat retention to a minimum, and the latex layer adds a responsive feel that makes it easier to switch positions.
Saatva offers the Solaire in twin XL, full, queen, king, split king, California king, and split California king sizes. You can also opt for an upper flex option with king and queen models that can be paired with Saatva's Lineal Base for additional comfort options.
Saatva provides a 180-night sleep trial with a $99 return fee. The Solaire comes with a 25-year limited warranty and complimentary White Glove delivery with old mattress removal.
We found that the adjustable firmness, zoned comfort system, and reinforced edge support made the Saatva Solaire a good option for combination sleepers as well as those over 130 pounds.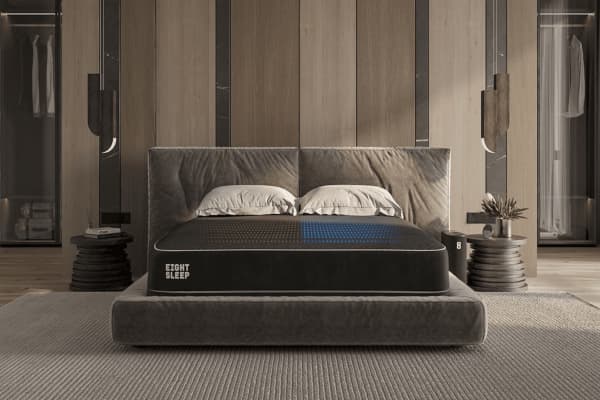 Warranty 10 Year, Limited (foam) 2 Year, Limited (technology)

Trial Length / Warranty

100 nights / 10 Year, Limited (foam) 2 Year, Limited (technology)
Sleep Doctor's Take
The Eight Sleep Pod 3 is an innovative model featuring biometric sensors that track your sleep and allow you to change the surface temperature. The sensors also track your body temperature and adjust throughout the night. This makes the bed a great option for hot and cold sleepers alike.
Advanced temperature control with programmable functions
Smart alarm clock
Tracks sleep stages, heart rate, breathing, and other parameters
The mattress has a higher price-point
The all-foam design may cause sleepers who weigh more than 230 pounds to sink in too deeply
The Eight Sleep Pod 3 is a 12-inch foam mattress with a medium firm (6) feel that suits most sleeper types. The cotton blend cover wraps around two layers of polyfoam that conform to the sleeper, helping to relieve pressure points. We found that the firmer 4-inch layers of transitional polyfoam and high-density polyfoam provided sturdy spinal support and reduced noise and motion transfer, making it less likely for sleepers to notice when their partner moved in bed.
During testing, the mattress stood out for its active grid with biometric sensors, which is designed to deliver smart pressure relief and temperature control. Our testers liked having the ability to program a temperature or set the temperature to a timer. We also liked that the mattress featured ambient sensors that clocked room temperature and humidity, helping to achieve a comfortable sleep environment.
The sleep trackers recorded a variety of metrics, such as sleep stages, tossing and turning, total sleep time, and heart and breathing rate for each tester. If you dislike waking up to a traditional alarm clock, a smart alarm can transmit gentle vibrations and gradually change the temperature to wake you. You can control these features using a smartphone app, which both Android and iOS offer.
The Eight Sleep Pod 3 comes in full, queen, king, and California king. Eight Sleep provides a 10-year limited warranty for the foam mattress and a two-year limited warranty for the technology. The Eight Sleep Pod 3 comes with a 100-night sleep trial and ships free to the contiguous U.S.
With biometric sensors, advanced temperature control, and a smart alarm, the Eight Sleep Pod 3 offers innovative technology that especially benefits sleepers weighing 230 pounds or less who want insights to their sleep quality.
Why You Should Trust Us
Our team has years of experience helping readers navigate the sleep product industry — from mattresses to bedding, accessories, and sleep technology. Our team includes a range of sleepers that reflects different weight categories and preferred sleep positions so we can accurately determine which mattresses best suit different individuals.

When it comes to smart mattresses, we paid special attention to firmness adjustments, temperature control, sleep tracking, and app integrations.
What Makes a Mattress Smart?
Smart mattresses leverage technology to provide a more personalized experience for sleepers. Smart features may include adjustable firmness, sensors that track your sleep parameters, or programmable temperature regulation. These features often are controlled with a smartphone app or by connecting the bed to Alexa or Google Home.
Smart beds were first introduced in hospital settings when hospital beds were used to predict potential pressure sores and issue basic prompts for position changes. While the technology has been around for over 100 years, smart mattresses for the average consumer have only been on the market for the last decade.
What Features Do Smart Mattresses Have?
Smart mattress features aim to fine-tune comfort and deliver personalized information on sleep parameters. Each model accomplishes this by integrating a variety of techniques.
Smart Mattress Features
| Features | Description |
| --- | --- |
| | Sensors embedded in a smart mattress may track your sleep stages, total sleep time, breathing, heart rate, and other sleep-related parameters. While the data may not be as accurate as a professional sleep test, it can provide a starting point if you are curious about your sleep quality. |
| | Mattresses with adjustable firmness levels include air chambers so sleepers can manually adjust the firmness level. The bed may also automatically adapt to the sleeper as it detects pressure points throughout the night. Mattresses can have multiple zones for the hips, lower back, shoulders, and other sensitive areas. |
| | Smart alarms wake you using methods like dawn simulators or gentle vibrations. They may also track your sleep and wake you when you are in a light sleep stage to prevent grogginess. |
| | Many smart beds can sync with your smartphone, tablet, or smart home voice assistant, such as Alexa or Siri. The mattress sends sleep data to your device, and in turn, you can use the device to program functions on the bed. |
| | Temperature technology allows you to program an exact temperature or set the mattress to cool down gradually as you drift off to sleep. This feature often works via water channels that run through the entirety of the mattress surface. In some mattresses that are a queen size or larger, the mattress may have a thermostat on each side. |
Do Smart Mattresses Help You Sleep Better?
The features included in smart mattresses are intended to help improve your sleep. Smart mattresses may accomplish this either by making real-time comfort adjustments or by providing information about your sleep quality so you can take control of your sleep routine.
Can You Use an Adjustable Base With a Smart Mattress?
Although some models can accommodate an adjustable base, others may not be designed to withstand that degree of flexibility. Adjustable bases may also be incompatible with smart elements, such as water pumps that regulate temperature. Be sure to consult the owner's guide before pairing your smart mattress with an adjustable base.
Should You Sleep on a Smart Mattress?
Mattress choice depends on your body type, sleeping style, and personal needs and preferences. However, smart mattresses have clear benefits for certain types of sleepers, particularly for those who embrace technology or have trouble getting comfortable on a standard mattress.
Hot sleepers looking for temperature controls: Smart mattresses allow you to set the mattress to your exact desired temperature.
Couples with differing sleep needs: Usually, you and your partner can each program your own firmness or temperature settings, making smart mattresses ideal if you find it difficult to agree on comfort.
People wanting to optimize their sleep with tracking data: Smart mattresses can offer insights into sleep quality, microarousals, and other parameters to help you fine-tune your sleep habits.
Sleepers looking for adjustable firmness: Smart mattresses often allow complete customization of firmness levels in precise increments. You may also be able to set different firmness zones to accommodate pressure points or areas that require more support. Adjustable firmness may be particularly useful for those recovering from an injury or those who experience chronic pain.
Smart Mattress Pros and Cons
Offers control over firmness and temperature
Sleep tracking features
Can integrate with other smart home devices
Good option for couples with different comfort preferences
Higher price-point than standard mattresses
Technology usually has a shorter warranty lifespan
Limited selection
Some shoppers may not want technology in the bedroom
Accessorizing Your Smart Sleep Routine
There are a number of smart accessories available that complement smart mattresses. If you're on a budget, smart accessories may be a more accessible purchase.
Smart Sleep Accessories
| Accesories | Description |
| --- | --- |
| | A smart light bulb connects to the internet so you can control it from your smartphone, tablet, or virtual home assistant. Sleepers can program smart light bulbs to gradually turn on in the morning or change to warmer hues before bedtime. |
| | Similar to smart light bulbs, smart lamps offer features such as gradual dimming to help you fall asleep. They may also have charging ports or settings that imitate a candle flame. |
| | Many smart pillows reduce snoring by vibrating or adjusting the pillow angle in response to heavy breathing. Smart pillows may also have built-in speakers, sleep trackers, temperature control, or alarm clocks. |
| | Smart mattress covers may offer individual temperature regulation technology, personalized alarm clocks, or sleep tracker functions that can be used with your existing mattress. If you have other smart technology, such as lighting or thermostats, you may be able to synchronize your devices. |
What Else Should You Consider Before Buying a Smart Mattress?
Beyond features, materials, performance, and pricing, it's important to consider several other factors before purchasing a smart mattress.
Some Assembly May Be Required
Unlike a standard mattress, smart mattresses may require more legwork to set up. For example, you may need to connect tubing and pumps, plug in cables, program sensors, or download an app before you gain full use of the bed.
Sleep Tracking Apps and Accessing Data
Sleep data is typically collected via integrated sensors and sent to your smartphone or another smart device. Most commonly, the sensors analyze your movements, heart rate, and breathing patterns. Based on your movements, they estimate your sleep time, nighttime awakenings, and how much time you spend in each sleep stage. This method is not as accurate as directly measuring your brain waves, but it can be a good compromise for everyday users who are curious about their sleep patterns.
Mattress Weight and Movability
Airbed models may weigh anywhere between 60 and 120 pounds. Thicker profiles, denser materials, and additional technology may further increase the mattress' weight.
Generally, at least two people are needed to move a queen size mattress. Smart models may require extra care when moving and may not lend themselves to folding or compressing. Be sure to read the owner's guide to see if you need to disconnect any parts before moving the mattress.