Adjustable airbeds are a unique mattress type that allow users full control over the firmness and feel of their bed. By pumping air into or out of air chambers, sleepers can customize the bed to fit their unique needs. Most airbeds that are queen size or larger have split air chambers so that sleep partners can each choose the firmness they prefer.
Airbeds are among the most expensive mattress options on the market, so the process of selecting one can feel particularly fraught. Choosing the right airbed requires an understanding of how they work, the different features they offer, and how to maintain them over the years.
After putting the leading models through a rigorous testing and review process, we've identified some of the best airbed mattress choices across several categories. After introducing you to our top picks, we'll walk you through the buying process to ensure you have the information you need to make your decision.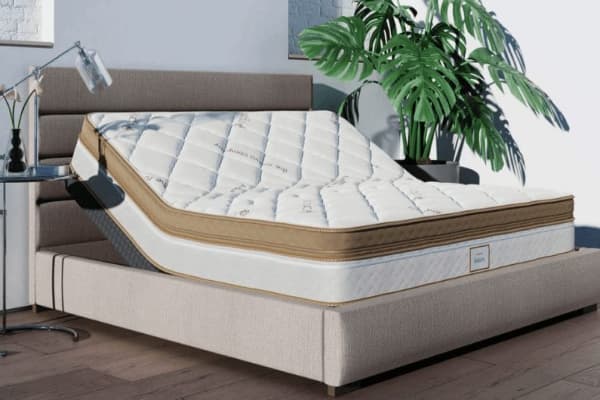 Trial Length 365 Nights ($99 Return Fee)

Warranty Lifetime, Limited

Trial Length / Warranty

365 Nights ($99 Return Fee) / Lifetime, Limited

Firmness Adjustable – Soft (3) to Firm (8)
Sleep Doctor's Take
The adjustable Solaire airbed epitomizes the luxurious construction and strong performance that have come to define the Saatva brand. You can choose from 50 different firmness levels, and memory foam and latex layers cushion and contour to your body for excellent pressure relief.
Euro-top design with latex and gel-infused memory foam layers provides breathable pressure relief
Excellent temperature neutrality
Compatible with an adjustable base and available in split king and split California king sizes for dual-sided customization
Expensive pricing will be a barrier for some shoppers
Limited edge support may lead to sinkage along the perimeter with softer firmness settings
The Saaatva Solaire is a high-end airbed with a complex design and several luxury touches. Featuring a slick design and an impressive array of firmness levels, the Solaire is among the most versatile mattresses we've tested.
How Does It Feel?
The Solaire stands apart from the average airbed by offering 50 firmness settings. Our testing team determined that the settings range from soft (3) to firm (8), making the mattress suitable for all sleep positions and body types. The air chambers are made from vulcanized rubber and protected from moisture by polyfoam and PVC sheeting.
Beneath a quilted Euro-top is an ergonomically zoned layer of Talalay latex that provides targeted support and a more responsive feel than synthetic foam. Meanwhile, a layer of gel-infused memory foam provides more substantial contouring and pressure relief.
Why We Like It
The Solaire is one of the most versatile mattresses our team has tested, even by airbed standards. All 50 firmness levels are distinct, and you can feel the surface softening and firming up as you adjust the air levels.
The use of memory foam and latex in the comfort system was another welcome addition. Regardless of the firmness level you choose, these layers provide deep cushioning and — as our tests showed — excellent overall pressure relief.
Twin XL and full size mattresses contain one adjustable air chamber, while sizes queen and larger have two chambers and a remote control for each side of the bed. Deliveries in the contiguous U.S. include free White Glove mattress setup, as well as free mattress and foundation removal. The Solaire has a 365-night sleep trial and a limited lifetime warranty.
Night Air Adjustable Airbed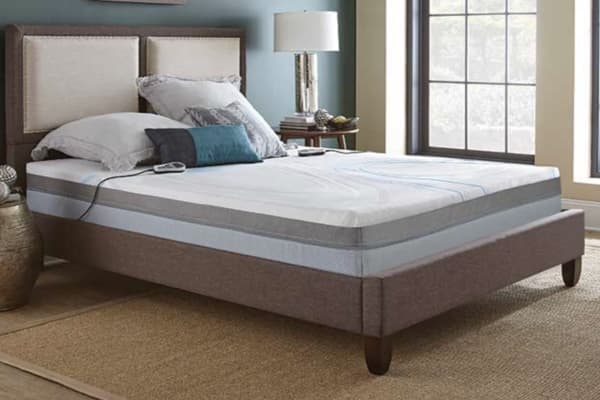 Warranty 20 Year, Limited

Trial Length / Warranty

100 nights / 20 Year, Limited

Firmness Adjustable – Soft (3) to Firm (8)
Sleep Doctor's Take
The Night Air Adjustable Airbed offers customizable comfort at a sticker price that falls well below average for this type of mattress. You can adjust the mattress to 100 different settings, and choose from two-chamber or six-chamber designs depending on your personal needs.
Chambers can be adjusted to 100 unique firmness levels
Foam layers create an adaptive surface to cushion the body and reduce pressure
Cover is removable and machine-washable
Memory foam may absorb and trap heat to an excessive degree
Below-average pricing for an airbed, but still expensive compared to other mattresses
Airbeds are the most expensive type of mattress on average, with prices often exceeding the $3,000 mark. Night Air's Adjustable Airbed is one of the most affordable airbed models we've tested, yet the mattress offers the same wide firmness range and reliable performance as many of its costlier competitors.
How Does It Feel?
The mattress offers 100 unique firmness levels ranging from extra soft to extra firm. You can program these levels using the wired remotes on both sides of the bed. Dual settings allow you and your partner to customize your respective sides of the bed without disturbing the other person. You can also add your favorite setting as a memory preset.
The Adjustable Airbed also contains a memory foam comfort layer and polyfoam transitional layer. Another notable feature is the polyester cover, which can be removed and machine washed as needed. Most competing mattresses have non-removable covers that can only be spot cleaned.
Why We Like It
Our team tested the dual-chamber 13-inch model, but you can choose from multiple profiles and designs. Our team noticed subtle differences between the firmness levels as we adjusted the mattress from soft to firm and vice versa. Regardless of the firmness level, our testers found that the memory foam and polyfoam layers cushion the body and contour evenly. This can reduce pressure buildup and help you wake up without pain or soreness.
Aside from light whirring as the air chambers filled, the mattress operates quietly — we don't foresee many noise-related sleep disruptions for couples. Thermal mapping showed some heat buildup during our temperature control tests, but but none of our testers felt uncomfortably warm.
While the Night Air Adjustable Airbed is still a significant financial investment, it offers the same versatility and performance as many competing airbeds at a much more accessible price. Prices and model availability for the Night Air Adjustable Airbed vary by seller. If you order through Amazon, your purchase comes with Night Air's 100-night sleep trial. The mattress is further backed by a 20-year warranty against various defects.
Natural Form Refresh Mattress
Warranty 10 Year, Limited

Trial Length / Warranty

100 nights / 10 Year, Limited

Firmness Medium (5) to Firm (8)
Sleep Doctor's Take
A thick foam layer cushions the Natural Form Refresh Mattress, resulting in a deep, even contour for your body as you adjust the firmness levels. The support system made up of zoned air pods also delivers excellent reinforcement, especially for areas of the body with higher weight concentrations.
Up to 84 adjustable air zones for exceptional support
Layer of high-resilience polyfoam for responsive pressure relief
Adjustable via dials on both sides of the mattress
Steep sticker price may exceed your budget
Limited firmness range compared to competing airbeds
While the Refresh Mattress from Natural Form is less versatile than some of its competitors, it has a unique design meant to provide customers with exceptional support and pressure relief. By twisting a dial on either side of the mattress, users can adjust the Refresh for a medium (5) to firm (8) feel.
How Does It Feel?
The Refresh features a highly pressure-relieving comfort layer of high-resilience polyfoam. Since this particular polyfoam is adaptive, it contours closely to the body to create a supportive cradle. However, it also feels more responsive than memory foam, making the Refresh easier to move on than many all-foam mattresses.
Proprietary Pressure-Free air pods on each side of the bed are designed to support heavier areas like the midsection while relieving pressure points elsewhere. The removable merino wool cover is breathable and wicks away moisture, although the foam layers retain some heat and the Refresh sleeps somewhat warm for an airbed.
Why We Like It
The Refresh earned superb marks from side sleepers on our testing team over 130 pounds and back sleepers under 230 pounds. Some side sleepers under 130 pounds commented that they preferred a wider firmness range, since even when positioned at the lowest setting it felt a little too firm for their tastes.
Our team was also impressed with the Refresh's modular design. This eases the process of replacing components over time, which in turn extends the overall lifespan. We also found the Refresh much more supportive than the average airbed, especially at higher firmness levels.
Natural Form offers free shipping within the contiguous U.S., with additional shipping fees for orders to Alaska and Hawaii. White Glove delivery is available for an additional fee for residents in the contiguous states. The Refresh comes with a 100-night sleep trial and a 10-year limited warranty.
Why You Should Trust Us
Our team, which has decades of combined experience in the sleep product industry, personally researches and tests the products we feature at SleepDoctor.com. To avoid bias and deliver the reliable, accurate information our readers need, all mattresses undergo a rigorous and carefully structured testing process with sleepers who have different sleep position preferences and a diverse range of body types.
What Is an Airbed Mattress?
Instead of using a traditional support core, such as coils or polyfoam, airbeds support sleepers with air-filled chambers. Air can be pumped in or out of the chambers to adjust the bed's firmness and feel, allowing sleepers to customize the bed to their needs with the touch of a button.
How Are Airbed Mattresses Constructed?
The unique part of an airbed mattress is its support core. Multiple air-filled chambers, usually made from vulcanized rubber or another durable material, are connected to an air pump that is either outside the mattress or integrated into it. Adjusting the amount of air in the chambers is usually done with a remote control, though some use buttons or dials on the bed and some also offer a smartphone app.
Like traditional mattresses, airbeds also have comfort layers to prevent sleepers from sinking against the air chambers. The bed may also have reinforced foam or coils to provide edge support. Airbed mattresses can also be taken apart to access parts that need repair, so assembly is usually required when your new airbed arrives.
How Long Do Airbeds Last?
Airbed mattresses typically last about eight years, compared to the average lifespan of six to eight years for traditional mattresses. A high-quality, well-maintained airbed may last 10 years or more. However, the mechanical parts inside an airbed may need replacing before the bed itself does.
Given that it may require repairs, anyone buying an airbed should look closely at the warranty terms. Airbed warranties typically span 10 to 25 years while also being partially prorated. This means that repairs are usually free for an initial period, often around 10 years, but after this period owners are required to pay part of the cost of replacement parts, as well as transportation fees. The longer you own your bed, the more you'll generally pay for repairs and replacement parts.
How Much Do Airbeds Cost?
Most airbeds cost between $2,000 and $2,400 for a queen size model, though budget models can sell for as low as $1,500 and luxury airbeds can cost well over $5,000. This price range makes airbeds the most expensive category of mattress.
Some airbed manufacturers offer optional luxury features for an additional fee. These can include zoned support chambers, memory settings for easier adjustment, and heating components for cold weather.
What Is the Difference Between Adjustable Airbeds and Inflatable Air Mattresses?
While airbeds are comparable to ordinary mattresses in most ways and are intended for daily use, inflatable air mattresses are meant for temporary use, such as when camping.
Airbeds have advanced, adjustable air-based support as well as comfort systems comparable to standard mattresses. Inflatable air mattresses, on the other hand, offer minimal support and have few, if any, comfort features. Letting out air doesn't make them feel softer, just less supportive.
Accordingly, there is a significant gap in pricing. Airbeds are among the most expensive mattresses available, while inflatable air mattresses have an average cost of around $100.
Why Should You Sleep on an Airbed Mattress?
Although they tend to be expensive, airbeds can be well worth the price for some sleepers.
Couples
Couples with different mattress preferences can sometimes struggle to find a bed that suits them both. Airbeds with two adjustment zones allow each person to choose the firmness and feel that works best.
Combination Sleepers
Since sleep position is a key factor in choosing a mattress, combination sleepers sometimes have to sacrifice comfort in one position to ensure support in another. An airbed is easy to adjust according to how you want to sleep on any given night.
Customers Unsure of What They Need
Buying a mattress requires an understanding of what you need from a bed, including the ideal firmness for your weight and preferred sleeping position. If you've had trouble finding the right mattress for you, an adjustable airbed allows you to try a range of firmness options.
Technology Lovers
Airbeds can be a practical purchase, but they can also be fun. The range of options and the ability to customize your bed at home can be particularly appealing for tech-savvy individuals.
What Does It Feel Like to Sleep on an Airbed Mattress?
In most cases, sleeping on an airbed feels a lot like sleeping on a high-quality standard mattress. However, airbeds have a variety of features that can impact how they feel.
Variable comfort layers: Airbeds have comfort layers above the air chambers to provide cushioning and pressure relief. The materials used in these layers, such as responsive latex or conforming memory foam, play a major role in how it feels to sleep on a given airbed.
Adjustable firmness and support: Adjustable airbeds allow you to customize their firmness level with the touch of a button. Adding more air to the bed's chambers causes it to be firmer, while letting air out provides a softer feel. The air chambers are designed to provide support regardless of the firmness level, and firmness can often be customized for each side of the mattress.
Temperature neutrality: While airbeds excel in many performance categories, temperature neutrality isn't necessarily their strong suit. Those with thick comfort layers tend to sleep warm, while models with a thin comfort system don't provide enough of a buffer from the cool air chambers. Airbed designs that are the best at regulating temperature include substantial comfort layers with features designed for temperature control, such as open-cell foams or cooling gel infusions.
Luxury features: High-end airbeds can have a wide range of luxury features that either come standard or are available for an extra fee. These features can vary dramatically from one bed to the next, encompassing everything from sleep tracking technology to heating and cooling systems for the pumped air.
Choosing the Right Firmness Level
While buying a standard mattress requires you to have an idea of what firmness level suits you, an airbed allows you to try different options at home. However, there are some guidelines to consider when adjusting your airbed's firmness.
Your body type plays a major role in the firmness you should choose. People who weigh under 130 pounds usually prefer soft beds, while those over 230 pounds generally fare better with a firmer feel.
Besides your weight and build, you should also take your preferred sleep position into account when choosing a firmness level. Side sleepers often prefer a soft mattress to allow for more pressure relief at the hips and shoulders. Back sleepers typically enjoy a balanced feel with strong lumbar support, while stomach sleepers generally need a firmer mattress to prevent their midsection from sinking too far into the bed's surface.
You'll Have to Tinker With the Firmness Settings Occasionally
While adjustable airbeds are generally easy to use, their firmness settings aren't a set-it-and-forget-it system. Natural changes in barometric pressure and room temperature can affect the air pressure in the bed's chambers and require minor firmness adjustments. You may also want to change your bed's firmness for other reasons, such as fluctuations in your weight or a change in sleeping position.