If you find yourself sleeping hot or sweating in bed, a cooling mattress topper may be an effective, affordable way to alleviate the problem. Cooling mattress toppers are placed on top of your existing mattress and help regulate body temperature with breathable materials or cooling features.
We'll review our picks for the best cooling mattress toppers in different categories. We'll also explain key information about types of cooling mattress toppers, including their materials and how to find the right one for your bed.
Sleep Is the Foundation Memory Foam Mattress Topper
The Sleep Doctor's Take
Sleep Is the Foundation's Memory Foam Mattress Topper sleeps quite cool — an uncommon quality for solid foam toppers. A ventilated core, thermoregulating gel infusion, and breathable cover all contribute to the topper's above-average temperature control. The plush, adaptive feel and close contour can also benefit people with persistent aches and pains in their shoulders, lower back, or hips.
Perforated foam core promotes airflow
Cooling gel infusion helps offset heat retention
Cover composed with a breathable cotton top panel
Only available in full, queen, and king sizes
Foam may emit strong off-gassing odor for the first few nights
Memory foam toppers can be a great investment if you want extra cushioning for your mattress or frequently wake up feeling sore or stiff, but these toppers also tend to retain heat and sleep on the warmer side. With this model from Sleep Is the Foundation, you get the best of both worlds. A solid foam core ensures close, even contouring to soothe achy joints and pressure points along the spine, but the foam is ventilated to promote airflow and infused with cooling gel that dissipates heat. A cover with a top panel made of breathable cotton seals the deal.
How Does It Feel?
The topper has a medium (5) feel, striking a nice balance between close contouring and steady support. This creates a cradling, cloud-like effect without too much sinkage or body-hugging. At 2 inches thick, the topper has a lower profile. This makes it best suited to mattresses with light to moderate wear. If your mattress is heavily indented but you aren't ready to replace it, we recommend a topper that's 3 to 4 inches thick. 
The cover features a cotton top panel and polyester bottom panel. The former is soft and breathable, while the latter is designed to be slip-resistant. Thick, adjustable straps in each corner secure the topper to your mattress for added stability. 
Why We Like It
This topper checks all of the important boxes for a memory foam model and sleeps cool to boot. Our testers were impressed with how well the foam resists heat buildup. The close, even contouring also made the topper popular among side sleepers on our team, as well as those with frequent or chronic shoulder, back, or hip pain. The foam's motion-isolating qualities may be helpful for couples with overly responsive mattresses.
The corner straps are notable for their adjustable buckles. Many competing models use elastic straps, which are effective at first but can easily stretch out over time. The buckles also allow you to use the topper with most mattress profiles. We noticed very little slippage when testing the topper, even during position changes and tossing-and-turning simulations. You may notice some harsh off-gassing odor when the topper is new, but we found the smells should completely dissipate within a couple days. Placing the topper in a well-ventilated room can expedite this process.
Full, queen, and king sizes are available for the topper. Standard ground shipping is free of charge for all orders within the contiguous U.S. You may return the topper unopened and unused within 60 nights of delivery and receive a full refund. If the topper has been opened or used, you can return it for store credit equivalent to the original sticker price.
ViscoSoft Active Cooling Copper Topper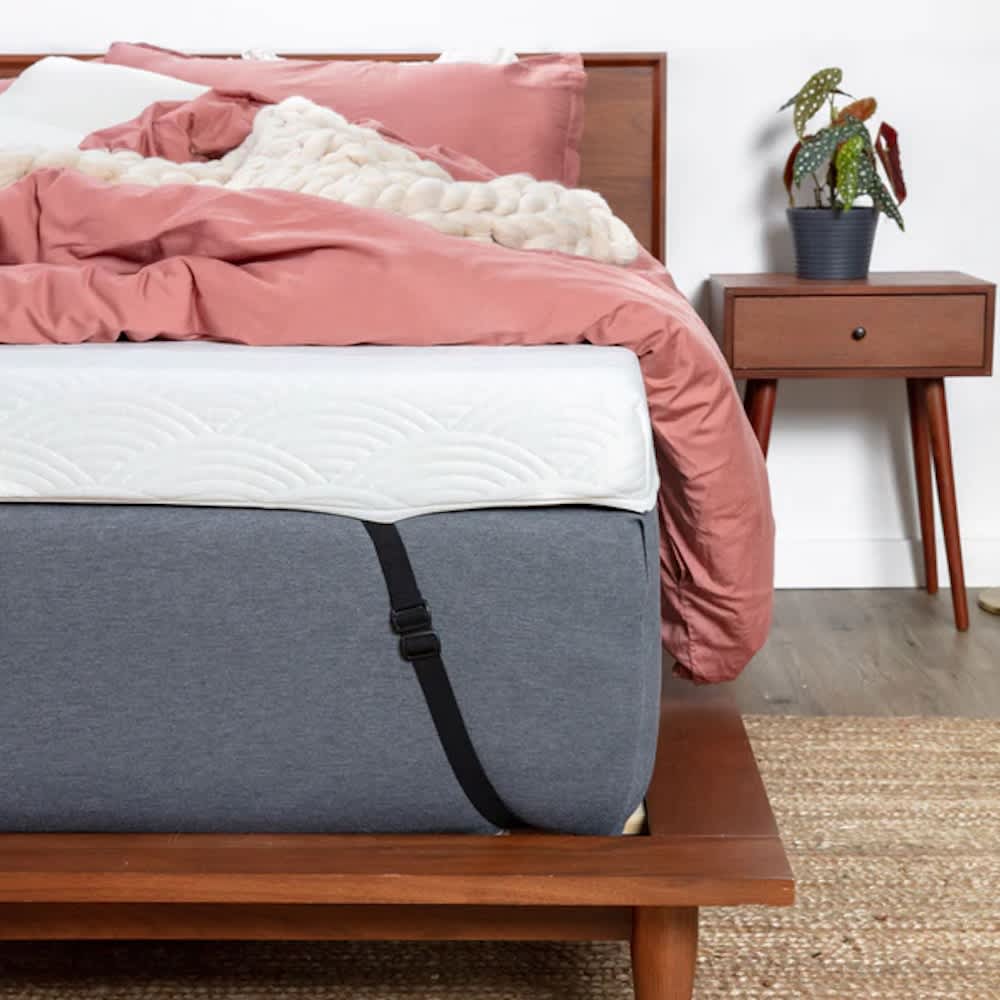 Material 2″ copper-infused memory foam 2″ copper-infused polyfoam
Sleep Doctor's Take 
We found that the ViscoSoft Active Cooling Copper Topper provides an excellent balance of support and pressure relief for most sleepers. Thanks to its copper-infused foams and breathable cover, it resisted heat buildup and allowed our testers to rest comfortably.
Infused memory foam is designed to draw on copper's natural cooling properties
Provides a good combination of pressure relief and support
Adjustable elastic straps hold the topper in place
Stomach sleepers over 230 pounds may need a firmer topper
Lack of bounce limits ease of movement
The ViscoSoft Active Cooling Copper Topper is a 4-inch topper with a medium (5) firmness level. With 2 inches of copper-infused memory foam atop 2 inches of copper-infused polyfoam, it offers the contouring and motion isolation of foam while employing copper's cooling properties to reduce heat retention.
How Does It Feel?
During testing, side and back sleepers found that the ViscoSoft Active Cooling Copper Topper contoured comfortably to their bodies while offering ample support. Stomach sleepers under 230 pounds also gave the topper solid comfort ratings, but those weighing more than that experienced some sinkage and lack of spinal support.
The copper infusions and breathable mesh cover are designed to mitigate foam's tendency to trap heat, making this topper a good option for hot sleepers who want the benefits of foam. However, it may still retain more heat than a topper made from a more breathable material like latex.
Our testers also found that the topper's generous 4-inch profile is excellent at isolating motion and muting sound, making it a good choice for couples.
Why We Like It 
The ViscoSoft Active Cooling Copper Topper is a versatile mattress topper with a competitive price-point. It offers solid temperature regulation, and most types of sleepers found it comfortable during our tests. Its top layer of memory foam cradles the body to provide targeted pressure relief, and the 2-inch layer of polyfoam provides support to aid spinal alignment.
Copper infused throughout the foam is designed to absorb and distribute body heat. The polyester mesh cover further promotes airflow and is machine-washable. For people concerned about durability, ViscoSoft includes a five-year limited warranty that covers manufacturing defects.
Brooklyn Bedding 2.5-lb. Gel Swirl Memory Foam Topper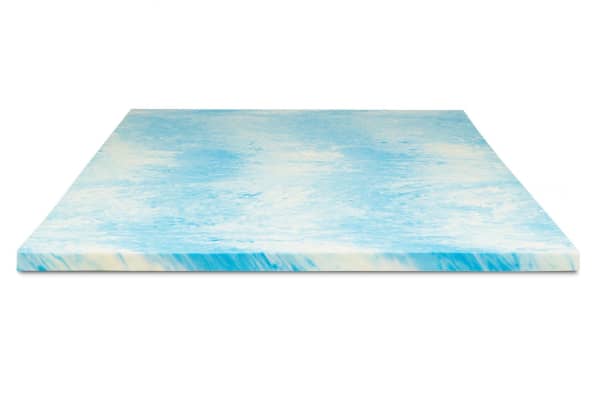 Material 2-3″ gel-infused memory foam
Sleep Doctor's Take 
Our testers found that the Brooklyn Bedding 2.5-lb. Gel Swirl Memory Foam Topper delivered effective cooling and excellent contouring at a budget-friendly price. Side sleepers in particular found that its gel-infused memory foam cradled their bodies comfortably to relieve pressure and promote spinal alignment.
Solid overall performance at an economical price
Gel-infused memory foam provides considerable pressure relief for side sleepers
Available in 2-inch or 3-inch profiles
May not provide enough support for back and stomach sleepers over 130 pounds
Plush surface can limit ease of movement
Comes without a cover
The Brooklyn Bedding 2.5-lb Gel Swirl Memory Foam Topper consists of a single layer of gel-infused memory foam. It's available in 2-inch and 3-inch heights. Our testers rated it medium soft (4) on our 10-point firmness scale.
How Does It Feel?
Our testers found that the Brooklyn Bedding 2.5-lb Gel Swirl Memory Foam Topper cradled them closely, providing notable pressure relief. However, since the topper has only one soft layer, it may not provide enough support for many back and stomach sleepers over 130 pounds.
As with most foam toppers, this one earned excellent scores for motion isolation and noise reduction, making it a good pick for couples and people who share their bed with a pet.
Why We Like It 
For those seeking a cooling and pressure-relieving add-on for their mattress at a low price-point, the Brooklyn Bedding 2.5-lb Gel Swirl Memory Foam Topper is hard to beat. Available in two thicknesses, it features cooling gel engineered to prevent the buildup of body heat. Its memory foam excels at motion isolation and contouring, and its medium soft feel is optimal for many side sleepers.
Saatva Graphite Memory Foam Mattress Topper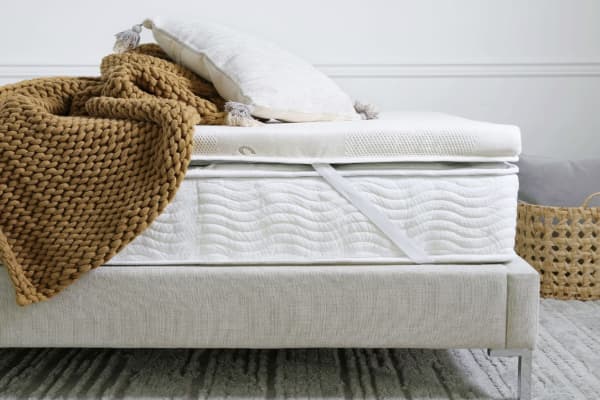 Material 1″ Graphite-infused memory foam 2″ Memory foam
Sleep Doctor's Take 
Most of the side and back sleepers on our team loved how the Saatva Graphite Memory Foam Mattress Topper hugged the body closely while drawing heat away with its graphite-infused memory foam. They also noted how its organic cotton cover adds extra softness and breathability.
Memory foam cradles the body to relieve pressure
Graphite infusion is designed to limit heat buildup
180-night sleep trial
May not offer enough support for stomach sleepers over 130 pounds
Fairly pricey
The Saatva Graphite Memory Foam Mattress Topper has a 3-inch profile with a medium soft (4) feel. Its top layer consists of 1 inch of memory foam that contours the body and is infused with graphite designed to prevent overheating. Beneath that, 2 inches of traditional memory foam add support and contouring.
How Does It Feel?
The top layer of graphite-infused memory foam contours closely to the body to give plenty of cushioning and pressure relief. Our side and back sleepers under 230 pounds gave it the highest overall comfort ratings. Stomach sleepers over 130 pounds were less impressed, noting that they didn't feel properly supported around the midsection.
Why We Like It 
This topper's design balances contouring and support to accommodate a variety of sleep preferences. Sturdy straps attach to your existing mattress and prevent the topper from moving out of its proper position.
While the price-point is higher than many toppers, it's competitively priced for a luxury pick. Saatva is well regarded for the quality of its products and offers a lengthy 180-night sleep trial to try this topper out at home.
Birch Plush Organic Mattress Topper
Sleep Doctor's Take 
Even our hottest sleepers found the Birch Plush Organic Mattress Topper's combination of latex, wool, and cotton to be exceptionally breathable. While it received solid scores across the board for its blend of cushioning and support, it was particularly well received by side sleepers.
Talalay latex resists heat buildup and facilitates cooling
Delivers pressure relief without the sinking feeling of memory foam
Made with durable, eco-friendly materials
Doesn't isolate motion as well as competing memory foam toppers
Higher price-point than most other mattress toppers
The Birch Plush Organic Mattress Topper is a latex model with a medium (5) firmness level. All its materials, including latex, wool, and cotton, resist heat retention to promote cooler sleep. The latex also provides a compelling balance of pressure relief and bounce.
How Does It Feel?
The Birch Plush Organic Mattress Topper offers significant pressure relief, especially in areas where side sleepers need it, including the shoulders and hips. However, the surface is more responsive than memory foam and does not tightly hug the body, making it easier to move on the topper.
Why We Like It 
The Birch Plush Organic Mattress Topper is suitable for most side sleepers thanks to its mix of bounce and contouring. All of its materials are natural, and the company focuses on sustainable production, making this a good choice for eco-conscious shoppers. In addition, its latex is robust and durable, which helps to make up for the higher price-point. Birch offers a lengthy 10-year limited warranty as well as a 100-night sleep trial.
Perfectly Snug Smart Topper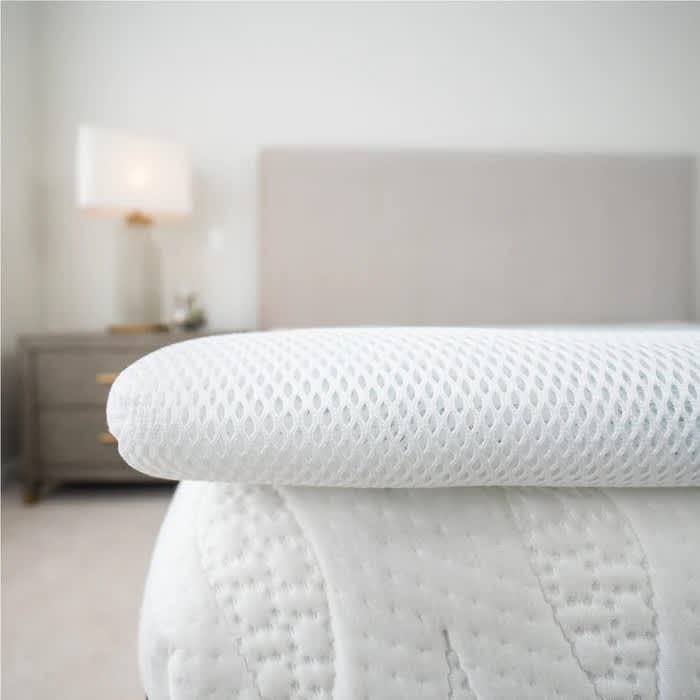 Material Memory foam with airflow channels
Sleep Doctor's Take 
The high-tech Perfectly Snug Smart Topper impressed our team with its ability to control the temperature on each side of the bed using built-in airflow channels and a connected app. While expensive, it offers a solution for couples who sleep at different temperatures.
Smartphone app connects to the topper and allows for individualized temperature control
Each side of the bed can be set to a different temperature
Memory foam provides cushioning and support
Considerably higher price-point than most toppers
May be too soft for back and stomach sleepers over 230 pounds
The Perfectly Snug Smart Topper connects to a smartphone app that lets sleepers adjust the bed to their ideal sleep temperature, which the topper automatically maintains throughout the night. Since each side can have its own settings, this smart topper is perfect for couples who prefer different sleeping temperatures. The topper's memory foam and medium (5) firmness level provide comfort and cushioning to areas prone to pressure buildup.
How Does It Feel?
The Perfectly Snug Smart Topper conforms to the body to relieve pressure, which can help encourage a neutral spine. The medium (5) firmness works for many sleepers, especially side sleepers in any weight group and back and stomach sleepers who weigh less than 230 pounds.
This model also delivers enhanced temperature regulation compared with traditional toppers. With its advanced technology, it sleeps cool by giving individuals more power to control the temperature of their sleep surface.
Why We Like It 
The Perfectly Snug Smart Topper's main selling point is its two-side temperature control, which is especially useful for couples. The app interface is simple, and the topper has built-in technology that moves air through the topper's core to continuously regulate temperature.
Even though it is more expensive than many toppers, the Perfectly Snug Smart Topper offers advanced functionality that can contribute to a better night's rest for hot sleepers. The mattress topper includes a one-year limited warranty and a 30-day return window.
Why You Should Trust Us
Our team brings many years of experience and a rigorous methodology to our product testing. We assess key performance areas — including support, conforming, and temperature neutrality — to help you choose the best cooling mattress topper for your needs. We evaluated dozens of leading models and combined testers' subjective experiences with quantifiable tests.

Our sleep experts have a variety of body types and primary sleeping positions, which ensures that our testing results apply to the widest range of sleepers possible.
What Is a Cooling Mattress Topper?
A cooling mattress topper consists of an additional layer placed on top of a mattress that is intended to enhance comfort and temperature regulation during sleep.
Regular mattress toppers can help change the feel of a mattress by making it softer or firmer. They can also be an affordable way to extend the life of a mattress by providing it with a fresh top layer. A cooling mattress topper goes a step further by using materials that are engineered to help resist heat buildup or disperse body heat so that sleepers are less prone to overheating.
Who Should Use a Cooling Mattress Topper?
Cooling mattress toppers are a great choice for hot sleepers or people who live in hot climates. They can also help limit heat retention that can come from sharing a mattress with a partner or pet.
Many foam mattresses trap body heat, which can lead to sweating at night and difficulty sleeping. A cooling mattress topper is designed to counteract this heat buildup and keep the body at a neutral temperature.
Cooling Mattress Toppers vs. Cooling Mattress Pads
While many people use the terms mattress pad and mattress topper interchangeably, there are significant differences between the two. Mattress pads are thin pieces of material placed on top of a mattress to protect it from spills, dust, and allergens. While they can make a bed feel slightly softer or firmer, they don't substantially change the firmness level of a mattress.
On the other hand, mattress toppers are usually several inches thick and can considerably change the feel and firmness of a mattress. A topper may also contribute to a mattress' durability by compensating for sagging or indentations.
Cooling Mattress Topper
Cooling Mattress Pad
Ideal For
Hot sleepers who want to adjust the firmness, enhance the performance, or extend the lifespan of their current mattress
Hot sleepers who like the firmness and support of their mattress but want to sleep cooler
Average Thickness
2″ to 4″
Less than 2″
Differences

Offers significant changes to the firmness and feel of your bed
Gives the mattress a notably taller profile

May be waterproof and stain-resistant
Does not drastically change the feel of your bed

Average Price Range
$150 to $400
$20 to $300
Best Types of Cooling Mattress Toppers
The best mattress toppers for hot sleepers are constructed from breathable materials that either avoid collecting body heat or disperse heat and allow air to circulate. In some cases, materials are infused with cooling agents engineered for temperature neutrality.
Memory Foam
Memory foam is known for its ability to conform to the body and offer cushioning around pressure-prone areas. However, this conforming can limit airflow and allow body heat to collect.
As a result, cooling mattress toppers with memory foam employ multiple approaches to reduce heat retention. Manufacturers often infuse the foam with materials that pull heat away from the body or allow more airflow so that heat can dissipate. Common materials that are infused into toppers include copper, graphite, and cooling gels.
Some toppers use open-cell memory foam. This type of foam is constructed with tiny air pockets that allow ventilation and airflow within the foam. Thanks to this structure, the heat normally trapped by memory foam is more capable of being dispersed and may result in a cooler sleep surface.
Latex
Latex is popular for mattress toppers because it offers a nice balance of bounce, support, and pressure relief. Compared with memory foam, latex does not have as much tendency to retain heat. It also doesn't hug the body as closely. Latex can also have an open-cell structure to permit airflow through the material.
Natural latex is harvested from rubber trees, while synthetic latex is made from petrochemicals. Natural latex is more commonly used in mattress toppers and is often sustainably produced, but it is usually more expensive than synthetic latex.
Polyfoam
Polyfoam can be manufactured to have a range of different features and firmness levels. Most often, it provides more bounce and less contouring than memory foam. It may collect heat, but usually not to the same degree as memory foam. Like memory foam, polyfoam is sometimes infused with cooling agents, especially if it forms the top layer of a mattress topper.
Climate Control Technology
Some mattresses use special technology to control the temperature of the sleep surface throughout the night. These toppers usually have internal channels for air or water. An attached device tracks temperature levels and can pump hotter or cooler air or water through those channels to adjust the bed's temperature. A compatible smartphone app is often recommended to set the desired temperature.
Many of these advanced toppers offer the ability to set each side of the bed to a different temperature. While these products can significantly reduce overheating, they are normally much more expensive than traditional mattress toppers.
Picking the Right Cooling Mattress Topper for You
The best cooling mattress topper for you depends on a number of factors, including your weight, sleeping position, and personal sleep preferences. Depending on their design and materials, mattress toppers can alter the firmness of your mattress, add contouring, or provide additional bounce. Think of a topper as an extra comfort layer that can optimize the bed for your needs.
Factors to Consider in a Cooling Mattress Topper
To choose the best cooling mattress topper, consider each component of the topper in relation to your unique needs and preferences.
Cooling materials: Some mattress toppers use naturally cooler materials like latex, while others infuse memory foam or polyfoam with a cooling agent such as gel, graphite, or copper.

Firmness: The ideal firmness of a mattress topper usually depends on the sleeper's personal preferences, sleeping position, and weight. Stomach and back sleepers usually need a firmer mattress topper than side sleepers. People who weigh over 230 pounds normally get better support from toppers that are at least medium firm.

Support: A mattress topper should provide ample support to promote spinal alignment. Support needs vary from sleeper to sleeper according to weight and sleeping position.
Pressure relief: This refers to how well the mattress topper cushions sleepers to relieve tension and impact. Generally, the more evenly the topper conforms to the body, the more effective the pressure relief.

Thickness: Since a mattress topper adds height to a mattress, it's important to consider whether it could make a mattress too thick for a standard fitted sheet. Thicker toppers are not always better, since a topper's firmness and performance often depends more on its materials than its thickness.

Motion isolation: Couples or those who sleep with pets may want to prioritize motion isolation so that movement on another part of the mattress doesn't wake them during the night. Mattress toppers, especially ones made with memory foam, tend to offer the best motion isolation.

Durability: A topper's durability varies based on the materials and quality of construction. On average, foam toppers last three to five years, while latex toppers often last longer.

Cost: Cooling mattress toppers span a wide price range, from under $100 to well over $1,000. Most shoppers can find a quality topper that meets their needs in the range of $200 to $500.
How Firm or Soft Should a Cooling Mattress Topper Be?
Mattress toppers can make a bed feel softer or firmer. Ideally, a bed should be soft enough to cushion the body, but it should not sag excessively. Finding the right balance in a mattress and topper can promote healthy spinal alignment.
Optimal firmness depends largely on a person's sleeping position and weight. To avoid sinking too deeply into a mattress, people with a higher body weight generally need a firmer sleeping surface.
| Sleep Position | Description |
| --- | --- |
| Side Sleepers | Side sleepers generally prefer a softer bed with more significant contouring that can cushion the hips and shoulders. Most side sleepers over 230 pounds fare best with at least a medium (5) firmness level to prevent sinkage that can cause heat retention and back pain. |
| Back Sleepers | Back sleepers under 130 pounds often find a nice mix of back support and cushioning from medium soft (4) mattress toppers, but those who weigh more may want to consider a topper ranging from medium (5) to firm (7-8) that can resist sagging around the midsection. |
| Stomach Sleepers | Stomach sleepers generally need a firmer bed that prevents the abdomen from sinking and pulling the spine out of alignment. In most cases, this means a topper between medium (5) and firm (7-8) depending on body weight and comfort preferences. |
Do Cooling Mattress Toppers Really Work?
Cooling mattress toppers can be effective at dispersing body heat so that it doesn't collect around the body. However, a topper's performance depends on its materials, design, and temperature regulation features.
Materials like latex, which can resist heat buildup, tend to work best for cooler sleep. Memory foam can be engineered to reduce heat retention, but if it closely hugs and wraps around the body, some heat will inevitably become trapped. Many cooling mattress toppers come with sleep trial periods so that you can test them out and return them if you aren't satisfied.
Can Cooling Mattress Toppers Help With Night Sweats?
Cooling mattress toppers may help alleviate night sweats by helping to regulate body temperature throughout the night. If a topper enables better airflow around the skin, it can support the body's ability to cool itself down.
That said, night sweats have many potential causes, some of which may persist even when using a cooling mattress topper. People with severe night sweats should consult their doctor about the most appropriate way to get relief.
What Else Can You Do to Stay Cool at Night?
While cooling mattress toppers are one useful way to avoid sleeping hot, there are other steps you can take to stay cool while you sleep.
Try a mattress with better temperature regulation: In general, innerspring, hybrid, and latex mattresses are less likely to sleep hot than standard foam mattresses. If you're still sleeping hot after purchasing a cooling mattress topper, it might be time to consider a cooling mattress.

Use pillows and bedding made from breathable fabrics: Pillows and bedding can trap heat, so it's important to use breathable sheets and cooling pillows that maintain a comfortable temperature while you sleep.

Keep your room cool: Take steps to make sure your sleep environment is at the optimal temperature for sleep. This may involve using air conditioning or fans, opening windows to facilitate ventilation at night, or remembering to keep blinds closed during the heat of the day in the summer.