There are many factors to consider when shopping for the best bedding. Fabric type, color, performance, and comfort each play an important role in determining what kind of bedding to purchase. Many manufacturers offer bundled options to provide shoppers with products that perform well together, and some bundles also offer considerable savings.
We'll highlight our team's top picks and cover some of the most important factors when purchasing new bedding — from cost to washing instructions and warranties. We'll also go over different types of bedding and answer some of the most frequently asked questions so that you can determine the best type of bedding for your needs.
Brooklinen Classic Move-In Bundle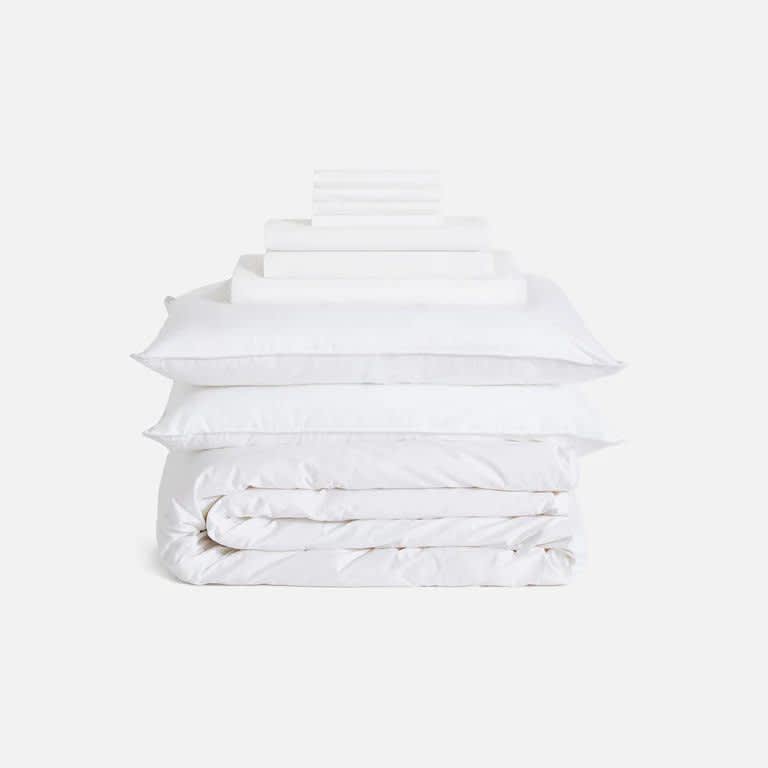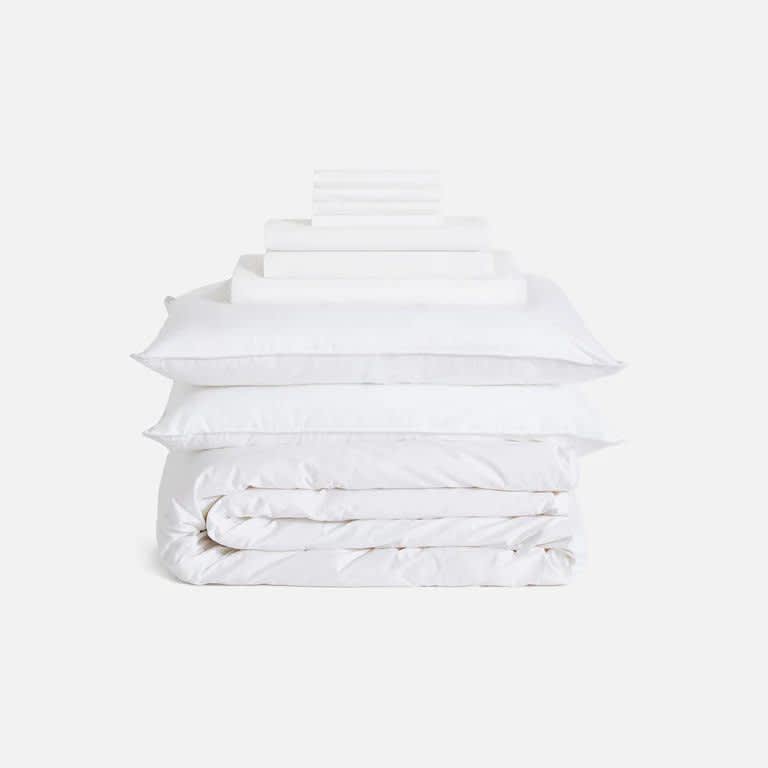 Three comforter weights and two fills to choose between
Long-staple cotton feels crisp and breathable
Pillows available in three fill and loft options
Hot sleepers and people who live in warm climates
Shoppers who want a highly customizable set
Those who want a bundle
The Brooklinen Classic Move-In Bundle includes all the pieces you need for a full bedroom setup. Each bundle includes a fitted sheet, flat sheet, four pillowcases, a duvet cover, a comforter, and two pillows. All pieces are made from high-quality materials.
The included sheets are Brooklinen's Classic Percale sheets, which are made from 100% long-staple cotton. The long staple length gives the fabric a smooth, soft feel that we found holds up well to use and abrasion. Air flows easily through the sheets, making this set an excellent option for hot sleepers and people who prefer crisp-feeling sheets.
The duvet cover is made from the same breathable fabric as the sheets, and it has large buttons for easy fastening around your comforter or duvet insert. The sheet set and duvet cover are available in five classic colors and patterns that have a matte finish.
Shoppers can further customize their bundle when choosing pillows and a comforter. You can opt for pillows with down, down alternative, or memory foam fills. The memory foam pillow has a mid-range firmness, while the down and down alternative models are available in three different firmness levels. The comforter comes in three weights and two fills. The down or down alternative comforter comes in lightweight, all-season, and ultra-warm options.
Brooklinen backs this bundle with a 365-day sleep trial and a one-year warranty. Shipping is free for shoppers in the U.S.
Our testing team found the Brooklinen Classic Move-In Bundle was an excellent choice for sleepers who prefer breathable and customizable bedding. The material is easy to wash at home and holds up well to wear and tear without sacrificing performance or style.
Quince European Linen Duvet Deluxe Bundle
Breathable European linen fabric
Available in 12 colors
Priced competitively
Value-driven shoppers
People who enjoy soft, airy-feeling sheets
Those seeking an option for year-round use
Linen fabric is well known for its breathable and durable nature, though both features are typically accompanied by a hefty price tag. The Quince European Linen Duvet Deluxe Bundle offers shoppers high-quality linen bedding at an affordable price-point. Each bundle includes a fitted sheet, flat sheet, pillowcase, shams, and a duvet cover. Twin size bundles include one pillowcase, while full, queen, king, and California king bundles each have two.
This bundle's linen fabric is crafted from 100% Belgian flax. The fabric has a weight of 150 grams per square meter (GSM), giving the sheets a mid-range density that makes it suitable for all seasons. The duvet cover has inner corner ties and a button closure to keep your insert securely attached. Shoppers can choose between 11 different colors.
Our testing team gave this set high marks across the board and found that the sheets and cover performed especially well during durability and comfort testing. Linen bedding can be tricky to wash, but you can launder this set in your home machine using low-temperature settings. The fabric is designed to get softer with each wash while holding up to wear and tear.
Quince offers free shipping and 365-day returns and exchanges to shoppers in the U.S.
Finding bedding that's both durable and soft can be a challenge, but we noticed the Quince European Linen Duvet Deluxe Bundle checks both boxes. This set offers sleepers the luxe, lived-in look that linen is known for at a below-average cost.
Cozy Earth Classic Bedding Bundle
Viscose from bamboo fabric has silky-soft feel
Designed to wick moisture and heat
10-year warranty that covers pilling and discoloration
Shoppers willing to spend more for luxe bedding
Hot sleepers
People who prefer sateen weaves over percale
Cozy Earth's Classic Bedding Bundle consists of viscose from bamboo fabric that's designed to feel cooler than traditional bedding. The bundle includes a fitted sheet, flat sheet, duvet cover, and four pillow cases. Each piece is made from the same silk-like material.
Each piece consists of a sateen weave that gives the fabric a subtle sheen and elegant drape. You can choose between five different neutral colors. The set is available in six sizes, including split king. Those who opt for split king receive two twin XL fitted sheets to accommodate both mattresses.
During our product testing, this bundle scored particularly well with hot sleepers. The fabric has a cool-to-the-touch feel and allows air to flow freely through it, making it exceptionally breathable.
This bedding is also highly durable and easy to wash at home. Though our testers found that the fabric holds up well to regular use, Cozy Earth also offers a 10-year warranty against pilling, shredding, and discoloration for each piece.
Sleepers have up to 100 nights to see if the bedding is a good fit for them. Those in the U.S. qualify for free shipping and returns.
Hot sleepers will benefit from the bedding's cool feel and moisture-wicking qualities. Each piece of the bundle feels as luxe as it looks, and Cozy Earth's 10-year warranty ensures shoppers that they can enjoy the bedding for many years.
Simply Organic Bamboo Complete Bundle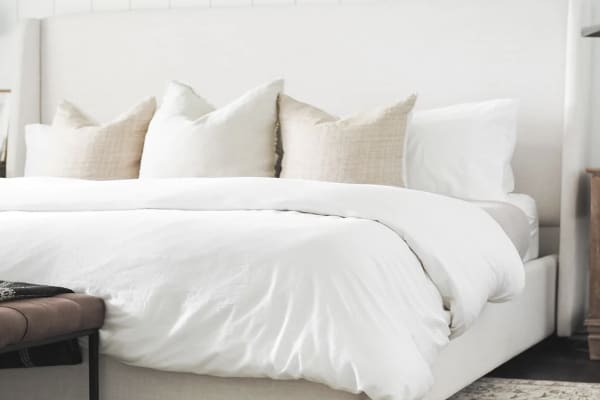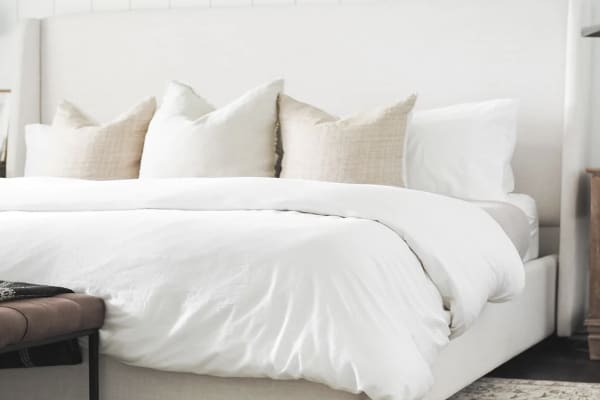 Material: 100% viscose derived from bamboo (sheets, duvet cover, comforter shell, pillowcases); 50% viscose derived from bamboo, 50% recycled PET (comforter fill, mattress pad fill)

Weave: Sateen

Price: $706
Breathable fabric is derived from organically grown bamboo
Sateen weave gives each item a silky-smooth hand feel
Generous pocket depth accommodates most mattresses
Hot sleepers
Anyone who owns a mattress up to 18 inches thick
Eco-conscious consumers
In recent years, bamboo-derived fabric has become a popular bedding material among those who prefer soft, smooth sheets and pillowcases. Hot sleepers can also benefit from this type of bedding, since it retains the natural breathability of its botanical source, and most bamboo-derived sheets are fully machine-washable.
The Simply Organic Bamboo Complete Bundle checks all of these boxes, and the collection is sustainably sourced to boot. All bamboo used to produce these items is organically grown, and Simply Organic Bamboo ships to customers using eco-friendly reusable bags. The bundle includes a sheet set, one to two pillowcases, and a duvet cover made of 100% bamboo-derived fabric. The comforter and mattress pad also feature shells of this material, along with fill composed of 50% bamboo-derived fabric and 50% recycled PET fibers.
This bundle is ideal if you're looking for a full bedding set. You can choose from sizes corresponding to standard mattress dimensions, or a split king with two fitted sheets if you and your partner share an adjustable bed. A pocket depth of 18 inches ensures the fitted sheet will be compatible with the vast majority of mattresses sold today. Everything in the bundle is machine-washable, though you may need commercial-grade appliances for larger items.
Each of the bundle's components are available in three colors: white cloud, sand drift, and silver dream. This allows you to mix and match or choose a uniform color for all items. Simply Organic Bamboo offers free shipping for all U.S. orders. Returns are accepted within 30 days of purchase.
The Simply Organic Bamboo Complete Bundle is ideal if you're looking to give your sleep space a complete makeover and want to use sustainably sourced products. We also recommend bamboo-derived bedding to hot sleepers and people who enjoy sleeps that drape closely to their body.
Boll & Branch Heritage Quilt Set
Cover Material: 100% organic cotton

Fill Material: Cotton batting

Price: $338
Long-staple organic cotton is soft, breathable, and long-lasting
Available in five colors
GOTS certification ensures eco-friendly sourcing
Hot sleepers
People who need extra insulation to sleep comfortably
Eco-conscious consumers
The Boll & Branch Heritage Quilt Set is different from most bedding collections sold today. Instead of a flat and fitted sheet, this set features a quilt filled with soft cotton batting. Our testing team thoroughly enjoyed the quilt's soft feel and moderate — yet noticeable — insulation. We found the cotton breathable enough for warm temperatures, but still comfortable under colder conditions.
The quilt's shell is made of long-staple cotton, a variety known for above-average softness and durability. Detailed stitching accentuates the heirloom-style design. Your set also includes one or two pillowcases made from the same material. A certification from the Global Organic Textile Standard indicates the cotton has been sustainably grown and processed without chemical fertilizers, genetically modified organisms (GMOs), and other harmful materials.
Twin, full/queen, and king/California king sizes are available. You can wash and dry each item in your household machines, though the quilt may require multiple drying cycles. Some minor shrinkage is to be expected, but the quilt is oversize to ensure plenty of coverage even after you've laundered it for the first time.
Boll & Branch offers free ground shipping for all U.S. orders. You may return the set within 30 days of delivery, provided each component is in original condition with all tags intact.
The Boll & Branch Heritage Quilt Set is a great addition for sleepers who need extra insulation while they sleep. The quilt is designed to sleep at a comfortable temperature throughout the year, and long-staple cotton construction ensures a longer-than-average expected lifespan for each item in the set.
Sijo TempTune Cotton Bedding Bundle
CLIMA and cotton fabric blend keeps sleepers cool
Fabric feels soft and smooth to the touch
Available in four color options
People who want sweat-wicking bedding
Anyone who sleeps without a top sheet
Shoppers seeking durable bedding
The Sijo TempTune Cotton Bedding Bundle is made from exceptionally comfortable fabric designed to regulate your body temperature while you sleep. The bundle has one fitted sheet, two pillowcases, one duvet cover, and an optional top sheet. The fitted sheet has a 16-inch pocket-depth that should fit most standard mattress sizes.
The bundle's most notable feature is its fabric, which is made from a blend of 80% Supima cotton and 20% proprietary CLIMA fabric. This material is engineered to wick excess moisture away from the sleeper's body, making it a good option for those who sleep hot. The long-staple cotton enhances strength, softness, and airflow. Our testing revealed the bundle performed equally well in hot and cold climates, helping to keep sleepers comfortable regardless of their environment.
Our testers found this set quite comfortable, both in terms of feel and temperature regulation. Each piece held up well during washing and durability testing, though sleepers should take care to remove the bedding from the dryer quickly after the cycle ends to avoid wrinkles. You can purchase the bundle in four neutral colors.
Shoppers in the U.S. qualify for free shipping when they spend over $65. Returns are free for 30 days following delivery.
We found the innovative cotton and CLIMA fabric blend felt soft, luxurious, and cool to the touch, making the Sijo TempTune Cotton Bedding Bundle extremely comfortable. The optional top sheet also means extra savings for sleepers who prefer not to use one.
Sheets & Giggles Bedding Bundles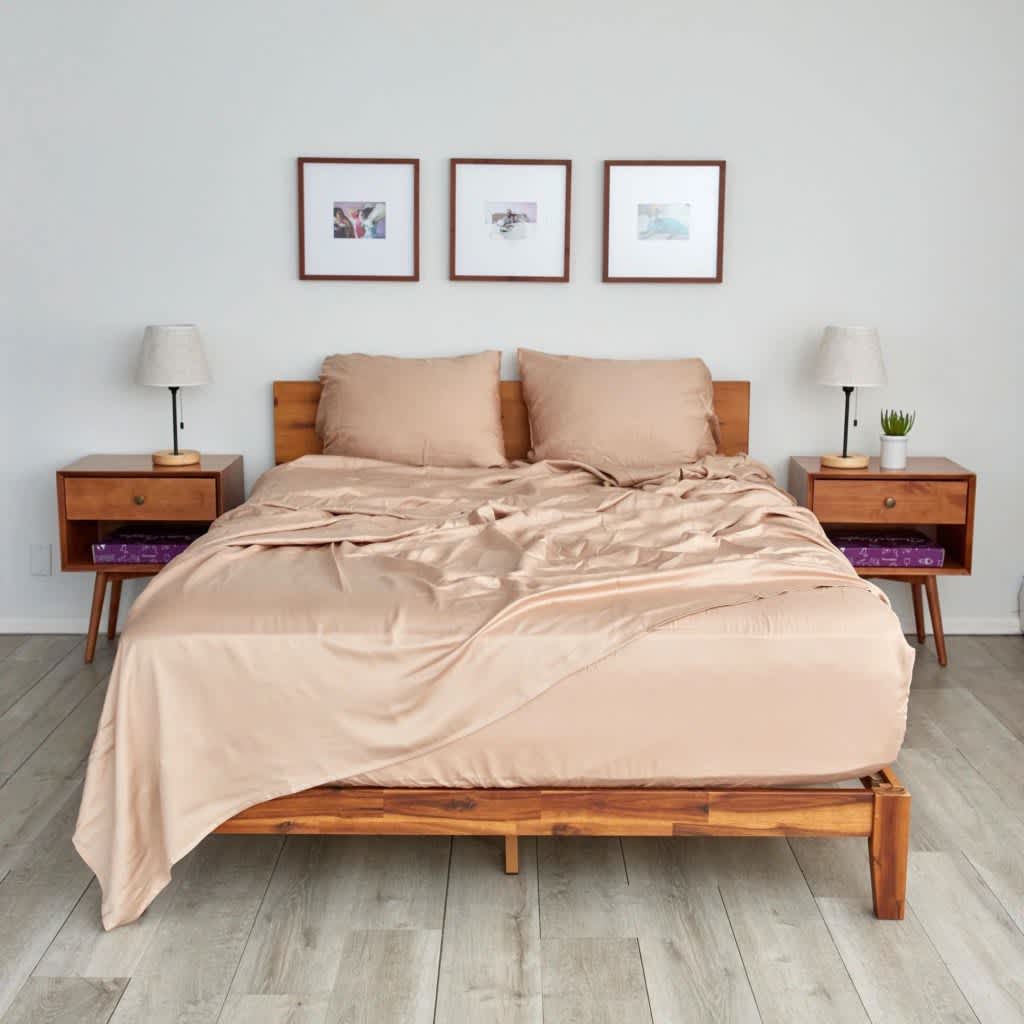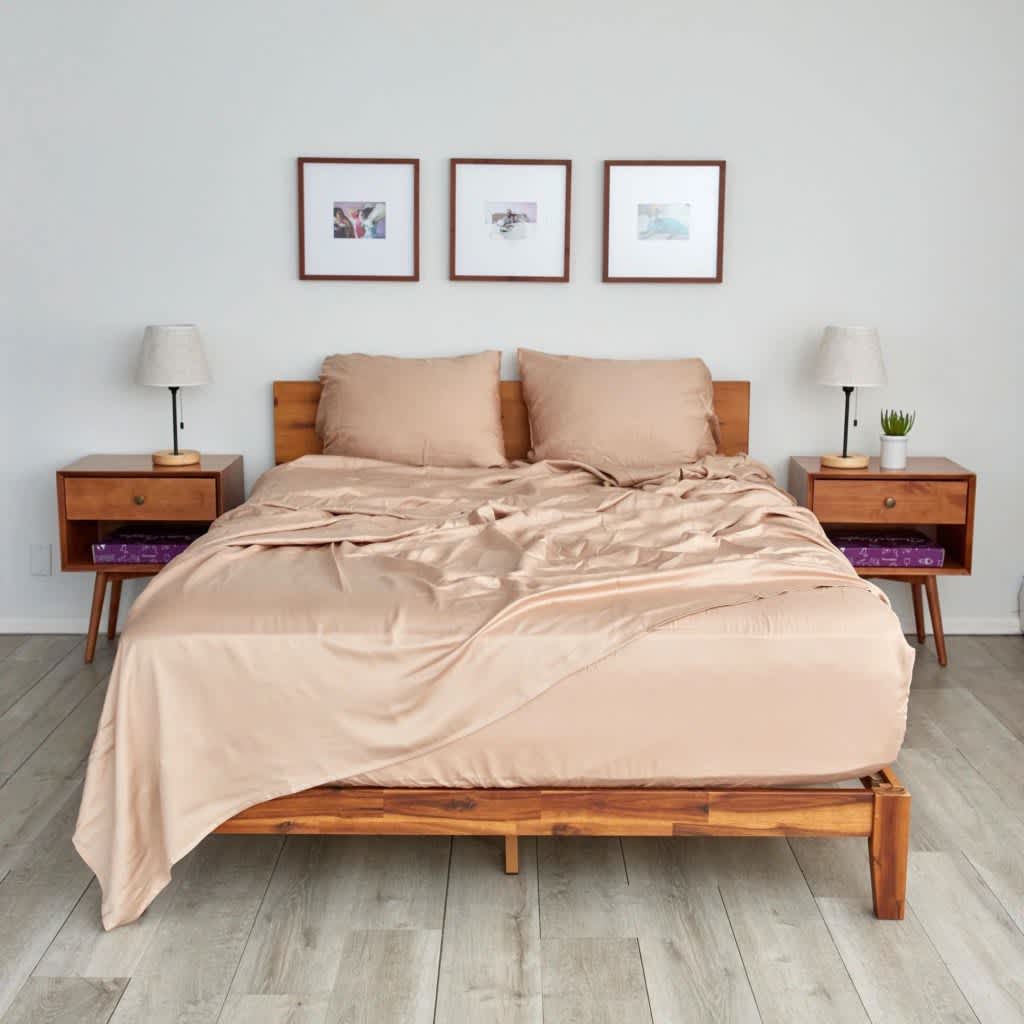 Corner pockets accommodate mattresses up to 20 inches thick
360-degree elastic keeps the fitted sheet securely attached
Eucalyptus lyocell fabric is soft and breathable
People with a high-profile mattress
Eco-conscious shoppers
Those with pets
The Sheets & Giggles Bedding Bundle allows shoppers to customize their purchase to include as many or as few bedding pieces as needed. Each bundle starts with a flat sheet, fitted sheet, and one or two pillowcases depending on which size you purchase. Those needing more pieces can add on a comforter, duvet cover, throw blanket, or extra pillowcases.
The fitted sheet's corner pockets stretch to accommodate mattresses up to 20 inches tall, while elastic wrapping the entire perimeter keeps the sheet fastened to your bed. Tags indicating the bottom left corner ensure that you place the fitted sheet correctly on the first try.
The sheets and duvet cover consist of 100% eucalyptus lyocell fabric that's comfortable and excellent at regulating temperature. The sheets are available in a wide range of bold colors that all have a luxe shine thanks to the fabric's sateen weave. Eco-conscious shoppers will appreciate the company's dedication to environmentally friendly practices like closed loop production and responsible water use.
The optional comforter has eucalyptus lyocell fabric wrapping the outside and a unique fill made from 50% eucalyptus lyocell and 50% recycled biodegradable polyester. Each piece is designed to hold up well to regular washing. Testing revealed the bundle is also a suitable choice for people with pets, as the fabric isn't prone to attracting hair or dust.
Sheets & Giggles ships its bundles free to shoppers in the continental U.S. Each order ships within 24 hours and typically arrives within two to five days. You can return your items for free using the company's online portal.
The Sheets & Giggles customizable bedding bundle gives shoppers the option to choose exactly which eco-friendly bedding pieces they want, rather than offering a one-size-fits-all option. We found the bedding's eucalyptus lyocell fabric offered a cool and comfortable sleep for those looking for sheets to accommodate a deep mattress.
Why You Should Trust Us
Our team has years of wide-ranging experience testing sleep-related products. Each member of our team takes care to thoroughly examine a product's materials and performance so that we can provide our readers with the most accurate information possible.

When testing bedding products like sheets, pillows, and comforters, we put each piece through a series of tests in multiple performance categories. For bedding in particular, we focus on durability, temperature regulation, comfort, fit, and care instructions. Much like our audience, our testers' preferences vary widely, so each pick is reflective of diverse needs.
How Do You Pick the Best Bedding?
Picking the best bedding starts with identifying your personal needs. Once you know what you're looking for, it's much easier to narrow your options. We'll explore different types of bedding as well as how to find the best options that suit your preferences.
What Is Bedding?
Bedding is a broad category that includes multiple sleep products. These include sheets, comforters, pillows, duvet covers, and other accessories that complement your bed or mattress.
What to Look for in Quality Bedding
When comparing bedding options, several indicators of a product's overall quality include materials, durability, warranties, and third-party certifications.
Is Quality Bedding Expensive?
Quality bedding doesn't have to be expensive, though top-notch materials and excellent craftsmanship often cost more to manufacture than options made from lesser-quality materials.
We'll discuss the different types of bedding available so that you know exactly what to look for when shopping for your own needs. We'll also cover what each product is used for as well as commonly found materials.
Sheets
Sheets cover your mattress to provide a comfortable barrier between your body and the mattress' top layer. Most sheet sets include a fitted sheet that attaches to your mattress with elastic at the corners. The corner pockets have different depths to accommodate multiple mattress profiles. A correctly placed fitted sheet wraps your mattress securely and stays in place even when sleepers switch positions.
Most sleepers use a flat sheet, or top sheet, above a fitted sheet that acts as a barrier between their skin and comforter. A top sheet can increase comfort and decrease how often you have to wash your comforter. Some people forgo a top sheet in favor of a duvet cover, which also protects your comforter.
Sheets are made from many different types of fabric, though cotton still remains the most popular choice. Cotton varies widely in cost depending on the type, thread count, and weave. Shoppers can opt for affordable fabrics like microfiber or high-end options like silk. Linen, cotton, and lyocell are plant-based fabrics that feel soft and breathable.
Your style, ideal temperature, and budget are all important factors to consider when choosing sheets.
Pillows
High-quality pillows enhance comfort and support. Pillows come in a variety of shapes and fill options. It's important to find a pillow with a loft, or height, designed to support your neck and keep the cervical spine in alignment while you sleep. The best pillow for you largely depends on your primary sleep position.
Some of the most popular fill options include down and down alternatives like polyfill. Foam and latex pillows are also widely used, and they work especially well for people with sensitive pressure points. In addition to traditional pillows, you also can find models designed specifically for pregnancy, CPAP masks, and supporting particular parts of the body.
Comforters
A comforter is a lofty blanket that has a shell and insulating fill. Comforters are intended to be used without a protective cover. As a result, they're typically easier to wash than duvet inserts. Comforters come in a range of weight options. Some are meant to be used in warmer weather, while others retain heat for colder climates.
Comforter shells often consist of cotton, polyester, linen, lyocell, or microfiber. A comforter's fill is generally airy and plush, and the actual fill material usually consists of down, down alternatives, or wool.
Since they're most often used without a duvet cover, you can often find comforters in decorative designs and bold colors. When deciding between a comforter or duvet, consider whether you prefer using a top sheet or cover when sleeping.
Duvets
Unlike comforters, duvets are generally used in tandem with a cover. Duvet covers protect the insert and extend time between washes. Duvet inserts have a fabric shell that is typically made from a material like cotton, linen, or polyester.
Since they're meant to be washed less often than comforters, duvet inserts may have fills made from down, wool, or silk, which typically require special care when washing. Duvet inserts aren't usually available in patterns or designs because the shell is placed inside the duvet cover. However, duvet covers come in many different materials and colors, allowing you to change looks easily.
Quilts and Coverlets
Quilts and coverlets provide extra warmth during colder months when used as additional layers. They also provide light insulation when used as a sole blanket. Sleepers can use both options as decorative or functional pieces.
Coverlets most often consist of a single layer, while quilts have three. Quilts feature a cover, batting, and backing. These blankets get their name from the quilted stitches that keep the batting in place. Both coverlets and quilts come in trendy and classic designs that can easily enhance your bedroom's look.
Blankets
Blanket is a general term for insulating bedding covers that add warmth, protection, and style to your bedroom. Comforters, duvets, coverlets, throw blankets, and quilts are all different types of blankets. You can also find specialty blankets, like weighted and heated options. Shoppers can purchase blankets with virtually any style or function imaginable.
Weighted and Heated Blankets
Weighted blankets have an outer shell and a fill that adds weight to the blanket. Most often, that weight comes from small beads made from glass or plastic. Some people find the hugging sensation weighted blankets provide help reduce anxiety. Generally, sleepers should use a weighted blanket that's about 10% of their overall body weight.
Heated blankets have an electrical component that warms up to provide increased insulation. Some are meant for use between your sheets and mattress, while others are used like a traditional blanket. Heating mechanisms vary, though most have settings that let you adjust the temperature as needed.
Mattress Accessories
Mattress accessories like toppers, protectors, and skirts are also types of bedding. Mattress toppers are often made from foam, wool, or latex. They are placed on top of a mattress to increase comfort and support and extend the bed's lifespan. You can purchase mattress toppers in firmness levels ranging from soft (3) to firm (7).
Mattress protectors either secure around your mattress like a fitted sheet or encase it completely. Both styles offer protection against wear and tear as well as dust and moisture. Bed skirts are decorative pieces of fabric that hide your box spring or bed frame. Many companies offer skirts that match their other bedding.
How to Find the Best Bedding
To find the best bedding, consider a product's fabric, construction, comfort, and durability. Next, decide whether the style of the piece you've chosen matches your own. There is no one-size-fits-all answer to buying the best bedding. Your individual tastes and sleep preferences will determine which products are best for your needs. We'll provide detailed information on what to consider when deciding on what bedding to purchase.
Type of Fabric and Material
Fabric is one the most important factors to consider when purchasing bedding. Examine your own needs, then find a material to match. Those who want airy, breathable bedding should opt for plant fibers like cotton, linen, lyocell, or viscose from bamboo. Cooling-specific fibers and technology like phase change material can also help keep sleepers comfortable.
Those seeking warmer options should look to wool, brushed flannel, or plant-based fibers with dense weaves. All fabrics range in quality. Details like thread count, material origins, sustainability efforts, and manufacturer locations can all offer insight about a product's quality.
Construction and Feel
Once you've settled on a type of material, you can choose the construction style you prefer. Cotton, for example, can be woven into several different kinds of fabrics. Percale sheets use a one-over-one-under weave that feels crisp and airy, while sateen sheets use one thread under and several over, which results in a silky fabric with lots of drape.
Other materials like linen and wool can also be made into fabrics with different characteristics and appearances. The density of a fabric can change its overall feel. Threads woven closely together create a tough, durable material that may not feel as soft. Conversely, loosely woven fabrics are prone to holes and pilling.
Comfort and Breathability
Plant-based fibers like linen, cotton, and lyocell tend to be highly breathable, especially when woven to allow for plenty of airflow. People who sleep hot and those in warm climates tend to favor cool bedding that doesn't trap moisture.
Those looking for warmer options can choose brushed cotton, flannel, or microfiber, which have a soft feel. Personal preference is important when determining comfort, and shoppers should remember that their wants and needs may change throughout the seasons. Having multiple options can allow sleepers to switch bedding as needed.
Durability and Care
Bedding lifespans vary depending on how you care for the fabric as well as how durable it is. When choosing your bedding, make sure that you can adhere to the ideal care instructions and consider how often you should wash your sheets.
Washing your bedding incorrectly may ruin or damage the material. If you know you need an option that's simple to wash, look for bedding made of material like cotton or down alternatives. Long-staple cotton and tight, durable weaves can also ensure that you're able to use your bedding for many years. Some manufacturers provide warranties that cover pilling or defects.
Does It Fit Your Style?
Your personal style doesn't have to be an afterthought when it comes to choosing bedding. There are a variety of options available that allow most shoppers to find bedding that suits their tastes, even if they have specific fabric or construction requirements.
In addition to physical appearance, check to see if a brand's goals align with your own. For example, sustainably minded shoppers and those who support ethical manufacturing standards can opt to purchase bedding from a company that incorporates ethically sourced as well as organic and natural materials in their products.
How Much Does the Best Bedding Cost?
Bedding price-points vary widely depending on fabric, fiber, construction, and production practices. Typically, the longer it takes to grow, harvest, manufacture, and ship a product, the more expensive it will be. Labor regulations are different across the world and can also affect overall cost.
With so many choices on the market today, most sleepers should be able to find a complete bedding setup within their price range. Shopping sales or purchasing from direct-to-consumer brands can also help you find extra savings.
| Bedding Type | Price Range | Budget-Friendly | More Expensive |
| --- | --- | --- | --- |
| | | Upland cotton or microfiber | |
| | | Polyester or low-loft models | Shredded latex or specialty body pillows |
| | | Down alternatives like polyfill | High-quality goose feather down |
| | | | Heavy weighted blankets or hand-woven wool |