Knee pillows are designed to fit between or underneath the knees to increase comfort and improve spinal alignment. While sleeping with a standard pillow between your legs may be a quicker or more affordable option, knee pillows may prove more effective since they are specifically meant for aligning your back, hips, and knees during sleep.
Knee pillows are available in various sizes, shapes, and firmness levels. We'll explore our top knee pillow picks and break down the benefits of using a knee pillow for various types of sleepers.
Fill Material: Memory foam

Firmness: Firm

Price: $30
Moldable design with strong shape retention
Removable, machine-washable cover
Memory foam fill conforms closely to body
Side sleepers
People seeking a compact, lightweight pillow
Shoppers who prioritize bedding with easy care
The Sleep Number Knee Pillow has a memory foam design that conforms to your knees for deep cushioning. With a 4.5-inch profile, this lightweight model caters to side sleepers seeking a reasonably priced pillow to place between the legs.
The pillow has an hourglass shape that cradles your knees. The side sleepers on our testing team enjoyed the adaptive feel of the memory foam fill, which helped reduce pressure buildup and promoted even alignment between the knees, hips, and back. Our testers found that the velvety microfiber cover felt soft against the skin and didn't retain excessive heat. You can remove the cover and wash it in a household machine, but the foam can only be spot cleaned.
Sleep Number offers a 100-night sleep trial and a limited one-year warranty that covers defects in material or workmanship. The pillow ships free to addresses in the contiguous U.S.
Coop Sleep Goods Orthopedic Knee Pillow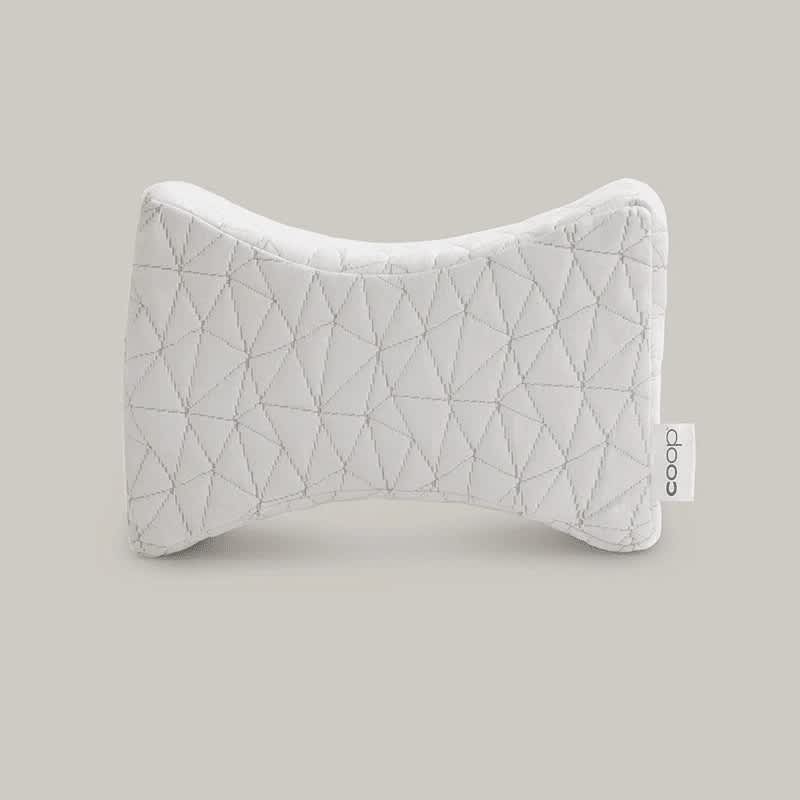 Fill Material: Solid memory foam

Firmness: Firm

Price: $40
Strong shape retention
Adjustable firmness and thickness
Machine-washable cover
Side sleepers
Shoppers who aren't sure of their ideal thickness
Value seekers
The Coop Sleep Goods Orthopedic Knee Pillow has an ergonomic shape and adaptive feel that conforms evenly to your body. What stood out most to our testers was the adjustable design, which allowed us to customize the thickness and firmness.
The pillow is intended for side sleepers to nestle between the knees. It is filled with two layers of memory foam with cut-out shapes. Sandwiched between these layers is a foam insert measuring 1 inch thick. If the pillow feels too thick or firm, you can remove the insert to decrease the loft and firmness.
The memory foam offers strong contouring, making this a good fit for sleepers who prioritize pressure relief. The cover is composed of Lulltra, which is a fabric blend of bamboo-derived viscose and polyester. While foam is known for retaining heat, the Lulltra has cooling properties that help mitigate heat retention. The cover is removable but Coop Sleep Goods recommends hand washing and line drying.
Coop Sleep Goods offers a 100-night sleep trial and a five-year warranty. Free shipping is available to addresses in the contiguous U.S.
The Company Store Knee and Leg Posture Pillow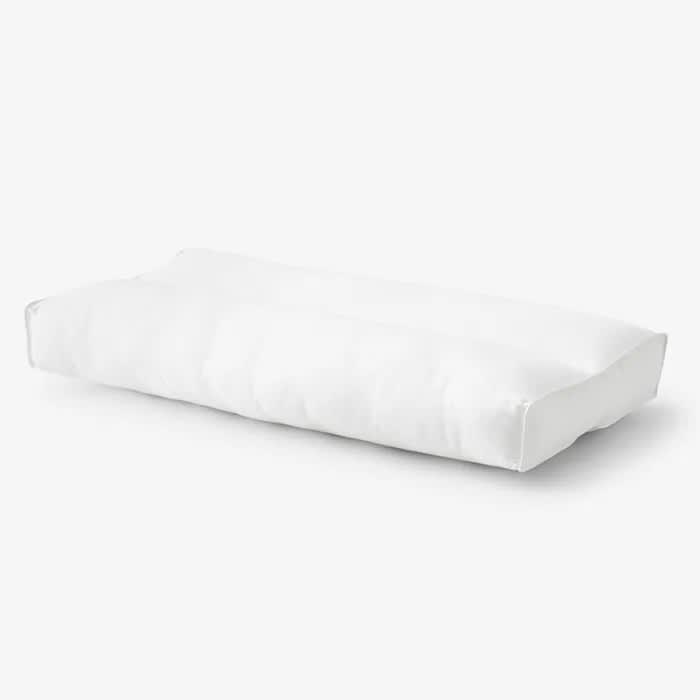 Fill Material: Polyester

Firmness: Medium soft

Price: $79
Machine-washable design
Polyester fill is plush and moldable
May be placed between or under legs
Side and back sleepers
People with lower back pain
Those who sleep hot
The Company Store Knee and Leg Posture Pillow caters to side and back sleepers. The rectangular design is suitable for placement between or underneath the legs, depending on your sleep position. Regardless of whether you sleep on your side, back, or both, the pillow's medium soft feel offers a strong balance of support and cushioning to promote proper spinal alignment.
The pillow measures 26 inches long by 13 inches wide. The polyester fill is plush and cozy but maintains enough support to keep your legs aligned with your spine, easing pressure off your lower back. The polyester offers ample cushioning for your knees and legs, so the pillow earned high marks for pressure relief from our testers.
The Knee and Leg Posture Pillow has a breathable cover made of a cotton and polyester fabric blend. You can machine wash the pillow and tumble dry on a low setting, as long as your machine is large enough to accommodate the pillow.
The Company Store offers a 30-night sleep trial. Free shipping is available for orders $75 or more within the contiguous U.S.
Back Support Systems Knee-T Leg Pillow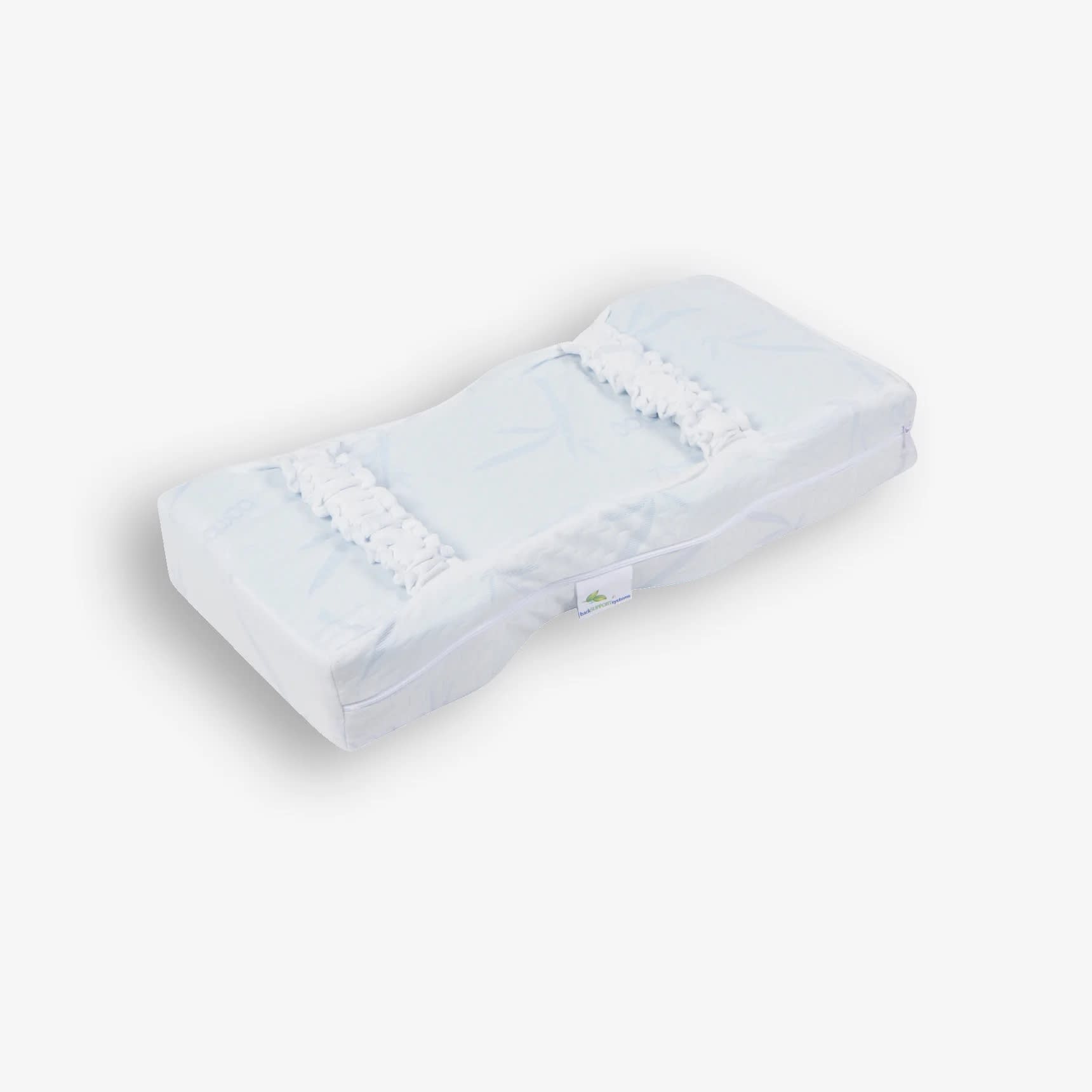 Fill Material: Polyfoam

Firmness: Firm

Price: $75
Multiple foam types available
Some foam options are designed with cooling properties
Includes straps to hold the pillow in place
People seeking pressure relief in the knees and legs
Those who move a lot during sleep
Side sleepers
The Back Support Systems Knee-T Leg Pillow is a leg-length model engineered to provide pressure relief to the knees and legs while promoting alignment between your hips and spine. The pillow can be placed between the knees of side sleepers and comes with a strap to keep it from shifting during sleep.
The pillow is filled with high-density polyfoam that balances support and contouring. Our testers give the pillow high marks for pressure relief in the knees and legs. The pillow also eased pressure off the lower back by aligning the legs with the hips. The pillow stands out from competitors with multiple foam options to choose from, including polyfoam, memory foam, and two options for foam engineered to stay cooler. You can also choose between a sherpa or bamboo-derived fabric for the cover.
Back Support Systems does not accept returns of this pillow, since it is considered a personal care item.
Tempur-Pedic All-Purpose Pillow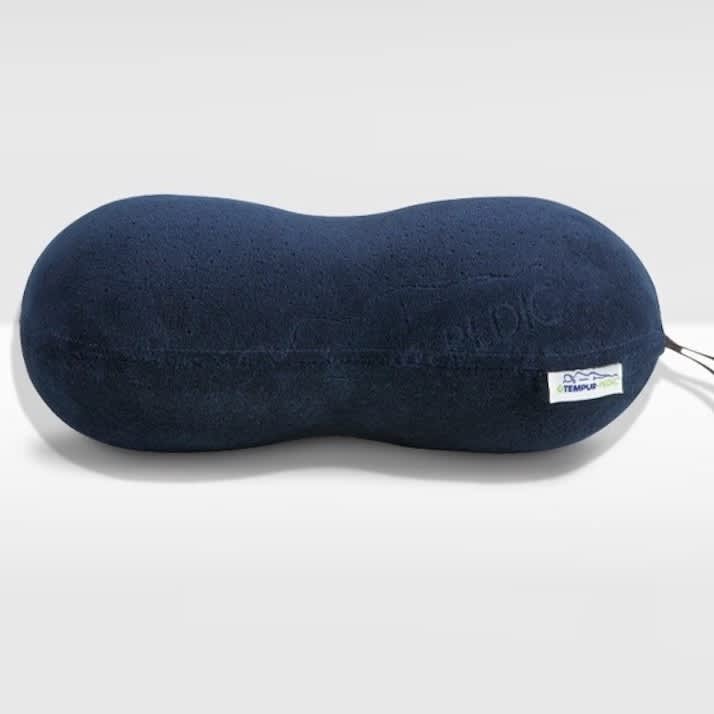 Fill Material: Solid memory foam

Firmness: Firm

Price: $49
Ergonomic peanut shape relieves pressure buildup
Lightweight design is appropriate for travel
Versatile shape is also suitable for neck and lower back
Sleepers with pressure buildup in the knees
Shoppers seeking a multi-purpose pillow
Frequent fliers
The Tempur-Pedic All-Purpose Pillow is a compact, lightweight model with an ergonomic shape that can be used in multiple areas of the body. The foam molds closely to your joints, so it's a good fit for sleepers who experience uncomfortable pressure buildup in the knees at night.
We found that the pillow's curved peanut shape was compatible with a range of sleep positions. Side sleepers can place it between the knees to ease pressure off the lower back, while back sleepers can use it below the knees or beneath the lower back. The pillow is filled with adaptive TEMPUR memory foam that conforms closely but is dense enough to generate sufficient support. The cover is made of a soft polyester fabric that you can remove and wash in a household machine.
Weighing less than 1 pound and measuring 13 inches long and 5 inches thick, the pillow is well suited for stowing during travel. A carrying strap makes it easy to tote the pillow around.
The All-Purpose Pillow is non-refundable, but TEMPUR-Pedic offers a five-year warranty against manufacturing defects.
Why you should trust us
In order to determine the best knee pillows on the market today, we conducted market research and hands-on testing on a number of models. For each pillow, we focused on moldability, pressure relief, temperature regulation, and care instructions. Our team is made up of product testers and sleep experts who methodically review every product recommended. Our ratings are based on subjective observations and robust and replicable performance metrics.

Knee pillows are specialty pillows designed to fit between or beneath the knees with the goal of enhancing comfort and improving sleep posture, since poor posture can lead to problems such as improper spinal alignment, back pain, reduced flexibility, and breathing problems. People also use knee pillows to relieve pressure buildup in the lumbar region, knees, and legs.
Knee pillows are available in a variety of styles such as hourglass, wedge, and half-moon. You'll also find knee pillows with different firmness levels and price-points. The variety of options allows sleepers to select the best knee pillow for their particular sleep position and sleep preferences.
Do you need a knee pillow?
Some people need or prefer to use knee pillows to align their spine and feel more comfortable while sleeping. If you are a side or back sleeper experiencing uncomfortable spinal alignment during sleep, you may benefit from a knee pillow. Pregnant people also often opt for knee pillows to maintain healthy sleep posture.
There are many different types of knee pillows available. When considering each model, it's important to keep in mind your personal sleep preferences and sleep position. Some knee pillows are designed to accommodate the full length of your leg, while many have ergonomic shapes designed specifically for placement between the knees. There are also knee pillows that include straps to help keep the pillow in place.
Hourglass: Knee pillows with an hourglass shape outline the natural contour of the legs and are designed to comfortably fit between the knees. Side sleepers may opt for hourglass knee pillows, but back sleepers generally won't benefit from this pillow type.
Wedge: The triangular shape of wedge knee pillows provides a gentle incline that gently elevates the legs. People who sleep on their back often place wedge pillows under the crook of the knees.
Half moon: These half-cylinder pillows have a flat bottom that allows you to place them securely under the knees, legs, or ankles. Half moon pillows are typically used under the knees by back sleepers, but side sleepers can also place them between the knees or ankles.
Bolster roll: These pillows are similar to half moon models but are fully cylindrical. These are most commonly used by back sleepers underneath the knees but can also be placed between the knees for side sleepers.
Leg-length: This pillow type is distinguished by a longer shape that's meant to support the legs of back sleepers or separate the knees and legs for side sleepers. Some leg-length pillows include contouring to enhance comfort and straps to provide a more secure fit.
Body pillows: Some sleepers prefer full-length body pillows to elevate and support the knee alongside other body parts such as the neck, stomach, back, or hip. Pregnant people, side sleepers, and those that require all-round support during sleep may find body pillows ideal to use.
Materials, firmness, and construction
Many knee pillows are composed of memory foam or polyfoam encased in a fabric cover. Foam offers strong contouring and pressure relief and typically has a firm or medium firm feel. The adaptive quality of foam allows it to cradle joints without compromising too much on support. Some models, especially leg-length or body pillows, contain a polyester or down alternative fill that feels soft and plush. Covers are available in a range of materials that includes polyester and cotton.
Can you use a regular pillow as a knee pillow?
While it is technically possible to place a traditional pillow between your knees to act as a knee pillow, keep in mind that these pillows are specifically designed to place under your head. As a result, they are generally too thin or less ergonomically suitable. Knee pillows are better suited to fit between or beneath the legs because they are specifically designed to conform to the knee and stay in place.
You can place a knee pillow under or between your knees. The best way to use a knee pillow generally depends on your preferred sleep position. Side and back sleepers receive many benefits from knee pillows, including pressure relief and proper spinal alignment. We'll explore some of the benefits of a knee pillow for different types of sleepers.
| Sleeper type | Description |
| --- | --- |
| Side sleepers | Side sleepers can use a knee pillow to prevent poor spinal alignment, since elevating the leg helps align it with the hips, pelvis, and spine. Side sleepers benefit from most types of knee pillows. |
| Back sleepers | People who sleep on their backs can position a knee pillow under the knees to promote healthy spinal alignment in the lower back while also reducing pressure on the lumbar region. Wedge, half moon, and bolster pillows are especially well suited to this sleep position. |
| Stomach sleepers | Sleeping on your stomach places strain on the neck and spine. Knee pillows are not recommended for stomach sleepers as they can intensify the strain. Instead of knee pillows, some stomach sleepers may opt for a pillow beneath their pelvic area to help with spinal alignment during sleep. |
| Combination sleepers | People who habitually switch between sleeping on their back and side should consider a knee pillow that can be placed either under or between the knees. To help keep the pillow in place during nighttime movement, combination sleepers may want to consider a knee pillow with straps. |
| Pregnant sleepers | Pregnant people are susceptible to back aches, pelvic pain, and leg cramps, which can make it difficult to sleep comfortably. Placing a knee pillow between the knees can ease pressure off the lower back and improve spinal alignment. Using a pillow beneath the stomach can also help facilitate a more comfortable sleeping position. |
How to pick the best knee pillows
When selecting the best knee pillow, it's important to pick a pillow that feels comfortable for you. Since comfort is subjective and knee pillows vary widely in shape, size, firmness, and materials, you'll want to consider factors such as your sleep position and personal sleep needs when making your choice. In addition, consider whether the return policy provides enough flexibility for you to try out the product.
Shape: When picking a knee pillow, check that the shape is compatible with your sleep position. Most knee pillows can be placed between the legs for side sleepers, while back sleepers may gravitate toward cylindrical and wedge pillows to place under the legs.
Size and thickness: The thickness and size of a knee pillow will impact the extent to which the pillow supports your legs or knees. An overly thick pillow can cause poor spinal alignment or place strain on the lower back.
Firmness: A knee pillow's firmness can be subjective, so it's important to try out the pillow to determine if it's a comfortable firmness for you. Take note of how well the knee pillow retains its shape when weight is applied to it over time.
Quality materials: The cover and fill material of a knee pillow can affect how comfortable it feels. Higher quality materials may improve the pillow's moisture absorption, breathability, smell, and overall feel.
Pressure relief: Knee pillows can help relieve pressure from your hips and lower back when lying down. They can also relieve pressure from your knees and legs. Pillows made with memory foam are especially well suited for pressure relief due to the adaptive feel.
Temperature regulation: Most knee pillows are filled with foam, which is known for trapping heat. People who sleep hot may prefer a pillow made with a different material like latex, buckwheat, or polyester. Those who sleep hot should look for a cover made of fabric that is breathable or engineered for cooling.
Price: Most knee pillows range from $20 to $100, although some high-end pillows may cost as much as $200 or more. The cost of a pillow depends largely on the quality of materials and construction, size of the pillow, and reputation of the pillow brand.
Sleep trial, return policy, and warranty: Sleep trials and flexible return policies allow you to try pillows at home to determine if they are a good match. Most knee pillows also come with a warranty, with most ranging between one and five years.