Every sleeping position carries unique pillow needs, and stomach sleeping is no different. A thick, supportive pillow could raise the head excessively, which causes the spine to move out of a neutral position. Stomach sleepers generally require a pillow with a low loft, soft feel, and compressible fill to maintain spinal alignment throughout the night. The best pillow for stomach sleepers ensures their upper and lower bodies form a relatively straight line.
Our team has conducted thorough research to determine the top pillows for stomach sleepers. We'll also delve into the best fill material, how to keep the spine aligned, and how to choose the right pillow for you.
Sleep Doctor's Picks
Shop Now
Shop Now
Shop Now
Shop Now
Shop Now
Sleep Is the Foundation Shredded Memory Foam Pillow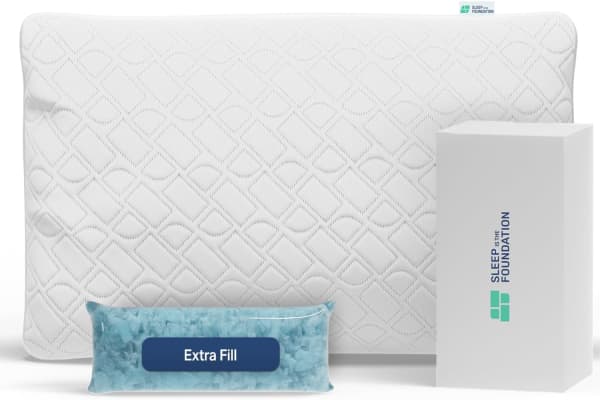 Fill Material: Shredded memory foam (gel-infused)

Firmness: Adjustable (Soft to Medium)

Price: $96
Shredded foam conforms closely to the head and neck
Fill may be added or removed to adjust pillow loft
Cover is removable and machine-washable
Sleepers with neck pain
People who enjoy snuggling their pillow
Those who aren't sure of their ideal loft
The Sleep is the Foundation Shredded Memory Foam Pillow offers even contouring and adjustable firmness levels to provide the versatility that many stomach sleepers need to sleep comfortably.
The pillow is filled with shredded memory foam infused with a cooling gel intended to minimize heat retention. The foam has a moldable feel that conforms closely to the head and neck, which benefits stomach sleepers who need a pillow that won't prop the head up too high. The foam is contained in a pouch, which is encased in a removable cover made of polyester and bamboo-derived viscose. Our testers noted that the fabric felt soft and stayed relatively cool, thanks to the cooling properties of bamboo-derived materials.
The Shredded Memory Foam Pillow measures 8 inches thick when it is fully stuffed, however you can remove as much fill as you'd like to achieve your desired loft. Stomach sleepers will benefit from this adjustable design, since they typically feel most comfortable on pillows with thin profiles. The pillow is available in queen and king sizes.
The pillow is sold exclusively through Amazon.com and comes with a 30-night sleep trial. Ground shipping is free for Amazon Prime members.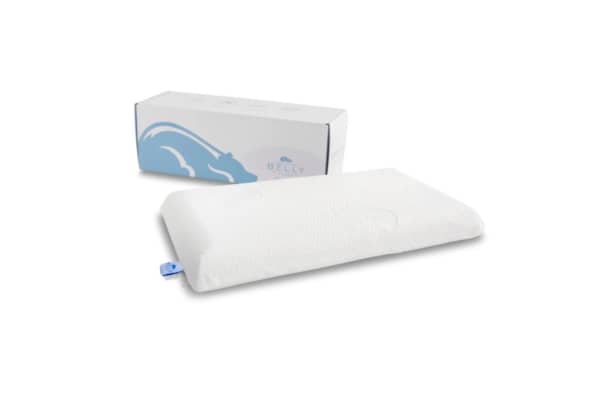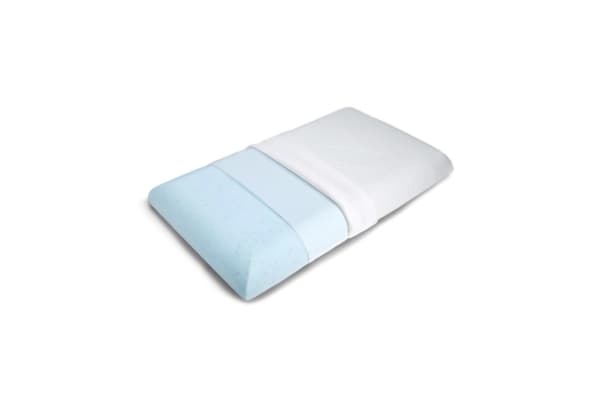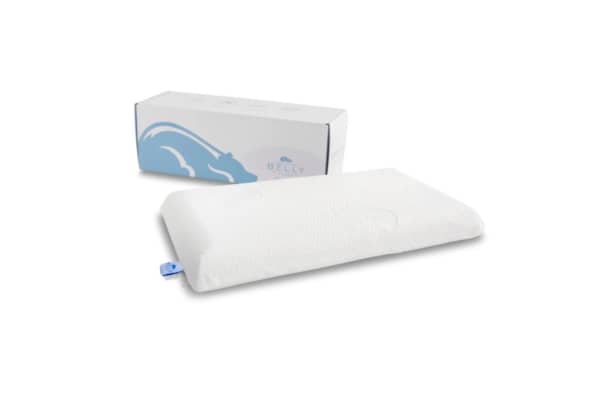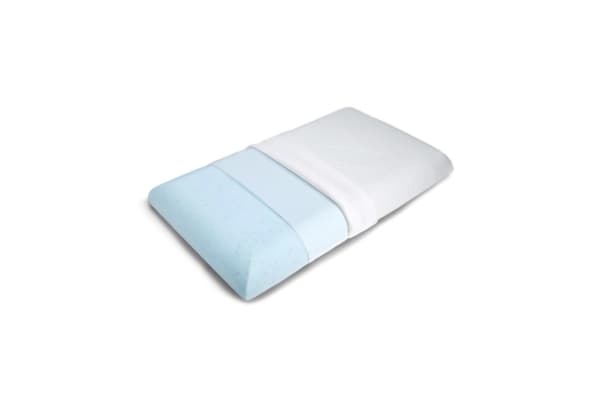 Fill Material: Solid gel memory foam

Firmness: Firm

Price: $80
Designed with stomach sleepers in mind
Curved edges to limit head turning
Cooling gel designed to reduce night sweats
Stomach sleepers of all sizes
Value seekers
Hot sleepers
Specifically designed for stomach sleepers, the Belly Sleeper Pillow provides the features most stomach sleepers require at a budget-friendly price.
A synthetic blend cover encases the pillow. The material is designed to wick moisture and resist odors to maintain a fresher, drier surface.
Constructed with memory foam and cooling gel, the Belly Sleeper Pillow's core offers support and temperature regulation. The memory foam contours to the head, neck, and shoulders to provide support. The cooling gel is designed to ensure the pillow does not retain heat. While we detected minor lingering body warmth, our testers reported maintaining a comfortable temperature.
The Belly Sleeper Pillow boasts a 2.5-inch loft, which is lower than most pillow designs. The low height keeps a stomach sleeper's head better aligned with their neck, shoulders, and back. The pillow's edges also have an ergonomic curve to reduce snoring, improve breathing, and limit head rotation. Our testers appreciated being able to lie on their stomachs without turning their heads as far to the side.
Due to the low loft, firm feel, and contouring capabilities, we found the Belly Sleeper Pillow appropriate for stomach sleepers of all body types. Our stomach sleepers' heads, necks, and shoulders remained neutral, reducing upper body pain associated with the position.
The Belly Sleeper Pillow is available in one size: 28 inches by 16 inches. These dimensions are slightly narrower and longer than a standard pillow. The pillow comes with free shipping, a 30-night trial, and a limited lifetime warranty. The pillow is also easy to clean due to its removable, washable cover.
Thanks to its ergonomically shaped edges, low loft, supportive contouring, and cost-effective price-point, our testers found the Belly Sleeper Pillow ideal for nearly any stomach sleeper.
PineTales Stomach Sleeper/Back Sleeper Latex Pillow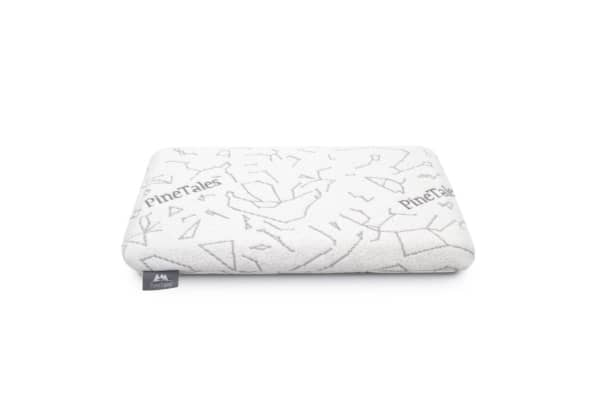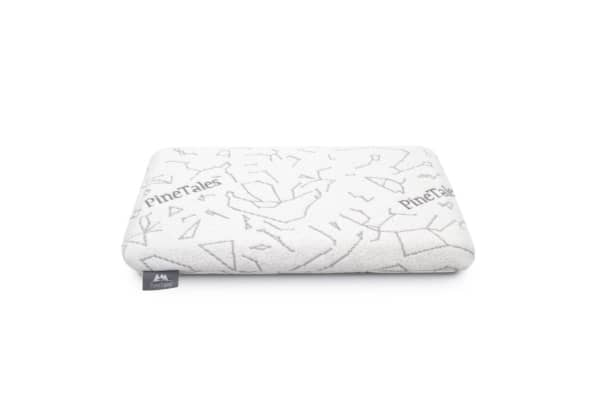 Fill Material: Ventilated Dunlop latex

Firmness: Medium Firm

Price: $66
Available in a compact size suitable for kids and travel
Ventilated solid latex core provides airflow and breathability
Can also be used as a cushion or seat pad
Shoppers looking for a versatile pillow
Those on a budget
Hot sleepers
With an incredibly low loft and supportive yet conforming core, the PineTales Stomach Sleeper/Back Sleeper Latex Pillow is well suited for stomach sleepers of all weights.
The pillow contains an inner core of ventilated Dunlop latex, a type of latex that is firmer and denser than Talalay latex. Holes punched through the material let air circulate so that heat can dissipate. Even our hot sleepers noticed very little heat retention. Due to the pillow's medium firm feel and supportive latex core, it does not compress as easily as some models. Instead, it provides subtle, even conforming with minimal sinkage.
A stretchy nylon inner pillowcase contains hollow fibers designed to enhance air circulation. The pillow also comes with a removable, machine-washable zippered pillowcase constructed of rayon from bamboo.
After rigorous testing, our team found the PineTales Stomach Sleeper/Back Sleeper Latex Pillow exceptional for stomach sleeping. The low, 2-inch loft ensures sleepers' heads remain close to the mattress for optimal spinal neutrality and alignment. Our testers also found the pillow usable on other body parts, such as behind the back as lumbar support or as a seat pad to relieve pressure.
The PineTales Stomach Sleeper/Back Sleeper Latex Pillow is available in two styles: Bamboo White and High Performance Black. The size is compact, measuring 12 inches by 19 inches. This makes it easy for stomach sleepers to tuck under their heads, but it may also be convenient for kids or travel. The pillow comes with a 30-day trial.
We found the PineTales Stomach Sleeper/Back Sleeper Latex Pillow's low-loft, compact design particularly comfortable for stomach sleeping. The latex's gentle conforming and notable cooling qualities further enhanced the sleep experience for our testers.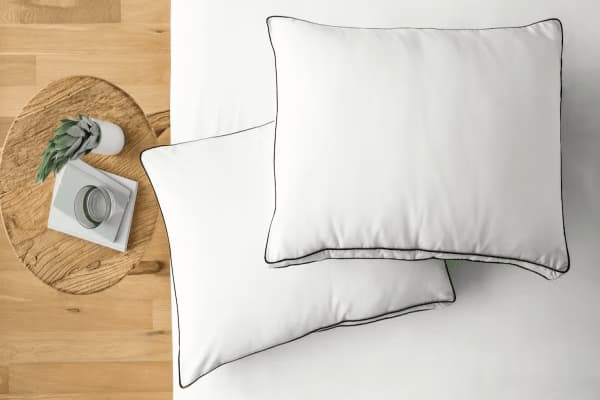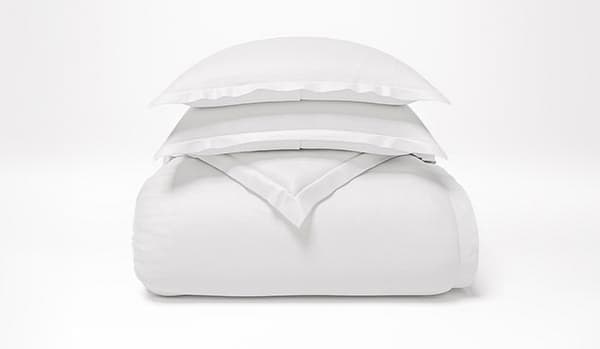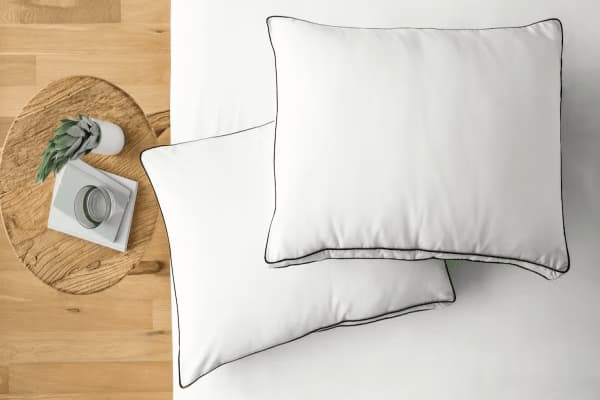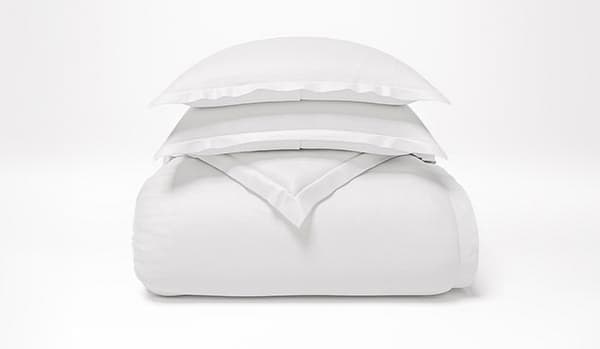 Fill Material: Shredded Talalay latex and down alternative

Firmness: Medium soft

Price: $165
Adjustable loft
Breathable cotton cover keeps the pillow cool to the touch
Hotel-like look and feel
Shoppers who value adjustability
Stomach sleepers of all weights
Side and back sleepers less than 230 pounds
Saatva combines latex, down alternative, and cotton to form the Saatva Latex Pillow. This medium soft model with an adjustable loft is suitable for stomach sleepers of all weights.
The Saatva Latex Pillow consists of three layers: a cover, a plush fill, and an inner core. The pillow cover contains Fair Trade Certified cotton in a smooth sateen weave. It is zippered and removable for easy machine-washing. Side gussets with contrast welting give the pillow a distinct look and help retain its shape.
The second layer contains down alternative designed to replicate the fluffy feel and consistency of down. The third layer is a shredded natural latex core for extra support.
At 8 inches thick, our testers found the fully constructed pillow too substantial for stomach sleeping. However, removing the inner shredded latex core resulted in a soft, squishable pillow that held our testers' heads at a neutral height. With the latex core inserted, we also found the Saatva Latex Pillow suitable for side and back sleepers less than 230 pounds.
The Saatva Latex Pillow is available in queen and king sizes. Each pillow comes with free shipping in the contiguous United States, a 45-day return policy, and a one-year limited warranty.
Because of its adjustability, the Saatva Latex Pillow satisfied our stomach, side, and back sleepers alike. We especially recommend it for stomach sleepers aiming to eventually transition to another sleep position.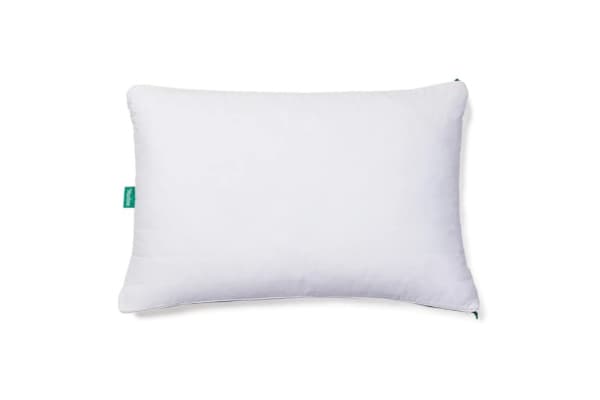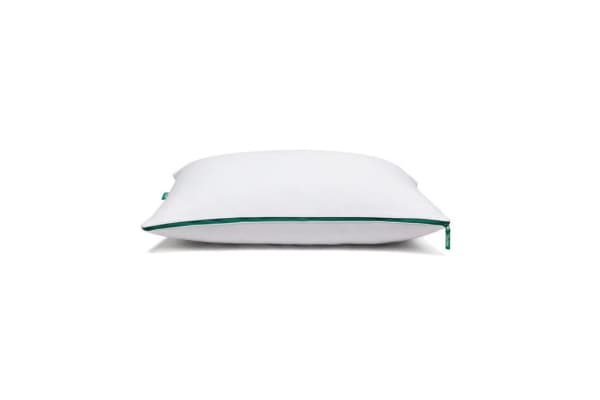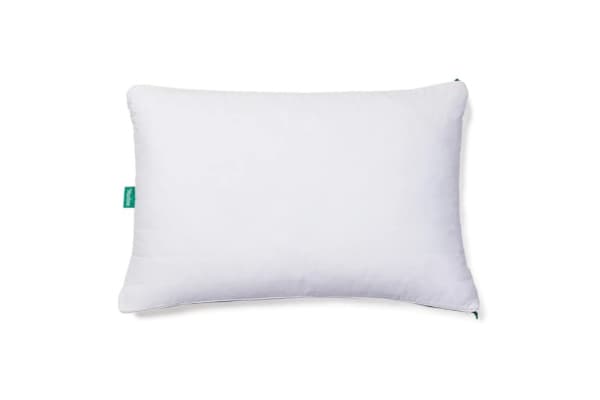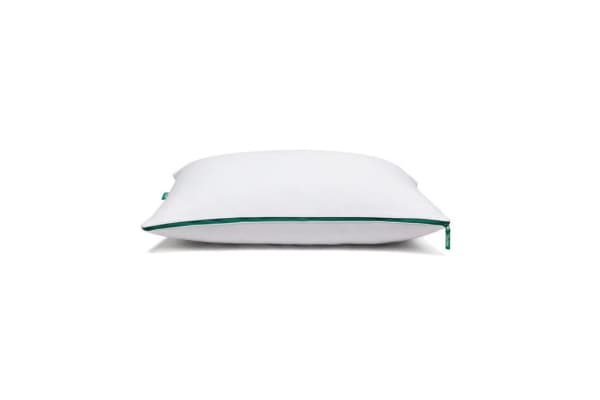 Fill Material: 80% memory foam, 20% polyester fiber

Firmness: Adjustable

Price: $65
Adjustable with three loft settings
Mesh gussets for cooling airflow
Shredded memory foam fill offers moldability and contouring
Stomach sleepers less than 230 pounds
Combination sleepers
Sleepers with changing needs or preferences
The Marlow Pillow's unique adjustable design makes it easy to switch between three distinct profile and firmness settings. While most adjustable pillows require you to add or remove fill, the Marlow uses a zipper system that our testing team found quick and convenient.
Buttery soft cotton sateen fabric covers the pillow. Zippers along the lengthwise edges of the pillow allow for adjustments. When fully zipped, the pillow is loftier and firmer. You can unzip one or both edges for a softer, lower-loft pillow. Unzipping also exposes polyester mesh gussets to allow greater air circulation.
The fill contains 80% shredded gel-infused memory foam and 20% polyester fiber. We found this combination gave the pillow a highly moldable, conforming feel reminiscent of down.
Our stomach sleepers under 230 pounds particularly enjoyed the fully unzipped, lowest loft setting of the Marlow Pillow. We also found the pillow ideal for combination sleeping. Its convenient adjustability enables combination sleepers to customize the pillow quickly, allowing them to change the feel as often as they need.
The Marlow Pillow is available in standard and king sizes. Pillows come packs of one, two, and four. The brand offers a one-year return policy, a two-year limited warranty, and free shipping within the contiguous U.S.
Due to its user-friendly adjustability, we recommend the Marlow Pillow for stomach sleepers under 230 pounds, combination sleepers, and anyone with changing needs.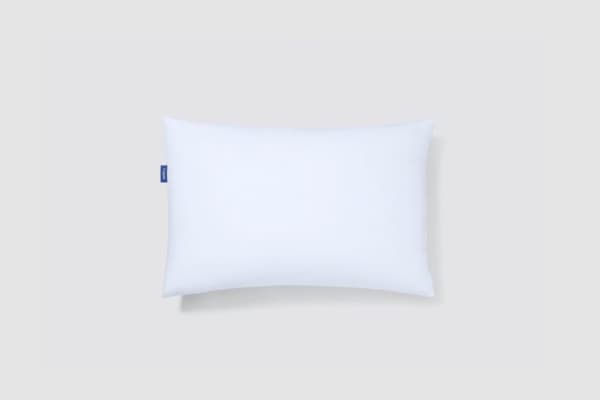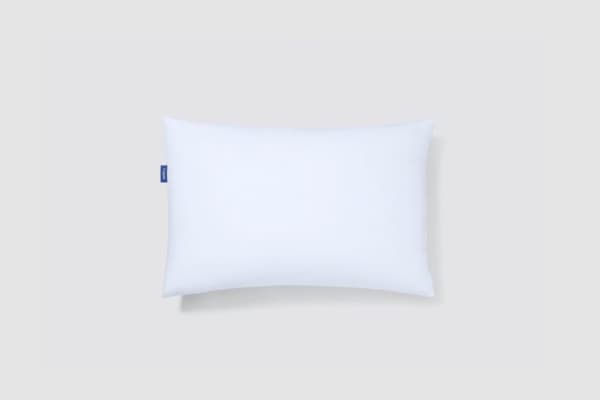 Fill Material: 100% polyester inner panel 80% white duck down, 20% feather outer chamber 60% white duck down, 40% feather inner chamber

Firmness: Soft

Price: $139
Unique design molds to the sleeper's head
Down fill for superior softness
Compresses easily for cushioning without excessive lift
Combination sleepers
Stomach sleepers under 230 pounds
Those who value durability
With a signature chamber-based design, the Casper Down Pillow offers soft cushioning at a mid-range price. The Casper Down Pillow contains five chambers, including an outer chamber constructed for fluffy softness and inner chambers built to provide moldable support.
The outer shell consists of breathable cotton, and the inner panels contain polyester. A blend of 80% white duck down and 20% feathers makes up the outer chamber. Because down is especially light and airy, we found this combination added plushness. The inner chambers consist of 60% white duck down and 40% feathers, enhancing the structure, support, and breathability.
The standard and king sizes feature a 2-inch gusset. When fluffed up, the pillow measures 6 inches high.
Our product testers under 230 pounds found the Casper Down Pillow comfortable for stomach sleeping. While a 6-inch profile is usually too thick for stomach sleepers, this model compressed easily enough to cushion our testers' heads without adding too much elevation. This helped keep their upper and lower bodies aligned. The Casper Down Pillow is also well suited for most sleeping positions, so it's great for combination sleepers.
Due to the cotton outer shell and breathable feather-blend core, the pillow sleeps cooler than most down and down alternative models. Our thermal sensors picked up minimal heat retention.
The Casper Down Pillow is machine-washable and available in a single- or a double-pack. The pillow comes with free delivery, a 30-night trial, and a one-year limited warranty.
Our team found the Casper Down Pillow ideal for stomach sleepers who have a firm mattress. This soft pillow adds cushioning and helps sleepers maintain a neutral spine.
Why You Should Trust Us
Our team consists of sleep product experts with different sleep positions, body weights, and preferences. Testers personally assess hundreds of pillows based on the criteria that matter most to sleepers, such as temperature control, moldability, and conforming. Our stomach sleepers were particularly interested in finding models that provide support and cushioning without excessive loft.
Keeping Your Spine Aligned While Sleeping on Your Stomach
Sleeping on the stomach is the least common position, with most sleepers spending less than 10% of their sleeping hours on their stomachs. People who sleep on their stomachs lie chest down on the mattress. Their face typically lies on the pillow or to the side with their ear touching it.
Stomach sleeping causes the sleeper's midsection to sink deeper into the mattress, often resulting in an arched back, raised upper body, and spinal misalignment. An excessively thick or firm pillow can exacerbate the issue by forcing the head up, putting pressure on the neck.
We generally recommend that stomach sleepers choose a firm mattress and a soft, low-loft pillow to avoid adverse effects. This combination helps ensure your torso does not compress into the mattress and your head remains better aligned with your spine.
Is Sleeping on Your Stomach Bad?
Our sleep experts usually advise against stomach sleeping due to its potential drawbacks. Stomach sleepers typically awake with more pain than side or back sleepers resulting from spinal misalignment and back strain. Although this position is uncomfortable for most, some may prefer it and feel no discomfort. Sleeping on your stomach can also reduce snoring and sleep apnea symptoms.
What to Look for in a Stomach Sleeper Pillow
Every sleep position requires the right pillow to achieve spinal alignment, proper support, and comfort. Stomach sleepers generally require pillows with low lofts, soft to medium firmness levels, and compressible fill to align the head, neck, shoulders, and back.
Low-profile loft: Loft refers to a pillow's thickness. It is the most important factor to consider for stomach sleepers. A low loft ensures the head and neck remain better aligned with the spine. Some stomach sleepers may prefer medium lofts depending on head size and personal preferences. High-loft pillows angle the head and neck upward, resulting in discomfort and strain.
Soft to medium firmness: Stomach sleepers usually find soft to medium firm pillows most comfortable. They easily mold to the shape and size of the head, ensuring the head remains as close to the mattress as possible for better alignment.
Compressible fill: Fill type affects a pillow's loft and firmness level. Compressible fills are fitting for stomach sleepers because they provide cushioning without too much lift. Stomach sleepers may find even higher-loft pillows comfortable if they contain easily compressible fills, such as down, down alternative, shredded latex, and shredded memory foam.
Quality materials: Higher-quality materials typically last longer, extending the pillow's usable lifespan. Lower-quality materials may go flat or get lumpy, which could be uncomfortable for stomach sleepers.
Cooling and breathability: Stomach sleepers who tend to get hot may prefer a pillow with strong temperature regulation. Pillows with ample airflow don't retain much heat. Models specially designed for cooling may also help dissipate warmth.
Shape and moldability: Moldability enables the sleeper to shape their pillow into different positions. Stomach sleepers often prefer moldable pillows that form to their heads to support good posture.
Easy to clean cover: Since the pillow cover rests near a stomach sleeper's face, regular cleaning is important. Care instructions vary. Some covers are removable and machine-washable, some pillows are fully machine-washable, and others require dry cleaning.
Best Pillow Types for Stomach Sleepers
Many types of pillows are available, but some are better for stomach sleepers than others. Pillows filled with compressible, soft material are typically well suited for stomach sleepers because of their moldability. The best materials for stomach sleepers include down, down alternative, memory foam, and latex.
Down
Down pillows contain feathers from the underbelly of waterfowl, such as ducks or geese. The fluffy fill compresses easily, meaning sleepers can squeeze the pillow to form a lower loft and keep the head and back in line. Although down is ideal for many stomach sleepers, it tends to be expensive.
Down Alternative
Down alternative pillows have a similar feel to down at a lower price. They also do not use animal products, making them hypoallergenic. Instead, they consist of synthetic material, such as polyester fibers, that mimics down. Down alternative pillows are also compressible, which is ideal for stomach sleepers.
Memory Foam
Memory foam pillows contain either a solid foam core or shredded pieces of memory foam. A solid foam core is generally firmer and less moldable, so we recommend only lower-loft options for stomach sleepers. Shredded memory foam pillows are more compressible, making them well suited to stomach sleeping.
Latex
Latex pillows consist of either natural, synthetic, or blended latex, though natural is most common. Like memory foam pillows, latex pillows are available with solid or shredded fill. A thin solid latex pillow can provide contouring and support for stomach sleepers, whereas a shredded latex pillow is more compressible.
What Should Stomach Sleepers Avoid?
Stomach sleepers should avoid several types of pillows and mattresses. Certain firmness levels and lofts can result in spinal misalignment. Stomach sleepers prone to overheating should also avoid materials that trap body warmth.
| Avoid When Stomach Sleeping | Description |
| --- | --- |
| Firm Pillows | Firm pillows do not compress as easily under pressure, which can lift the head above a neutral position and cause spinal misalignment. A soft pillow's greater compression generally promotes better posture. |
| Tall Pillows | High-loft pillows lift the head above the back, causing the neck to crane. Low-loft pillows are optimal for stomach sleepers because they keep the head, neck, shoulders, and back better in line. |
| Pillows Lacking Support | Pillows lacking support allow the head to sink, potentially allowing it to dip below the torso if the mattress is firm. |
| Heat-Trapping Materials | Stomach sleepers who sleep hot should avoid materials that retain warmth. We recommend breathable materials that allow airflow, like cotton, latex, and buckwheat hulls. Cooling features, such as gel infusions, may also improve temperature regulation. |
| Soft Mattresses | Soft mattresses allow stomach sleepers' midsections to sag into the mattress, resulting in poor alignment. The head and upper body remain lifted, which can force the lower back into an uncomfortable U shape. |
Do You Need a Pillow for Sleeping on Your Stomach?
Some stomach sleepers prefer a low-loft, soft, and compressible pillow, while others prefer to sleep with no pillow. Before deciding what's best for you, it's important to understand the potential pros and cons of skipping the pillow.
Some stomach sleepers find sleeping without a pillow improves their posture, relieves neck and back pain, and prevents wrinkles and hair damage. However, others feel that sleeping without a pillow impairs posture, worsens neck and back pain, and hinders breathing.
Tips for Sleeping on Your Stomach
Additional factors can help stomach sleepers prepare for a healthy night's rest. Maximize your sleeping position by observing the following tips.
Use a Firm Mattress: Soft mattresses typically let the hips sink into the mattress more deeply than the rest of the body, resulting in spinal misalignment. A firm mattress ensures the lower and upper body remain in a neutral and aligned position, especially when combined with a soft, low-loft pillow.
Consider an Adjustable Pillow for Combination Sleepers: Very few people sleep on their stomachs all night, every night. With an adjustable pillow, combination sleepers can increase or decrease the loft and firmness depending on their sleeping position.
Try a Pillow Under Your Pelvis: Consider placing a pillow under your pelvis while sleeping on your stomach. The pillow lifts the lower body, supports the hips, and promotes spinal alignment. This may be particularly beneficial for stomach sleepers with soft or medium mattresses.