For people with sleep apnea, continuous positive airway pressure (CPAP) therapy can help alleviate symptoms by delivering pressurized air to keep the upper airway open during sleep. However, a common side effect of wearing a CPAP mask is facial irritation from the mask cushion sealing against the skin. CPAP mask liners, which are generally made of soft fabric, may help reduce skin abrasions and improve the feel of a CPAP mask.
We'll explore different types of liners and how they work to improve therapy comfort. We'll also provide our picks for the best CPAP mask liners in several categories.
Sleep Doctor's picks
Shop Now
Shop Now
Shop Now
RespLabs CPAP Mask Liners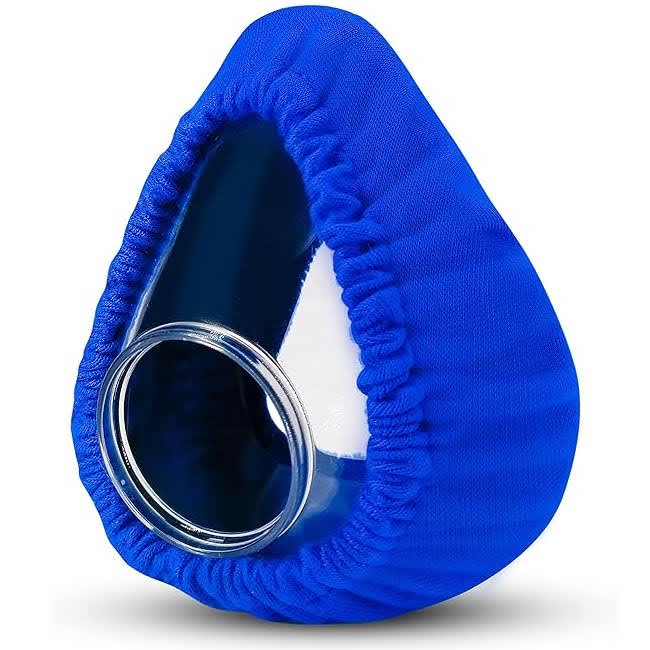 Cotton blend feels soft and stretchy
Available for full-face and nasal CPAP masks
Comes in a four-pack
Reusable design requires frequent cleaning
Fits most but not all CPAP masks
Sleep Doctor's take
RespLabs CPAP Mask Liners check all the boxes for a simple yet effective mask liner. The cotton blend design is soft to the touch and protects sensitive skin from irritation that can occur from wearing a CPAP mask all night. It's also easy to use and fits most full-face and nasal CPAP masks.
---
Why we like it
This CPAP mask liner features a simple design to enhance your CPAP comfort. Available in full-face and nasal options, the RespLabs CPAP Mask Liner works well with a wide range of CPAP masks on the market. The reusable design is cost-effective and helps improve the hygiene and longevity of your CPAP mask.
RemZzzs Nasal CPAP Mask Liner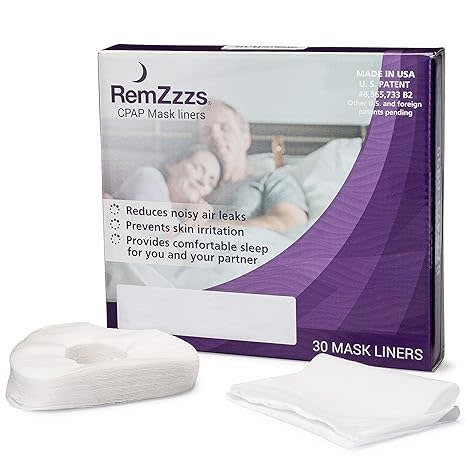 Made from 100% cotton
Convenient disposable design
Soft and breathable
Disposable style may be more costly over time
Some sleepers may prefer a thicker liner
Sleep Doctor's take
These cotton mask liners from RemZzzs are designed for use with nasal CPAP masks. Each package comes with 30 liners, with subscription options available for convenient auto-delivery.
---
Why we like it
The disposable style of this RemZzzs mask liner offers convenience, as there is no cleaning or maintenance required. This thin liner is also a great choice for people who use overnight beauty products on their face.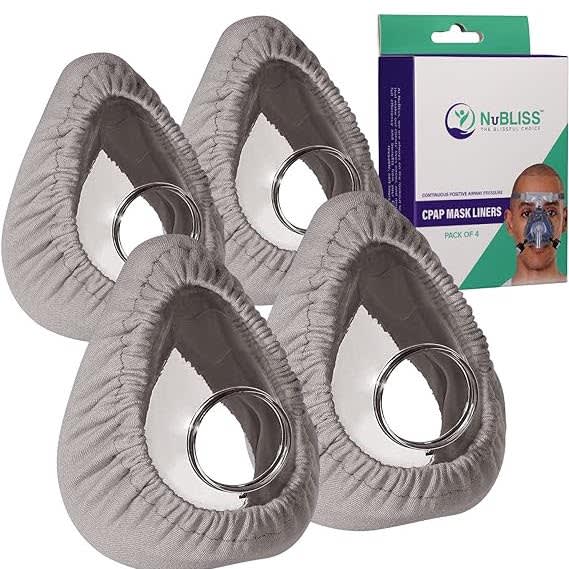 Sold in a four-pack
Comes in gray and blue
Flexible fabric fits most CPAP mask styles
Might need to be cut to size depending on the mask model
May lose stretchiness over time
Sleep Doctor's take
NuBliss CPAP Mask Liners offer supple softness to protect your skin and improve your CPAP therapy experience. The blend of nylon and spandex is also remarkably stretchy, allowing these liners to mold to the shape of most CPAP masks.
---
Why we like it
Incredibly soft and stretchy, the NuBliss CPAP Mask Liners are compatible with a wide range of mask types. These liners are reusable, making them a cost-effective option.
How we make our picks
Our picks consider brand reputation, product longevity, features, and real user experiences. Our aim is to balance our expertise with accessibility, guiding you toward products that help improve your CPAP therapy experience.
What are CPAP mask liners?
CPAP mask liners are soft, hypoallergenic pieces of fabric designed to enhance comfort and minimize skin irritation while using a CPAP mask. Constructed from gentle materials, such as cotton or moisture-wicking fabric, these liners are designed to create a barrier between the mask and your skin to reduce friction, prevent irritation, and absorb moisture.
Types of CPAP mask liners
CPAP mask liners come in two main types: reusable and disposable. Reusable liners are washable and made from durable materials for extended use. Disposable liners are designed for one-time use, offering convenience. Both types provide a protective barrier to enhance comfort during CPAP therapy.
| | Reusable mask liners | Disposable mask liners |
| --- | --- | --- |
| Benefits | Environmentally friendly choiceCost-effective over timeDurable and long-lasting | ConvenientIdeal for travel or occasional useNo washing required |
| Drawbacks | Require regular washingHigher initial investment | Higher cumulative cost over the long runMay not suit eco-conscious users |
What are the benefits of using CPAP mask liners?
CPAP mask liners offer a range of potential advantages, including reduced skin irritation, minimized pressure marks, and improved comfort. While the right mask liner may improve mask seal, a model that's incompatible with your mask may lead to increased air leaks.
Adds a layer of comfort: CPAP mask liners create a soft barrier between your skin and the mask, adding cushioning that may reduce friction and result in a more comfortable CPAP therapy experience.
Keeps the mask clean: CPAP mask liners absorb sweat and body oils, acting as a protective layer that prevents these substances from accumulating on the mask.
Protects skin: CPAP mask liners act as a gentle buffer, preventing direct contact between the mask and your skin. This safeguard shields against potential irritation.
May help prevent air leaks: CPAP mask liners may contribute to a secure mask fit by minimizing gaps and creases. Though not every liner will work with every mask, the right CPAP mask liner may help reduce air leaks.
Wicks away moisture: Many CPAP mask liners feature moisture-wicking properties, effectively managing moisture buildup and keeping your CPAP mask dry.
Where can CPAP mask liners be purchased?
CPAP mask liners are available both online and in select stores catering to medical supplies and sleep health. When purchasing online, you'll find a wide variety of options, offering convenience and the chance to read user reviews. In-store purchases are often preferred by those who value hands-on experience and personalized guidance.
Are prescriptions required for CPAP accessories?
Unlike prescription-only CPAP machines and other devices used to treat sleep apnea, accessories like mask liners can be purchased without a prescription.
How much do CPAP mask liners cost?
The cost of CPAP mask liners varies depending on factors like brand, type, and quantity. Generally, reusable liners range from $10 to $30 each, while disposable liners cost around $1 to $3 per liner.
Frequently asked questions
How often should CPAP mask liners be changed?
The replacement frequency of CPAP mask liners depends on whether they're reusable or disposable. Reusable liners can typically last a few weeks to a few months with proper care, while disposable liners are meant for one-time use and should be replaced after each use.
What are the benefits of CPAP mask liners?
CPAP mask liners offer numerous potential advantages, including improved comfort by reducing skin irritation, protection against pressure points, and enhanced mask seal.
Are reusable CPAP mask liners better than disposable liners?
The preference between reusable and disposable CPAP mask liners depends on an individual's needs. Reusable liners are more eco-friendly and cost-effective over time, while disposable liners offer convenience and no maintenance.