A continuous positive airway pressure (CPAP) machine delivers pressurized airflow while you sleep to keep your airway open. CPAP therapy is commonly prescribed for people diagnosed with sleep apnea and other sleep-related breathing conditions.
Filters are an integral part of a CPAP system, helping keep out contaminants such as dust or mold before they reach your lungs. A clean filter also helps ensure proper functioning of the machine and may extend its lifespan.
The two principal types of CPAP filters are reusable filters and disposable filters. Reusable filters excel at trapping larger particles such as pollen or animal dander, while disposable filters target smaller particles like smoke.
We'll explore how CPAP filters work and factors to consider when selecting a filter, including your personal needs and your CPAP machine model. We'll also share our recommendations for the best CPAP filters available today.
ResMed AirCurve and AirSense 10 Replacement Filters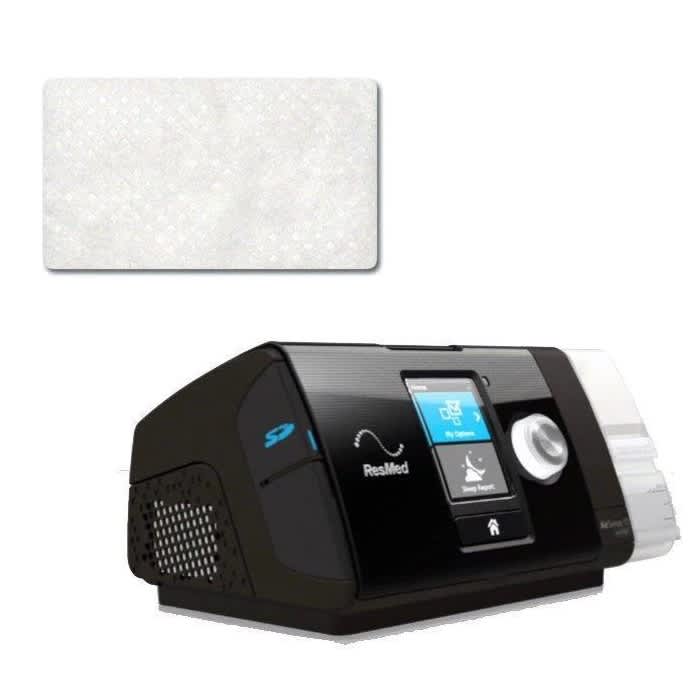 Price: $6

Filter type: Disposable

What's included: 2 filters

Replacement schedule: Monthly
Affordable price
Compatible with several ResMed devices
Subscription available
Designed exclusively for ResMed users
Not washable
Not intended to trap the smallest particles
Sleep Doctor's take
ResMed AirCurve and AirSense 10 Replacement Filters are designed to keep out mold and other allergens while you sleep. These replacement filters come in a convenient two-pack.
---
When purchased through Sleep Doctor, the filters are available as a one-time purchase or you can opt for a subscription plan and have two filters delivered every 60 days at a slight discount.
ResMed disposable filters are designed for monthly replacement, though the company recommends checking them at least every two weeks to ensure they are still performing optimally. These filters are designed to be used with the ResMed AirSense 10 and AirCurve 10 series, including the AirCurve 10 VAuto BiPAP machine, the AirSense 10 AutoSet, and the AirCurve 10 ASV device.
ResMed Replacement Fine Filters for AirMini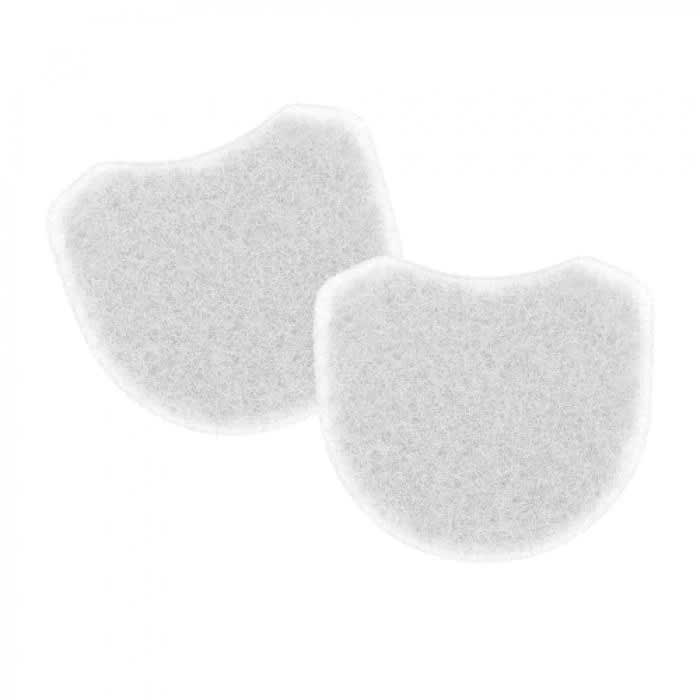 Price: $8

Filter type: Disposable

What's included: 2 filters

Replacement schedule: Monthly
Specifically designed for the ResMed AirMini portable CPAP machine
Fine mesh designed to keep out smaller particles
Subscription available
Slightly higher price-point
Only compatible with the AirMini CPAP device
Cannot be washed
Sleep Doctor's take
Made of polyester fiber, these filters are crafted to fit seamlessly with the ResMed AirMini device. This portable CPAP machine is ideal for use when traveling.
---
While ResMed recommends replacing its disposable filters monthly and checking them every two weeks for wear or clogging, the filters may last longer if the machine is only used occasionally while traveling.
Sleep Doctor sells the filters in a two-pack that's available as a one-time purchase or as part of a subscription plan with automatic delivery every six months.
Transcend 3 Somnetics Filter Assembly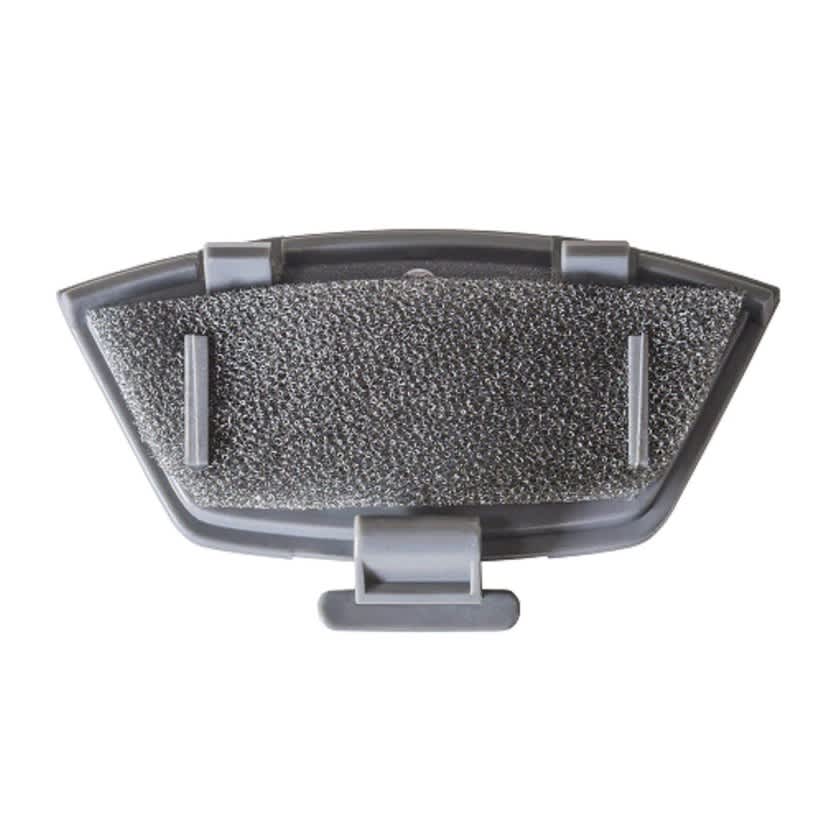 Price: $6

Filter type: Reusable

What's included: 1 filter assembly

Replacement schedule: Every 6 months
Three-month or six-month delivery available
Competitively priced
Sold with filter mount
Designed to trap larger particles only
Only compatible with the Transcend 3 device
Sold as entire filter assembly, adding unnecessary waste
Sleep Doctor's take
Made of foam and mounted on a specially shaped plastic holder, the Transcend 3 Somnetics Filter Assembly is a reusable filter engineered to trap allergens before they reach your airway.
---
In contrast to other manufacturers who sell just the foam filter, Transcend has opted to sell this filter together with the mount. This makes replacement easy, since all you need to do is remove the entire piece and slot the new one in its place.
The filter only needs replacing every six months, although you should check it periodically and replace it earlier if you notice the foam starting to break down.
If purchased through Sleep Doctor, you can choose a one-time purchase for this filter or sign up for a subscription, with delivery every three or six months.
Luna CPAP and APAP Replacement Filter
Price: $5

Filter type: Disposable

What's included: 2 filters

Replacement schedule: Every 2 weeks
More effective at fine particle filtration than the standard Luna reusable filter
Better option for those sensitive to tobacco smoke
Available in a convenient two-pack
Higher ongoing cost compared with Luna reusable filters
Not washable
Requires more frequent replacement
Sleep Doctor's take
If you have a Luna CPAP or APAP machine, you can choose between the standard reusable filter or a disposable alternative. These disposable filters feature a finer composition capable of trapping smaller particles in order to deliver cleaner air.
---
While many PAP machines are designed specifically for use with a disposable or a reusable filter, Luna manufacturer React Health (formerly 3B Medical) gives users the choice between either option. While these disposable filters require more frequent replacement, they don't need to be washed.
Sunset Resvent iBreeze Replacement Air Filters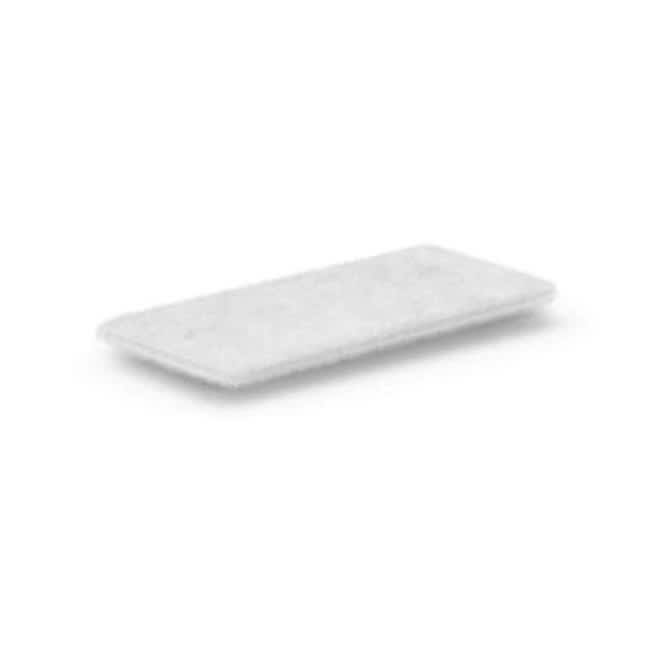 Price: $6

Filter type: Disposable

What's included: 1 filter

Replacement schedule: Every 2 to 4 weeks
Easy to install
No need to clean
Compatible with both CPAP and BiPAP Resvent models
Only one filter per pack
Higher price-point than other disposable filters
Not washable
Sleep Doctor's take
This disposable air filter helps keep out major allergens and irritants. With an easy-to-use design featuring a simple rectangular shape, it's a great option if you use a Resvent CPAP or BiPAP machine.
---
As a disposable filter, this model should be replaced at least once per month, or sooner if it shows signs of discoloration. Since it's white, it should be easy to see if the filter has accumulated residue.
What does a CPAP filter do?
As a CPAP machine pulls in air from the environment, CPAP filters help eliminate particles such as dust, pollen, animal dander, mold, and smoke from the air before it gets into the tubing and CPAP mask. The filter is an essential part of the CPAP machine, and a dirty filter can raise the risk of sickness or allergy symptoms, as well as shorten the device's lifespan.
What types of CPAP filters are available?
Standard CPAP machine filters come in two types: reusable or disposable. Most devices use just one type of filter, while some have a dual filtration system that allows you to use both simultaneously.
Reusable filters tend to consist of a thicker foam piece that traps larger particles, such as pollen. Disposable filters are made of thin, paper-like mesh material that holds an electrostatic charge to attract tiny particles.
Disposable filters
Easier to keep clean
Keep out smaller particles
Cost of buying disposable filters can add up over time
Cannot be cleaned
Reusable filters
Less frequent replacement schedule, meaning lower maintenance costs
Tend to generate less waste
Must be cleaned regularly
May not trap the smallest particles
In-line bacteria filters are an optional addition to CPAP machines. In-line filters, which typically attach between CPAP tubing and the machine's air outlet, are designed to lower the risk of infection from bacteria. They are sometimes recommended for devices with a heated humidifier.
Shop the Best CPAP Masks
How to choose a CPAP filter
Manufacturers often provide strict instructions for choosing a CPAP filter, as not all filters are compatible with a given device. However, within the limits of these recommendations, you should consider your own needs regarding factors like price, material quality, and how sensitive you are to allergens.
CPAP filter considerations
Filter type
Disposable, reusable, and in-line bacteria filters are each designed to trap a different type of contaminant. Depending on the compatibility with your CPAP machine, you may be able to choose the filter or filters that are most relevant to you.
Compatibility
Many CPAP machines have proprietary filters, which are the only ones that work with the device. Check the manufacturer's guidelines to make sure your filter is compatible. Even if a filter has the same shape, using generic models or other brands may cause the filter to work ineffectively and may harm the machine.
Price
Disposable filters are usually cheap, but the cost of buying them every few months can add up over time. Some insurance plans may cover the cost of these and other CPAP replacement parts. Alternatively, you may be able to sign up for a subscription plan and save a small percentage on the cost per filter.
Allergens
Reusable CPAP filters are generally designed to keep out major allergens, such as pollen, dust, and animal dander. If you are particularly sensitive to smaller airborne contaminants such as smoke, consider a machine that uses a reusable filter, which is engineered to catch smaller particles.

People prone to sinus or respiratory infections may want to consider adding an in-line bacteria filter.
Material quality
Whereas reusable filters often feature thicker foam to absorb particles, disposable filters may use thin paper or synthetic fiber to attract smaller contaminants.

The user guide may state the minimum particle size the filter is capable of trapping, with reusable models generally filtering particles down to 7 microns and disposable filters trapping particles as small as 0.5 microns.
How often should you replace your CPAP filter?
Generally, disposable filters need replacing twice a month and reusable filters should be replaced twice a year. In-line bacteria filters generally need to be replaced once per month. Each manufacturer has its own recommended replacement schedule, so be sure to check the instructions for your model.
Worn or dirty filters cannot clean the air as efficiently, which leaves CPAP users susceptible to airborne contaminants. A clogged filter may also cause the machine to overheat, which can cause damage to the machine or affect the way it works.
| CPAP filter type | Replacement timeline |
| --- | --- |
| Disposable filters | 2 weeks |
| Reusable filters | 6 months |
| In-line filters | 1 month |
Signs your CPAP filter should be replaced
You may need to change your CPAP filter ahead of schedule if you notice any of these signs:
Holes, tears, discoloration, or visible debris on the filter
Signs of wear, such as the foam breaking down
Louder noise than usual
Irritated nose, throat, or eyes
Warmer-than-usual airflow
Ineffective CPAP therapy
Households with cigarette smoke, pet dander, or other sources of contaminated air, such as being located in a polluted area, may find that CPAP filters need replacing more frequently than usual.
If you're using an in-line bacteria filter, you should also check it frequently to make sure there is no moisture buildup, as this could affect the air pressure.
Where to buy CPAP filters
Many online retailers offer CPAP filters for one-time purchase or as part of a subscription plan. Your CPAP manufacturer may be able to direct you to a third-party supplier. CPAP filters are also sold in physical stores such as Walmart or specialty CPAP supply stores.
Does insurance cover CPAP filters?
Medicare covers up to two disposable filters per month or one reusable filter every six months. Coverage under Medicaid or other insurance plans may vary. Before purchasing CPAP filters, confirm eligibility and the filter replacement schedule with your plan provider.
Can an FSA or HSA be used to buy CPAP filters?
As a necessary component of CPAP supplies, filters should qualify for purchase through a flexible spending account or health savings account. Check with your plan provider before allocating funds for this use.
Frequently asked questions
How much do CPAP filters cost?
Reusable filters cost around $6 to $20, while disposable filters generally run between $2 and $6 per unit. In-line bacteria filters may set you back around $5. Buying more than one filter at a time may lower the cost per filter.
How do you clean a reusable CPAP filter?
To clean a reusable CPAP filter, unplug the machine, locate the filter door on the back or side of the machine, and remove the filter. Wash the filter under running water or with mild soap and warm water, then gently shake or squeeze out the excess water. Let it dry fully before reassembling the filter and inserting it back into the machine. 

You should repeat this cleaning process at least once a week. Check the user guide for cleaning instructions specific to your model.
Can you use a CPAP machine without a filter?
CPAP machines should not be used without a filter. Since the device takes air from the surrounding environment, the filter is important for removing contaminants before you inhale them, and for ensuring the proper functioning of the machine.