Tubing is an essential part of continuous positive airway pressure therapy that funnels pressurized air from the CPAP machine to the mask. CPAP tubing comes in standard or heated options, and it usually measures at least 6 feet to allow freedom of movement while sleeping.
We'll share our picks for the best CPAP hoses on the market today. We'll also discuss different types of tubing, cleaning and replacement timelines, and compatibility with CPAP machines.
Sleep Doctor's picks
Shop Now
Shop Now
Shop Now
Sunset Standard CPAP Tubing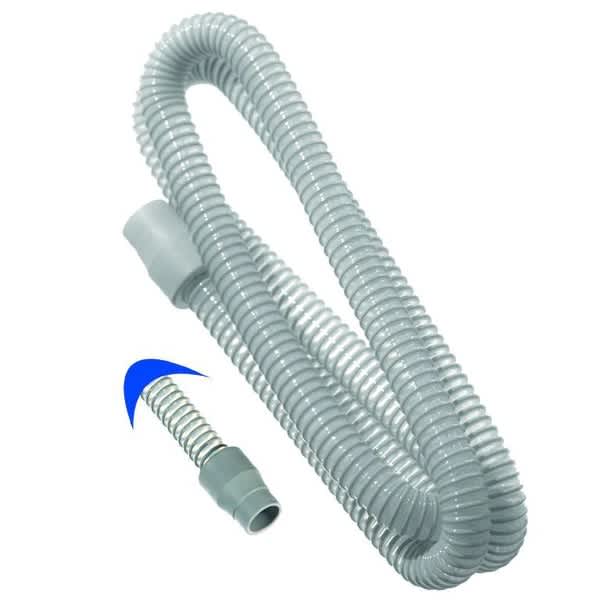 Price: $5-$10

Hose length: 6 ft., 8 ft.,10 ft.

Diameter: 19 mm
Works with a wide range of CPAP and BiPAP machines
Three tube lengths available
Economical price-point
No heated option
Somewhat bulky
May be incompatible with devices designed for 15-millimeter slim tubing
Sleep Doctor's take
Sunset Standard CPAP Tubing is made to fit a variety of CPAP models. This economical CPAP hose features a standard cuff size and is available in three different lengths.
---
Sunset Standard CPAP Tubing is engineered to fit the majority of CPAP and BiPAP machines. Offered in 6-, 8-, or 10-foot options, this latex-free tubing has an interior diameter of 19 millimeters.
Why we like it
While smooth on the inside for unimpeded airflow, the outside of the tubing has a corrugated surface that bends easily and resists kinking when you change sleeping positions. The tubing clips quickly onto your CPAP machine and mask using a rubber cuff with a standard 22-millimeter diameter.
A subscription option is available when purchased through Sleep Doctor, with delivery every three or six months and a slight discount off the individual purchase price.
Best for AirSense 11 Machines
ResMed ClimateLineAir 11 Heated Tubing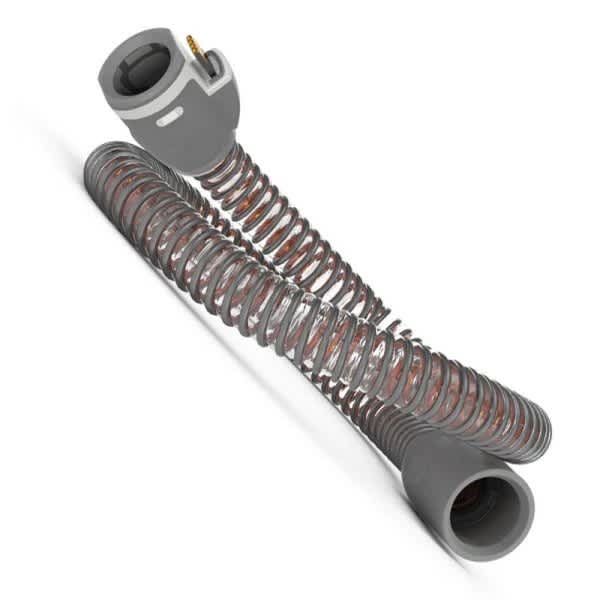 Price: $46

Hose length: 6 ft., 6 in.

Diameter: 15 mm
Built-in sensors regulate temperature
Swivel connector helps reduce mask leaks
Heated tubing helps guard against condensation
Only compatible with ResMed AirSense 11 machines
One size only
Fairly pricey
Sleep Doctor's take
ResMed's ClimateLineAir Heated Tubing works seamlessly with the humidifier to counteract many of the most common CPAP side effects, such as a dry nose or sore throat. Designed for the AirSense 11 machine, this slim tubing offers a temperature range of 60 to 86 degrees Fahrenheit.
---
This tubing has a 15-millimeter diameter and a 22-millimeter rubber cuff. The slim design is more lightweight than standard CPAP tubing, which may appeal to active sleepers or those who frequently travel with their CPAP machine. The total length measures 6 feet, 6 inches.
Why we like it
ResMed's ClimateLineAir Heated Tubing has a built-in climate control feature that maintains automatic heating and humidity settings when combined with the HumidAir heated humidifier. You can rely on the integrated sensors to determine the optimal settings or set them manually.
Sleep Doctor customers can opt for a subscription plan, with delivery every six months and a small discount off the cost per unit.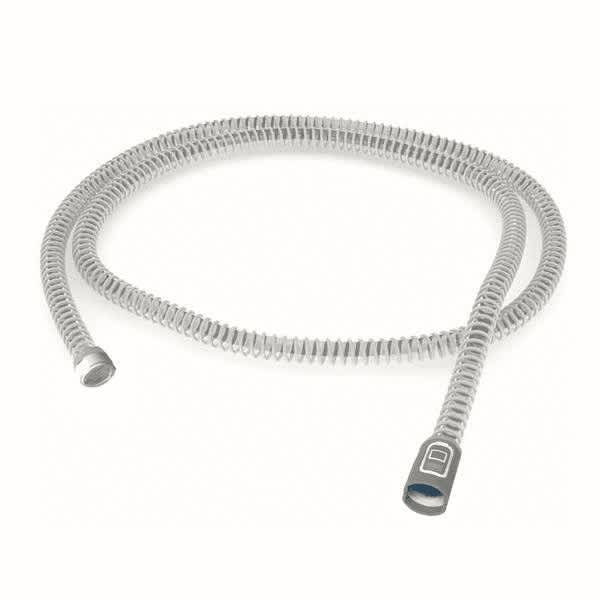 Price: $37

Hose length: 6 ft., 3 in.

Diameter: 15 mm
Lightweight and minimalist design perfect for traveling
Can be used with multiple ResMed nasal and full-face masks
Easy-to-use connectors
Not heated
Compatible with AirMini machine only
Above-average price for unheated tubing
Sleep Doctor's take
The AirMini Tubing from ResMed has a slim, travel-friendly design. It's engineered to work with the AirMini travel device, with clips that attach effortlessly to the mask.
---
Measuring 6 feet, 3 inches, with a 15-millimeter diameter, this flexible tubing adapts to sleepers' movements. Given that it's thinner than standard CPAP hoses and has a flexible corrugated design, combination sleepers should have no trouble switching positions.
Why we like it
Specially designed for the ResMed AirMini, the tubing clips snap easily into the mask or mask connector. The tubing is not heated, but it's designed to work with HumidX and HumidXPlus waterless humidification systems.
How we make our picks
There are many personal factors to take into consideration when choosing CPAP products, as therapy needs vary from person to person. Since many CPAP tubing models only work with specific CPAP machines, we take into account which machines are most commonly used so our picks will be relevant for a larger audience. We round out the process with extensive research and thorough vetting of user reviews and brand reliability.
CPAP hoses come in unheated or heated designs. While some CPAP machines are compatible with either type, some models require proprietary tubing that may be unavailable in a heated version.
Hose type
Description
Benefits
Drawbacks
Standard hose
Generally made from plastic or an elastomer material, standard CPAP tubing has an attachment at each end for the mask and the CPAP machine.

Easier to care for
More economical

Not as effective at reducing CPAP side effects like nasal irritation
May allow condensation when used with a CPAP humidifier in colder climates

Heated hose
The main purpose of heated CPAP tubing is to reduce CPAP side effects and rainout, which occurs when humidified air forms condensation in colder tubing.

May reduce dry nose and other CPAP side effects
Minimizes the risk of rainout

More expensive
May be harder to clean
Types of CPAP hose accessories
There are a number of optional accessories available that can help you manage your CPAP tubing.
Hose cover: Usually made of cloth or another insulating material, a hose cover keeps the tubing warm to prevent condensation from forming on the inside. Hose covers are especially useful in colder climates, although most people prefer to use heated tubing since it serves the same function.
Hose clips and holders: Because CPAP tubing is often quite long, hose clips and holders may be convenient to keep it out of the way and prevent it from getting tangled while you sleep. Quick-release clips to detach the mask from the tubing can also be useful during nighttime bathroom trips.
Hose stand: A hose stand extends above the bed or clips onto the headboard, supporting the hose so it doesn't disturb you. Hose stands can reduce the risk of mask leaks from the tubing pulling on the mask, which may be especially common for side or stomach sleepers.
Hose cleaning brush: Hose cleaning brushes feature soft bristles mounted on a long piece of flexible stainless steel, which you insert inside the tubing to clean it more thoroughly.
Shop the Best CPAP Masks
How to choose a CPAP hose
Important factors to consider when buying CPAP tubing include the design, the price and warranty, and whether the model is compatible with your CPAP mask and machine.
CPAP hoses
Length and diameter
The standard length for a CPAP hose is approximately 6 feet. This length allows enough room for most people to move in bed, without being excessively long and prone to tangling. While active sleepers may prefer a longer hose, shorter hoses usually do a better job of delivering humidity, as there is less distance to travel.

In terms of inner diameter, most CPAP hoses measure either 19 or 15 millimeters. Standard 19-millimeter hoses are compatible with the majority of CPAP machines. The slimmer 15-millimeter design is more lightweight, but it may not work with machines that have auto-adjusting pressure features.

Verify which diameter is compatible with your machine and mask before deciding on tubing.
Device compatibility
While many CPAP hose models are made to fit a variety of CPAP machines and masks, others are proprietary to specific machines. A cuff measuring 22 millimeters in diameter is considered standard and is most likely to fit a wide array of CPAP machines and masks.
Price
The price for CPAP tubing ranges from $5 to $35, or from $30 to $75 for heated tubing. You might pay extra for longer tubing or a proprietary hose.

When deciding if you want to pay more for extra features, remember that CPAP tubing needs to be replaced regularly and represents an ongoing cost.
Weight
A CPAP hose should be light enough that it's easy to maneuver, but heavy enough so it stays in place and doesn't move excessively during the night. Heated tubing includes coils, which may increase the weight.

While heavier hoses may be more durable, active sleepers and people who travel frequently may lean toward lightweight tubing.
Warranty
Although CPAP hoses are meant to be used for less than a year, manufacturers may offer a short warranty to protect customers against manufacturing and workmanship defects. If you can't find information online, ask your supplier or contact the manufacturer directly.
Every day when you wake up, you should disconnect the tubing, check to make sure no moisture has accumulated, and hang it to dry on a towel rack or similar structure. The tubing should be fully dry before you reattach it to the machine. Be sure to disconnect the tubing via the cuff instead of pulling on the tube itself.
Once a week, thoroughly clean the tubing using mild, scent-free soap and warm water, or immerse it in a vinegar and water bath. Swirl the water inside the hose to eliminate any residue, rinse off the soap or vinegar, and hang to dry.
You can also purchase a specialty CPAP tube cleaning brush, which is attached to a flexible wire. This design enables it to reach all the way into the hose and scrub off residue that may be trapped inside.
Some CPAP hoses may have specific cleaning recommendations. Check the user manual for instructions on how to clean your specific tubing.
How to clean a heated CPAP hose
While many heated hoses can be cleaned using the same methods as an unheated model, check the user manual to make sure it's OK to submerge the end that connects to the machine in water. As with standard tubing, ensure the hose is fully dry before reconnecting it to the machine and mask.
How often should you clean your CPAP hose?
You should check your tubing daily for moisture buildup and allow it to dry before using it again. Once a week, thoroughly clean the tubing with mild soap and warm water. It is important to clean the tubing regularly so it doesn't turn into a breeding ground for mold and bacteria.
Where to buy a CPAP hose and other supplies
You can purchase tubing and other CPAP supplies through durable medical equipment providers and specialty CPAP stores, both online and in physical locations. Because they specialize in sleep products, these sources can offer guidance on how to choose the right tubing for your machine.
Most CPAP hoses do not require a prescription, so it's also possible to buy them through Amazon and other general retailers. Since tubing needs to be replaced on a regular schedule, it may be more efficient and cost-effective to sign up for a subscription plan with home delivery.
Do you need a prescription for CPAP tubing and other CPAP supplies?
Standard CPAP tubing and many other CPAP supplies can be purchased without a prescription. By contrast, you need a prescription to purchase a CPAP machine, a complete mask, and some models of heated or proprietary tubing.
Does health insurance or Medicare cover CPAP tubing?
Insurance coverage for CPAP accessories depends on the plan provider. Major insurers like Medicare typically cover a portion of therapy costs as long as machine usage data shows that you meet their standards for therapy compliance.
Per Medicare guidelines, both standard and heated tubing may be replaced every three months. Replacement schedules for state Medicaid and private insurance plans may vary.
Frequently asked questions
Are all CPAP hoses the same?
Most CPAP hoses share the same basic design, but they may have subtle differences in the length, diameter, and cuff style. Additionally, some hoses are simply functional air delivery systems, while others offer heating features to help prevent condensation and improve therapy comfort.
Can you use a CPAP hose with any mask?
Not all hoses work with every CPAP mask or machine, so it's crucial to double-check compatibility before buying new tubing. Hosing is more likely to be compatible if it has a 19-millimeter interior diameter and a 22-millimeter cuff connector.
How often should you replace your CPAP hose?
Replacement schedules for CPAP hoses vary depending on the manufacturer and the type of tubing. While Medicare guidelines allow for replacement every three months, some manufacturers and retailers suggest purchasing new tubing once or twice a year.

Always replace your tubing if you notice discoloration, cracks, holes, or other signs of damage. Keeping your gear in top condition can help ensure you don't experience air leaks.
Who is a heated CPAP hose best for?
Heated tubing can help with CPAP side effects like a dry nose and mouth or a stuffy or runny nose. Doctors typically recommend using a humidifier, heated tubing, or both to address these side effects. If your bedroom is on the cooler side, heated tubing may help prevent excess condensation from forming in your hose and mask if you use a CPAP humidifier.