Continuous positive airway pressure (CPAP) machines are used to treat episodes of shallow or halted breathing in people with sleep apnea. By delivering a steady stream of pressurized air through a hose and a mask, CPAP machines are designed to normalize a sleeper's breathing patterns by keeping their airway open.
Most CPAP machines are compatible with CPAP batteries as an alternative power source when electrical outlets aren't available. Portable batteries also help CPAP users continue treatment when traveling or during a power outage.
Choosing a battery can be overwhelming for first-time shoppers, so we'll share our favorite models to help you with your search. Our picks for the best CPAP batteries are based on extensive research, customer testimonials, and compatibility with popular machines. We'll also cover the fundamentals of CPAP batteries, from device compatibility to charge capacity.
Sleep Doctor's picks
Shop Now
Shop Now
Shop Now
Sunset Portable Outlet UPS CPAP Battery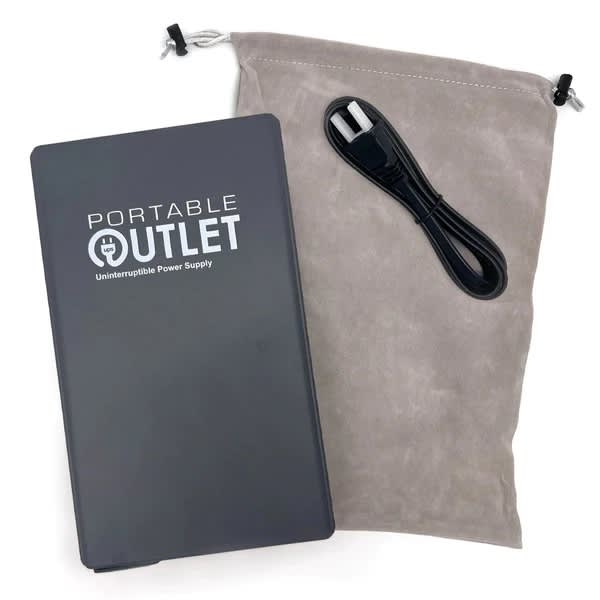 Average run time is 10 to 14 hours
Compatible with popular CPAP machines
TSA and FAA compliant for air travel
Frequent flyers
People who live in areas with unreliable power
Those who own both an at-home and a travel CPAP machine
The Portable Outlet UPS CPAP Battery from Sunset Healthcare Solutions is designed for compatibility with positive airway pressure (PAP) devices sold in North America that use a standard AC power cord. This includes CPAP machines as well as automatic positive airway pressure (APAP) and bilevel positive airway pressure (BiPAP) devices. Users simply plug their machine's existing power cord into the battery's AC port without the need for an adapter.
The UPS battery, which stands for uninterruptible power supply, has an average run time of 10 to 14 hours, though the charge duration decreases if using high pressure settings or a CPAP humidifier. The battery's charging cord connects to standard wall outlets, so an extra adapter isn't needed to recharge it. Two USB slots let you charge other devices simultaneously.
The battery takes about four hours to charge. Its indicated lifespan is more than 500 charge cycles. An optional solar panel can charge the battery and is sold separately. Sunset also makes a DC-to-AC inverter to connect the battery to a car's 12-volt socket.
In addition to working as a travel CPAP battery, the Portable Outlet UPS CPAP Battery can serve as protection against power outages at home. The battery can function as a conduit between a wall outlet and your CPAP machine, automatically taking over if power is interrupted. A color display keeps track of the power percentage.
The Portable Outlet UPS CPAP Battery includes free shipping in the contiguous U.S. when purchased from Sleep Doctor. A one-year limited warranty covers manufacturing defects.
Best for Transcend 365 Machines
Transcend P10 Battery for 365 miniCPAP Auto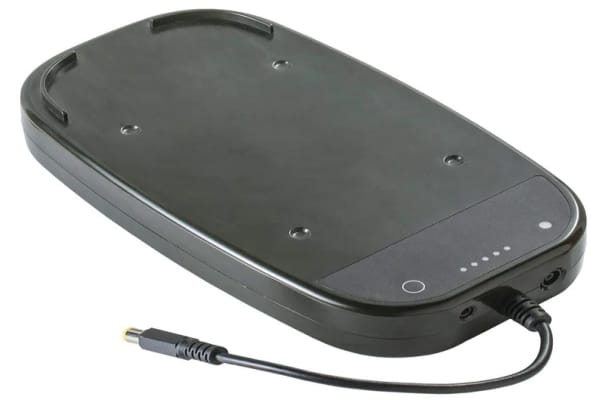 Price: $369

Dimensions: 8.5″ x 4.4″ x 1.1″

Weight: 1.55 lbs.
26-hour average run time without humidification
5.8-hour average run time with humidification
Automatically powers on during electrical outages
People who own the Transcend 365 miniCPAP Machine
Those looking for a battery with a long run time
Avid travelers
The compact Transcend P10 Battery is compatible with the Transcend 365 miniCPAP Machine. It sits directly below the machine and adds very little weight and volume. When running the machine with the pressure set at 12 centimeters of water pressure (cm H2O), the battery life is about 5.8 hours when using humidification and up to 26 hours without humidification.
The battery is a reliable power source if the electricity goes out or when outlets are scarce. It automatically powers on during an outage and then starts recharging when electricity returns. The battery's charge capacity is approximately 300 cycles. The recharge time is about seven hours. The AC power supply cord is sold separately.
The Transcend P10 Battery is approved by the Federal Aviation Administration for in-flight use, and the longer run time is great for extended flights. It weighs just over 1.5 pounds and is about 8.5 inches long, so it won't occupy much space in your carry-on bag.
Purchasers in the contiguous U.S. receive free shipping from Sleep Doctor. A nine-month manufacturer's limited warranty is valid for the original purchaser.
Breas Z2 and Z1 CPAP PowerShell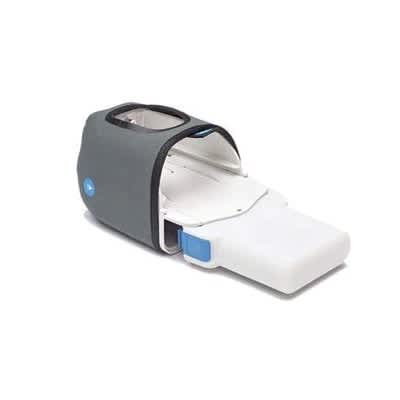 Price: $449

Weight: 15.5 oz
Small and lightweight design
Run time of one to two nights
Expected battery life is 300 cycles
Those with Breas Z1 or Z2 travel CPAP machines
CPAP users who take long road trips or flights
People who prefer minimal accessories
The Breas PowerShell with Extended Life Battery is a lightweight charging station for Z1 and Z2 travel CPAP machines. Both the machine and the battery's plastic shell fit securely into a soft neoprene case to form one minimalist unit.
Depending on pressure settings, most CPAP users will have one to two nights of uninterrupted therapy when the battery is fully charged. The average run time is around nine hours when operating a Z1 or Z2 device at its highest pressure setting of 20 cm H2O. The lower the pressure setting, the longer the battery lasts.
The PowerShell unit can be plugged into an electrical outlet to recharge the battery. The CPAP machine must be inserted in the PowerShell in standby mode during the recharging process. It takes about 12 hours to charge a fully depleted battery. The battery's expected lifespan is 300 cycles.
Purchases from Sleep Doctor include free shipping within the contiguous U.S. The PowerShell comes with a one-year limited warranty.
How we make our picks
Our reviews are informed by a deep understanding of CPAP machines and accessories designed to make sleep apnea treatment more convenient and comfortable. While we surveyed a range of CPAP batteries, we focused on models that are compatible with the most popular CPAP machines available today.

We hand-picked CPAP batteries after considering features, device compatibility, and user reviews. By comparing brands and combing through customer testimonials, we hope to make it easier for you to find the best CPAP battery for your needs.
How to find the best CPAP battery for you
It's natural to have a variety of questions when buying a CPAP battery. We'll highlight top considerations, including machine compatibility, size, run time, and battery lifespan.
Compatibility with your machine
Some batteries are compatible with a range of CPAP machines, while others only work with a specific model. When shopping for a CPAP battery, be sure to double-check that the battery's manufacturer confirms that it's compatible with your model. CPAP machines can be damaged by trying to power them with a battery that isn't compatible.
Size and weight
A battery's design, including its size and weight, affects its portability. While people looking for a high charge capacity may need a larger and heavier CPAP battery, those seeking something more portable to pair with a travel CPAP machine may prefer a small and slim model. Some batteries attach directly to your CPAP machine and form a single compact unit. External models that use a cord may take up more space.
Run time and recharging period
A CPAP battery's stated run time and recharge time are useful barometers of its performance. Factors like the type of CPAP machine, pressure settings, humidifiers, and heated tubing can affect a battery's run time. A shorter recharge period is helpful when you have limited access to electrical outlets.
Battery lifespan
A battery's lifespan is often expressed in charge cycles, which describes the number of times the battery can be charged before needing to be replaced. Longevity is an important consideration when weighing a battery's cost against your long-term budget.
Warranty
When purchasing a CPAP battery, check the warranty's length and ensure that it covers issues that may arise due to manufacturing defects. Make sure to retain your receipt or other proof of purchase should you need to make a warranty claim.
Purchasing and insurance information
We'll answer common questions when it comes to purchasing a CPAP battery, including insurance considerations.
Where are CPAP batteries sold?
Shoppers can usually find the best selection of CPAP batteries from online stores that specialize in CPAP equipment. Many brick-and-mortar medical equipment suppliers also carry portable CPAP batteries.
Will health insurance or medicare cover CPAP batteries?
CPAP batteries generally aren't covered by health insurance since they are considered nonessential CPAP accessories. It still doesn't hurt to double-check with your insurance provider. If your insurance plan covers CPAP batteries, you'll likely need to purchase the product out of pocket and then submit a claim for reimbursement.
Are CPAP batteries covered by an FSA or HSA?
You can typically purchase a CPAP battery with your flexible spending account or health savings account debit card since CPAP batteries are considered to be a form of medical equipment. You may also be eligible for cash reimbursement through an FSA or HSA if you purchase the battery out of pocket.
Shop the Best CPAP Masks
Traveling with CPAP batteries
One of the primary benefits of a CPAP battery is that it can be used during travel to ensure the continuity of CPAP therapy. However, there are a few important considerations to keep in mind before traveling with a CPAP battery.
How to charge CPAP batteries when traveling
There's more than one way to charge a CPAP battery. The best method depends on your destination and mode of travel.
Outlet adapters: CPAP batteries typically have a built-in AC plug for type A and type B outlets, which are standard in the United States and Canada. You'll need a plug adapter when traveling to a country with a different type of electrical outlet.
Inverters: Inverters are indispensable when you have limited access to AC electrical outlets when driving, camping, or boating. An inverter plugs into a vehicle's auxiliary power outlet and converts the direct current generated by the vehicle's electrical system into the alternating current needed to recharge a CPAP battery.
Solar chargers: A solar charger is a sustainable method for charging your CPAP battery when you're off the grid. Solar chargers contain panels that convert energy from the sun to power that can be used to charge a battery. Always double-check that your battery is compatible with a given solar panel.
Portable power stations: Portable power stations are large battery-powered generators that have multiple types of charging ports. They're a versatile alternative to portable CPAP batteries since they often have a large charging capacity and can power a range of devices. Since portable power stations have multiple outlets, you can recharge more than one device simultaneously.
Can a CPAP battery be charged from your car?
You can charge a CPAP battery if your car contains an AC power outlet. You can also use your car's 12-volt socket, but you'll need a DC-to-AC inverter that's compatible with your CPAP battery.
Can you rent a CPAP battery for trips?
You can rent a CPAP battery from certain online and brick-and-mortar medical equipment providers. Sleep clinics sometimes rent CPAP batteries as well. It may take considerable research to find a compatible rental option. It often makes more sense for frequent travelers to buy or finance a CPAP battery.
Are CPAP batteries safe for air travel? 
Most CPAP batteries are approved by the Federal Aviation Administration for in-flight use, and compliance is usually designated on the battery manufacturer's website. If you plan on flying with your CPAP machine and a battery, be sure to check their FAA-approval status and the policies of your airline.
Camping with a CPAP machine
With some advanced planning, CPAP batteries can help you enjoy a camping trip without sacrificing your nightly therapy.
CPAP battery consideration
How it impacts your camping trip
Type and length of trip
The nature and duration of your trip determines the CPAP battery and accessories you need. Solar chargers are ideal for backpacking since they are often lightweight and compact. Inverters are a must when car camping or when spending time on a boat that has DC power outlets.
Outdoor temperatures
It takes longer for batteries to charge in cold weather, while high temperatures and humidity can decrease a battery's lifespan.

CPAP batteries shouldn't be exposed to extreme temperatures. A battery's optimal temperature range is usually listed in the user manual.
Weight
The weight of a battery is a logistical concern with some forms of travel. A lightweight model can be an advantage while backpacking or when carrying luggage for long stretches. Heavier portable battery stations are less of a burden when traveling by RV or car.
CPAP accessories
A compact battery is desirable if you have a bulkier CPAP machine and extra components. It's best to keep weight to a minimum when backpacking or trekking to and from a campsite.

Humidifiers and heated hoses drain CPAP batteries more quickly, making it extra important to fully charge your battery prior to departure.