Continuous positive airway pressure (CPAP) therapy is a well-recognized sleep apnea treatment. CPAP machines use a hose and a mask to deliver pressurized air into users' breathing passages to help keep the upper airway open during sleep.
There are a few different styles of CPAP masks, including nasal masks, nasal pillow masks, and hybrid masks. We'll focus on full-face CPAP masks, which seal over both the nose and mouth. We'll also highlight our picks for the best full-face CPAP masks and discuss who may benefit from this mask style.
ResMed AirTouch F20 Full Face CPAP Mask with Headgear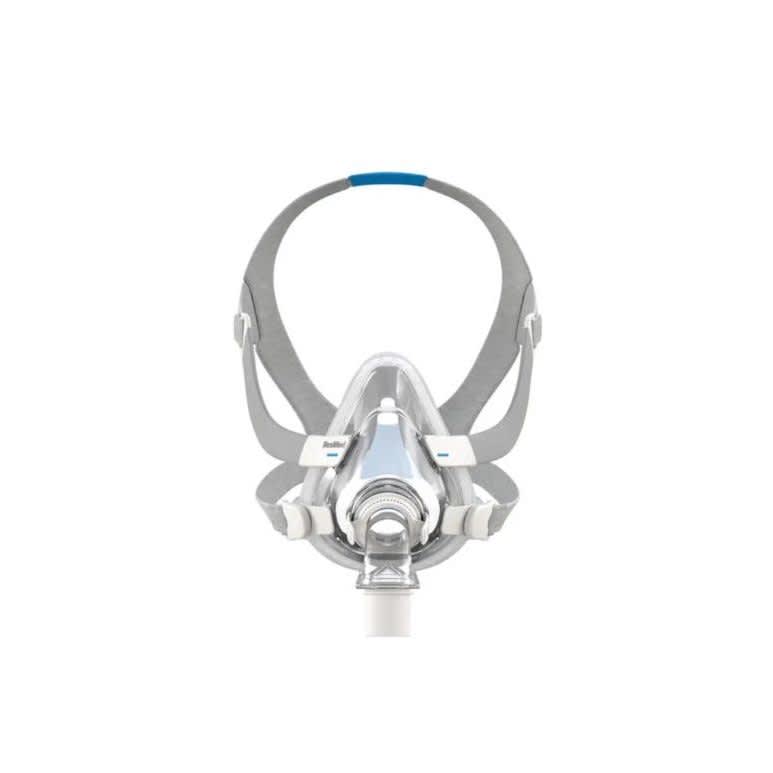 Price: $154

Size: Small, Medium, Large, Small for Her, Medium for Her
Memory foam cushion seals effectively without creating pressure points
Quick-release elbow easily disconnects from the CPAP hose
Vent minimizes exhalation noise
Too bulky for some side sleepers
Mask cushion cannot get wet
Bottom tubing orientation may be cumbersome for stomach sleepers
Sleep Doctor's take 
The ResMed AirTouch F20 Full Face CPAP Mask has a unique memory foam cushion that's a great pick for people who don't like traditional silicone masks. It also has a proprietary vent that helps keep exhalations quiet and a quick-release elbow that makes it easy to disconnect the mask from tubing.
---
Silicone mask cushions dominate the CPAP mask market, but not everyone can tolerate silicone against their skin. The ResMed AirTouch F20 Full Face CPAP Mask has a memory foam cushion that's designed to seal against the skin without creating red marks or pressure points.
Unlike silicone cushions that can be washed with soap and water, the F20's memory foam mask cushion shouldn't be exposed to water. Instead, the company recommends cleaning it with alcohol-free wipes — such as specially designed CPAP mask wipes — and replacing the cushion monthly.
Why we like it 
By incorporating memory foam in its design, the AirTouch F20 provides a distinctive twist on a traditional full-face mask. The frame is soft, flexible, and has adjustments at the side to prevent it from getting tangled in longer hair. Quiet performance and a quick-release elbow are added kickers.
ResMed AirFit F20 Full Face CPAP Mask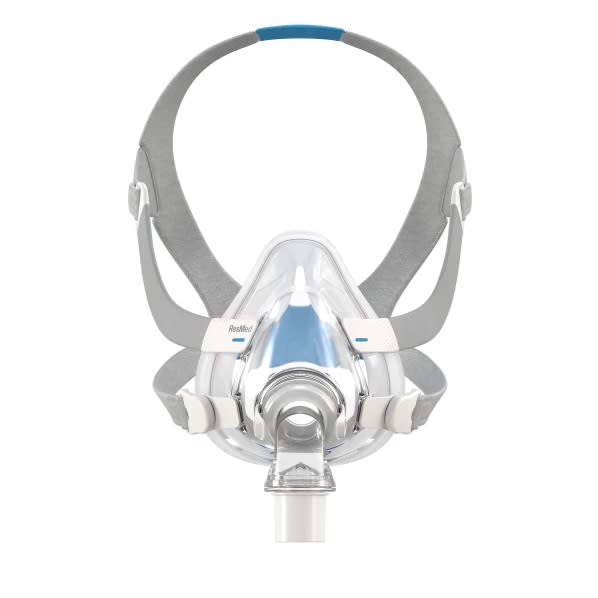 Price: $155

Size: Small, Medium, Large, Small for Her, Medium for Her
Seals securely at high pressure settings
Flexible frame sits below your field of vision
Frame is compatible with other ResMed cushions
Headgear may interfere with long, loose hair
Cushion is too bulky for many stomach sleepers
Pack only comes with one cushion size
Sleep Doctor's take 
There's a good reason the ResMed AirFit F20 is the company's most popular full-face CPAP mask. It has a flexible silicone cushion that provides a comfortable seal, even at high pressure settings. The frame has soft, adjustable wings and there's a quick-release elbow that makes disconnecting easy. Overall, it's a comfortable and effective choice.
---
The ResMed AirFit F20 Full Face CPAP mask is a well-rounded option with solid performance and extra details that make it easy to get the right fit. There are multiple mask sizes that all extend over your nose and mouth. The package comes with a silicone mask, but the frame is compatible with other ResMed cushions, so you can easily switch between them.
Why we like it 
The cushion fits a wide variety of face sizes, and the headgear is flexible and easy to adjust, making this mask from ResMed a great fit for many people. There's a quick-release elbow and frame clips that allow you to easily connect and disconnect the mask and components. It also has ResMed's proprietary QuietAir vent, which is engineered to reduce the noise from exhaled airflow.
Circadiance SleepWeaver Anew Full Face CPAP Mask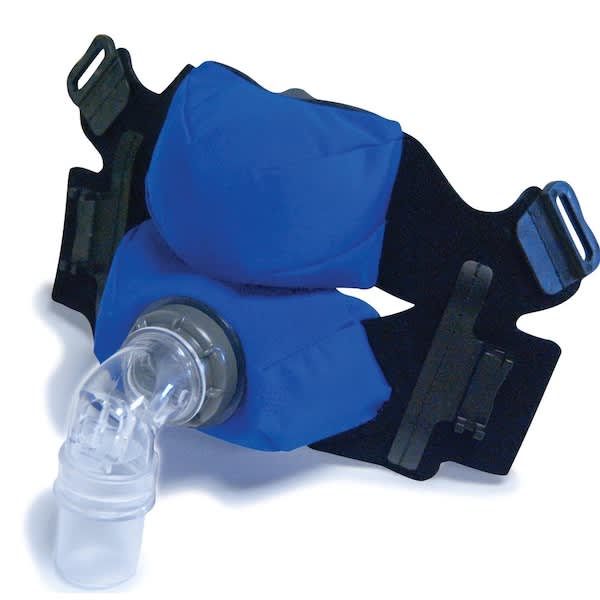 Price: $84

Size: Regular, Large
Cloth mask helps minimize red marks
Worthwhile choice for people who can't tolerate silicone
Elbow rotates 360 degrees
Only available in two sizes
Lack of customization may result in mask leaks for some users
Headgear isn't compatible with other Circadiance cushion styles
Sleep Doctor's take 
This affordable mask has a cloth cushion that may offer a more comfortable alternative for people who don't like the feel of silicone. It's moisture-wicking and is an excellent option for active sleepers who need a mask that stays on all night.
---
The SleepWeaver Anew Full Face CPAP Mask from Circadiance has a unique cloth cushion that fits over both your nose and mouth. The fabric is soft and moisture-wicking and is a suitable choice for people who don't like the feel of silicone.
Why we like it 
This lightweight and inexpensive mask may be a good choice for people with sensitive skin or those who have struggled to find a comfortable silicone cushion. We like how easy it is to disconnect this mask from the tubing, and it also leaves plenty of room for people who wear glasses.
How we make our picks
The team at Sleep Doctor regularly researches sleep apnea treatments and products to stay up to date with current industry trends and innovations. When making our picks, we take product availability, performance, and brand reputation into account. Our team also continually updates our top picks to include any new products that meet our criteria.
Should you use a full-face CPAP mask?
With all the CPAP mask options available, it can be hard to narrow down what kind to buy. While individual preferences vary, full-face CPAP masks are often best for people who breathe through their mouth during sleep and those who experience nasal congestion.
Individuals who breathe through their mouth
Back sleepers
People prone to nasal congestion
People with thick facial hair
Side and stomach sleepers who have a hard time getting an effective seal
Those who experience claustrophobia during CPAP therapy
What other types of CPAP masks are available?
In addition to full-face masks, CPAP users can also buy nasal masks, nasal pillow masks, and hybrid masks. Each option helps alleviate sleep apnea symptoms by pushing pressurized air into breathing passages, but they have different delivery methods.
CPAP nasal masks
Nasal masks deliver air to the nasal passages by sealing around the nose. Some nasal masks cover the entire nose, while others sit just above the bridge.
Not as big as many full-face designs
Stomach and side sleepers may find them less prone to shifting than full-face masks
May allow your doctor to prescribe a lower pressure setting than would be needed with a full-face model
May require wearing a chin strap to keep your mouth closed
Some users may experience air leaks near their eyes
May cause dry mouth
Nasal pillow masks
Like nasal masks, nasal pillow masks deliver air to the nasal passages. However, this smaller mask style doesn't extend up to the bridge of the nose. Instead, the mask seals below the nose and features silicone nasal inserts that extend just inside the nostrils.
Typically smaller than other full-face masks
Can be a good compromise for people who require oronasal therapy but find traditional full-face masks too bulky
May offer a better fit for people who experience air leaks at the top of a full-face mask
Facial hair may cause leaks
May shift on active sleepers' faces
Side and stomach sleepers might experience disconnections or leaks
What should you consider when choosing a full-face CPAP mask?
There are a handful of factors to keep in mind when shopping for a full-face CPAP mask, including your sleeping position, budget, and the type of CPAP machine you own.
CPAP Full-Face Mask Considerations
| | |
| --- | --- |
| Price | Full-face CPAP masks vary widely in price, but most tend to cost between $75 and $200. Keep in mind that mask components require regular replacement and you should factor new cushions, headgear, and other CPAP machine costs into your budget. |
| Size and fit | Many masks come with multiple cushion size options and adjustable frames that are designed to fit many different face shapes. If you're unsure which one to buy, you may want to consider a fit pack that includes multiple cushion sizes. |
| Device compatibility | While many CPAP masks work with any machine and hose with a standard 22-millimeter cuff connection, this isn't always the case. A notable exception is the ResMed AirMini, a travel CPAP machine that's only compatible with certain ResMed masks. |
| Sleeping position | Your sleeping position can affect how your mask fits. Side and stomach sleepers typically fare better with nasal pillows than full-face masks, while back sleeping is generally compatible with any mask style. If you need a full-face mask but aren't a back sleeper, you can buy a CPAP pillow that helps prevent the mask from dislodging. |
Is a prescription required for a CPAP mask?
You need a prescription to purchase a CPAP mask. If you buy a CPAP mask online, you'll need to provide a copy of your prescription to the retailer. In stores, you can typically show your physical prescription. Individual mask replacement parts are available without a prescription.
Will health insurance or medicare cover a CPAP mask?
Many health insurance providers cover CPAP masks, though there can be restrictions and you'll likely need to meet your deductible first. To use Medicare for CPAP coverage, there are specific steps to follow that include a three-month trial period and meeting your Part B deductible. Check with your provider regarding your specific coverage for CPAP therapy.
Where can you buy a full-face CPAP mask?
You can buy full-face CPAP masks online and in brick-and-mortar medical supply stores. While shopping at a physical store offers personalized service, online retailers often have a wider selection of masks at more competitive prices.
Frequently asked questions
How does a full-face CPAP mask work?
A full-face CPAP mask works by creating a seal over the mouth and nostrils and delivering pressurized air to breathing passages. This helps prevent upper airway collapse to minimize symptoms related to obstructive sleep apnea.
How do you clean a full-face CPAP mask?
You can clean a full-face CPAP mask by gently washing the cushion, frame, and headgear with warm water and mild soap. Make sure to look at manufacturer recommendations, because directions vary depending on material type. For instance, memory foam cushions shouldn't be washed and only need to be wiped clean.
How often should you replace a full-face CPAP mask?
CPAP replacement guidelines call for full-face mask interfaces to be replaced once a month, the mask frame every three months, and the headgear twice a year. However, this is general guidance, and you should check manufacturer recommendations to learn about your mask's replacement schedule.
How do you wear a full-face CPAP mask with longer hair?
If you have long hair, you can wear it in a braid to prevent it from getting caught in your full-face CPAP mask. Low ponytails and sleep caps can also help keep your hair from getting matted. If you wear your hair loose, the headgear may slip off and cause tangles.