Continuous positive airway pressure (CPAP) is an effective treatment for sleep apnea, an irregular breathing condition that occurs during sleep. Many people find CPAP therapy difficult to maintain because of the discomfort or awkwardness of navigating a mask and tubing. A CPAP pillow can improve therapy compliance by enhancing a sleeper's comfort and support.
CPAP pillows have cut-outs, contours, and other features designed to accommodate sleeping with CPAP gear. They use supportive materials, like memory foam, to reinforce neck and spine alignment. A well designed CPAP pillow may help prevent CPAP air leaks while minimizing pressure points on the face and head.
We'll share tips for finding the best CPAP pillow to meet your sleep preferences and needs. We'll also answer common questions regarding prescriptions, insurance, and Medicare coverage.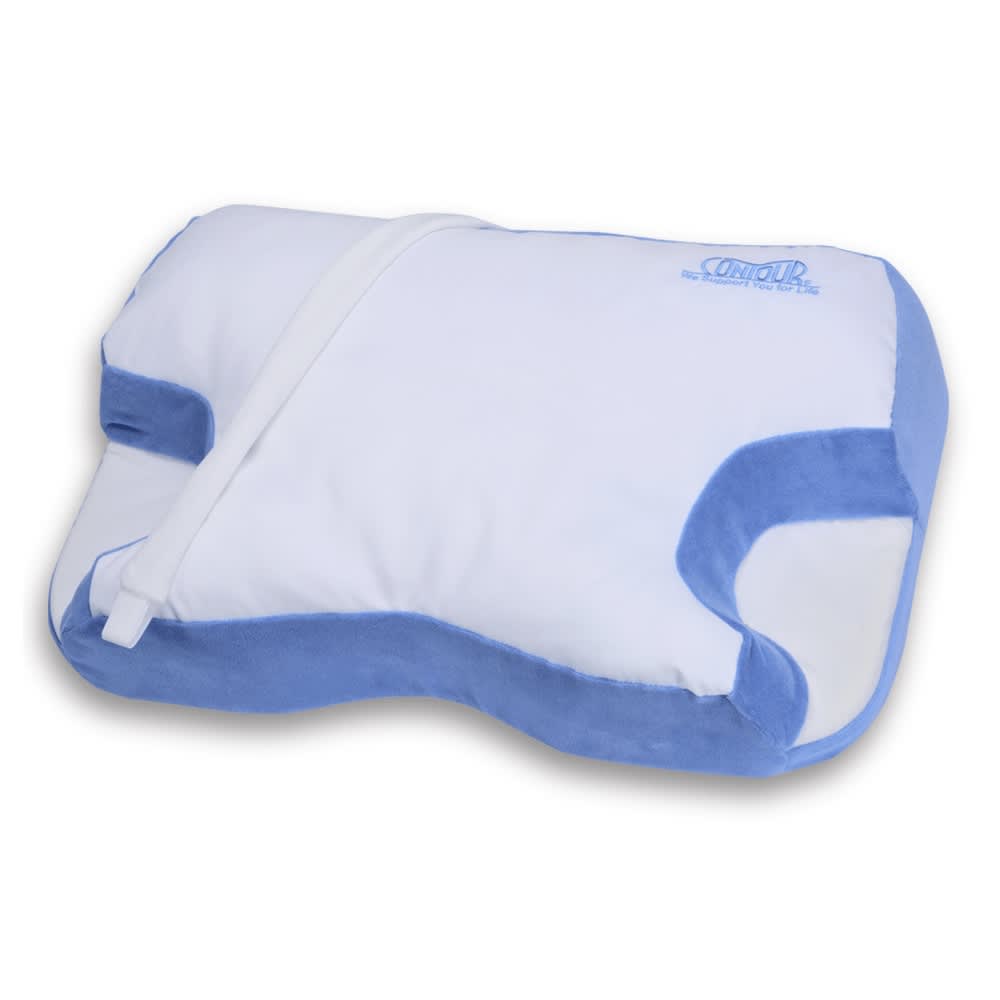 Fill Material: Foam

Firmness: Medium

Price: $49
Concave center promotes neck and spine alignment
Ear depressions accommodate side sleeping
Ventilated foam encourages airflow
Side and back sleepers
People who tend to displace their hose or mask
Hot sleepers
The Contour CPAP Pillow 2.0 has all-foam construction with strategic cut-outs. A concave center promotes spinal alignment while boosting airflow. There are comfort ear depressions and side cut-outs to reduce mask interference when sleeping on your side. A crescent-shaped cavity at the bottom cradles the neck and shoulders.
The pillow is made from three types of medical-grade foam. All foam layers are ventilated to increase the pillow's breathability. The top memory foam layer reduces mask pressure, while a layer of sturdier foam bolsters the shoulders. A bottom layer of high resilience foam increases durability and contains charcoal infusions designed to dissipate heat and odors.
A fiber-filled pillow-top allows the head and neck to comfortably sink, while reinforced edges minimize sagging. The perforated cover helps regulate surface temperature. The cover features a fabric-encased tube tether to secure the hose and prevent it from tangling.
The pillow has a medium firmness and comes in one standard size. It's designed to work with nasal masks, nasal pillows, and full-face masks. Shoppers can purchase the Contour CPAP Pillow 2.0 from various medical equipment suppliers. A two-year warranty protects from manufacturing defects.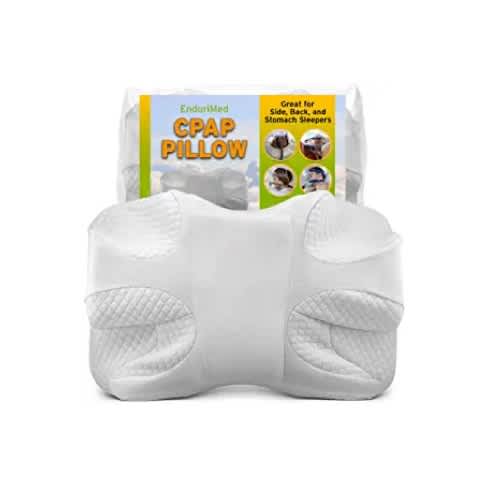 Fill Material: Solid Memory Foam

Firmness: Medium
Durable memory foam core
Excellent shape retention
Optional padding to adjust thickness
Side, back, and stomach sleepers
People with allergies
All mask types: nasal, nasal pillows, and full-face masks
EnduriMed's CPAP Pillow is a dual-sided model that adapts to different sleep positions and body types. Each side offers a slightly different height, and there's also an optional foam insert to increase overall thickness. The pillow is between 5 and 6 inches thick with the insert, and 4 to 5 inches without the insert.
The optional insert gives side sleepers the extra height needed to level the spine. Back and stomach sleepers don't need as much pillow height for spinal alignment, so they might want to forego the insert. The removable zippered cover has a convenient pouch to hold the foam insert.
Curved shoulder cut-outs encourage spinal alignment while stabilizing the CPAP mask. The memory foam core conforms to sleepers without allowing the head to sink excessively, which can cause misalignment of the spine. Memory foam also helps reduce skin indentations from the mask. The pillow's medium firmness keeps the head and neck appropriately elevated.
A breathable cotton cover resists dust mites and other allergens. It's also machine-washable.
The pillow is compatible with standard pillowcases and EnduriMed's custom cover. Shoppers can purchase the EnduriMed CPAP Pillow from Amazon and select CPAP retailers. The manufacturer backs the pillow with a 30-day warranty.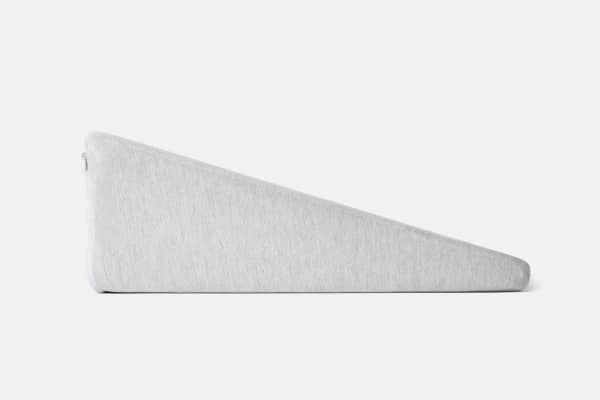 Fill Material: Gel Memory Foam and Polyfoam

Firmness: Medium Firm

Price: $109
Sloped design that props up the upper body
Machine-washable cover
Free ground shipping to all 50 states
Heavy snorers
Those with acid reflux or post-nasal drip
People who like to read or watch TV in bed
The Helix Wedge Pillow was an obvious pick due to its multi-functional design. A gradual slope elevates the upper body and may alleviate snoring, acid reflux, and post-nasal drip. The 10-inch incline may also reduce neck pain in some people. The sturdy wedge shape doubles as a support pillow when sitting up in bed.
The pillow's machine-washable cover is a breathable blend of polyester and rayon. A layer of responsive memory foam conforms to sleepers, while gel infusions are designed to dissipate heat. The pillow may also reduce lower back strain when used beneath the knees or legs.
Back sleepers are well-suited to the pillow's medium firmness. Cooling gel infusions and an airy cover are included to combat heat buildup.
The Helix Wedge Pillow comes in one standard size that measures 24 inches wide by 24 inches long. Helix Sleep ships the pillow for free to all 50 states. Customers have the reassurance of a 100-night sleep trial and a one-year warranty.
Zamat Butterfly Cervical Memory Foam Pillow
Fill Material: Solid memory foam

Firmness: Adjustable

Price: $80
Ergonomic butterfly shape with supportive armrests
CertiPUR-US certified memory foam
100-night sleep trial and a 10-year warranty
Back sleepers
People who tend to sleep hot
Those with neck pain or stiff shoulders
Zamat's Butterfly Cervical Memory Foam Pillow features a concave center that can accommodate different mask styles. The lower front of the pillow is indented to promote spinal alignment and reduce neck strain. The pillow also has wing-shaped shoulder supports and recessed armrests, making it a versatile CPAP pillow.
The solid memory foam core cradles the head without allowing it to sink excessively. CertiPUR-US certification means the foam is free of heavy metals, phthalates, and contaminants. A foam insert can be added or removed via the zippered cover. The insert allows CPAP users to determine the best height for their sleep position and accessories.
The pillow's machine-washable polyester cover is soft and breathable. The pillow measures 25 inches by 14.5 inches, with an average thickness of 5 inches. There are two color options: white or white and gray.
The Zamat Butterfly Cervical Memory Foam Pillow is available through the company's website, Amazon, and other third-party retailers. Zamat offers free shipping and discounts on two and four-packs of pillows. This model includes a 100-night sleep trial and 10-year warranty.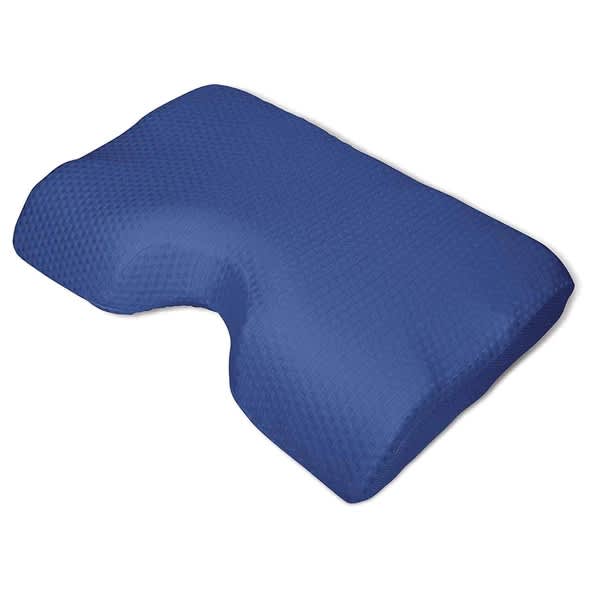 Fill Material: Foam

Firmness: Firm

Price: $35
Contoured areas on both sides to accommodate a mask
A shoulder cut-out for side sleepers
Removable, machine-washable cover
Sleepers who like lower profile pillows
Those who prefer firm support
Shoppers on a budget
The Carex CPAP Pillow provides firm support at an affordable price. The solid foam core is designed to prop up your head without displacing your mask or hose. Foam around a crescent cut-out contours to the neck and shoulders, and there are comfort depressions to relieve mask pressure on both sides.
The firm foam core supports spinal alignment and reduces facial pressure from masks. The 4-inch loft is ideal for sleepers who don't like super thick pillows but still need their head elevated. The pillow's wider surface area accommodates back sleepers of varying shoulder widths. It's also well-suited to side sleepers who alternate sides during sleep.
Sleepers who don't like fussy maintenance will appreciate the removable, machine-washable cover. The pillow measures 23 inches by 16 inches and is designed to work with nasal masks, nasal pillows, and full-face masks.
The Carex CPAP Pillow is available through the company's website. Shipping is free to the contiguous U.S. on orders over $50. The pillow has a 90-day return policy and a one-year warranty.
Core Products Mini CPAP Pillow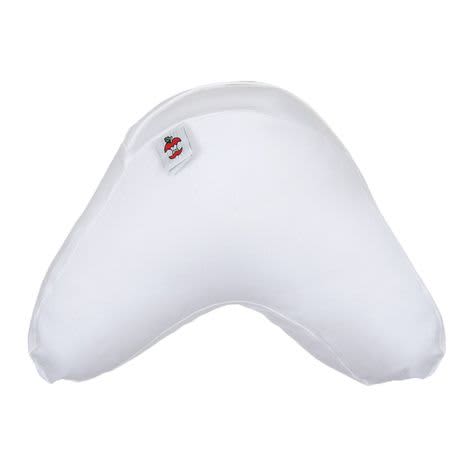 Fill Material: Down Alternative

Firmness: Medium

Price: $70
Fluffy yet supportive down alternative fill
Compact, travel-friendly design
Breathable cotton cover
Frequent travelers
People who dislike the feel of memory foam
Hot sleepers
The Core Products Mini CPAP Pillow is smaller and fluffier than the typical CPAP pillow. Its down alternative fill is soft and moldable, yet it still retains its shape well. The pillow is a great alternative for people who find memory foam pillows too firm or heat-retentive.
The travel-friendly size is ideal for sleepers who don't like to wrestle with a lot of pillow. Its compact crescent shape is less likely to interfere with your CPAP mask and hose. That said, the small size may not accommodate people with broader shoulders or side sleepers who frequently change sides.
The pillow measures 13 inches by 9 inches. While the width is slight, the 6-inch loft is thick enough to support side and back sleepers. A medium firmness keeps the pillow from flattening excessively.
A breathable cotton cover helps sleepers stay cool and dry. While the cotton cover isn't removable, it can be spot-treated as needed. The pillow is compatible with most types of CPAP masks.
Shoppers can purchase the Core Products Mini CPAP Pillow from Target, CPAP specialty stores, and certain online retailers. The pillow is backed by a one-year manufacturer's warranty. Shipping and return policies vary depending on the seller.
How we make our picks
As sleep specialists, we're well-versed in sleep apnea and its treatment. Not all CPAP pillows are equal, which is why we've spent considerable time researching and comparing dozens of models. We considered performance features, brand reputation, customer reviews, price, and availability when choosing our top picks.

We consult medical doctors to ensure that our information and product reviews are backed by research and science. Our aim is to educate and empower readers so they can find the CPAP pillow most suited to their needs.
A CPAP pillow is a sleeping pillow designed in a way that may make using CPAP therapy more comfortable and secure. These pillows have special features to accommodate CPAP gear and reduce pressure points on the face and head. A well-constructed CPAP pillow may help prevent air leaks by stabilizing a user's CPAP mask and hose.
How to sleep with a CPAP pillow
CPAP users should focus on a pillow's loft and firmness when choosing a suitable model. Both of these features are key to promoting spinal alignment and making space for CPAP gear. The best height and firmness for you mostly depends on your sleep position, but your upper body size and preferences should also be considered.
Side sleeping
Many CPAP pillows are designed for side sleeping. Pillows with side cut-outs allow space for your CPAP mask and hose. A moderately thick pillow that's medium to firm promotes spinal alignment by not allowing your head to sink excessively.

One that compresses too much will create pressure points as the mask digs into your face. A bulky pillow without cut-outs can cause air leaks by displacing your mask and hose.
Back sleeping
For back sleepers, pillows with a recessed center contour around the neck and reduce shoulder strain. A thinner pillow that is medium to medium firm helps keep your head from elevating too much.

Back sleepers should avoid compact designs that might not provide enough shoulder support. Cut-outs aren't as important since there's less mask and hose interference when sleeping on your back.
Stomach sleeping
Stomach sleeping tends to interfere with CPAP equipment more than any other position. A minimal pillow design that adapts to your headgear is best.

Stomach sleepers should look for adjustable pillows made from shredded memory foam or down alternative. These materials are more malleable and help keep masks from digging into your face.
Combination sleeping
Since combination sleepers switch positions, they need a versatile pillow with an adjustable loft. A moldable fill or optional inserts lets you adapt the pillow's height and support to your needs. There are also dual-sided models to accommodate different positions. Most combination sleepers prefer a sizable pillow since it offers more surface area when adjusting positions.
What is the best sleeping position for CPAP therapy?
Sleep position is shown to impact the severity of obstructive sleep apnea (OSA). Studies show that the upper airways are less obstructed when sleeping on your side, especially if the upper body is elevated.
Sleeping on your back is usually the least recommended position, since the throat's soft tissues are more likely to block the airways in this position. Compared to back sleeping, people with OSA and central sleep apnea (CSA) have fewer breathing lapses when sleeping on their sides.
What is the best CPAP pillow for side sleepers? 
Side sleepers need a pillow with curves or indents on both sides to make space for a mask and hose. These designs help stabilize masks while preventing them from pushing into your face. Many models also have a recessed area to contour to the neck and shoulders.
How to pick the right CPAP pillow for you
Your mask style and sleep position are top factors when choosing a CPAP pillow. Shoppers should consider how a pillow's loft and firmness might accommodate their sleep style and CPAP equipment. Hot sleepers will want to note a pillow's materials and temperature control, while budget-shoppers may need to prioritize value.
As with most purchases, always factor in your preferences and needs when choosing a CPAP pillow model.
Sleep position
Each sleep position has unique support and comfort needs during CPAP therapy. Side sleepers benefit from a pillow with side cut-outs that provide enough room for a mask. Stomach sleepers should look for a pillow with a recessed center to minimize facial pressure. Wedge or cervical pillows help promote spinal alignment for back sleepers.
Loft
Loft, or a pillow's height, is crucial to promoting neck support. A suitable thickness is also needed to reduce pressure points from masks. Side sleepers require a thicker pillow to keep the head, shoulders, and spine even.
Pillows with recessed centers give stomach sleepers more space for their masks. A low to medium loft prevents back sleeper's heads from elevating too much.
Your CPAP mask
Some mask styles are bulky and require more clearance from a pillow. Full-face masks are the largest, so generous pillow cut-outs may be preferred to minimize interference. Shallow grooves are usually enough to accommodate smaller nasal pillows and nasal masks. It's important to find a pillow that works around your mask in order to prevent air leaks.
Shop the Best CPAP Masks
Price
CPAP pillows are often more expensive than your typical pillow since they have special design features and sturdier materials. Shoppers can expect to pay between $50 and $150 for a quality CPAP pillow. Most insurance providers don't cover the cost of CPAP pillows since they are considered non-essential accessories.
Support and feel
A pillow's support and feel is related to its firmness and height. Some pillows allow the head to sink in more, while firm pillows may hardly compress.
Sleep position and comfort preferences determine the support you need from a pillow. Side sleepers tend to require thicker and firmer pillows than back and stomach sleepers do.
Temperature neutrality
Some people tend to sleep hot, and CPAP gear can magnify heat retention. Hot sleepers should look for materials like down alternative, gel infusions, and perforated foams. Covers made from breathable materials like cotton can help wick away heat and moisture.
Prescription, insurance, and purchase information for CPAP pillows
Do you need a prescription for a CPAP pillow?
Unlike CPAP machines, CPAP pillows are considered non-essential equipment and do not require a prescription. Shoppers can purchase CPAP pillows from bedding retailers and medical equipment suppliers.
Health insurance and medicare coverage for CPAP pillow costs
CPAP pillows are classified as elective accessories, so Medicare and insurance companies  usually don't cover their cost. However, some providers might cover a percentage of certain CPAP accessories, so check with yours before making a purchase. 

If your provider does provide partial coverage, you'll probably have to purchase the pillow upfront, then submit a claim for reimbursement. 
Where can you buy a pillow for sleep apnea?
CPAP pillows are more widely available than other CPAP accessories since they don't require a prescription. Shoppers can purchase CPAP pillows from CPAP specialty stores, medical equipment suppliers, and more general sleep stores. 

New CPAP users may prefer purchasing from a brick-and-mortar retailer in order to get a feel for the pillow in person. An in-person store also allows the option of bringing in a CPAP mask to gauge compatibility. Online retailers, however, typically offer a wider selection of models. They tend to have lower prices too, since they have fewer overhead costs.