Medical Disclaimer: The following content should not be used as medical advice or as a recommendation for any specific supplement or medication. It is important to consult your health care provider prior to starting a new medication or altering your current dosage.
Most people are familiar with the sounds of snoring, which range from mild to very disruptive. While there are a number of causes, the noise stems from soft tissues vibrating in the upper airway.
Snoring is common, occurring in approximately half of the adult population. Snoring in and of itself isn't considered a sleep disorder, but it's sometimes a sign of sleep apnea and other conditions that might require medical attention. If you are concerned about your snoring, discuss the matter with your doctor.
Both occasional and habitual snoring can interfere with you or your partner's ability to sleep through the night. Since sleep is essential to a person's health and well-being, interventions to reduce snoring may be necessary. A suitable mattress can be one such solution.
Understanding the relationship between snoring and sleep surfaces can help you reduce snoring and improve the quality of your sleep. We'll discuss how mattress type, firmness level, sleep position, and other factors can contribute to or provide relief from snoring. We'll also review our top mattress picks so you can find a suitable fit.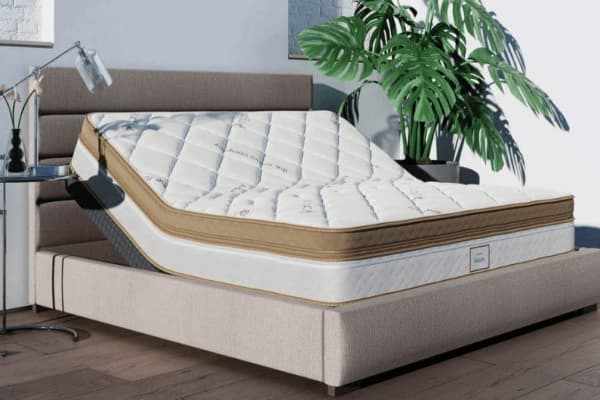 Trial Length 365 Nights ($99 Return Fee)

Warranty Lifetime, Limited

Trial Length / Warranty

365 Nights ($99 Return Fee) / Lifetime, Limited

Firmness Adjustable – Soft (3) to Firm (8)
Sleep Doctor's Take
The Solaire from Saatva is an excellent solution for sleepers who need a specific firmness level to help alleviate snoring. The airbed model can be adjusted to 50 different firmnesses, while foam and latex layers give you ample cushioning.
Adjustable airbed with 50 firmness levels
Airy organic cotton cover
Free White Glove delivery
Price may be high for shoppers on a budget
Bed produces some motion transfer
Saatva's Solaire Adjustable Firmness Mattress is designed with versatility in mind. You can adjust the firmness of the bed from soft (3) to firm (8), with 50 different feels in total. The mattress also pairs nicely with an adjustable bed frame, which can elevate the head and may reduce snoring.
The mattress features a soft Euro-top covered in breathable organic cotton. A 2-inch layer of plush polyfoam is quilted inside the cover for extra padding. The quilted surface is zoned to provide targeted support to the lumbar region, helping to boost pressure relief.
Next is a layer of Talalay latex that contours to the body without causing too much sink. Zoning delivers variable support, depending on where your weight is concentrated, while tiny perforations are engineered to promote breathability. A layer of memory foam cradles sleepers to ease tension. Gel infusions are designed to offset heat retention that can occur due to the foam's close hug. A barrier layer of PVC sheeting and polyfoam below is meant to protect the air chambers from moisture damage.
The support core features vulcanized rubber air chambers that are about 6 inches thick. A multidirectional baffle box construction disperses air evenly for consistent support. Vulcanization hardens the rubber in order to improve the core's durability. The chambers are encased in foam, which strengthens edge support while also concealing the air inflator. The foam absorbs motion and sound well, so co-sleepers shouldn't be disturbed as much by their partner's movements.
At 13 inches thick, the mattress is a little taller than average. Sizes queen and larger have separately adjusting sides, which is ideal for couples with different preferences. Smaller sizes operate uniformly via a single remote.
Free White Glove delivery is included with orders in the contiguous U.S. A professional will install the Solaire in your room of choice and remove your old mattress. Saatva backs the model with a 365-night sleep trial and a limited lifetime warranty. A $99 freight fee is deducted for customers who decide to return the mattress.
The Solaire brings customization to the next level with 50 firmness levels and dual-side adjustability for larger sizes. Memory foam and latex layers give the surface more cushioning and contouring compared to the average airbed mattress.
Layla Memory Foam Mattress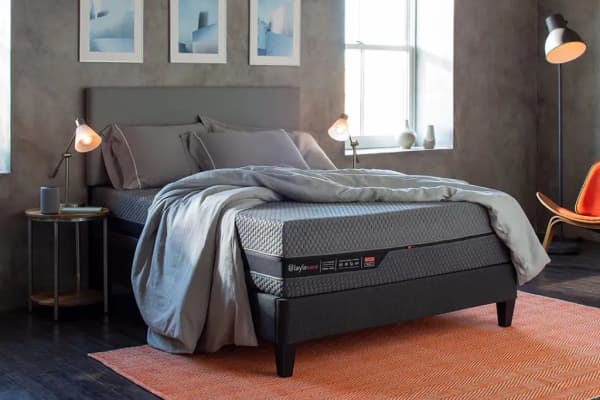 Warranty Lifetime, Limited

Trial Length / Warranty

120 nights / Lifetime, Limited

Firmness Medium Soft (4), Firm (7)
Sleep Doctor's Take
The Layla Memory Foam Mattress is a dual-sided model with a different firmness level on each side. The versatile design made it well-suited for a range of sleep positions during our tests, and the foam composition excelled at reducing pressure buildup.
Reversible design with two firmness levels
Copper gel infusions designed to reduce heat retention
Excellent pressure relief and motion isolation
Stomach sleepers over 230 pounds may need more support
Soft side offers less edge support
The Layla Memory Foam is a flippable model with two firmness levels. One surface offers a medium soft (4) feel, while the reverse side is firm (7). Versatility and an accessible price-point make this all-foam mattress a great choice if you're shopping on a budget.
A breathable polyester-blend cover encases the entire mattress. For the soft side, plush memory foam hugs sleepers to reduce pressure buildup. Below is a 2-inch layer of zoned polyfoam that applies surface modification technology (SMT) for proportional support. Our testers weighing less than 130 pounds felt particularly comfortable on this side of the Layla.
The firm surface uses a thinner layer of the same memory foam for a sturdier feel. This side was most popular among our back and stomach sleepers weighing 130 to 230 pounds, as well as our side sleepers over 230 pounds. Both sides are reinforced by 4.5 inches of high-density polyfoam.
Copper and gel infusions are designed to increase the memory foam's breathability. Our temperature control tests detected little heat buildup on either side of the mattress, and none of us felt excessively warm. Like many all-foam designs, the mattress doesn't generate significant motion transfer. The firm side has slightly better edge support, but both surfaces deliver comparable pressure relief.
The Layla Memory Foam Mattress ships free of charge for customers in the contiguous U.S. The mattress includes a 120-night sleep trial and a limited lifetime warranty.
Flippable mattresses with a different firmness on each side are fairly common, but rarely are they as affordable as the all-foam Layla. The evenly contouring foam layers excel at motion isolation and pressure relief, and cooling components help ensure you won't feel uncomfortably warm.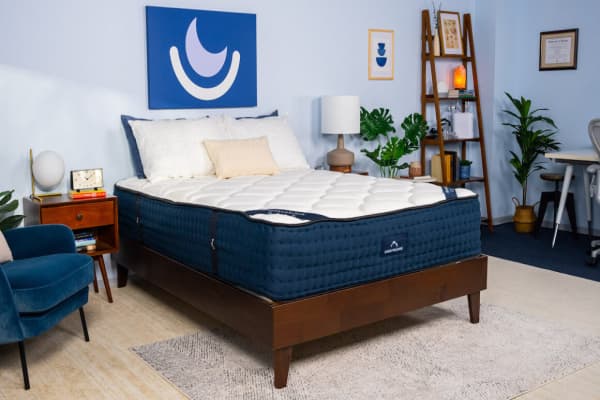 Trial Length 365 nights (30-night requirement)

Warranty Lifetime, limited

Trial Length / Warranty

365 nights (30-night requirement) / Lifetime, limited
Sleep Doctor's Take
The DreamCloud Mattress is a thick foam hybrid that cradles your body without sacrificing support. The bed felt comfortable for a wide range of sleepers on our test team, in particular side sleepers weighing 130 pounds or more. The cozy cashmere-blend cover sets this bed apart from hybrid competitors.
Thick comfort layers cradle the body to alleviate tension
Foam-encased pocketed coils provide sturdy support
365-night sleep trial with all orders
May be too thick for those who prefer low beds
Only one firmness option available
The DreamCloud is a hybrid model that maximizes pressure relief without sacrificing support. Thick foam comfort layers conform to your body, while a springy support core prevents you from sinking too much. Most sleep positions and body types do well with the mattress' balanced medium firm (6) feel.
A breathable cashmere-blend cover is quilted with soft polyfoam to gently massage your pressure points. Gel-infused memory foam below cradles your body to ease tension. Gel infusions are designed to dispel excess heat, which can be an issue with traditional memory foam. Next is a layer of transitional polyfoam that supports spinal alignment while creating a buffer between your body and the support core.
Each coil in the support system is individually wrapped to reduce motion transfer. As a result, sleepers can enjoy easier movement without disturbing their partner's sleep. The pocketed coils also create more space for air to circulate, which can help with temperature control. A polyfoam base layer rounds out the mattress for extra stability and support. The 14-inch profile is ideal if you prefer taller beds.
The DreamCloud earned strong ratings during our tests for edge support, sex, and temperature control, making it a great choice for couples. Noise and motion transfer are also kept to a minimum. While the mattress performs well for all positions, side sleepers under 130 pounds might not benefit from as much pressure relief as heavier individuals.
Customers have 365 nights to try out the mattress, which is longer than the average sleep trial. Returns can only be initiated after a minimum of 30 days. The company backs the model with a limited lifetime warranty, and shipping is free within the contiguous U.S.
With a plush and adaptive surface combined with underlying support layers that limit sinkage, the DreamCloud is a versatile crowd-pleaser. Above-average motion isolation, minimal pressure buildup, and excellent temperature control were some of the highlights during our hands-on tests.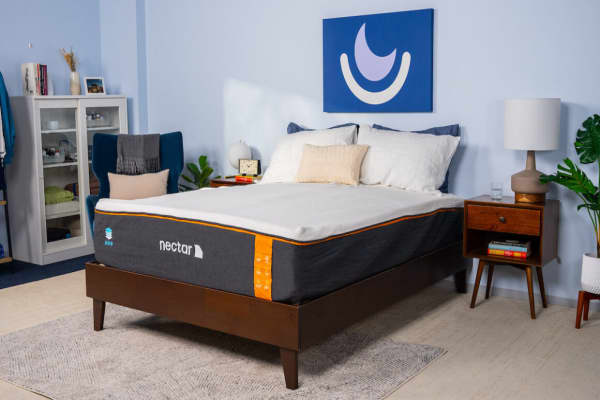 Warranty Lifetime, Limited

Trial Length / Warranty

365 nights / Lifetime, Limited
Sleep Doctor's Take
The Nectar Premier Copper is an excellent choice for side sleepers who are tired of waking up with sore spots in the shoulders and hips. The adaptive all-foam design conforms closely to your body to reduce painful pressure buildup at night. 
Cooling cover with thermal-conductive copper fibers
Plush memory foam delivers exceptional pressure relief
Extra-thick polyfoam core for added stability
May feel too soft for stomach sleepers over 130 pounds
Some hot sleepers may feel too warm
Nectar's Premier Copper Mattress features a thick memory foam comfort layer that provides excellent pressure relief. By cushioning pressure points around the hips and shoulders, this all-foam model can help snorers who are trying to make the change to side sleeping. The high-density support core reinforces good sleep posture, which in turn may help regulate snoring by keeping airways open. The mattress has a moderately firm feel that rates as a 6 on our 10-point firmness scale.
The mattress' quilted cover has copper fibers designed to disperse heat. Below is a thick layer of plush memory foam that cradles pressure points along the spine. The layer is infused with phase change material designed to draw in and release body heat.
A layer of transitional polyfoam redistributes body weight in order to maintain the natural curve of the spine. The base is composed of sturdy, high-density polyfoam. Completing the mattress is a non-slip base cover for extra stability. The mattress measures 14 inches thick, so it may require fitted sheets with deep pockets.
The Nectar Premier Copper includes a lengthy 365-night trial and a limited lifetime warranty. Residents of the contiguous U.S. are eligible for free shipping.
We found the Nectar Premier Copper especially well suited to side sleepers due to its close, even contouring and deep cushioning for the shoulders and hips. The mattress also limits heat retention with cooling components near the surface and absorbs most movement to significantly reduce motion transfer.
Trial Length 120 nights (30 night requirement)

Warranty Lifetime, Limited

Trial Length / Warranty

120 nights (30 night requirement) / Lifetime, Limited

Firmness Medium Soft (4), Medium (5), Firm (7)
Sleep Doctor's Take
The WinkBeds GravityLux is an all-foam mattress with enhanced support in key areas, which helps keep your body from sinking in too deep. With three firmnesses to choose from, most of our testers found a model that felt comfortable.
Breathable, eucalyptus-derived Tencel cover
AirCell memory foam engineered to dispel heat
Zoned polyfoam promotes good sleep posture
Soft model inhibits some movement
Stomach sleepers may receive insufficient support
Mattresses that deliver top-notch lumbar support can also help manage snoring by promoting good sleep posture. The WinkBeds GravityLux uses both plush and firm foam layers to balance pressure relief with stability. This combination can be beneficial for snorers and people with back pain. The versatile model comes in three firmness levels: medium soft (4), medium (5), and firm (7).
The mattress has a soft and breathable Tencel cover derived from eucalyptus. A 2-inch layer of gel-infused polyfoam is quilted inside the cover for extra padding. Next is AirCell memory foam, which molds to the unique contours of your body for targeted pressure relief. The foam has tiny air capsules designed to enhance breathability while also limiting motion transfer.
A transitional layer of zoned polyfoam gives sleepers extra support where weight is concentrated. The heavier lumbar region receives greater pushback, while the legs and shoulders receive more give and gentler cradling. A final base layer of high-density polyfoam stabilizes the upper layers. The mattress has a total height of 12 inches.
We found the medium soft (4) model best suited to people under 130 pounds, particularly side sleepers. The side and back sleepers on our team weighing 130 to 230 pounds felt comfortable on the medium (5) model, as did stomach sleepers under 130 pounds. The firm (7) option received favorable ratings from our stomach and back sleepers weighing at least 130 pounds, as well as side sleepers over 230 pounds.
The firm model offers the strongest edge support, but all versions rate well when it comes to motion isolation, pressure relief, and temperature control.
WinkBeds offers free shipping to customers in the contiguous U.S. The mattress is backed by a 120-night sleep trial and a limited lifetime warranty.
The WinkBeds GravityLux builds on the standard memory foam mattress with a zoned layer to prevent excessive sinkage around your heavier areas. Three firmness options ensure that most people can find a comfortable design regardless of their body type or sleep position.
Why You Should Trust Us
With many years of experience in the sleep industry, we evaluate mattresses for different factors that influence sleep outcomes. Snoring is an important factor we consider when testing mattresses, and our recommendations are informed by medical professionals.

Our best mattress for snoring picks include a range of models and price-points. Since our testers vary in terms of body type and sleep position, we're confident you'll find one that suits your unique preferences.
How Does Snoring Affect Sleep?
Snoring is the sound produced by vibrations in the upper airway during sleep. The noise typically occurs during inhalation, and less frequently during exhalation. Snoring is more common during rapid eye movement (REM) sleep.
Allergies and nasal congestion can worsen snoring, as can alcohol and certain medications. Other potential causes of snoring include swollen tonsils or adenoids, being overweight or obese, or having a large tongue combined with a small mouth.
Snoring can be a sign of obstructive sleep apnea (OSA), a condition in which a sleeper's breathing stops for brief intervals. OSA can be detrimental to sleep and overall health, so speak with your doctor if you suspect you have this condition. CPAP therapy can help people with OSA by regulating their breathing with pressurized air.
The sound of snoring can disturb the sleep of the snorer, co-sleepers, and other household members. Taking remedies to minimize snoring can therefore benefit more than just the person who snores.
How Does Sleep Position Affect Snoring?
Side sleeping is generally considered the best position to regulate snoring. The head's slight elevation when resting on a pillow reduces pressure on the throat to help maintain open airways.
| | |
| --- | --- |
| | Gravity tends to lower the throat's soft tissues when lying on your back, which in turn compresses the upper airway. Back sleeping is therefore not recommended for people who snore. |
| | Side sleeping is often suggested for people who snore because the angle of the head puts less pressure on the throat, which helps keep airways open. The vibrations that cause snoring sounds are therefore less likely to occur. |
| | Sleeping on your stomach can reduce snoring, especially when compared to back sleeping. The weight of the head lowers the tongue and surrounding tissues, which can prevent airway obstructions. |
| | Combination sleeping can be a mixed bag, especially if a person relies heavily on back sleeping. Airways are less likely to become obstructed if a person mostly switches between stomach and side sleeping. |
What Is the Best Mattress Type for Snoring?
Snorers require a mattress that encourages good head and neck alignment while also easing pressure points along the spine. Each mattress type discussed below can help manage snoring if it supports a person's sleep style and body type.
Foam Mattresses
This type of mattress is known for cradling your body to provide standout pressure relief. Comfort systems commonly use plush memory foam or polyfoam for extra contouring, while support cores often use high-density polyfoam for stability. Foam mattresses usually excel at cushioning the hips and shoulders, which are areas where pressure tends to build when you sleep on your side.
If you find that you snore while sleeping on your back and would like to transition to side sleeping, you may find it easier to make the switch on a conforming foam model.
Hybrid Mattresses
Hybrid mattresses blend pocketed coils with thick comfort layers made from latex, foam, or other plush materials. Designed to balance pressure relief and support, they generally accommodate a range of sleep styles. Sleepers who don't like the close hug of memory foam often prefer more responsive hybrid mattresses with latex or polyfoam comfort layers.
Hybrids can potentially help with snoring by encouraging good sleep posture and reducing pressure on the neck area, which in turn can help keep airways open.
What About Innerspring Beds?
An innerspring mattress relies on a coil support system like a hybrid, but their similarities typically stop there. To confuse matters, companies sometimes use the labels "innerspring" and "hybrid" interchangeably. Hybrids have much thicker comfort systems than traditional innerspring models. They also generally use pocketed coils to increase breathability and limit motion transfer.
Because innerspring mattresses usually have fairly minimal comfort layers, they might not provide enough pressure relief and cushioning for side sleepers.
Latex Mattresses
Made from either natural or synthetic latex, this type of mattress offers gentle contouring and significant responsiveness. Latex mattresses use latex in both the comfort system and the support core. Latex has a natural springiness, so sleepers can enjoy some bounce even in the absence of a coiled core. Latex is usually quite breathable, making it preferable for sleepers who find that foam models retain too much heat.
Known for their durability, latex mattresses may help prevent airway obstructions by supporting the natural curvature of the neck and spine. These mattresses tend to be expensive, so expect to pay more for an all-latex mattress than you would for a foam, innerspring, or hybrid model.
Airbed Mattresses
Airbeds are designed with rubber air chambers in their support cores. You can control the amount of air in the chambers using a remote or smartphone app, which in turn adjusts the firmness for different areas of your sleep surface. Basic airbeds feature two air chambers — one for each side of the mattress — while more advanced models may contain several chambers to create a zoned feel across the surface.
Airbeds pair nicely with adjustable bed frames due to their dual-sided construction. The ability to sleep on an incline can reduce snoring, and may also alleviate neck or shoulder pain. That said, airbeds tend to be quite expensive compared with other mattress types. Expect to pay at least $2,500 for a queen size airbed.
How the Right Bed Can Help With Snoring
A number of factors can contribute to snoring, but your bed doesn't have to be one of them. A mattress' support, firmness level, and material quality can all impact snoring.
Is Your Mattress Making You Snore More?
An old and sagging mattress can sometimes aggravate snoring by not promoting even alignment, which makes air obstructions more likely. Beds with weak comfort systems might be uncomfortable for side sleepers because they don't provide enough cushioning for the hips and shoulders.
Finding the Right Firmness Level
We measure mattress firmness on a 10-point scale, with 1 being extremely soft and 10 being extra firm. Even a high-quality mattress won't be able to mitigate snoring if the firmness level isn't compatible with your sleep style.
A slightly softer mattress with ample cushioning encourages side sleeping. A surface that's too soft, however, might interfere with proper sleep posture by causing your body to sink excessively. Back or stomach sleepers usually fare best with a moderately firm to firm model that prevents the torso and hips from collapsing into the core.
The right firmness level also depends on body weight. Sleepers under 130 pounds usually benefit from a softer model with deeper cradling. Heavier sleepers typically need a firmer surface to maintain a straighter spine.
Products That Can Help With Snoring
When used with a suitable mattress, pillows and other sleep accessories can help keep airways open and cut down on snoring.
Pillows
Pillows can help control snoring by elevating the head and reducing pressure on the throat. This in turn can prevent the upper airway vibrations that cause snoring.
The best pillow comfortably accommodates your sleep style while limiting airway blockages. Certain shapes and materials are better suited to some sleep positions than others.
| Pillow Type | Description |
| --- | --- |
| | Often made from dense foam, these triangular pillows raise the upper body while easing pressure points on the neck and shoulders. They can help with snoring by reducing airway compression caused by gravity. The wedge shape is most suitable for side and back sleepers. |
| | Adjustable pillows allow sleepers to experiment with different lofts and firmness levels. Sleepers can determine which pillow height or feel has the biggest impact on their snoring. Their versatility also suits the varying needs of combination sleepers. |
| | Since memory foam responds to heat and pressure, these pillows adapt to the unique contours of each sleeper. They offer supportive contouring to the neck and head, which can minimize airway vibrations associated with poor posture. |
Adjustable Beds
Since adjustable beds elevate the upper body, they can reduce snoring by taking pressure off the throat. Not all mattresses are compatible with adjustable bases, so always check manufacturing guidelines before making a purchase.
Advanced models with internal sensors make automatic adjustments based on a person's snoring patterns. Adjustable beds are usually on the pricier side, and cost can escalate even more with these advanced features.
Anti-Snoring Devices
Anti-snoring mouthpieces fall into one of two categories: mandibular advancement devices (MADs) or tongue-retaining devices (TRDs). MADs are designed to minimize airway obstruction by moving the jaw forward to expand the airway. TRDs are designed to hold the tongue in place using suction so that it doesn't fall back in the throat and cause snoring. Some types of MADs may require a prescription from a doctor, while TRDs rarely require one.
Sleepers who snore because of nasal congestion may find relief with nasal strips, which are intended to prevent snoring by widening the nasal passages.