Beds should be reserved for sleep and sex, but even people planning to use their bed for sex often overlook a bed's suitability for that purpose when buying a new mattress.
A bed's suitability for sex is generally based on a wide range of factors, including its responsiveness, edge support, temperature neutrality, and ease of movement. A bed that excels in each of these categories is likely to work well for most people. Of course, these factors must also be balanced against your sleep preferences and needs.
Choosing a new mattress can be a difficult process, and the various factors that go into determining a bed's suitability for sex can complicate matters further. We've streamlined the process by analyzing the results of our rigorous testing process and putting together a list of the best mattresses for sex, as well as a guide to understanding what makes a bed suitable for sex.
Trial Length 365 nights (30-night requirement)

Warranty Lifetime, limited

Trial Length / Warranty

365 nights (30-night requirement) / Lifetime, limited
Sleep Doctor's Take
The DreamCloud Mattress is a sturdy hybrid that carefully balances support and cushioning. The foam layers gently cradle your body, while the overall medium firm (6) feel generates plenty of support for couples who prioritize easy movement across the surface.
Offers the pressure relief of memory foam while still remaining responsive
Luxury features at a lower price-point than many competitors
Suitable for many different body types and sleep position preferences
Only one firmness option available
Profile may be thick for sleepers who prefer low beds
The flagship mattress from bed and bedding company DreamCloud, the DreamCloud Mattress is a medium firm (6) gel memory foam hybrid that pairs pressure relief with a responsive bounce. While memory foam is rarely the best choice for sex, the DreamCloud has a balanced design that avoids the material's downsides.
Despite its lower-than-average price-point, the DreamCloud has a number of luxury touches, including a breathable, cashmere-blend cover that is quilted with polyfoam for a plush, textured feel that our testers appreciated. The bed's comfort system includes a layer of gel memory foam and a transitional layer of polyfoam. These layers work together to offer deep pressure relief without significant sink, making movement or position changes easier.
The DreamCloud is also highly responsive and bouncy thanks to both the polyfoam transitional layer and the pocketed coil core. Most of our testers were able to use the entire sleep surface without loss of support, although people over 230 pounds may feel the bed is less supportive near the edges.
The DreamCloud Mattress is backed by a generous 365-night sleep trial and a lifetime warranty. DreamCloud also offers free shipping within the contiguous states.
Thanks to its balanced construction and relatively firm feel, the DreamCloud appeals to a wide range of sleepers. It is most suitable for side sleepers between 130 and 230 pounds, but the only sleepers who should avoid this mattress are side sleepers under 130 pounds. All other sleepers, regardless of their weight or preferred sleep position, are likely to enjoy the DreamCloud.
Brooklyn Bedding Signature Hybrid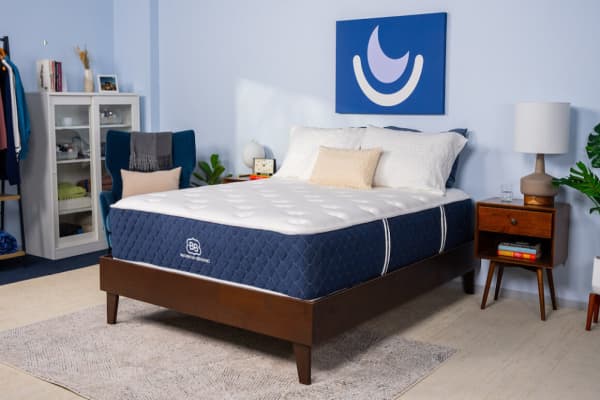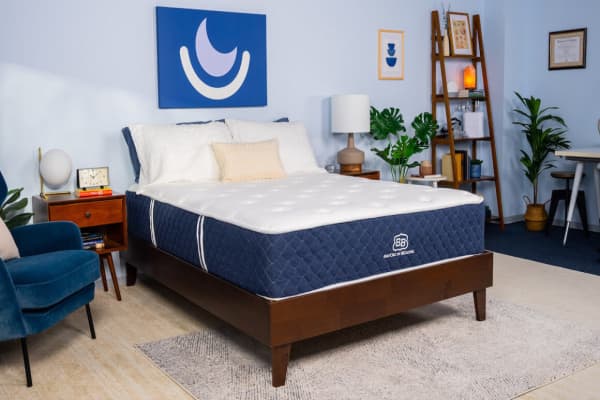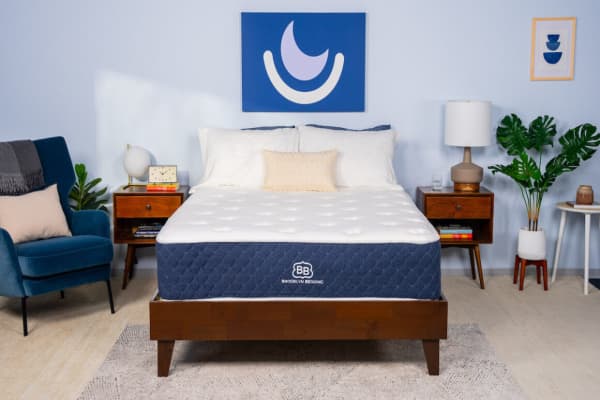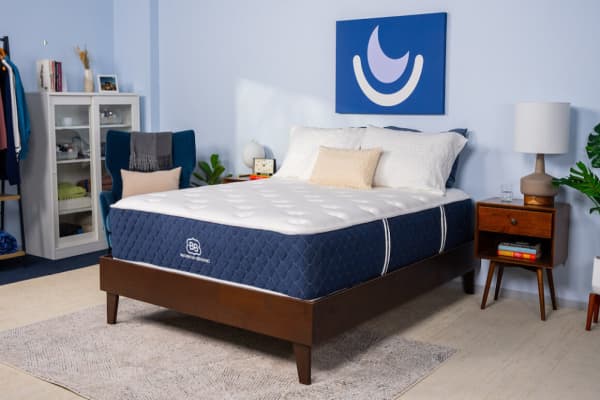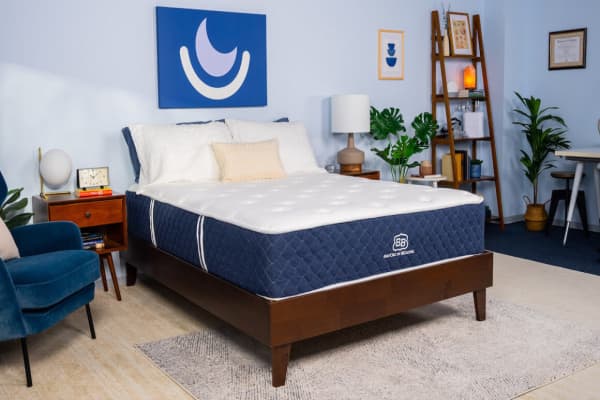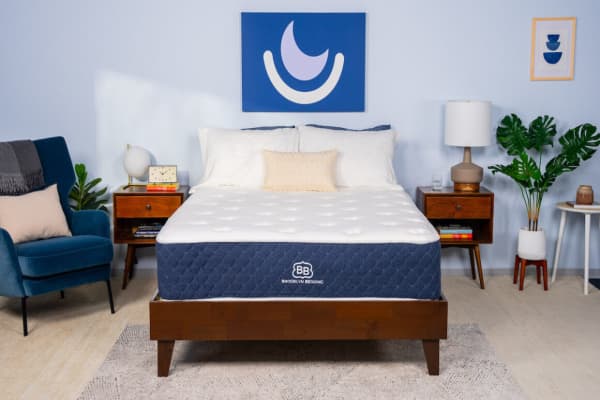 Trial Length 120 nights (30-night requirement)

Warranty 10 Year, Limited

Trial Length / Warranty

120 nights (30-night requirement) / 10 Year, Limited

Firmness Medium Soft (4), Medium Firm (6), Firm (8)
Sleep Doctor's Take
The Brooklyn Bedding Signature Hybrid is made with coils and responsive polyfoams that don't conform to your body as closely as some other foams. This slightly buoyant feel makes the bed easier to roll across than some other foam hybrids we've tested.
Three firmness options
Comfort system utilizes polyfoam with latex-like responsiveness
Perimeter reinforcement for excellent edge support
Does not "hug" the body as deeply as memory foam models
Medium firm and firm options may not offer enough pressure relief for some side sleepers
Brooklyn Bedding's top-selling mattress is the Brooklyn Bedding Signature Hybrid, a polyfoam hybrid mattress that is available in medium soft (4), medium firm (6), or firm (7) models.
Latex foam is great for sex, but it also comes with a higher price tag. Instead, the Signature Hybrid's comfort system uses proprietary polyfoams called TitanFlex and VariFlex, both of which are intended to mimic latex's responsiveness and gentle pressure relief. The TitanFlex is used in the top comfort layer, while the VariFlex is used in a transitional layer above the pocketed coil core.
The Signature Hybrid's cover is made of cotton and quilted polyfoam, though you can also choose to have a cool-to-the-touch cover sewn in for an extra fee.
Responsiveness isn't the only quality that makes a bed suitable for sex, and the Signature Hybrid also boasts excellent edge support thanks to its reinforced perimeter. We found that  the medium firm and firm options are easy to move across and sleep quite cool, although the medium soft option didn't perform quite as well in these categories due to its closer conforming.
Brooklyn Bedding stands behind its mattresses with a 120-night sleep trial, a 10-year warranty, and free shipping in the contiguous U.S.
Thanks to its different firmness options, the Signature Hybrid can be enjoyed by all sleepers, regardless of their weight or preferred sleep position. However, not every model is suitable for every sleeper. Choosing the right firmness level is critical, so couples with very different needs may want to look for a mattress that is suitable for them both.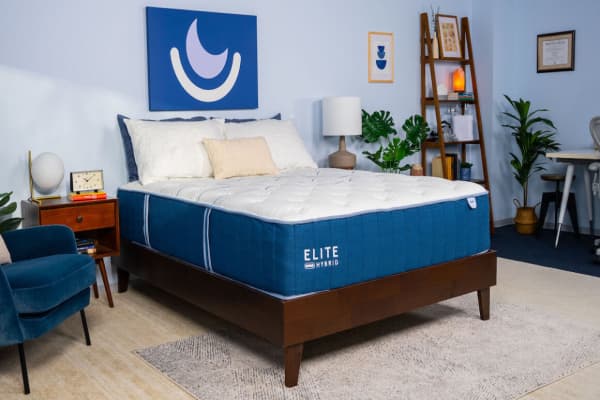 Trial Length 120 nights (30-night break-in period)

Warranty Lifetime warranty

Trial Length / Warranty

120 nights (30-night break-in period) / Lifetime warranty

Firmness Medium (5), Medium Firm (6), Firm (8)
Sleep Doctor's Take
The Bear Elite Hybrid is engineered with several cooling features that make this bed more comfortable for hot sleepers than other foam hybrids we've tested. Most testers on our team found the bed comfortable, thanks to its careful balance of cushioning and support.
Quilted, cool-to-the-touch cover with Celliant fibers
Copper-infused memory foam comfort layer meant to regulate temperature
Three firmness levels
Foam layers may emit off-gassing odor after unboxing
Coils may produce noise when changing positions at night
The Bear Elite Hybrid is a quintessential hybrid from family-owned mattress and bedding company Bear. The mattress' mixed-foam comfort system provides plush pressure relief, but its thoughtful design ensures that customers judging it on its suitability for sex are likely to be as satisfied as those using it purely for sleep.
Memory foam can sleep very warm, but the Bear Elite Hybrid was popular among our hot-sleeping testers thanks to a moisture-wicking cover that is cool to the touch. The cover also uses Celliant fibers, an engineered textile that converts body heat to infrared energy and is thought to encourage better circulation and cell recovery. Finally, the memory foam layer is infused with copper for its possible cooling and antimicrobial properties.
Thanks to the three firmness levels and balanced design, the mattress is suitable for most sleeper types. It contains several materials designed to sleep cooler than most memory foam mattresses. Although the memory foam layer is thick enough to provide excellent pressure relief, the Bear Elite Hybrid absorbs less movement than similar beds. A polyfoam transitional layer allows for more responsiveness, while the pocketed coils add bounce. Our testers also found that the Bear Elite Hybrid had much better ease of movement than other memory foam hybrids.
Customers can test the Bear Elite Hybrid for 120 nights as part of its sleep trial. Bear also offers free shipping in the contiguous U.S. and a lifetime warranty.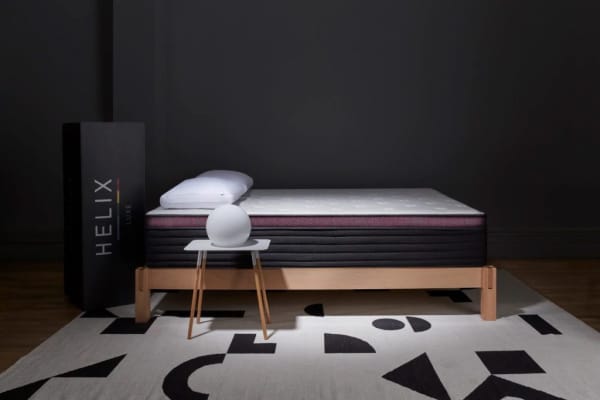 Trial Length 100 nights (30-night requirement)

Warranty 15 Year, Limited

Trial Length / Warranty

100 nights (30-night requirement) / 15 Year, Limited
Sleep Doctor's Take
The Helix Dusk Luxe is a luxuriously thick hybrid made with specialized foams and coils, plus a cool Tencel cover. During testing, the bed earned high marks for comfort from back and stomach sleepers up to 230 pounds.
Comfort layers mimic latex and memory foam with proprietary polyfoam
Ergonomically zoned pocketed coils for shoulder and pelvic support
Extra-thick with a 14-inch profile
Sleepers over 230 pounds may need more support
Plush surface reduces ease of movement
Although the Helix Dusk Luxe was designed with back and stomach sleepers in mind, this medium firm luxury hybrid is a solid choice for many sleepers. Beneath its pillow-top Tencel — or optional cooling — cover, the Dusk Luxe features a complex comfort system with a responsive yet cradling feel that is ideal for sex.
The first layer in the Dusk Luxe's comfort system is made from a proprietary polyfoam intended to offer the bounce and temperature-neutral qualities of latex. This lies above the second layer that Helix says mimics the pressure relief of memory foam without excessive sink. Our testers agreed, including those who tend to experience pressure points on other polyfoam beds. The comfort system is capped off with a transitional polyfoam layer above the ergonomically zoned pocketed coil support core.
The Dusk Luxe has a 100-night sleep trial and a 15-year warranty. Helix also offers free U.S. shipping, including to Hawaii and Alaska.
Most of our testers below 230 pounds found the Dusk Luxe worth its luxury price tag. While not as temperature-neutral as some competitors, the Dusk Luxe is a good choice for sex thanks to its responsiveness, edge support, and ease of movement.
Awara Natural Hybrid Mattress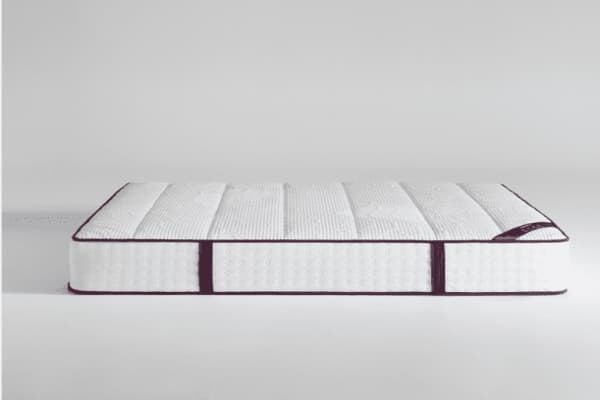 Trial Length 365 nights (30-night requirement)

Warranty Lifetime, Limited

Trial Length / Warranty

365 nights (30-night requirement) / Lifetime, Limited
Sleep Doctor's Take
The Awara Natural Hybrid Mattress has a latex and coil design that sleepers can easily roll around on. The buoyant feel is great for sex and felt especially comfortable to the back and stomach sleepers on our test team.
Breathable cover made from organic cotton and wool
Rainforest Alliance-certified Dunlop latex comfort layer
Exceptionally bouncy and responsive feel
Latex produces some motion transfer
Side sleepers under 130 pounds may prefer more cushioning
Latex beds are among the best for sex, and the Organix Latex Hybrid from latex-focused mattress and bedding company Awara shows off the full benefit of this material. In addition to its excellent performance for both sleep and sex, the Organic Latex Hybrid's focus on sustainable and organic materials makes it an appealing choice for the eco-oriented.
With its firm (7) feel and dense Dunlop latex comfort layer, this mattress is among the most responsive mattresses our team has tested. It has a bouncy feel that makes it easy to move around. The pocketed coil core also adds to the responsiveness while ensuring good edge support.
There are few mattresses on the market with better ease of movement and temperature neutrality. Latex naturally sleeps quite cool, but the Organic Latex Hybrid also features a breathable, moisture-wicking cover made from organic cotton and organic New Zealand wool.
Awara boasts customer-friendly policies such as free shipping in the contiguous U.S., a 365-night sleep trial, and a lifetime warranty.
While not a good choice for side sleepers under 130 pounds, the Organic Latex Hybrid received high scores from our testers in all other body type and sleep position categories. However, it is most suitable for sleepers above 130 pounds, as weights below this range may not compress the mattress enough to enjoy the gentle pressure relief offered by the latex.
Why You Should Trust Us
The Sleep Doctor team personally researches, tests, and reviews all the mattresses we feature. With decades of combined experience in the sleep industry, we use a rigorous testing process to ensure our recommendations are clear, accurate, and tailored to the specific needs of individual sleepers. Our diverse testing team includes people with varying body types and sleep position preferences.
What Should You Know About Mattresses and Sex?
When searching for a bed that is suitable for sex, it's worth starting with the most important factors — which type of mattress you should choose and how firm that mattress should be. Once those are decided, it's easier to look at details such as features and accessories.
Find the Type of Mattress That Works for You
Each type of mattress has different factors that can make it more or less suitable for sex. Hybrid mattresses, for example, tend to be bouncier and more responsive than all-foam mattresses. However, a foam mattress does provide more traction than a hybrid.
Suitability for sex is only one consideration when choosing a mattress type, and your ideal bed for sleeping may not be your ideal bed for sex. If this is the case, it may be worth splitting the difference — if you enjoy deeply conforming memory foam beds, a memory foam hybrid may offer more bounce than an all-foam bed while still providing the pressure relief you need.
Ensure Your Mattress Is the Right Firmness
A soft bed may sound comfortable, but choosing the right firmness is critical for sex, sleep, and avoiding back pain. A soft bed is less bouncy than firmer options and may cause people to feel as though they are sinking into it during sex. However, a bed that is too firm may not respond to movement and can be unpleasant to move on.
Medium soft (4) to firm (7) beds tend to be most suitable for sex. The ideal firmness for sleep depends on a person's weight and preferred sleep position, but this range encompasses most people's needs.
Mattress Accessories
From bed frames and bedding to pillows and mattress toppers, mattress accessories can have a substantial impact on a bed's suitability for sex.
Some accessories can help make up for a bed's downsides, such as using cool-to-the-touch bedding on a bed with poor temperature neutrality, or a bouncy latex topper on a bed with otherwise little bounce. Accessories can also be personalized to your own preferences, such as using sheets with a texture you enjoy, or wedge-shaped pillows that can be used to make different positions easier.
What Type of Mattress Is Best for Sex?
When it comes to sex, most people prefer a mattress that is bouncy and responsive, with support across the entire surface of the bed and good airflow for temperature control. Many different beds can fill these needs, but some types of mattresses tend to perform better than others.
Hybrids and Innersprings
Beds with steel coil supports are traditional for a reason, as they provide durable support and a bouncy feel that is ideal for sex. Innerspring mattresses have interconnected springs, while most hybrid mattresses use individually wrapped steel coils and feature thicker cushioning. However, some manufacturers use the two terms interchangeably.
Hybrid mattresses are among the best choices for sex, as are luxury innerspring beds with ample cushioning. Traditional innersprings are responsive, but their lack of cushioning can make some positions difficult or even painful.
Are Latex Hybrids Better Than Foam Hybrids?
Hybrid mattresses can be split into further categories depending on the materials used for cushioning — polyfoam and memory foam are the most common, but gel memory foam and latex hybrids are also available.
Polyfoam and memory foam are both artificial foam, but memory foam is much squishier than polyfoam and tends to create the feeling of sleeping "in" a bed, rather than on top of it. Gel memory foam uses gel microbeads that are thought to make the mattress sleep cooler due to better breathability.
Latex is the outlier in this list, as it is a natural foam made from the sap of rubber trees, though blended and synthetic latex exists, as well. Natural latex also has a different, much bouncier feel than polyfoams.
Comparison of Hybrid Mattress Types
Pros

Cons

Bouncy and responsive
Better temperature control than artificial foam
Gentle contouring to cradle the spine and pressure points
Lack of deep contouring makes it easy to move or change position

Usually has a much higher price-point than artificial foam
May not provide enough pressure relief for some people
Latex is heavier than polyfoam, making the mattress more difficult to move

Balances pressure relief with ease of movement
Among the most budget-friendly options
Some types can be surprisingly responsive
Enough traction for most people

Very little bounciness
Has poor airflow and can be very warm during sex or sleep
May be difficult to move on for people with mobility concerns
Can be less supportive close to the bed's perimeter

Deep contouring can protect the joints and reduce impact
Provides excellent traction
Forms a supportive cradling feeling that some people enjoy

Absorbs motion and pressure, making it difficult to maintain a rhythm during sex
Sinking into the bed can make it difficult to move or change positions
Poor airflow through the mattress and around your body makes it very warm
Difficult to balance on upright

May be cooler than traditional memory foam due to improved airflow

Usually more expensive than traditional memory foam
Which Coil Type Is Best for Reducing Squeak?
While steel coils can make a mattress more suitable for sex, they have a reputation for squeaking. However, the pocketed coils used in hybrid mattresses are much less noisy than the connected springs used in traditional innerspring beds.
Latex Mattresses
All-latex mattresses are more expensive and offer less edge support than most latex hybrids, but their natural bounciness, temperature neutrality, and gentle pressure relief mean that they are still an excellent choice for sex.
Latex foam is made using two distinct manufacturing processes, Dunlop and Talalay. Dunlop latex is bouncier and more durable than Talalay, which weighs less and has a squishier feel.
Airbed Mattresses
Airbeds feature an air-filled chamber that can be inflated or deflated to change the bed's feel and firmness. While they are among the most expensive mattresses, their adjustability makes airbeds a good choice for people who prefer different firmness options for sex and sleep.
Foam Mattresses
All-foam mattresses usually pair a polyfoam or memory foam comfort system with a high-density polyfoam support core. Despite being a popular choice that can be ideal for sleep, foam mattresses have a number of drawbacks when it comes to sex — they lack responsiveness, usually have poor edge support, and can make it difficult to move or change positions.
How Firm Should Your Mattress Be for Sex?
The best mattresses for sex are those between medium soft (4) and firm (7). While preferences vary, beds within this range are firm enough to retain responsiveness while not being so firm as to cause discomfort.
Our Firmness Scale and Helping You Find Your Ideal Range
We use a 10-point scale to describe mattress firmness, but the vast majority of mattresses fall between soft (3) and very firm (8).
People who weigh more generally require firmer mattresses than those who weigh less. However, this does not mean that a mattress rated "firm" will be uncomfortable. Mattress firmness is subjective to a degree, and people who weigh more will find that firmer mattresses feel softer to them. The scale, on the other hand, provides a subjective reference for comparing different beds.
Your Mattress Height, Edge Support, Bedding, and Bed Frame
Most people prefer a bed with good edge support for sex, as this allows the entire surface to be used without loss of support. If you utilize the edge of a mattress during sex, edge support becomes even more critical.
The height of a mattress can also be a problem or asset in this scenario, as a high-profile mattress on a high bed frame may make some positions easier or more difficult depending on your height.
A Good Set of Sheets Can Add to Your Experience
If your bed is too warm, breathable and moisture-wicking bedding made from natural fibers can reduce heat retention and make it feel cooler. Bedding also has a sensory quality, and choosing a material you like can make it more enjoyable to have sex in your bed.
Consider a Sturdy Bed Frame
Bed frames should be sturdy and secure since active sex can damage or even break weak bed frames. Inappropriate support — such as placing the mattress directly on the floor — may void your warranty.
Bed frame squeaking usually occurs where different parts of the frame are screwed together. Frames with fewer pieces are less prone to squeaking, and squeaking can often be fixed by tightening or properly maintaining the connections.