Adjustable beds have come a long way since they were first created to help patients in hospitals. They are now used for a variety of reasons, ranging from relieving pressure to reducing snoring.
Adjustable beds are intended to offer a more customized sleep experience. Most standard designs allow you to adjust the angle of your head and legs, which can be helpful for certain conditions like heartburn, sleep apnea, and poor circulation. Some models include massage functions, wireless capabilities, and USB ports.
However, not every standard mattress works with an adjustable bed. A mattress needs to be malleable enough to bend with the base yet sturdy enough to withstand repositioning. The mattress also needs to complement your sleep style and body type.
After rigorous testing, our team of sleep experts determined the top-performing mattresses for adjustable beds. We'll discuss what sets these models apart as well as some general considerations to keep in mind when it comes to purchasing an adjustable bed.
Sven & Son Signature 14″ Hybrid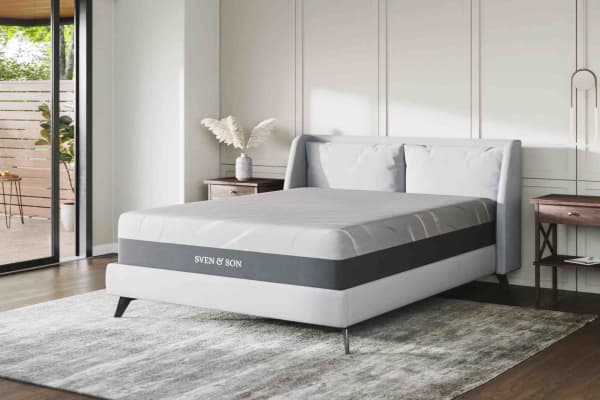 Warranty 10 Year, Limited

Trial Length / Warranty

120 nights / 10 Year, Limited
Sleep Doctor's Take
The Sven & Son Signature 14" Hybrid is the quintessential hybrid model, offering an even balance of cushioning in the foam layers and sturdy support in the thick coil system. Our testers recommend this bed for side and back sleepers.
Mixed-foam comfort system cradles the body
Cooling gel layer reduces heat retention
Coils generate ample pushback
Thick profile may not appeal to fans of low-profile beds
Only one firmness option available
Stomach sleepers may prefer a firmer bed
The Sven & Son Signature 14" Hybrid Mattress is a foam hybrid model that balances a plush surface with a supportive core. The well-rounded design makes this mattress a crowd-pleaser for a wide array of sleepers.
How Does It Feel?
The comfort system contains top layers of Air Flow gel and gel-infused memory foam, which cradled our bodies during testing. Next are two polyfoam layers that enhance contouring but feel slightly firmer than memory foam. The support core is composed of pocketed coils that support your body but also generate some responsiveness.
During in-house tests, hot sleepers found the mattress very comfortable. Hybrids tend to sleep fairly cool thanks to airflow through the coil layer, and the Air Flow gel layer on top of the gel-infused memory foam helped keep heat retention to a minimum.
Why We Like It
Our testers found the Sven & Son Hybrid conformed closely enough to ease pressure off sensitive areas. Meanwhile the coils balance out the cushioned surface with sturdy support for heavier parts of the body. Thanks to the balanced design, our tests showed that the mattress was a good fit for side sleepers who need a bed that cradles the shoulders and hips while supporting the lower back. Back sleepers on our team also found the cushioning and support to be comfortable.
The Sven & Son Signature 14" Hybrid comes with a 120-night sleep trial and 10-year warranty. Shipping is free to addresses in the contiguous U.S.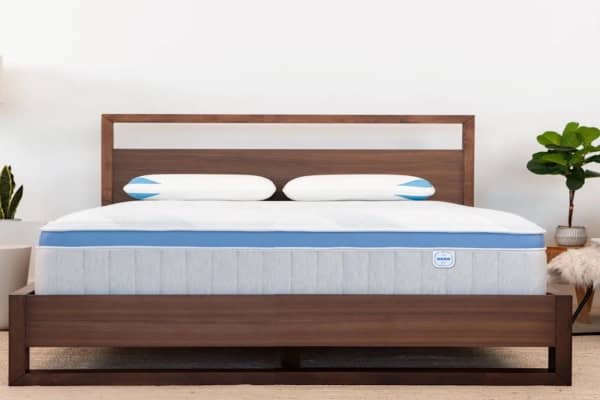 Trial Length 120 nights (30-night break-in period)

Warranty Lifetime warranty

Trial Length / Warranty

120 nights (30-night break-in period) / Lifetime warranty
Sleep Doctor's Take
The Bear Star Hybrid is a foam-and-coil mattress that runs cooler than other foam hybrids we've tested, thanks to the phase change material and Celliant in the cover. The bed earned its highest marks from our side-sleeping testers, who enjoyed the mix of pressure relief and support.
Celliant fiber and PCM cover designed to promote circulation
13-inch profile with five distinct layers
Above-average temperature control
Not ideal for sleepers who prefer low-profile beds
Some may find the mattress too bouncy
Only available in one firmness option
At 13 inches tall, the Bear Star Hybrid is a substantial mattress designed to ease pressure points. The brand is known for producing mattresses with athletes and active people in mind, and its Star Hybrid model is no exception. The mattress has a medium firm (6) feel and is available in all standard sizes.
How Does It Feel?
The five-layer construction starts with a quilted Celliant fiber cover engineered to transform body heat into infrared energy, which is thought to help improve muscle recovery by regulating temperature and increasing circulation. The cover is also made with phase change material intended to regulate temperature.
A layer of copper-infused memory foam contours to the shape of the body and eases tension by promoting good posture as you sleep. A transitional polyfoam layer rounds out the comfort system by providing reinforcement while also preventing the body from sinking too far into the mattress.
Why We Like It
Like other hybrid mattresses, the Bear Star Hybrid uses a pocketed coil support system to provide bounce and stability. With individually wrapped coils, the support core limits motion transfer while regulating temperature. Beneath the support core, a layer of high-density polyfoam forms the base of the mattress for extra durability.
The medium firm feel and cooling technologies make the Bear Star Hybrid a good choice for sleepers seeking a responsive yet supportive mattress. Individuals who sleep hot and those on a budget should also find the Bear Star Hybrid meets their needs.
The Bear Star Hybrid is GREENGUARD Gold certified, indicating that it meets stringent guidelines concerning VOCs, phthalates, and other chemicals. The mattress includes a 120-night sleep trial and lifetime warranty. Shipping is free to customers in the contiguous U.S.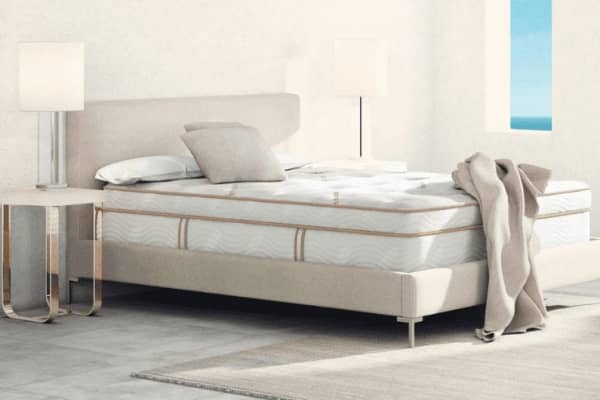 Trial Length 365 Nights ($99 Return Fee)

Warranty Lifetime, Limited

Trial Length / Warranty

365 Nights ($99 Return Fee) / Lifetime, Limited
Sleep Doctor's Take
Some latex beds have a responsive quality that's not for everyone, but the Saatva Latex Hybrid balances out the bouncy feel with a tufted Euro-top that deeply cushions your body. Meanwhile the latex and coils prevent uncomfortable sinkage and offer excellent support.
Zoned pocketed coil system for targeted support
Wool batting that acts as a natural fire barrier
Talalay latex for even contouring and pressure relief
Side sleepers may prefer a bed with stronger contouring
Latex produces some motion transfer
No choice of firmness options
The Saatva Latex Hybrid is made from natural and organic materials. Combining ventilated Talalay latex with a pocketed coil core, the luxury hybrid is engineered to balance contouring with responsiveness.
How Does It Feel?
Designed to resist heat buildup, the mattress is encased in breathable GOTS-certified organic cotton. The cover is treated with Saatva's proprietary botanical treatment, Guardin, which is engineered to reduce bacteria and mold. A layer of organic wool batting functions as a fire barrier while also drawing out excess heat.
Three inches of zoned Talalay latex offers targeted support, especially for the lumbar region. Springier than memory foam, Talalay latex still contours to the shape of the body to alleviate pressure points. The latex also has small perforations that encourage airflow, leading to a cooler sleep. The mattress' support core features individually wrapped coils that reduce motion transfer while still allowing for easy movement.
Why We Like It
Our testing team found the combination of latex and coils offered sleepers an even mix of conforming and pushback. The balance of support and give makes this mattress easy to reposition when used as an adjustable bed. The zoned construction of the coil system also puts stronger coils along the edges and beneath the lumbar region to prevent sagging. Thinner coils cradle less weight-bearing areas like the head and feet.
The Saatva Latex Hybrid includes free White Glove delivery for customers in the contiguous U.S. A team of professionals will set up your mattress and, if needed, remove your old mattress as well. The mattress comes with a 365-night sleep trial and a lifetime warranty.
Trial Length 100 Nights (30-Night Requirement)

Warranty 10 Year, Limited

Trial Length / Warranty

100 Nights (30-Night Requirement) / 10 Year, Limited
Sleep Doctor's Take
The Casper Original Hybrid is a foam-and-coil model with a softer feel than some other hybrids on this list. Side and back sleepers on our team give the bed high ratings for pressure relief and motion isolation.
Tri-zoned memory foam designed to support spine alignment
Ventilated polyfoam for improved breathability
Soft knit cover made from recycled plastic bottles
Stomach sleepers may prefer a firmer model
Foam may produce harmless off-gassing odor
Sleepers who prefer tall beds may find profile too thin
Drawing on the strengths of memory foam, polyfoam, and pocketed coils, the Casper Original Hybrid is designed to maximize pressure relief while minimizing heat retention. The mattress features Casper's signature fabric-blend cover, which includes upcycled cotton, rayon, and polyester derived from recycled plastic bottles.
How Does It Feel?
The two-layer comfort system begins with ventilated AirScape polyfoam. The foam is designed to offer more bounce than typical memory foam, while tiny perforations are used to boost airflow. The tri-zoned memory foam below is engineered to contour to the shape of the body while encouraging good posture. Denser foam supports the heavier midsection and lumbar region, while softer foam cushions the shoulders and neck.
In the mattress' support core, 7 inches of pocketed coils allow for some bounce while still minimizing motion transfer. High-density polyfoam surrounds the support core and strengthens the edges of the mattress without taking away from its flexibility.
Why We Like It
The Casper Original Hybrid has a medium (5) firmness level, which we found suits a variety of sleep preferences. During testing, the breathable memory foam layers provided an even balance of support and contouring, particularly for sleepers who experience stiff joints. It earned the highest marks from back and side sleepers between 130 and 230 pounds, offering just the right amount of pressure relief to sleepers in these weight categories. Testers also reported minimal motion transfer, which is helpful for co-sleepers who disrupt each other's sleep with movement at night.
The Casper Original Hybrid ships free of charge to the contiguous U.S. and certain Canadian provinces. The mattress has a 100-night sleep trial, but customers are required to keep the mattress for at least 30 days before initiating a return. A 10-year limited warranty protects customers from defects in materials and craftsmanship.
Why You Should Trust Us
Our team of experienced sleep experts has rigorously tested these mattresses to provide you with the information you need to choose the best mattress for your adjustable bed. In addition to having extensive industry knowledge, our research panel is made up of people with different body types and sleep styles in order to provide a comprehensive review of each mattress.
What Do I Need to Know About Adjustable Beds?
To simplify your search, we've broken down the main factors to consider when choosing a mattress to pair with an adjustable bed.
Find the Type of Mattress That Works Best for Adjustable Beds
Not every type of mattress works with an adjustable bed. A suitable mattress should be both flexible and durable without being exceptionally heavy. If your reason for choosing an adjustable bed is to alleviate muscle and joint pain, you'll want a mattress that also provides exceptional pressure relief.
Is an Adjustable Bed Right for You?
People use adjustable beds for convenience, comfort, and to help with certain medical conditions. Others just enjoy being able to sit up in bed to read or watch TV. Since adjustable beds are often pricier than standard models, it's important to weigh possible benefits with cost.
Firmness, Contouring, and Sleep Position
A mattress needs to have a certain degree of flexibility in order to adjust with the base. A mattress that is too firm might not bend easily. Choosing a flexible mattress that works with your sleep style is essential.
It's also important to note that not every adjustable angle is appropriate for sleeping, particularly for stomach and side sleepers.
Solid vs. Split Adjustable Bases
Adjustable bases can be either solid or split. A solid model only adjusts as a unit, while a split design allows couples to make adjustments independently. Some split models are fully divided down the middle, in which case sleeping partners each have their own mattress. A design with only a split top means that each head of the bed can be adjusted on its own.
Best Mattress Types for Adjustable Beds
There are a variety of mattresses that work well with adjustable beds, but each category varies in terms of durability, contouring, flexibility, and weight.
Foam Mattresses
By definition, a foam mattress is made entirely from memory foam, polyfoam, or a combination of both. Softer foam is typically used in the comfort system to cushion pressure points, while denser foam forms the support core.
Foam mattresses are often a good match for adjustable beds because they are usually quite flexible. Foam also conforms to the body, which is why foam mattresses generally excel at pressure relief. And because they weigh less, they can help keep adjustable beds from becoming too heavy.
Hybrid Mattresses
Hybrid mattresses fuse a cushioning comfort system with a pocketed coil core to balance pressure relief with bounce. Hybrids were developed as a more comfortable alternative to the traditional innerspring mattress. As such, they can enhance the therapeutic value of adjustable beds by reducing tension and making movement easier.
Are Innerspring Mattresses Too Springy?
Foam and hybrid models have largely replaced innerspring mattresses because they offer better contouring and pressure relief. Because of their rigid coil systems, which don't allow for easy bending, traditional innerspring mattresses don't work well with adjustable beds. Innerspring mattresses with thin comfort layers may also contribute to aches and pains, undermining some of the goals of an adjustable bed.
Latex Mattresses
Made from natural or synthetic latex, or a combination of both, latex mattresses tend to be highly responsive and durable. They don't hug the body as closely as memory foam mattresses, but they still offer standout pressure relief without retaining as much heat. Given their flexibility, latex mattresses are generally a suitable choice for adjustable beds.
Airbed Mattresses
Airbeds have interior air chambers that modify the mattress' firmness. Pairing an airbed with an adjustable base can potentially cut off airflow in the support core, impacting the way the mattress feels and the amount of support it provides. Always check the manufacturer's guidelines before using an airbed with an adjustable foundation.
Is an Adjustable Bed Right for You?
Many people use adjustable beds to help with conditions like acid reflux, sleep apnea, and snoring. Others simply enjoy having extra features designed to increase comfort and convenience.
Benefits
Therapeutic Uses
Because adjustable beds elevate the head, they may help alleviate snoring and symptoms of GERD and sleep apnea. Models that adjust at the foot of the bed may help improve circulation and reduce fluid retention.
Adjustable beds may also be used to help reduce arthritis pain, back pain, and general muscle soreness, especially when combined with a pressure-relieving mattress.
Always speak to your doctor if you plan on using an adjustable bed to treat a medical condition.
Adjustable Beds Offer Comfort and Control
Originally designed to make patients more comfortable in hospitals, adjustable beds can now enhance your sleep experience inside your own home. They optimize pressure relief by allowing you to fine-tune the angle of your body and the level of support. Adjustable frames can lie flat like a traditional bed, or the head and foot of the bed can be elevated to a desired angle. Most models today are programmed using a remote or app.
Features and Amenities
Adjustable beds have become much more sophisticated in recent years. Today, many models include a number of amenities, such as alarms, Bluetooth connections, USB ports, massage features, and memory settings. Some also offer a zero-gravity feature, allowing you to raise both ends of the bed to create a weightless sensation.
Drawbacks
Adjustable Beds Are Pricey
Adjustable beds are usually much more expensive than standard foundations like box springs or platform beds. As such, they may be cost-prohibitive for shoppers on a tighter budget.
They Can Be Awkward and Heavy
Adjustable bed frames can be quite bulky and heavy, and they may require assembly. If professional installation isn't possible, you may need to have at least one other person to set up the bed.
They May Require Mechanical Maintenance
Because adjustable beds use various motors and apparatuses to reposition, certain parts may need to be replaced or calibrated every so often. While mechanical issues should be fairly infrequent, you can expect to have higher maintenance costs compared to a standard bed.
What About Firmness, Contouring, and Sleep Position?
To get the most out of your adjustable bed, you need a mattress with a reasonable amount of firmness and contouring. You should also consider how your sleep position might be impacted by an adjustable bed.
Firmness
Mattress firmness is an important factor when using an adjustable base. Mattresses are rated according to a 10-point firmness scale, with 1 being extremely soft and 10 extremely firm. The ideal firmness for an adjustable bed is between soft (3) and medium firm (6). A mattress that is too firm might not bend properly or conform to the frame's incline.
Is It Possible to Have a Mattress That's Too Thick?
The ideal thickness for an adjustable bed is between 10 and 12 inches. Thicker mattresses may not be pliable enough to bend with the frame, though it depends on the overall construction of the mattress.
Contouring
Contouring refers to how well a mattress conforms to the body, which is essential to pressure relief. Comfort systems often use memory foam or latex, which cradle the body while distributing weight more evenly. Foam and hybrid models generally pair well with adjustable frames because they are both contouring and supportive. Sleepers who prefer a little bounce usually do well with latex mattresses, while those who like a close hug typically enjoy memory foam.
Regardless of mattress type, you'll want to choose a mattress that provides the right amount of contouring based on your sleep position.
Will Side or Stomach Sleepers Feel Cramped?
Prior to buying an adjustable mattress or frame, it's important to consider your primary sleep position. Not all inclines will comfortably sleep each position — for example, stomach and side sleepers may feel confined if the angle is too severe. Certain angles can also distort spinal alignment, resulting in aches and pains the next morning.
Should You Buy a Solid or Split Adjustable Base?
Before purchasing a mattress, you'll need to decide if you want a solid or split adjustable base. A solid base adjusts as a whole unit, whereas a split model has two sides that move independently. Each option comes with its own considerations, including cost, space, and whether or not you sleep with a partner.
You may prefer a solid base if:
You're a solo sleeper on a budget
You and your partner have the same sleep preferences
You may prefer a split base if:
You and your co-sleeper have very different sleep styles
One partner stays awake longer and likes to sit up in bed while the other is sleeping