Choosing the right bed frame can greatly improve your sleep experience. Besides providing support and elevation for your mattress, bed frames can also increase mattress air circulation. Some designs add storage space to a bedroom, either with built-in drawers or simply by elevating your bed.
To help you choose from the large array of bed frame designs, we'll share our picks for the best bed frames in different categories, then walk you through factors to consider when shopping. We'll also detail the different types of bed frames available and answer frequently asked questions about mattress bases.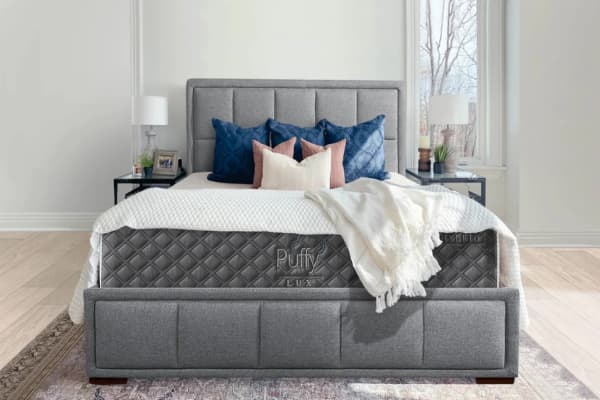 Type: Bed Frame

Sizes: Full, Queen, King, California King

Price(Queen): $999

Warranty: Lifetime, Limited
Noise-free design prevents squeaks and creaking
Includes upholstered headboard
101-night sleep trial
Might be too expensive for some shoppers
Only one color available
No underbed storage space
Sleep Doctor's take
The Puffy Sterling Bed Frame checked the important boxes for our testers with its contemporary aesthetic, robust support, and padded headboard. People looking for color options or storage space may prefer another model, but for silent support, elevation, and balance, the Puffy Sterling Bed Frame is hard to beat.
---
Founded in 2016 as a direct-to-consumer mattress brand, Puffy now offers a range of bedding products and bed frames. The Sterling Bed Frame follows the company's contemporary yet utilitarian style. Dark gray linen upholstery covers a sturdy 51-inch-tall wooden frame and padded headboard. Wooden slats comprise the base.
Why we like it
The Sterling Bed Frame's base of wooden slats offers sturdy, silent support for a mattress, and the plush headboard is perfect for lounging. Assembly instructions are simple, and should problems arise, Puffy offers excellent customer support.
The Puffy Sterling Bed Frame includes a 101-night sleep trial and a limited lifetime warranty. Shipping and returns are free throughout the U.S.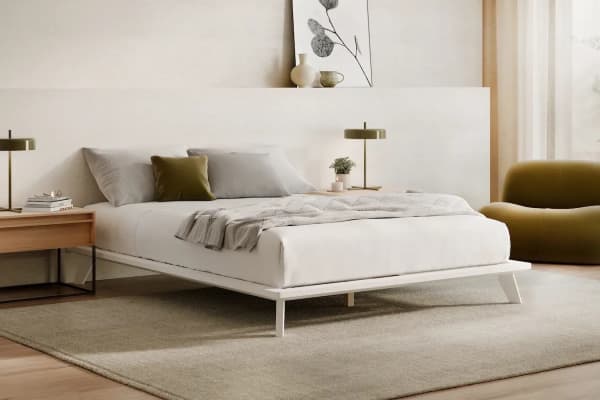 Type: Bed Frame

Firmness: N/A

Sizes: Full, Queen, King

Price(Queen): $799
10-inch height allows for underbed storage
Easy, tool-free assembly
Lower price-point than many platform beds
No headboard
Minimalist aesthetic may not appeal to everyone
Not available in stores
Sleep Doctor's take
The Nectar Platform Bed offers all the benefits we hope for from a platform bed — space-saving storage, simple assembly, and durable support — at an accessible price-point.
---
Nectar's sleek platform bed provides no-frills mattress support in a sturdy pine and spruce design that costs less than many wooden platform bed models.
Why we like it
Available in three colors and constructed with spruce and pine, the Nectar Platform Bed stands 10 inches off the floor. This elevation creates a decent amount of storage space under your bed while still keeping a relatively low profile for your mattress. Our testers found that it offers strong, even support for all types of mattresses, while its wooden slats promote breathability.
The Nectar Platform Bed includes a 50-night sleep trial and a three-year limited warranty. It ships free to the contiguous U.S and for a fee to Alaska and Hawaii.
Silk & Snow Bed Frame with Storage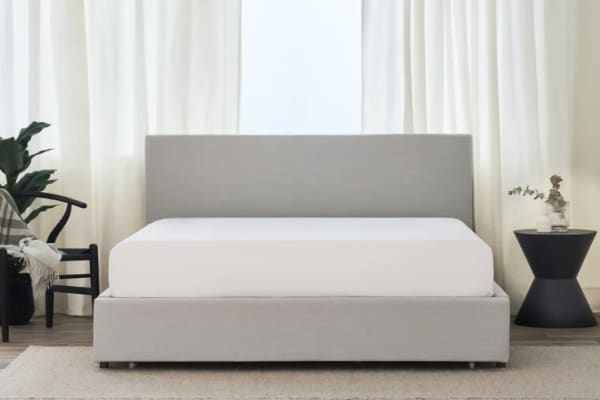 Type: Bed Frame

Sizes: Full, Queen, King

Price(Queen): $700

Warranty: 5 Year, Limited
Spacious storage drawer is built into the frame
Includes upholstered headboard
Supports up to 1,100 pounds
Assembly is more complex than some frames
Bottom drawer is not on a track
30-day sleep trial is shorter than some models
Sleep Doctor's take
Our team appreciated how the Silk & Snow Bed Frame with Storage provides a sturdy base plus a discreet way to store belongings. It's an ideal frame for those who live in a small space and want an upholstered frame with a headboard.
---
People sometimes forget that bed frames can expand a room's storage space. The Silk & Snow Bed Frame with Storage capitalizes on this advantage with a built-in drawer at the foot of the bed that rolls out on caster wheels. While a few reviewes have complained that the lack of tracks prevents the drawer from closing tightly, most said the upholstered front of the drawer blends seamlessly with the rest of the frame.
Why we like it
With a base of extra wide 2.4-inch poplar wooden slats spaced only 3 inches apart, the Silk & Snow Bed Frame with Storage supports an impressive 1,100 pounds. Underneath, a pullout drawer at the front offers more than 7,000 cubic inches of storage space. Available in four earthy tones, the bed frame also includes an upholstered headboard.
Silk & Snow offers a 30-day sleep trial, in which the buyer pays return shipping if not satisfied, and a five-year limited warranty. The bed frame ships free to the contiguous U.S. and Canadian provinces. The company also ships to Alaska, Hawaii, and Canadian territories for an added shipping charge.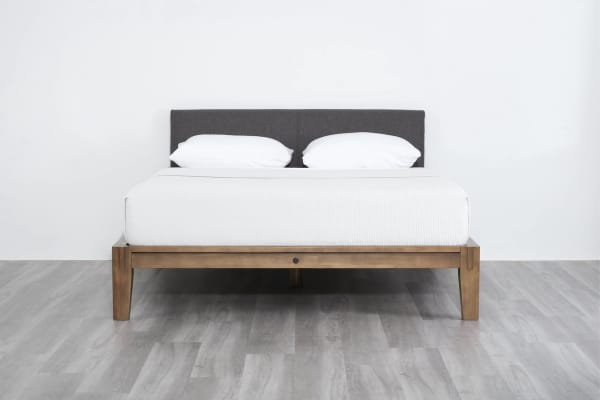 Type: Bed Frame

Sizes: Twin, Twin XL, Full, Queen, King, California King

Price(Queen): $1,095

Warranty: Lifetime, Limited
All-wood design is exceptionally sturdy and quiet
Easy assembly
100-night sleep trial
Fairly pricey
Extra cost to add pillowboard or headboard
Some sleepers may prefer a higher-profile frame
Sleep Doctor's take
The Bed by Thuma impressed our testers with its aesthetics and performance. Constructed from repurposed wood, the frame adds an elegant, handcrafted touch to the bedroom. Better still, it provides excellent support and has virtually silent performance.
---
Thuma makes beds and accessories that fuse luxury with minimalism. The Bed by Thuma is a strong, elegant 9-inch frame made from repurposed wood. It's assembled with Japanese joinery techniques that eliminate the need for tools or metal fasteners. The company offers a shorter plush backing called a pillowboard as well as a headboard for additional fees.
Why we like it
Our testers appreciated The Bed by Thuma's easy assembly, which involves simply fitting the pieces into slots. Despite its simple aesthetic, the frame offers robust support that won't creak from movement on top. Its 9-inch height allows for underbed storage, and the frame is GREENGUARD Gold certified for low chemical emissions.
The Bed by Thuma includes a 100-night sleep trial, a limited lifetime warranty, and free shipping in the contiguous U.S. and Canada. Customers in Alaska and Hawaii pay an additional shipping fee.
Brooklyn Bedding High Rise Platform Bed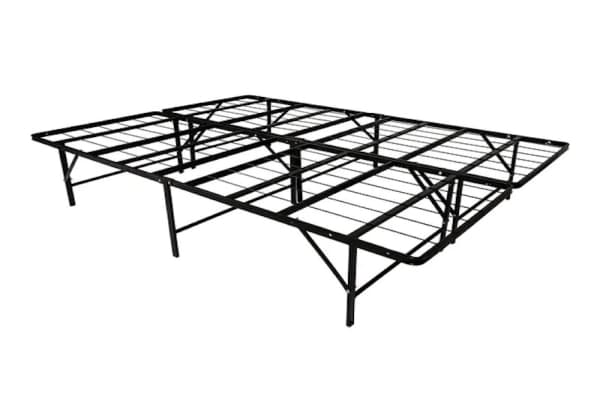 Type: Bed Frame

Sizes: Twin, Twin XL, Full, Queen, King, California King

Price(Queen): $179

Warranty: 3 Year, Limited
Budget-friendly price
Robust support of up to 1,500 pounds
Tool-free assembly
No headboard option
Does not include a sleep trial
14.5-inch profile may be too high for sleepers with mobility issues
Sleep Doctor's take
For a fraction of the price of most bed frames, the Brooklyn Bedding High Rise Platform Bed offers nearly unmatched support and generous underbed storage. Our testers also appreciated its simple assembly and retractable construction for easy folding.
---
The Brooklyn Bedding High Rise Platform Bed features an industrial-style metal design with a 14.5-inch profile. It's able to house all types of mattresses, and while it doesn't include a headboard, you can purchase brackets to attach one.
Why we like it
People who want a strong, no-nonsense bed frame with storage underneath should appreciate the Brooklyn Bedding High Rise Platform Bed. A tubular steel design with center reinforcement supports up to 1,500 pounds and prevents sagging. It's easy to assemble, and it offers an enormous amount of storage space under the bed. Best of all, it's priced far lower than most platform beds.
The Brooklyn Bedding High Rise Platform Bed does not include a sleep trial, but it does come with a three-year warranty. Shipping is free to the contiguous U.S., with customers in Alaska, Hawaii, and Canada paying additional fees.
---
Are bed frames necessary?
While bed frames are not absolutely necessary, they offer a number of advantages that make them a beneficial accessory for many sleepers.
A bed frame elevates a mattress from the floor, which helps deter dust, mites, and bugs. Also, elevating the bed helps prevent the buildup of heat and moisture under the mattress. This elevation also makes getting out of bed easier and sometimes creates storage space underneath the bed.
However, a bed frame is not essential. Some sleepers prefer the stiff feel of a mattress placed directly on the floor. Those who move often may not want the hassle of a bulky bed frame that has to be assembled in each new home. Others may not be able to afford the extra expense.
Note that many manufacturers void the warranties of mattresses if a proper support system like a bed frame is not used.
Who should use a bed frame?
Bed frames are a good choice for sleepers who want extra elevation or support, sleepers who are sensitive to dust, those who need extra storage space, or those who like a frame's aesthetic.
Many bed frames offer extra support to help accommodate movement on the mattress and prevent sagging and warping over time. For this reason, many mattress companies void their warranties if the bed is not placed on an acceptable base. Sleepers who feel their mattress is too soft, or those who simply need extra support because of back pain may find that a bed frame helps. Additionally, many find that elevating their mattress makes getting in and out of bed easier.
People sensitive to dust may benefit from the elevation provided by bed frames. When positioned at a higher level, contaminants like dust and mites are less likely to reach the mattress.
Many bed frames help create storage space by giving sleepers a space beneath the bed to put belongings. Also, since bed frames are available in a wide variety of designs, some buyers use them as a core component of their bedroom decor.
How much does a bed frame cost?
Bed frames vary widely in price, costing anywhere from less than $100 to more than $10,000. The cost depends on a number of different factors including materials, size, special features, and design.
Bed frames made with high-quality materials tend to cost more. For example, a frame made from solid wood will have a higher price-point than one made from particle board. Some bed frames include features such as headboards, footboards, and storage compartments which can affect the price. Also, certain types of bed frames — such as adjustable models — tend to cost more than others.
While all bed frames perform the same basic function of elevating and supporting a mattress, there are many different types available. While this list is not exhaustive, most bed frames fall into one of the following categories.
Platform
A platform bed provides an elevated surface to place a mattress on and eliminates the need for a box spring. These frames may be constructed from wood or metal, and they usually have simple designs compatible with a variety of mattresses.
Platform beds come in solid or slatted varieties. Solid surfaces offer sturdier support but allow less air to circulate. Slatted bases let mattresses breathe but might be insufficient for extremely heavy mattresses.
Platform beds usually keep the mattress relatively close to the ground, though some have space underneath that can be used to store belongings.
Storage
Storage bed frames have drawers or other types of storage space built into the frame. This design makes stored belongings more inconspicuous than if they were placed on the floor under a platform bed. Because of their more complex design, assembly is often more time-consuming.
Sleigh
These bed frames have a curved headboard and footboard which give them the appearance of a sleigh. Usually made from wood, they offer strong support and add a regal aesthetic to the room. They are heavier than many bed frames, so they may not be a good choice for buyers who plan to move or rearrange their room often. They also take up more space, so they are best suited to large bedrooms.
Four-poster
Four-poster bed frames include posts that rise up from each corner of the frame, sometimes connected by rails at the top. The posts add a dramatic feel to the bed, which you can adjust to your preferred style based on the materials and the height. These bed frames are best for larger rooms with high ceilings. A subcategory of the four-poster frame is the canopy bed, in which the posts are joined at the top and draped with fabric.
Assembly is usually more complicated for four-poster frames, and they are not easy to move once built.
Adjustable
Adjustable beds let sleepers raise parts of the bed — usually the head, the foot, or both. This feature may help alleviate back pain or chronic snoring. Adjustable beds are generally motorized, which means you'll need an outlet near the bed to plug it in. Because they involve more electronics and technology, adjustable bed frames are often more expensive than other types.
While adjustable beds can accommodate most modern mattresses, certain traditional innerspring models may be too rigid.
How to choose a bed frame
Besides mattress compatibility, there are several factors to consider when shopping for a bed frame. These range from aesthetic preferences to practical considerations like cost and durability.
| | |
| --- | --- |
| Style | Bed frames come in a number of different styles, each of which provides certain benefits. However, beyond the functional aspects of the frame, it's important to consider your bedroom decor and aesthetic sensibility, and how the frame compliments these. |
| Material quality and durability | Bed frames are usually constructed from wood or metal, with some using upholstery to cover the headboard and frame. High-quality wood and fabric may improve the performance and durability of the frame. Cheaper materials like particle board or plastic are more likely to degrade over time. |
| Price | Bed frames span a wide range of prices, from less than $100 all the way to $10,000 or more depending on the quality of materials and features. |
| Height | The height of the frame determines how easy it is to get in and out of bed. If storage space is a priority, taller frames generally provide more vertical space to store belongings. |
| Mattress size | Be sure to verify that the bed frame size you order fits your mattress size. Some bed frames are only available in larger sizes like full, queen, or king, and some companies do not offer California king. |
| Mattress type | While most bed frames are designed to be compatible with any mattress, some bases are more ideal than others for certain types of mattresses. Consider the firmness of your mattress and the mattress type before purchasing a bed frame. Mattress warranties sometimes specify compatible forms of bed frames. |
| Assembly | Most manufacturers aim to make bed frame assembly as straightforward as possible, so you'll rarely need to worry about hiring a handyperson. However, simpler frames are generally easier to put together than those with storage space, posts, or other features. Often, the manufacturer's website gives a preview of what assembly is like. |