Platform beds combine the benefits of a bed frame and a foundation to create a sturdy support system for your mattress. Unlike traditional bed frames that need to be paired with a box spring, platform beds are designed to support the full weight of a mattress on their own.
We'll review our picks for the best platform beds before exploring this style of mattress base in more detail, including common types and how to choose one that suits your mattress and sleep needs.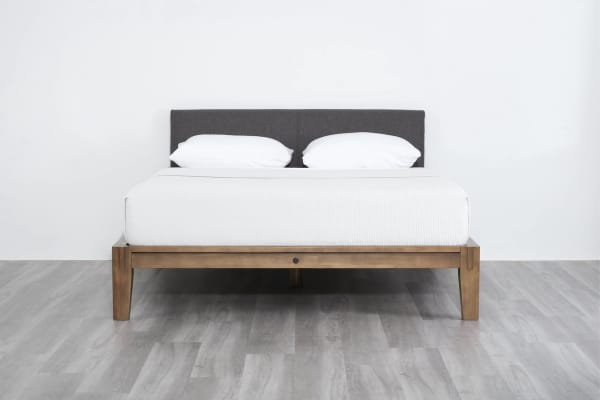 Type: Bed Frame

Sizes: Twin, Twin XL, Full, Queen, King, California King

Price(Queen): $1,095

Warranty: Lifetime, Limited
Choice of four colors and two headboard options
Quality materials and thoughtful assembly techniques form a robust base that's easy to set up
Rounded corners offer protection from bumps and scrapes
Lower profile may make it harder to get into and out of bed
Shipped in boxes that may be too heavy to lift without a partner
Shorter headboards may not be visible behind pillows
Sleep Doctor's take
The Bed's simple look and straightforward setup belie exceptional strength and support. We were also impressed with its whisper-quiet performance made possible by felt-lined slats that lock into place.
---
The Bed by Thuma features a modern design aesthetic with a natural wood frame available in four versatile stains. Shoppers can also choose from two optional headboards: one with a soft, removable cover and the other in solid wood.
Why we like it
A classic look that complements most decor is balanced by thoughtful details that make The Bed highly functional. Setup is relatively easy given The Bed's use of Japanese joinery that eliminates the need for tools. Extra-strong slats lined with felt made from recycled plastics offer a sturdy, anti-slip foundation that helps dampen noise.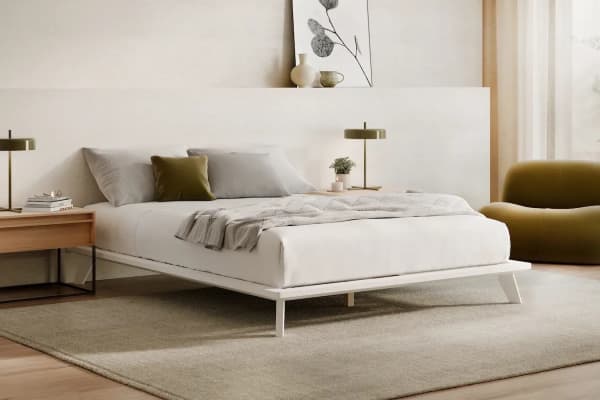 Type: Bed Frame

Firmness: N/A

Sizes: Full, Queen, King

Price(Queen): $799
Understated look and neutral color options allow for seamless integration into most bedrooms
Well-spaced slats made with premium materials negate the need for a box spring
Reasonable price tag
50-night sleep trial period is shorter than average
Low perimeter lip and no anti-slip grip on the slats can result in mattress shifting
Less durable than other platform bed options
Sleep Doctor's take
The Nectar Platform Bed has a simple, classic look in solid wood that creates a supportive base, while the surprisingly affordable price-point makes it a great value.
---
With a pared-down design that has midcentury modern appeal, the Nectar Platform Bed offers sleek style at an affordable price. Slats placed 4 inches apart form a solid base and ensure sturdy support while promoting airflow.
Why we like it
Crafted from pine and spruce, the Nectar Platform Bed offers solid construction that prevents sagging. Three classic colors match most bedroom schemes, and a 10-inch profile allows for enough space underneath for storage.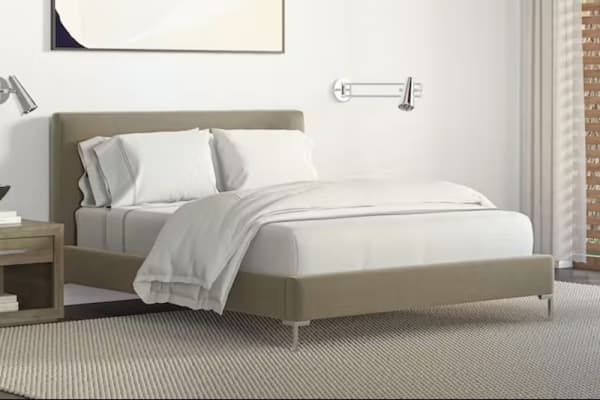 Type: Bed Frame

Firmness: N/A

Sizes: Queen, King, California King

Price(Queen): $1,495
Velvet and linen fabric options provide an understated, elegant look
Premium components add strength and durability
Generous 365-night sleep trial and lifetime warranty
Low profile limits underbed storage and could pose a challenge to those with mobility issues
Higher price-point could exceed some shoppers' budgets
Stains and dirt may be difficult to remove from the upholstery
Sleep Doctor's take
Combining premium fabrics and refined metal legs in a muted finish, the Santorini by Saatva blends a high-end aesthetic with functional performance.
---
High-end upholstery in three tasteful fabric options covers the Saatva Santorini's sustainably sourced hardwood frame. Metal legs in polished chrome, plush edges, and a fully encased headboard add rich details for a luxurious look.
Why we like it
The Santorini's sophisticated style is underscored by excellent performance. A durable, kiln-dried wood frame is complemented by carefully sourced plywood slats chosen for their strength.
Helix Natural Wood Bed Frame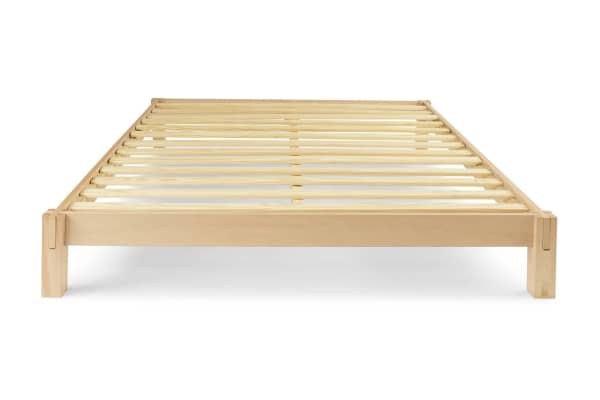 Type: Foundation

Sizes: Twin, Twin XL, Full, Queen, King, California King

Price(Queen): $729

Warranty: 5 Year, Limited
Solid construction and simple design maximize versatility
Sustainably sourced wood components feature multiple eco-conscious certifications
Toolless assembly is sturdy and straightforward
Only two color options
Not compatible with headboards
Basic design may be too simplistic for those seeking added design elements
Sleep Doctor's take
The Helix Natural Wood Bed Frame takes simplicity to the extreme, with an unembellished design and toolless construction. The result is a modern look that seamlessly integrates into almost any bedroom.
---
Clean lines and an unfussy aesthetic allow the Helix Natural Wood Bed Frame to adapt to a range of bedrooms, while a reasonable price tag fits most budgets. Assembly is as uncomplicated as the design, with Japanese joinery that doesn't require tools.
Why we like it
Industrial veneer core bed rails made from sustainably sourced Appalachian maple and poplar make a strong frame that's supplemented by pine slats and solid maple legs. The wood is treated with water-based finishes that are free of formaldehyde and volatile organic compounds (VOCs).
DreamCloud Millburn Bed Frame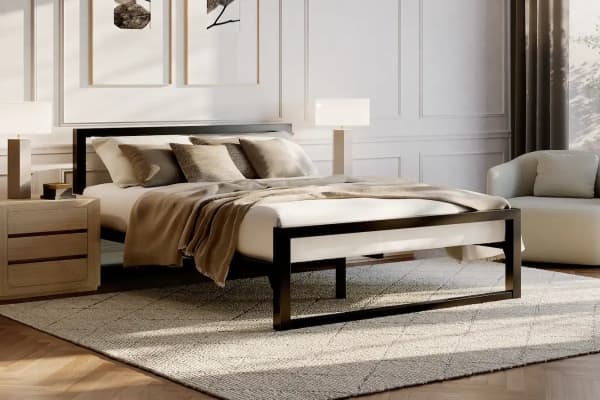 Type: Bed Frame

Sizes: Full, Queen, King

Price(Queen): $799

Warranty: None
Timeless design with a modern edge stands out in the bedroom
All-steel components provide excellent support
Powder-coated finish is easy to clean and chip-resistant
Black and white color options could be too limited or stark for some tastes
Brief 50-night sleep trial period may feel limiting
Lack of headboard may result in pillow slippage
Sleep Doctor's take
The Millburn is exceedingly sturdy and surprisingly sleek. We like how its strong base is balanced by a modern design sensibility.
---
With a steel frame and slats, the Millburn is designed for durability. Its impressive strength delivers consistent support for mattresses, while efficient setup and easy cleaning add to the bed's utility.
Why we like it
Sleepers seeking a polished industrial look should find a lot to like in this platform bed's clean lines and white or black powder-coated finish. A tall, 14-inch profile creates plenty of storage opportunities, and an accessible price puts quality materials and construction within reach of more shoppers.
---
Platform beds form a flat, supportive surface for a mattress. They are designed to eliminate the need for a box spring by using either a solid base or, more commonly, a slatted base made from wood, composite, or metal.
Platform beds typically feature a wood or metal frame. Wood frames come in different stains or can be upholstered for a plusher look. Metal frames usually have a powder coating to make them smooth and easier to clean.
Why should you use a platform bed?
Platform beds provide a sturdy surface to support a variety of mattress types. Some models leave enough space underneath for discreet storage of personal items. When used with a compatible mattress, they can help extend the mattress' lifespan and enhance performance.
Provides a strong foundation that adds to the mattress' lifespan
Helps mattress performance by creating edge-to-edge support
Plenty of color and style options give shoppers flexibility
Some platform beds may have slats that are spaced too far apart for optimal supportiveness
Not all models are designed to accommodate underbed storage
Assembly may be difficult for platform beds with more intricate designs
How much does a platform bed cost?
Platform beds come in a wide range of prices, from less than $100 to $2,000 or more. Solid hardwoods, Japanese joinery, reinforced attachments, and high-end finishes or upholstery will increase the cost. Shoppers looking for larger sizes, including king and California king, can expect to pay more as well.
Platform beds vary widely in materials, design, and functionality. We'll break down four of the most common platform bed types to help you decide which one makes the most sense for your bedroom.
Storage
Platform beds that feature storage usually include drawers built into the bottom of the frame. This can be one large drawer or multiple smaller drawers for storing extra bedding, pillows, or other items. Shoppers should keep in mind drawer access when taking measurements.
Wood
This is perhaps the largest category of platform bed, with a large variety of options at a range of price-points. Wooden platform beds can feature solid hardwoods or composite wood and may use different types of wood in the frame and the slats.
Metal
Metal platform beds provide an ultra-sturdy and durable base. They typically have a sleek, industrial style that fits in well with modern decor. Most metal platform beds feature a powder-coat finish that helps protect them and adds shine.
Upholstered
Plush and sophisticated, upholstered beds have a high-end look. Common fabrics used in upholstered models include velvet, linen, and polyester. Generally, upholstered beds carry higher price tags due to the added expense of the materials and construction.
What to look for in a platform bed
Once you choose a style of platform bed, there are several other key points to consider. Thinking about what best meets your needs in these categories can help give you direction and make it easier to select a model that's a good fit.

Material quality: Different brands use materials with varying degrees of quality. Higher-quality components like hardwoods and upholstery usually cost more. Budget options are available, but you may sacrifice some durability and performance.

Height: Taller platform beds can add significant height, making it easier to get into and out of bed. Taller options also create more space for underbed storage.

Mattress size: Make sure to select an appropriately sized platform bed for your mattress. Most models have size options that correspond to standard mattress sizes, such as full, queen, and king. You may need to search harder — and pay more — for platform beds that can accommodate nonstandard mattress sizes.

Mattress type: It's best to take into account the weight, firmness, and age of your mattress when determining which type of platform bed is a better fit. While many mattresses are compatible with either a slatted or a solid platform bed, some heavier latex mattresses or innerspring models may require a solid platform.

Assembly: Some platform beds are easy to put together, requiring few, if any, tools or fasteners. Others have more extensive instructions and a more involved setup. Some companies offer assembly along with delivery for an additional fee.
Choosing the right mattress support
When selecting a platform bed, it's important to consider mattress and platform bed compatibility. Certain mattress types work better with slatted base platforms and others are better suited to solid bases.
Slatted bases allow more air to circulate, which can help cool down mattresses prone to heat retention, such as those containing memory foam. However, some heavier mattress types, like those made with dense latex, require the firmer support of a solid base.
Check your mattress warranty before purchasing a platform bed. Some warranties stipulate that a certain type of base is required, and failure to adhere to those terms may void coverage.
Slatted base
Solid base
Differences

Evenly spaced slats can be made of wood or metal
Some models include an anti-slip grip on the slats to help keep the mattress in place

Frame-spanning base ensures even support
Solid wood or metal bases can be heavier and harder to move

Ideal for

People with a lighter mattress that doesn't require as much support
Those who sleep hot

People with a very heavy mattress, such as an all-latex model
Shoppers who prioritize durability